Best Airbnbs in Albuquerque New Mexico
Albuquerque Airbnb: Are you looking for the perfect Airbnb in Albuquerque? Visiting the largest city in New Mexico is a great trip and you need the perfect place to stay while you are there.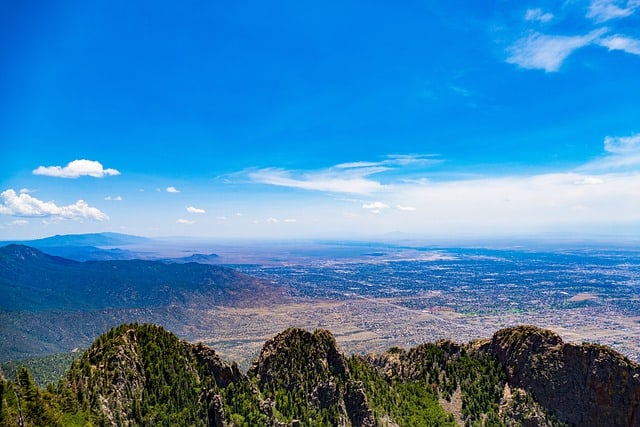 Finding the perfect Air B and B Albuquerque is not difficult and I've put together this list to make it easy for you.
There are places for every budget and area in Albuquerque. All of these places are hosted by super hosts and the perfect place to stay. Check out my post on the 25 Best Places to Visit in New Mexico
Thank you for supporting this website written by an American. This post may contain affiliate links. This means I earn a small commission on these links at no extra cost to you.
15 Best Airbnbs in Albuquerque, New Mexico
Southwestern Inspired Industrial Two-Story Loft
This spacious and budget-friendly loft is centrally located in the university area and it instantly feels like a home away from home in Albuquerque, New Mexico. It is very private, spacious, two-story, and it boasts of high ceilings. The design of this loft is modern contemporary and guests can really have a quality R&R time here.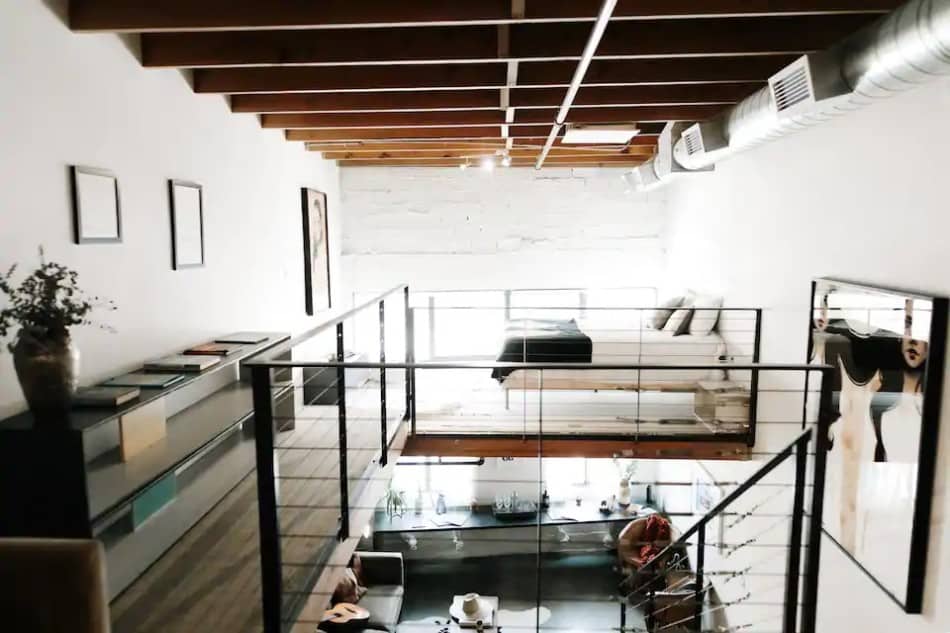 And since it is centrally located in a university area, it is very close to some restaurants, coffee shops, boutiques, local bars, and breweries. Basically, everything you need is comfortably close by. Historic sites such as Route 66 is just a block away from this property, as well as Popejoy Hall and Los Poblanos. This place is perfect for travelers who love to experience the southwestern culture in Albuquerque without going over the budget.
Urban Loft with Balcony and Patio
This loft apartment is perfect for travelers who are alone for soul searching or even for some business.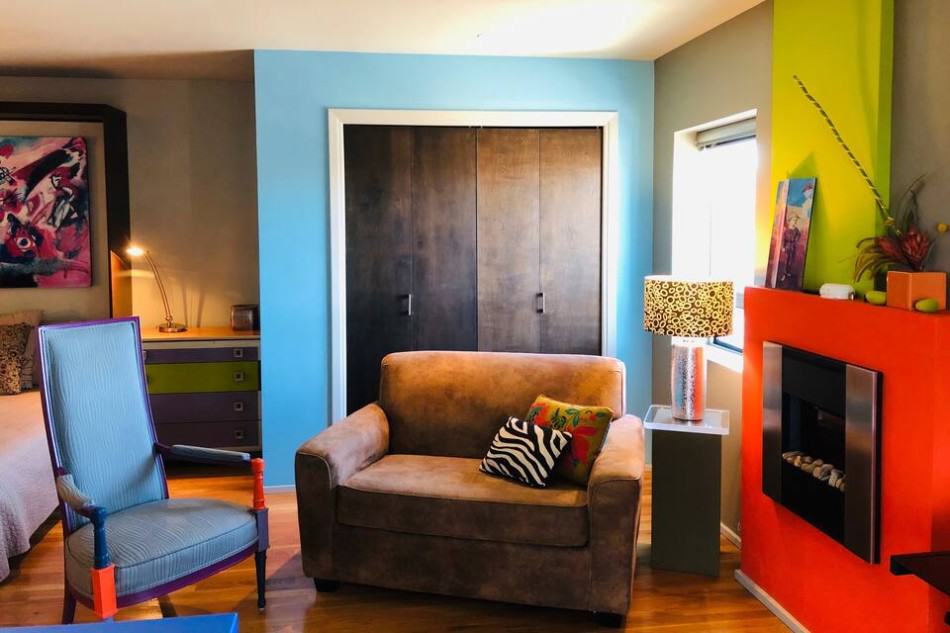 The place is super comfortable plus with a balcony and rooftop patio where you can gaze at the sky while sipping coffee or tea. You can also enjoy a sumptuous meal by cooking your own food at the fully-stocked kitchen. And if you have an extra guest, you can let them stay in the pull out couch.
Clean, comfortable Airbnb in Albuquerque
You'll be staying in your own elegant, fully-furnished apartment including WiFi, smart TV, and all utilities (cable TV available by inquiry for additional cost). The floor plan provides an open living space with a fully-equipped kitchen, living room, and bathroom.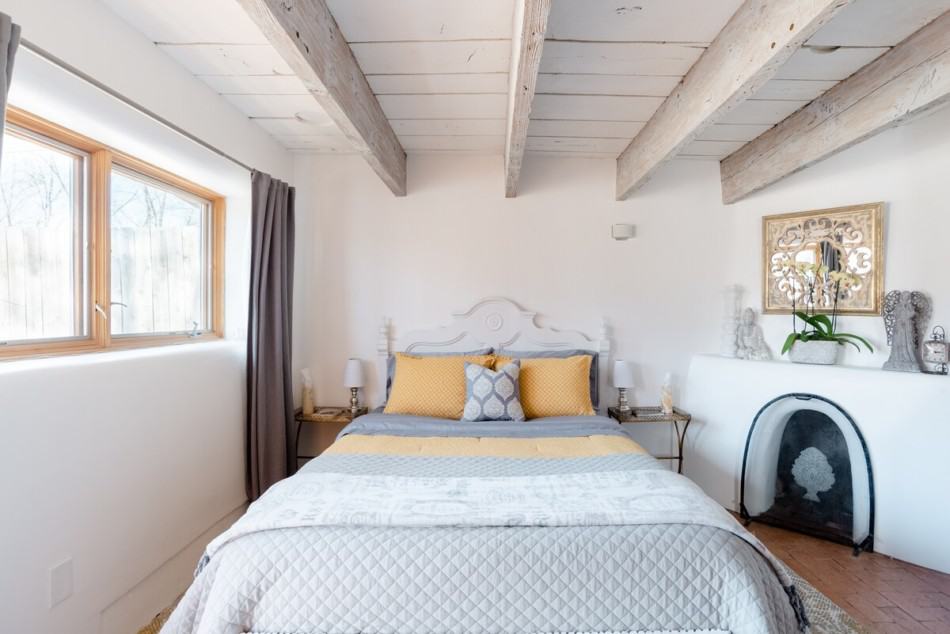 The beds and sofa are very comfortable and there is tons of space for you to move around. However, if you are or with someone who has a mobility challenge, you may find it hard to climb two flights of stairs to reach the bathroom. But this loft is definitely a steal and worth the price.
Danish Modern Luxury Spa Junior Suite
Everything that you can probably see in this place is spotlessly clean, from its king sized bed, luxury shower, to heated bidet seat, air conditioning, and more.
The space is very stylish with an ample amount of space for two people to move around. This is a perfect place for couples who are traveling for business or pleasure and it is just minutes away from some great restaurants in Albuquerque.
The "Sun Flower" a Mid-Century Modern Vacation Home
Welcome to the "Sunflower" a little Mid Century Modern with a Vacation Mod Pod feel. What a great home in a highly sought after area. New Carpet and Wonderful Landscaping. Back yard is fully landscaped with BBQ, Hot-tub, and Privacy. Balloon Fiesta Park is 7 miles away. Santa Fe is 40 Minutes away, great 3 bedroom Single Story home. Walk to shopping and restaurants. RV Parking is available on garage side.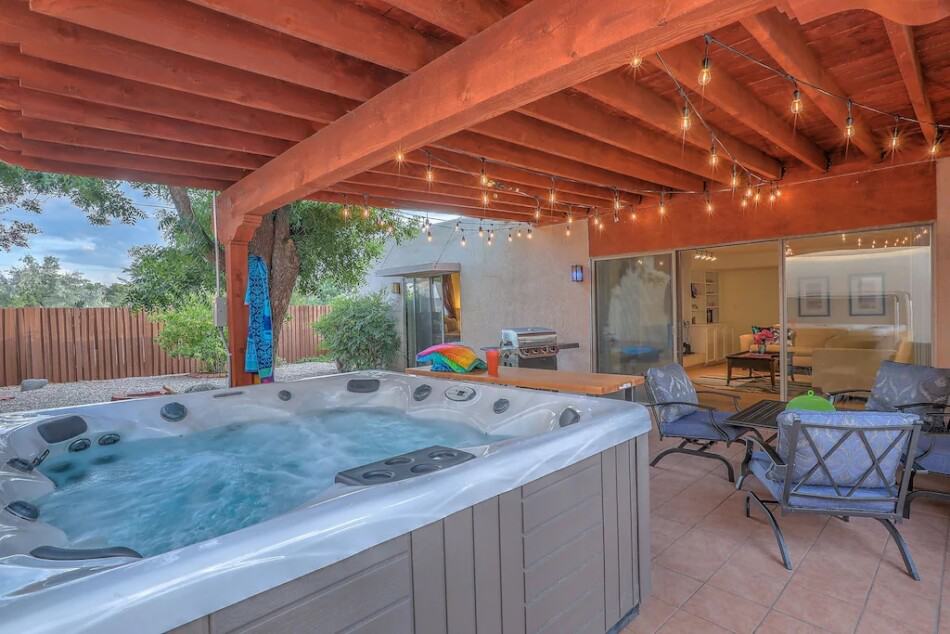 The bedroom has a custom foam mattress and the bed is high off ground, but there is an additional single floor mattress. This is really a tiny space for two people so if you want to experience living small, this is a great option for you.
Eco Farm House/Master Gardener's Bedroom Suite
The Master Gardeners Bedrooms Suite is probably the best room among the three rooms available in the Eco Farm House. It is spacious and full of natural light that you need not to turn on the light especially during the day.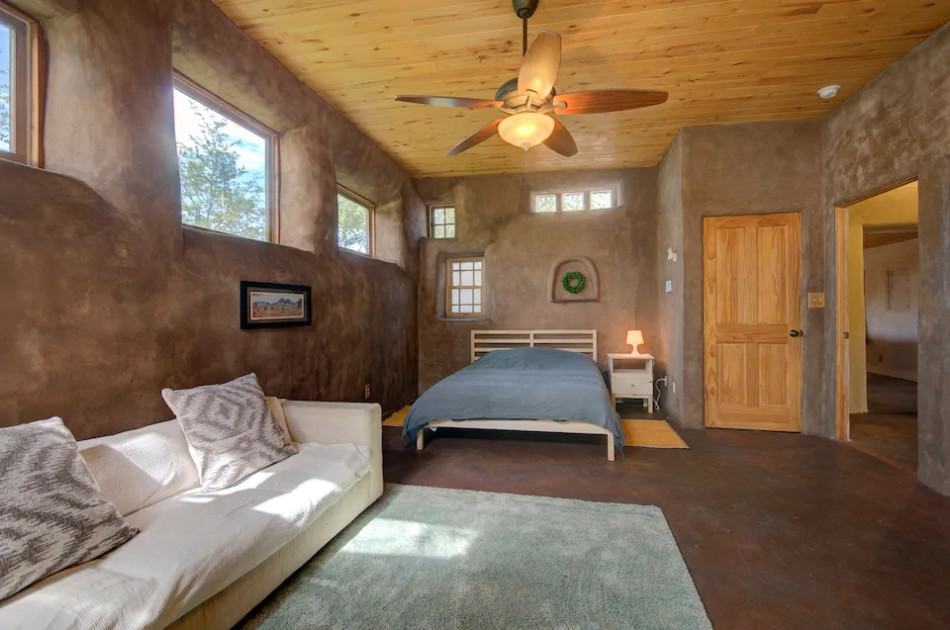 The room is built out of straw bales so it has full insulation from heat and cold. And not to mention this custom-built and eco-friendly house is sitting on an organic farm so you can expect to wake up to a view of the sky and trees.
"Ernest" the Airstream Camper/RV
The "Ernest" is not your typical accommodation in Albuquerque. It is actually a vintage Airstream from 1973 that is well-maintained and in great shape to ensure your comfortable stay. It is equipped with AC and heating, a functional and fully equipped kitchen, and an updated fridge with freezer compartment.
It also has two comfortable twin beds, a bathroom with shower, skink, and toilet. This is a perfect choice for people who are on-the-go and just needed a quick place to stay.
3 King suites–Master bedrooms, w/full baths
Wow factor, is the best description for this home. Luxurious king beds in all three master suites, all with large HDTVs, amazing well equipped kitchen including all the appliances, high-vaulted beam ceilings and lots of space to have privacy when traveling with your group.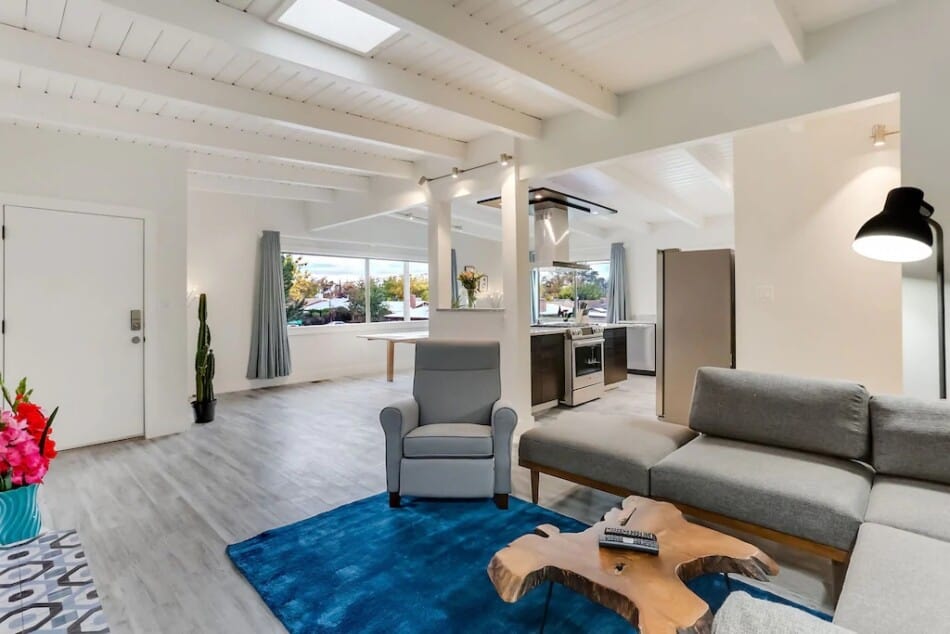 Refrigerated air conditioning and comfortable, stylish furnishings. 2nd floor views from huge windows. More than 1,800 square feet of living space. Comfort was the focus of my build out. This is where I plan to retire in two years and have time and space to entertain-welcome family and friend to stay.
Casa Canoncito
This stunning airbnb is a bottom floor apartment totally separate from where the hosts live upstairs. It has its own separate garage and private patio where you can have a barbecue sesh with your loved ones. At night, all that there is is the sound of crickets and bright stars and the whole place is totally serene and clean. You will also have a nice kitchen where you can cook sumptuous meals, a 48" TV with Netflix and internet streaming.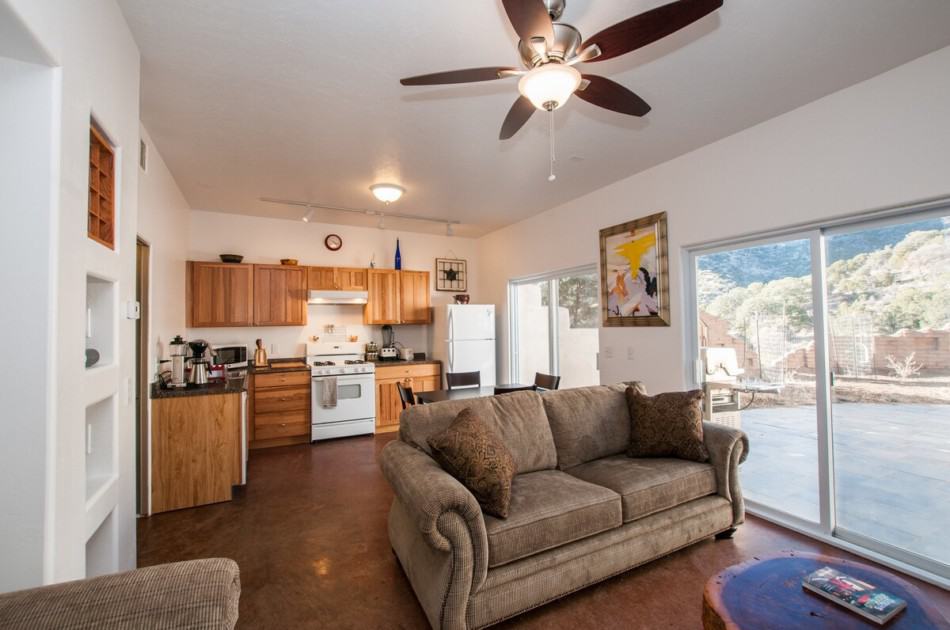 During the weekends, you can hike out the back door or spend a whole day exploring downtown Albuquerque which is just 20 minutes away from the property.
Casa Mia
If you are looking for a spacious house that can fit all your family, this Casa Mia is a great option for you. It has three bedrooms and can totally fit eight people inside. The whole place is very pristine and well-stocked that you will instantly feel at home.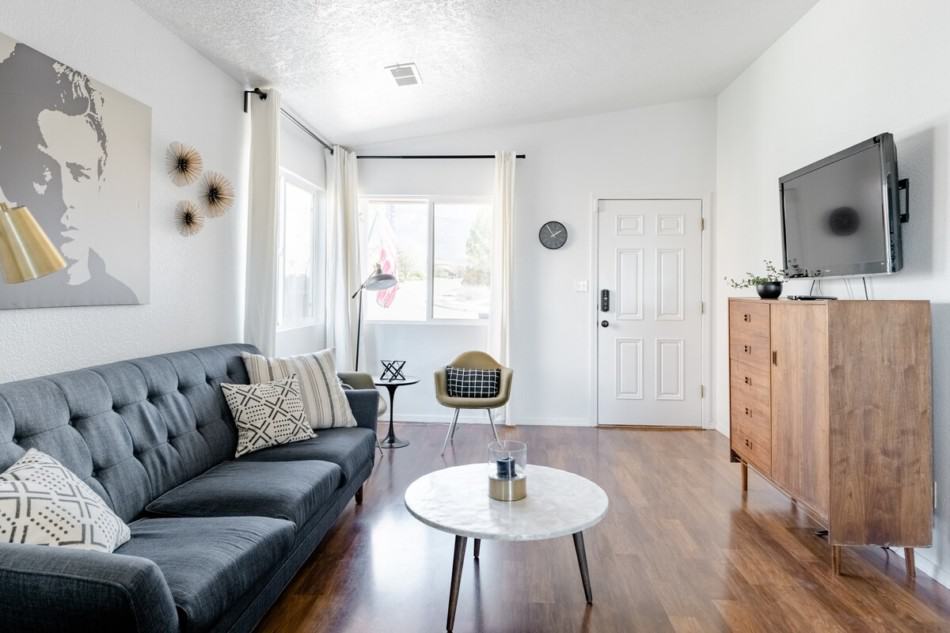 The kitchen is fully-stocked with stainless-steel appliances, and it offers good views while preparing meals for the whole family. There is also a backyard where you can grill on the propane BBQ while still giving you an unobstructed and amazing view that this property has.
Beautiful Custom Tuscany Home with Pool
Another spacious house that you can stay in Albuquerque is this 3,000 sq ft Tuscany home that has its own swimming pool. This luxurious home has 4 bedrooms, 2 full baths, fully equipped kitchen, private pool, and hot tub and can fit up to 12 guests. Basically, this house has everything you need for an ultimate Albuquerque getaway. You would definitely want to cook meals for everybody with their kitchen that is fit for a chef.
The outdoor area is also fantastic and generous with views. You can relax and have a glass of wine by the private pool or hot tub or up on the deck. The living area has a TV with access to Netflix, Hulu, and Amazon Prime plus high speed internet connection.
Casa de Cacti
This entire townhouse can be enjoyed by four people and it has two bedrooms with three beds, and two baths. This is perfect for families or groups of friends who are visiting the beautiful South West. The master's bedroom has a queen sized bed and balcony, while the downstairs bedroom can be converted into a king sized bed.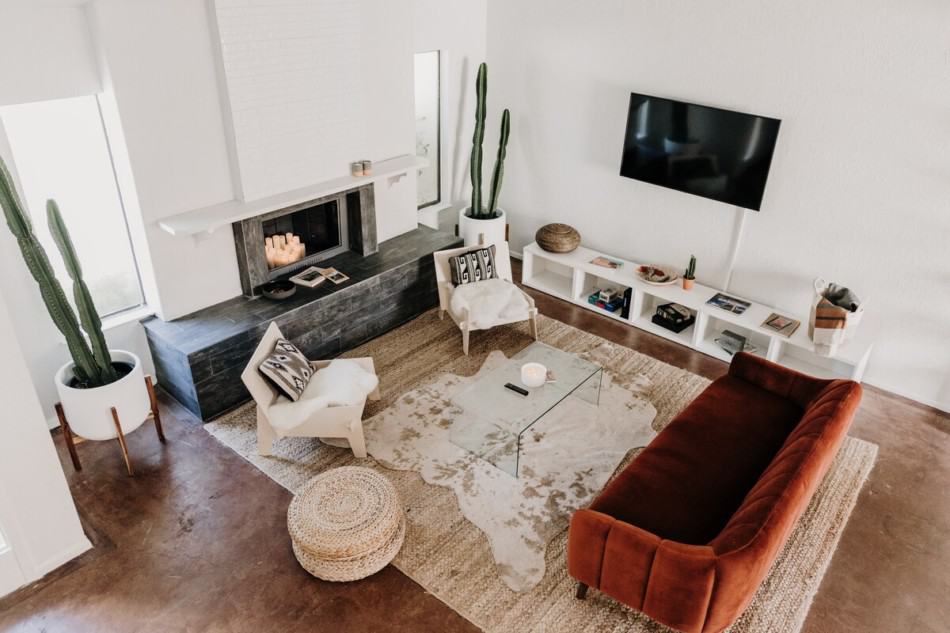 The interior of this townhouse is very aesthetically appealing. The floors are made of red clay concrete and you can find natural woods all throughout the home. Guests can also have access to the backyard/courtyard where you can sip coffee while basking in the sun. Garage is also provided in the property.
Hot Air Balloons-Hot Tub-Family Friendly
This modern and cozy home is located in the beautiful and safe neighborhood of Albuquerque Far Northeast Heights. Its location is also close to some parks, restaurants, walking trails, and entertainment spots in Albuquerque.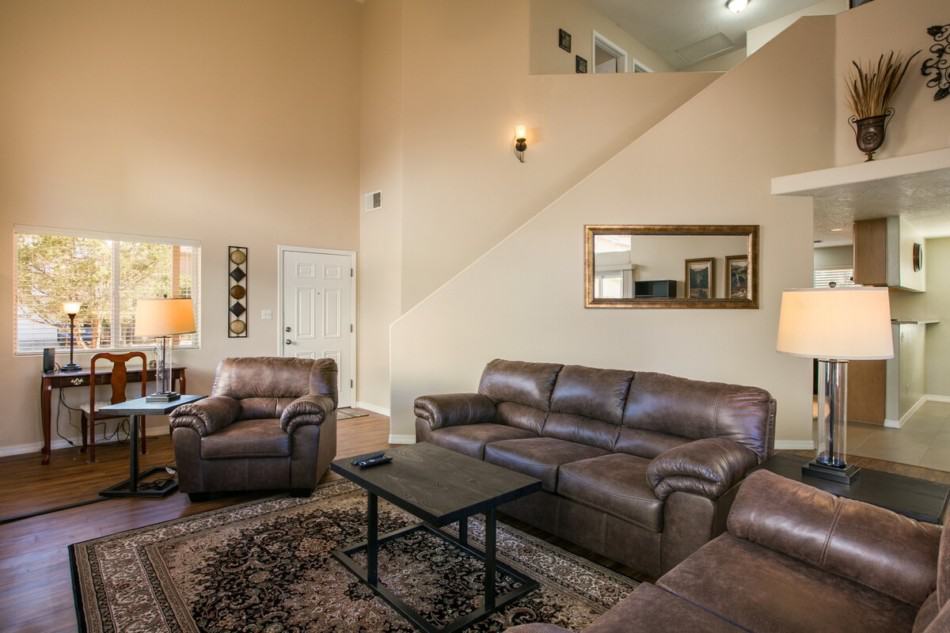 This spacious home has a relaxing hot tub and fully equipped kitchen with brand new appliances. It has four bedrooms and seven beds and it can accommodate up to ten guests. And the manicured backyard has a grill for BBQ nights with family or friends, a hot tub, and a table with an umbrella.
Adobe Casita
My adobe casita is close to downtown Albuquerque and Santa Fe. It is located in a quiet and peaceful location. In fact, this building used to be a meditation hall and it has retained its peaceful and zen environment.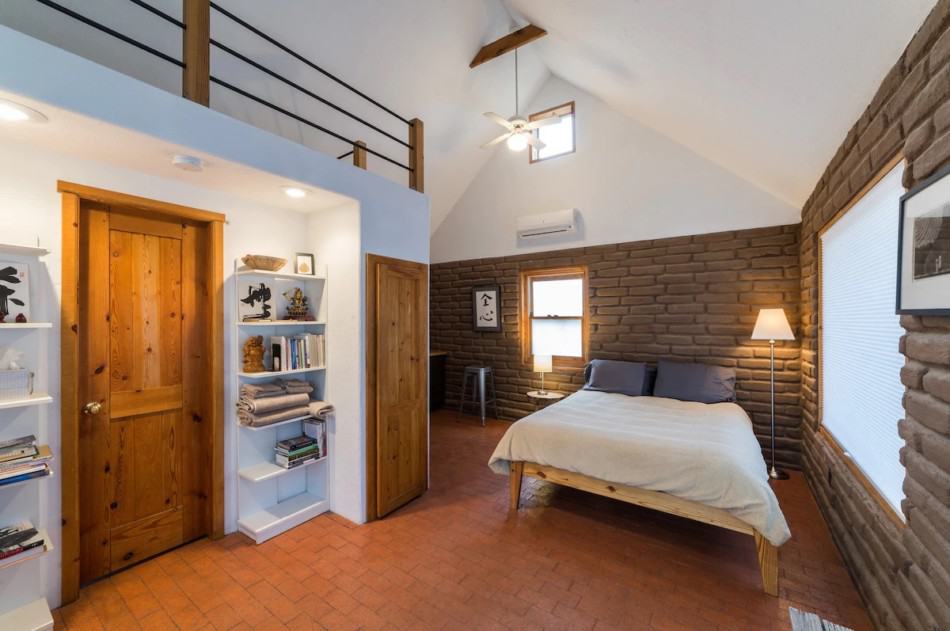 The place has a comfy bed with all-cotton linens, a reading nook, and a patio table with mountain views for your coffee or tea fix every morning. It also has a kitchenette that includes a skink, microwave, coffee maker, and two-burner electric hot plate, as well as dishes, glassware, pots, and pans.
The area also has a yard with chairs, umbrella, and patio table which you can fully access. And not only that, this is a family-friendly place because guests who are traveling with infants are very welcome here to bring a portable crib or other sleeping accommodation.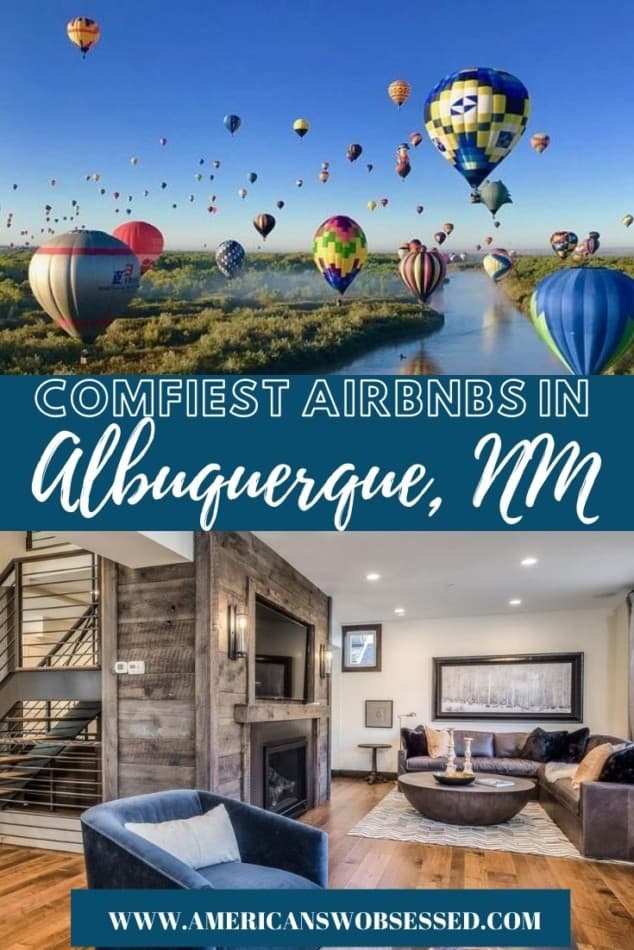 Recent Posts