15 Awesome Airbnbs in Scottsdale, AZ
Scottsdale Airbnb: Are you looking for the best Airbnbs in Scottsdale, Arizona? I've got you covered!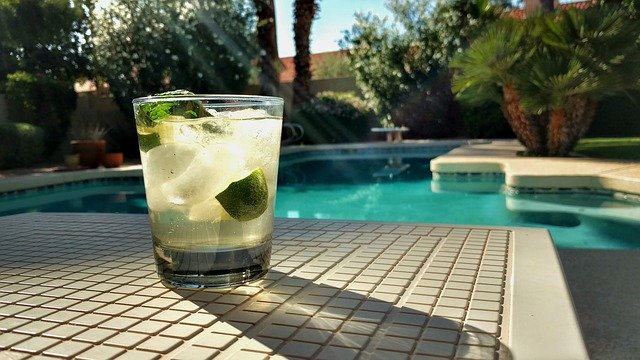 Staying in Scottsdale is a great idea if you are planning to visit Phoenix and the surrounding area. There is a Scottsdale Airbnb for every budget on this list.
There is seriously something for everyone on this Scottsdale Airbnb list – family friendly, gorgeous pools, and places for any budget.
Thank you for supporting this website written by an American. This post may contain affiliate links. This means I earn a small commission on these links at no extra cost to you.
If you are looking for the perfect Airbnb in Scottsdale, Arizona – check out these top picks.
Thank you for supporting this website written by an American. This post may contain affiliate links. This means I earn a small commission on these links at no extra cost to you.
House with Half Million Dollar Pool Plus Lazy River – the best Scottsdale Airbnb
This entire "Pool House" has one-of-a-kind swimming pool and it is one of the largest residential pools in the entire state of Arizona. Over half a million dollar was spent for the construction of this swimming pool and it was awarded as the #1 top rated pool in Scottsdale. Everything in this Pool House is brand new and the renovation was just recently completed.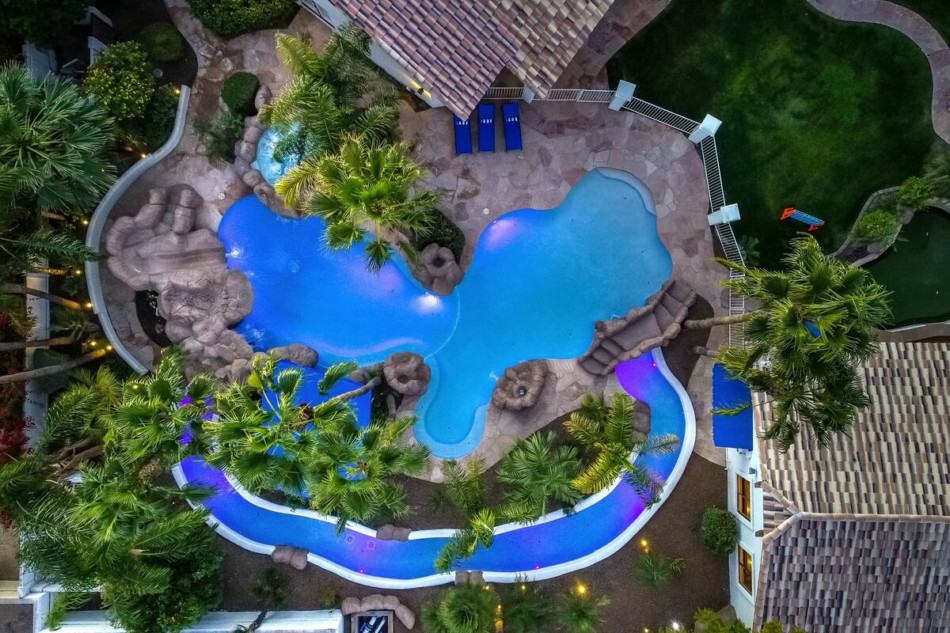 Guests can fully enjoy the amenities provided in this house such as the 7 bedrooms and 11 beds that can accommodate up to 15 guests, 5 bathrooms, kitchen, TV, dryer, laptop-friendly workspace, air conditioning, and more. This is a perfect place for a family getaway in Scottsdale and don't forget to soak in their gigantic pool with lazy river. Kids and adults will surely love this luxurious and gigantic house in Scottsdale.
Four-Bedroom House by Wander Jaunt
There are many wonderful things that await you in this spacious home in South Scottsdale. You can either kick back and relax by the pool or soak in the precious hot tub and this is a great home base for your stay in the "West's Most Western Town".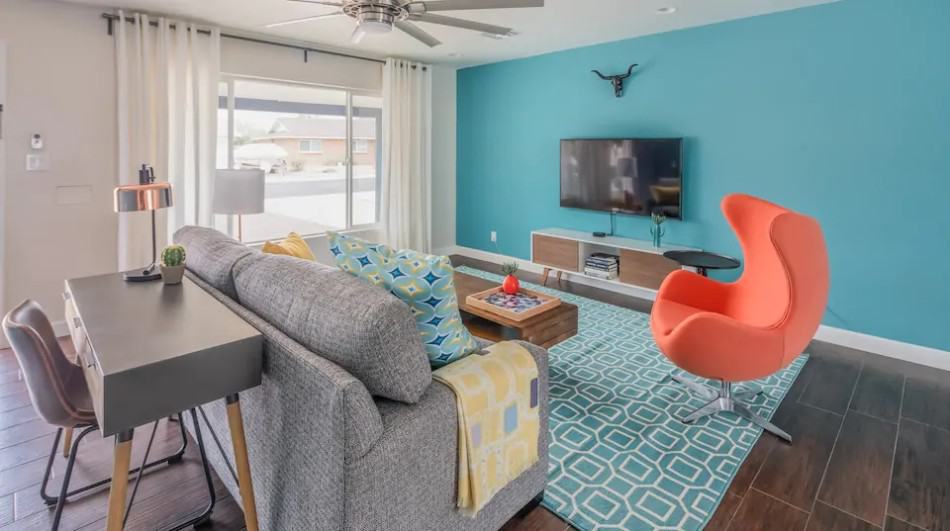 The entire house has a total of 4 bedrooms and 5 beds, and can accommodate up to 9 guests. Plus, you get to enjoy the benefits of a complimentary coffee, high-speed WiFi, 50" HDTV, and more.
Pink Cactus – Old Town Scottsdale House
This house is perfect for a get-together or parties because of its big and luxurious space. Guests can have access to the whole house including the 4 bedrooms with 8 beds good for 12 guests, kitchen, wifi, cable TV, hot tub, and more.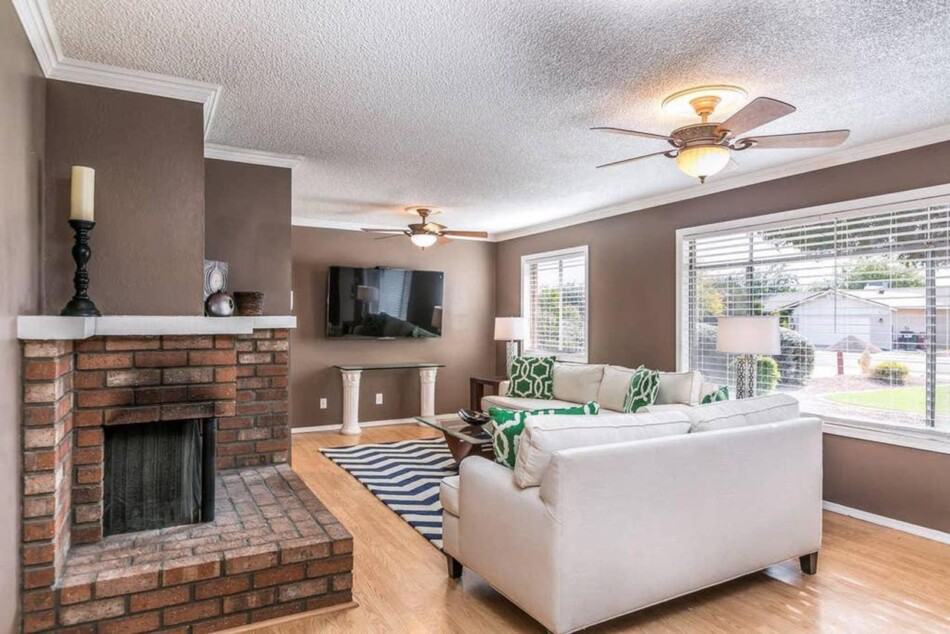 Sip your morning coffee (or mimosa) draped in a comfy lounge chair in the spacious yard, or mounted on a float in the pool. Get lit by the fire-pit, throw some tasty meat on the BBQ, toss a few bags on the pristine turf, or slap some balls at the ping pong table. This place is so Insta-worthy and great for pictures.
Sexy and Sleek Home with Pool
This brand new sleek and sexy home in Scottsdale with LA vibes gives vacation a totally different experience. Inside this luxurious home are all brand new finishes and furnishing, as well as stainless steel appliances, marble countertops, soft bedding, and more.
Basically, it has everything that you need for an amazing stay in Scottsdale. Plus, you will be amazed by the luxurious outdoor pool area and multiple sitting, lounge, and dining areas that you can totally make use of.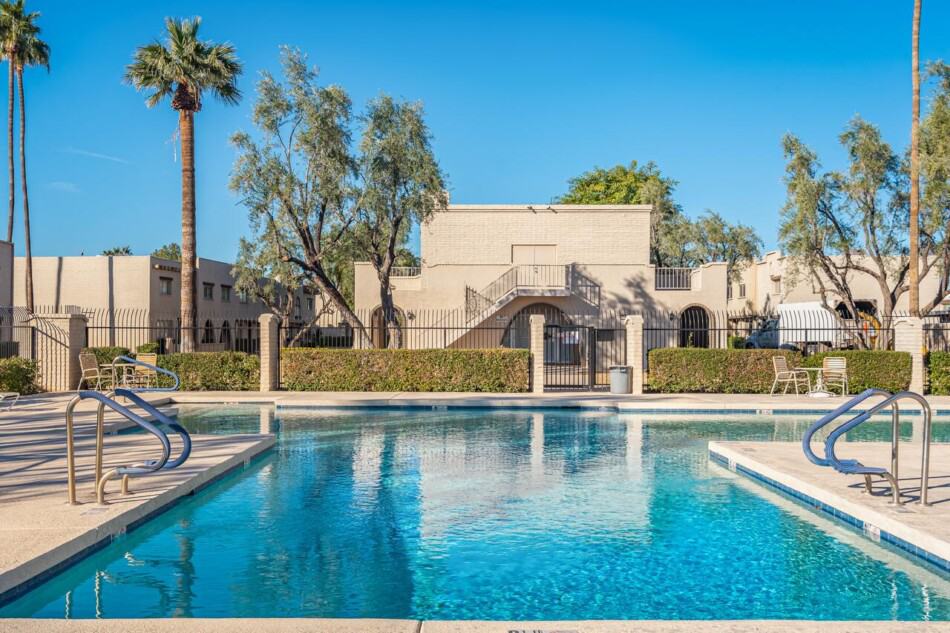 Also included in this home are washer and dryer, high-speed WiFi internet, and cable TV. You can also benefit from the fully-stocked kitchen so you can cook great meals for the whole squad. This house can accommodate up to 14 guests and it has 5 bedrooms with 8 beds for a price that is totally worth it.
Spacious Retreat with Private Pool and Fire Pit
This beautifully remodeled home in South Scottsdale is perfect for work or play experience with your family or friends. It has an open floor plan and the bedroom are spacious enough to accommodate 10 guests.
But what makes this house even more amazing is the big yard with a grand sparkling pool. You can play billiards beside the pool and it has numerous lounging areas where you can have some drinks with your squad.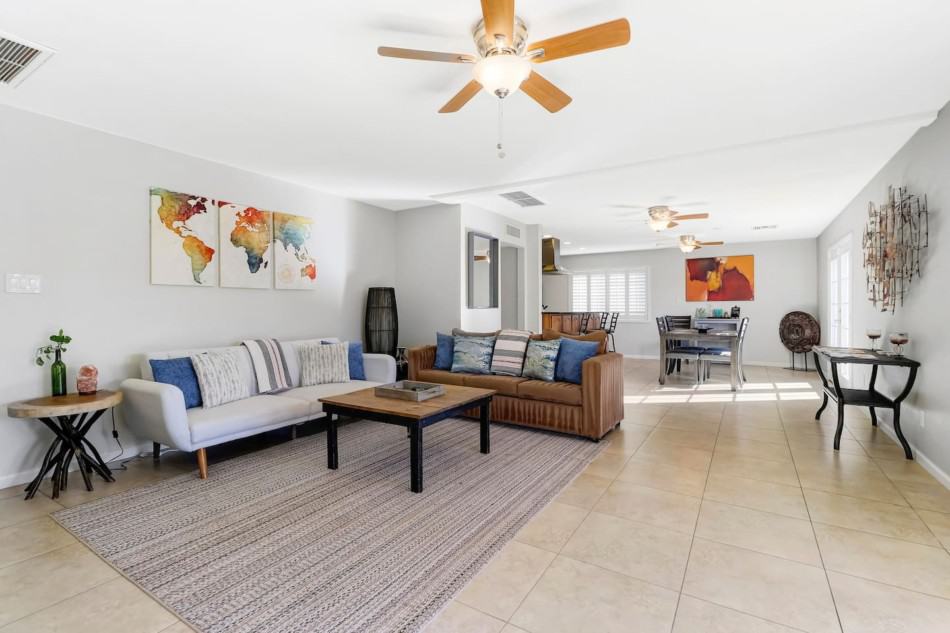 You can also benefit from the numerous TVs throughout the complex and their super fast wifi so you can easily update your social media accounts.This house is also a prime location being close to sites to visit in Scottsdale such as the Old Town/Entertainment District and top golf courses. And the price for every night of stay is such a steal.
Renovated Scottsdale Condo with Pool – Airbnb Phoenix Scottsdale
This one-bedroom condo has a perfect location because it is just a walking distance to some shopping areas, clubs, bars, and restaurants in Scottsdale. The condo is furnished with new furniture such as a king-sized bed, sofa bed, and 55" 4K Smart TV. The kitchen is also stocked with essential needs for cooking.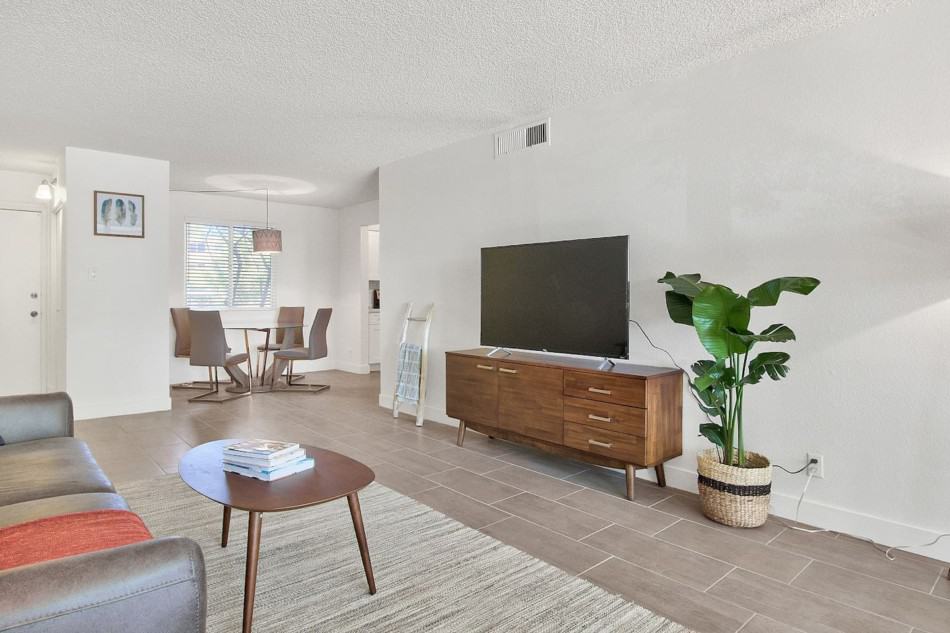 And if you bring a car, you will be given a parking spot in the condo. Checking in and checking is also easy and the host is very easy to communicate with. So if you prefer staying in a condo, this is a perfect choice and it can accommodate up to 4 guests.
Comfortable and Classy Condo
During your stay in this classy and comfy condo, you will be rewarded with complete amenities such as a bedroom with premium king sized bed, 60" SmartTV and a 48" SmartTV both equipped with HD Cable, fully stocked kitchen with dishes, cooking utensils, and more.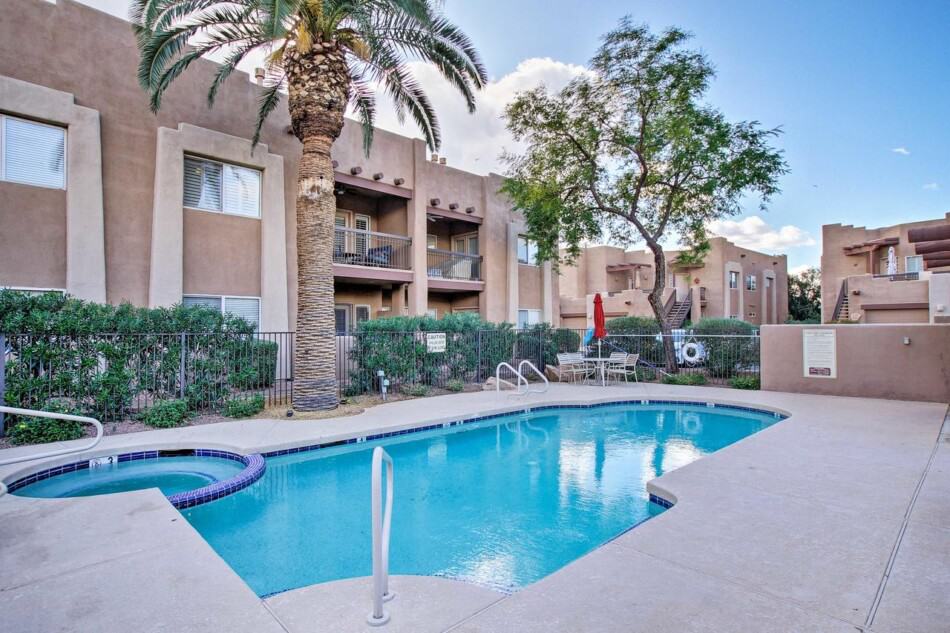 And the condo is just located on the west side of the complex, just across the street from a plaza so you can just walk to dining and shopping areas in Scottsdale.
You can also make use of the onsite pool, hot tub, and work out facilities of the condo. Truly, this is a very comfy and convenient condo for a very good price. 
Entertainer's Paradise in Old Town Scottsdale
This home is perfectly located close to Old Town Scottsdale and to some bars, restaurants, and malls. It features 3 bedrooms with 3 beds, 2 baths, and a full kitchen with several dining areas.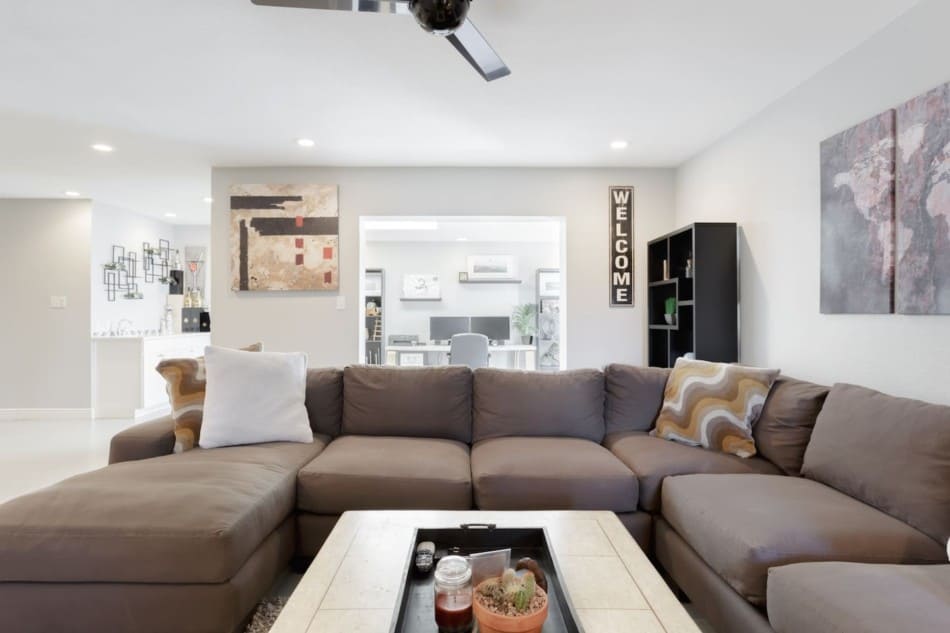 And the favorite part of this home would be staying near or soaking in the pool while basking the Arizona sun. This is an ideal place to stay with your group of friends or family.
Four Bedroom house with Guest Suite and Pool/Spa
If you wanna experience the most desirable area in Scottsdale, you should definitely stay in this four bedroom vacation home that can accommodate up to 8 guests.
Inside this cozy and spacious home are TVs in every bedroom, pool table, high speed internet, fully stocked kitchen, and more. Kids can play in the gorgeous pool while adults can play some pool at the indoor billiards table overlooking the pool area.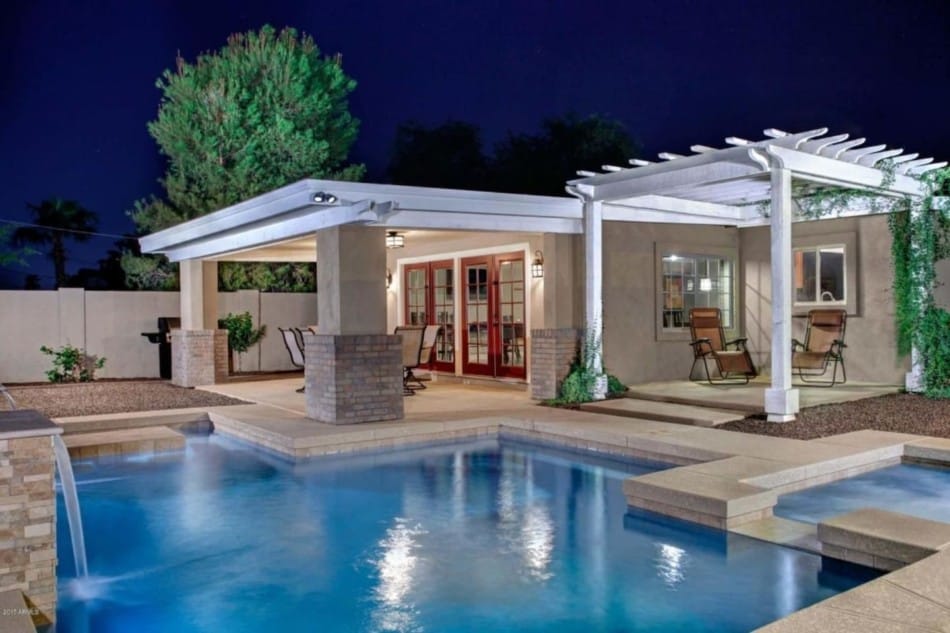 There's plenty of things that you can do in this home. And in terms of convenience, this place is highly rated because of its proximity to some great restaurants, and shops in the area.
And if you have plenty of time to roam around the area, you can have an easy access to downtown Phoenix, Tempe, Chandler, and Mesa. 
Old Town Family House
This old town family house has everything you need for a big group vacation. It has an amazing location and a fun house with a lot of space to roam around.
The awesome pool will keep you refreshed while the open kitchen allows you to cook amazing meals for your squad.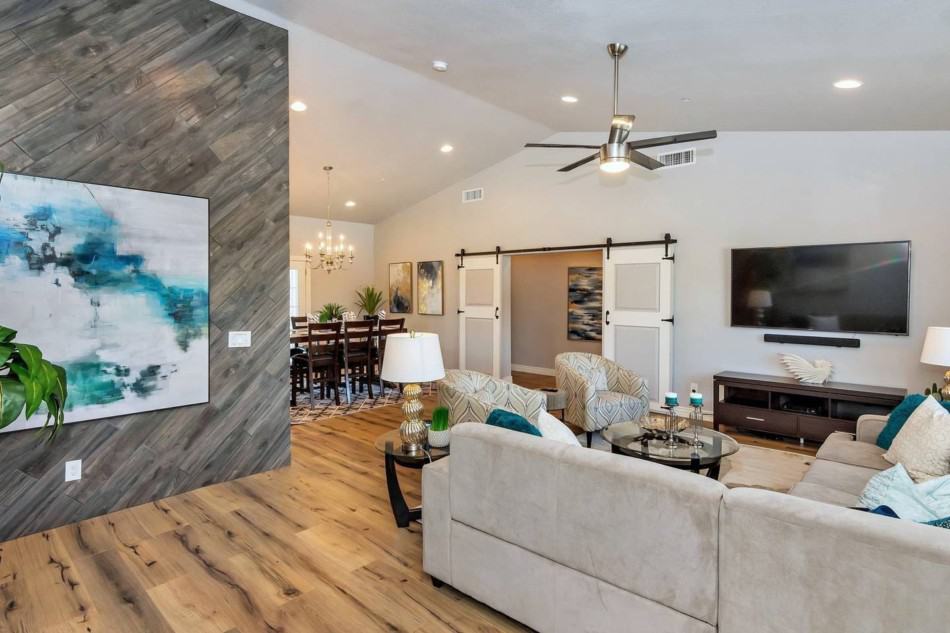 It has a total of 5 bedrooms with 15 beds that can accommodate more than 16 guests. This place is not just limited to vacations, but it can also cater bachelor/bachelorette parties, retreat, gold trips, and many more. If you are looking for a bigger space with a very reasonable price, this is highly recommended.
Scottsdale Oasis with Pool, Ping Pong, Cornhole
You will instantly love this newly remodeled oasis that has 4 bedrooms and a large dream pool and is very close to everything. The interior is very modern and brand new and it is a great place to relax and unwind in Scottsdale.
It is very close to Old Town Scottsdale where you can do nightlife, dining, shopping and more.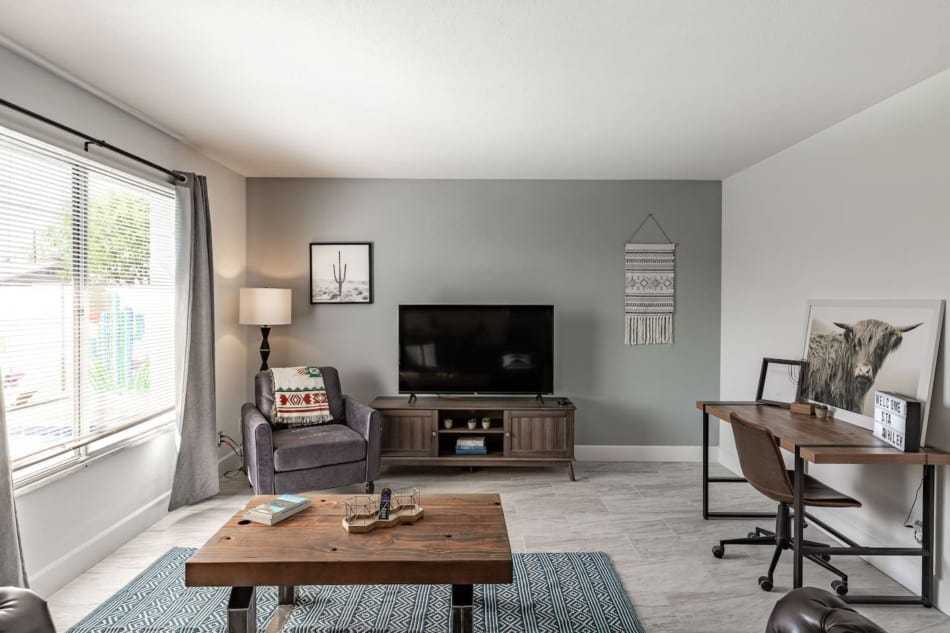 But if you prefer just to stay inside this house, you will never run out of fun things to do. You can either take a dip at the pool or play ping pong and cornhole.
The front yard also features plenty of cactus and Pomegranate Tree. You have access to the entire home which includes all bedrooms, kitchens, 2 baths, garage, and backyard. And it can accommodate up to 8 guests. 
Two Masters Bedroom with Heated Pool and Spa
This sleek and modern house is just a few steps away from Old Town Scottsdale's world famous restaurants, shopping, nightlife, and art galleries.
The backyard features a brand new heated pool, giant spa, fire pit, ball court, and a jaw-dropping view of Camelback Mountain.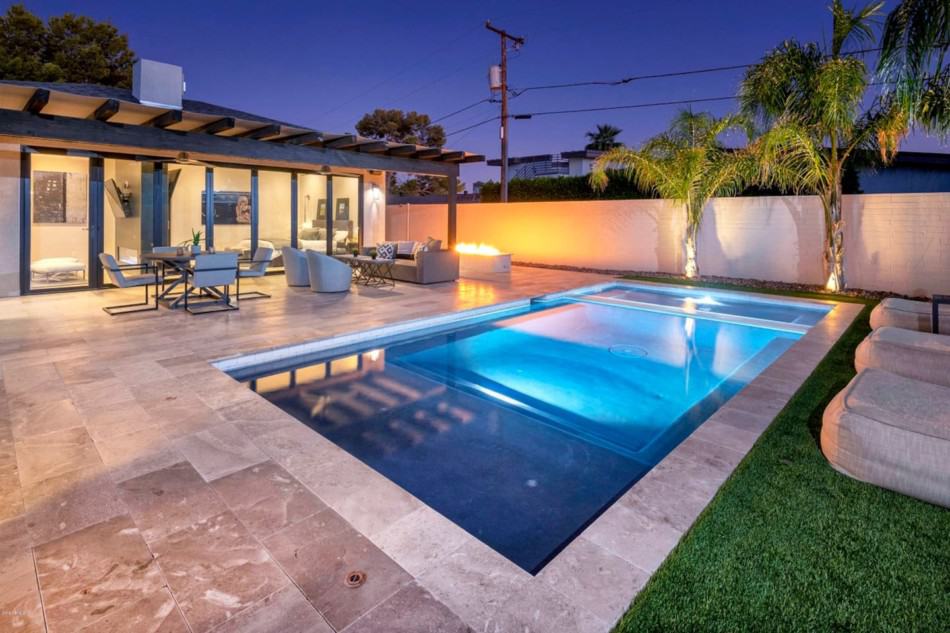 This home also boasts of its 2 spacious master suites and 3 full bathrooms and it can accommodate up to 8 guests and it has all the amenities that you need for a great vacation.
There are so many great things about this house that you should definitely experience. 
Entire Apartment – Stay in comfort in North Scottsdale
This amazing apartment in Scottsdale has everything you need. Start your day off right with complimentary coffee, surf the web on the high-speed WiFi, or relax on the couch watching cable on our HDTV.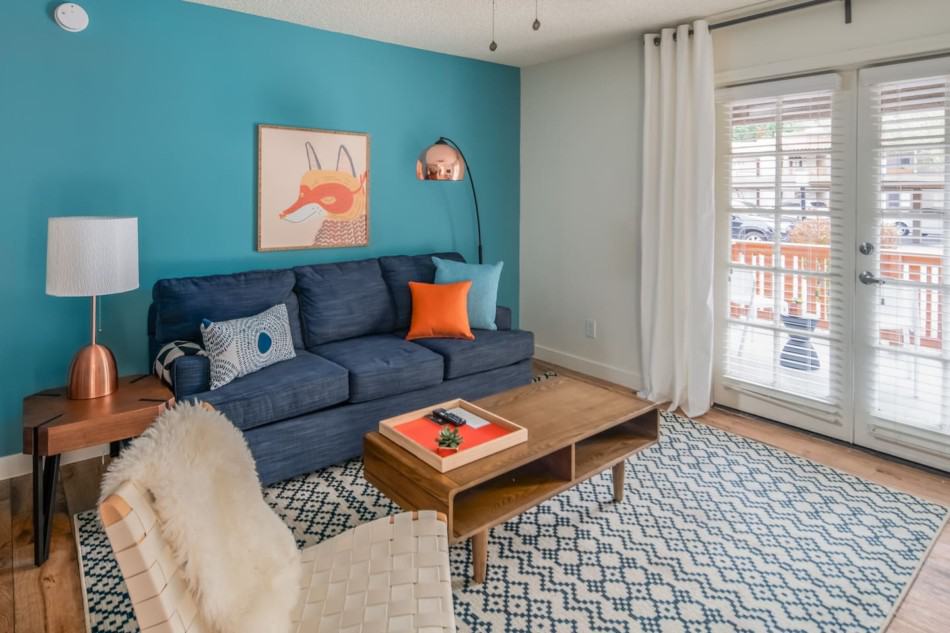 The air-conditioned apartment is composed of 2 separate bedrooms, a living room, a fully equipped kitchen with a dishwasher and microwave, and 1 bathroom.
Very Private Casita
A recently remodeled guest house, the Sunshine Cabana is a 1 bedroom and 1 bathroom guest house in Scottsdale. This cabana is nestled behind the main house and it can be accessed through the gate off the carport. You will have entire access to the entire home as well as a free parking area.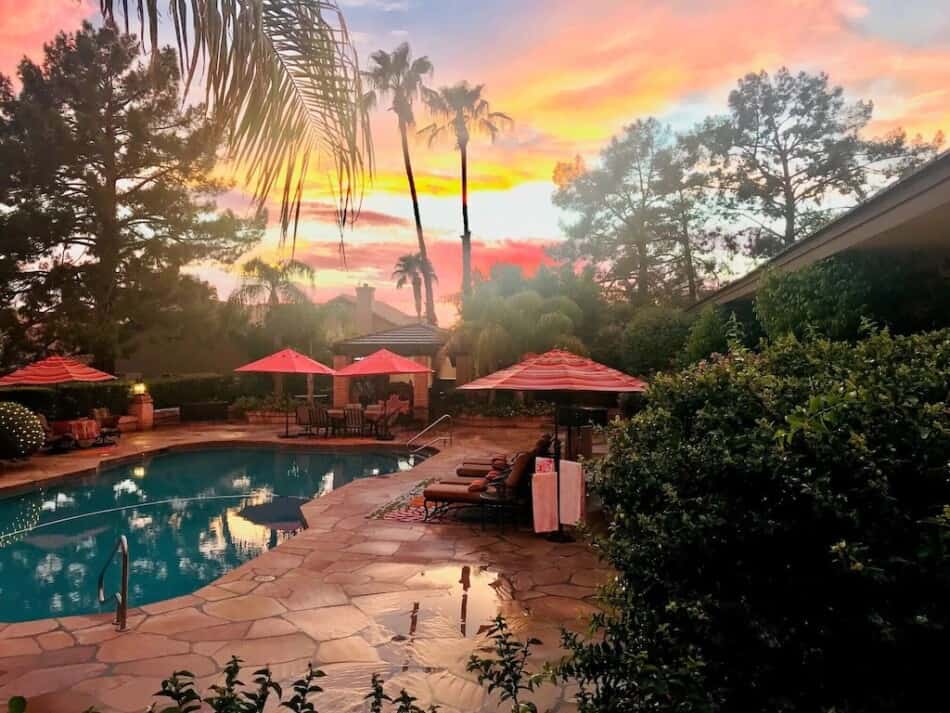 Keep in mind that this is a tiny house so it has only 1 bedroom perfect for 3 guests. But your sleep will be a peaceful and comfortable one as your skin will feel the soft touch of the queen Tuft & Needle mattress.
And you can even convert the couch into a flat full size bed. There is also a kitchen fully-stocked with dishes and cookware where you can cook your own meals.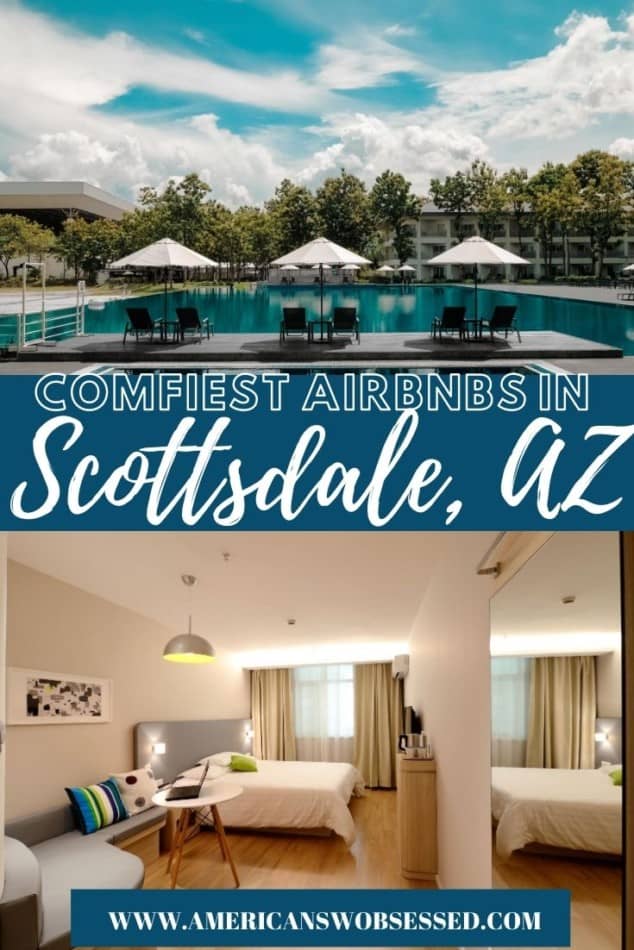 Airbnb Scottsdale Arizona
best airbnb scottsdale
Recent Posts