Airbnb Tucson, AZ: Are you looking for the best Airbnb in Tucson, Arizona? This list of Tucson Airbnbs has something for everyone and every budget!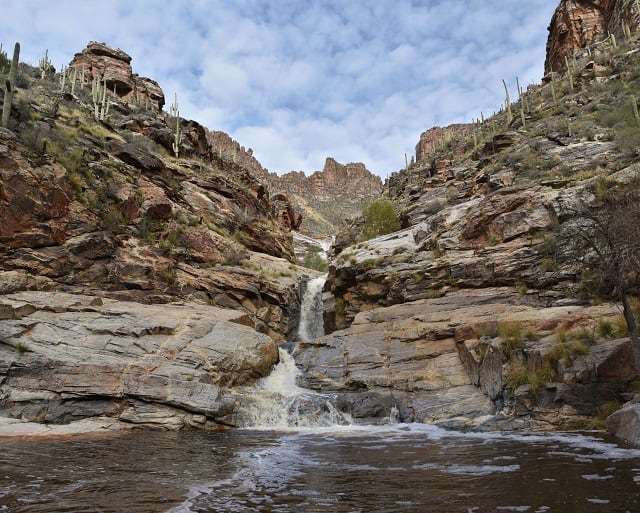 Although Tucson is known for its guest ranches, horseback rides, and cattle drives, this city has a lot to offer to its locals and visitors especially. Here, It also has a hub of spas, resort hotels, golf courses, and of course trend-setting restaurants.
In fact, Tucson was given the recognition of World City of Gastronomy by the UNESCO or United Nations Educational, Scientific, and Cultural Organization
In addition to that, Tucson is also thriving when it comes to the visual and performing arts scene and respected galleries and museums. It is like a mini mecca for the arts.
In fact, their local artists draw inspiration from Tucson's unique and vibrant culture. And if you want to unleash or improve your art skills, you can sign up for classes and workshops where you can create your own masterpieces. 
Thank you for supporting this website written by an American. This post may contain affiliate links. This means I earn a small commission on these links at no extra cost to you.
15 Best Airbnbs in Tucson, Arizona
Hilltop Casita
This newly renovated house features new furnishing and has everything you need for a comfortable vacation such as linens, towels, small kitchen appliances, coffee maker, dishes, silverware, 3 TVs, and washer and dryer.
Plus, it is centrally located to a lot of different groceries, restaurants, and other fun things to do in Tucson.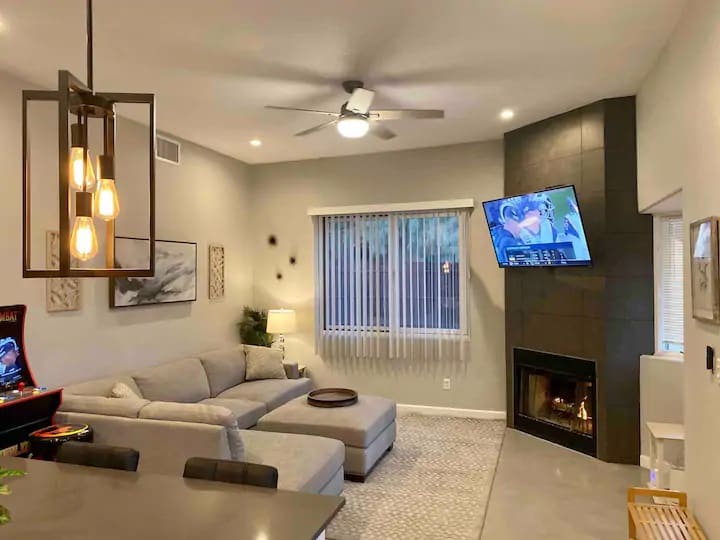 From the moment you walk in the yard, you will notice that everything is so pretty and clean. It has a grill where you can have BBQ nights with the fam or squad. This airbnb will make you feel you were right at home and trust me, you don't even want to leave.
Modern and Elegant Desert Hideaway
This simple, clean, and brand new guest suite in Tucson will make you instantly feel at home with its elegant furnishings and spectacular views of the mountains and natural landscape.
And this place is very close to everything that you need in Tucson like 5 minutes away from the gyms, restaurants, groceries, pharmacy, gas station, etc. And if ever you need some directions, the hosts will be happy to serve and help you and they can even give you lots of recommendations and tips.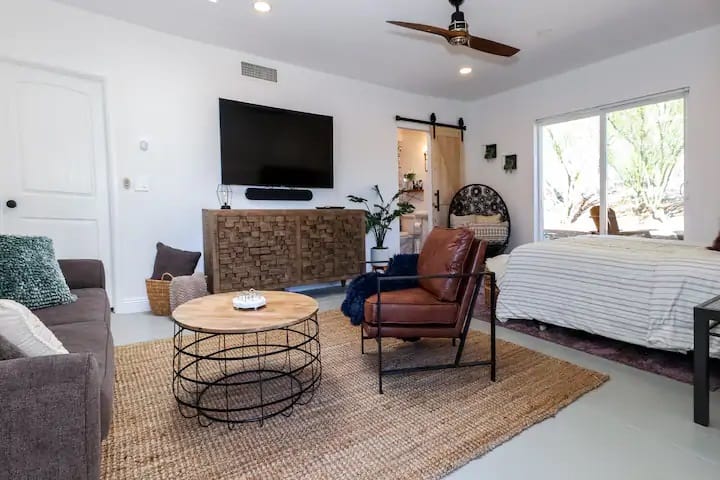 Inside this large and modern studio-like space are a full bathroom, two beds good for four people, a large smart TV, surround sound, nest temperature control, and a lot more. This place is definitely welcoming for travelers and the pictures do not give justice to how beautiful it is in the flesh.
Cozy Hacienda Casita in the Casas Adobes Estates
The cosy hacienda casita is conveniently situated on the northwestern side of Tucson near a wide range of restaurants and shopping centers.
There is a private fireplace and patio where you can enjoy the cool Arizona nights while staring at the beautiful night sky. And oh, you'll also fall in love with the lush landscaping and pathways that surround the property.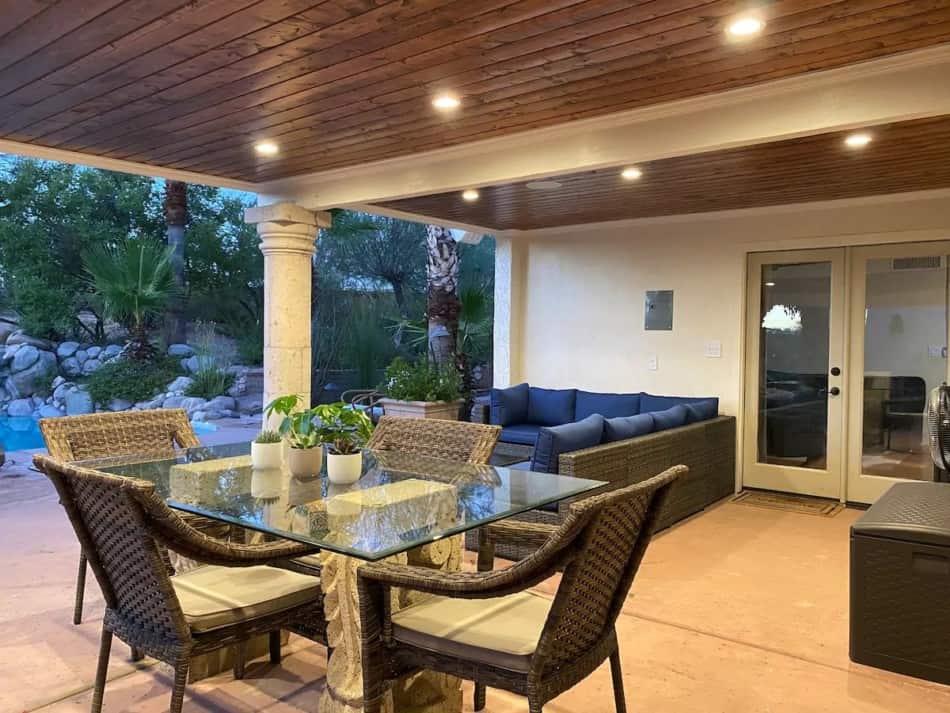 This casita is furnished with a lot of things that you need for a perfect vacation for two people such as a bedroom, kitchen, wifi, laptop-friendly workspace, and a lagoon style pool exclusive for casita guests only.
This place is highly recommended to anyone who wants to get away for a whole and it's even perfect for couples who want to spend a few romantic nights together. 
Private Desert Casita with Pool
The Private Desert Casita is nestled on a 3-acre property just east of Tucson, and just approximately a mile away from Saguaro National Park East.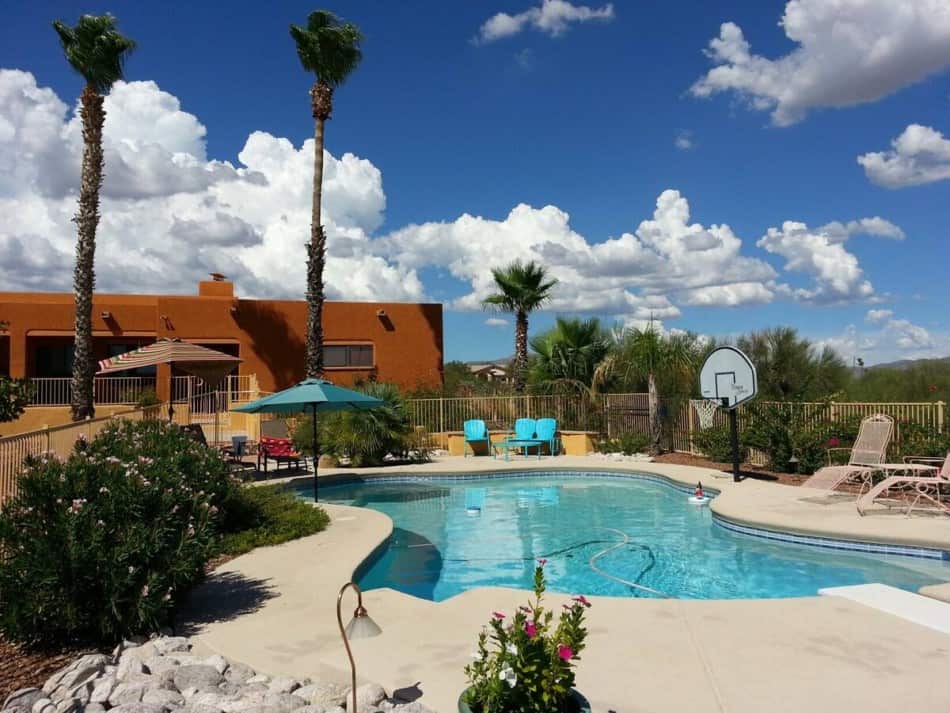 The casita features one bed, bathroom with shower and large closet, a fully-stocked kitchen, large TV, and more. And you will also love the fact that this casita has a pool that offers views of the surrounding desert and mountains. This is a highly recommended casita good for 3 guests at a very affordable price.
The Adobe
This spacious 2-bedroom house in Tucson is ideal for couples, groups of friends, and families who want to enjoy a true Tucson experience.
It is situated in a peaceful and historic neighborhood and it's just a few distances away from the best cafes and eateries in the area.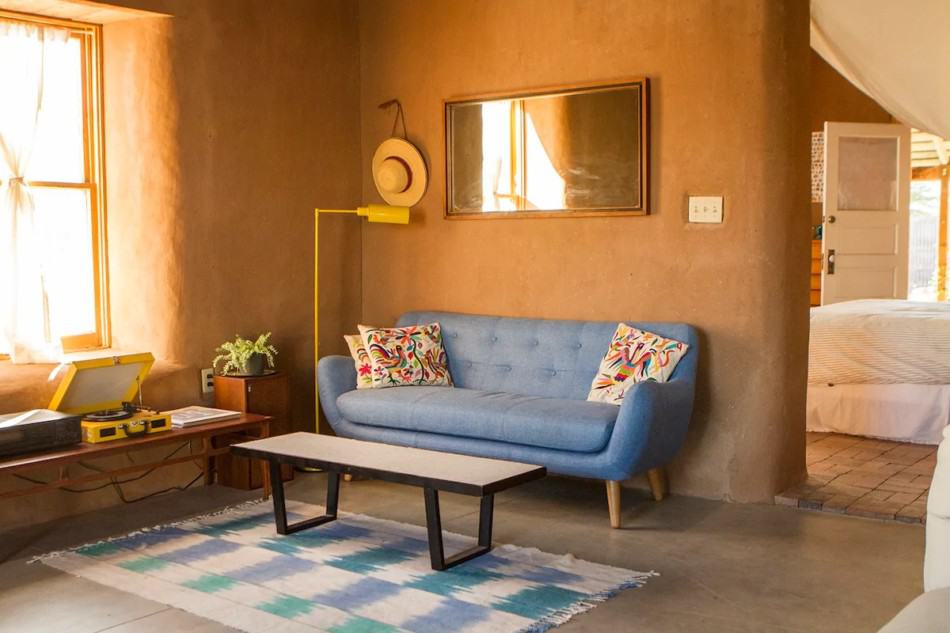 The space features 2 bedrooms good for 5 guests, an office, family room, dining rooms, laundry area, and a backyard.
The entire home is made from thick adobe walls and half of it is plastered while the other half is raw exposed mud so you need to expect a little dust. Nonetheless, this is a unique property that has a warm and comforting charm. 
Private House in the Hills with Pool, Yard, and Garage
If you are looking for a super private and quiet guest house in Tucson, this house is definitely a great choice. It sits on a 2-acre property that has an amazing view of the mountain, desert, and sunset.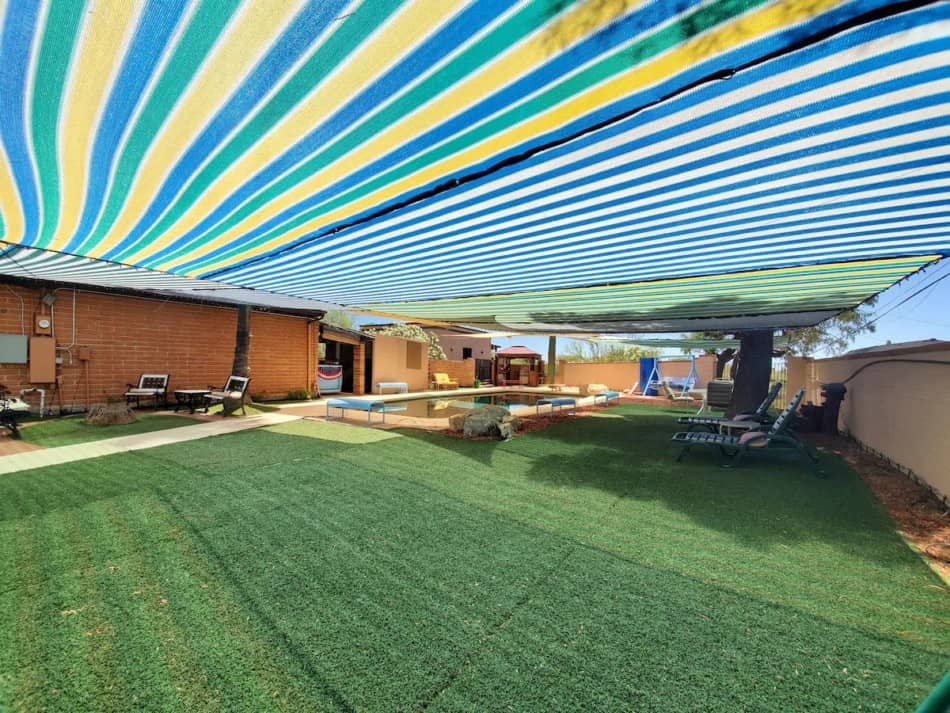 The house features hardwood floors, a private balcony, a full kitchen, full bath, laundry room, queen bed and fold out queen sofa bed.
This place basically has it all – pool. BBQ grill, park like yard, natural desert hiking, and parking. It can accommodate up to 4 guests for a very worthy price. After staying in this airbnb, you would surely want to book it again for your future trips. 
Tiny Luxurious Studio Near University of Arizona
This elegant and remodeled studio in Tucson is a crosswalk away from the University of Arizona campus and a couple of minutes away from the famous local restaurants and events in the area.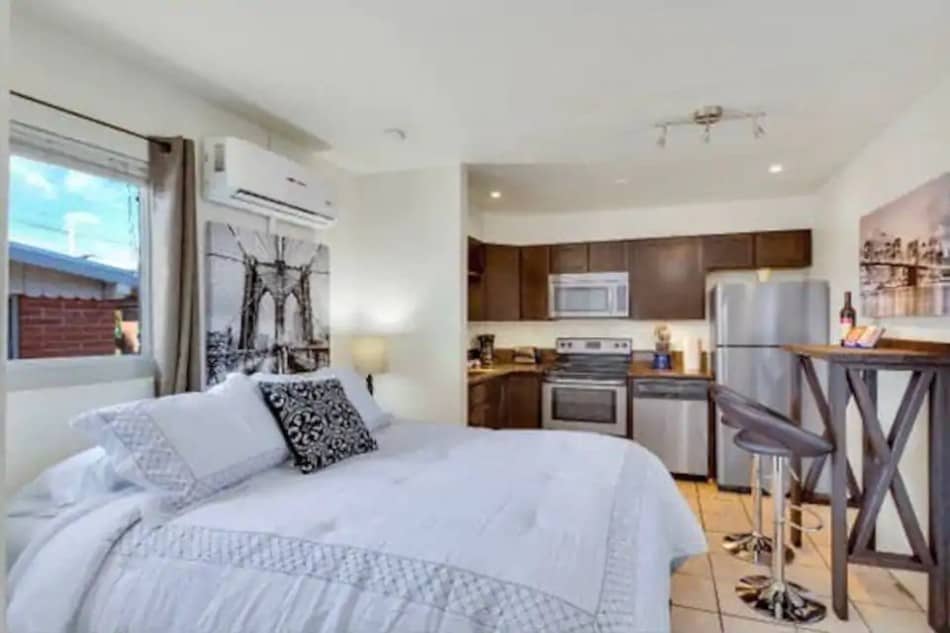 The studio features one bed, a kitchenette, laptop-friendly working space, TV, small couch, air conditioning, wifi, and more. Even though this is a tiny studio, it can fit up to 3 guests inside without the feeling of being too cramped and it's definitely worth the price.
The Cottage at Sanctuary Cove
The Sanctuary Cove's Guest House is surrounded by 80 acres of pristine Southwest Desert and it is considered as a place of respite from the happenings of a fast-paced life. The property features easy access to hiking trails and you can explore the areas of Saguaro National Park.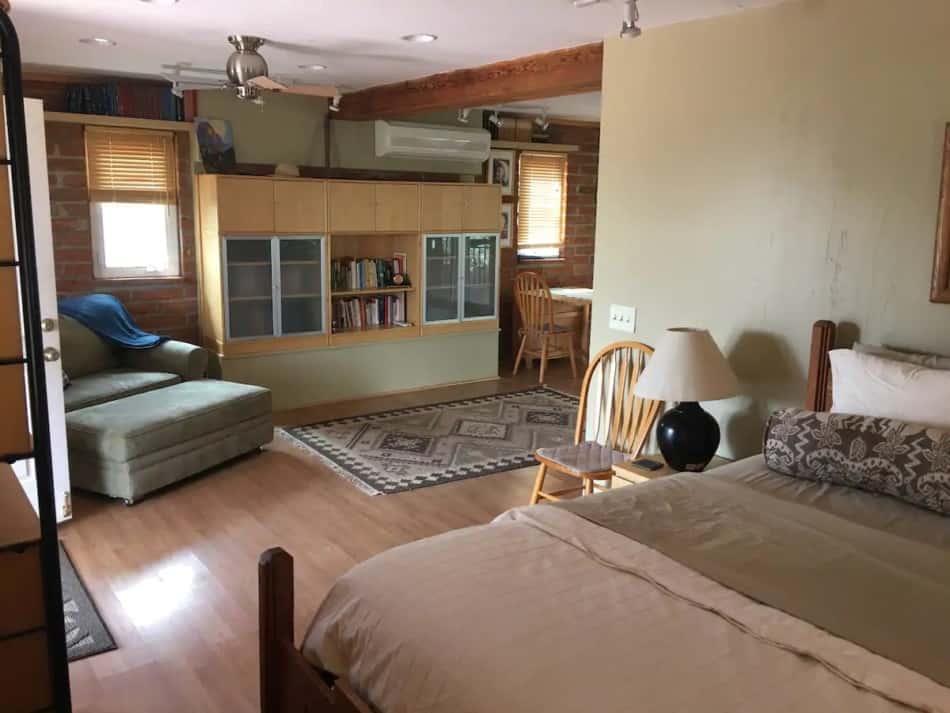 The cottage is nestled within the Safford Peak Valley and it overlooks the picturesque Tucson Valley. The amenities of the cottage include one bed, free wifi, heating and air conditioning, full bathroom, kitchen, dining table and chairs, and a lot more. This place is perfect for nature lovers, artists, and others who are looking to get away.
Modern Luxurious Loft-Style Studio
This unique and modern loft style studio is sure to impress all interior designers and enthusiasts with its meticulously designed and decorated space.
The large open floor plan of this studio welcomes any group of guests and gives a comfortable and relaxing vibe to all.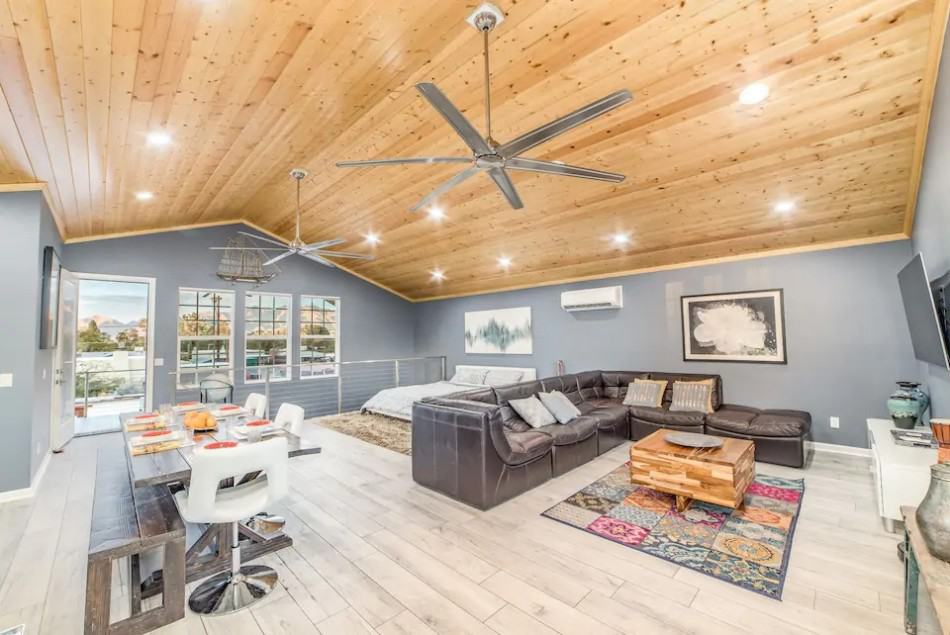 The studio features one bedroom for 4 guests, one bath, a kitchen, a dining area, laptop-friendly workspace, TV, wifi, two large ceiling fans, a balcony with chairs, etc. The hosts are extremely pleasant and would definitely give the privacy that you deserve. This studio is perfect for a weekend getaway and it has a great location too.
La Casita de Agrave
The La Casita de Agrave is your perfect home away from home that has the coziness of an airbnb and the amenities of a highly-rated hotel. The guest house features high ceilings, lots of windows and lights, a full deck with breathtaking mountain and city views, well-stocked kitchen, flat screen TV, full bathroom with linens and toiletries, wifi, and more.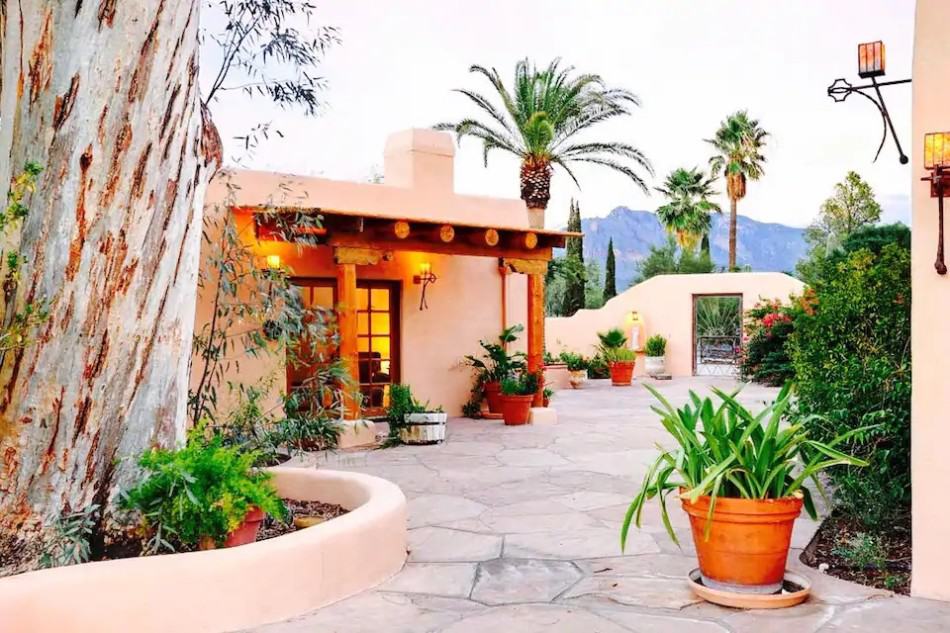 Plus, it has a perfect location and just a few minutes away from local attractions like Saguaro National Park, Catalina State Park, Downtown, and more. Everything in this airbnb is spectacular with personal touches and wonderful amenities. It can fit up to 7 guests at a budget-friendly price.
Casita del Rey
Casita del Rey is a charming 560 sq ft cowboy guesthouse that sits on a stunning 5-acre estate. It has all the comfort that you need for a perfect vacation such as a gorgeous pool, sunset patios, and you can even have the chance to get up-close to horses and donkeys inside the property.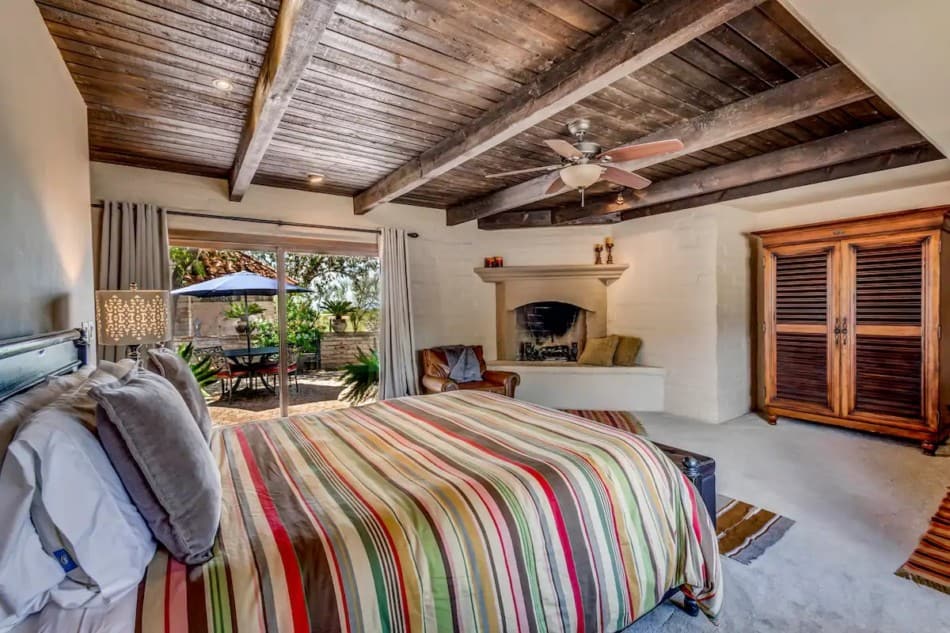 The space features amenities like a kitchenette, refrigerator, stove top, steam shower, basketball court, picnic area, high speed internet, and more.
There's also a pool which you can have access to that is located behind the fenced area around the main house. Truly, this place has so much to offer to all its guests and you would definitely mark this as your favorite airbnb in Tucson. 
Casita Tolsa
The Casita Tolsa guest house is very private space that is separated from the main house by a locked door and hallways and it is close to a lot of restaurants and shopping centers in the area.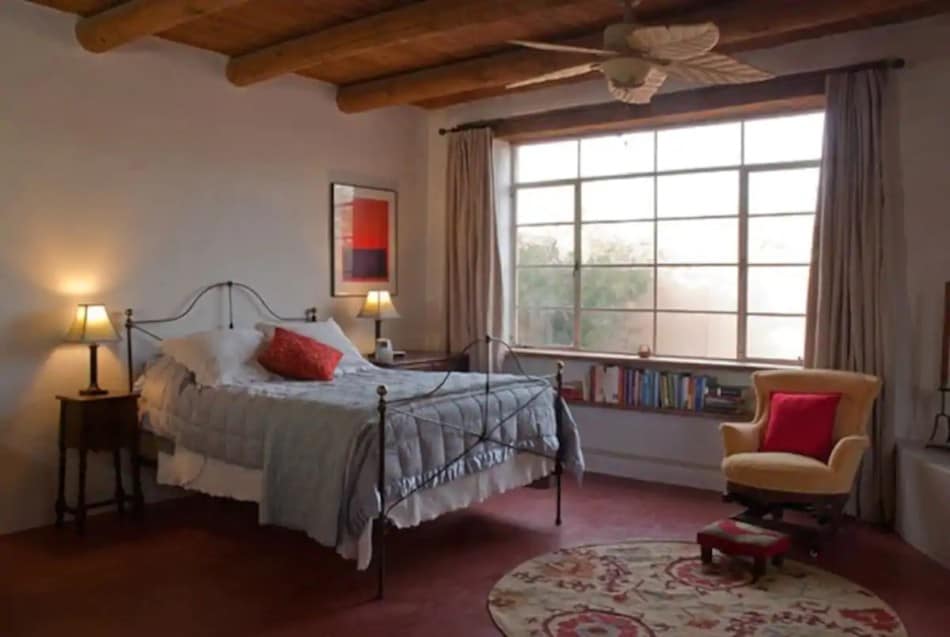 The suite features a mini fridge, coffee machine, toaster, oven, microwave, 55" HDTV with HBO, Netflix, Hulu, Amazon, etc, outdoor grill, and a great view of the city and mountains that surround Tucson. It can accommodate up to 4 guests and the hosts are very warm and welcoming so that you won't experience any inconveniences during your stay here.
Tucson Poet's Studio
The Poet Studio is a serene retreat located in the heart of Tucson that shares the private 1/3 acre lot and it is crafted in the classic Santa Fe style. The space features a courtyard and pool and you will have private views with a mountain view to the north and a view overlooking the pool to the east.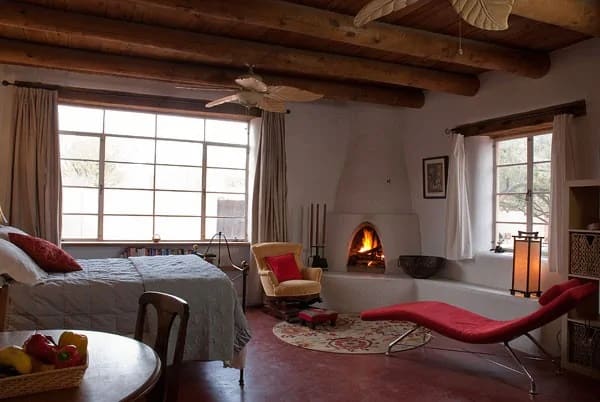 The studio has a queen-sized bed with a Saatva Flagship Luxury Firm mattress set, a 3/4 bath with walk-in spa shower, a well-stocked kitchen, air conditioning, high speed wifi, flat screen TV, and more.
And you don't need to bring a lot of stuff with you because this airbnb has everything you need for a hassle-free vacation – from soaps, dishes, to pots, pans, towels, robes and hair dryer. 
"Case Study" Guest House
This gorgeous and light-filled guest house is surrounded by mountains and located on the Santa Cruz River in the Sonora Desert. It is a walking distance from the historic downtown Tucson and close to a variety of microbreweries, pubs, and restaurants.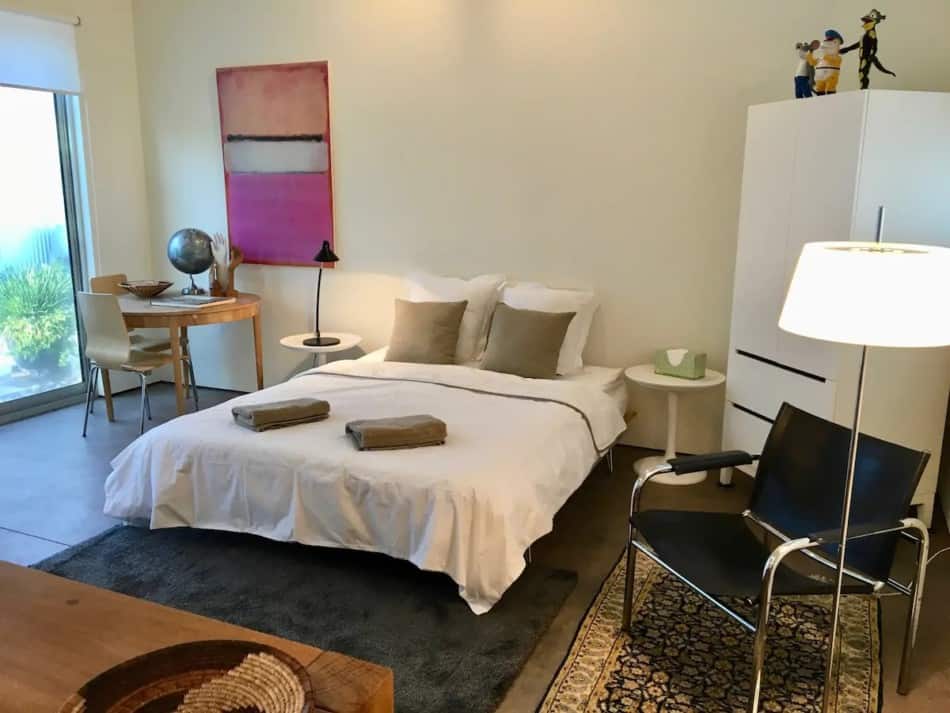 The place has a thoughtful and minimalist style good ideal for singles and couples who want to enjoy a quiet time. It is complete with amenities such as a bedroom, a kitchenette, breakfast, laptop-friendly workspace, and more. This place is a unique gem in the desert and anyone who has stayed in this airbnb before would definitely recommend this one.
Old West Adobe
Old West Adobe is a 1930s luminous place situated at the quiet and historic Tucson neighborhoods. Many sights in the area are just a walking distance from this airbnb such as the University of Arizona, museums, local's favorite entertainment, etc.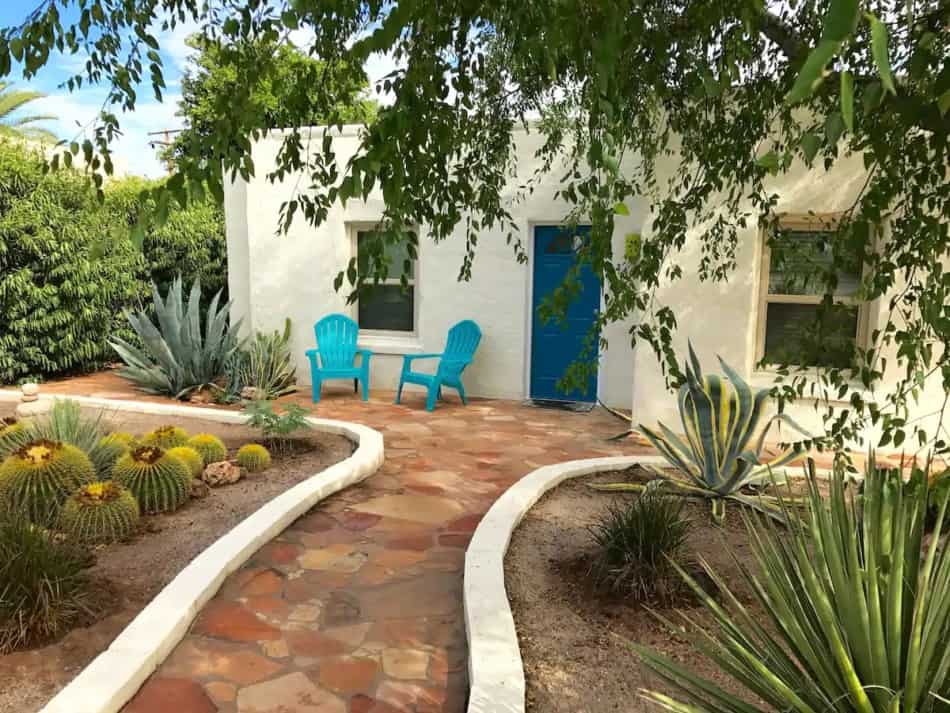 The space has a mixture of European minimalistic functionality with Southwest comfort. Inside it are a comfortable queen bed with memory foam pad, an array of pillow types, a full-sized refrigerator, full gas stove, oven and pan sets, coffee maker, and a lot more.
And what will make your whole stay more memorable is that the hosts will be authentically attentive and responsive to you even before you arrive. This is juts a wonderful place to stay for a couple or a couple with a kid.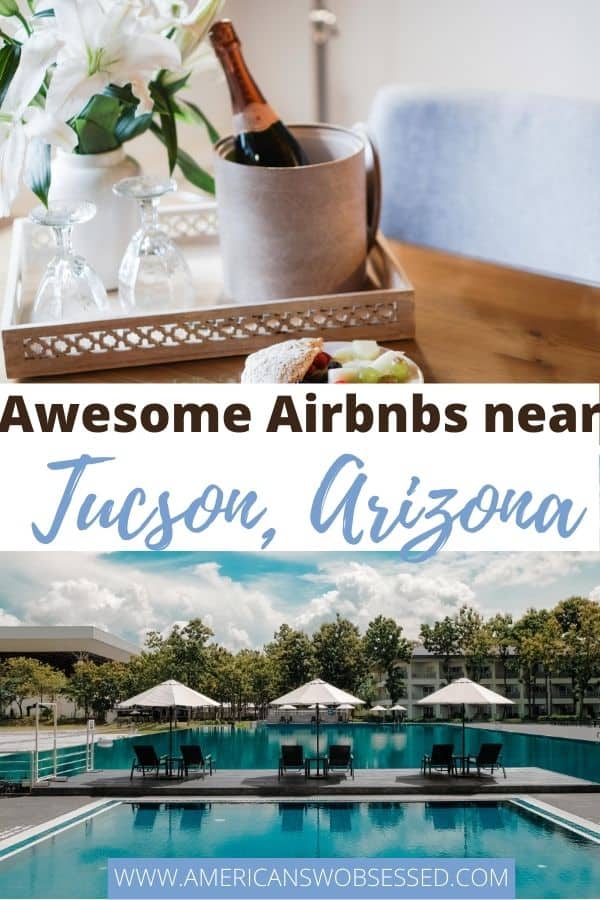 Recent Posts