Best Four Person Tent for camping and Backpacking
Are you looking for the best 4 person tent? Look no further this guide will find the right tent for you – for the right price.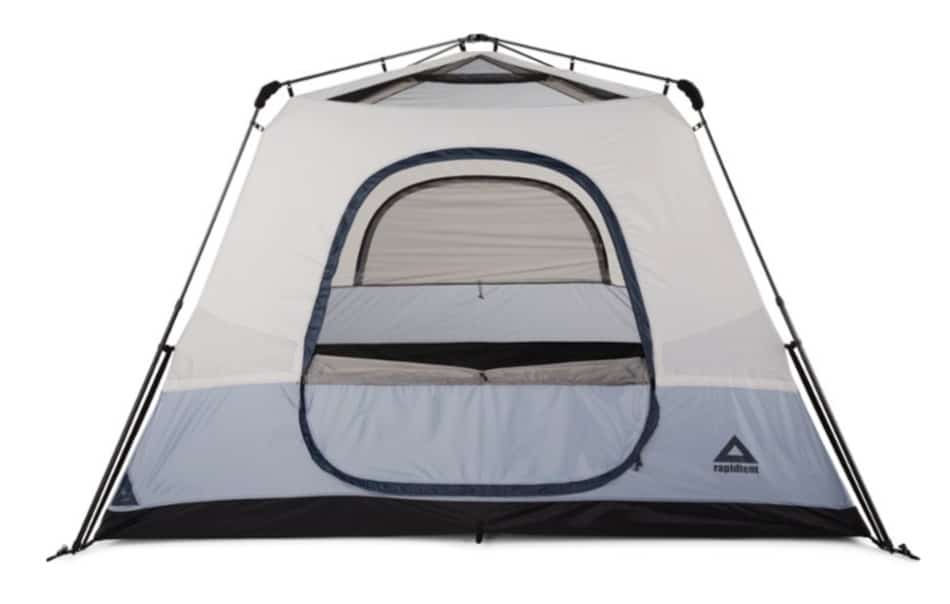 THere are several budget options in here and some great value options as well if you are looking for the best tent for 4 person and the best 4 person tents for camping.
This list includes several top rated 4 person tents and I list out the pros and cons of each along with the features of each top rated 4 person tent.
I've been traveling for 25 years and have done some major camping trips around the US and abroad. Do not underestimate how important having a good tent is when planning your gear.
Choosing your four person tent is a top priority but it doesn't have to be difficult. I've put together this list of the best 4 person tent for backpacking or camping to suit your needs.
Thank you for supporting this website written by an American. This post may contain affiliate links. This means I earn a small commission on these links at no extra cost to you.
The Best 4 Man Tent for YOU
Here is a quick overview of the best 4 person tents. You can scroll down to read the features you should look for in a four person tent and then the 4 person tent reviews.
My Pick For The Best 4 Person Tent
For me, the REI Half Dome tent is the best on the list. This tent has great ventilation – which is essential for camping in the American Southwest.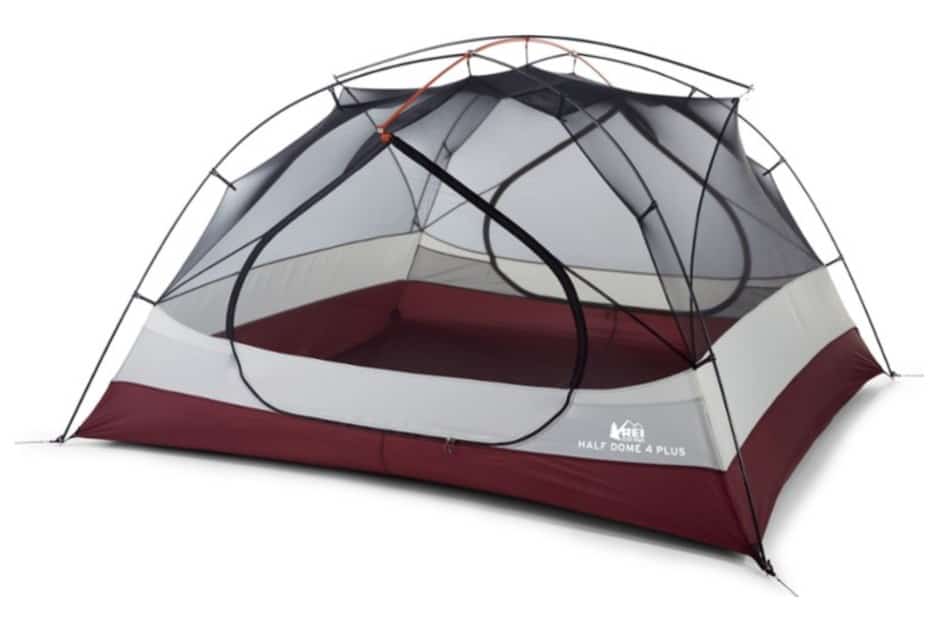 This tent is very durable and REI is known as a dependable brand and they create quality products. Its a name you can trust and this tent has space, and is great for backpacking or camping. I really like the two doors as you don't have to climb over someone to get out! Its the perfect tent for me.
How to Choose the Best Tent for 4 People for YOU?
Features to consider in a 4 person camping tent:
Weight
In choosing the best 4 man tents for camping, one of the most important features that you need to consider is the weight of the tent. I'm sure you don't want to add a burden on the things that you will be carrying with you during your hike or any other outdoor activity, so look for a lightweight four person tent. But if you are only camping on areas that don't require you to hike.
It is also worth noting that the best 4 person camping tent will vary in weight and sizes. You have to look at the packed weight and the trail weight of the tent. Ideally, the best 4 person tents should weigh anywhere 2 lbs to 4 lbs per person.
If you are only car camping, the ideal weight should range from 15 lbs to 50 lbs. But if you are going for backpacking, ideally it should be less than 4 lbs, any weight that is more than that can be burdensome and you might experience difficulty on your backpacking journey.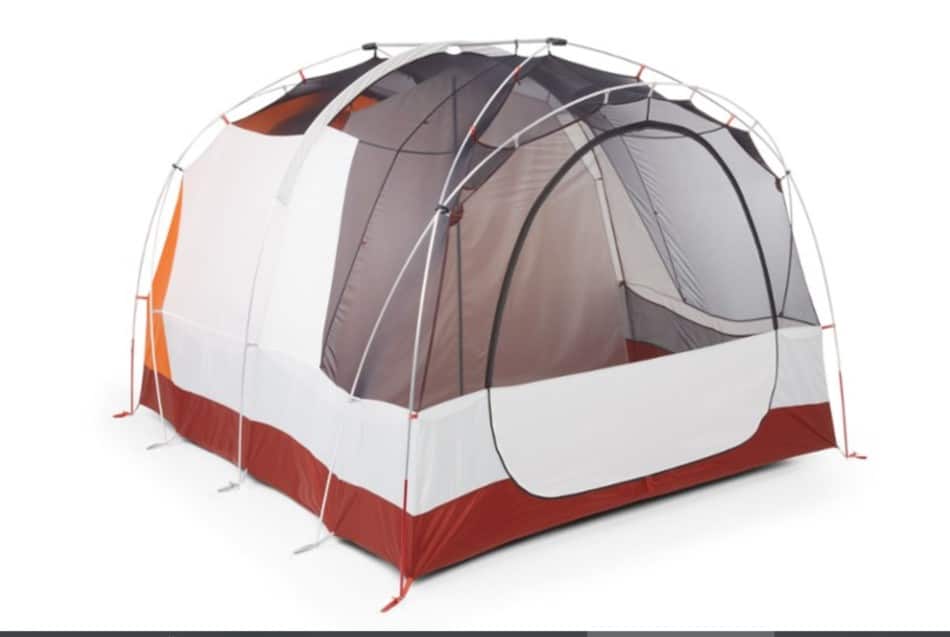 Capacity
Usually, when a manufacturer gives a capacity number, they based the numbers on the number of individuals that are sleeping side-by-side. It doesn't take into account what else you will be having inside the tent such as your backpacks or other essential stuff.
I am a firm believer in getting one of the 4 person tents that are actually made for 5 or 6. They give you a little space to actually walk around and not sleep on top of someone while you are in the tent.
Weather Resistant
Aside from weight, capacity, and seasonality, one of the things that you should also take into consideration is the tent's weather resistance feature. You have to take note that not all tents are created equal. To be more specific, not all tents are waterproof. A waterproof tent has been coated with polyurethane and the seams have been taped to prevent the water from entering.
Tents have waterproof ratings too and it is usually measured in millimeters (mm). A higher rating or mm means higher waterproofing. But if you are looking for a tent that is great for summer, a 800mm tent is good, and a 1200mm tent is suitable for all conditions.
Seasonality
The capability of a tent to provide shelter will vary depending on a season. The best type of tent will match the times of the year you usually go backpacking or camping.
3-Season
Most tents have a 3-season feature. If you are a fair weather camper, this type of tent is a wise choice. These are often lightweight tents that will keep you dry and cool during summer while also giving adequate ventilation.
3-Season Extended
This type of tent allows you to keep the camping season going into spring or fall. It also provides extra support to handle heavy spring rains or early snowfalls.
4-Season
Lastly, this type of tent are on top of the line for sturdy or stable tents. In other words, it is sturdy and durable enough to handle the harshest weather conditions such as snowfalls and rain storms. However, 4-season tents are quite heavier than the usual 3-season tents.
Design
The most common design for a tent is the A-Frame. It has vertical walls and a pitched roof. And they are often heavier. But, you won't encounter issues with standing in the tent as long as you choose an adequate height. However, one disadvantage of an A-type design is that a strong wind will hit it full force. Thus, causing the walls to shake easily during a stormy night and it can be a problem for people who are light sleepers.
The next design is called the Dome type. This type of design is a lot easier to set-up than an A-Frame. The rounded shape gives phenomenal protection against strong winds and it is more lightweight depending on the material used. However, the disadvantage of this tent is that it may not give you enough headroom for standing.
Materials
Tent poles vary in materials such as steel, fiberglass, and aluminum. And the difference in these materials will greatly affect the set-up and its overall weight. Usually, aluminum tent poles provide a sturdier option.
The Best 4 Person Tent – 4 person Tent Reviews
The Nemo Losi tent balances durability, packability, and livability. It is made of durable 20-denier ripstop polyester that provides privacy, while the no-see-um mesh canopy gives breathability and an excellent view of the celestial bodies, especially at night.
And since it is a 4 person tent, no need to cramp upon entry because it has 2 vestibules that give convenience and easy access to users. And what is even more convenient with this tent is that it has more headspace on the interior than comparable tents.
The added feature of this four person tent is its roll-up stuff stack that keeps your tent, stakes, and cords supremely intact and organized. It also has light pockets that can turn your headlamp into an overhead light.
When it comes to weather resistance, this Nemo Losi Tent can withstand 3 seasons – whether it is shoulder season trip into the high country or summer outings in the desert, this will be a perfect companion.
Weight: 9 lbs. x 4 oz.
Dimensions: 98.1 x 89 inches
Pros: 3 season, 2 doors
Cons: a little heavy for very weight conscious backpackers
If you are looking for a tent that you can use multiple times and through many seasons, the Coleman Sundome Tent is a great choice. The brand Coleman has been holding a good reputation with its high-quality products, and this Sundome tent won't disappoint you. This tent is made from tough and durable Polyester that gives the tent extreme durability.
Since it is a large tent, it's very spacious and it gives a lot of ventilation inside, even if you are claustrophobic. It can fit up to for 4 persons inside, and if you are planning to camp alone or with your significant other, you can truly enjoy a lot of space to move inside the tent.
Plus, the rain fly design of this tent acts as a barrier to heavy rain or snowfall. And even if you are camping during summer, this tent provides excellent shade so you won't feel the heat inside, instead, it will give you a cooler and more relaxed feeling.
When it comes to its storage, there are mesh pockets sewn into the tent's walls so that you can store your small essentials and you will be able to reach them easily. And if you are wondering if this tent is easy to set up, yes it is. It will only take you 10 minutes to assemble it. And what is even more amazing about this tent is that there is an E-port that easily allows you to bring electrical power inside the tent.
Weight: Less than 9 lbs
Dimensions: 9 x 7 ft.
Pros: Weatherproof, spacious, durable poles, built-in windows
Cons: Not ideal for rocky terrain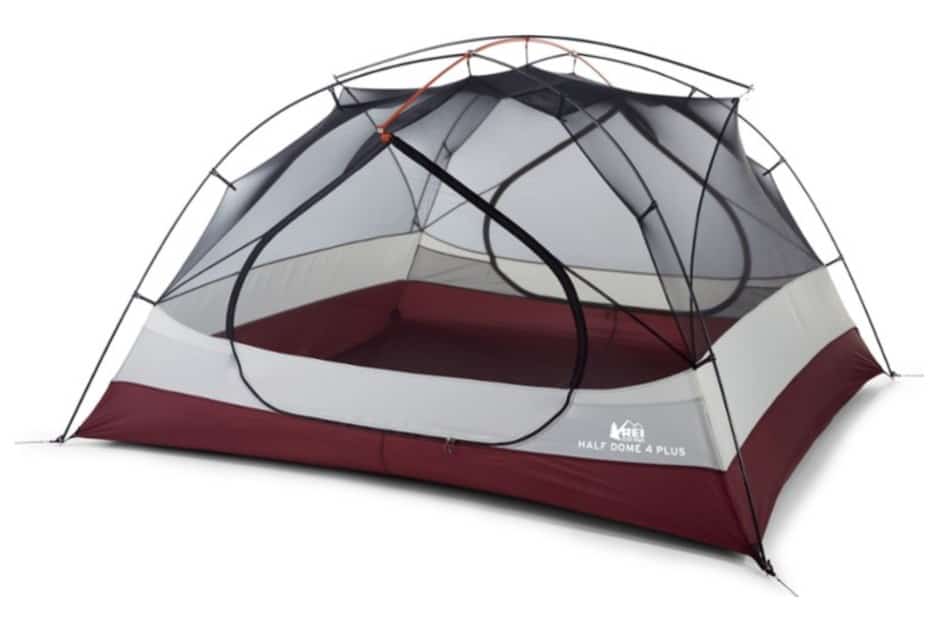 The REI Co-op Half Dome 4 Plus Tent is a perfect companion for backpacking families composed of – 2 adults and 2 kids. It's very functional because the walls are stretched out using accessory poles to make them more vertical, and as a result, it gives you more space inside the tent.
When it comes to comfortability, you can never go wrong with this Half Dome 4 Plus. Although the floor space is at 58.7 square feet and is smaller than the REI Camp Dome 4, it still gives you a roomier experience inside because the poles are stretched out to expand the walls vertically, while cutting down the slanted walls.
And with its two doors feature, you will have no problem getting in and out of this tent. The doors also have dual zippers that meet at the top that extends at 360 degrees so that you can easily put bulkier items in and out of the tent. And since you can fully open the door, it allows you to clear up some space and just let the breeze pass through the tent.
When it comes to storing some stuff, there's a good-sized pocket in every corner and a compartmentalized strip of pockets with six individualized pockets on each side of the tent. So whatever small items that you can bring such as sunglasses, wallets, headlamps, or keys, you can surely store them inside the tent.
The fly design of this tent allows sides and ends to be rolled up to maximize view and airflow. And if there is a strong wind, you can easily roll it down to give you some protection. Plus, you can easily set up the whole tent in just 10 minutes.
As I said before, I think this is the best 4 man tents out there.

Weight: 7.1 lbs
Dimensions: 92 x 92 inches
Pros: Lots of storage space, spacious, good vestibule
Cons: Extremity poles are a little thin
One of the best features of this Caddis Rapid 6 Tent is its ease of set up. If I am going to rank this when it comes to ease of set-up, it would be 10/10.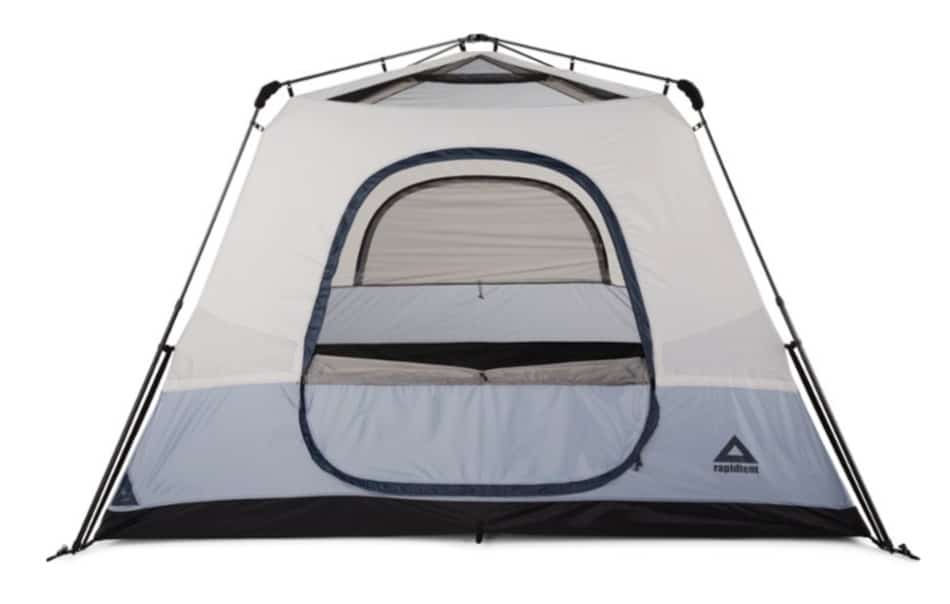 The Caddis Rapid 6 Tent wasn't named rapid for nothing. In fact, it goes up in just a minute and comes down in about the same. And when it comes to its fly. It provides good coverage. So whether the clouds get dark or the ground gets wet, it can still give you that same good coverage.
Although it says that this tent can accommodate up to people inside, if you are looking for a more comfortable sleep, this tent may be okay for 4 people. But if you are traveling with small children, a maximum of 6 people inside may be okay. And the peak height of this tent is 6'8, which shows that it has a generous and decent amount of headroom.
Plus, the roof is made of mesh that allows trapped heat to get out of the overhead. And not only that, it also gives you an uninterrupted view of the night sky as you sleep and gain energy for the next day's adventure.
And if you are a type of traveler who loves to bring stuff that requires electricity, the Rapid 6 Tent may be the perfect tent for you because it has a Velcro-sealing power port to satisfy your electricity-based needs.
Weight: 25lbs. 8 oz
Dimensions: 120 x 120 inches
Pros: Easy to set-up, spacious,
Cons: Bulky to carry and transport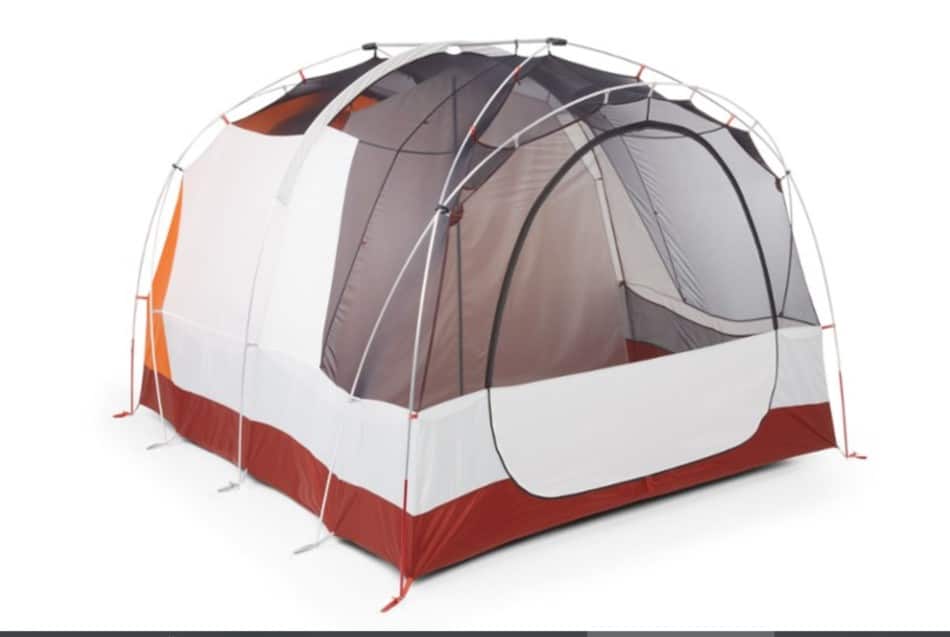 What is genuinely amazing and unique about this REI Co-op Kingdom 6 Tent is that it has a well-thought design like it's barn-like shape that makes it more spacious inside, plus it can accommodate a maximum height of 6 ft 3 in. And it says it can fit 6 people inside without feeling cramped because of its barn-shaped and longer design.
Both ends of this Kingdom 6 Tent have near 360-degree doors that are kept neatly into a small storage pocket located at the top, inside of each door. In fact, this tent has 22 pockets all in all which you can store clothing, headlamp, car keys, phone, or even toiletries.
And if you want to have an added privacy, you can just simply divide the tent into two even sections. The room divider has a handy zip up in the middle that you can open, close, and secure with loops on the side of the tent.
When it comes to its weather resistance feature, this REI Kingdom 6 tent can withstand even the heaviest extended downpours. It has a fly that can cover the entire tent, side-to-side, and all the way to the ground. There is also a pop-up Velcro vents in the ceiling of the fly to increase airflow and prevents your stuff from getting sultry when it rains.
Weight: 21 lbs. 6 oz
Dimensions: 120 x 100 inches
Pros: multiple interior storage, barn-shaped, adjustable room divider
Cons: only one vestibule
If you are looking for a tent that can offer maximum livability features that is light enough to take into the backcountry, the MSR Papa Hubba NX Tent may be the right one for you. This is a great lightweight 4 person tent.
This tent only weighs 6.7 pounds so it's a very great companion for people who don't like to add bulk on their things when they are backpacking or hiking.
The large side windows of this tent allows you to have a great view of the campsite while sitting comfortably or just laying down. Although this tent may say that it belongs to the 4 person tent, however, if you are looking for long term comfort, it would be more realistic to put this in the 3 person category unless you are bringing small children with you inside the tent.
But if there is one thing that would greatly impress you with this Papa Hubba NX Tent is that it is almost perfect when it comes to weather resistance. If you are camping or backpacking and the weather condition is unknown, this can be your best buddy. This tent is impressively steady in high winds and its extra weight is well worth the added security.
Weight: 6.7 pounds
Dimensions: 93 x 86 x 44 inches
Pros: most weather resistant
Cons: narrow vestibules
Weatherproof, lightweight, and packable – these are the three words that would best describe this Big Agnes Tent. For minimalist backpackers or campers who want to trim off the load of stuff that they bring with them, this lightweight tent is a great choice. Plus, it is designed with a high volume hub to maximize strength and increase living space without adding weight.
It has two large dual-zipper doors with discrete seams to allow easy entry and closure of the tent and all seams are taped with a waterproof and solvent-free polyurethane tape to give extra strength and durability. And speaking of strength, this tent has 4-way, high-volume hub designs that increases strength by 25% compared to previous versions of the Copper Spur tents.
The Big Agnes Copper Spur HV UL Tent is easy to set up and it has a single, interconnected pole with two hubbed ends to give that extra strength in case of strong winds. And as to its weather resistance feature, this Copper Spur HV UL tent has a nice body that produces a tight pitch that can hold steady even in the wind and perfect tent for 4 people.
Weight: 5.4 lbs
Dimensions: 25 x 9 x 7 inches
Pros: two large double doors, excellent balance of space and weight, tent 4 person
Cons: delicate fabrics
This Coleman Cabin Tent with Instant Setup is a phenomenon when it comes to setting it up. If you don't want a tent that has a bunch of poles and complicated set-up time, then this one is definitely perfect for you. You can set-up this tent in 60 seconds or less, but if you are faster, you can probably set-up this tent in just 45 seconds.
If you are wondering why this tent is so phenomenal when it comes to its ease of set up, it is because the poles are pre-attached to the tent, so all you need to do is unfold the tent, face the poles in the proper direction, then pull the poles apart to expand them, and voila, you have your Coleman Cabin Tent!
This tent is fairly spacious, although it has only one door. It may not be fancy as compared to other tents, but for sure it is roomy, easy, and readily vented. But one thing that this tent lacks is that it doesn't have much interior storage space where you can place your small essentials like car keys, wallets, phones. It only has two moderately-sized pockets found in the opposite corners.
One thing that will truly surprise you with this tent is that it has dark room technology where it blocks 90% of sunlight coming into the tent. This new technology lets you have some z's even when the sun is already up. And on rainy days, this tent will stay dry due to its tube-like floors with patented corner welds and covered seams to help keep water out.
Weight: 18.9 pounds
Dimensions: 9 x 7 ft. with 9 x 4 ft. screen room
Pros: super-quick set up
Cons: no vestibule
The Kazoo Outdoor Tent is a spacious and durable tent that is fast and easy to set-up and it could be done within 3 minutes by two persons. It has a very spacious room and vestibule and it is a perfect family tent for your next outdoor adventure.
This tent consists of 2 functional layers. One, the liner is made of B3 mesh and 190T breathable Polyester. And two, the rainfly is made of 210T Rip-stop Polyester. They use one of the best materials to offer a maximum durability.
Aside from that, this tent has passed a waterproof test, with a rating above 3000mm, and all seams are taped with waterproof so you can be assured that it will give you high performance even in extreme weather conditions.
As to its comfort and breathability, this tent has 2 doors and 2 windows to provide excellent ventilation. They designed a porch to offer a comfortable outdoor camping tent, and the front door could be opened and supported to act as a sunshade. This tent works perfectly on summer beaches, campsites, or even just in your backyard.
Weight: 12.6 lbs
Dimensions: 95 x 86 inches
Pros: Multifunctional vestibule, full coverage rainfly and waterproof
Cons: Slightly heavy to carry
The Marmot Halo Tent is a 3-season tent that has a full-coverage fly and you will see that it is a double-layer structure with the inner tent and fly to give that maximum protection. It is a freestanding and self-supporting tent, which is a perfect companion for your next trip.
This tent is called "Halo" because it has two top brow poles that give the tent structural stability. If you will notice, the doors of this tent are almost completely vertical so it gives you lots of headroom and elbow space, and as well as increases livability and comfort.
As to its weather resistance feature, this tent has a good waterproof rating and can give you full-coverage. And as to its weight, you won't have a problem carrying this tent because it's lightweight and it can be carried for some overnight hiking or climbing.
Weight: 13 lbs 6.5 oz
Dimensions: 59 x 96 x 96 in
Pros: Full-coverage fly
Cons: small area per person
Kelty Outback is a freestanding 3-season camping tent that you can set-up on any surface like concrete, grass, rock, or frozen ground. And although it mentions that it is a 3-season tent, it is not designed for harshest weather conditions such as a lot of snow or wind. However, the waterproof feature of this tent's fly is 1800mm which means it is more than enough for hurricane-type rains.
This tent has one door and one vestibule only, so the space is limited only for 4 people. However, if you want maximum comfort while sleeping, it would be highly suggested that only 3 grown-up people should be inside to avoid being cramped there. And when it comes to its materials, the fabric of the floor and the fly is surprisingly durable. It is made from 68D Polyester. While the poles are made of fiberglass, and it needs extra care when you use them.
Weight: 9 lb 6 oz
Dimensions: 96 x 85 x 59 in
Pros: Only one door, easy set-up
Cons: Fiberglass poles are as not as durable
The Space Camp Tent was carefully designed to be a go-to full size tent for families who love to go on camping adventures. It has generous headroom and ample living space inside for parents and children to relax and have a good sleep. It is a 3-season camping tent that has a rugged 7000 Series aluminum frame that shrugs off any storm.
Campers will fall in love with the High/Low Vent Air System which can be easily adjusted for ventilation options and for climate control in all weather conditions. It also offers all-weather protection and it features a 68D polyester taffeta fly and floor, with a 1,500- and 1,800-millimeter coating to keep the moisture out.
The tent also has 2 massive doors and vestibules so you can easily go in and out of the tent. But the windows are uncovered on the inner tent and there's no zipper covering for them. However, the tent is designed to be used with a rain fly for protection, which it does have zippered openings for the front and rear doors or windows.
Weight: 12 lbs
Dimensions: 90 x 60 in
Pros: Ample space, generous height
Cons: Windows are uncovered
The NTK Colorado GT tent claims to be the best family tent that you could ever find in the market. It boasts of its spacious double door tent with 2-way zipper and a spacious floor area of 10 x 10 ft and a 5.7 ft center height. It has also a freestanding design that allows you to pitch it on any surface.
This tent is made of 100% waterproof 190T polyurethane laminated polyester fabric that also offers 50+ UV protection and is built to provide full coverage on all 4 sides, thus making it a true waterproof tent. It also features high-quality and extra-thick Nano-flex poles with high-performance bungee cords and durable galvanized steel parts that keep the tent poles interconnected.
When it comes to the ease of set-up, this camping tent is easy to assemble and it doesn't require you to put so much effort and energy. NTK camping tents feature an innovative pin-and-ring system to ease the burden of users to assemble the tent, thus allowing you to spend your energy enjoying the outdoors. And not only that, this tent also provides excellent ventilation with its ultra-slim polyester micro-mesh that protects you and your family from mosquitoes and other insects.
Weight: 18.7 pounds
Dimensions: 117.6 x 117.6 x 68.4 inches
Pros: two large doors, micro mosquito mesh
Cons: Not enough ventilation
Conclusion: Finding the Best 4 person tent for you
Whether you are looking for an ultralight 4 person tent or the best tent for family of 4 – this list of 4 person tents has something for everyone even a cheap 4 person tent.
Recent Posts