15 Best Airbnbs in Kanab, Utah
Airbnb Kanab Utah: Are you looking for the Best Airbnbs in Kanab, Utah? This list of Kanab Airbnbs has something for everyone and for every budget. These are some of the best places to stay in Kanab.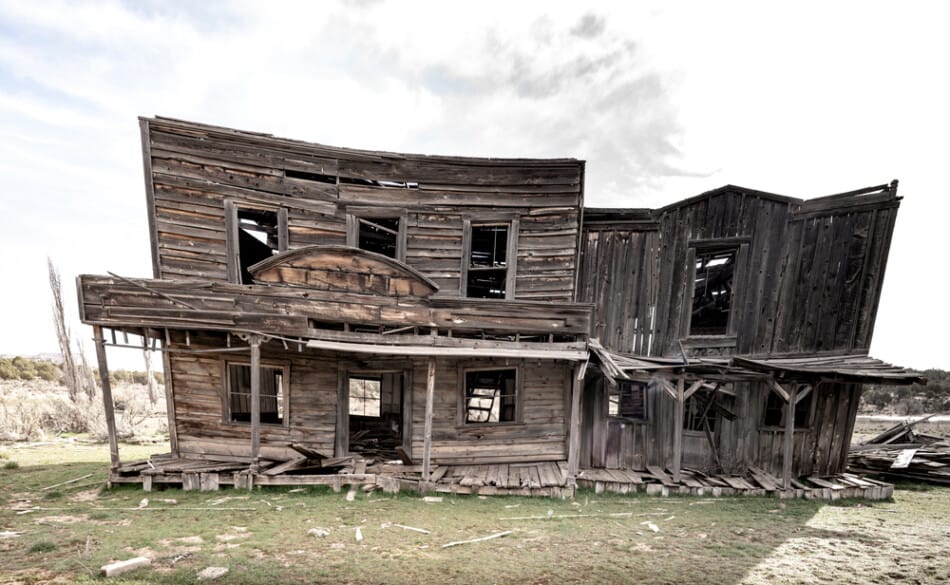 Whether you are looking for Cabins in Kanab or just great places to stay you will enjoy this list. This is the Airbnb in Kanab that I stayed at and absolutely loved it.
Kanab is the classic American West, surrounded by towering Navajo sandstone cliffs and sagebrush views. For almost 80 years, this landscape has drawn filmmakers to Kanab. Abandoned film sets near the city have become attractions for visitors. There are buildings all over town with plenty of movie posters and autographed pictures to validate Kanab's self-proclaimed title – "Little Hollywood".
Kanab is a great little city with all of the necessary amenities. Kanab is also a great jumping off point for Coyote Buttes, Grand Staircase Escalante, Coral Sands State Park, Peek-a-boo Slot Canyon, The Wave, and White Pocket.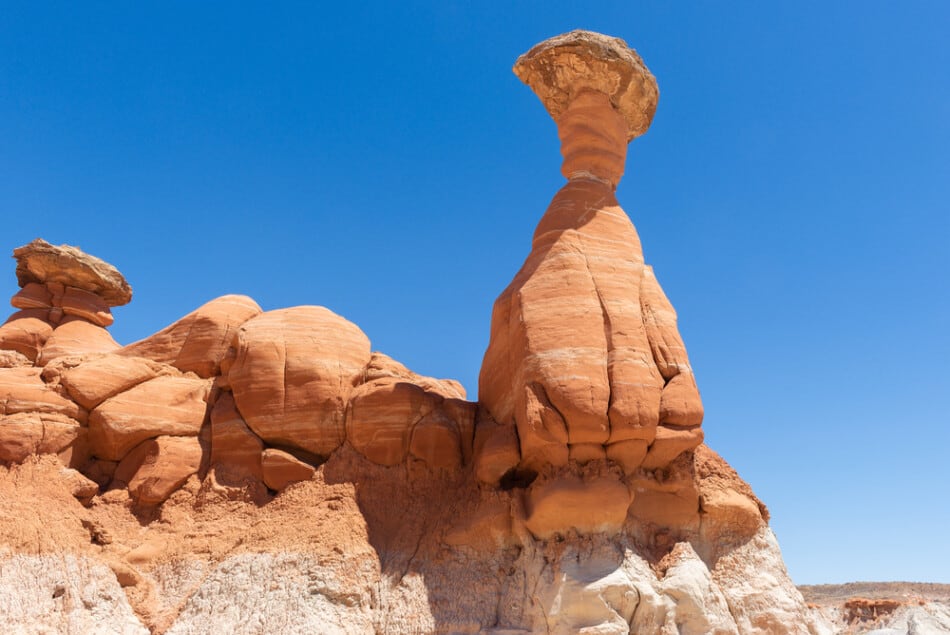 Kanab is also only 30 minutes away from Zion National Park. Not that you need me to convince you to visit! Here are the drive times to nearby attractions:
15 mins from Grand Staircase Escalante
30 mins from Zion National Park
80 mins from Bryce National Park
90 mins from Grand Canyon
30 mins from Coral Pink Sand Dunes
60 mins from Lake Powell
Thank you for supporting this website written by an American. This post may contain affiliate links. This means I earn a small commission on these links at no extra cost to you.
15 Best Airbnbs in Kanab, Utah
Townhome by Zion, Bryce, Grand Canyon in Kanab
Enjoy this relaxing townhome getaway nestled in the heart of the Grand Circle near all of your favorite National and State Parks. The Grand Canyon, Bryce Canyon, Zion National Park, Coral Pink Sand Dunes State Park and countless other natural retreats await you.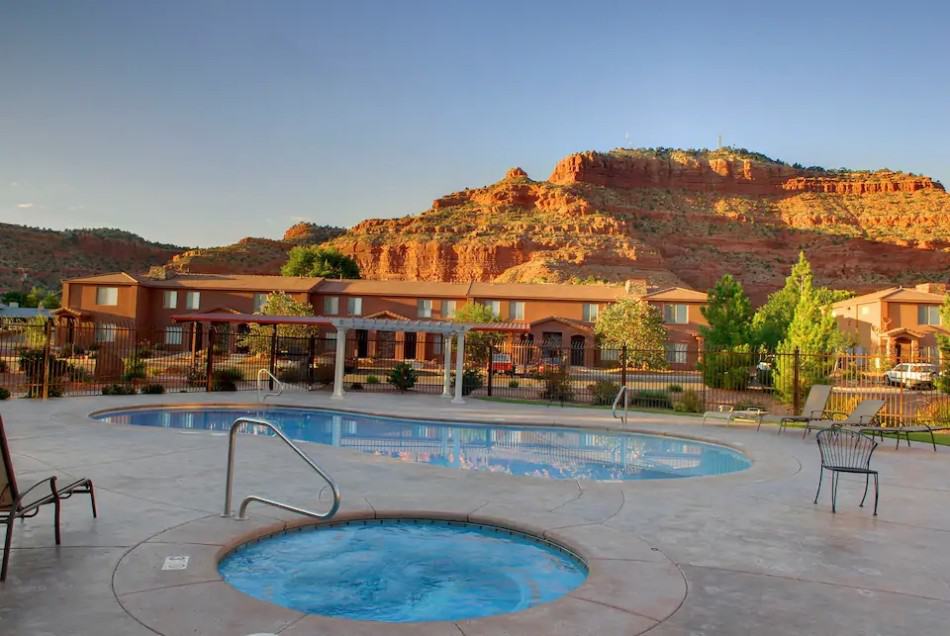 Review: Expect a beautifully clean and nicely furnished place where you can spread out to relax. Check out the pool and hot tub area. Just stop by Honey's Marketplace for your groceries and enjoy your time in Kanab!
Downtown Cottage at Historic Home
Guests: 3
Bedroom: 1
Staying at this cottage type home will take you back to history as this is one of the first few homes that was ever built in Kanab. The property may be old but mind you, it's so clean, comfortable, and welcoming. It's very close to the vacation spots in Kanab such as Zion National Park, Bryce National Park, The Wave Lottery, and more.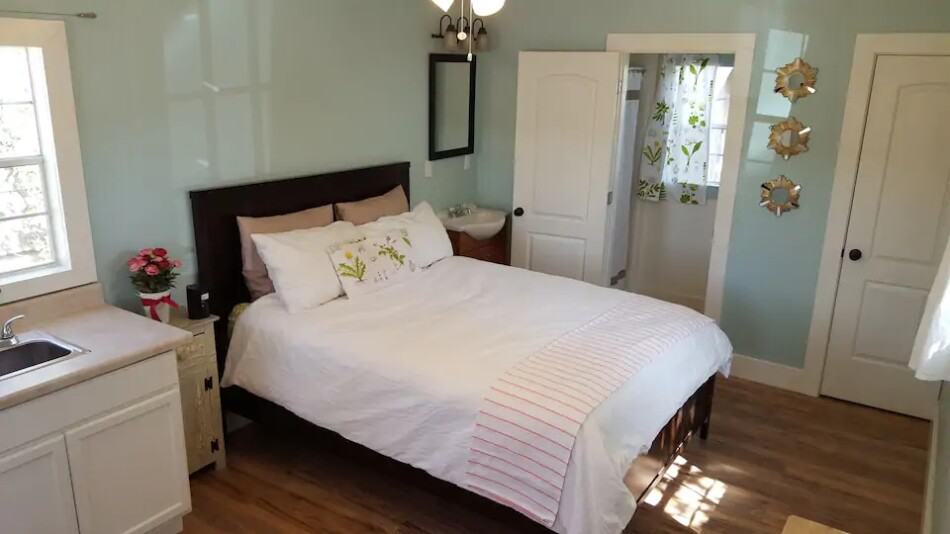 You'll have the entire cottage to yourself and you'll be able to enjoy full privacy because there are no direct neighbors above, to the side, or even below you. Inside the cottage, you'll have your own queen size bed, a fold away twin-size futon, bathroom, and kitchenette.
Brand New House Located in the Heart of Kanab
Guests: 6
Bedroom: 2
This newly constructed house features two large bedrooms, each with a queen size bed, a full bathroom, queen size sofa bed, a fully equipped kitchen, a washer and dryer, and a TV with access to Netflix and Hulu. And what's even great about this Airbnb is that you don't have to personally check in with the host upon your arrival. You can just enter the house through an electronic keypad located on the front door.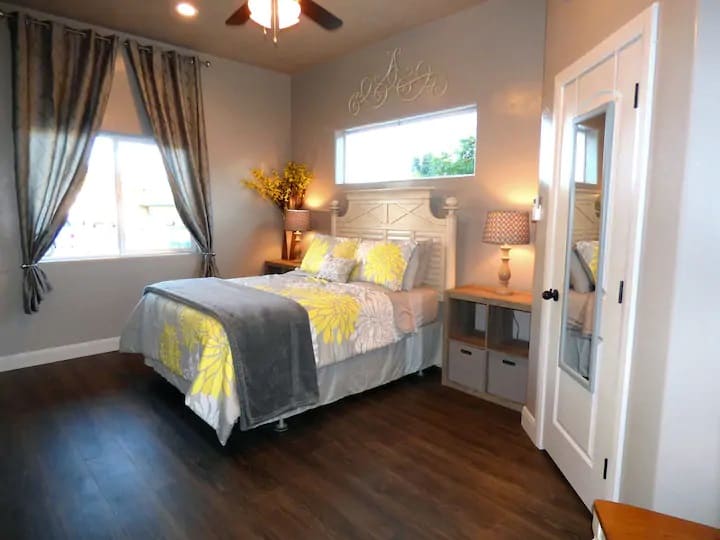 This is also a strategic and convenient location if you want to explore the famous attractions in Utah such as the Grand Canyon, Best Friends Animal Sanctuary, Grand Staircase Escalante National Monument, and more.
Juniper Forest Inn
This bright and cozy home will provide the perfect respite between adventures in the high desert of southern Utah. The views are the best you'll find for miles, and the amenities will make you feel right at home.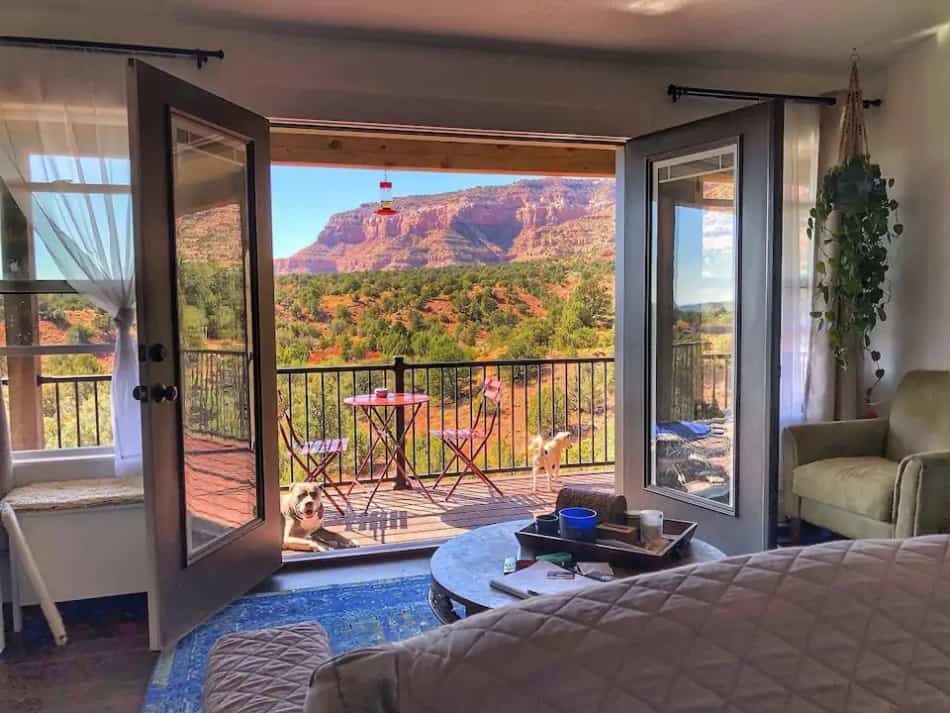 This is a two bedroom, two bathroom home. It is fully equipped with washer/dryer, fenced in back yard, and full kitchen. It includes a pull-out couch for fitting additional guests.
Amazing Red Rocks Views with Cal King Bed
Guests: 6
Bedroom: 2
Beautiful home situated among majestic red rock cliffs. Hiking, ATV, and horse trails within walking distance of home. 2 miles from the center of town, conveniently located to BLM office, grocery stores, and restaurants.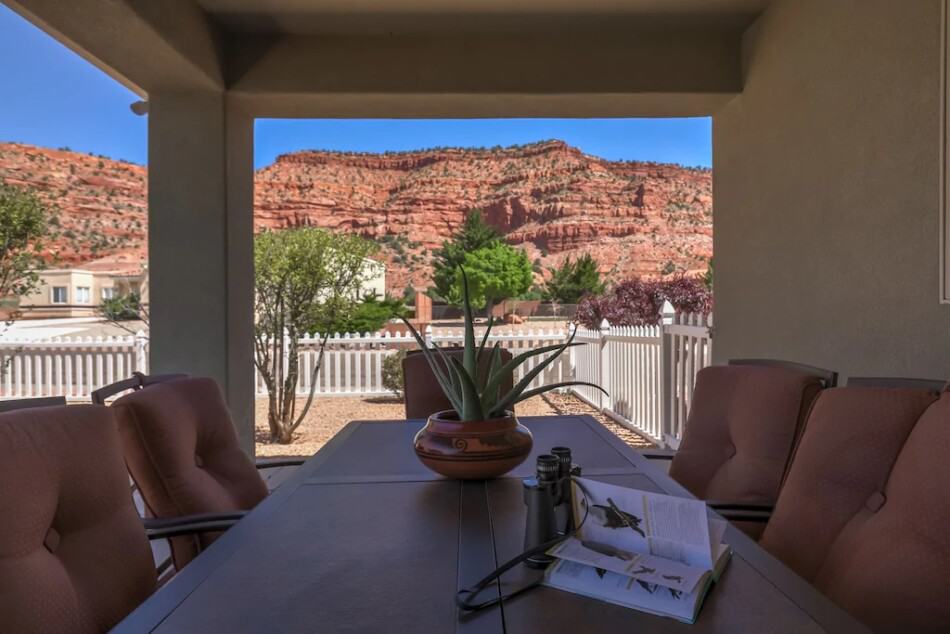 From the porch, you'll be able to enjoy the remarkable views of the red cliffs. If you're up for an outdoor adventure, this cabin can serve as your basecamp as you explore the many stunning wonders that Utah can offer.
Apartment by Kanab Cottages
Guests: 4
Bedroom: 1
This is a very nice place to stay in town especially if you are up for some outdoor adventures. It's very central to Zion, Bryce, Escalante, and the north rim.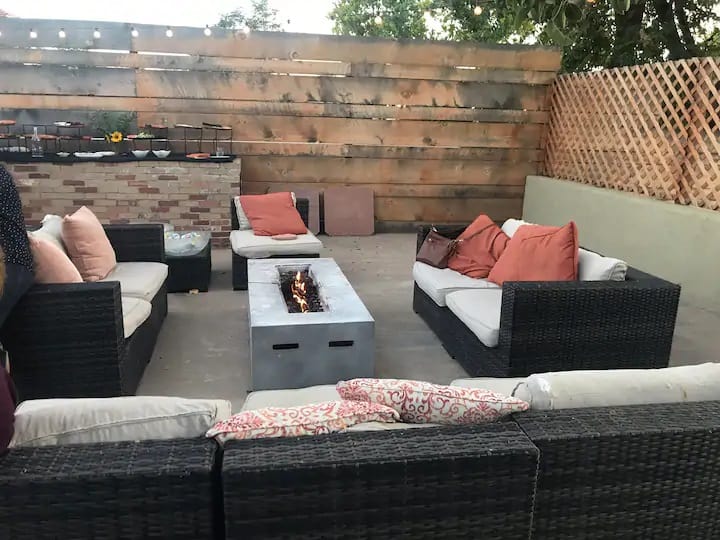 The space is all yours and each studio apartment offers a flat screen cable TV, full kitchen, and a lounge space. You can also interact with other guests on the outdoor patio where the scenery is so relaxing. It also has a fire pit, grill, and several seating options. Plus, the ease of access and proximity to restaurants and local shop is an added advantage.
Quiet Shelters Red Rock Retreat
Guests: 2
Bedroom: 1
Set in 2.4 acres of beautiful landscape, Quiet Shelter is your gateway to outdoor adventure and rich cultural heritage in Utah. This space was inspired by southwest design and would fit naturally into the magnificent landscape of canyons.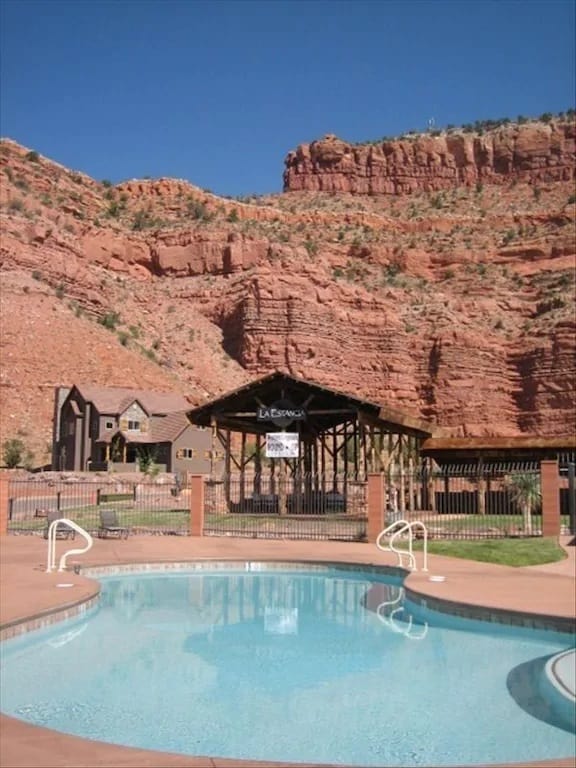 Quiet Shelter offers simplified living that still gives you that spacious feeling but not overwhelming. The interior is built with clean lines, concrete floors, and countertops, and windows on all sides to let the natural light come in. But not only that, this property has a gorgeous outdoor space – a rock table courtyard where you can lounge and have a good cup of coffee during the mornings. And in the afternoon, you can lounge at the shaded east patio while enjoying the view of the Southern Utah desert.
Kanab's Cozy Cottage
Guests: 3
Bedroom: 1
There's just so much beauty around this completely private and comfortable apartment in Kanab. The place has a beautiful area with lots of trails to hike and stunning views all around. It is also centrally located in the National Parks Wonderland with Zion, Bryce, and Grand Canyon National Park.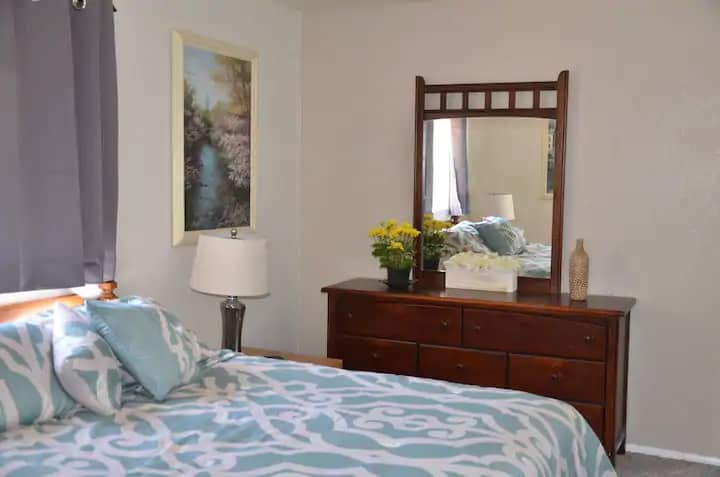 Inside this very comfortable dwelling are a large bedroom, walk-in closet, full kitchen and dining area, large bathrooms, and spacious living room. And when you step outside of the front door, you'll see the Red Mountain with hiking trails which you can go on a wonderful hiking adventure.
Guest Suite Nestled in Red Rocks
Guests: 6
Bedroom: 2
Nested directly in the red rocks of Kanab, this 2 bedroom guest suite is a combination of peaceful and funky spaces. You'll definitely enjoy the coziness, stunning views, and vintage feel that this place can offer.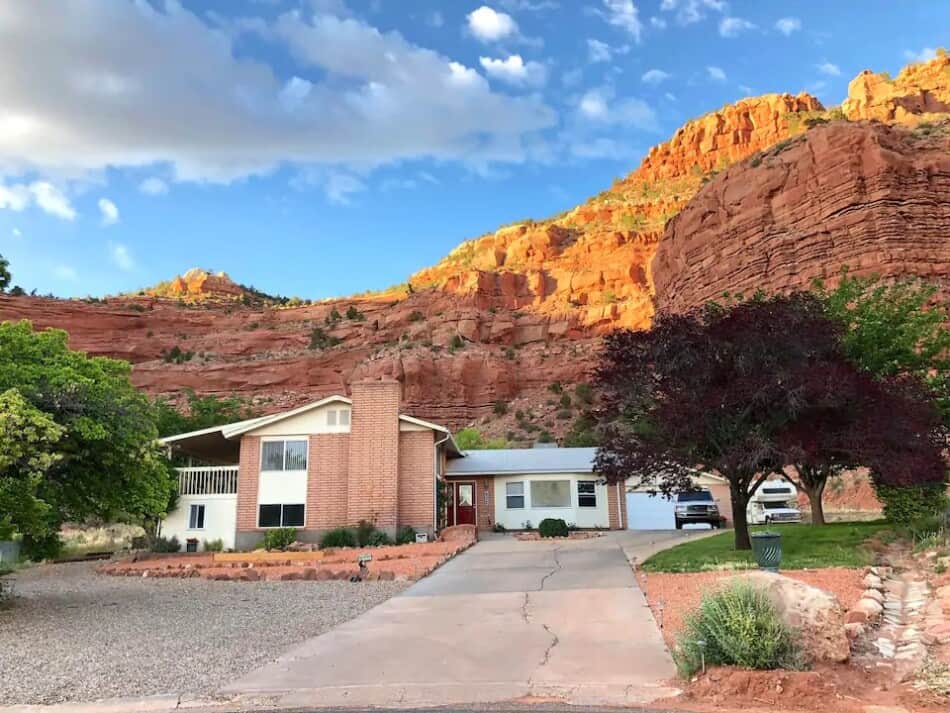 The suite is at the lower level of the split-level house and it features a new kitchen, living room, laundry area, and a bathroom. There is also a beautiful backyard available where you can have a picnic while being surrounded by the breathtaking views of the box canyon. This place is ideal for couples, solo adventurers, business travelers, and even families with kids.
Timber & Tin – 1 Bed 1 Bath
Guests: 4
Bedroom: 1
This brand new vacation rental home does make you feel like you are in an exclusive resort with its resort-like amenities. You can relax on the porch, swim on the pool, or perhaps sink on the hot tub – the possibility is just limitless.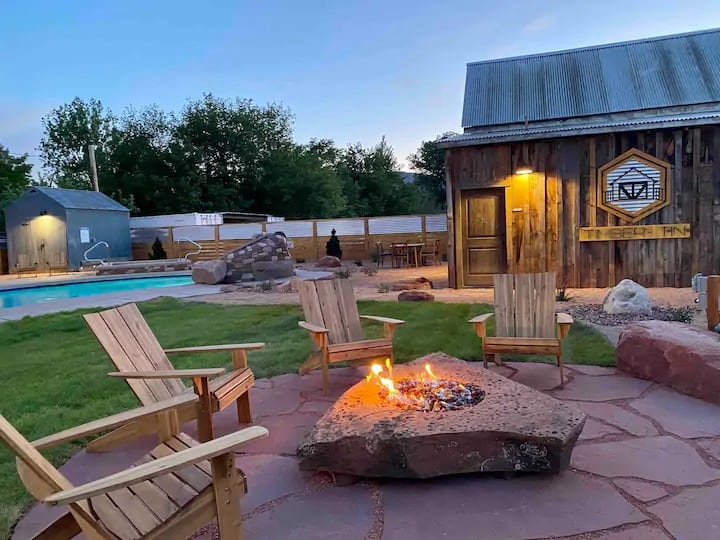 The unit is very spacious and features modern facilities and it has everything you need for a relaxing vacation. The overall layout and floor plan of the house is so well thought. And if that isn't enough, you'd be glad to know that this place is right in the middle of Kanab and it's very close to a lot of outdoor activities that kids and adults would both enjoy.
Lovely Kanab Condo
Guests: 2
Bedroom: 1
Each of the studio apartments features amenities that are very modern such as a flat screen cable TV, full kitchen with microwave, full size refrigerator, coffee maker, and an outdoor dining and lounge space. And to make it even more amazing, the whole space is yours so you can ensure full privacy during your stay.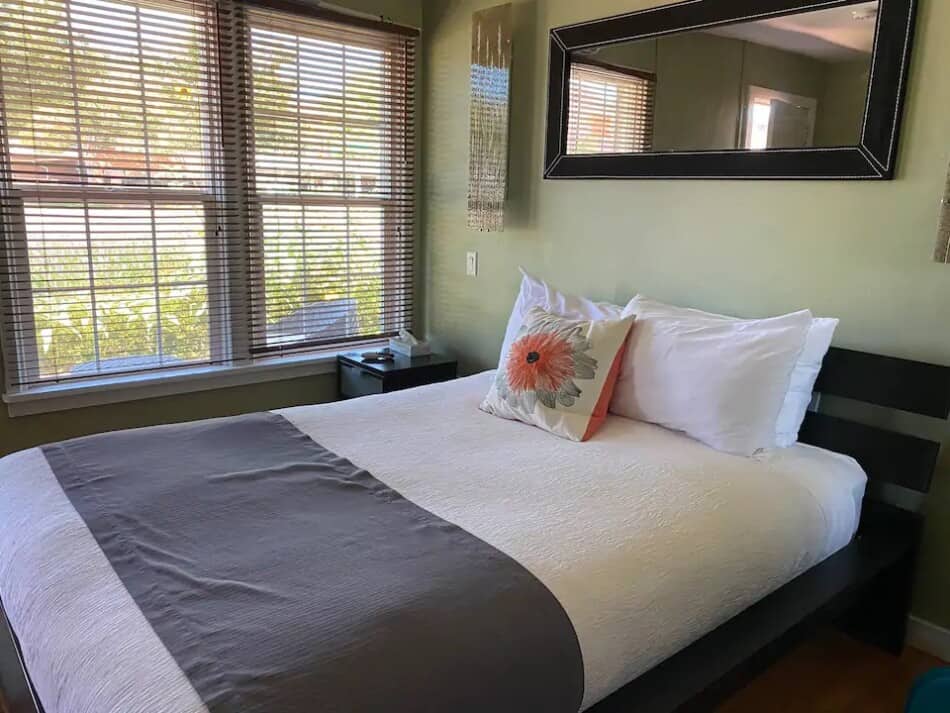 You are also welcome to interact with other guests at the outdoor patio where you can view the stunning scenery and relax. There's also a fire put, grill, and several seating options. This is definitely a great central location for exploring Utah.
Dreamcatcher Cliffs Home – Kanab's Most Unique Vacation Home
Guests: 6
Bedroom: 2
There's so many good reviews about this place that visitors would love to come back. Dreamcatcher Cliffs Home is a very comfy log cabin located a few miles east of Kanab place with a fenced backyard so your pets can freely run inside the property.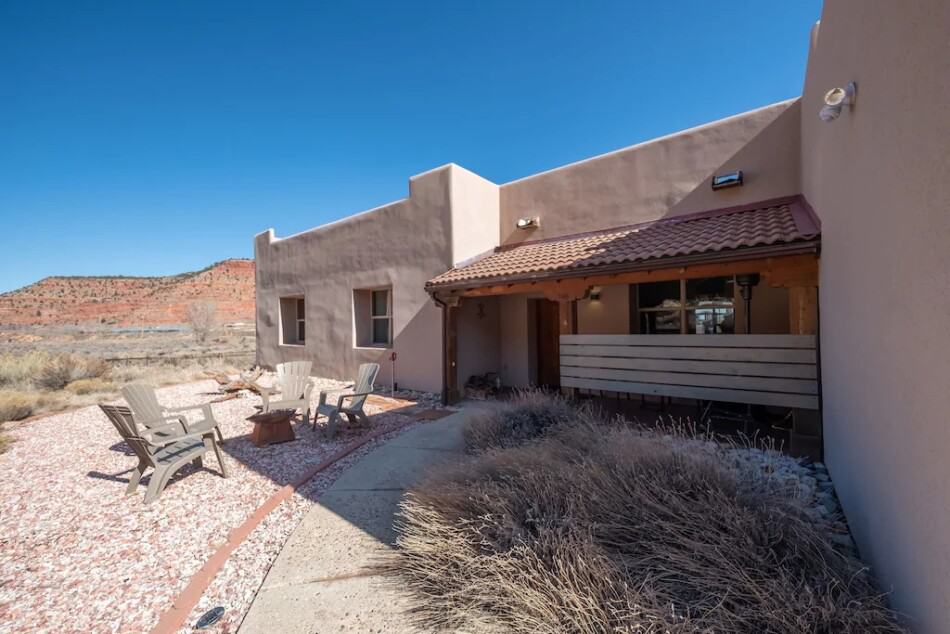 To reach the area, you'll drive up to a semi-private road with a shed and a round driveway. Upon entering, you'll be greeted with the beautiful views of the red rocks. And inside the house, there's a couch where you can also utilize as a bed, as well as a fully stocked kitchen, washer and dryer, and a lot more.
Cozy Cottage on Historic Property
Guests: 2
Bedroom: 1
Be a part of history and stay at the site of one of the first homes ever built in Kanab. You'll have the cottage all to yourself, which means no direct neighbors above you, to the side of you, or below you. Complete privacy!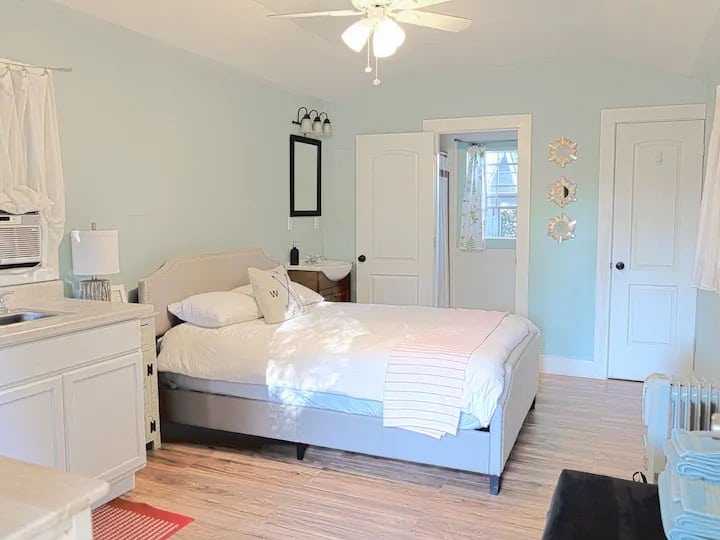 Clean, comfortable, welcoming, and perfectly located. Enjoy yourself in a Simple Tiny House Cottage next to our 1880 Historic home. Located on the main street downtown, you're just a block or two from Kanab's action– restaurants, parks, library, tennis, visitor center, etc.
The Kanab Art House
Guests: 4
Bedroom: 1
This destination gathering place is perfect for a family or friends' outing. The property has been around since 1940 and it is considered a premier centerpiece lodging for movie stars and film crews. It has been recently remodeled to provide guests a comfortable stay.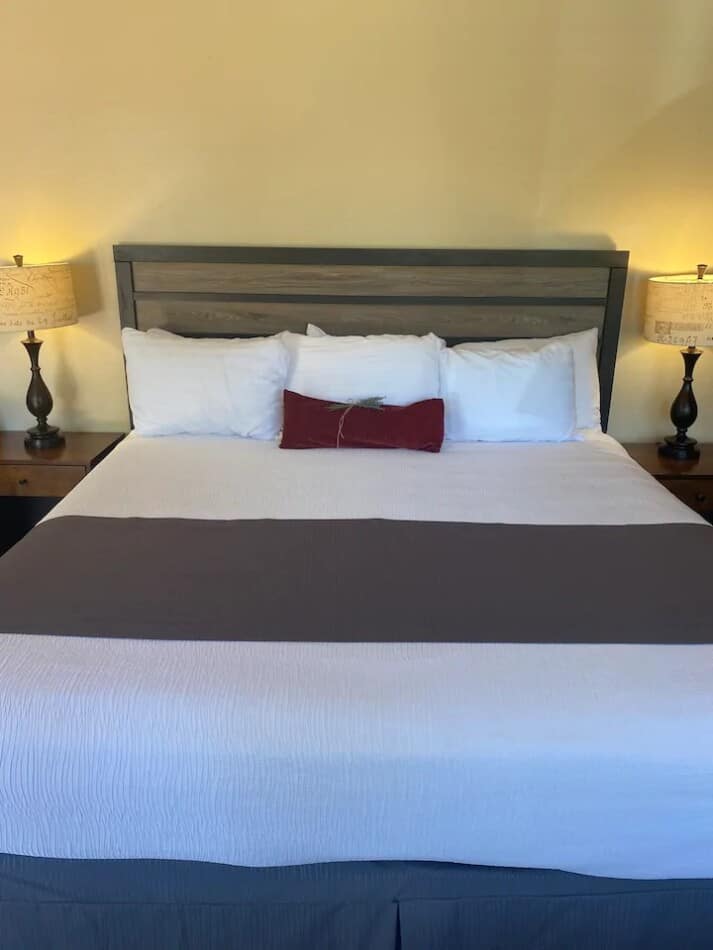 This beautiful and cozy suite has a fully stocked modern kitchen for meal preps, a king size bed, a pull out couch, and a bathroom with a shower and an unlimited supply of hot water. It also has modern decor, premium bedding, flat-screen TV, and wifi.
And the surprise doesn't just stop there, this place also has amazing outdoor amenities such as patio chairs and table, private fire pit, and BBQ. This place is definitely a total package.
Rustic Elegance-Log Home With All The Modern Amenities
Guests: 6
Bedroom: 3
This house has enough space to host families and a big group of friends in Kanab. You have the entire house to yourself including the very spacious living room, fully stocked kitchen, dining room, and a laundry area. You also won't get bored because it has a TV with local channels and access to Netflix, Hulu, Amazon, and more.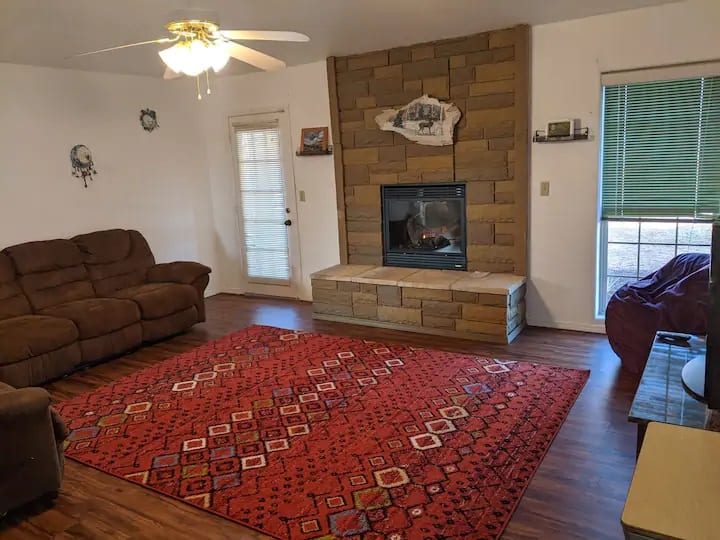 Your furry pets are also welcome to stay here (except your feline friends) and they do not charge extra for it.
Sharing is Caring! Pin this article to save for later.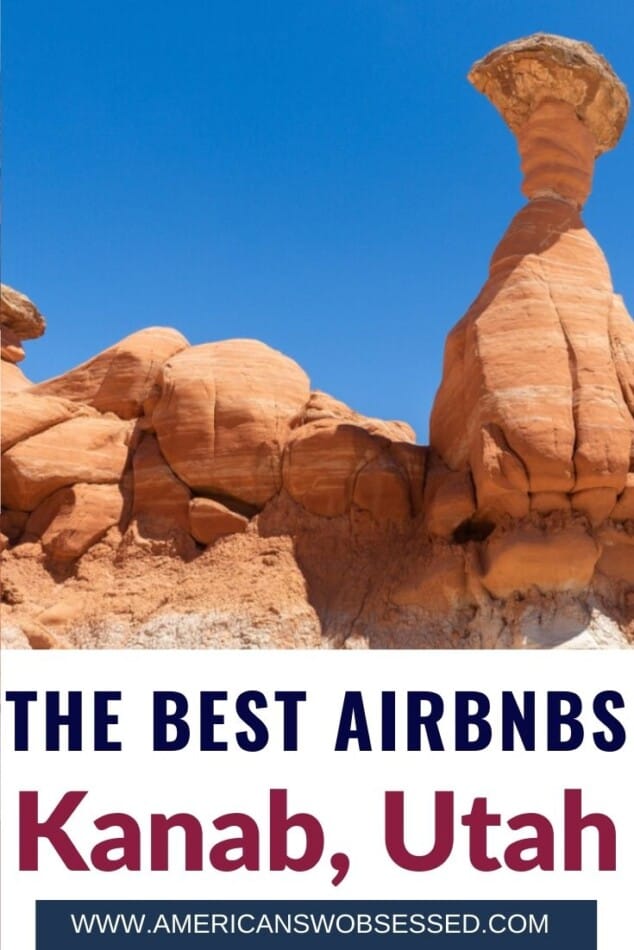 Recent Posts