Airbnb Logan Utah: Are you looking for the best Airbnbs in Logan, Utah? I have put together this list of the best Logan Airbnb's for any budget.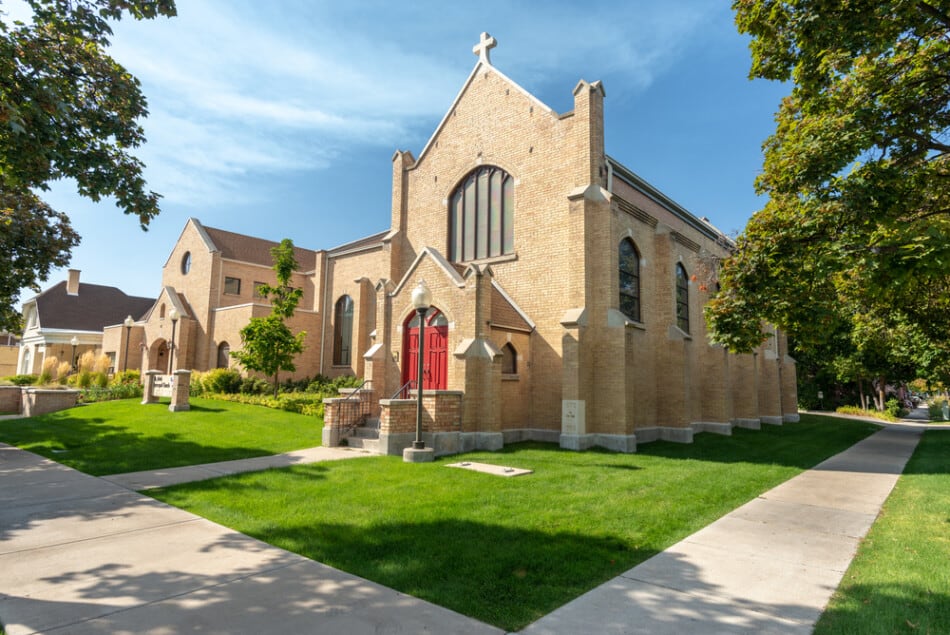 Logan's setting is stunning in every season. Logan is nestled at the foot of the nearly 10,000-foot high Bear River Range. Residents consider Logan Canyon to be a 40-mile community park leading to the 18-mile long Bear Lake, renowned for its azure blue waters as the Rocky Mountain Caribbean.
Fishing, biking, hiking, skiing, and golf are all excellent: they are all minutes away from your front door. Logan has an outstanding park system even with the natural beauty, featuring one of Utah's two zoos and a demanding municipal golf course. For year-round beauty and things to do, it's hard to top Cache Valley.
The physical aspects of Logan and its quality of life are phenomenal, but its people are what really defines Logan. Ultimately, it is individuals that build a culture. Hardy's pioneer stock, refugees from the four corners of the globe, students who loved the city so much that they couldn't leave, and many more mixed together to make it a great neighborhood and a great little community.
Thank you for supporting this website written by an American. This post may contain affiliate links. This means I earn a small commission on these links at no extra cost to you.
15 Best Airbnbs in Logan, Utah
Charming Bungalow in Downtown Logan
Guests: 7
Bedroom: 3
This charming bungalow was an old home that was transformed into a duplex and now an Airbnb in Logan, Utah. The hosts consider this as their home and decided to share it with fellow travelers who are looking for a comfortable stay in Logan.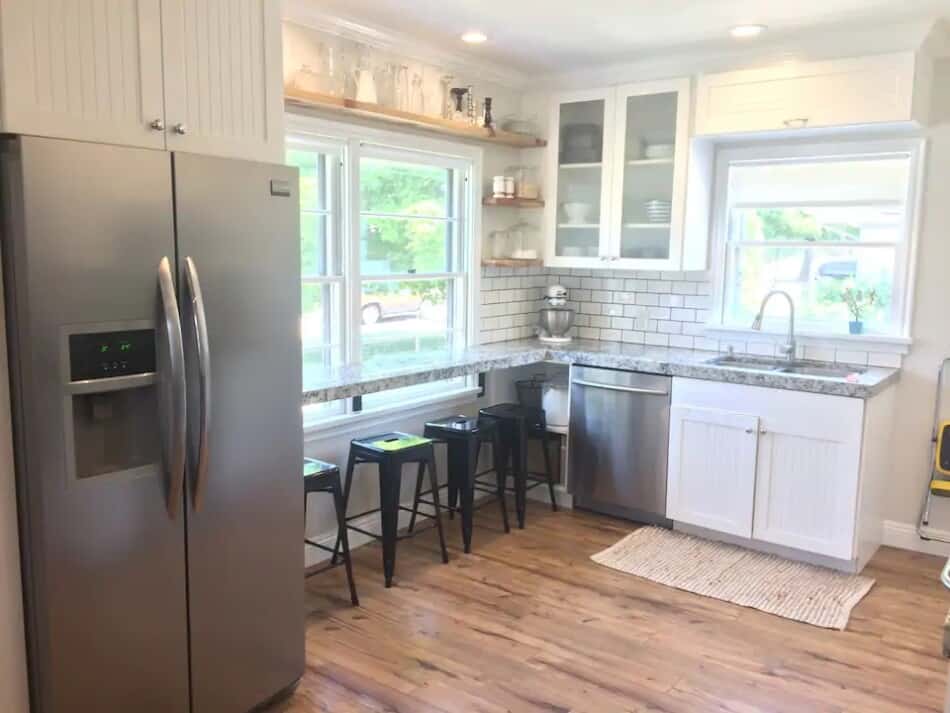 Guests can have access to the entire main floor where there's a kitchen, bathroom, dining room, living room, and 3 bedrooms. This isn't your ordinary airbnb because this house features luxurious details such as the granite counter tops, stainless steel appliances, new flooring, recessed lighting, and many more. This is a perfect home for large families, business travelers, or even solo travelers.
Charming Beach House in the Heart of Logan
Guests: 6
Bedroom: 3
From its facade, you would think that this is a typical American home set in the metropolitan area. But once you get inside, the interior of this house is actually beach-themed and inspired by the hosts' passion for traveling and beach living.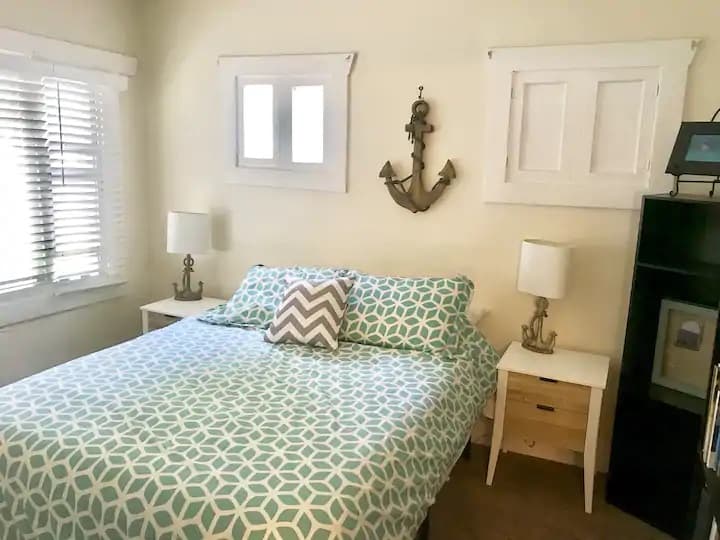 This home has been built for over 100 years and has an old-school charm but it doesn't feel like you are in a rusty place. In fact, this home will make you feel like you are staying in a 5 star hotel. It's actually a triplex home so guests have access to the entire main floor where the kitchen, bathroom, dining room, master bedroom, and living room are located.
This place has its own quirks and charm and you will be surprised by its details that you won't see anywhere else.
Country Get-Away – Close to Logan
Guests: 5
Bedroom: 1
Prepare to be amazed by this beautiful farmhouse that even the pictures don't do justice to how incredible this place is. You will enjoy amazing sunrise and sunset from this property and not to mention the natural landscape of mountains that surround the area.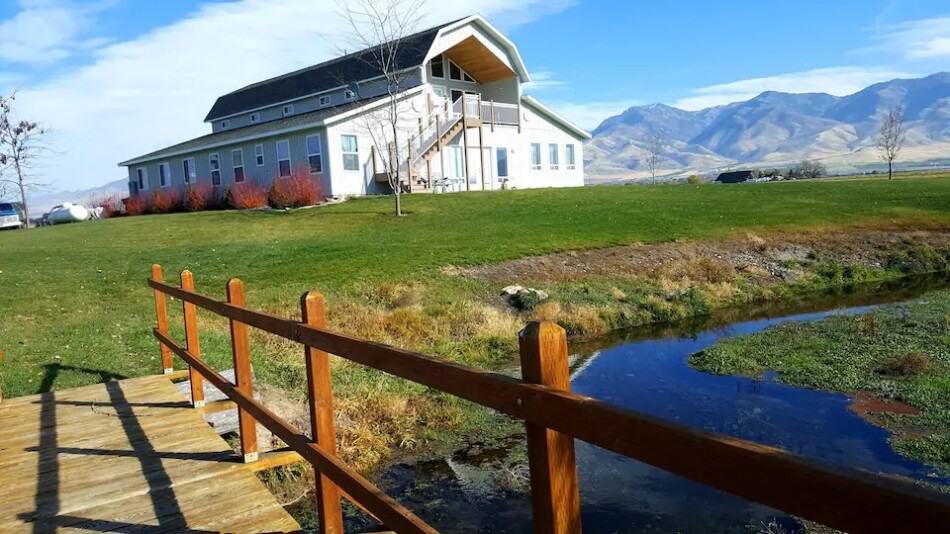 In terms of space, this apartment consists of a large 34'x21' room that can fit up to 5 people. The place is very private with two entrances and is completely separate from the living space. It is equipped with everything you need for a great vacation. All you need to do is rest and enjoy the countryside.
Utah Treehouse at Victorian Woods
Guests: 2
Bedroom: 1
This one bedroom treehouse is perfect for couples or solo travelers who are looking for a unique living experience in Logan. The treehouse is about 14 feet up in the air and it is attached to 4 separate 40 foot willow trees in the woods so it's very safe.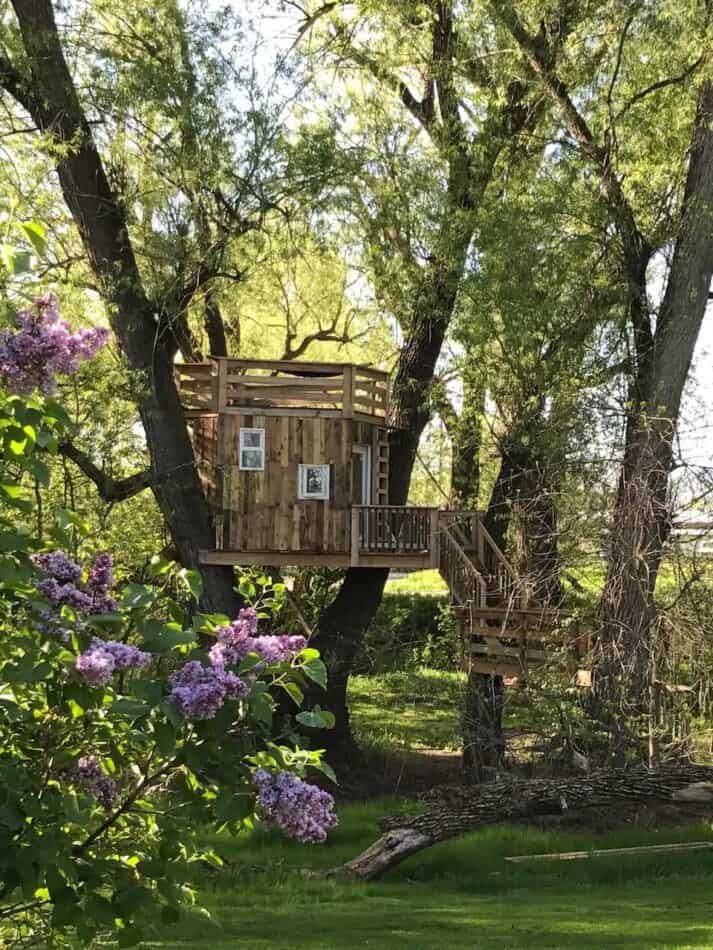 What makes this treehouse more unique and amazing from other treehouses is that the roof has a deck with a hammock, and queen air mattress where you can stay all day, all night. You'll also be sleeping among the birds and wake up to their eargasmic chirping and singing. This is truly a unique luxury camping experience in Logan, Utah.
Downtown Logan Aggie Pad
Guests: 4
Bedroom: 2
This stylish 2-storey home is a modern and dainty airbnb located right off Main Street in Logan. Its location is very convenient for travelers because in less than 2 miles from Utah State, you'll be able to reach the popular sites such as the Maverick Stadium, as well as some shopping, restaurants, and more.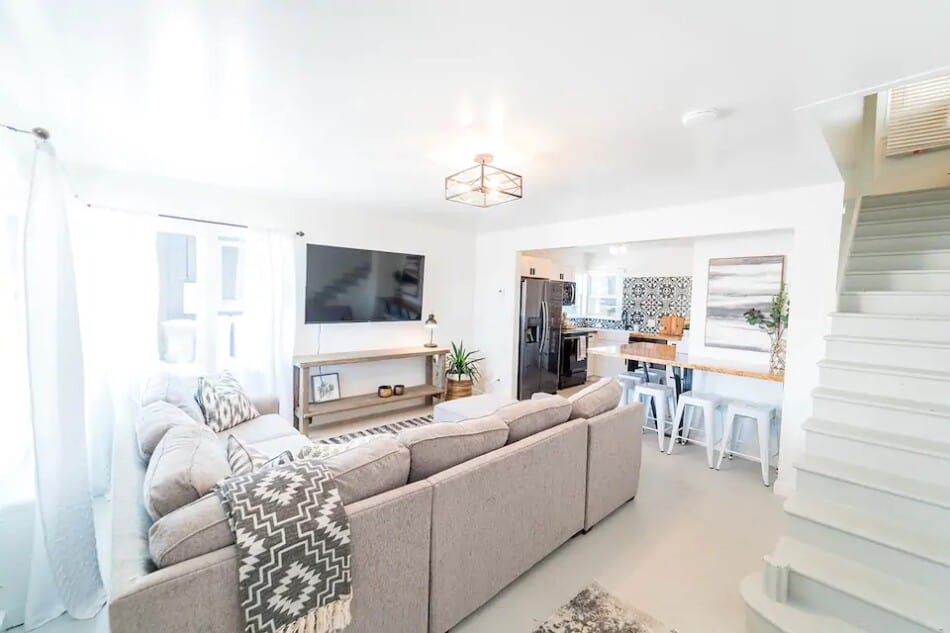 The house is equipped with almost modern amenities such as the bedroom, laundry, TV, kitchen, wifi, and more. It also has an outdoor space with a fire pit in the backyard where you can enjoy your cup of coffee in the morning or your favorite glass of wine at night.
Heart of Hyde Park Luxurious Getaway Suite
Guests: 5
Bedroom: 1
If you are looking for a luxurious place to stay in Logan that is located in the heart of Hyde Park, this one large bedroom suite is perfect for you. It has two queen size beds that can perfectly fit up to 5 persons, and a comfortable couch that is large enough to sleep on.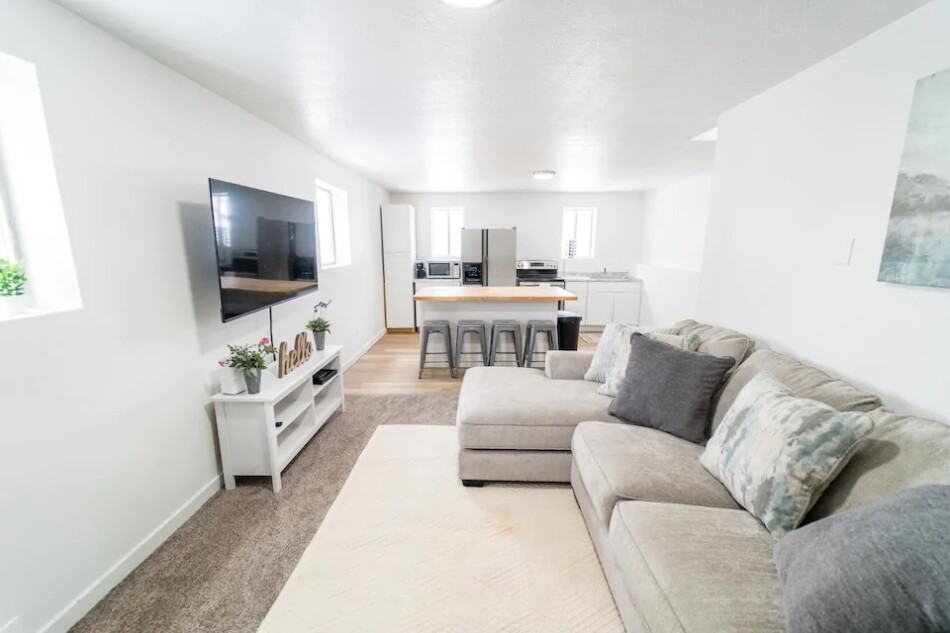 The location is also very strategic and convenient as it is just minutes away from grocery stores as well as a center location to two beautiful ski resorts.
The Smurf Villa
Guests: 2
Bedroom: 1
This very simple blue or "smurf" house is very close to the river so if you're into fishing, this would be the perfect place for you. Its location is very convenient because it's just 34 miles away from beaver mountain if you want to ski, or boat at Bear Lake which is 45 miles away.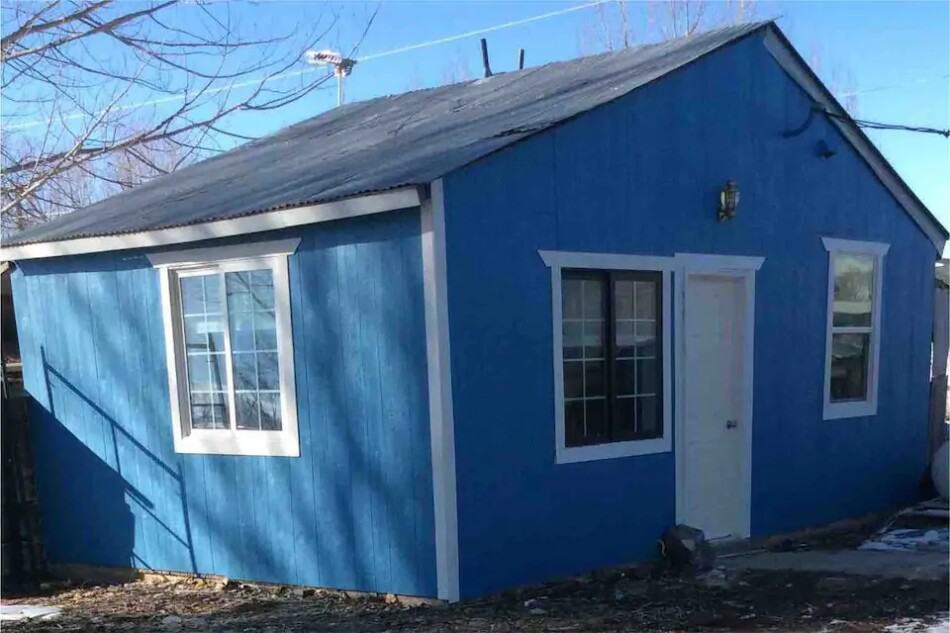 Although this is a very simple airbnb, what makes this place amazing is its little farm with an ice yard where adults and kids can swing and have a tranquil time. This house is also equipped with some supplies for cooking and goodies in the fridge and freezer.
Two Queen Masters Suites – Inn the Barn
Guests: 6
Bedroom: 2
Unique and stylish – this two bedroom suite is all things cozy and comfortable. It features clean and comfy beds, fresh and clean linens, smart TVs with Netflix, Hulu, etc., access to the theater room, kitchen, laundry, and more.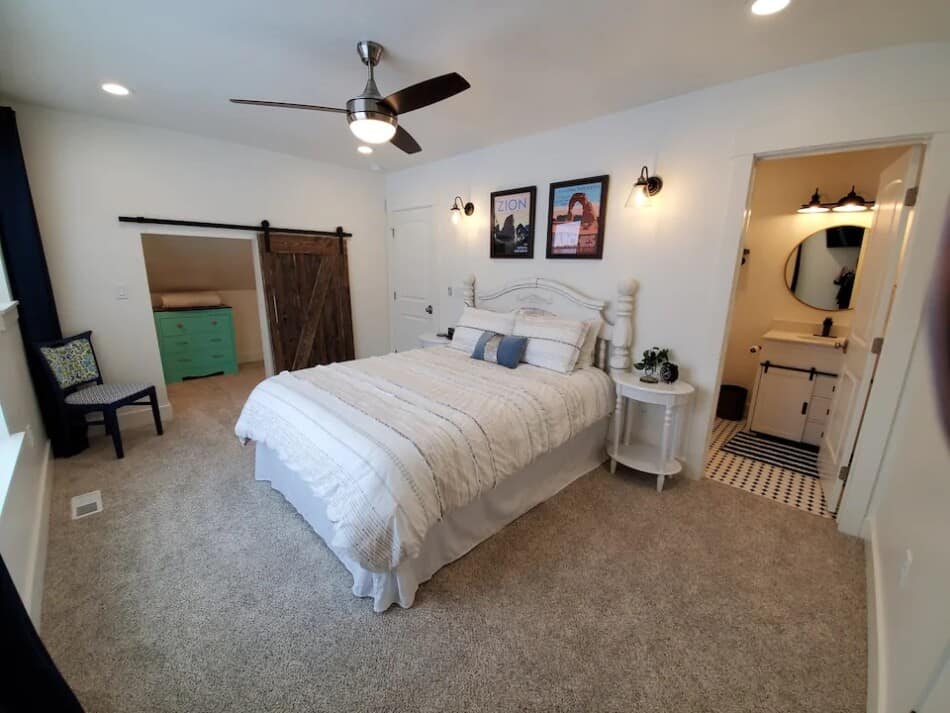 There is also an off-street parking available, as well as a free full home-made breakfast served daily. The hosts would love to have everyone as their guests and they are one of the kindest hosts that you would ever encounter in your life.
The Little Red Inn
Guests: 9
Bedroom: 3
This pet-friendly house is perfect for fur-parents who would love to let their pets join them (cats or dogs) for a quick getaway in Logan, Utah. There is a 4 foot fenced in the backyard where you can let your dogs run free as well as a litter box for your cats.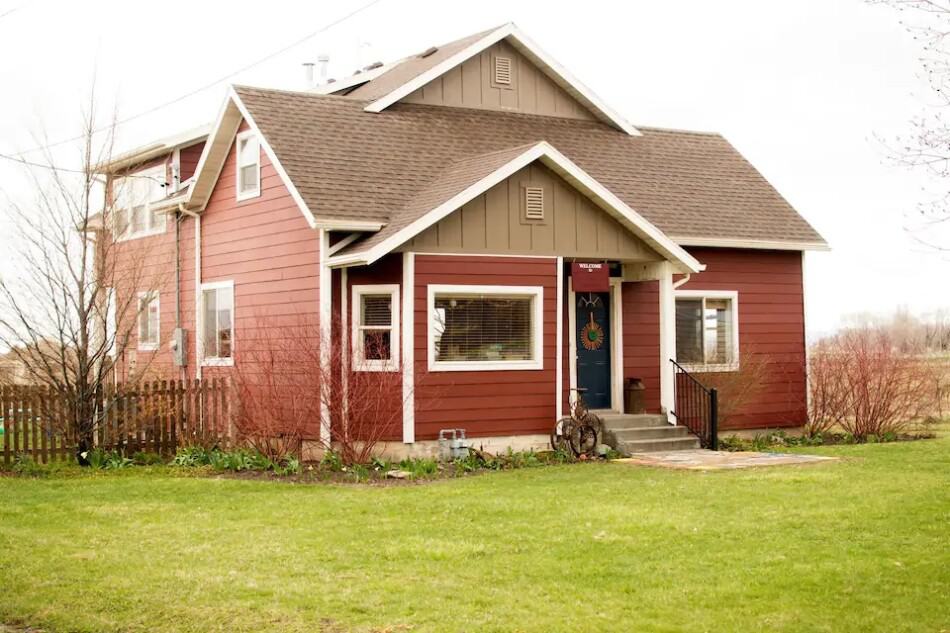 This house consists of 3 bedrooms, a kitchen, bathroom, living space, and a fenced backyard with a sand box and play equipment which you can have total access to all of them. This is an amazing place not only for fur-parents but also for families with kids.
Providence Home with a View
Guests: 6
Bedroom: 2
If you prefer staying in a house that has a garden and beautiful views of nature, look no further because this providence home is right for you. This is a newly finished home with a full kitchen, shared fire pit, and playground.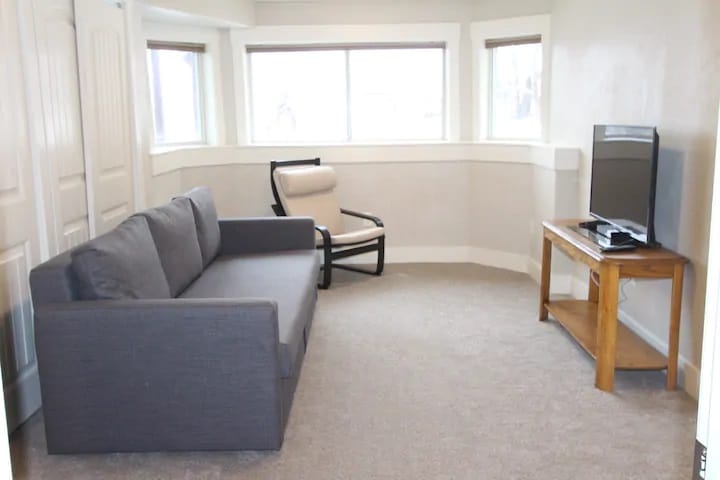 This space is a walk-out basement with big windows that allow the natural light to come in. Its location is just minutes away from Walmart, Starbucks, and such. To top it all, the hosts are very accommodating and will make sure you have everything you need for a very comfortable stay.
Mountain Views Guest Suite
Guests: 2
Bedroom: 1
Located at the base of the Wellsville Mountains, this one-bedroom guest suite is ideal for couples or solo travelers who are looking for a cute space to stay in Utah. This clean and bright private attached apartment has a pull out sofa in the living room, a well-equipped kitchen, and a washer and dryer. There is also a deck and backyard which you can share with others, as well as a fire pit, basketball court, and play set.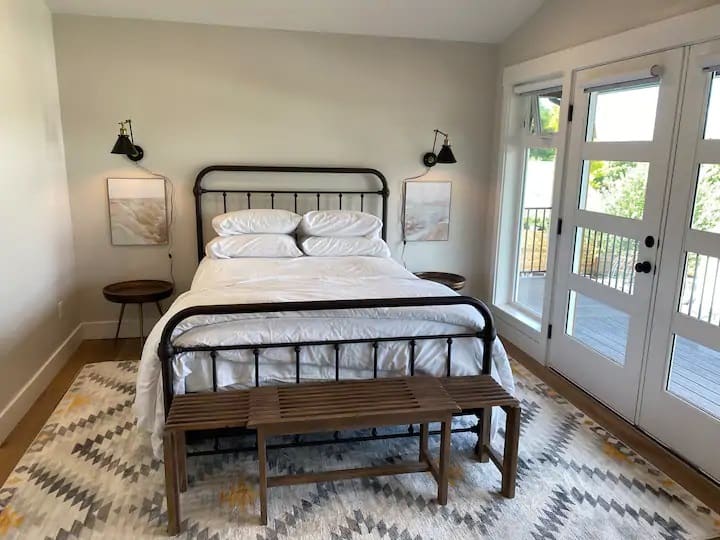 This place is also perfect for outdoor enthusiasts because it has a great access to hiking, mountain biking, fishing, and other outdoor fun activities in the area.
Fairview Cottage
Guests: 6
Bedroom: 3
This cozy Fairview Cottage is your perfect airbnb for your next wonderful getaway in Logan. This place invites you to relax, dine, shop, and have a great time with your loved ones or friends. It has easy access to restaurants and the historic downtown Logan.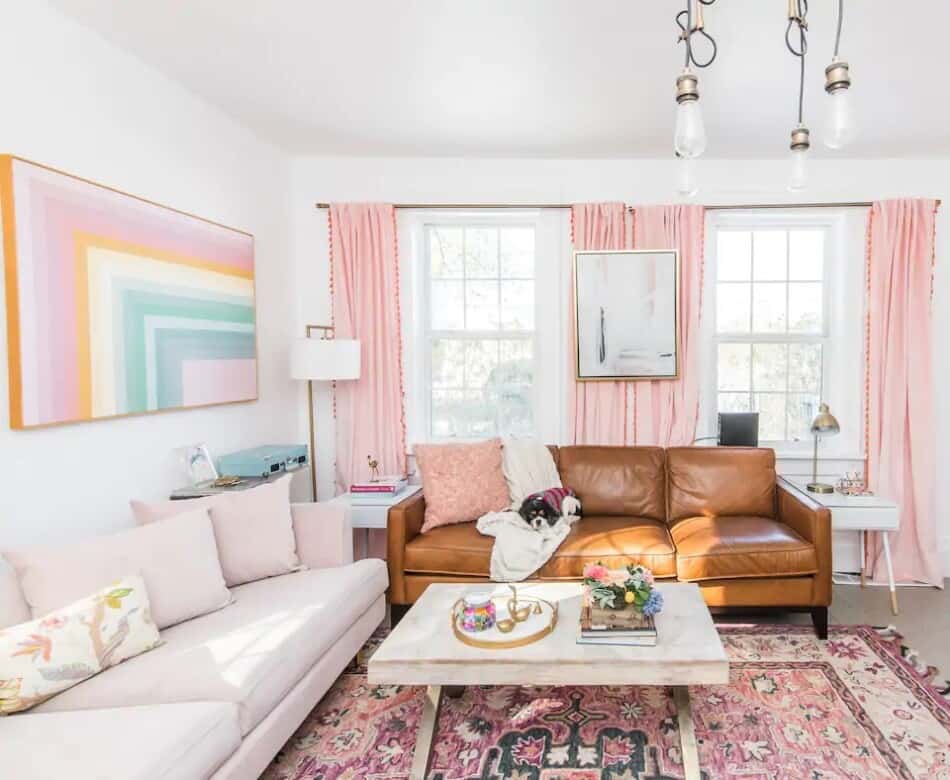 This 1905 beautifully remodeled home is packed with a cozy living room, a well stocked kitchen, and instagram worthy spaces. It's located on one-third acre that features picturesque mountain views and a beautiful garden to roam around.
Overall, this is a kid-friendly place perfect for families with kids or even friends who want to escape and recharge their energy tanks.
Elegant Farmhouse Master Suite with Private Entrance
Guests: 4
Bedroom: 1
This gorgeously renovated master suite is equipped with newly updated features such as a bathroom area with vanity, private entrance, free wifi, and more. Aside from those amenities mentioned, guests can also make use of the yard where they can bond over cold drinks with family or friends.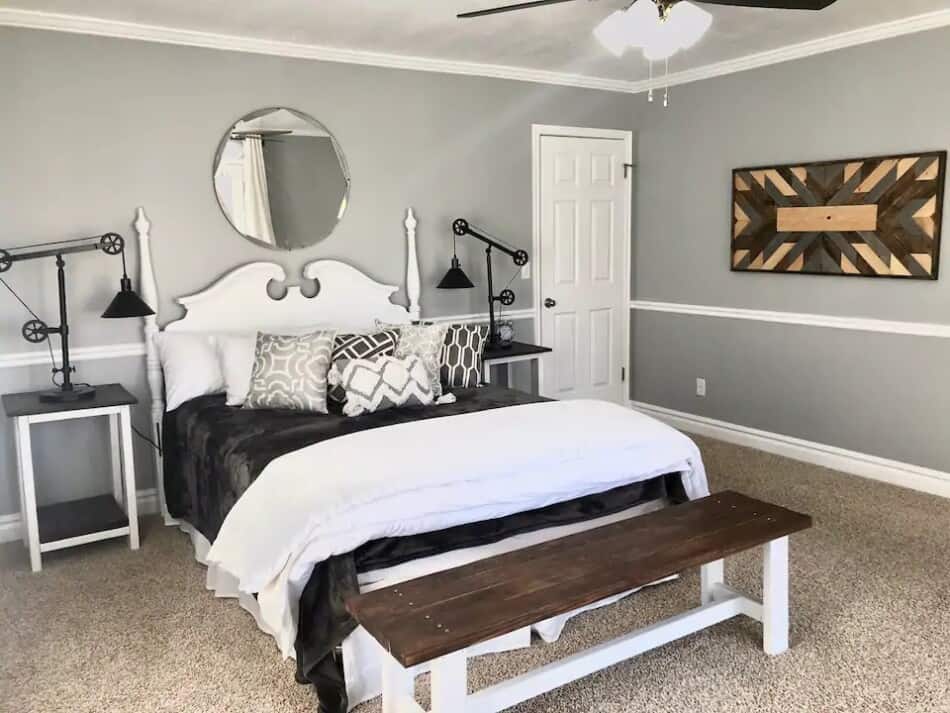 This palace is located in a quiet neighborhood and gives you a good country feel without being out in the middle of nowhere. This is absolutely a great place to stay with the comforts of a home.
The Yellow Door-Cache Valley Charmer
Guests: 5
Bedroom: 2
This charming bungalow that is situated in the beautiful Cache Valley is surrounded by several mature trees that gives this place a natural shade and beautiful views. It's a very peaceful and quiet place yet still close to some popular attractions in the area such as Hyrum Reservoir State Park Beach, Blacksmith Fork Canyon, Sardine Canyon, and more.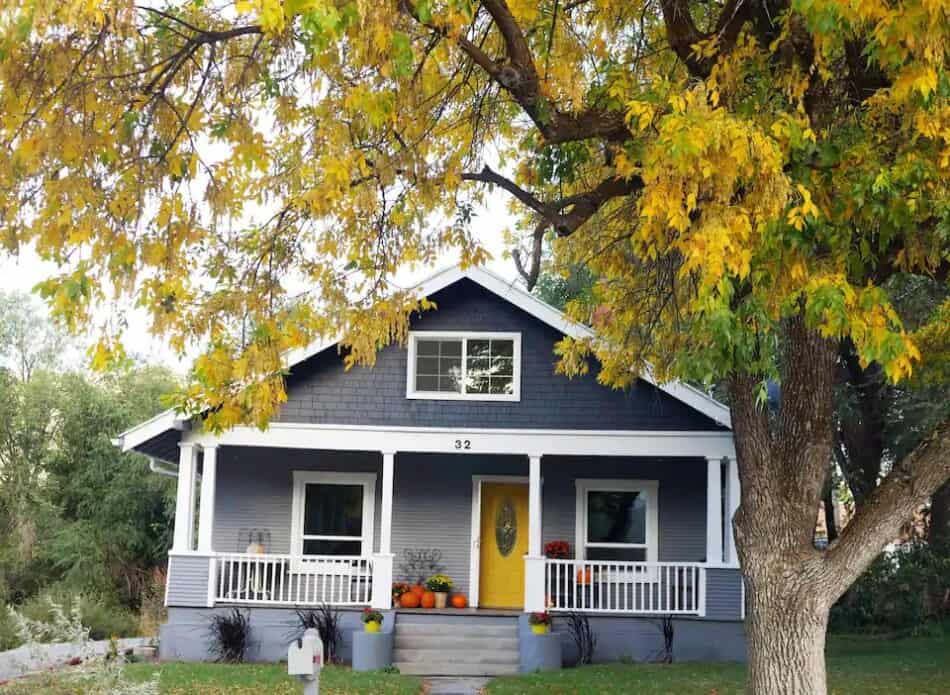 Guests have an entire access to the house and it's ideal for solo travelers, family trips, and even business travelers.
Stairway to Heaven
Guests: 9
Bedroom: 2
A newly furnished apartment that offers million dollar views of Cache Valley, this vacation rental home exhales comfort and luxury. It features a large and airy living space, two bedrooms, a nice kitchen with granite countertops, and more.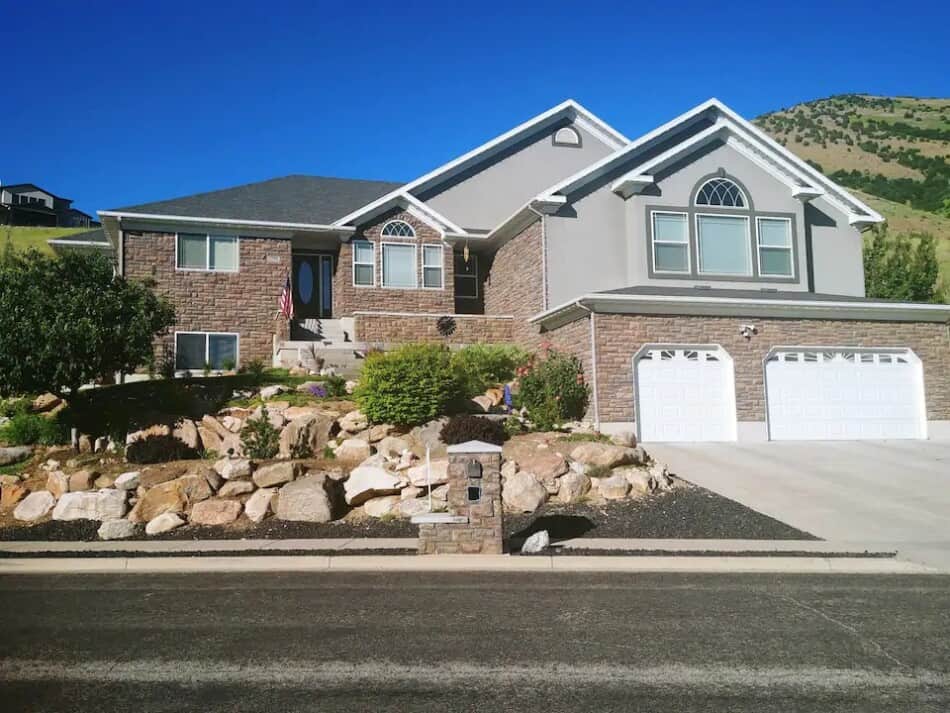 It's located in a beautiful and friendly neighborhood and it's also kid-friendly. And if you want to enjoy the fantastic views of Cache Valley, there is a nice sitting area at the entrance, as well as a trampoline and sandbox with toys where kids can play and have fun.
Sharing is Caring! Pin this article to save for later.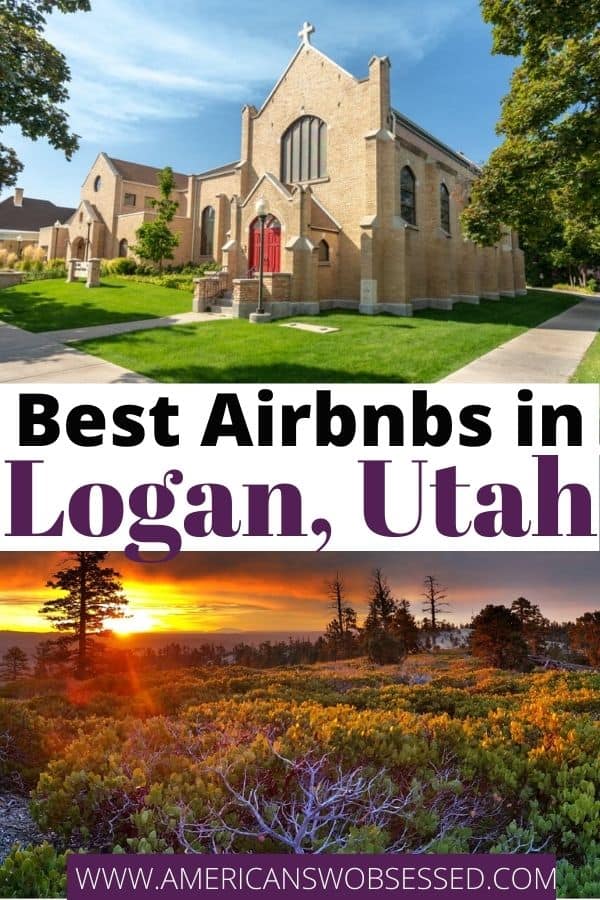 Recent Posts