Best Airbnbs in Palm Springs, CA
Airbnb Palm Springs: Are you looking for a dreamy Airbnb Palm Springs rental? We've got you covered. After numerous trips to Palm Springs, we have put together a list of the best Airbnbs in Palm Springs for every budget.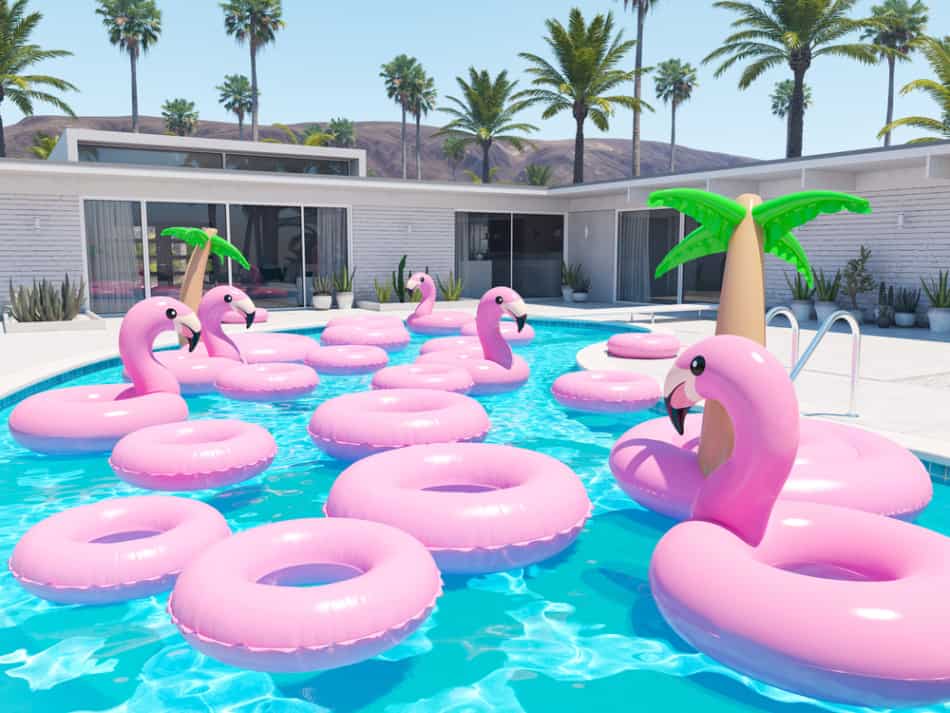 Most of these Airbnbs in Palm Springs have a pool but there are also unique places to stay such as a dome house or a house used as a movie set which is the coolest Airbnb Palm Springs. There are so many well designed places to stay.
Thank you for supporting this website written by an American. This post may contain affiliate links. This means I earn a small commission on these links at no extra cost to you.
Dreamy Airbnbs in Palm Springs you need to see to believe
Artful Desert Paradise for Golfers and Sun Worshippers
Price:
Guests: 8
Bedrooms: 4
This house offers everything you could need and want to relax and enjoy. It has tons of space to relax and it is extremely clean and bright that the moment you wake up in the morning it'll give you instant positive vibes.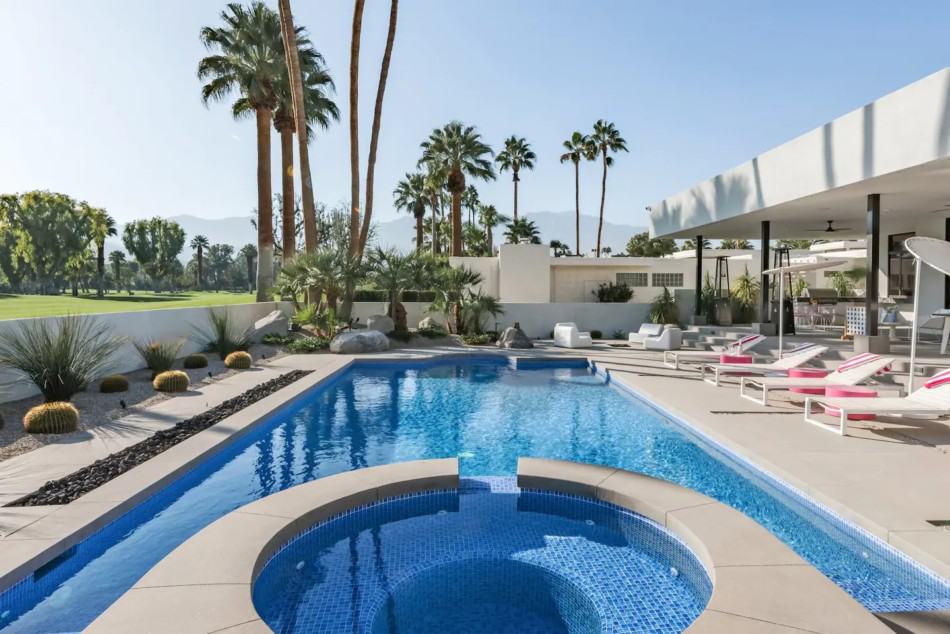 Plus, it is equipped with all the amenities that you need for a hassle-free stay. And what makes this house even more amazing is its huge and stylish pool that adults will surely love. This place is just beyond amazing and will definitely exceed your expectations.
Lovingly Renovated 1950s Wonder Estate
Price:
Guests: 10
Bedrooms: 5
Staying in this "Wonder Estate" is like stepping into a luxury Spanish inspired home that has an expansive lot and historic fairway. The home is filled with beautiful spaces such as the comfortable great-room with step down bar, the additional family room with large sectional overlooking the pool, bedrooms with private baths, fenced yard with beautiful views, etc.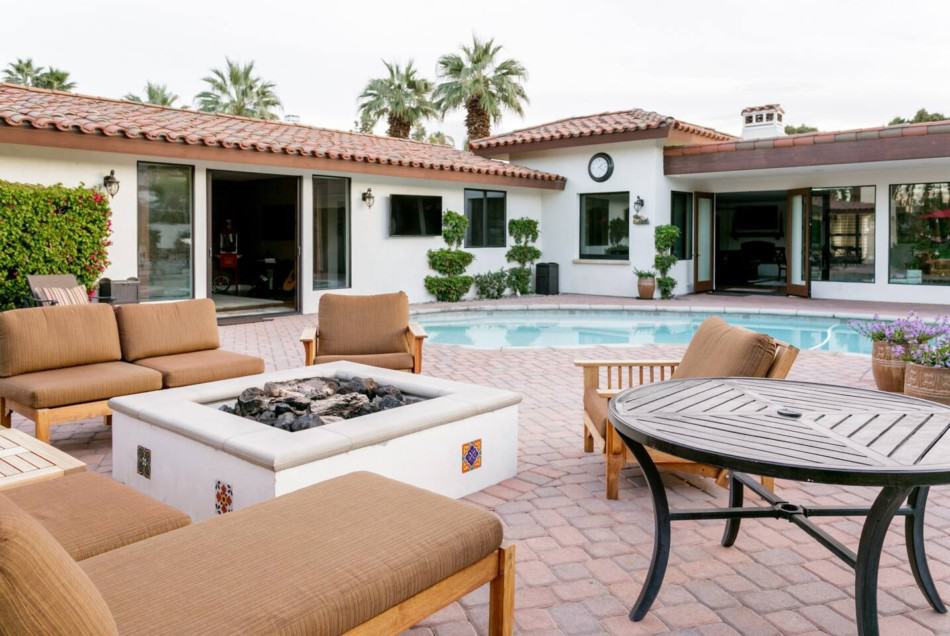 Everything about this house is just amazing and will blow you away. And the one thing that makes this place even more amazing is the incredible host who is so easy to work and communicate with.
Casa Aloha at a Tiki Island Retreat
Price:
Guests: 2
Bedrooms: 1
If you are looking for a slightly smaller space that is good for two, the Casa Aloha is a great choice for you. This home is gorgeous both inside and out. The bedroom is super cozy with a private bathroom.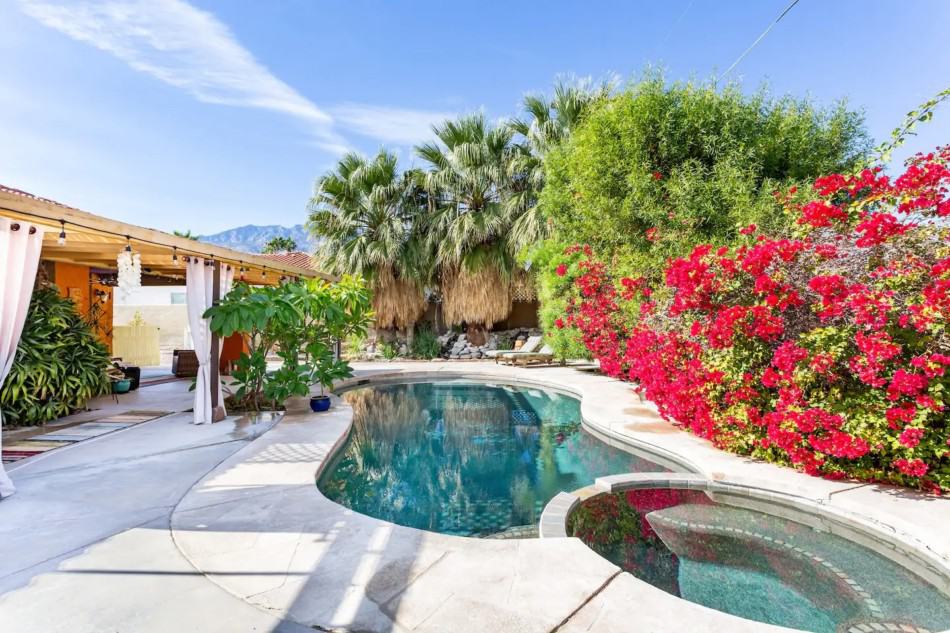 And you'll be able to use the kitchen that is well equipped so you can cook great meals. And the hosts are very friendly and welcoming and would even give some great tips on what places to eat in the area.
Large Dome House
Price:
Guests: 6
Bedrooms: 3
This one-of- a-kind dome house is one of the best airbnbs that you can book in Palm Springs. It is nestled on a 5-acre hill vista surrounded by Windmills and it offers the best views of the desert, mountains, Joshua Tree National Park, and Coachella Valley directly from every window of this dome.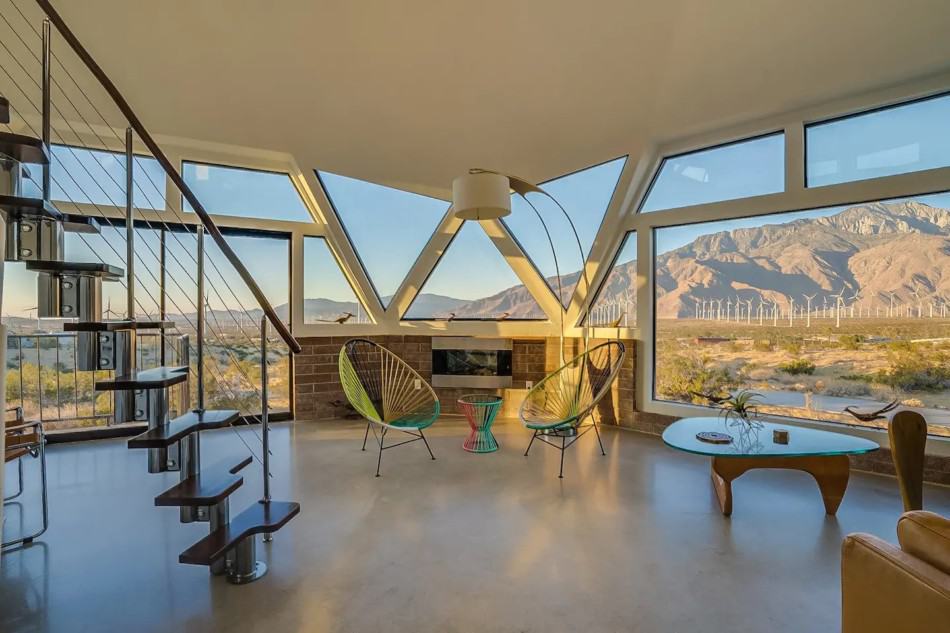 The dome house is complete with all the things that you need for a relaxing stay such as a large kitchen with both indoor and outdoor dining areas, 3 bedrooms, living room with panoramic views capturing the San Jacinto mountain range, wifi, flat screen TV, and a lot more. This is definitely the best place to get away from the bustling city life to enjoy some quiet and peaceful time with your family or friends. 
Mid-Century Oasis with Pool and Spa
Price:
Guests: 8
Bedrooms: 4
There are so many beautiful things that Palm Springs, California can offer to travelers and visitors alike and one of them is this mid-century oasis.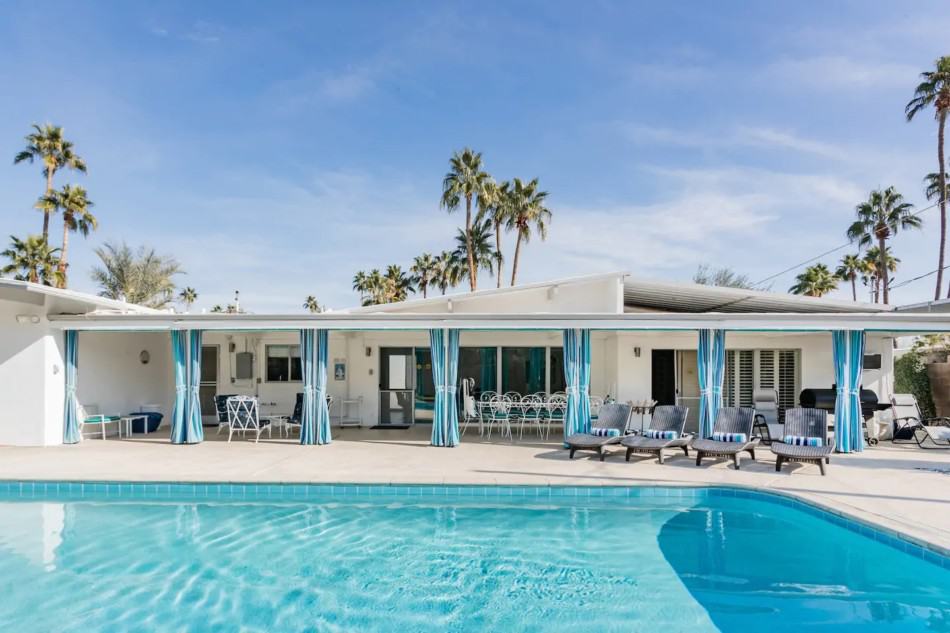 It features a pool and spa and it has plenty of space to accommodate more than 8 people. It also has a kitchen, a dreamy and airy living room, a mini office, and more. And the host is very wonderful to work with. She's very responsive and warm to all guests. This is a place highly recommended for all types of travelers.
Movie Colony House with a Hollywood Connection
Price:
Guests: 8
Bedrooms: 4
You will instantly feel like a movie starts lounging by the pool at this childhood home of screenwriter Cameron Crowe that was built in 18956 and has been extensively updated with vintage touches and modern amenities.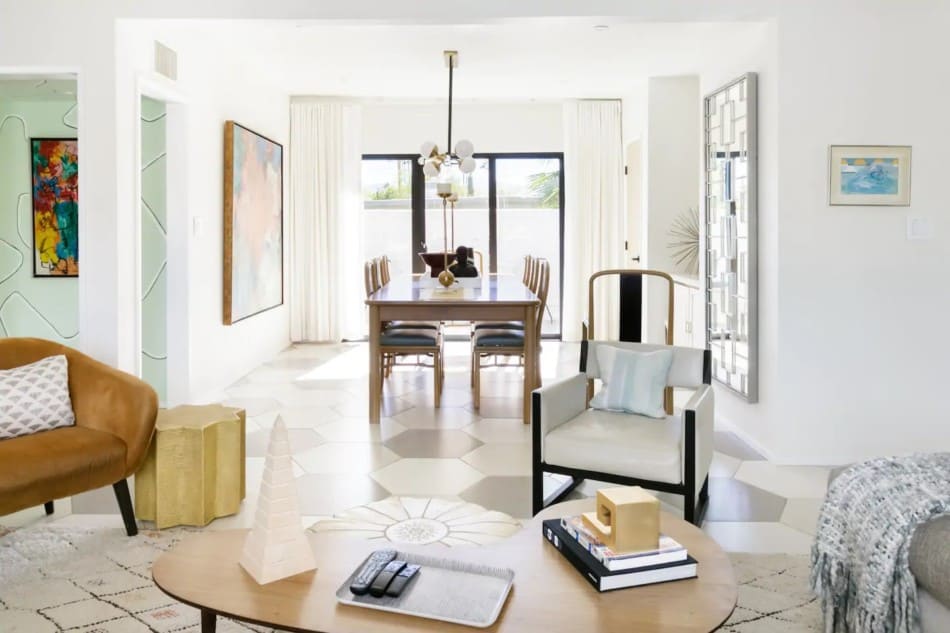 The house itself has a great flow and the layout is just perfect for families and kids with lots of space to roam around. It has a total of 4 bedrooms and each bedroom has its own bathroom, patio, and TV. The kitchen is also fully loaded and you'll have everything you need in this house.
Re-Imagined Post & Beam with Pool, Spa, and Mountain Views
Price:
Guests: 8
Bedrooms: 4
This wonderful house is the perfect place to stay in Palm Springs if you are planning for a desert getaway. All the decors and accents have added to the beauty and comfort of the house.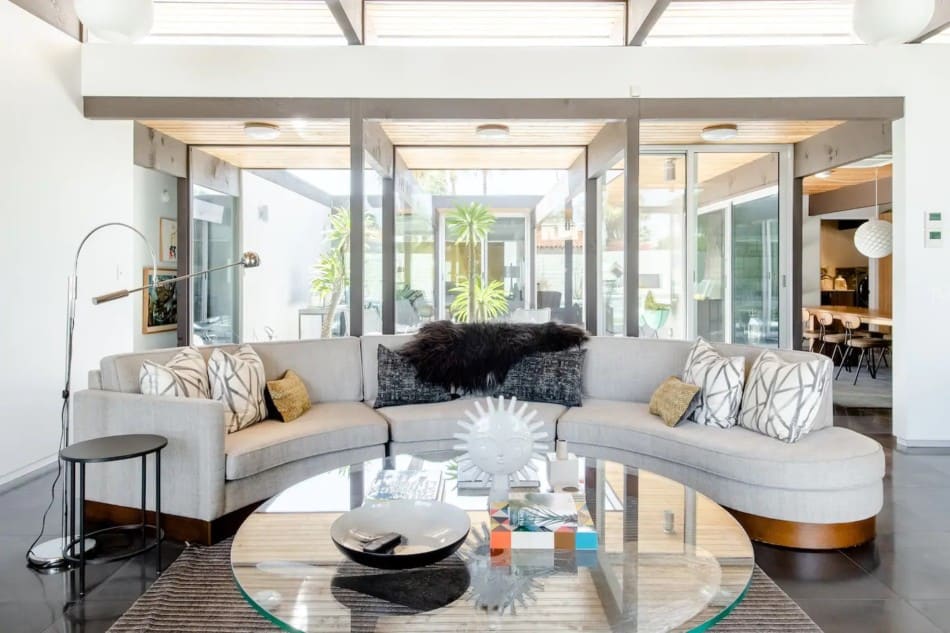 You will also love the fact that it is complete with amenities such as a fully stocked kitchen that has everything you need to make sumptuous meals, living area, pool, spa, luxurious bedding and linens, TV, sound system, and a lot more. Plus, you can feel the care and love that's put into the home and the host will make sure that you will have a great experience in this house.
Resort Living & Trendy Boho Design at Alexander on Bedford
Price:
Guests: 8
Bedrooms: 4
Located in the Little Beverly Hills neighborhood, this chic and trendy boho design home will make you feel what it's like living in a luxurious home in Palm, Springs. The house is very comfortable and has two sets of rooms on either side of the house for privacy. But the main highlight of this house is the pool that both kids and adults will enjoy.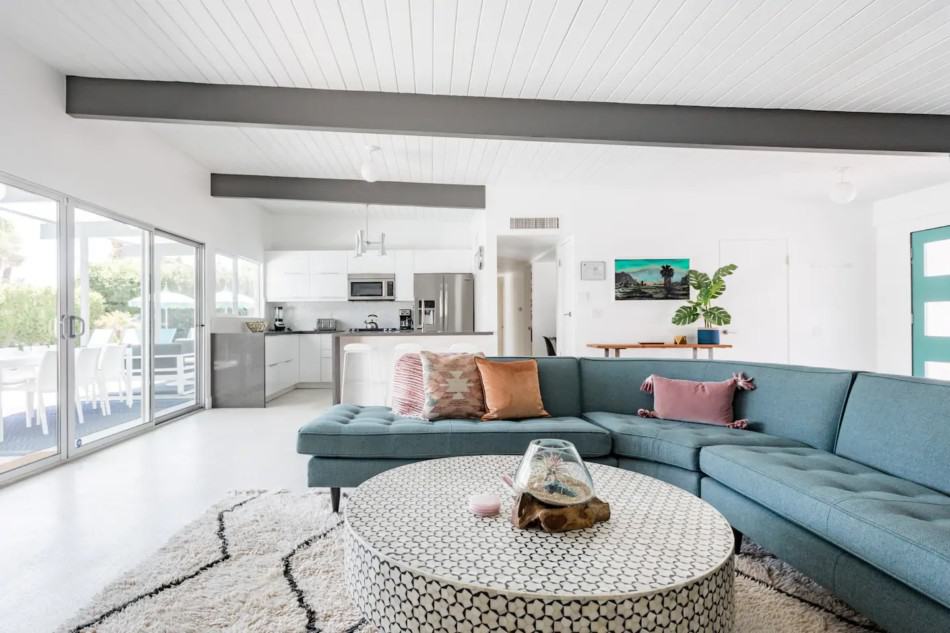 The living room is spacious enough with mid-mod inspired furnishings. There are also other lounging areas inside the property such as the private backyard, and alfresco dining area. The kitchen has all the supplies you need to make great and sumptuous meals for everyone. Truly, this house is amazing and beyond what you are going to expect. It has a lot of space to accommodate more than 8 guests for a price that is totally worth it.
Mid-Century Modern Gem with Bonus Room and Gourmet Kitchen
Price:
Guests: 6
Bedrooms: 3
This genuine Alexander home was originally built in 1959 has been restored and updated while keeping its original design. The house is beautifully laid out and lots of thoughtful touches both inside and outside.
It has a total of 3 bedrooms and each room is furnished with the owners' custom Desert Collection. And what makes this modern gem house is the tranquil salt pool where you can take a dip or enjoy drinks and conversation while swinging in hammocks by the side of the pool. You will surely create a lot of wonderful memories here with your family or friends that will last a lifetime.
Lemon Twist – Float in the Heated Pool of a Chic Home
Price:
Guests: 8
Bedrooms: 4
This four-bedroom chic house is one of the perfect places to stay for your next trip to Palm Spring. And there's a lot of things that you will love about this house – its heated in the ground pool and spa, covered seating pavilion, outdoor bar with alfresco dining, chef-quality kitchen with appliances, and more.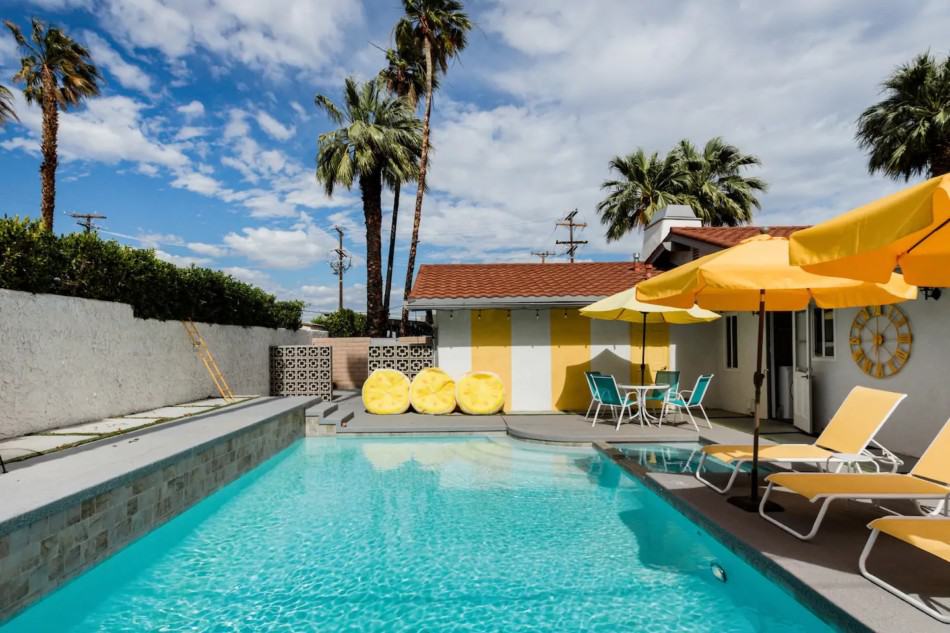 The house has been totally remodeled and it offers stunning mountain views from the windows. It has a lot of spaces to roam around and even if you are tall adults traveling together, everyone would feel comfortable in this house.
Modern Resort-Style Retreat with Oversized Pool and Mountain Views
Price:
Guests: 8
Bedrooms: 4
This ultra private resort-like home is perfect for big families or group of friends who are looking for a quick getaway in Palm Springs. It is located 4 minutes away from Palm Canyon Drive and perfectly central to all the hot spots in Palm Springs.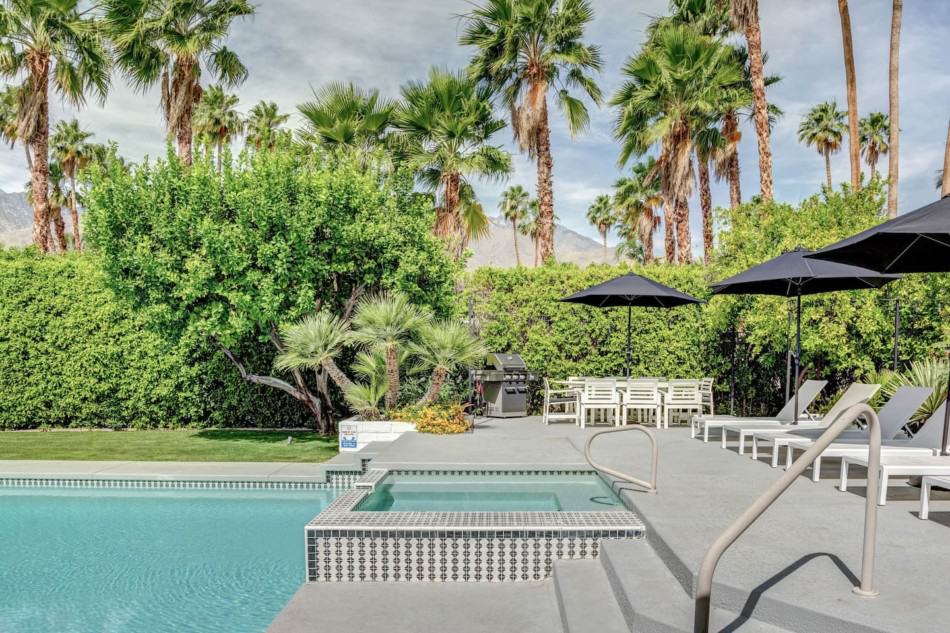 The house has a massive space and can accommodate more than 8 guests. There are a couple of lounging areas you can relax to such as the massive backyard with an oversized custom pool/spa and spacious lounging/dining areas with an outdoor kitchen fridge and Citrus Trees. The patio is also a good spot to gaze at the mountains or beautiful night sky.
This house is definitely a dream accompanied by all the amenities that you can think of for a perfect home away from home experience.
Architect-Designed House
Price:
Guests: 6
Bedrooms: 2
This home boasts of its modern and colorful twists on all the furnishings that will make you feel like you are in a first class resort. It provides comfy and cozy respite for the weary travelers coupled by its wonderful amenities such as the fully stocked kitchen, two bedroom suites that offer an en suite bath and pool access, private yard with pool and spa, open and covered lounge/dining spaces, and grill area with beautiful mountain views.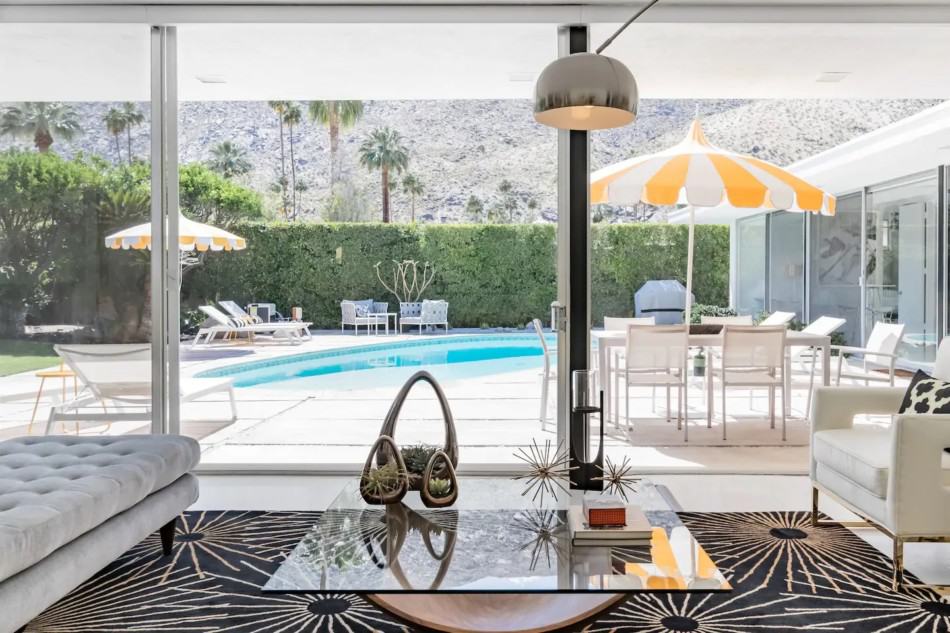 I mean, what more can you ask for? This house has got you covered for your next big trip to Palm Springs.
Stylish Boho-Chic Resort Villa
Price:
Guests: 16
Bedrooms: 7
This boho-chic resort villa is probably the biggest airbnb that you can book in Palm Springs for your next adventure getaway with your family or friends. I mean 16 guests? How cool is that! With its great location, you can directly access the street from the Coachella and Stagecoach Music Festivals.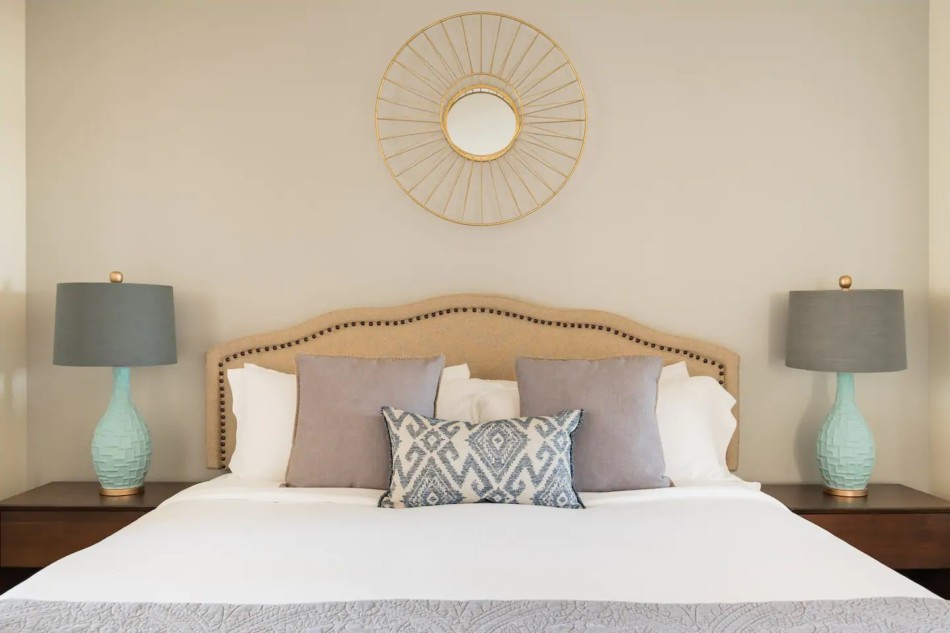 The interior of the house has a nice open concept and everything is fully stocked. It is packed with fun things to do not just for kids but for adults also. This house will give you an amazing experience with all the amenities that you need for a great stay.
The Central Clique with Private Indoor Pool
Price:
Guests: 6
Bedrooms: 2
This mid-century modern desert retreat is located in the heart of Yucca Valley and it is just minutes away from the popular desert destinations such as the Joshua Tree National Park, Big Morongo Canyon, Pioneer Town, and Giant Rock.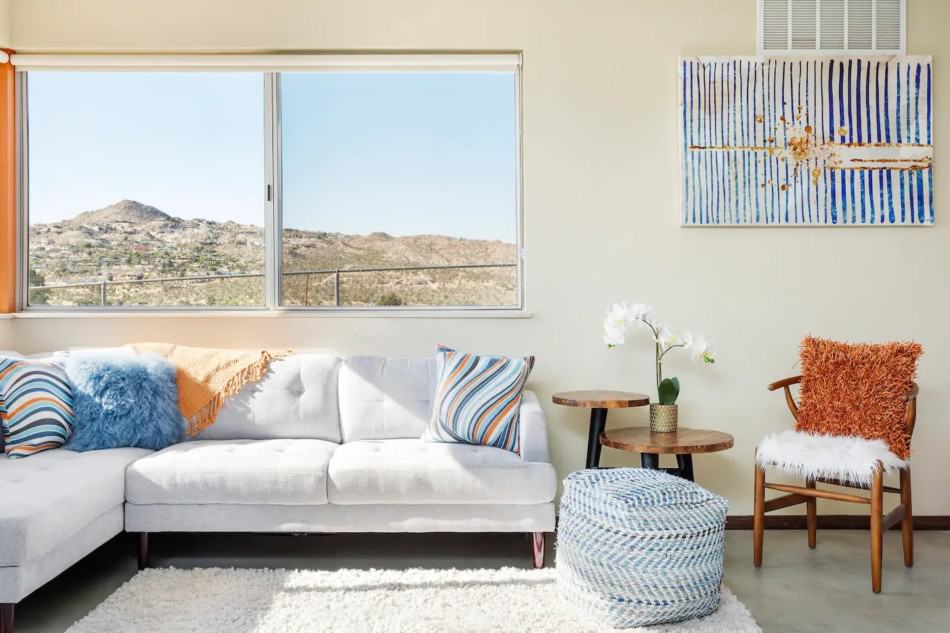 This house is great for families or groups of friends as it can let 6 people sleep comfortably here. Aside from its complete amenities, what makes this home unique and one of a kind is the indoor pool which allows the utmost privacy and relaxation and it is naturally heated through solar. This place is beyond amazing and you would even want this as your yearly fun getaway!
Fabulous Pool House near Coachella Festivals
Price:
Guests: 13
Bedrooms: 4
Planning to join the Coachella Festival soon? Or perhaps it's one of your yearly goals to not miss the festival? Well this fabulous resort style house is your perfect home for your next Coachella trip. The place is so cozy and well-organized and it can accommodate up to 13 guests.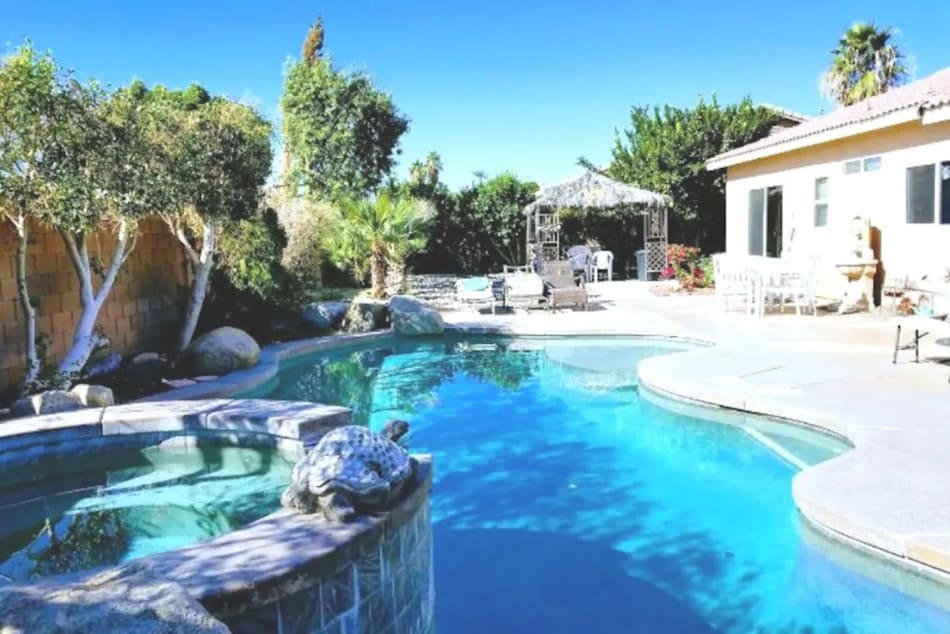 This spacious home has 4 bedrooms and there are 4 TVs in the house so you won't get bored and you can catch up on your favorite TV shows. And to make this house even more fabulous, it has a private pool with jacuzzi that will totally blow you away. This is a highly recommended place not only for Coachella goers but also for people who are looking for a place to unwind and relax in Palm Springs.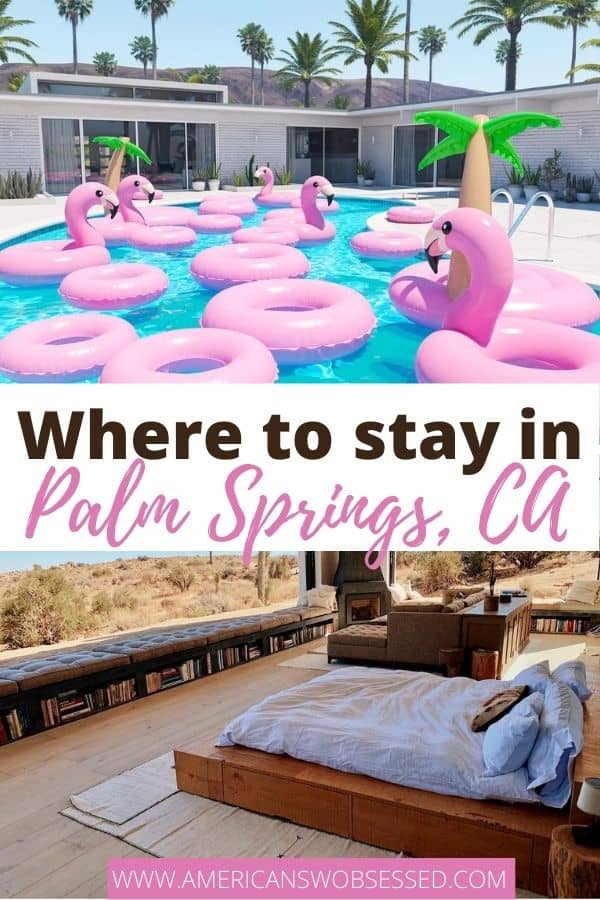 Recent Posts