Payson Airbnb: Are you looking for the best Airbnbs in Payson, Arizona? This list of Payson Airbnbs has something for everyone – and for every budget. Check out these great places to stay in Payson, Arizona.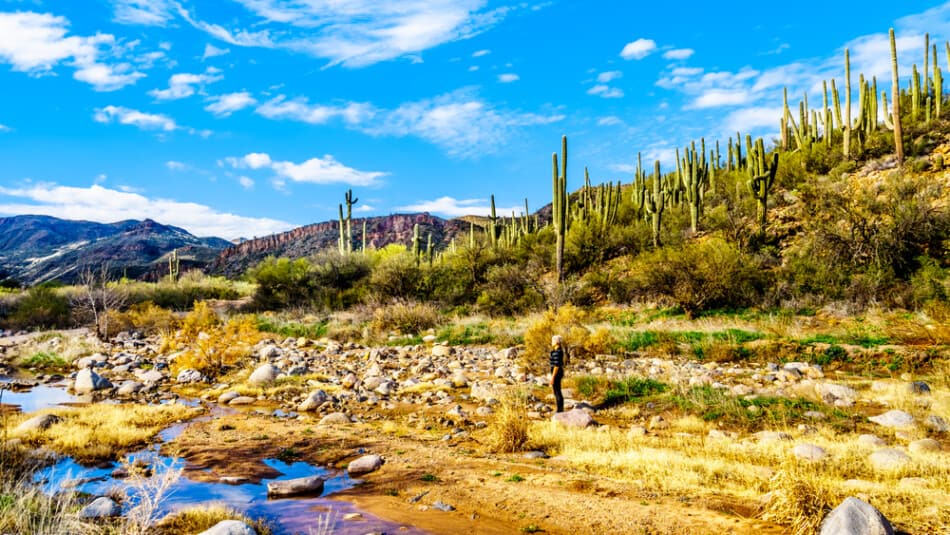 The region in and around Payson is one of the most popular weekend destinations for Phoenix residents, offering a great place to get away from the city and the scorching temperatures in the summer.
Payson is surrounded by woods and lakes and provides year-round outdoor activities, with miles of hiking and biking trails, bird watching and fishing opportunities.
Thank you for supporting this website written by an American. This post may contain affiliate links. This means I earn a small commission on these links at no extra cost to you.
15 Best Airbnbs in Payson, Arizona
Charming Chalet by the River
Guest: 4
Bedroom: 2
Perfect for 4 guests, this rock covered chalet is situated on two acres of property that offers incredible views of mountains.
From having a new custom kitchen with quartz counter tops to a jetted tub in the bathroom, guests will be delighted to stay at this very comfy and charming chalet.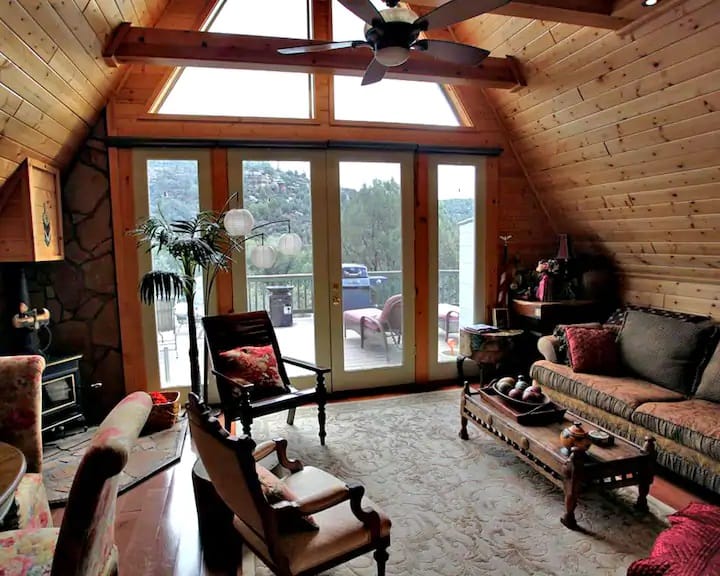 Its location is also perfect for adventure seekers out there because there is a short trail going to the river for swimming, fishing, hiking, or picnicking.
Nature Lovers Riverfront Hideaway
Guest: 4
Bedroom: 1
Calling all nature lovers out there who are up for a great stay in Payson, this detached studio guest is the one you are looking for.
This place overlooks the East Verde River five miles away from Payson and it has convenient access to hiking, fishing, swimming, and biking. You may want to bring some swimsuits because there's a creel near the area where you can plunge.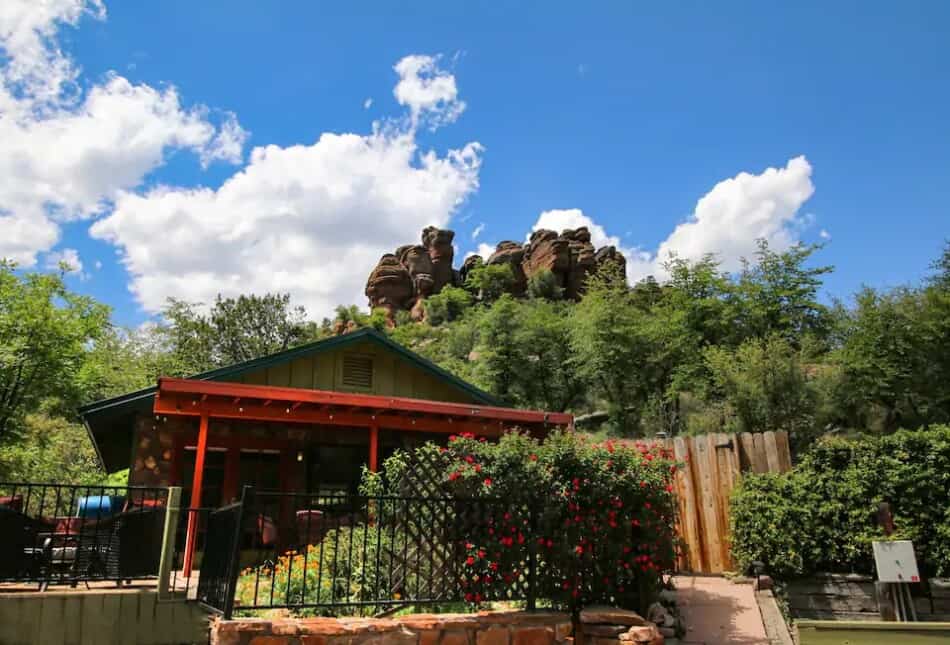 Aside from that, this guest house is also complete with amenities such as a full bath, cooking essentials, fridge, and BBQ on the porch. This is a perfect place not only for nature lovers but also for couples, families, and those with furry companions.
Cozy Bear Cabin in the Woods with Large Deck
Guest: 6
Bedroom: 2
Relax in the lovely cozy Bear cabin nestled in a quiet, wooded neighborhood in Pine, AZ. The cabin is outfitted with all the simple comforts of home to enhance your stay and make it memorable.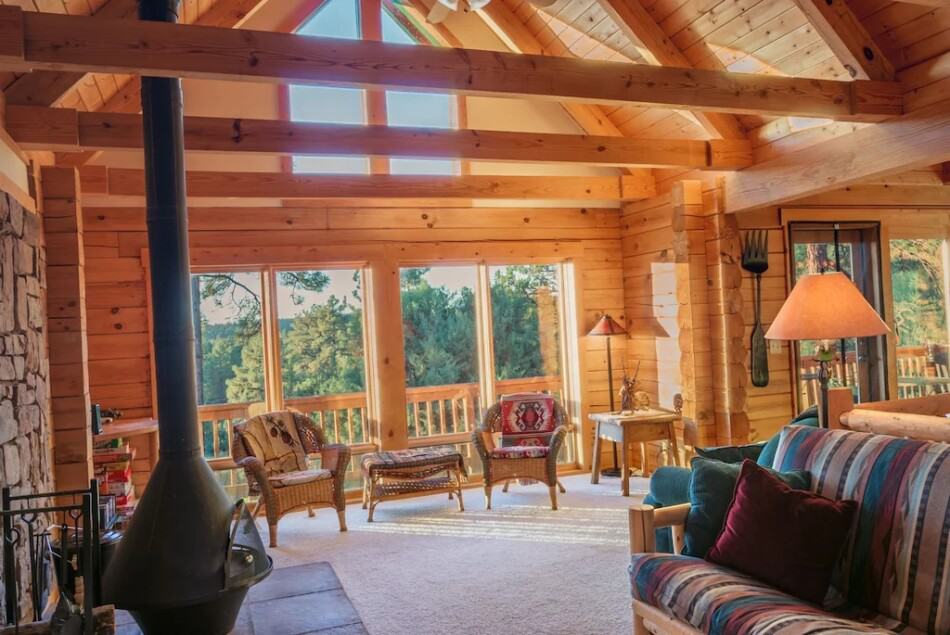 The old fashion fireplace is a favorite and makes this cabin a great choice all year long. Nothing takes the chill off quite like the warmth of a fireplace after a day of Arizona adventures.
Our cabin features 3 sleep areas (two master bedrooms & a recreation room that can be closed off) and two full bathrooms. The main living space features a vaulted, exposed beam ceiling + sliding doors and windows (overlooking the deck) that fills the space with natural light.
Kohl's Ranch Lodge
Guest: 4
Bedroom: 1
Who says vacation rental homes are not fun and boring? You have to take a look at this resort-like Airbnb in Payson that features lodge-style accommodations that are located along the banks of Tonto Creeks and surrounded by the stunning Ponderosa Pine forest.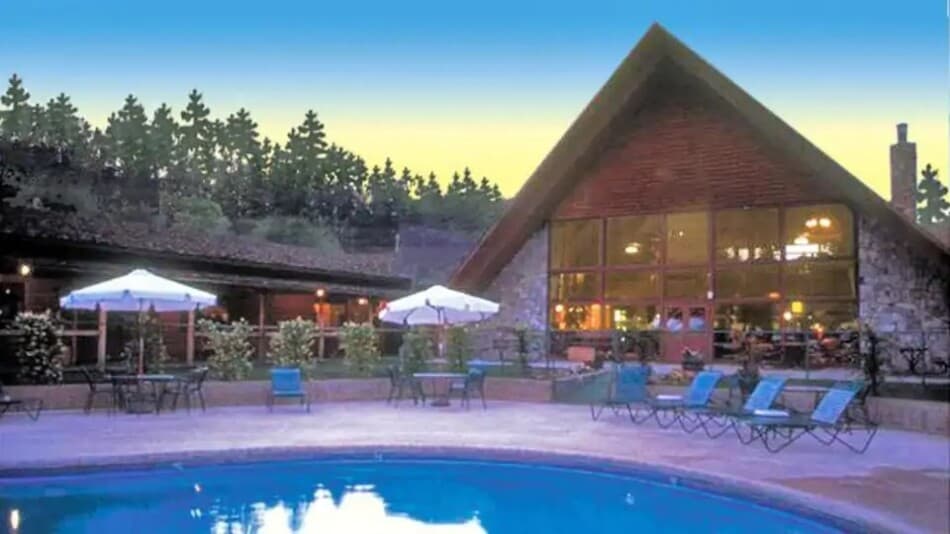 Each lodge has a coffee maker, microwave, refrigerator, cable TV, in-room safe, hair dryer, DVD player, and internet access.
You can also have access to the shared facilities in the lodge such as pools, spas, fitness centers, business centers, restaurants, sports recreational facilities, and resort common areas. Basically, you have everything you need in one place! 
Breath in the Fresh Mountain Air and Relax at Emma's Loft
Guest: 2
Bedroom: 1
This charming 600 square foot studio/loft is located in a quiet neighborhood perfect for relaxing and reconnecting. Your own private entrance leads you to a comfortable king size bed, perfect for sleeping in a little later than usual.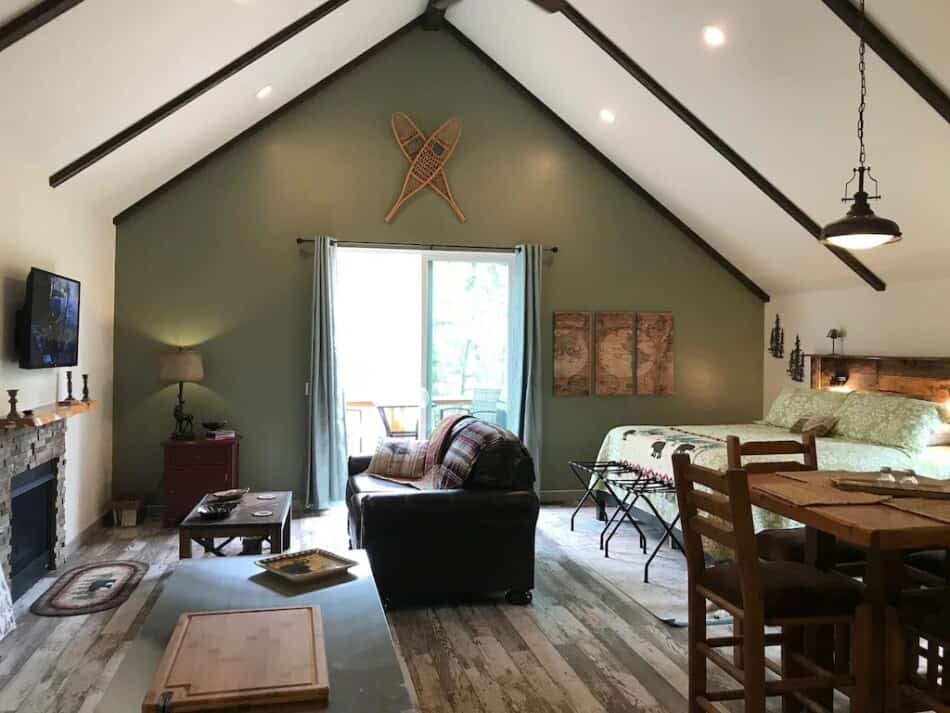 A full kitchen with all the amenities to prepare great meals on the new LG gas stove. Kitchen also has a Large LG refrigerator with ice maker to keep those leftovers from spoiling and quartz countertops.
The bathroom is Spa style with walk in shower which features a rain style shower head. A cozy sitting area which boasts a gas fireplace and 43″ TV.
The Ranch in the beautiful Tonto National Forest
Guest: 6
Bedroom: 2
The Ranch is one of the most picturesque and relaxing vacation rental homes that you can book in Payson. It is situated below the stunning Mogollon Rim and sits in a small cabin community in the majestic Tonto National Forest with an elevation of 6,000 ft.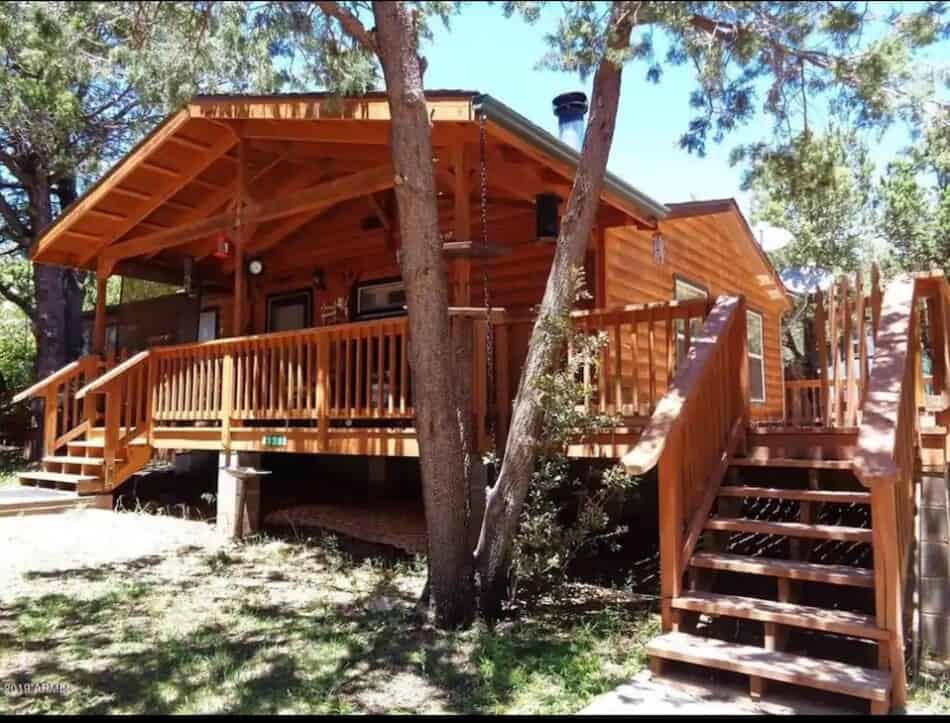 This place provides a unique experience for locals and tourists alike because it surrounds the beauty of the forest. Not to mention, the ranch is proud of its casual and comfy rooms that feature a fully equipped kitchen, a king sized bed, a fenced backyard, and more. This is truly a wonderful home in a secluded and private neighborhood.
Cabin with Deck, 13 Mi to Tonto Natural Bridge
Guest: 2
Bedroom: 1
The Cabin is a perfect spot for people who are longing to mingle with nature. This place is nestled at the foot of a pond and it has a serene setting where you can watch the fish, ducks, and otters in the clear freshwater.
Plus, it is located only an hour away from the Valley of the Sun and it provides a relaxing atmosphere that is renewing and refreshing to the body, soul, and mind.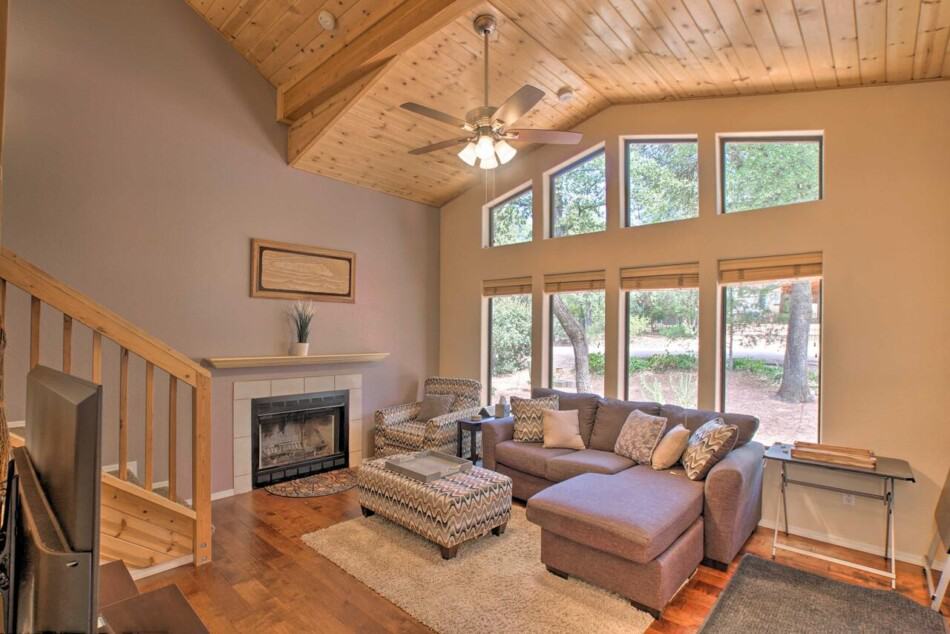 The cabin is very comfy and spotless. It is also equipped with amenities such as a kitchen where you can cook your own meals, a bathroom, TV, air conditioning, and more.
The cottage may be small and suitable only for two adults, but it definitely has a large outdoor living space that you can totally make use of. And because it is located in the forest, prepare your eyes to be amazed by the sights of wildlife. 
Dancing Bear Lodge
Guest: 10
Bedroom: 3
Relax in style with Mountain living at its best! Open concept with lots of natural light through-out this gorgeous home.
Rustic knotty pine walls, post & beam construction, massive rock fireplace accent the spacious great room. Upgraded kitchen with open-faced cabinets, pot rack, island work center.
Private relaxing hot tub. The front deck wraps fully around to rear deck that captures awesome mountain views & sunsets. 2-car garage with custom doors, terraced & landscaped fenced backyard.
The garage is set up with a Pool Table, Ping Pong Table, and Foosball table to provide hours of entertainment along with Horse Shoes and Tetherball in the backyard.
This is certainly a unique place that you won't regret booking.
Best Kept Romantic Secret Get- A- Way!
Guest: 2
Bedroom: 1
Decorated to make you feel at home in a nautical theme! This Secret getaway is 4 miles from the shops and restaurants.
Bedroom, unit a/c & heat, kitchen, microwave, 2 burner cooktop, large refrigerator, dining (bistro) area, double recliner love seat, bathroom, living room, private patio with gas bar b q, private yard. 40″ HDTV in the living room, 32″ bedroom TV, electric fireplace, wifi, direct TV, 2 car paved parking, quiet neighborhood, less than 500′ from the river!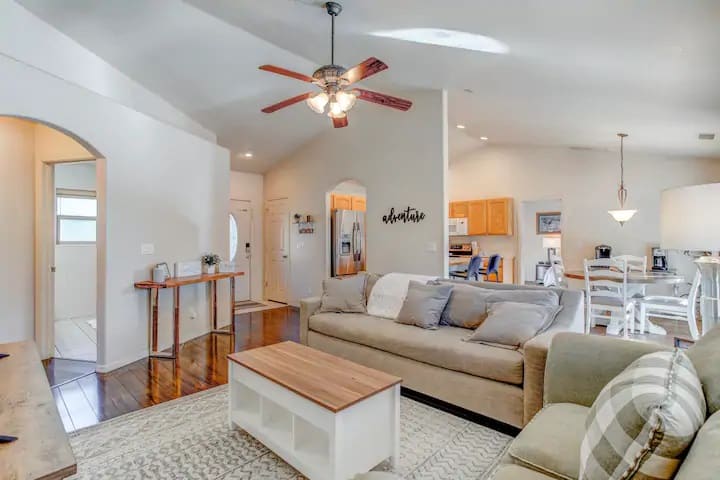 Aside from being a great vacation rental home, there are lots of sites to see as well. This is a great place to unwind and relax.
Mountain Views and Great Fire Pit
Guest: 2
Bedroom: 1
This is a 1 Bedroom home, with great long-range mountain views. Quiet wooded lot. Great fire pit area. Close to great trails for hiking, ATVs. The house is located on a dirt road. There is parking for at least 4 cars, but a large trailer may be difficult to park.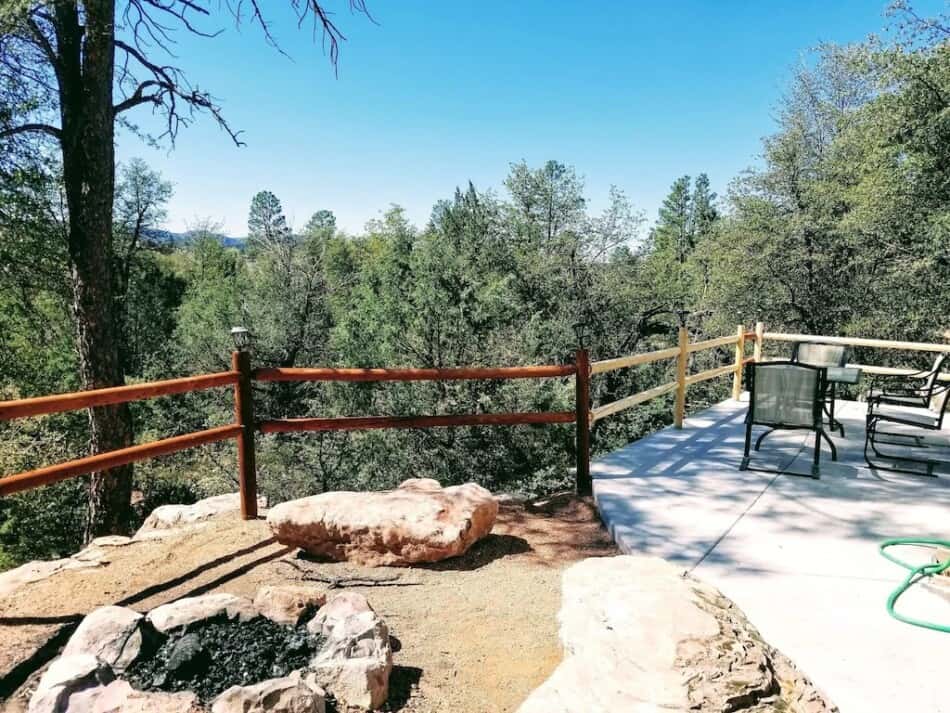 The master bedroom has a king-size bed. The great room has a Murphy bed with a very comfortable queen size mattress. And, there is also a queen size soft bed. The laundry area also has s a queen-sized air mattress that you can use on the queen size sleeper sofa to help with comfort.
Cabin – Getaway to Rim Country in Strawberry/Pine
Guest: 6
Bedroom: 2
If you wanna escape the heat and just be on top of it at approximately 6000 feet in elevation, this cabin is right for you. You'll love to spend most of your time in this elevated cabin that features a large deck where you can have coffees in the morning and a large yard with space to roam around.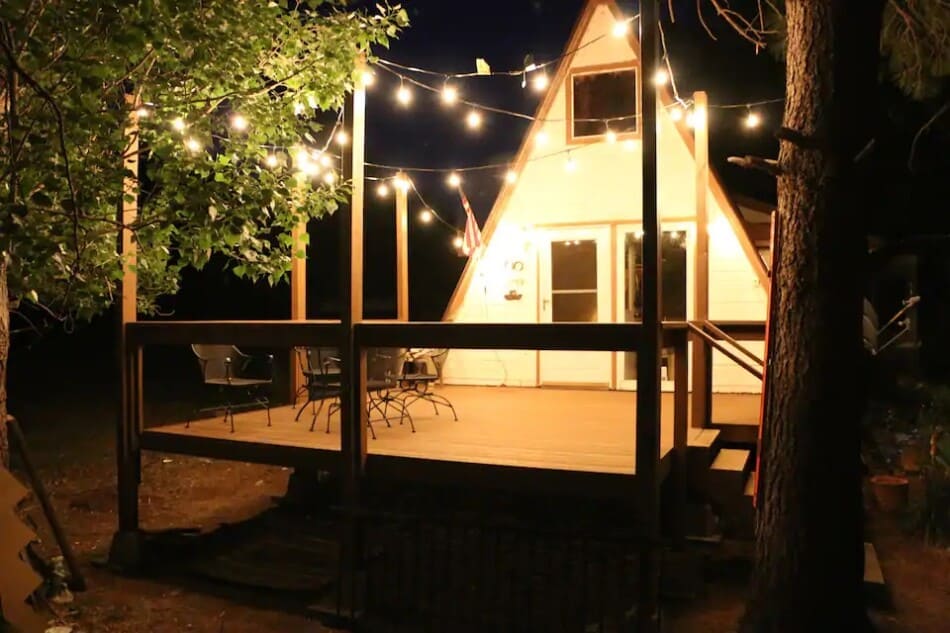 In addition to that, this cabin also has a king size bed in the main bedroom, a queen size bed in the loft, and a queen size sofa bed in the living room all perfect for 6 guests. Plus, the selection of board games and outdoor games will keep you entertained during your stay.
Pine View Spacious Cabin
Guest: 10
Bedroom: 3
Spacious main cabin sleeps 6, plus, you have the option to include the guest house in your rental to sleep up to 4 more people for an additional $100 per night, plus $45 cleaning fee.
The total number of guests is limited to 6 in the main cabin and a total of 10 if the casita is included. Please note, we do not rent to separate parties at the same time, so if you only rent the cabin, there would not be another party in the casita.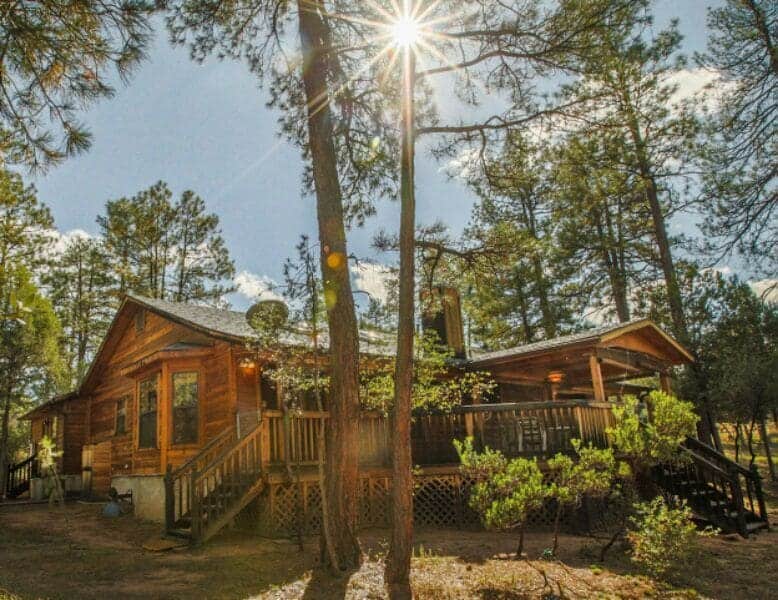 Relax amongst the tall pines on this one-acre heavily wooded lot in Payson. The main cabin is charming and spacious. The 1,700-square-foot home has three bedrooms, two full baths, including a newly remodeled master bathroom, new countertops in the kitchen with an island, and an open living and dining area. There is plenty of room for the entire family and you will feel at home the minute you walk in the door.
Rim View Vacation Rental
Guest: 5
Bedroom: 2
Another amazing vacation rental home that you can book that also offers a view of the rim is this guesthouse located right in the center of Payson. The main floor of the house consists of a living room, dining room, kitchen, 2 master suites, as well as outdoor spaces such as a deck, fenced back yard, and driveaway.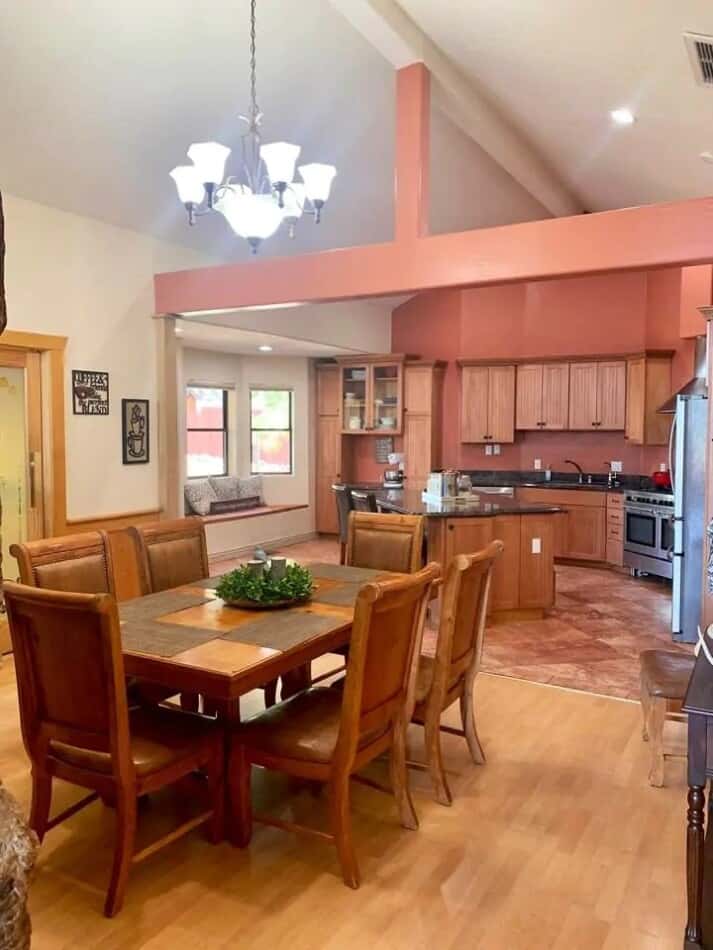 This guest house sits on a hill and the only downside is that it has a fairly steep driveway and low water pressure. But other than that, everything is just so perfect and romantic in this guesthouse.
Breathtaking Mtn Views! Clean & Renovated
Guest: 4
Bedroom: 2
This is your peaceful getaway in the cool town of Payson and it has everything you can ask for in a cabin. It has two bedrooms, a bath, living room, kitchen, wifi, and TV. And to top it all, it has a large porch where you can spend your quiet mornings gazing out into the tall pines.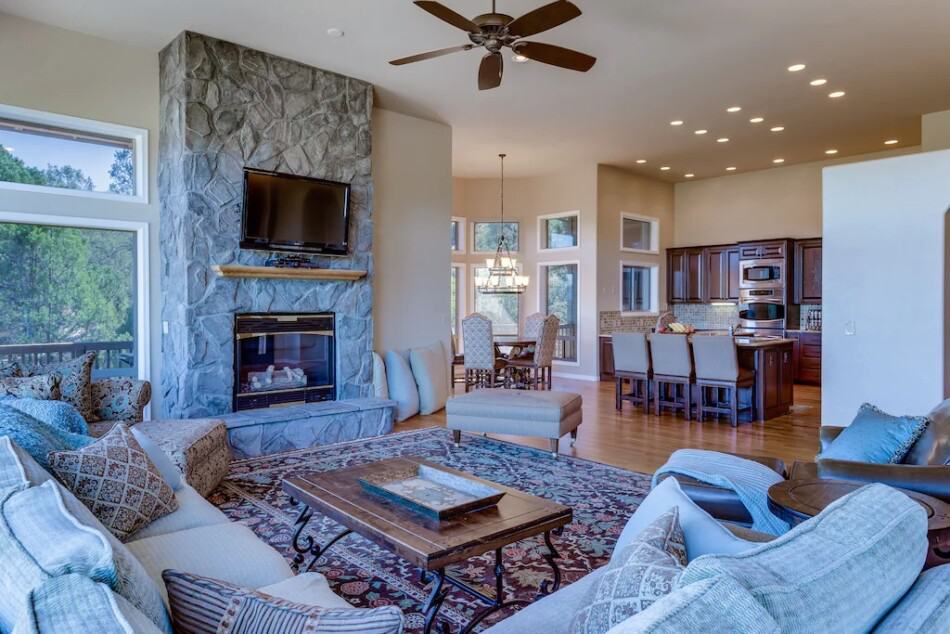 Beautiful Cul-De-Sac Hillside custom home on the large wooded lot adjacent to Tonto National Forest with Breathtaking Mountain Views of Mogollon Rim from the family great room, master bedroom, home office, and deck.
Sharing is Caring! Pin this post to save for later.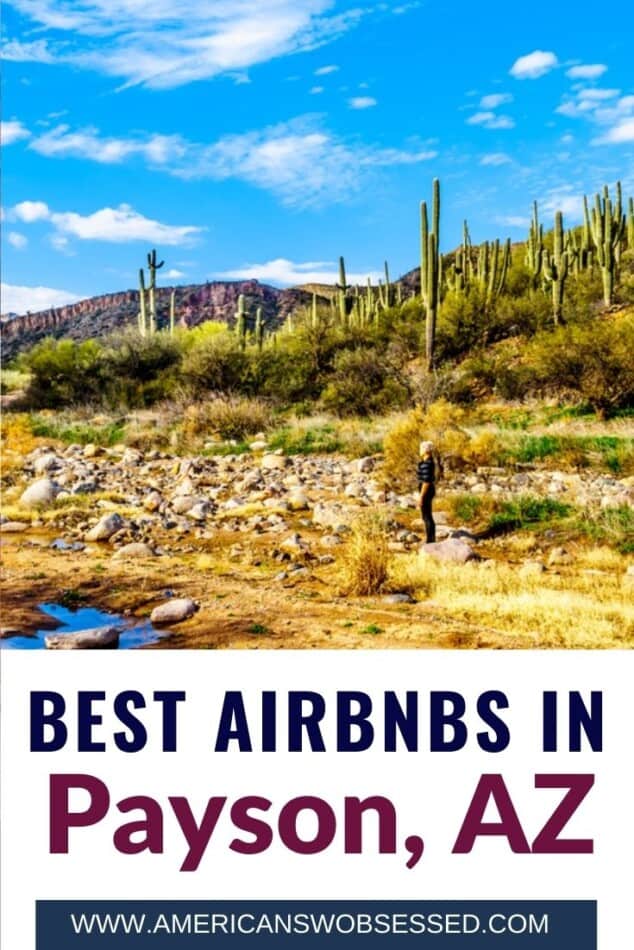 Recent Posts