15 Best Airbnbs in Lake Tahoe and Lake Tahoe VRBOs
Lake Tahoe Airbnb: Are you looking for the perfect Airbnb Lake Tahoe? This list has the best Airbnbs in Lake Tahoe for all budgets and group sizes.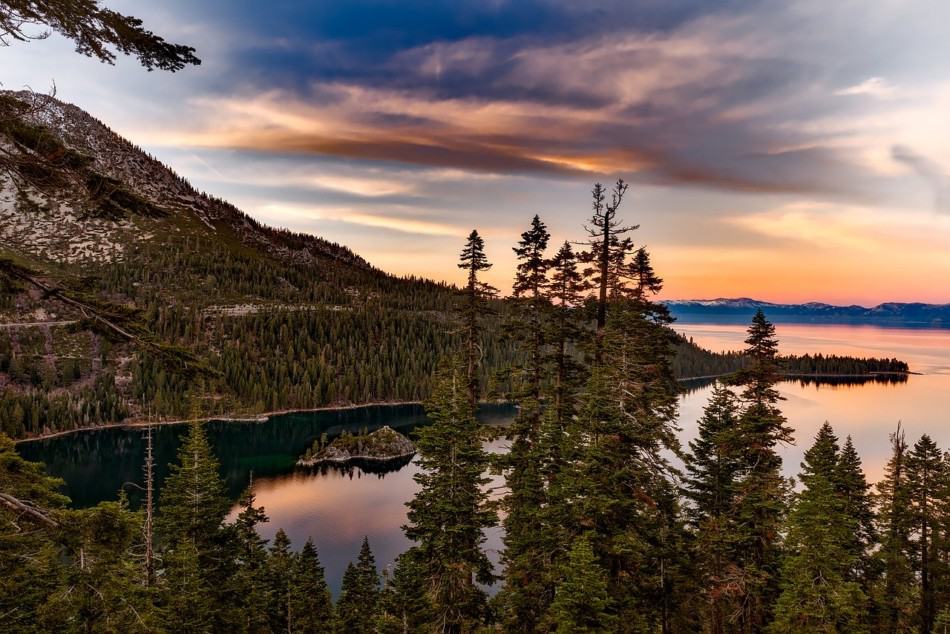 Lake Tahoe is a large fresh water lake that straddles both California and Nevada. Visiting Lake Tahoe is a great escape for the weekend whether you are coming from Sacremento (2 hours) or Reno (45 minutes) you are sure to have a great weekend.
That's why I've put together this list of great Airbnbs in Lake Tahoe. These Airbnbs are located around the lake but most are South Lake Tahoe Airbnb. Each area of Lake Tahoe is different so you'll want to choose the right one for you based on what you want to do and where you are coming from.
Lake Tahoe is the perfect place for a little rest and relaxation. There are plenty of water sports to play around with or go for a bit of hiking in Lake Tahoe. You are sure to enjoy your time there.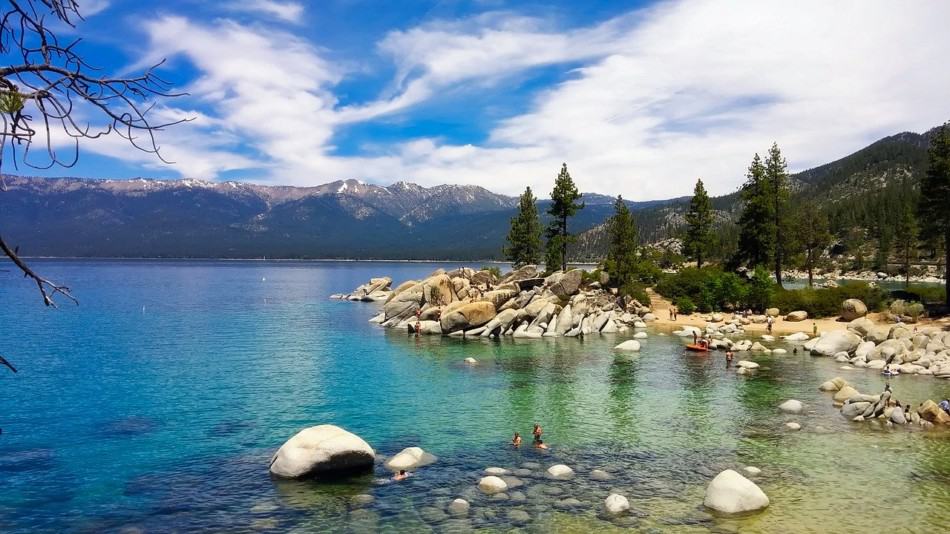 Thank you for supporting this website written by an American. This post may contain affiliate links. This means I earn a small commission on these links at no extra cost to you.
15 Best Airbnbs in Lake Tahoe
Tahoe Hideaway
The Tahoe Hideaway is a place for dreamers to reset, relax, and reflect. Designed with the lake lifestyle in mind, the hope is that you enjoy every part of your stay.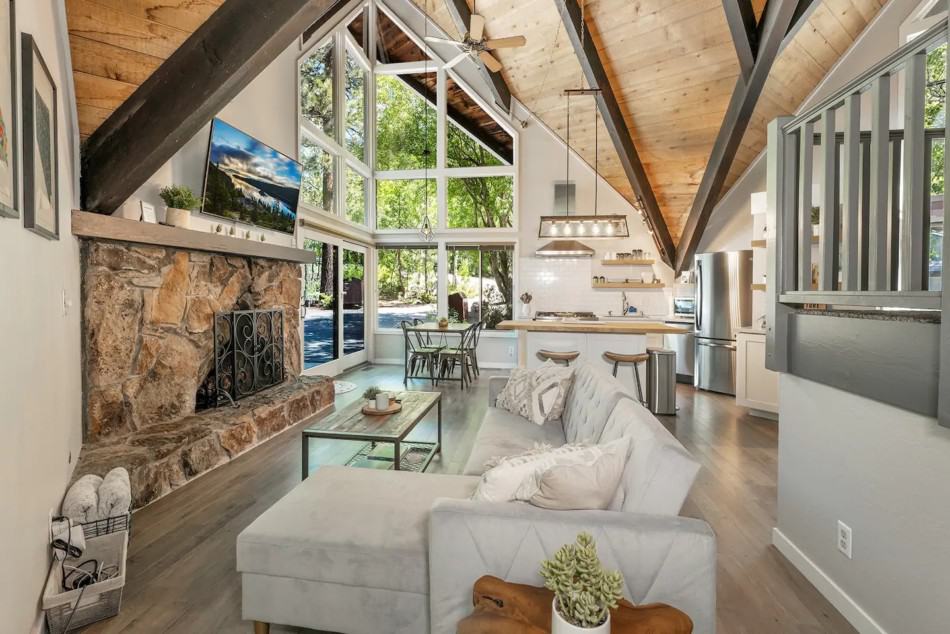 This place has views to die for and why not enjoy local coffee in the morning, spending the day on the water or a hike through nature, and relaxing in the evening on the large wrap-around deck underneath the starry night sky.
Stargazer – Stunning Lake Views
Enjoy a getaway to Crystal Bay in North Lake Tahoe. This lakefront studio is the perfect accommodation for a couple looking to escape and enjoy breathtaking views of the lake.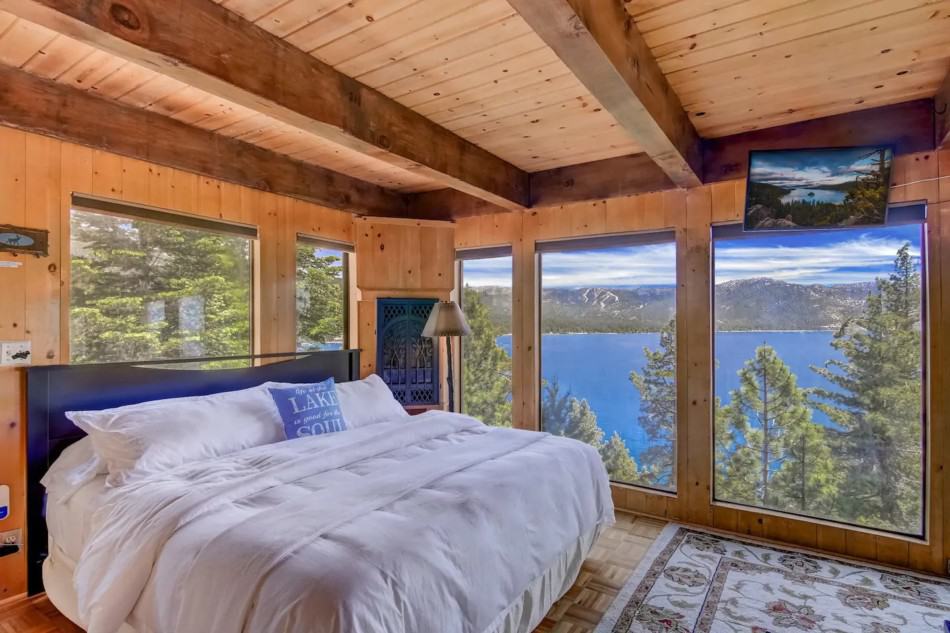 Upon entering the studio dramatic floor-to-ceiling windows create a scenic backdrop as the blue lake sits before you. The living room is great for lounging on the cozy sofa while enjoying the ambiance of the gas fireplace.
Judge Peek Cabin
Price:
Guests: 4
Bedrooms: 2
Judge Peek Cabin is a laidback and charming Tahoe that will make you instantly feel like you are in the 1950s. It is centrally located and just a walking distance to a private HOA pier and just 10 minutes away from downtown Tahoe City.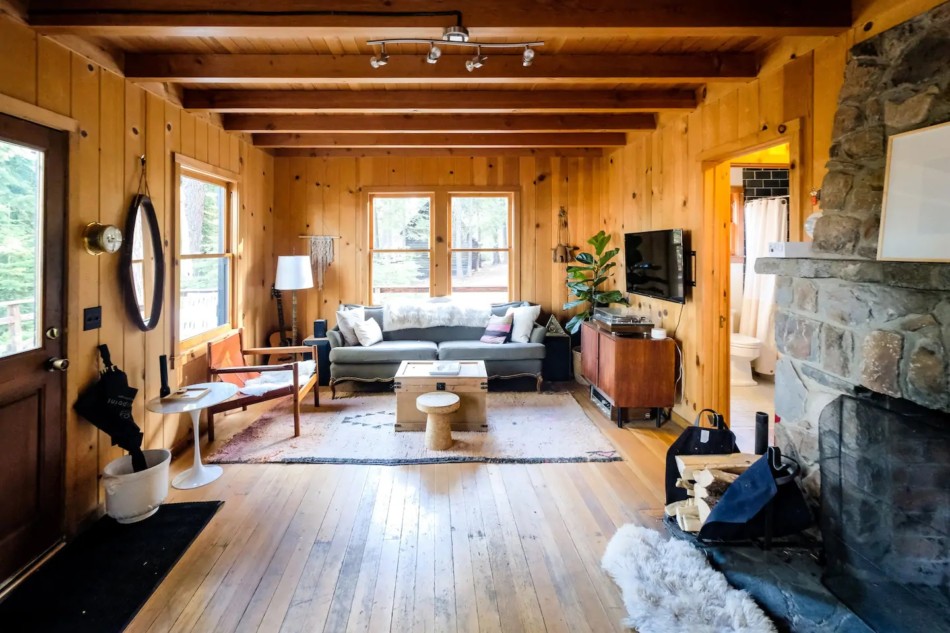 The space has 2 beds that can accommodate 4 guests and it is equipped with amenities like the small kitchen but well stocked with the essential pots and pans, wifi, RokuTV that connects to YoutubeTV, Netflix, and other streaming options, fireplace, hot tub, and a lot more. This is the perfect cabin if you are looking for a quiet mountain getaway with some friends or even your family.
Charming Cabin Retreat
Price:
Guests: 2
Bedrooms: 1
This charming cottage in the woods is perfect for singles or couples who are looking for a romantic experience in a place full of adventure and serenity. It offers lots of walking trails and bike trails just outside the door and just a few steps across the street, it will lead you into the meadow with a branch of the Upper Truckee flowing through it.
This cabin is set in a very private property which makes it perfect for a romantic getaway or even a girl's weekend. You have a total access to all the amenities provided including the kitchen, living room, and all of the outdoor areas. This is a very cute cabin with a great location in the heart of mid-town.
Beautiful Remodeled Cabin within Mile of Heavenly – Best Lake Tahoe Airbnb
Price:
Guests: 6
Bedrooms: 3
Booking this remodeled cabin will let you experience a great sight of the beautiful Lake Tahoe 24/7. The house is laid out perfectly and everything is just so clean and the furnishings are very well-thought.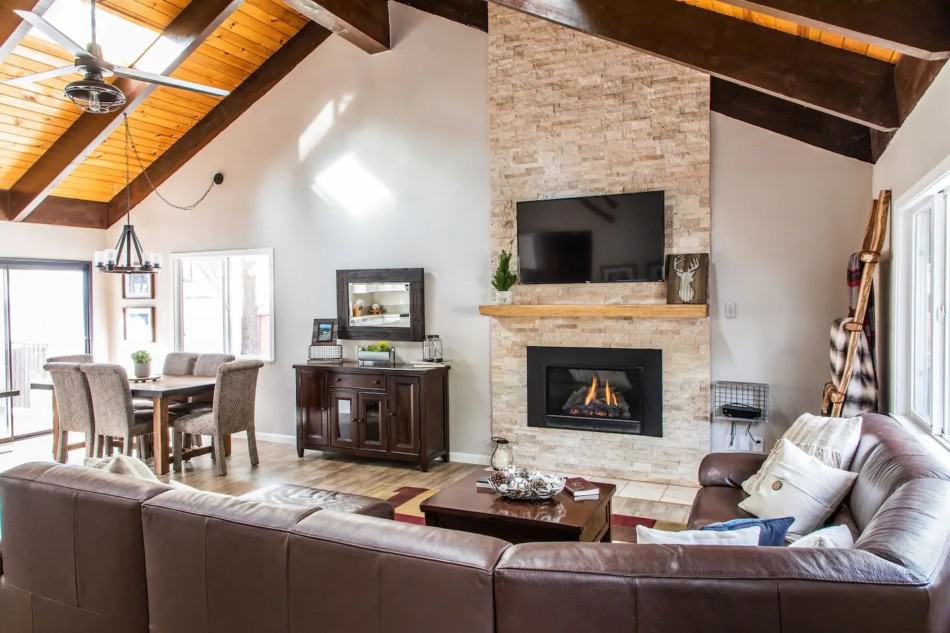 The cabin lets 5 people sleep comfortably and it is packed with lots of great amenities such as a brand new kitchen that opens up to a beautiful stone fireplace, hot tub, laptop-friendly workspace, and more. And you will love the fact that the hosts are very incredible and welcoming and will assure you that you will have a great experience in this cabin.
Lake View Cabin!**Steps from the beach with private Hot Tub
Price:
Guests: 6
Bedrooms: 2
This cabin is a dream giving you an opportunity to enjoy an amazing panoramic view of spectacular Lake Tahoe all seasons of the year, in addition to affording us just a short stroll(100 yard) to the beach. We love the location and once you spend a few minutes out on the deck, you will see why we chose this property on the West shore, just steps from the beach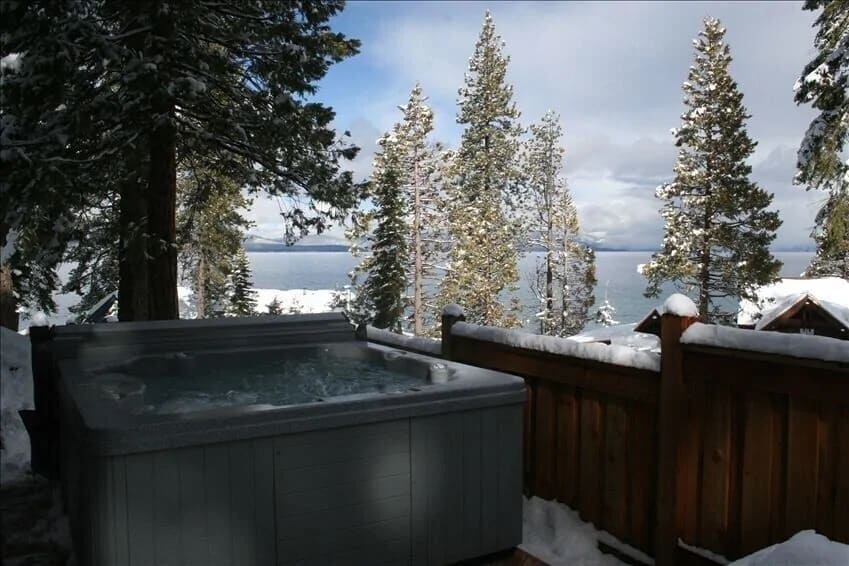 Enjoy the short walk to the new and remodeled Tahoma Market and Deli with it's amazing deli sandwiches(great to take to the beach, on the boat, hiking, sledding or the snow slopes), Hot pizza, Coffee, pastries, breakfast sandwiches, most your groceries needs, wine selection. West Shore market is another favorite of mine and just a 5 minute drive. They have yummy sandwiches and a beautiful little market.
The Lake Tahoe Chalet
Price:
Guests: 8
Bedrooms: 3
This cozy cabin set in South Lake Tahoe is the perfect place to relax for an adventure-filled getaway in the area. This can accommodate large families of up to 8 people with 3 bedrooms and 2 bathrooms. The location is also great too because it is not far from town but far enough to avoid noisy and big crowds.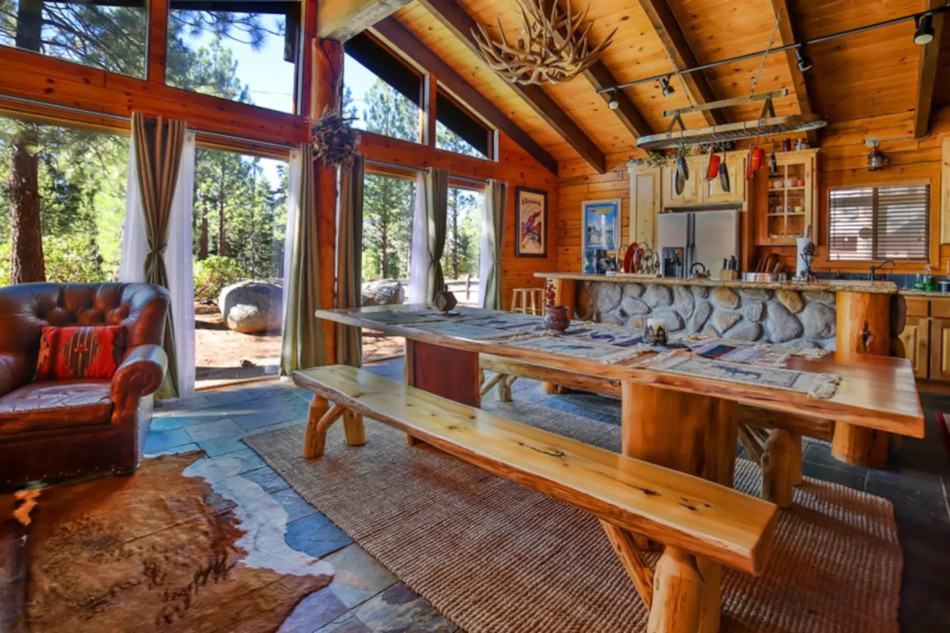 You'll also love the fact that you can have full access to the outdoor space where you have have a picnic at the large table that seats 10 on the deck. The backyard is also full fenced so that you can enjoy the privacy that you deserve.
Condo Studio at David Walley's Hot Springs
Price:
Guests: 2
Bedrooms: 1
The David Walley's Resort is one of the best and coolest resorts that you can stay in Lake Tahoe. It offers year-round retreat for all ages and not to mention their first-class facilities. And when you book this condo unit, you'll get to enjoy the benefits provided by the resort such as their on-site hot springs mineral pools, spa treatment, outdoor swimming pool, steam rooms, fitness center, and more.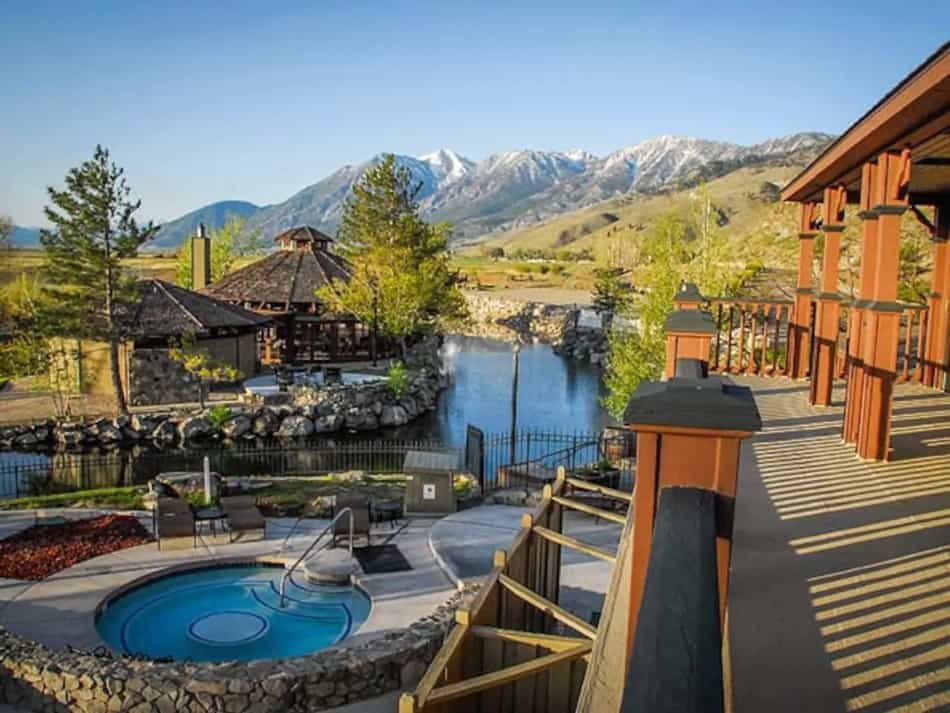 Inside this 340 sq ft room is a queen size bed good for couples or singles,private bathroom with free toiletries, a balcony/patio, cable TV, free wifi, kitchenette with mini-refrigerator, microwave, and coffee/tea maker. Staying in this studio will make you experience what it's like living in a comfy home and amazing resort at the same time.
Beach Front Condo Walking Distance to All Shops & Restaurants
Price:
Guests: 5
Bedrooms: 5
This is the perfect location on a private beach with panoramic views of Lake Tahoe, just steps away from the water. The recent complete renovation with new furniture and linens makes this home a very comfortable, enjoyable vacation place.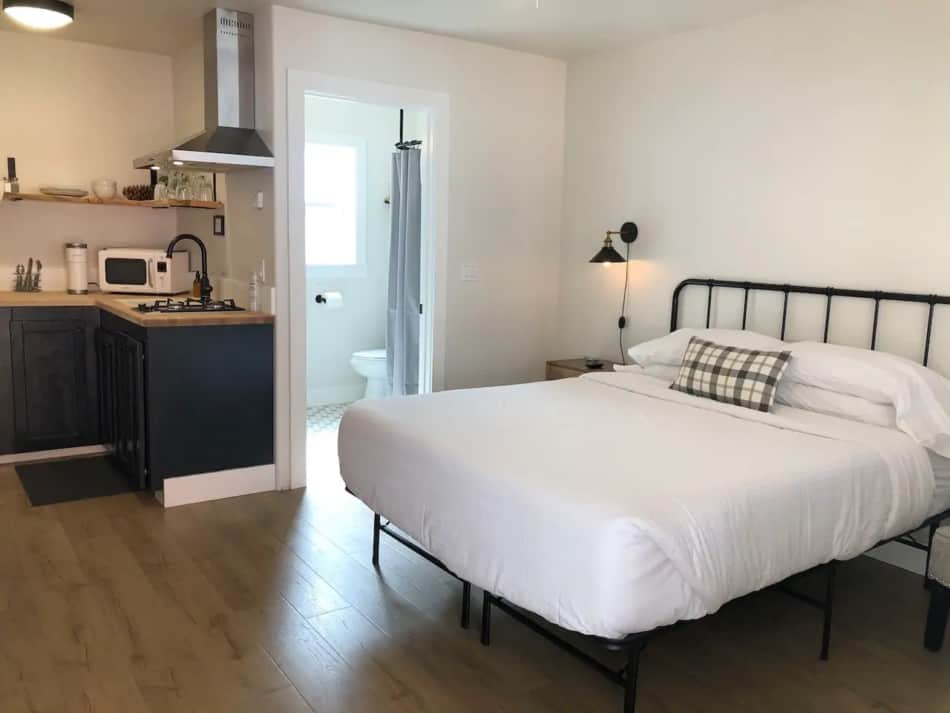 Three flat screen HDTVs, free WiFi, and a modern kitchen with stainless steel appliances and granite countertops are just some of its features. The property has 2 tennis courts, a lakeside pool and its own pier. The outlet dam for Lake Tahoe, rafting down the Truckee River, and Commons Beach with a children's playground are all less than a block away.
3 Bears Cabin South Lake Tahoe
Price:
Guests: 6
Bedrooms: 2
If there's one word that would best describe this cabin it would be majestic. You can do a lot of outdoor activities such as skiing, snowboarding, paddle boarding, boating, jet ski, swimming, fishing, biking, restaurants, and a whole lot more. And after a day of doing outdoor stuff, it's nice to come home to a place that would give you the benefit of a cozy and warm home.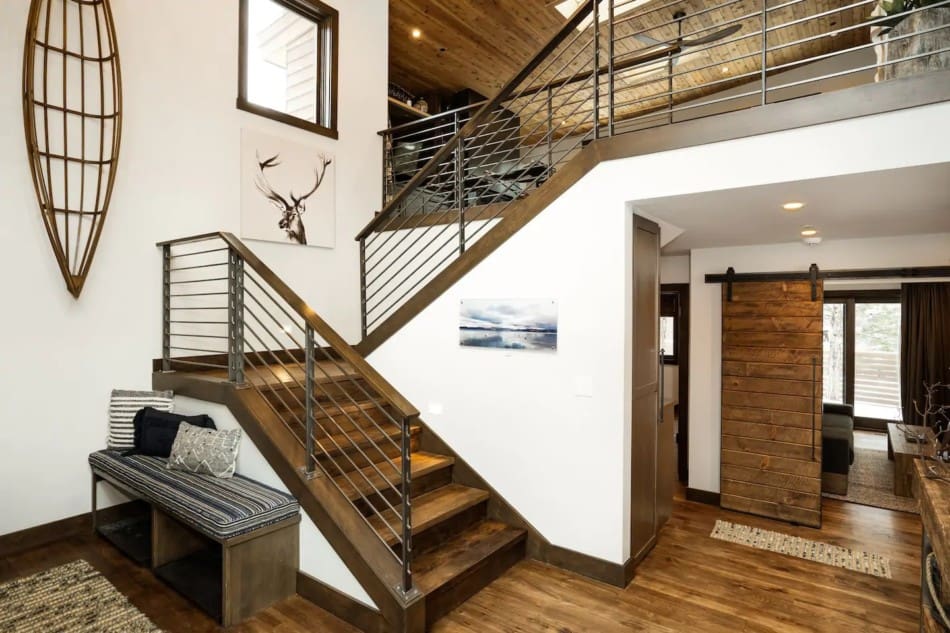 This cabin also comes with all the amenities to make your stay a great one such as kitchen, free wifi, hot tub, living room with a gas fireplace, TVs, large bathroom and large shower, and more. This is perfect for families or couples who want a fun-filled weekend adventure at Lake Tahoe.
Beautiful Waterfront Home
Guests: 10
Bedrooms: 4
This is the Ash Chalet Tahoe located in the Tahoe Keys Resort. In this Beautiful Home you can have it all…close to skiing, lake and hiking/trails, beautiful views of Heavenly and Mt Tallac.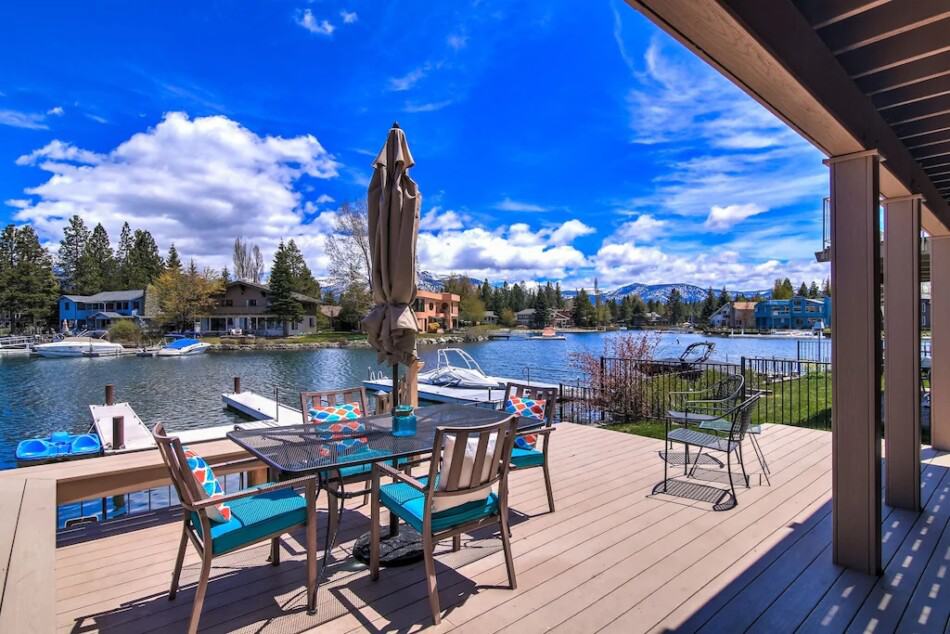 In this Beautiful Home you can have it all Minutes to Heavenly. 15 Mins to Sierra Ski Resort. 3 mins. to LAKE, casinos, close to Tahoe night life, close to trails, beautiful views, on the water, private boat dock and resort amenities. Enjoy your coffee on the deck and look at Heavenly.
This is a spacious home. With 2100 sf of living space, you will have enough space for all your guests. Enjoy the bay window in the master bedroom to read a book and soak the afternoon sun. Rooms are large and comfortable.
Lakeland Village Luxury Condo w/great amenities
Guests: 4
Bedrooms: 2
The Tahoe luxury lakeview condo at South Lake Tahoe's Lakeland Village has beautiful views of the water from every window.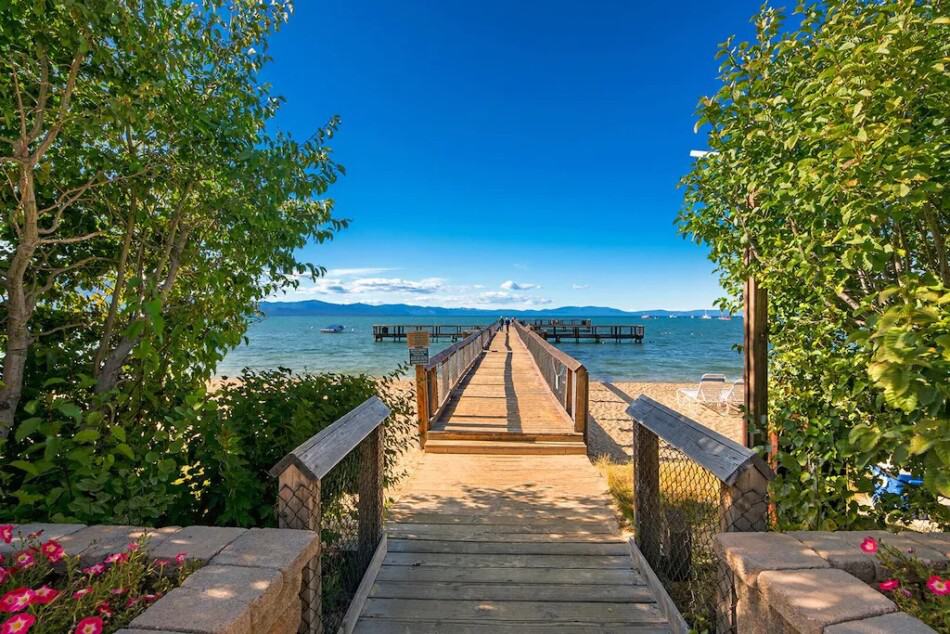 Here at Lakeland Village you will enjoy amenities such as a private pier, buoys for the boat enthusiast, three swimming pools – one heated year round – two hot tubs, saunas, tennis courts and a fitness center.
There is no shortage of winter and summer activities when you stay at Lakeland Village. Come stay and play while enjoying world class skiing, ice skating and snowmobiling in the winter; along with hiking, biking, world class golf, sailing, kayaking, paddle boarding and many more in the summer months.
Modern Mountain Studio with Incredible Views
Price:
Guests: 4
Bedrooms: 2
This modern studio home is ideal for couples who are looking for some quiet and quality time together in the mountains. You will fall in love with every inch of this home especially when you look out the window or gaze at the stars from the balcony.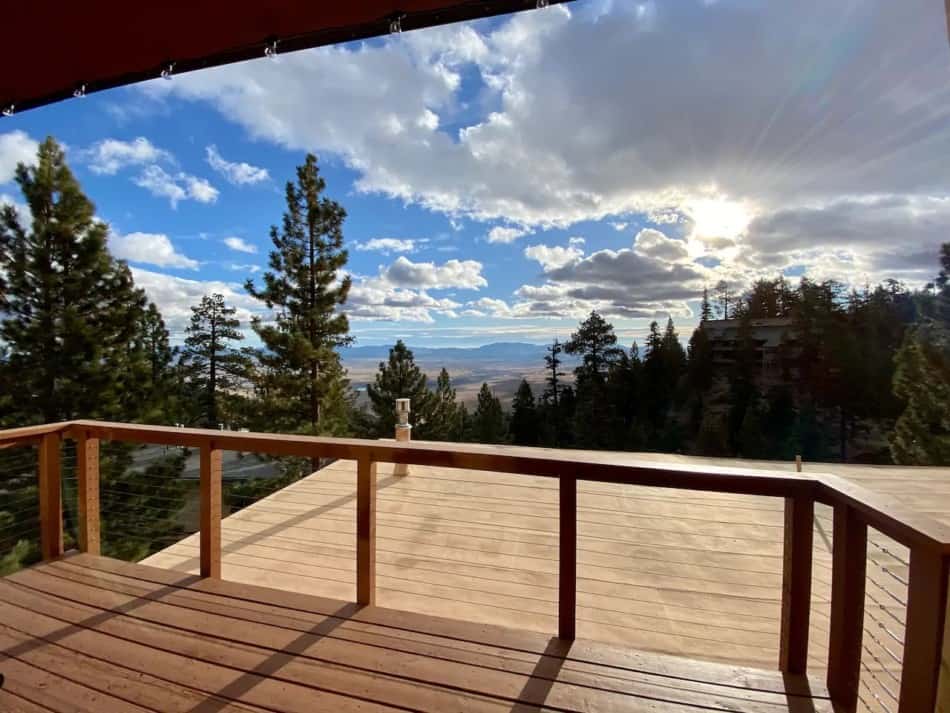 It also comes with a queen size bed, a comfortable sleeper sofa, clean and bright bathroom, and a fully equipped kitchen with a large island for preparing and eating meals. And as to its price, it's very affordable that you could even afford to extend your stay here for months.
Beautiful Water Front House
Price:
Guests: 10
Bedrooms: 4
Located just 5 miles from South Lake Tahoe downtown, this beautiful waterfront house in the coveted Tahoe Keyes neighborhood will make you experience the best things that life could possibly offer.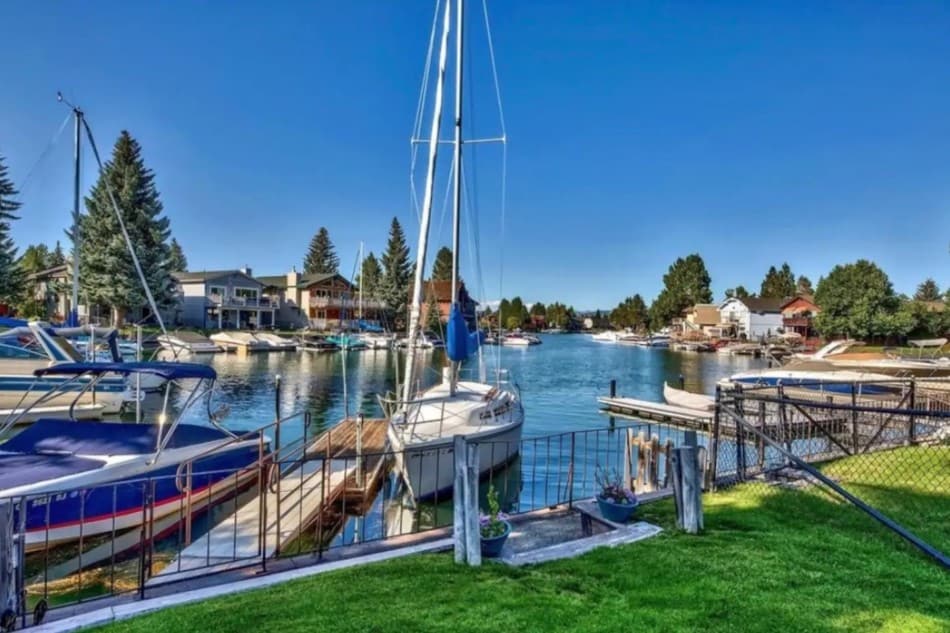 It is fully furnished with everything for a comfortable living including a wood burning fireplace with nest heating system and 2 car garage. It can accommodate up to 10 guests and you can make use of the amenities available in the community such as outdoor community swimming pools, private beaches, multiple basketball tennis, and volleyball courts.
One Bedroom Condo at Grand Residence Club
Price:
Guests: 2
Bedrooms: 1
This beautiful one-bedroom condo unit in Grand Residence Club is one of the best places to stay in South Lake Tahoe. It comes with an air conditioner, cable TV, indoor fireplace, essentials, etc.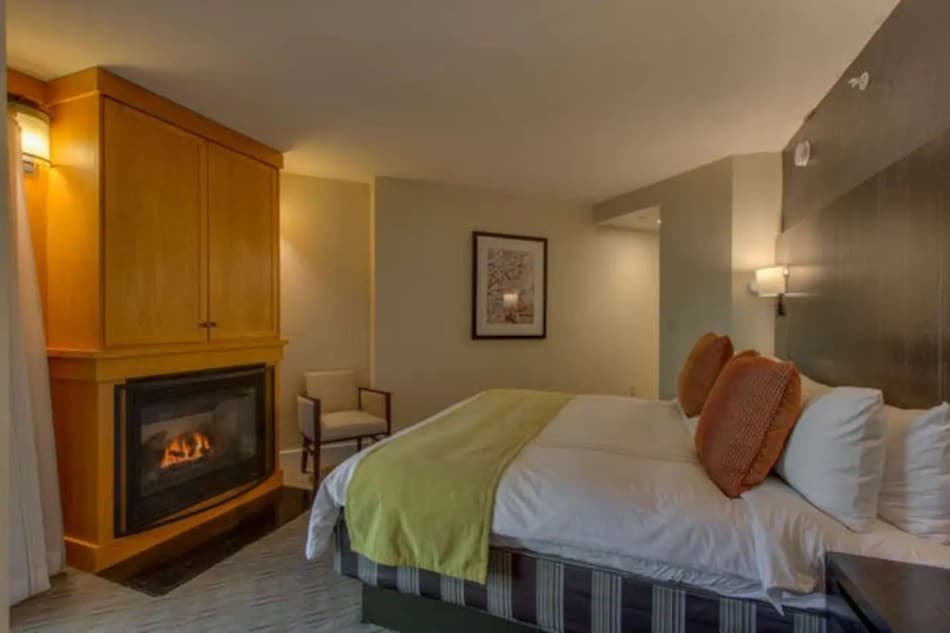 It is a non-smoking resort that is so clean and relaxing. The king size bed has its own bathroom and separate entrance. And you can also have full access to the amenities of the resort which is really amazing. Great place, outstanding location, and very friendly staff – you couldn't ask for more.
Sharing is Caring! Pin this article to save for later.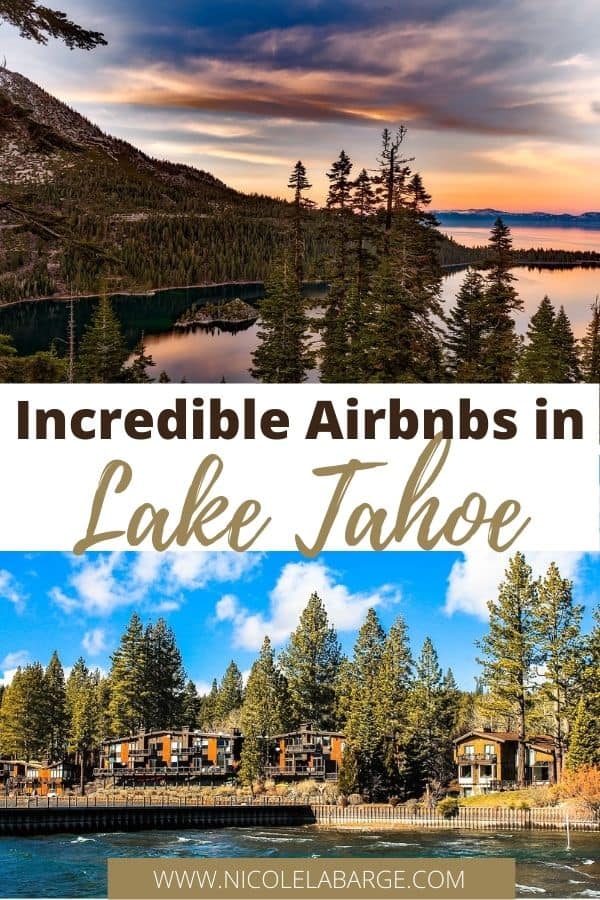 Recent Posts