Best Airbnbs in Mammoth Lakes, CA
Are you looking for the Best Airbnbs in Mammoth Lakes? You're in the right place. I've put together this list of the perfect Mammoth Lakes Airbnbs. There is an Airbnb for every budget on this list.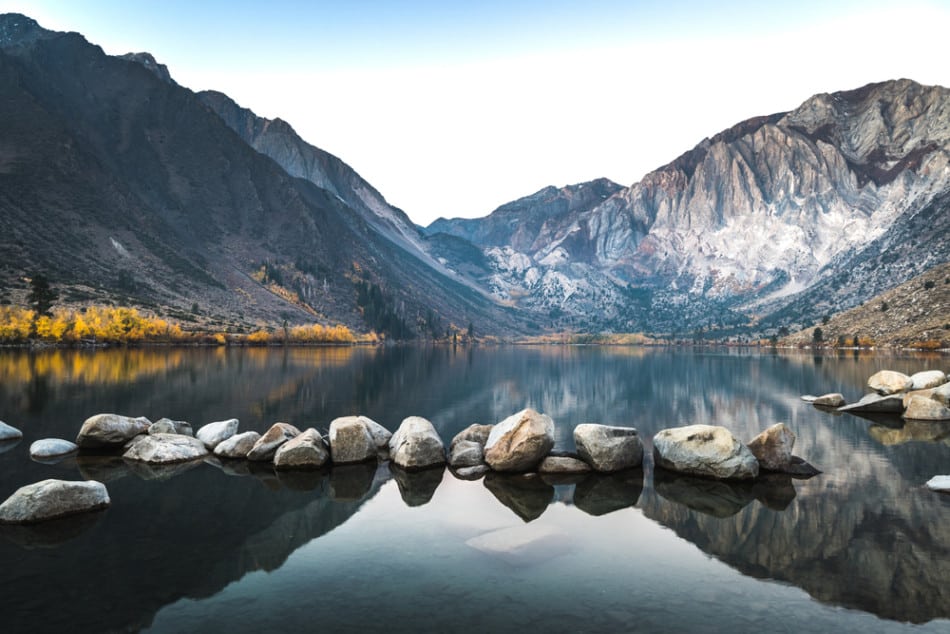 Visiting Mammoth Lakes is a real treat. It doesn't matter if you are going in the Winter or the Summer you will sure to enjoy your trip. Majestic in scale and awesome in its natural beauty, the year-round Adventureland of Mammoth Lakes is one of those rare places that you have to see to still not totally believe.
All of the Mammoth Lakes lodgings on this list is hosted by super hosts and have high ratings. Feel free to click through and read the reviews on these Airbnbs to find the perfect one for you.
And a lot of these Mammoth Lakes Airbnbs on the list are pet friendly so that's perfect for pet owners.
Thank you for supporting this website written by an American. This post may contain affiliate links. This means I earn a small commission on these links at no extra cost to you.
15 Best Airbnbs in Mammoth Lakes, California
Gorgeous Village Lodge
Guests: 5
Bedroom: 1
This immaculately clean condo in Mammoth Lakes has one of the best locations in town. It is just right inside the Village Lodge and is just steps away from several restaurants, bistros, and shops. The condo even looks over the Village Promenade and you can even catch the Gondola downstairs without lugging your ski and gear.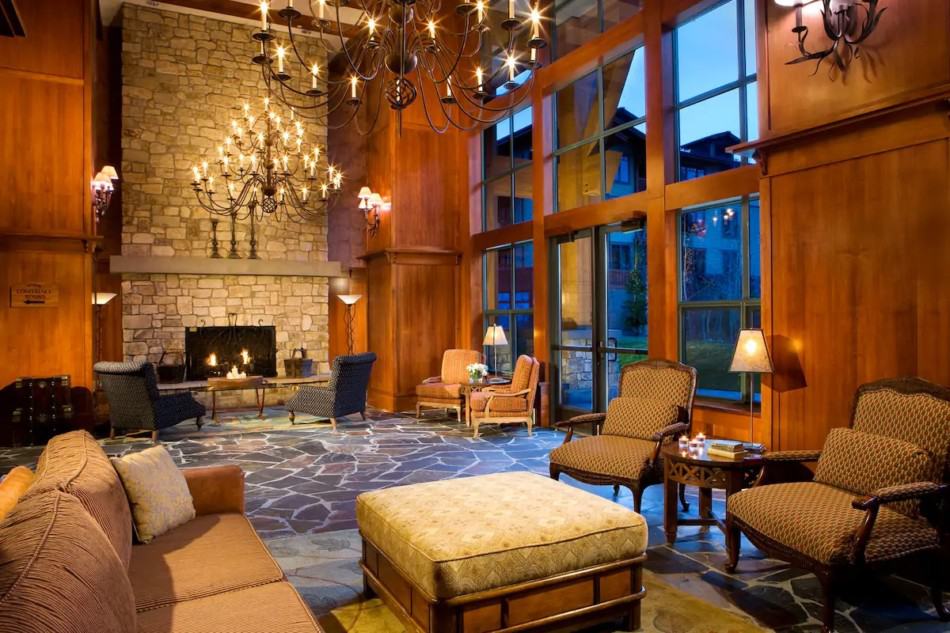 Inside this gorgeous condo are a huge 60 inch HDTV, updated kitchen appliances and utensils, a gas fireplace, private terrace, and more. Please note that this is a village and you can make use of the amenities available such as the heated outdoor pool and jacuzzis, gym, and more.
One reviewer says: This place is so cute and perfectly located to go skiing at Mammoth Mountain. Michaela was friendly and helpful. We truly enjoyed our relaxing long weekend and can't wait to go back.
Modern Comfy Condo
Guests: 5
Bedroom: 1
This newly remodeled condo has all of the amenities of a home. It features a chef's kitchen with all new stainless steel appliances, a fully stocked Keurig bar, a cozy living room, and more. You can also watch your favorite show or movies on the smart TV with cable and Netflix, or connect to the inhouse WiFi.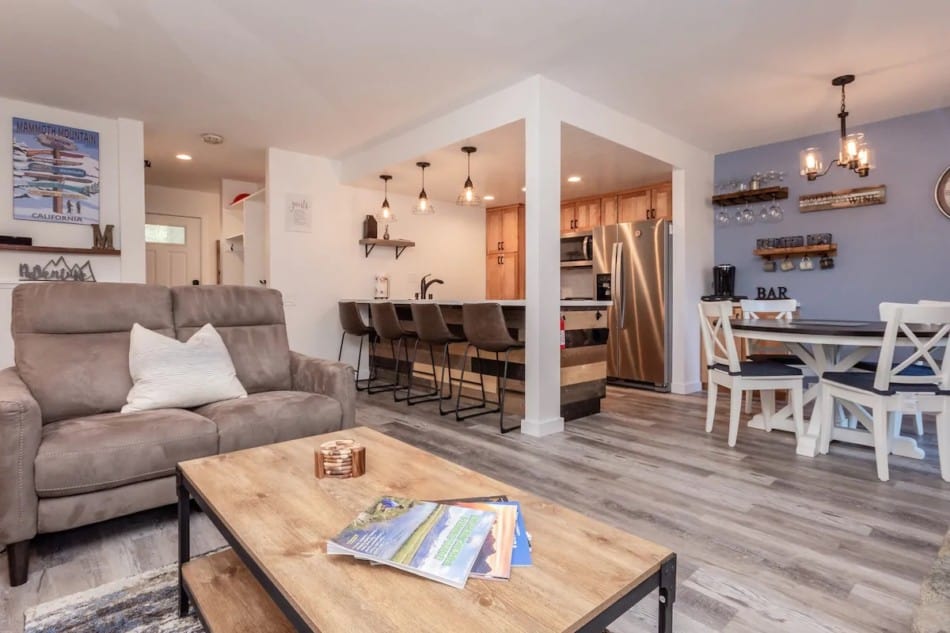 Aside from the great amenities, this condo has also a perfect location. In fact, it is just a short walk going to the Village restaurants and Gondola, and it's central to everything going on in Mammoth. This is a great home base if you are going to the annual Bluesapalooza Beers and Blues Festival that features top musicians and over 150 breweries.
One reviewer says: Clean and comfy condo in a great location with everything we needed for the weekend. The hosts put thought into every detail and it really shows! It snowed and turned out to be quite cold when we stayed, but it was nice and toasty with multiple heaters and a pellet stove.
Newly Renovated Beautiful Condo
Guests: 3
Bedroom: 1
Pretty sure you have a lot of options to stay in hotels but there are only a few condos that will make you feel like you never left the comforts of your own home just like this newly renovated condo in Mammoth Lakes. This is a great place to relax after a long day of hiking, cycling, or skiing at the beautiful Mammoth Lake.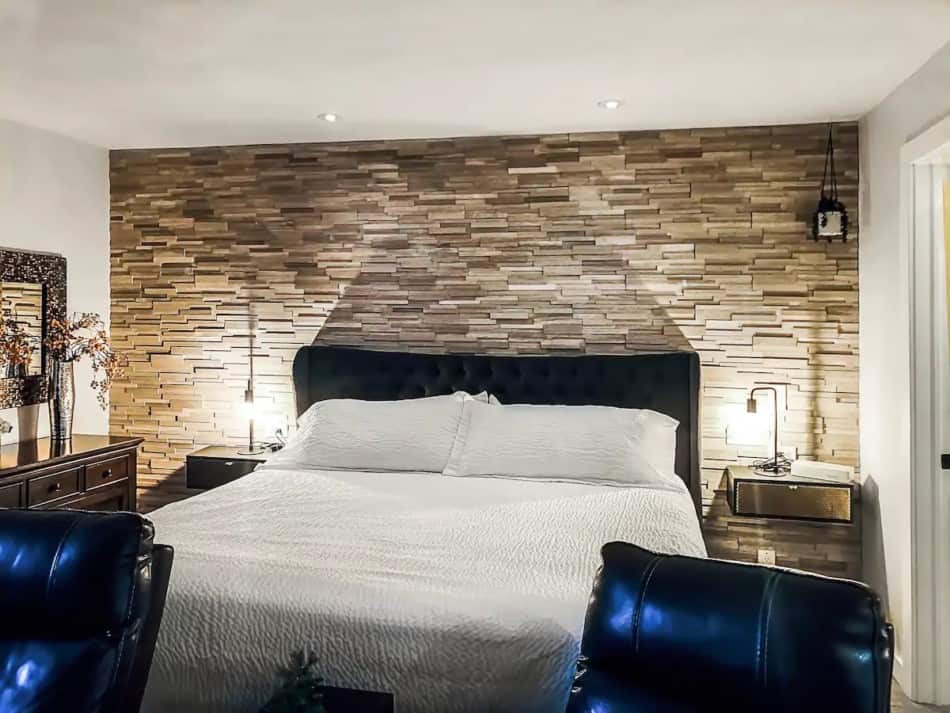 If you wanna enjoy the fantastic view of the town, there are two sliding glass doors that open from the main living area to the balcony. This condo is built for relaxation and it has a fully equipped kitchen, bathroom, stylish decors, great lighting, and a 65" smart TV with Netflix, Amazon Prime, and cable.
One reviewer says: Awesome little place! It was super clean and cozy. Check in was very easy. Short walk to the grocery store and restaurants. Definitely going to recommend to friends and family.
Family Friendly Condo with Pool
Guests: 4
Bedroom: 1
It will be a treat for the whole family when you stay at this newly upgraded condo unit located in The Village. It is packed with family-friendly amenities, a wider living room layout, fast and reliable WiFi, two TVs, and more. You can also have full access to the shared hotel facilities such as the heated pool, gym, movie theater, outdoor fire pits & grill.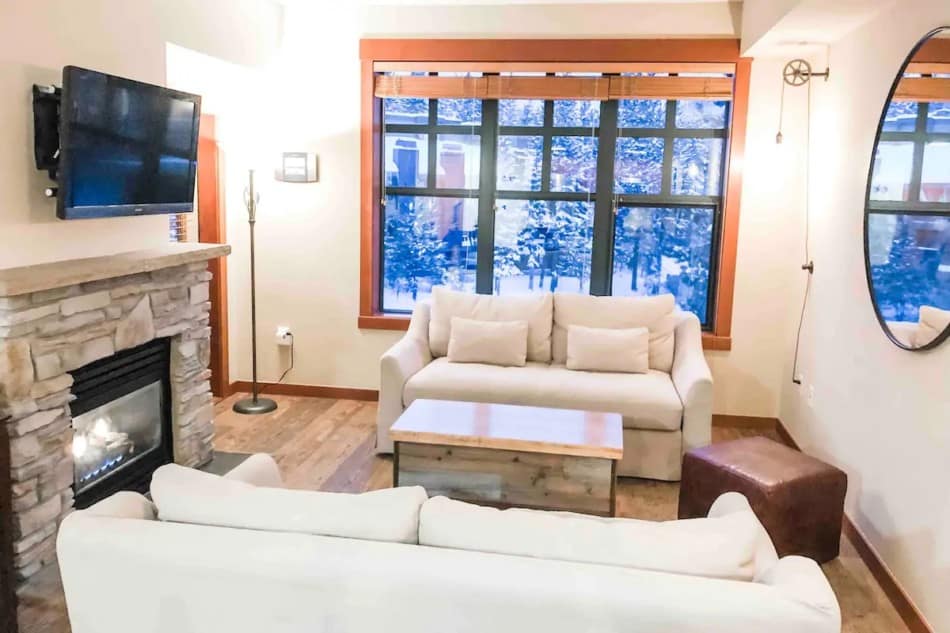 This is a must stay place for family vacations with an awesome location and great amenities.
One reviewer says: This clean, well-stocked condo is in the best location ever for skiers: right in the village, at the base of the village gondola, with shops and restaurants out the door (plus a pool!). It's thoughtfully designed and has nice touches for families, including board games, a crib and changing table for babies, and kid plates and step stool. Maria was very responsive! I'd stay here again any time.
Mammoth Creek Condo
Guests: 6
Bedroom: 1
There's no better way to enjoy the mesmerizing views of the Sherwin Mountains than to stay at the cabin-like condominium. This place is cozy enough to accommodate 6 guests. Everything is just so comfy and easy here, including the amazing host who's willing to provide for all your needs. And not only that, the location is superb too! It's located right along Mammoth Creek and the unit is close to the spas, pool, and tennis court.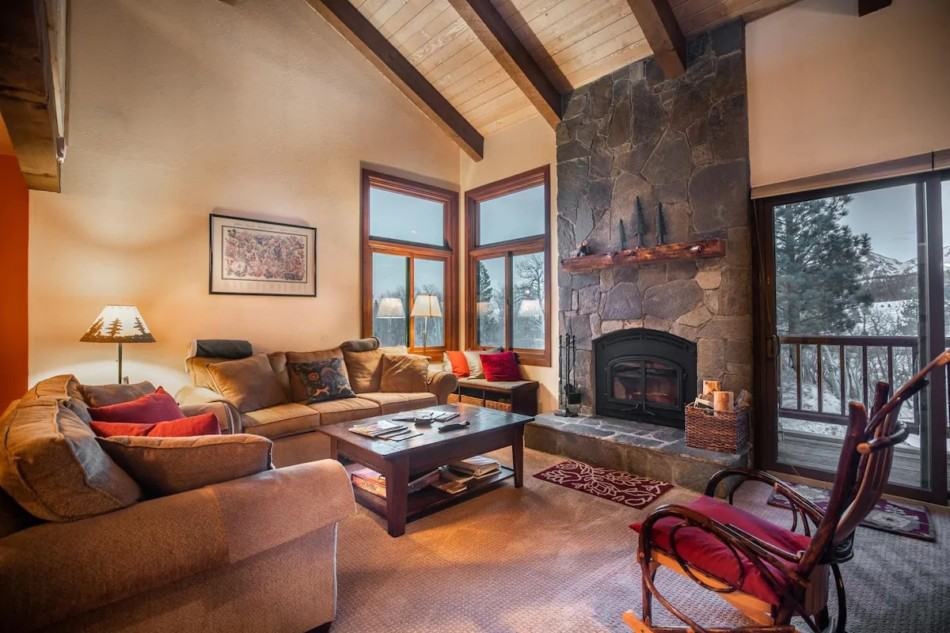 One reviewer says: Gary is a great host. The condo was just as described. View was beautiful, if you are going to snowboard I definitely recommend this place. Close to everything!
Perfect Dog-Friendly Studio
Guests: 4
Bedroom: 1
This gorgeous studio is your perfect home base for your Mammoth adventures not only with your friends or family but including your pet too! With a queen sized bed and two twin bunks, a family of four can perfectly fit inside this studio. It comes with a fully equipped kitchen, wood burning fireplace, TV, and more.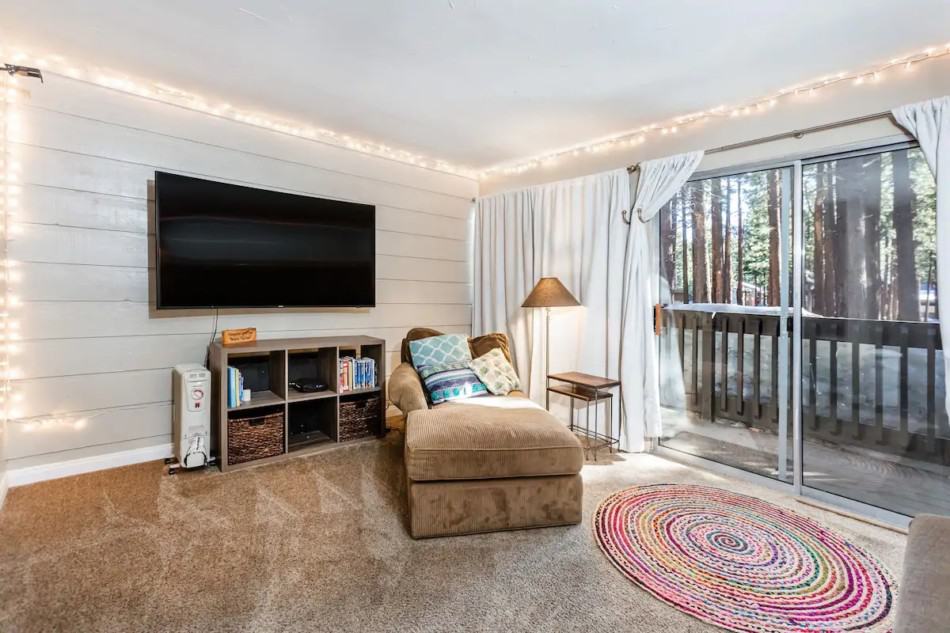 Aside from the entire unit, you can also have access to the complex common areas including the hot tub and BBQ area. Your family and pet will surely have a great time here.
One reviewer says: Shelby's place is exactly as pictured and could not be any cuter. It was sparkling clean with cute touches all around in a great location. I stayed with my friend and we could not have felt safer. Shelby was quick to respond and a great host. Highly recommend.
Mountain Shadows Studio
Guests: 4
Bedroom: 1
Centrally located in the famous Mountain Shadows condominium complex, this family-friendly studio is equipped with a kitchen, cable TV, and WiFi. You also get to enjoy additional perks when you book during the summer months because you can make use of the pool and BBQ area.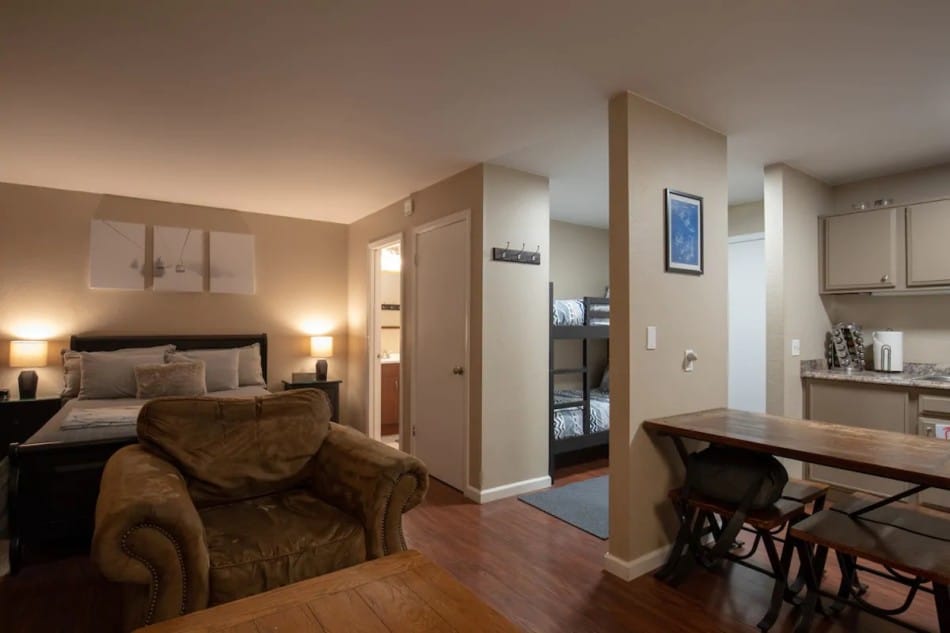 The owners take pride in the responsiveness, cleanliness, and being one of the most affordable accommodations in Mammoth Lakes. This is a perfect family and budget friendly place to make as your home base while you explore the other areas.
One reviewer says: Amanda's place is conveniently located close to Vons, restaurants and Canyon/Eagle lodges. The room is well maintained and cleaned. The community is quiet and safe, good for family stay. Will definitely come back in the future.
Epic Condo Near Canyon Lodge
Guests: 4
Bedroom: 1
Just by being a guest at this condo, you'll be able to enjoy all the perks and comforts of home. Upon entering the condo, there is a kitchen equipped with everything you need for cooking. The living room features a queen size sofa bed, gas fireplace, and balcony with a partial view of the ski-back trail and forest. And even if you are not into skiing, you can cozy up in the condo and watch a show on the TV located in the living room and in the loft.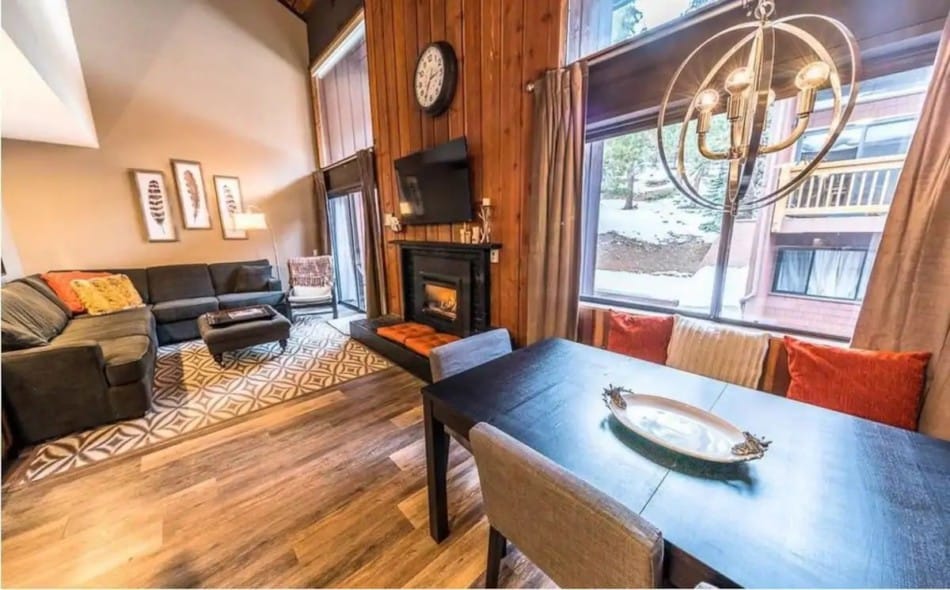 And as guests, you'll also be given access to all the shared common spaces including the outdoor pool, indoor jacuzzis, saunas, tennis courts, pool table, and multiple BBQ grills. Truly, you've got everything you need at this condo.
Canyon Lodge Condo – Chamonix
Guests: 4
Bedroom: 1
Whether you are staying here for a long weekend or just spend a night of relaxation, this comfortable condo is all you need and more. This condo offers multiple amenities such as two hot tubs, sauna, pool table, grills, ping pong table, and laundry area.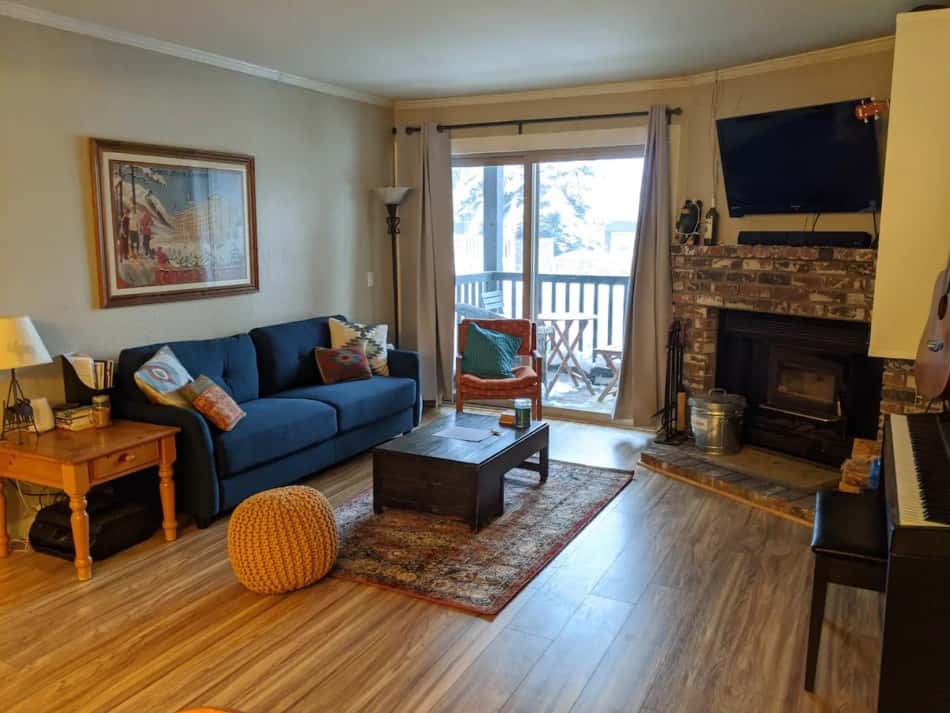 It also has a newly updated kitchen with stainless steel appliances and cookware, fireplace to keep you warm during cold months, and a living place with TV and piano for entertainment.
The Perfect Getaway
Guests: 3
Bedroom: 1
You'll instantly fall in love with this newly renovated and extremely comfortable home in Mammoth Lake that offers year round luxury mountain living. The condo comfortably sleeps 2-3 persons and it has everything you need to complete your mountain getaway. It has a king sized memory foam bed, cable/smart TV, Amazon Echo, a fully stocked kitchen, and more.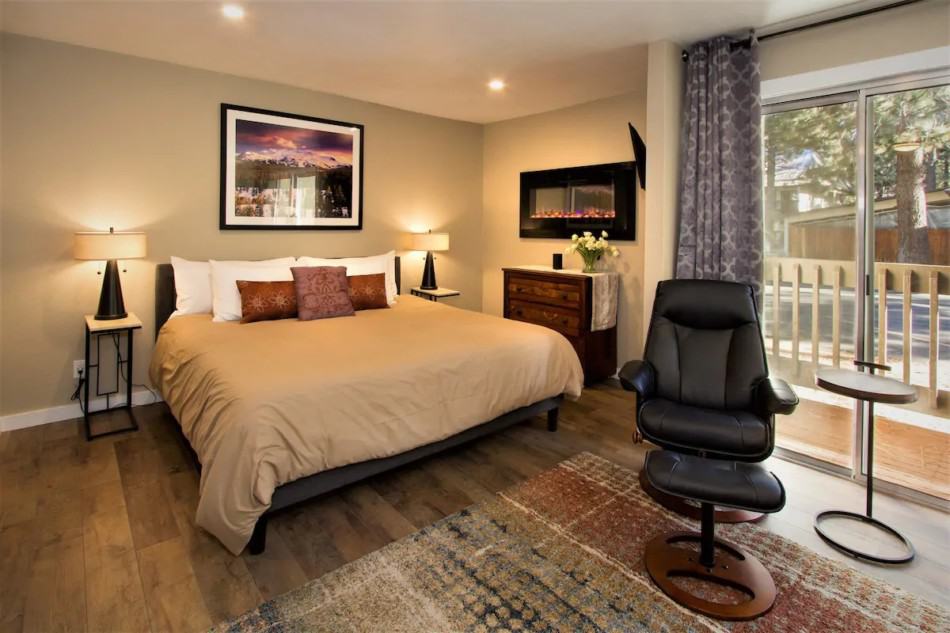 This unit is at the bottom floor and it is located just minutes away from great restaurants and shopping. There is a free local transit stop located directly across the complex where you can explore the surrounding areas.
Condominium with the Best View in Mammoth
Guests: 6
Bedroom: 2
This two-bedroom condo overlooks the entire valley and stunning views of the Sherwin Range and it has one of the most beautiful views in Mammoth Lakes. This is the kind of place where you'll comfortably stay after a long day of exploring, hiking, or skiing in Mammoth.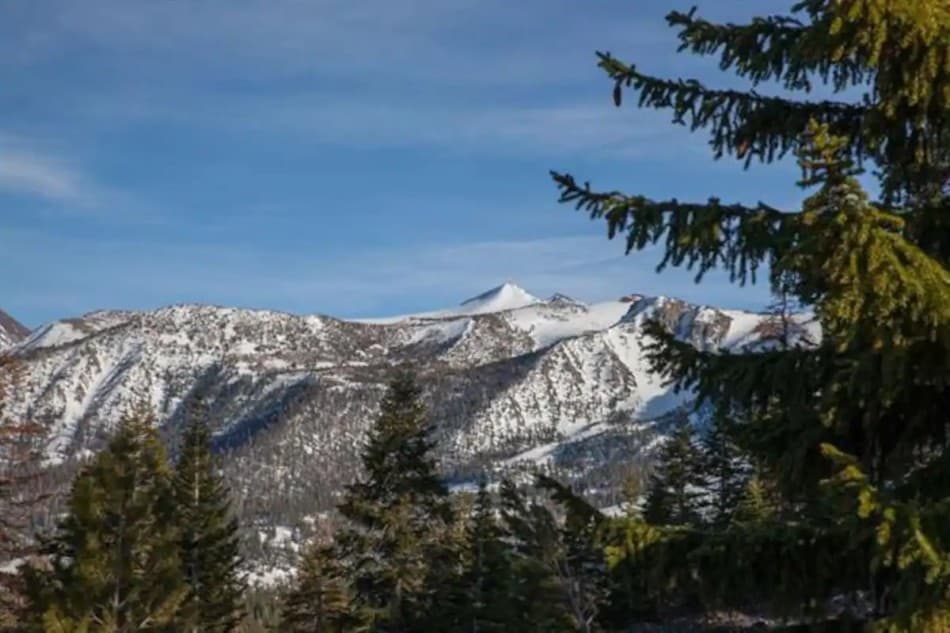 The condo has a very open, inviting , and warm environment. The location is very private and it is just a walking distance to ski into Canyon Lodge. In the winter, there is a wood burning stove that will keep you nice and toasty. No matter what the season is, this condo can cater to all your needs.
Modern One-Bedroom with Loft and Mountain Views
Guests: 8
Bedroom: 1
This bright and pet friendly airbnb will let you experience a quiet and peaceful vacation that you deserve. It is situated in the private and uncrowded part of the town and it is the best place to walk your dog and fish in the Mammoth Creek.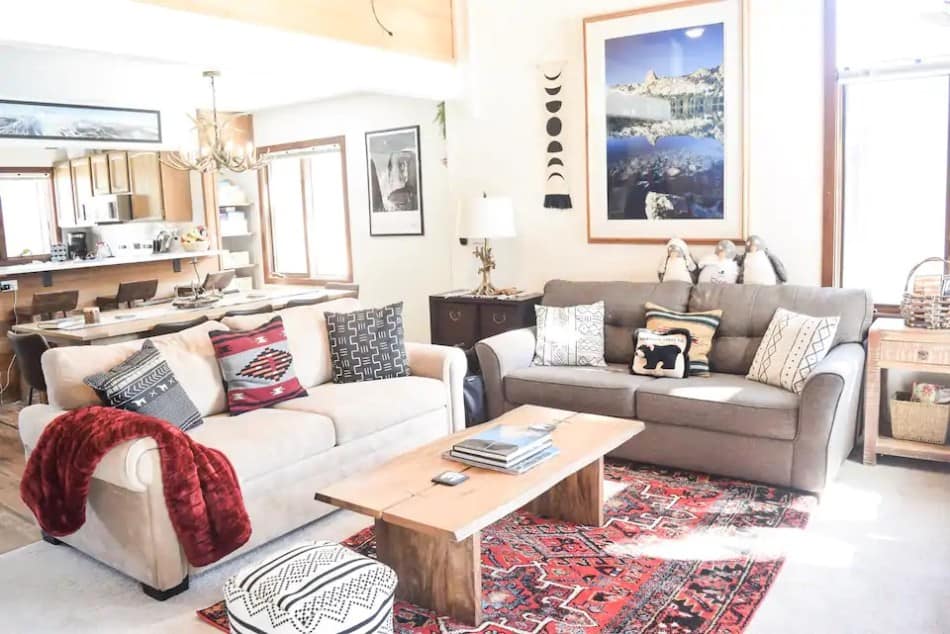 The condo is equipped with modern amenities like a fully equipped kitchen, remodeled bathrooms, pellet stove fireplace, wifi, TV, and more. And when you go upstairs, the loft has a queen size bed and a high end queen pull out sofa, and a full bathroom with shower and tub. This is a beautiful place with the best views of the mountain and you'll overly enjoy every bit of it.
Adorable Farmhouse Unit
Guests: 4
Bedroom: 1
A very unique and shabby chic farmhouse style condo will give you a different experience in Mammoth Lakes. The unit is located on the main floor across from the pool and hot tub and it's a perfect place to stay for a small family of 4 plus you can bring your doggos with you! But, dogs are allowed only during summer months.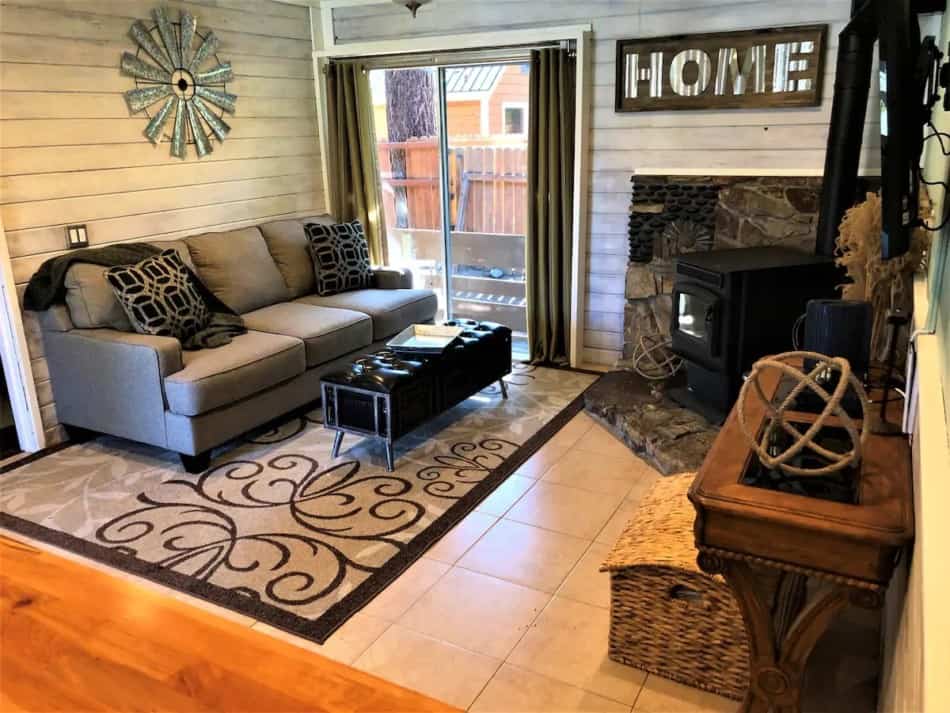 The unit is fully stocked with essentials and the entire property is yours to access.
Mammoth Lakes Loft with Two Full Baths
Guests: 4
Bedroom: 1
This studio loft is perfect for a family or group of friends and it has easy access to restaurants and grocery stores. It is equipped with a fully stocked kitchen with everything you need for cooking, a living room with vaulted ceilings, a fireplace, TV, Wi-Fi, cable, and more.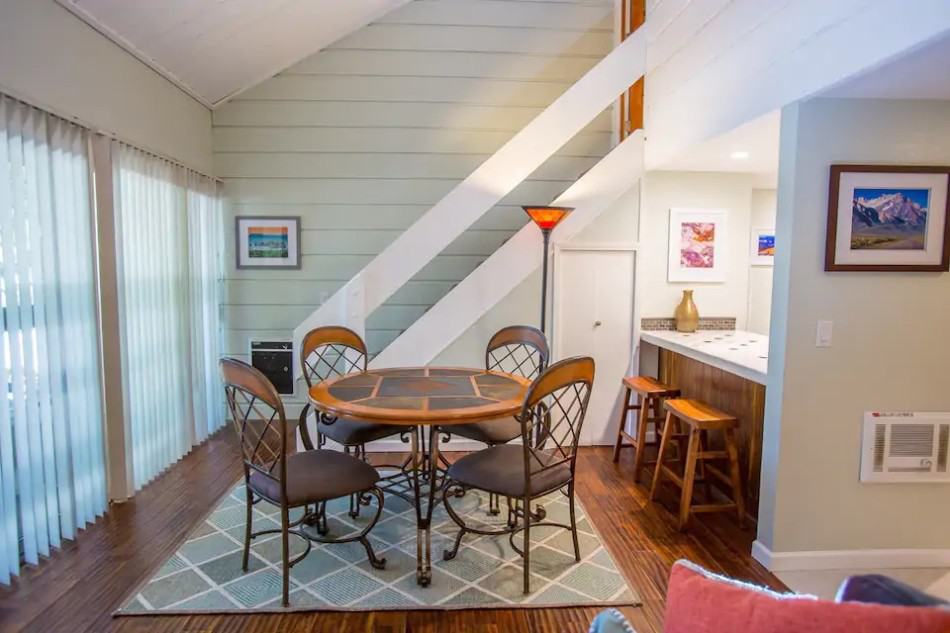 The upstairs loft has a queen size bed and it can be closed with the door and mini-blinds to make it feel like a bedroom, while the two bunk beds are located downstairs.
If you want easy access to the mountain with a great location, this is the place to be.
Dog-Friendly Condominium with the Best In-Town Location
Guests: 8
Bedroom: 2
This uber spacious and dog-friendly condo is a total dream. It has two bedrooms that can sleep 8 people coupled with luxury amenities. It has an entry hall, a living room with almost everything you need for entertainment, a beautifully decorated dining room, balcony seating with a view of the pool and pines, and a kitchen that has a mini wine cellar and cooking essentials.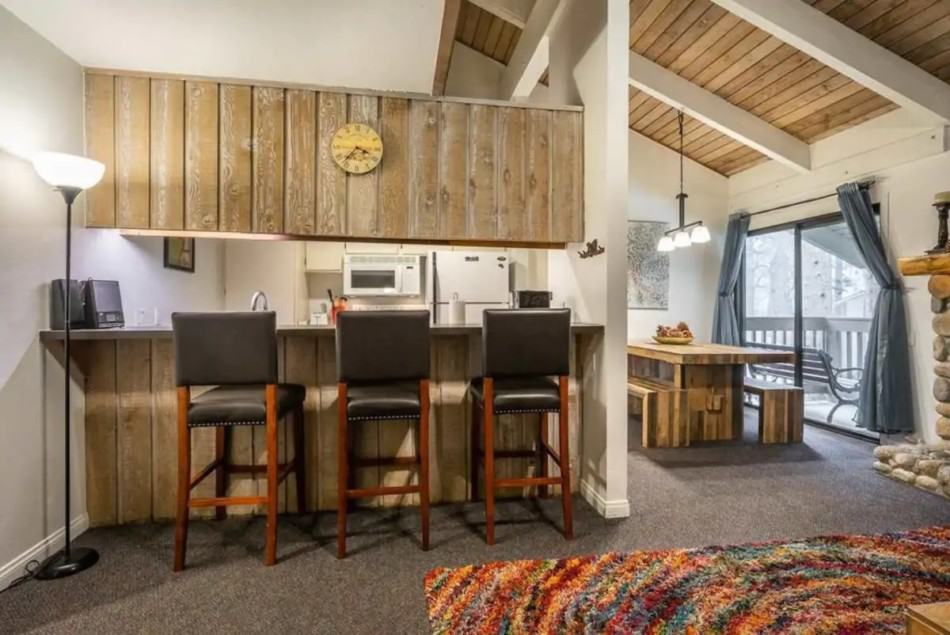 Luxurious amenities, great spot, and very close to the mountains – this place has got you covered.
Sharing is Caring! Save this article for later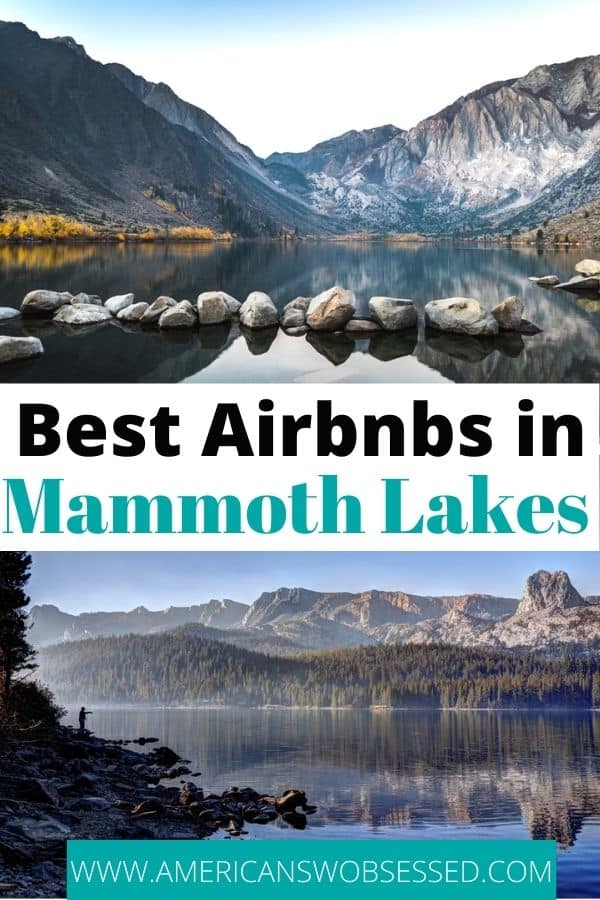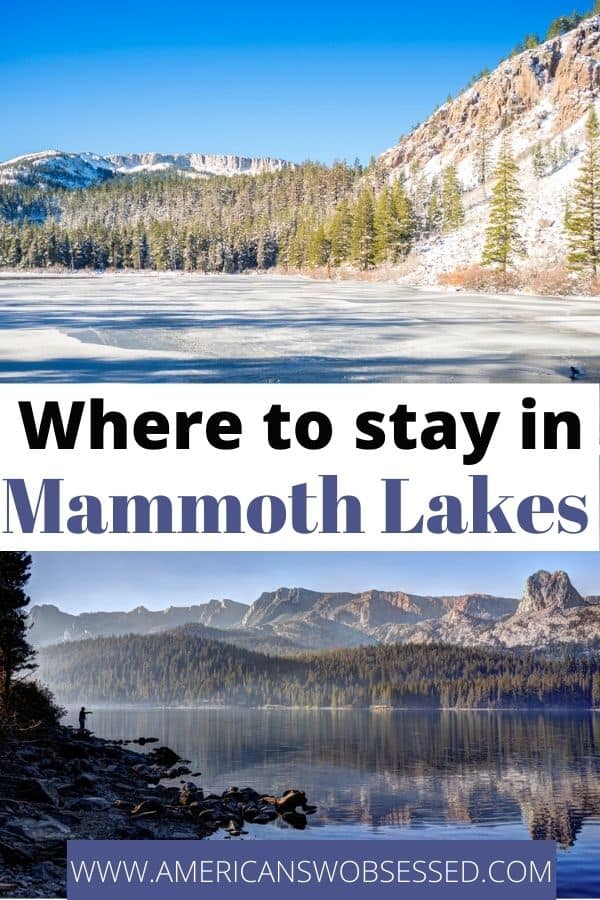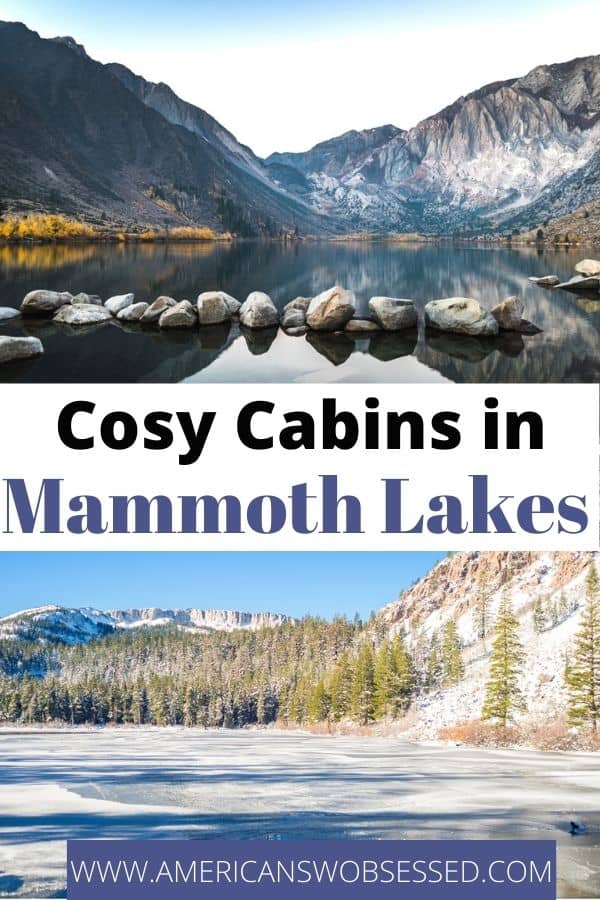 Recent Posts