Best Antelope Canyon Tours – including the Best Antelope Canyon Tour Company
Antelope Tour: Are you looking for the Best Antelope Canyon Tour?  I've put together this list so that you can find the best tour of Antelope Canyon for you! Taking a tour of Antelope Canyon is a bucket list item!
Please note: You CANNOT visit Antelope Canyon without a tour. Everyone who visits must take a tour and use a tour guide. So the only way to see Antelope Canyon is to take a tour.
This list of the Best Tours of Antelope Canyon covers the following different types of tours: Las Vegas Antelope Canyon tour, Antelope slot canyon tour, and Lower Antelope Canyon tour.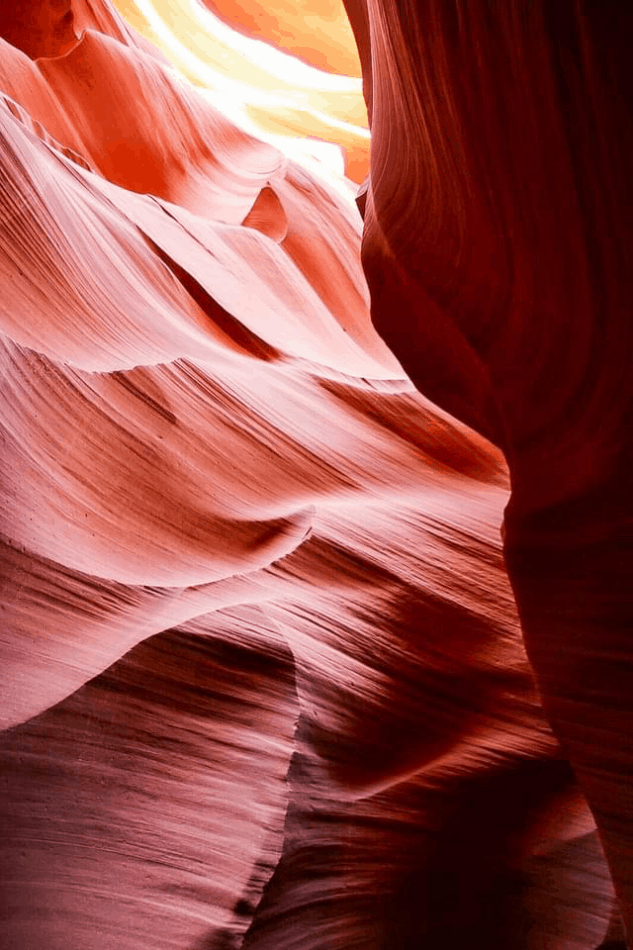 Antelope Canyon is found in the American Southwest, on Navajo Land located east of Page, Arizona. Created through the erosion of Navajo Sandstone and flash flooding, it was dubbed by the Navajo as "the place where water runs through rocks".
There are two separate scenic attractions called upper and lower parts – known as Tsé bighánílíní and Hazdistazí, respectively, in Navajo culture. They have also been dubbed by modern times as The Crack and The Corkscrew. Taking an Antelope Valley Tour is a highlight.
Taking an Antelope Canyon tour is a popular activity for photographers, adventurers, and sight-seers. It has also become a source of livelihood for the Navajo Tribe and is a medium for them to showcase their culture that runs deep within the beauty of the canyon in all of its glory.
To have a well-planned and convenient trip, we've arranged a list of tour packages that would hopefully suit your taste and fancy. You can read my post on Upper vs Lower Antelope Canyon to learn more about it and check out my post on Things to do in Page, Arizona for other things to do in the area.
11 Best Tours of Antelope Canyon – Both Upper and Lower Antelope Canyon
LAS VEGAS: ANTELOPE CANYON TOUR AND HORSESHOE BEND TOUR
This tour visits the famous Lower Antelope Canyon or the secluded Antelope Canyon X. They offer small tours complete with a guided experience as you revel in the beauty of the scenery. On this tour, you can visit Antelope Canyon, the most visited slot canyon in the world.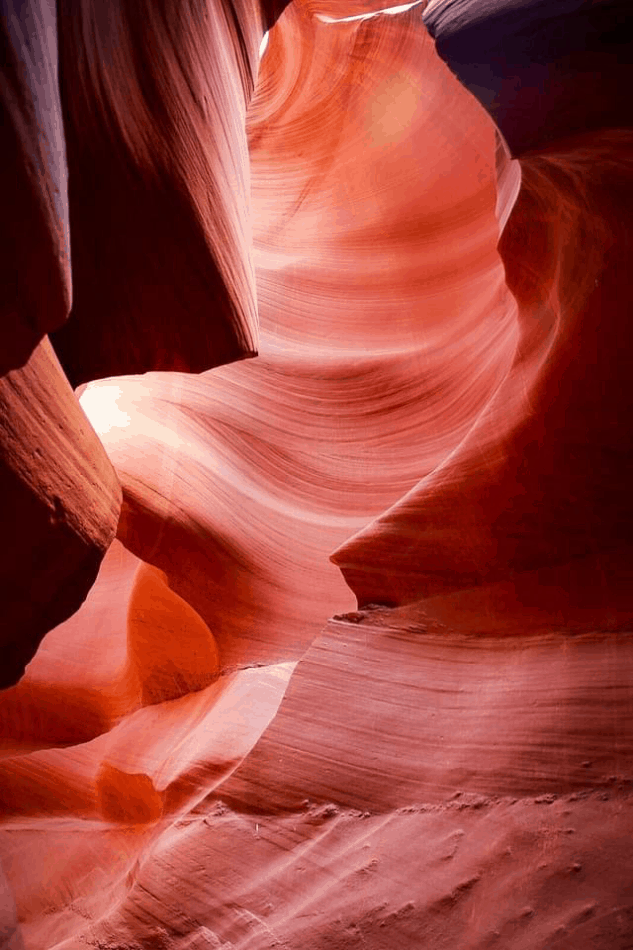 Also included in the adventure is a trip to Horseshoe Bend, a viewing of the Glen Canyon Dam, all while learning the history and geology of the monuments.
The Las Vegas: Antelope Canyon and Horseshoe Bend tour boasts of the complete travel experience complete with an off-the-beaten path route that you can't experience on larger bus tours. The tour itself provides snacks, beverages, bottled water, and a packed lunch.  
The tour starts early with a complimentary pick-up from the hotel premises and guests get to enjoy scenic views on the trip from Las Vegas to Antelope Canyon. Hiking shoes are a must as the tour includes hiking and lots of walking but it would all be worth it as you will be greeted by a stunning vista-point overlooking the famed bend in the Colorado River.
The tour package already shoulders the snacks, driver and guide, hotel pick-up and drop-off, bottled water, fruits, lunch, live tour commentary, and the entrance to Antelope Canyon.
Sound Interesting? Check the price, availability and read reviews
FROM PHOENIX: ANTELOPE CANYON & HORSESHOE BEND DAY TRIP
If you're in Phoenix and looking for a day trip to Antelope Canyon, then this tour is perfect for you. This tour immerses you in the rich Native American history and witness Arizona's wonder on this day trip to Antelope Canyon and Horseshoe Bend.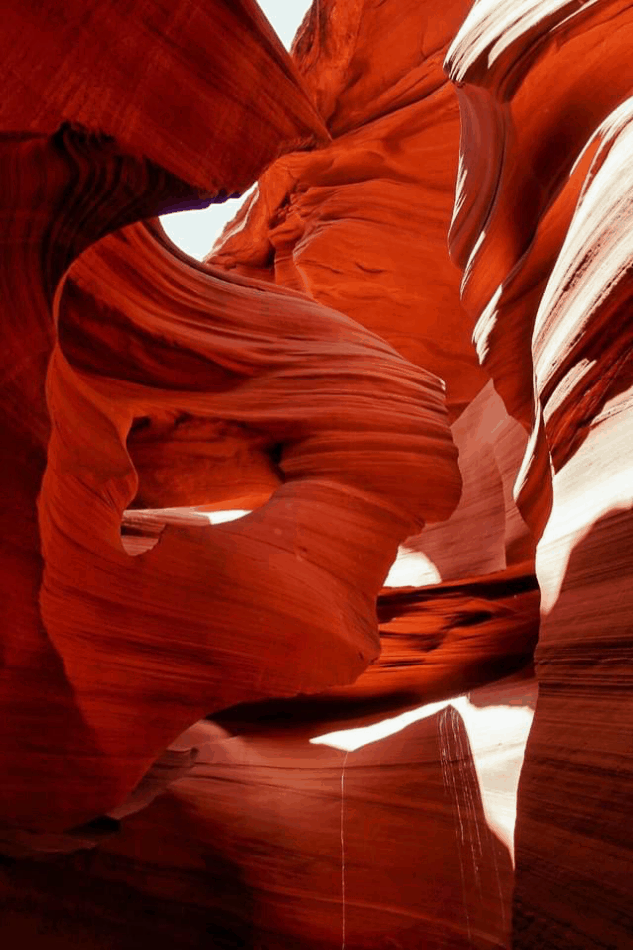 While exploring and marveling at the sights, you will also learn about the rich culture from a Native American guide coupled with a stop at a Navajo Trading Post to see their crafts and history.
This trek takes you through Arizona's orange striped canyons to the sheer cliffs and beautiful rock formations of Colorado. Perfect for budding and professional photographers to see beautiful monuments and practice their passion at the same time. 
The trip would include a hotel-pick up and drop-off for convenience, all the entry fees, a hearty continental breakfast and lunch, and unlimited bottled water.
Guests should prepare weather appropriate clothing and closed-toe shoes comfortable for walking and exploring. They do not allow children under 3 years old and people with mobility impairments for safety purposes of the guests. This tour pushes through whether it rains or shines: all part of the adventure experience. 
Sound Interesting? Check the price, availability and read reviews
FROM SEDONA OR FLAGSTAFF: HORSESHOE BEND AND ANTELOPE CANYON X TOUR
This tour lets you experience the serenity of Canyon X with a guided tour. It's an all-in-one package tour that lets you visit Horseshoe Bend, Lake Powell, and Glen Canyon Dam all in one journey. The tour package includes hotel pick-up and drop off, lunch, bottled water.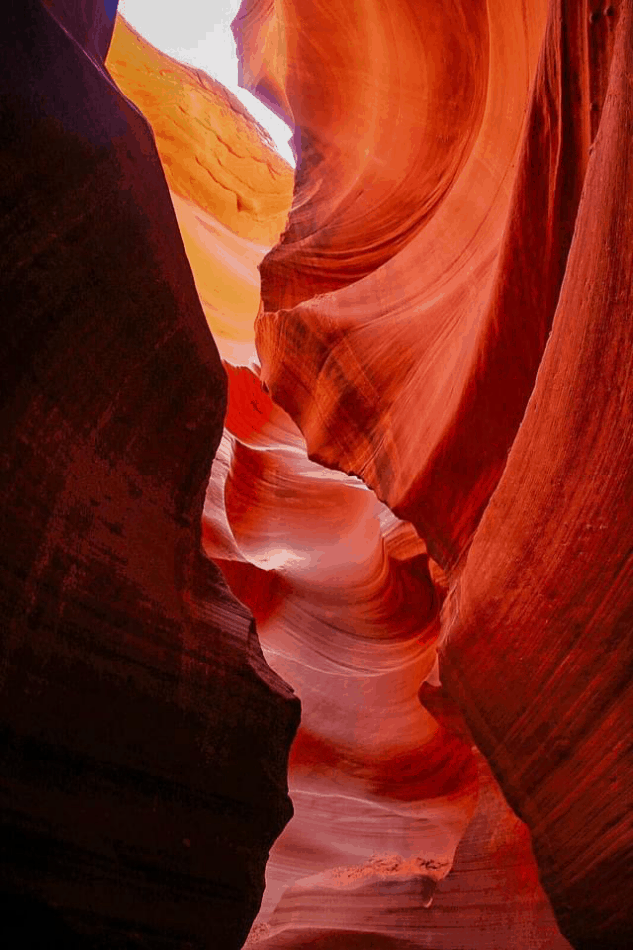 The package boasts a fully narrated tour which starts from the Red Rocks of Sedona to Flagstaff. You will then travel through Oak Creek Canyon and then through the Ponderosa Pines.
The guides on your tour will give you a beautifully detailed narrative of the ancient culture and present information about the unique genealogy on the way to Horseshoe Bend.
After lunch, you will then view the Antelope Canyon, the highlight of the tour, at the Canyon X site. To cap off the tour, you'll walk with the Navajo through the Canon and might even hear the sounds of the flute music echo off the walls.
The package also includes hotel pick-up and drop off from Sedona or Flagstaff, lunch meals, and bottled water. They highly recommend hiking shoes for safety and comfort during the trip.
Despite all the pros, the tour only lasts for a day and it does not give you enough time to soak in the attractions and monumental sites. They also do not recommend the tour for pregnant women, people with immobility impairments, people with heart problems, and wheelchair users.
Sound Interesting? Check the price, availability and read reviews
ANTELOPE & GRAND CANYON, ZION, BRYCE, & MONUMENT VALLEY
This 3-day tour explores the amazing Zion and Bryce National Parks, the Monument Valley, Lake Powell, and the Grand Canyon South Rim with the Antelope Canyon as an optional visit.
This tour exhibits 4 beautiful landmarks within the duration of the tour giving you a trip worth your buck.
You get to experience all of this on a 4×4 guided jeep tour that really gives you the whole summer-time-adventure vibe with beautiful attractions and memories to boot!
In this tour, you may be grouped with an average of 14 people. Inclusive in the package are meals, accommodation with camping equipment, admission to the monuments, and the opportunity to soak up the wonderful attractions. Hiking is definitely involved so comfortable shoes is a must.
They, however, do not offer evening meals and charge for an optional visit to the Antelope Canyon. They also can upgrade lodging accommodations but do not shoulder the meals if so. They only prohibit children under 7 years of age and wheelchair users.
Sound Interesting? Check the price, availability and read reviews
PAGE: LAKE POWELL & HORSESHOE BEND
For a more exhilarating tour which definitely gives you a bird's eye view of the canyon, Page offers a 30-minute aerial flight from Page Municipal Airport to tour the scenic views of Glen Canyon Dam, Lake Powell, and Horseshoe Bend.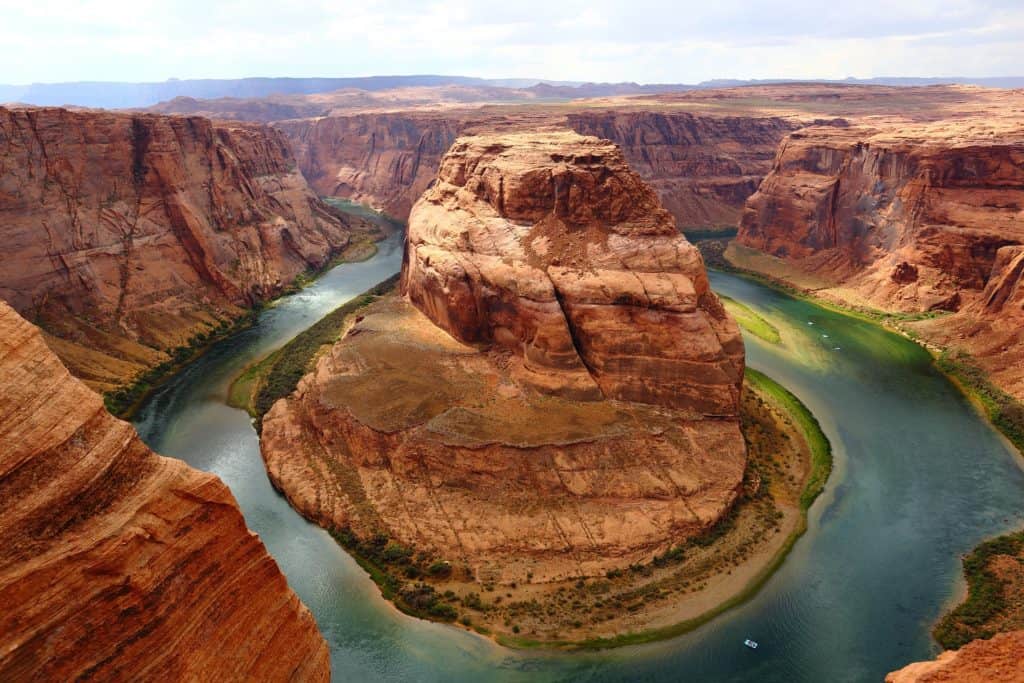 During this expedition, you get to experience the beautiful vista and panoramic views with the landscapes set upon miles and miles of shoreline, filled with beautiful blue water set within the landscape of Glen Canyon and witness the curious rock formation rising above the river with the  magnificent Horseshoe Bend.
You get to enjoy all this from up above and have amazing once-in-a lifetime photo opportunities that will definitely be one for the books.
This package accommodates small groups of 10 and they offer an optional audio guide, available in different languages, during the tour.
This tour is an amazing opportunity to see the famous landmarks from above but you'll also miss out on the immersive experience that Horseshoe Bend and Lake Powell gives. Also, Antelope Canyon is not one of the attractions in this tour but it gives an amazing experience, nonetheless.
Sound Interesting? Check the price, availability and read reviews
ANTELOPE CANYON FULL-DAY TOUR FROM FLAGSTAFF OR SEDONA
In this tour, you get to explore the water-carved rock formations of Antelope Canyon on a full day tour that starts from Flagstaff or Sedona, convenient for those who come from either vantage points.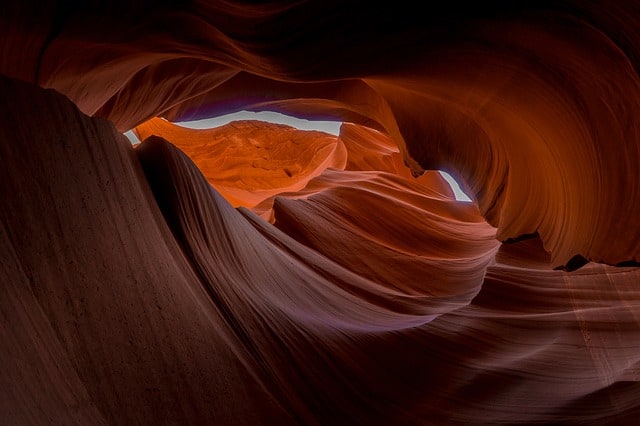 In this tour, guests will first traverse the famous Antelope Canyon and will get to walk uneven terrain and climb through the scenic Oak Creek Canyon and marvel at its beauty. You can also see Arizona's stunning volcanic mountain range of the San Francisco Peaks.
Guests will then have to walk through the spectacular colored rock formations of the Painted Desert and head for the Horseshoe Bend, an iconic cliff top overlooking the Colorado River.
You will enjoy lunch with the breathtaking views of Lake Powell and Glen Canyon. Perfect for an all in one trip that is definitely one for the books!
This tour package includes hotel pick-up from Sedona and Flagstaff city limits, complimentary lunch at Glen Dam, and a guide to narrate the history and geology of the natural rock formations. Guests are highly encouraged to wear travel clothes fit for walking and a warm outlet layer as the slot canyon tends to be and tennis or hiking shoes for comfort.
Sound Interesting? Check the price, availability and read reviews
ARIZONA HIGHLIGHTS – ANTELOPE CANYON AND LAKE POWELL FLIGHT WITH RIVER RAFTING
In this full-day sightseeing experience, you will experience the beauty of Arizona's sights, canyons, and rivers from land, air, and in the water.
This all-in-one package tour boasts an aerial view over the Grand Canyon's East Rim, traversing above the Colorado River, and pass through Lake Powell en route to Page. The American Indian guide will then take you to a tour of the Antelope Canyon followed by a leisurely motorized rafting experience along the Colorado River. 
Expect a full day adventure filled with rafting, hiking, and sight seeing – definitely a tour that packs a punch. The tour also includes a complimentary breakfast before or after the flight, and a picnic-style lunch before heading off to the rafting experience through the national monuments that were highlighted.
Tourists are encouraged to wear the appropriate travel clothing and closed-toe shoes. The tour will have a maximum capacity of 16 people.
Sound Interesting? Check the price, availability and read reviews
ANTELOPE CANYON NAVAJO TOURS
Navajo Tours offers one-of-a-kind tours of Arizona's Upper Antelope Canyon, which is located near Page.
Antelope Canyon is a sacred site of the Navajo People as well as a Navajo Tribal Park that can only be reached by permit. It is made up of two majestic slot canyons that lie on Navajo Nation land.
Antelope represents Mother Nature's talents and energies, and entering is a sacred experience comparable to entering a cathedral. It is regarded as a solemn occasion worthy of appreciation.
Sound Interesting? Check the price, availability and read reviews
Conclusion: Best Tour for Antelope Canyon
With all these tours in mind, it's now easier to decide which package is suitable for our needs and each of them is definitely catered to each of our preferred sights and attractions along with the necessary safety precautions.
Just a quick tip, no tour is one-size-fits-all, we must be hands-on in our quest for the best to score the perfect tour suited for us.
Antelope Canyon in Arizona is just the perfect place for sightseeing, hiking, history-chasing, and just creating memories with your family and friends while surrounded by lush and beautiful natural rock formations carved from the red sandstone sculpted by a millennia of erosion.
These beautiful rock formations are nature's creations that we should see at least once in our lifetime on this planet we call our home. We can very much guarantee it is very much worth the trip and it would definitely be the highlight of your summer.
Antelope Canyon is right there, waiting to be crossed off from your bucket list. So wear a hat, butter up in sunscreen, and enjoy the view!
Recent Posts