15 Best Boutique Hotels in Las Vegas, Nevada
Boutique Hotel Vegas: Are you looking for a room at a boutique Las Vegas Hotel? There are numerous Boutique Hotels in Las Vegas Strip and this list of hip hotels in Las Vegas.
The great thing about most of these boutique hotels Las Vegas is that they are unique hotels in Las Vegas you probably haven't heard of.
Thank you for supporting this website written by an American. This post may contain affiliate links. This means I earn a small commission on these links at no extra cost to you.
15 Las Vegas Boutique Hotels – Coolest Vegas Hotels
Here are the Best Boutique Hotels in Las Vegas, NV
NoMad Las Vegas Boutique Hotel
Check out NoMad Las Vegas if you're looking for a boutique Las Vegas hotel with reasonable rates and a wonderful location.
This resort, located between the CityCenter and Park Theater, offers premium accommodations in the center of Sin City.
NoMad has all of the traditional Las Vegas amenities, but with a touch that sets it apart from the more well-known resorts.
The hotel radiates love and elegance, making it perfect for couples. It has air-conditioned rooms as well as a bar. This property features a restaurant, a casino, and an outdoor pool, as well as a 24-hour front desk.
Guests can take advantage of room service, an ATM, and currency exchange at the resort. The hotel's rooms include a sitting area, a flat-screen TV with cable channels, and a private bathroom with a hairdryer and shower.
The hotel's restored rooms and suites, which feature unique furnishings and art pieces, were also created by a prominent French architect. The oversized pedestal baths and the drawing-room with a billiards table are worth booking a suite for.
The on-site restaurant and NoMad Bar are available, or you may visit the larger resort next door for the casino, more dining options, or a play at the Park Theater.
The Moroccan-inspired NoMad Pool, the unique bar, and the tiny NoMad casino are all worth a visit.
The Park, T-Mobile Arena, and Bellagio Conservatory & Botanical Gardens are all popular places to visit near the hotel.
The Artisan Boutique Hotel – Adult Only Small Hotel in Las Vegas
The Artisan is a beautiful and quiet non-gaming hotel off the Strip. Instead, you can relax and unwind while having convenient access to the area's monorail, shopping malls, golf courses, and airport.
The Artisan Boutique Hotel in Las Vegas is a small hotel with a big personality. It's an adults-only resort with an artsy, hipster attitude but a calm ambiance, just a short walk from the Strip.
This hotel has a gothic underworld theme that includes deep crimson velvet furniture, candlelight spaces, and beautiful golden statues.
The walls and even the ceilings are covered in reproductions of Cezannes, Chagalls, Rembrandts, and Van Goghs, and there is a 'European-style' pool with cool cabanas outside.
The small but refreshing Mediterranean-style outdoor pool with beautiful daybeds is sure to impress. It should be noted that guests have the option of going topless.
After a day of poolside relaxation, come to the on-site restaurant for tapas, then to the cocktail lounge for billiards and beverages. A fitness facility, secure on-site parking and valet service, and complimentary Wi-Fi are also available at the hotel.
If you want a nice stay at an adults-only resort, the Artisan is undoubtedly one of the top hotels in Las Vegas. You'll note right away that the resort is unique, with a baroque flair and rich artwork.
Waldorf Astoria Las Vegas
This modern hotel, located in the heart of the Las Vegas Strip, features a two-story spa with 5-star treatments and a modern gym with a yoga area.
A flat-screen cable TV and an electric kettle are provided in each room. A short walk from the property is the City Centre Shops.
All rooms at the Waldorf Astoria Las Vegas have views of the Las Vegas Strip or the city. Robes, slippers, and complimentary toiletries are provided in the bathroom.
The rooms are also equipped with cutting-edge technology for lighting, air conditioning, and entertainment.
The Waldorf Astoria Las Vegas has a 27,000 square foot spa with a Zen Foot Spa and other heat and water activities. The furnished patio on the eighth story features cabanas, two lap pools, two hot tubs, and one plunge pool.
Every hour, hotel personnel circulate to provide various services, such as sunglass washing and frozen fruit. There is also 5-star dining available in the hotel. Twist by Pierre Gagnaire serves trendy French fusion cuisine to guests.
The Sky Bar serves handcrafted cocktails while overlooking breathtaking vistas, while the Tea Lounge serves traditional afternoon tea. At Zen Kitchen, you can eat healthy Asian cuisine.
Nobu Hotel at Caesars Palace
Boutique hotels tucked inside larger resorts are becoming increasingly popular in Las Vegas, and the Nobu Hotel at Caesars Palace was one of the first.
The Nobu Hotel at Caesars Palace is another fantastic boutique hotel in Las Vegas. Nobu offers luxurious amenities and accommodations for the perfect getaway, in addition to its convenient location.
This modern resort features big floorplans with contemporary furnishings, excellent artwork and decor, and stunning bathrooms with an Eastern flair. Roberto DeNiro and Japanese chef Nobu Matsuhisa collaborated on the premium resort, and the impact can be seen throughout the property.
The rooms at the luxury 5-star Nobu Hotel are beautifully decorated with black lacquered furniture, textured carpet that resembles rake lines in a sandy Zen-like Garden, and traditional Japanese woodblock paintings.
The elegant rooms feature flat-screen TVs and sitting areas, as well as a complex of magnificent swimming pools, an elite spa, a rooftop house with a terrace and Strip views, a bar, and a Zen Garden with a hot tub at this trendsetting Vegas hotel.
Also, don't miss their restaurant, which is the world's largest Nobu and the first to provide teppanyaki in the United States!
The Garden of the Gods outdoor pools, the state-of-the-art gym with Peloton bikes, and Qua Baths & Spa's opulent treatment rooms, heated whirlpools, and sauna are all available to Nobu guests.
There is valet parking available at this boutique hotel on the Vegas Strip, so you won't have to worry about your car!
Oasis at Gold Spike – Adults Only
The Oasis at Gold Spike is located in the heart of Las Vegas, an approximately 3-minute walk from the Fremont Street Experience.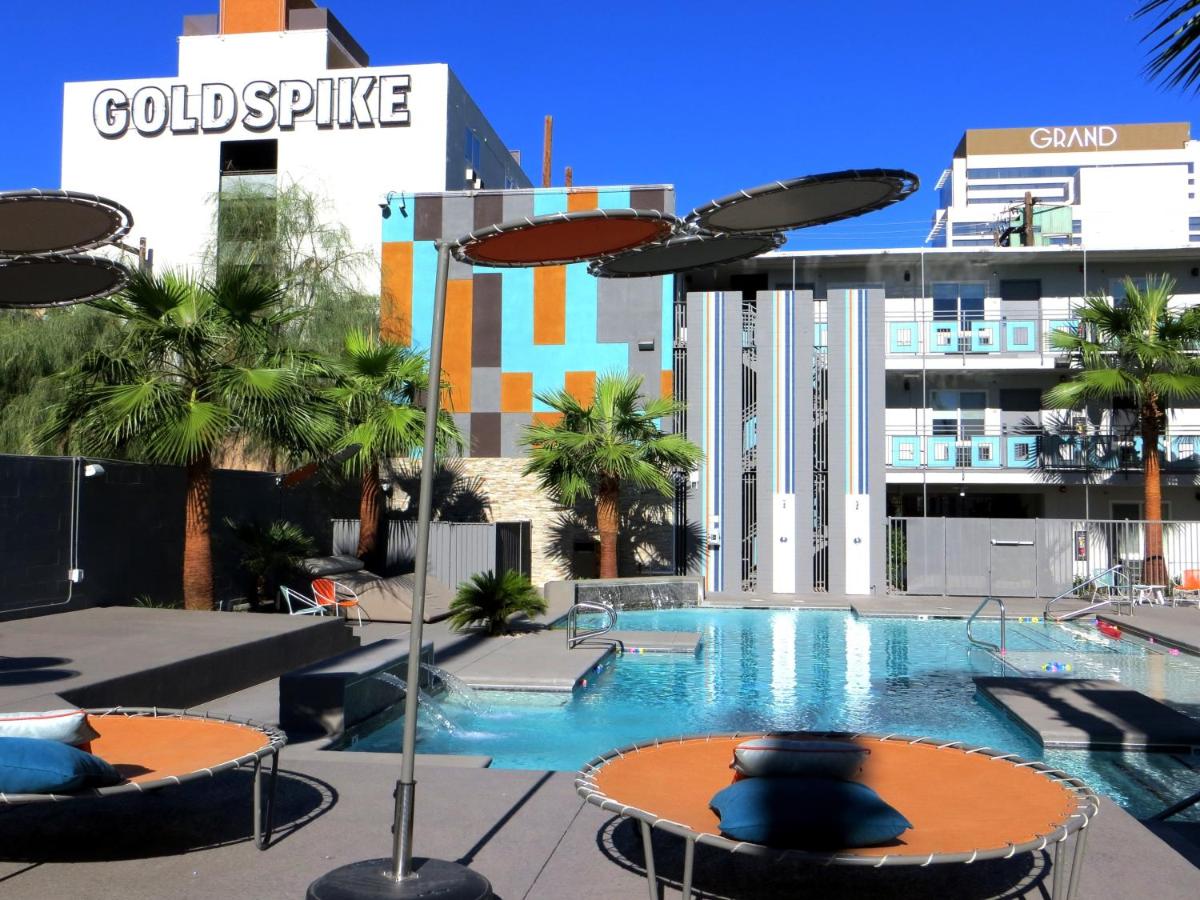 This hotel offers uniquely designed guest rooms as well as free WiFi and an outdoor swimming pool.
The motel, which was built in the early 1960s, was renovated into a boutique hotel and reopened in 2014. With metal furniture and turntables, all 44 rooms now have a hipster ambiance.
Since the hotel was not designed with closets, guests can now store and hang their things in revolving armoires.
Each room is individually furnished and has a cable flat-screen TV as well as a private bathroom with a shower and free toiletries. A lounge space with a sofa is included in some upgraded rooms.
After a long day of sightseeing, guests can unwind at the Gold Spike, an adjacent pub with nightly entertainment and oversized bar games. The Grill at Gold Spike, a nearby restaurant, offers casual dining.
Four Seasons Hotel Las Vegas
The Mandalay Bay Tower of the Four Seasons Hotel Las Vegas is located next to the Mandalay Bay Resort & Casino. Another hotel-within-a-hotel option for guests looking for a boutique experience within a major resort is the Four Seasons at Mandalay Bay.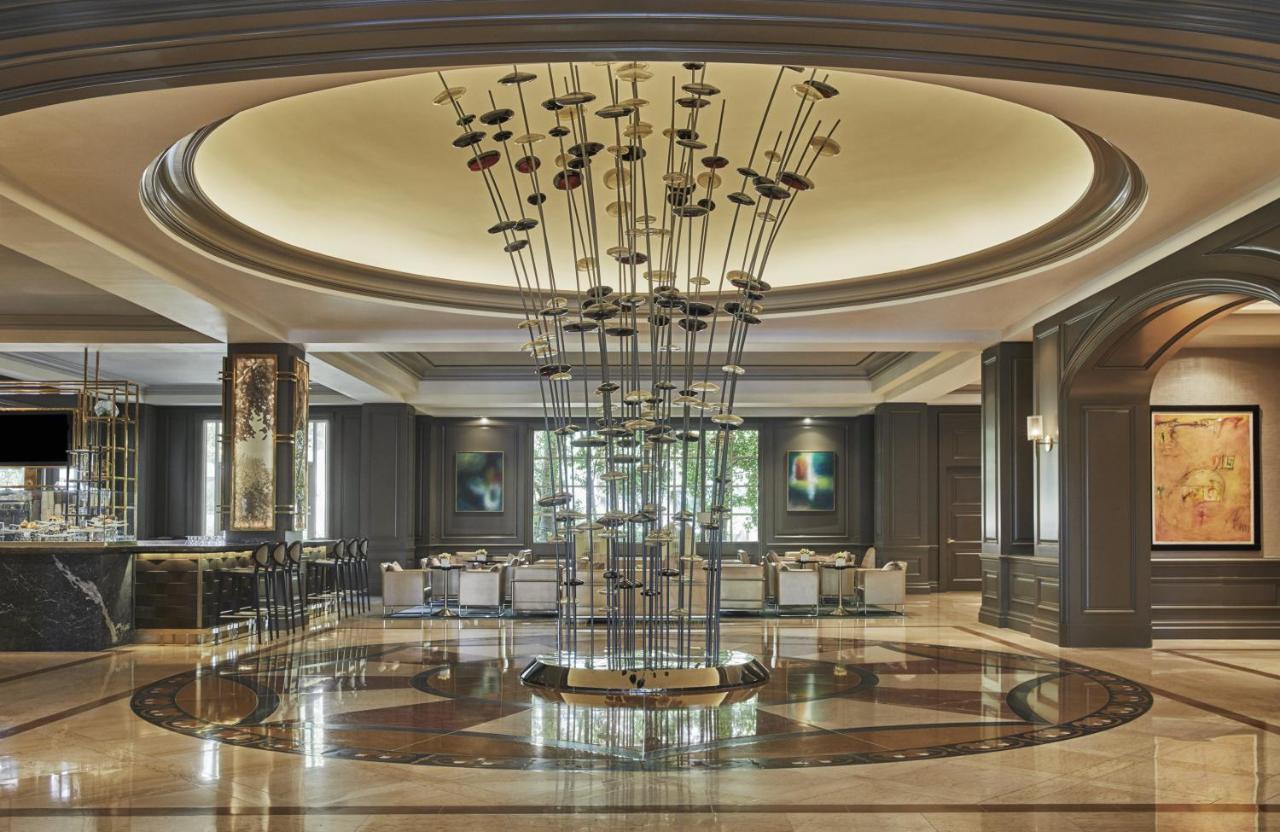 This hotel's gleaming gold façade gives way to a luxurious getaway with rooms that have some of the greatest views in the city.
Signature marble bathrooms, floor-to-ceiling windows, and a flat-screen TV are featured in the rooms at the Four Seasons in Las Vegas. There are also coffee makers available.
Each accommodation has a view of the Las Vegas Strip as well as mountain views. Guests can also dine at Charlie Palmer Steak or PRESS, both of which offer small plates and handcrafted cocktails.
Enjoy on-site dining at Veranda, serving modern American cuisine with outdoor seating options. The large private outdoor pool is available to guests.
Pool and waterfall views are also available from eight private cabanas. Guests can also unwind in the full-service spa, which offers massages, manicure services, and facial and body treatments.
Hilton Grand Vacations Club Elara Center Strip Las Vegas
The Hilton Grand Vacations Club Elara Center Strip Las Vegas is connected to the Miracle Mile Shops and is located on the Las Vegas Strip. There is a health club on-site, as well as a tropical outdoor pool.
This hotel features marble baths and floor-to-ceiling windows. All guest rooms have a kitchen or kitchenette with a microwave and a mini-fridge, as well as a 50-inch flat-screen TV with expanded cable channels.
It has a lobby bar where guests can unwind in a relaxed setting while sipping on their favorite cocktail. There's also a poolside bar that's open during the summer.
A full-service concierge desk is available at the Hilton Grand to assist visitors with show tickets, dinner reservations, and local tours. On-site, there is also a gift shop.
The Planet Hollywood Resort and Casino is connected to this hotel. The hotel is a 10-minute drive from McCarran International Airport.
Virgin Hotels Las Vegas, Curio Collection by Hilton
The trendy hotel brand has now built a location in Las Vegas along the strip, which is becoming increasingly popular.
The 4-star Virgin Hotels Las Vegas, Curio Collection by Hilton blends a fantastic modern ambiance and decor with classic Las Vegas entertainment.
Virgin Hotels Las Vegas is located 2 kilometers from the Las Vegas Strip and offers 8 restaurants and accommodations with free WiFi.
This hotel, conveniently located in the East Las Vegas Strip region, provides visitors with a 24-hour front desk, room service, and currency exchange.
A television is provided in each of the hotel's guest rooms and has a bathroom with a hairdryer. Air conditioning and a wardrobe are standard in all rooms at this hotel.
On-site, there are several lounge areas, including The Bar at the Commons Club.
The on-site amenities are as impressive, with five swimming pools, a range of restaurants ranging from Japanese to Thai street food, a spa, gym, sports bar, casino, and even a hair salon. The guest rooms are just as lovely, with a few unique additions.
Palms Place Hotel and Spa
The Palms Resort Hotel and Spa is one of many bizarrely designed suites in Las Vegas. It comes furnished with a basketball court, locker room, three spacious beds, and even a dance floor.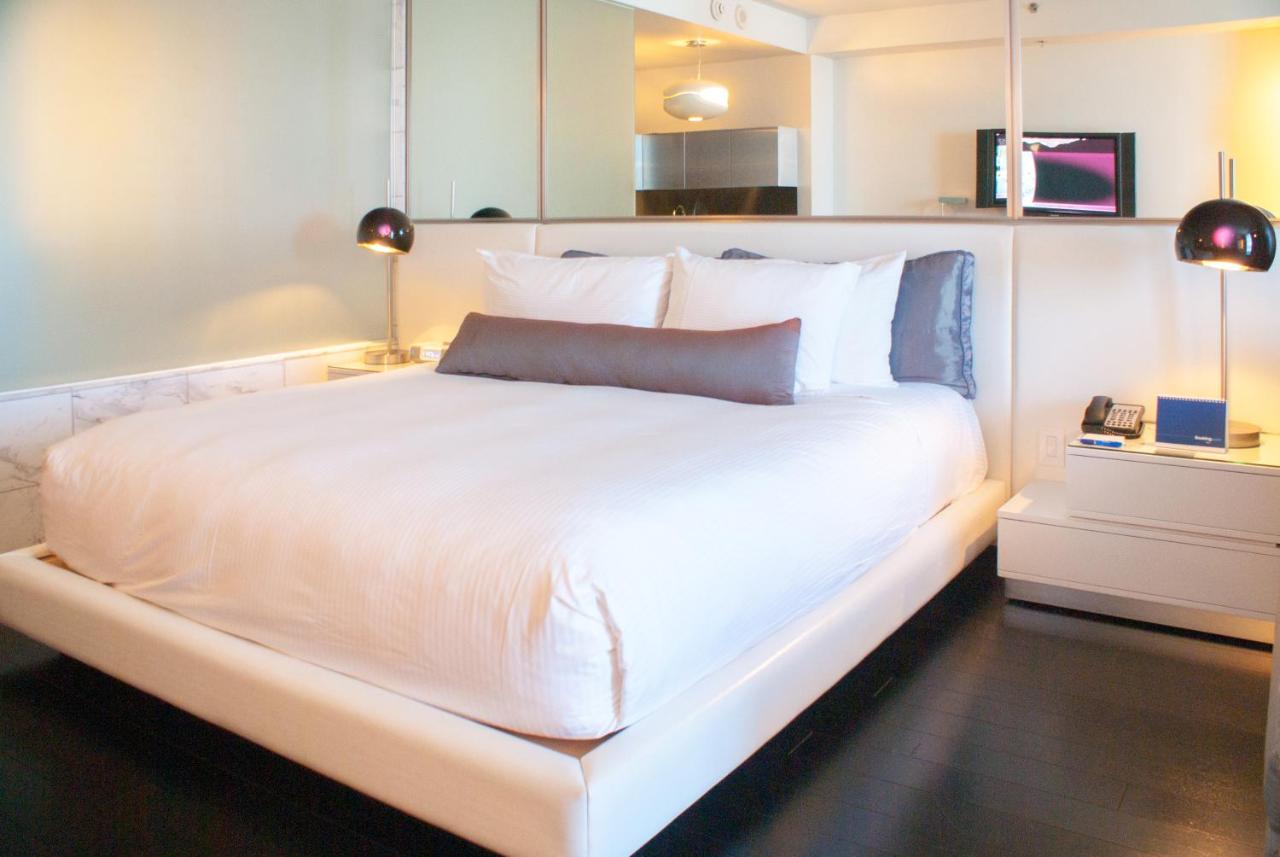 The Las Vegas Palms Place Hotel and Spa's contemporary guest rooms have floor-to-ceiling windows, a kitchenette, and an all-marble bathroom. There is a 42-inch plasma flat-screen TV in each room, as well as free Wi-Fi.
The seasonal and contemporary 50,000-square-foot pool is embellished with waterfalls and stone gardens and is located on the 6th floor.
SKYLOFTS at MGM Grand
The 5-star Hotel SKYLOFTS at MGM is the actual embodiment of the saying "have your cake and eat it, too."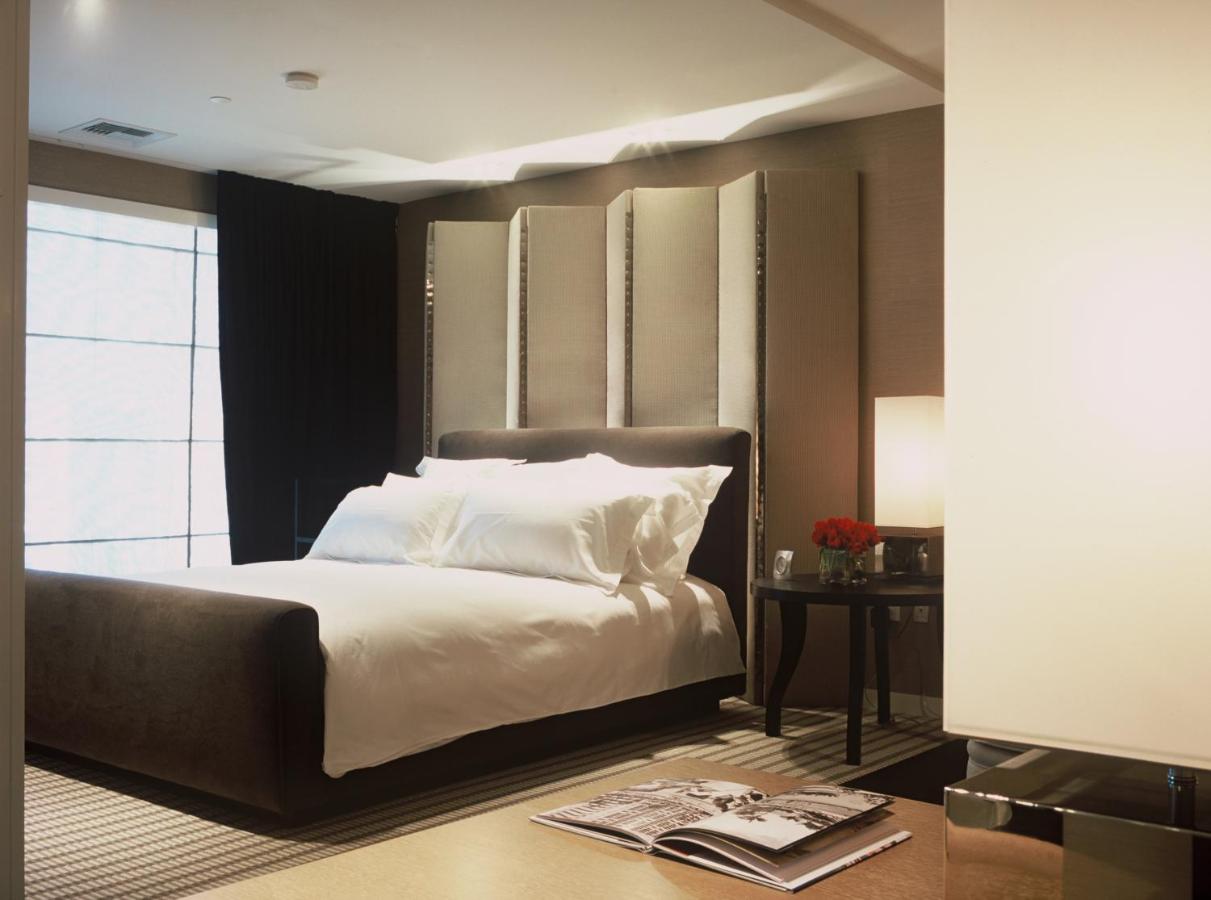 Staying at this plush Nevada resort on the strip means relaxing in the most stunning surroundings as highly-trained, skilled staff looks after your every need.
This boutique hotel on the Las Vegas strip is located on the top of the MGM Grand. This hotel offers concierge services, which include reservations for shows and restaurants.
The design suites at MGM's SKYLOFTS feature two-story windows with breathtaking vistas. The TV, DVD player, temperature, mood lighting, and draperies can all be controlled via the custom-designed remote.
The MGM SKYLOFTS' master bathrooms include a flat-screen television in the bathroom mirror, as well as a spa tub and a steam room. A range of pillows, scented bath oils, and premium coffees are among the luxury services available
The Bang & Olufsen ® gadgets in the rooms, as well as the 24-hour personal butler, are features. Not to mention a slew of perks like a Spa Butler, an infinity-edge spa tub, and video game consoles, all of which combine to make this a Vegas vacation unlike any other!
Circa Resort & Casino – Adults Only
Circa Resort & Casino is an adults-only hotel in Las Vegas with a restaurant, an outdoor pool, and a bar.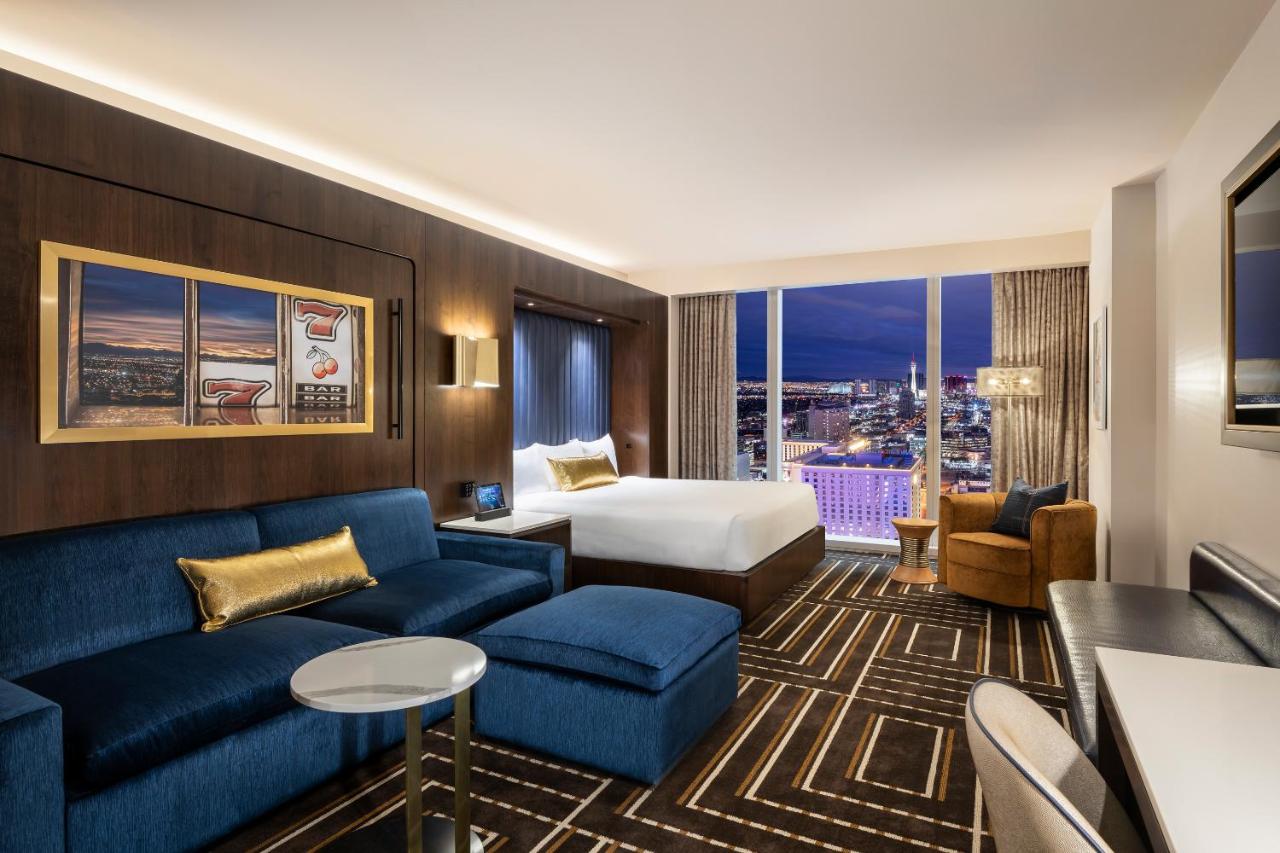 This 4-star hotel has complimentary WiFi, an ATM, and a concierge service. The hotel provides guests with a 24-hour front desk, room service, and currency exchange.
The hotel's guest rooms provide air conditioning, a seating area, a flat-screen TV with cable channels, a safety deposit box, and a private bathroom with a shower, hairdryer, and complimentary toiletries.
Bed linen and towels are provided in all rooms and a hot tub is also available at the hotel.
Mob Museum, Fremont Street Experience, and The Neon Museum are all popular places to visit near Circa Resort & Casino.
The Berkley, Las Vegas
This 18-story resort with full suites is located in the Village of Silverton, just 8 kilometers from the Las Vegas Strip, and offers access to restaurants, bars, casinos, and a Bass Pro Shop.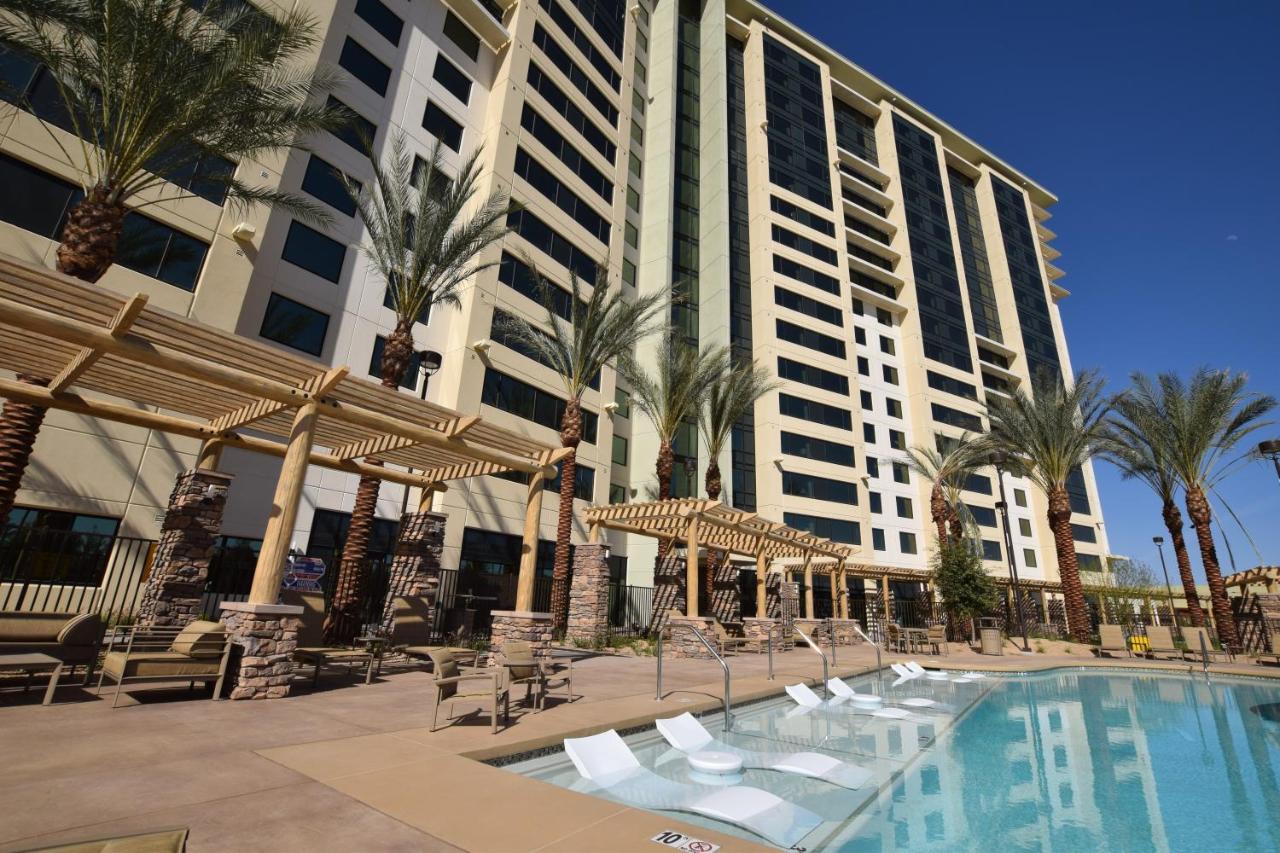 The Berkley in Las Vegas has an outdoor pool and grilling areas. Each spacious suite includes a kitchenette, as well as kitchenware and dining space.
The Berkley, Las Vegas offers spacious 1 or 2-bedroom suites with cable TV in the living area and bedroom. A washer and dryer are included in every suite. These comfortable suites have an en suite bathroom with a full bathtub, queen-size couch sleepers, and a living area media hub.
All guests at The Berkley, Las Vegas, get free access to a fitness center, an activity center, and a business center with PCs.
Hilton Lake Las Vegas Resort & Spa
The Hilton Lake Las Vegas Resort & Spa is a haven for vacationers and business visitors who prefer the beauty of Lake Las Vegas and the Nevada desert to the glamor of Vegas.
The hotel is a quiet retreat with 354 stylish and understated rooms, an attractive Tuscany-inspired location, a full-service spa, and a well-kept pool area.
The architecture of this boutique resort is inspired by the Mediterranean. On-site amenities include an outdoor pool, restaurants, and shopping. Free Wi-Fi, a flat-screen cable TV, a work desk, a seating area, a refrigerator, and ironing facilities are included in all rooms. Bathrobes are provided in some of the larger suites.
Medici Café and Terrace, located in Hilton Lake Las Vegas, serves fresh salads, sandwiches, wraps, and other healthful foods for breakfast, lunch, and dinner. Tropical cocktails, fresh wraps, shellfish, and salads are brought right to guests' cabanas at the seasonal Poolside Café and Terrace.
The Resort & Spa Hilton Lake provides massage services to its guests. Guests can rent cars and bicycles from a 24-hour reception desk. A fitness center and a business center with fax and photocopying facilities are also available to guests.
M Resort Spa & Casino
M Resort Spa & Casino, located off Interstate 15 on the South Las Vegas Strip, offers nonstop entertainment as well as a range of dining options, including restaurants, bars, a deli, and a bakery.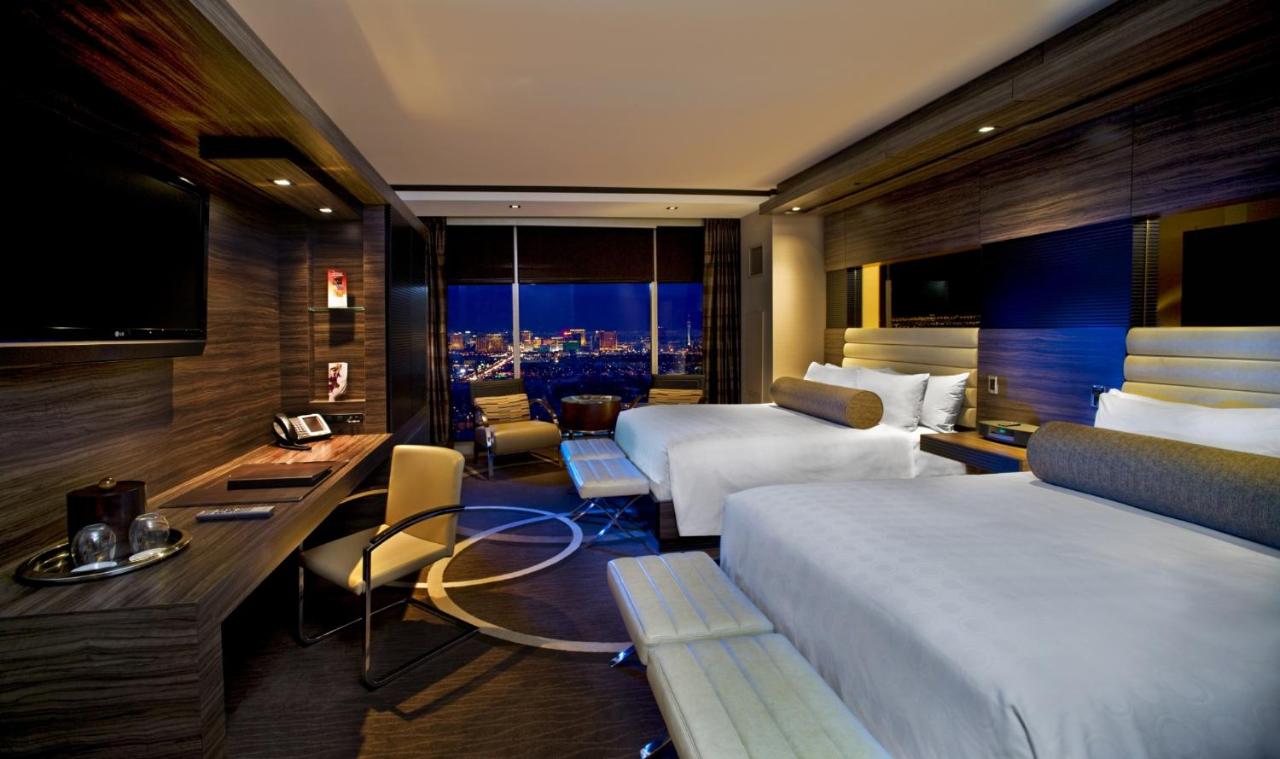 This resort spa and casino have luxury rooms with a relaxing atmosphere. A 42-inch flat-screen HDTV, an in-room refreshment center, a built-in desk with an executive chair, and free local calls are all included in guest rooms. Marble floors and a separate bathtub and shower are featured in the en suite bathrooms. Each bathroom also has a television.
From Anthony's Steakhouse to Jayde Fuzion to Marinelli's Pasta Bar, the resort has a wide range of dining options. Guests can enjoy specialty cocktails, artisan beers, and wine at one of five on-site bars, including the Ravello Lounge, which hosts live music from top bands and DJs.
This resort is adjacent to some of the best golf courses in the area. M Resort Spa & Casino has everything you need for a fantastic stay. Guests can unwind with a treatment at the full-service spa or enjoy slot machines and card games on the expansive gaming floor.
T-Mobile Arena is 17 minutes away and there is free guest parking.
Recent Posts