15 Best Breweries in Tucson, Arizona to Grab a Cold One
Craft Beer Tucson: Are you looking for a cool microbrewery in Tucson to grab a drink? Visiting a brew pub in Tucson is a great way to visit the local scene.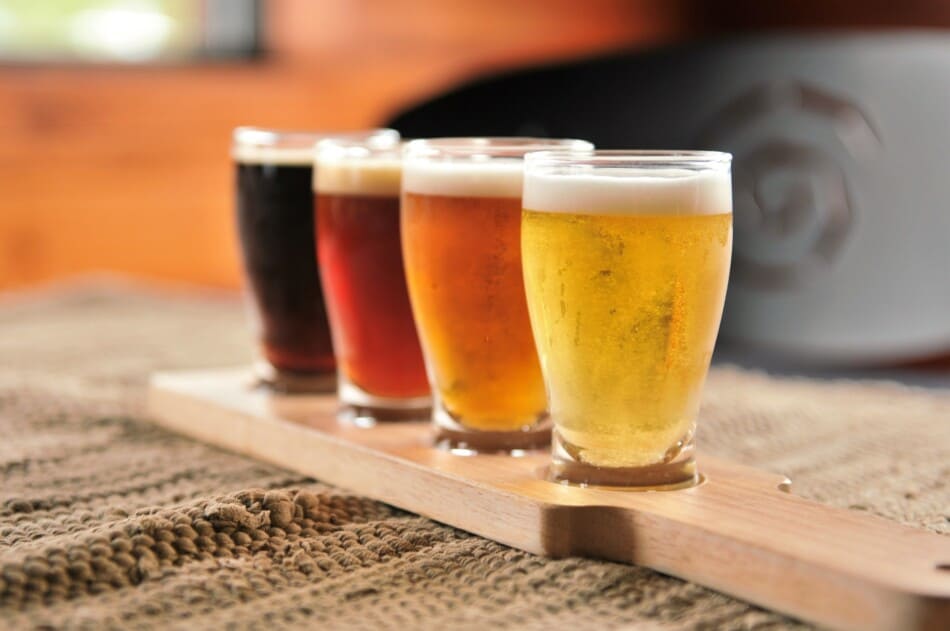 Small brewers are known as craft brewers. Innovation is a trademark of craft beer and craft brewers. Craft brewers put their own spin on classic styles and create new ones that haven't been done before.

Craft beer is often prepared using traditional ingredients such as malted barley; however, interesting and occasionally non-traditional ingredients are frequently added for flavor.
15 Tucson Breweries You Need To Visit
Borderlands Brewery Tucson, AZ
Borderlands has a unique look that manages to be both rustic and industrial. The train might shock your brain now and then as it passes by because it's right next to the railroad lines, but that's all part of the vibe here.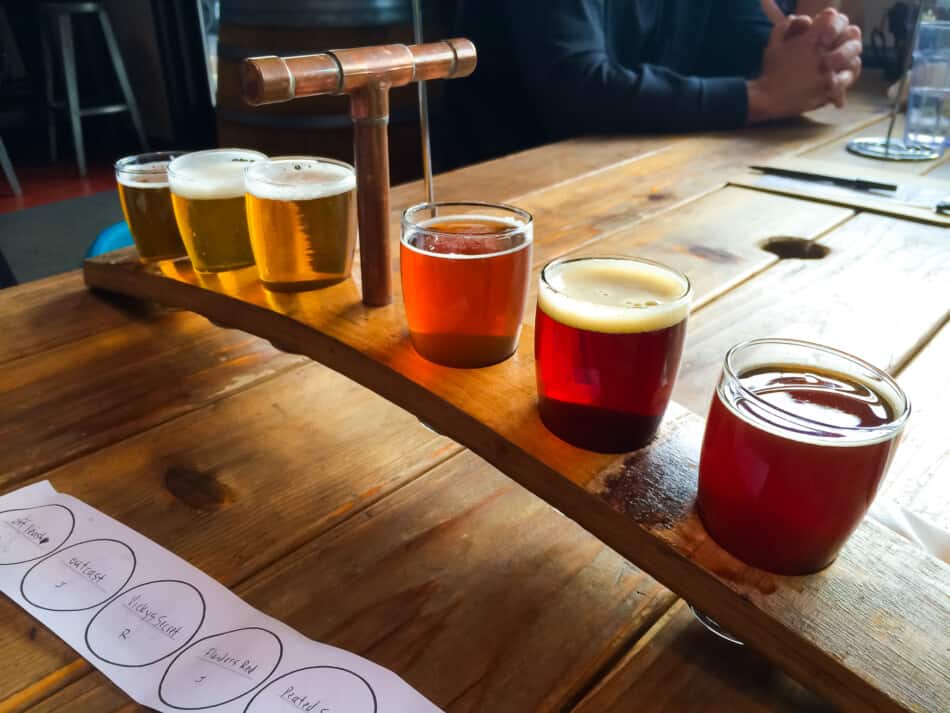 This brewery is difficult to miss. It's just down the street from Tap and Bottle and has one of the greatest murals in all of brew-dom. I enjoyed the huge outdoor area to chill and enjoy the beer.
The brewery's brick walls create a great canvas for local art, and its spirit of experimentation and respect for local agriculture results in some of the area's most unique beers: try the Prickly Pear Wheat or the Noche Dulce Vanilla Porter, which includes earthy Mexican vanilla.
This is an excellent place to spend a beautiful afternoon enjoying all of the wonderful beers they have to offer, with a spacious patio and wide-open taproom. Combining those beers with street tacos from their on-site food truck is a winning combination.
Barrio Brewing Company
Dennis Arnold and his wife, Tauna, started the Barrio Brewery, which was one of Arizona's earliest craft breweries. The Barrio now offers a variety of house-brewed fresh beers on tap, as well as a delectable full menu.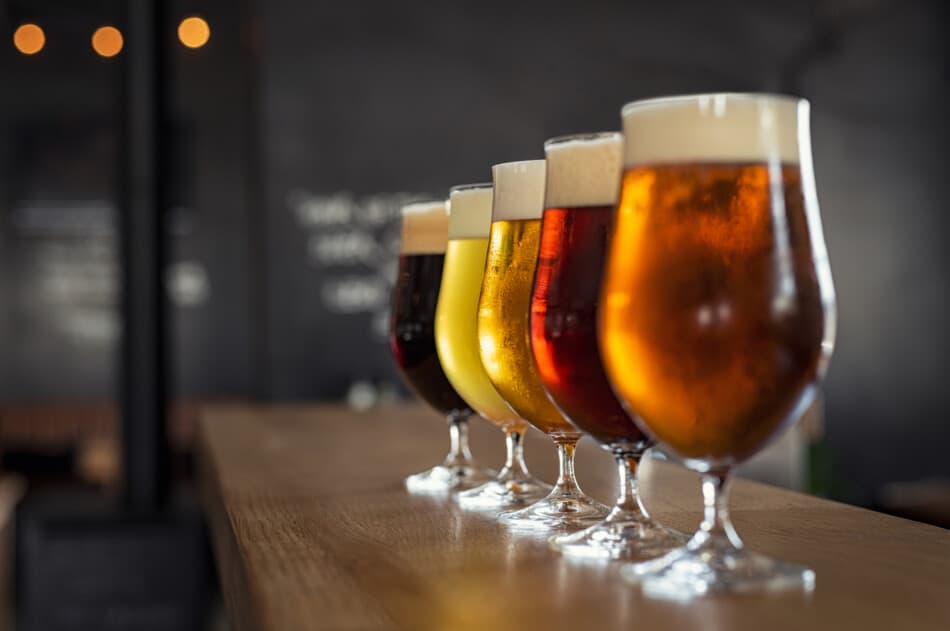 Barrio's beers have increased in popularity since then, reaching every corner of the state. Barrio Brewing Company became Arizona's first 100% employee-owned brewery in 2020.
TUS's Barrio serves up a unique take on bar fare. Visit Barrio's taproom, which has a unique industrial ambiance and is located away from the airport. When the train passes the pub, come in for Happy Hour or $1 off pints!
The staff is fantastic, and you will be properly looked at. The craft beer is fantastic, and they have a wide selection of brews ranging from mild to anything but mild.
If you're visiting Tucson, Barrios Brewing Co. is a must-visit if you enjoy craft beer and a nostalgic atmosphere. Get good directions or use On Star if you have it because the brewery is off the beaten path and a little hard to find.
Dragoon Brewing Company
The Dragoon Brewing Company, located on Tucson's west side, has grown from a small taproom to a lovely sit-down bar with various fresh beers on tap, including their famous Dragoon IPA and Santa Cruz'R.
At Dragoon, they make two different kinds of beer. Dragoon IPA, Santa Cruz'r, Refraction, and Dragoon PILS are available all year.
You may have these at any time of year. The rest of their beers are limited-edition releases. They make a Specialty release once a year at times, and only a single batch at other times.
This microbrewery offers a tasting facility on-site that serves its artisan brews, as well as a food truck.
Pueblo Vida Brewing Company
You'll find the master of Hazy IPAs in Tucson's beer scene right around the corner from Iron John's, as well as a community vibe that will keep you coming back just to say hello.
Pueblo Vida has done an incredible job restoring a historic structure. It has a welcoming and warm wooden decor. If you enjoy cycling, you can store your bicycles inside while enjoying a well-deserved pint.
They offer everything from yoga to bike rides to cornhole tournaments.
A popular beer is their Bavarian Hefeweizen. The cozy Pueblo Vida Brewing Company is the place to go for beer enthusiasts who enjoy trying out new infusions, as they create new blends regularly. They're also in the heart of Tucson's downtown.
1912 Brewing Company
Arizona became a part of the United States in 1912, therefore this brewery holds a particular place in the hearts of locals. Since opening in July 2015, they have developed a strong reputation for producing a wide range of beer genres and have earned a good reputation.
They have a fantastic brewery with some great local sour and gose. If you're going through Tucson and want to check out the local brewing culture, this is the place to go.
Furthermore, the relaxed atmosphere, knowledgeable bartenders, and a unique assortment of exceptionally outstanding beers are what draw people in. A four- or six-option sampler is also available. Make sure you place an order with Tucson Tamale Company.
Dogs are welcome at 1912 Brewing Company. This prominent family-owned brewery welcomes pets inside its premises. The sours are their most popular brews, but they also have a large assortment of other beers. Growler fills, pours, kegs, and a range of items are all available at 1912 Brewing Company.
Thunder Canyon Brewery
Before the craft beer trend hit the state, Thunder Canyon Brewery was one of Tucson's first three breweries. Locals know that these brewmasters have some fantastic taps with a vast selection of high-quality beer kinds and flavors, despite all the options in town.
The folks that worked there helped to make this a memorable place. They not only brew their beer, but they also brew their rum. The brewery had a historic feel because of the old brick building.
This brewery should be on your Tucson brewery tour since it has art throughout, a front patio, and individuals who are passionate about what they do.
Firetruck Brewing Company
Firetruck Brewing Company, which was founded by firemen, has quickly become one of the most popular places in town to grab a refreshing beer.
They are also a full-service restaurant, but you can taste their enthusiasm for great beer in every sip!
They serve a wide range of superb, hand-crafted beers in a relaxed atmosphere where families, friends, and neighbors can enjoy the consistent quality and delicious food from our southwest-style menu.
The goal of FireTruck Brewing Company is to provide you with world-class award-winning beer. Their beers are also available in grocery and liquor stores around the state.
Of course, their humorous fire ax tap handles can be found in your neighborhood taverns and restaurants.
Dillinger Brewing Company
Tucson's best new brewery is Dillinger Brewing Company! They sell a range of American, German, and English-style beers with a distinct Southwest flair, right on one of the main routes in town.
Dillinger Brewing Company is a great place to catch up with friends for a couple of beers.
This Brewing Company, which specializes in American, English, and German-style ales, offers a good choice of varieties to choose from, as well as a constantly rotating 10 beers on tap, live music, and events in a fun taproom.
Ten55 Brewing Company
Ten55 Brewing Company was founded in 2013 in Tucson, Arizona. They seek to create world-class brews that are accessible to anyone. Their brewers excel at producing high-quality beer that is nevertheless thrilling to the palate by paying respect to old-world styles.
If you come for the beer, you'll want to stay for the incredible food! Their restaurant treats food with the same care and attention as they do, while also providing a wide range of options for all types of diners.
I really enjoyed their patio here. A great place to stop and have a beer.
They are also quite proud of their fantastic team, who will ensure that all of our visitors have a wonderful time in our gorgeous downtown location.
While visiting breweries, a short walk is always a good idea. Return to Congress Street for some more local craft brews and a bite to eat while you're there.
On those sunny Tucson days, they also have a nice patio space with outdoor seats where you can enjoy some enjoyable people watching.
MotoSonora Brewing Company
This place will undoubtedly become one of your favorites, with firepits strategically placed throughout their large backyard beer garden, fine beer, live music, friends, and on-site diner-type food truck, and even a dog run.
This is a large space, with inside and outside tables spaced far enough apart to accommodate the current social gap.
This establishment also serves a wide range of beer genres, including IPAs, ales, and lagers, all with a racing theme. For non-drinkers, there are also alcohol-free sodas. People are welcome to bring their food to eat.
You can try their White Flag Witbier (4.9 percent ABV) and a Mocha Moto Porter to go with it (8 percent ABV). Both are full-bodied and delicious, with the coffee porter having just the right amount of coffee taste without being overpowering. Both are poured in 12-ounce tulip glasses, and a six-pack of their "Victory or Death" IPA is also available (6.7 percent ABV). The service here is quite pleasant and informative.
On sunny days, the outdoor dining is extensive, with umbrellas for the tables. On the south side of the building, there's even a designated off-leash dog area (The Ruff Zone) with fake turf and water dishes.
Two restrooms are not gendered. Guests can also take advantage of the free WiFi. For a brewery, their prices are pretty reasonable so, this is something you don't want to miss!
Copper Mine Brewing
Copper Mine Brewing was established in 2016, although its roots date back nearly a decade when co-founder Jeff Kaber brewed his first batch of beer on his kitchen stove.
After meeting co-founder Jeremy Pye five years later, weekend homebrew sessions turned into business brainstorming meetings.
Copper Mine Brewing Company is named after Arizona, a beautiful state. Their objective has been to give the greatest quality beer to the community while also cultivating an environment where individuals can be themselves while enjoying a refreshing pint with friends and family.
Crowlers of Hibiscus Blonde, Honey, I Baklavad the Stout, and Watermelon Gose is available. They attempt to create something for everyone in their taproom, which has ten beers on tap.
This little brewery may not be surrounded by other brewers. It lacks both a patio and a charming historical structure to call home. It does, however, have a wonderful beer, a wide variety of it, and people who enjoy brewing and serving it. That's all you'll need to get in the door.
Harbottle Brewing Company
Micheladas at a brewery? These are billed as two-handed ones, too – with all the stuff in Harbottle Brewing Company It's almost a beer. And speaking of beer, it's a brewery. They've got that, too, in this neighborhood taproom.
You'll find the beer you want here, as well as the people you want to drink it with, from conventional styles to their sour program to their barrel project. You'll enjoy all of them: classic styles, mixed fermentation, and experimentation.
Every Sunday, you may enjoy their delightfully flavored, house-made spicy micheladas!
Voltron Brewing
Located at 330 S. Toole Ave, welcome to Arizona's very first co-op brewery! Just a few blocks from the heart of the city! Borderlands Brewing and Sentinel Peak's best hits, as well as Voltron's exclusive collaborations, are on tap.
The brewing company's interior is basic but welcoming. Tables and a bar are available. You must try their Voltron Collab beer as well as their Mexican Amber, Salida Del Sol. Both options have an excellent flavor.
The brewing area is enormous, and it can be seen from the bar through a big window. Give it a shot; you'll be glad you did!
Crooked Tooth Brewing Co.
Crooked Tooth Brewing Co. is a casual brewery and beer garden in Tucson, Arizona, that serves a range of excellent brews. While you kick back and relax with a cold beer, Fido is welcome to join you at one of their pet-friendly outside tables.
Crooked Tooth Brewing Company is housed in a converted 1950s auto garage that now serves as a brewery and taproom. In the back, there is a wide terrace.
They also offer food trucks every night of the week and love to fill stomachs with beer. At any given time, there are usually nine beers on tap, all of which are made in-house.
Experience their Sonoran Sour Series, Full Moon Brews, Hazy IPAs, Big Stouts, seasonal rotations, and more!
Crooked Tooth Brewing Co. is open from 3 p.m. to 10 p.m. Monday through Wednesday, 3 p.m. to 12 a.m. Thursday, 12 p.m. to 12 a.m. Friday through Saturday, 12 p.m. to 12 a.m., and 12 p.m. to 10 p.m. Sunday.
Iron John's Brewing Company
In 2014, Iron John's Brewing Company was formed in Tucson, Arizona, in the Sonoran Desert. Their beers are made in tiny batches (2 bbl = 60 gallons), and the brewing apparatus uses reused items like soup kettles that have been adapted to their needs.
They grind their barley on-site and make specialized beer with whole grains, fragrant hops, fresh spices, and a range of distinctive, local ingredients.
They make and distribute new beers weekly, with classics like the Old Pueblo Pale Ale, 1891 Red Ale, and the ever-popular Viejo Imperial IPA.
Each month, they also feature seasonal and specialty beers, such as sought cask-aged and sour brews. These beers pay homage to the ingredients used in them as well as the season in which they are released, and are sure to please your taste.
The brewery strives to make distinctively dynamic brews that attract beer enthusiasts from all walks of life to our taprooms. They put their heart, soul, and imagination into their brewing process to turn beer into an enjoyable and communal experience.
​
Recent Posts