Donuts SLC: Are you looking for the best donuts in Salt Lake City? There are so many cool donut shops in Salt Lake City and they are great for sweet treat.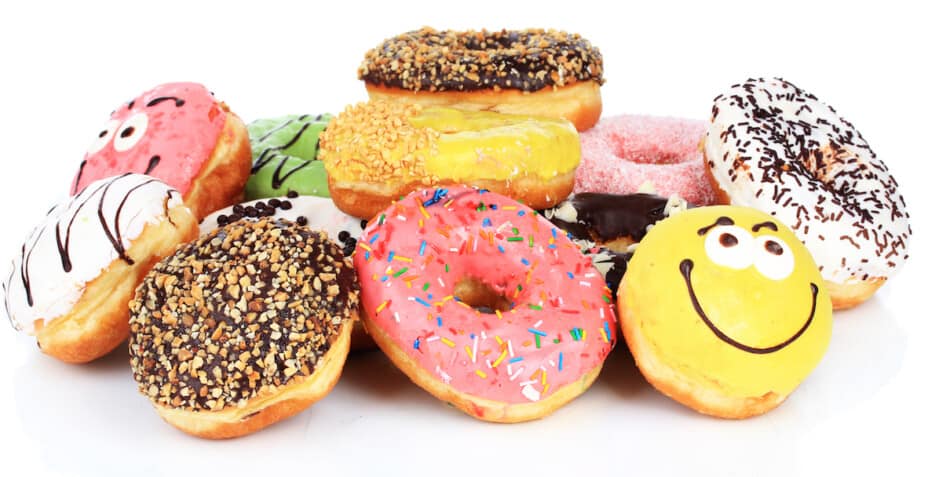 There is nothing better than a fresh, warm donut and all of these places have bakery quality donuts. Whether you like apple fritters or traditional glazed these are the best donut shops in Salt Lake City.
15 Best Donuts in SLC for your sugar craving
Banbury Cross Donuts
Given that Banbury Cross Donuts has been in business since 1986, it stands to reason those flavors are added regularly.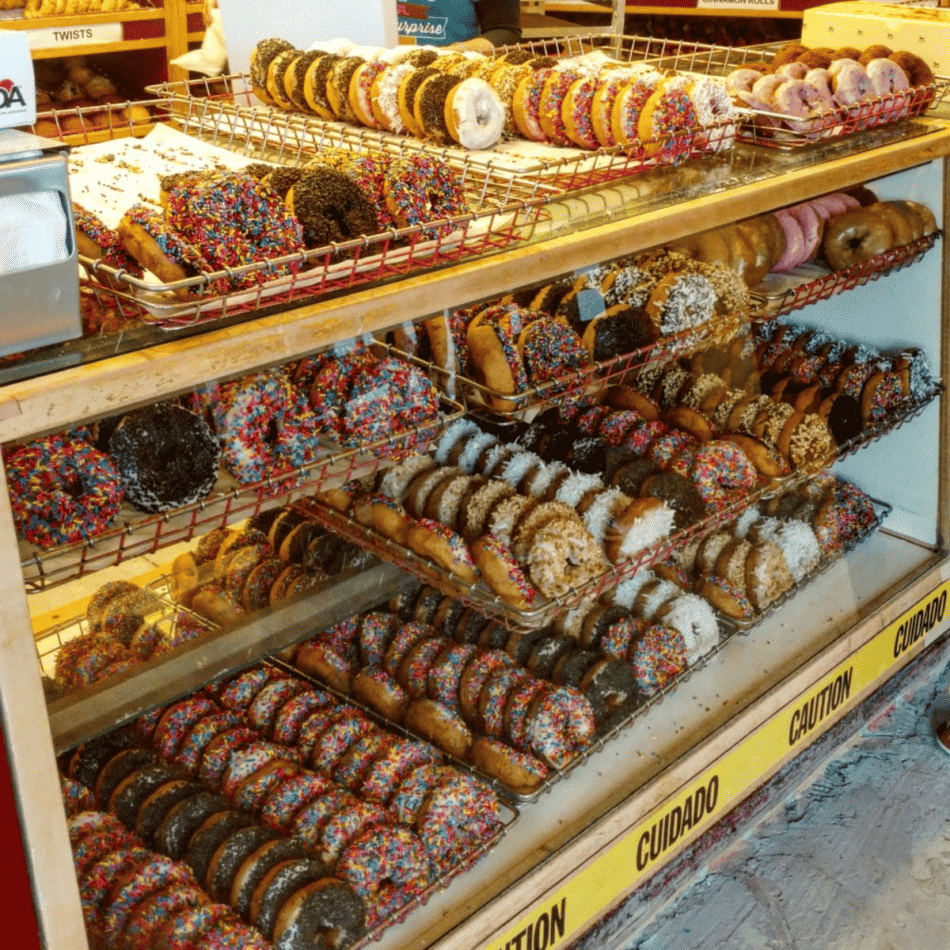 You can also order previous specials by searching online. However, keep in mind that if you want to do this, you must order a minimum of six donuts. Ube, churros, pandan, caramel, black sesame, key lime, and chocolate toffee are among the flavors that are offered.
There are occasional repeats of other previous months' specials as well. For more information, visit the store's Instagram.
Monday through Thursday, noon to 8 p.m.; Friday and Saturday, noon to 9 p.m.; and Sunday, noon to 5 p.m. are the hours of operation.
Duck Donuts
Duck Doughnuts, a brand-new donut store in South Jordan, unquestionably offers some of Salt Lake City's tastiest donuts.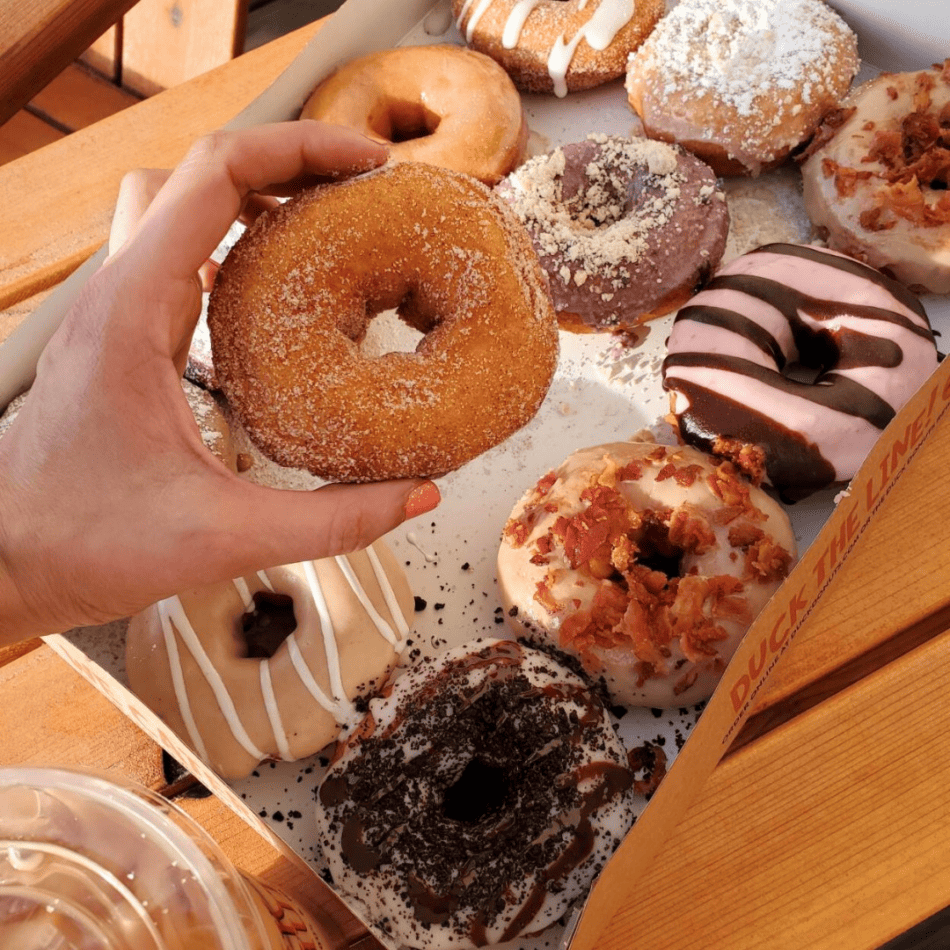 The flavor combinations at Duck Donuts are legendary. Additionally, you have the option of making your doughnut with the coating, topping, and drizzle of your choice.
When you place an order, a freshly created vanilla cake donut kicks off the customized experience. Cinnamon, powdered sugar, glaze, or a variety of icing flavors like maple, strawberry, and chocolate are available as coating choices.
Oreo cookie bits, Graham cracker crumbs, shredded coconut, and chopped peanuts are some of the toppings. Then there are the drizzles, which can be salted caramel, hot fudge, raspberry, or marshmallow.
As an alternative, you can choose a "fan favorite," which offers a tried-and-true combo.
The store is open every day for delivery or takeout. Six days a week, from 7 a.m. to 7 p.m., and on Sundays, from 8 a.m. to 12 p.m.
The Big O Doughnuts
Big O Doughnuts is a fantastic idea, even though some people might think that vegan donuts are a bad idea. These vegan pastries are some of the tastiest donuts in Salt Lake City; they are soft pillows of sweet bliss.
The Big O Doughnut is also a favorite among those who avoid eating animal products. You wouldn't know it from the exquisite flavors, yet everything here is vegan. Additionally, a wide selection of tea and coffee are offered to accompany your delectable delicacies.
The menu is updated every month; see their Instagram for the most recent specials, which often feature unique flavors. Likewise, smaller serving sizes are available if you only need something to quell your sweet tooth.
Here, online ordering is not available. You can DM the company's Instagram account if you wish to order your donuts in advance. They will require a 24-hour notice. Otherwise, stop by the store. You can eat in or take your doughnuts to go in the small dining room.
On weekdays, business hours are 8 a.m. to 3 p.m., and on weekends, hours are 9 a.m. to 5 p.m.
Darla's Donuts
You can discover a good range of traditional and specialty doughnuts at Darla's. Likewise, you may purchase a decent cup of coffee to accompany them.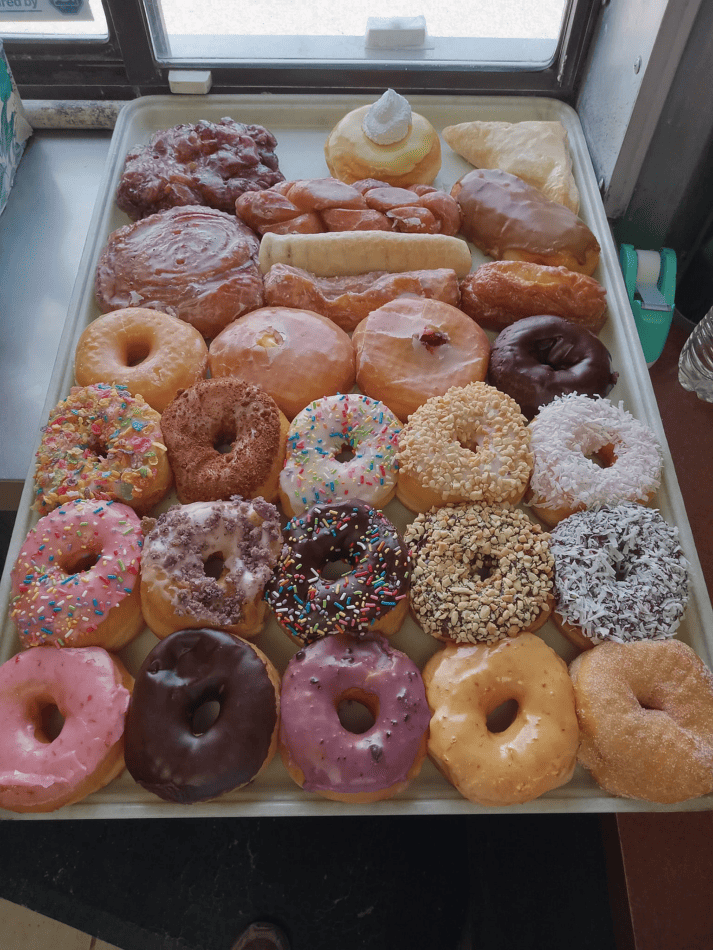 The family-owned business serves inventive tastes like blueberry crumbs, banana cream, and root beer float. All the traditional varieties—glazed, Bismarcks, raised, and frosted—are also available here. With a cup of coffee from the neighborhood's Silver Bean Artisan Brewers, wash down your choices.
You have the option of placing your order in person or through the drive-through. Whatever option you select, you'll receive friendly and supportive assistance. Furthermore, the prices are reasonable.
Darla's is open from 5 a.m. to 1 p.m., from Monday to Friday.
The Dough Miner
The Dough Miner is a brand-new establishment in Salt Lake City that serves savory Cornish pasties in addition to excellent donuts. They promise that their donuts are some of the most delicious in town and that everything is freshly prepared on-site.
They are cake donuts with a slightly crisp outside and moist within. Strawberry and cream and Gold Digger are two tastes that are particularly popular among customers. There is also a Death by Chocolate that looks beautiful and has real gold flakes and crushed malted milk balls.
The store is open from 8 a.m. on Wednesdays through Sundays. to 3 p.m. for dine-in and takeout.
Donut Boy
In search of variety? You may get a doughnut to soothe any craving at Donut Boy in West Valley City. The delectable sweets prepared by Donut Boy are freshly baked each day. They also offer excellent croissants for sale.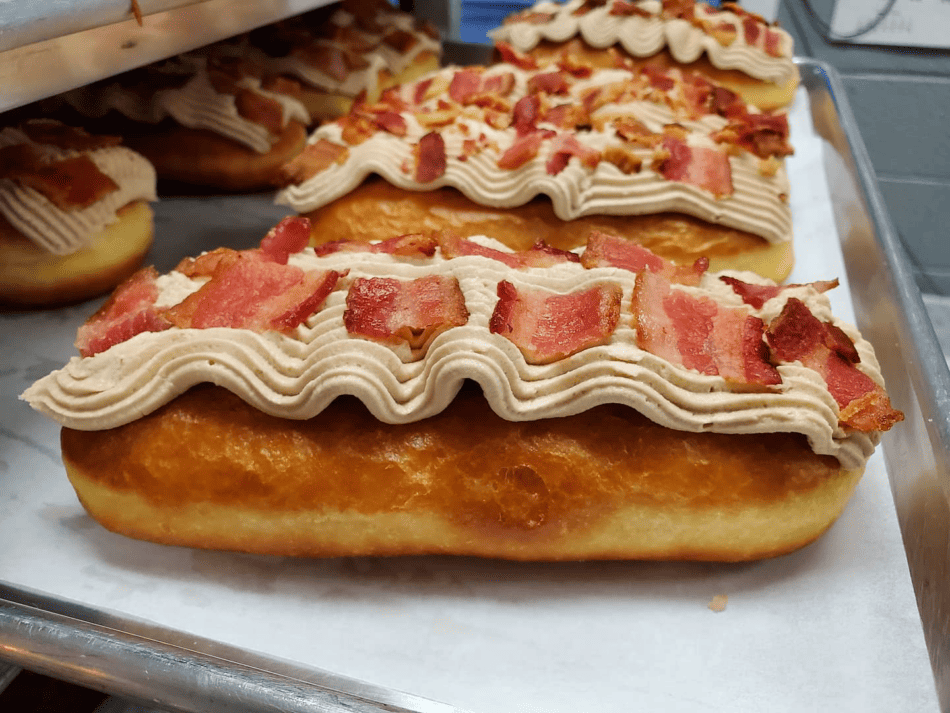 Here, donuts are sold in boxes of a dozen or half-dozen different flavors. Regular gourmet and premium gourmet options are offered on the menu.
Regular varieties include white chocolate vanilla cake, blueberry cake, glazed maple bar, and chocolate glazed. Nutella Oreo, M&Ms, blueberry cheesecake, Boston cream, and pina colada are among the gourmet and premium gourmet options. Check out also the strawberry cheesecake; it contains thinly-sliced real strawberries.
The store is open five days a week for takeout and delivery but is closed on Mondays and Tuesdays. Wednesday through Saturday, the business hours are 6 a.m. to 1 p.m., and Sunday hours are 7 a.m. to 1 p.m.
Forty-three Bakery Fresh Donuts and Deli
The perfect store for you is Forty-Three Bakery if you adore croissant doughnuts. They are the shop's specialty, and they are perfect.
Even though the variety isn't extensive, each piece is carefully made. Powdered, cinnamon sugar, huckleberry jam-packed with a powdered topping, and vanilla bean glazed are among the tastes offered. A wonderful lemon stuffed with vanilla icing and a donut with dulce de leche filling is also available.
From Wednesday through Sunday, from 8 a.m. to 3 p.m., the store is open.
Donuts can also be purchased to go or delivered to your door.
Good Food Gluten-Free Bakery
The Good Food Gluten-Free Bakery is a fantastic option if you are trying to avoid gluten. Its entire menu is devoid of gluten. There are also some choices without dairy.
A pretty respectable donut variety is among the extensive array of baked products. Boston cream, glazed, maple bars, old-fashioned, cinnamon sugar, and apple fritters are among the options. They are not the cheapest, but they are of good quality.
The store is open Monday through Friday from 9 a.m. to 5.30 p.m. and on Saturday from 9 a.m. to 2 p.m. While dining in is not an option, takeout and delivery are.
Mad Dough SLC
A very remarkable variety of flavors is available at Mad Dough SLC, and many of its customers also cite their doughnuts as among the best they have ever tasted.
Take your pick from items like the Salty Smoky Nilly, which has a salted vanilla bean filling with an interesting substance referred to as "liquid smoke." The Cherry Chocolate Chunk, which is covered with almond cream and has chunks of cherry and dark chocolate, is another choice.
There are also more conventional choices available, such as a Boston cream that is frequently hailed as the best product ever.
Place an online order for delivery or pick-up. You can also visit the store to occasionally discover mystery promotions
The hours are from Wednesday through Saturday, four days a week. The store is open from 9 a.m. to 3 p.m., but for the finest variety, arrive early.
Chubby Baker
If filled donuts are what your sweet tooth craves, there is no place better than Chubby Baker. Along with a diverse selection of regular tastes, there are also monthly specials. Ube, coconut cream, passionfruit cream cheese, hot guava, and a luscious Ferrero Rocher are among the regular options.
Ring donuts are also available with brown butter, plain sugar, or cinnamon sugar. Additionally, you can add lychee pearls, apples, or mango jelly as optional toppings.
A box of four or six doughnuts or an individual box is also an affordable alternative. A wide variety of teas, coffees, and fizzy drinks are also offered.
The store is open six days a week beginning at 10.30 a.m. to close on Mondays. Tuesday through Saturday, 9 p.m., and Sunday, 7 p.m.
Vosen's Bread Paradise
German-style bakery Vosen's Bread Paradise offers a wide selection of bread and pastries. And some excellent donuts are part of that.
`They feature strawberry, maple, and chocolate-flavored Croiliners, a Berliner croissant donut. Another alternative is a classic Berliner donut that is covered in powdered sugar and filled with raspberry or apricot jam.
It's best if you can place your order in advance since items tend to sell out quickly. Order online for delivery the following day by 1 p.m. You can also place an order in advance if you'd like. Both pick-up and delivery options are offered.
Monday through Friday, 7 am to 6 pm, Saturday, 8 am to 4.30 pm, and Sunday, 9 am to 3 pm are the hours of operation.
Carol's Pastry Shop
Carol's Pastry Shop was established in 1948, so they have some experience with sweets.
Here, you'll find a wide variety of donuts as well as pies, cakes, muffins, and biscuits. Be on the lookout for holiday specialties like heart-shaped donuts and "U"-shaped eclairs for the big game. Excellent coffee is also available, roasted locally by King's Peak.
Prices are indeed reasonable, and the ambiance among the personnel is friendly and effective.
Only five days a week, from 8 a.m. to 5 p.m., are available for takeout at the store. On Sundays and Mondays, it is closed.
Recent Posts