15 Secret Ghost Towns in Arizona to Visit
Arizona Ghost Towns: Did you know there are over 300 Ghost Towns in Arizona? I know what you are thinking, but are there any real ghost towns in Arizona? The answer. Absolutely.
You're in luck if you enjoy visiting haunted locations in Arizona and trying to witness paranormal activity. Jerome is Arizona's most notoriously haunted town, offers a haunting tour. But there are so many haunted places in Arizona that you need to check out these abandoned towns in Arizona!
15 Ghost Towns in Arizona to Visit – If you Dare!
Vulture City, AZ ghost towns
Once one of the richest gold mines in Arizona, Vulture City is a must-see for anyone looking for a popular tourist attraction. This ghost town has over 12 faithfully restored buildings and countless artifacts, making it an interesting place to go. Take the tour and take a glimpse of the mining culture and lifestyle in Arizona in the late 19th and early 20th centuries.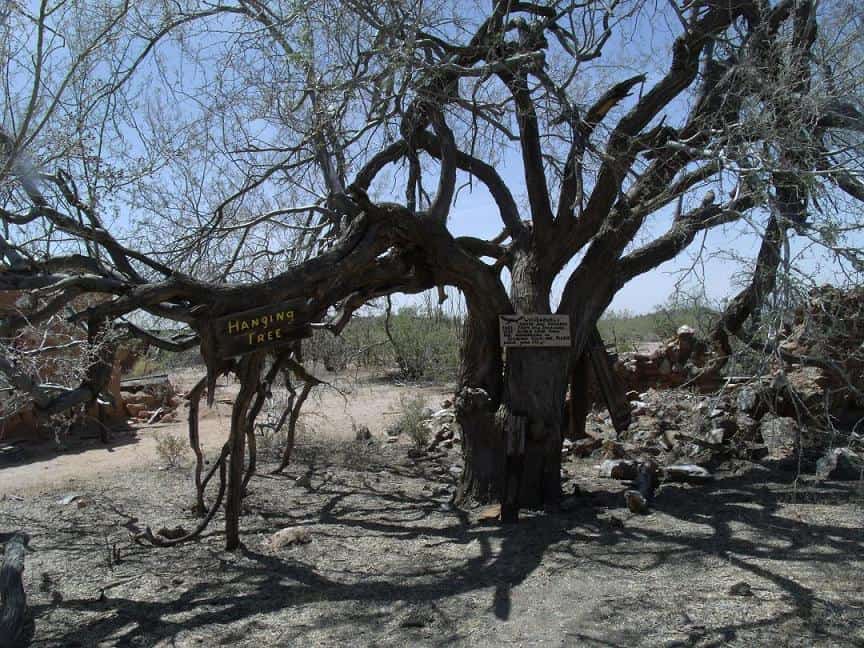 Visit the Cookhouse mess hall and saloon, where the building is made out of wood, rock, and adobe; which didn't do well under the rain back in the 1890s. Visit the hanging tree that was determined to be two to three hundred years old. With its spooky legends around it, there is no way you would not get interested in this tree. Vulture City is sure to make you get hooked with its history and spooky stories.
Kentucky Camp
Once a former ranching site and headquarter in Pima County, Arizona, Kentucky Camp is now a ghost town preserved for tourists to visit. Located just a few miles north of Sonoita, this ghost town holds promise for the future. The site is currently held and preserved by the U.S. Forest Service. Kentucky Camp consists of five adobe buildings: the headquarters, two cabins, the assay office, and the remains of a barn.
One of the cabins and the headquarters itself has been restored for public use. Camping under the quiet and dark night sky is one of the things to do in Kentucky Camp. There is a space before the Kentucky Camp Cabin which can be rented for the night. Horseback riding and hiking are also popular in the area, so don't forget to try them out. Kentucky Camp is full of many things to do with no sign of stopping.
Jerome
Jerome is one of the most haunted towns in Arizona. Located at the base of Mingus Mountain, Jerome is a once-bustling mining town also interestingly home to the world's largest kaleidoscope store. Jerome was once known as the Billion Dollar Copper Camp, but after the last mines closed in 1953, the booming population of 15,000 dwindled to 50 people. Though the number of people returning to Jerome is gradually increasing, Jerome still holds on to its title of "ghost town". One of the things to do in this ghost town tour is the Jerome State Historic Park.
It was once owned by the person who developed the Little Daisy Mine. Visit the world's largest kaleidoscope store: Nellie Bly Kaleidoscopes. Open since 1988, the shop is located on Main Street in the former brothel operated by the notorious town madam, Jennie Bauters. Co-owner Mary Wills is a passionate collector of kaleidoscopes. Take a bite in the oldest restaurant in Northern Arizona, The English Kitchen. The English Kitchen served chop suey and noodles back in the day. Today, it's Bobby D's, an excellent barbeque restaurant. You can smell the delicious food as you're walking along Main Street. Jerome is a place filled with history and improvement that makes you want to stay there longer.
Tombstone
Visit the town famous for the O.K. Corral Gunfight, Tombstone, Arizona. Walk where Wyatt Earp walked and look where the infamous gunfight occurred. Come learn the experience and history that is unique to this ghost town. Walk the streets that these and other legendary men and women of the West walked throughout the years. Tombstone is not just a title of a movie, this ghost town has its own rich history and many fun activities to do. Visit Boothill Graveyard.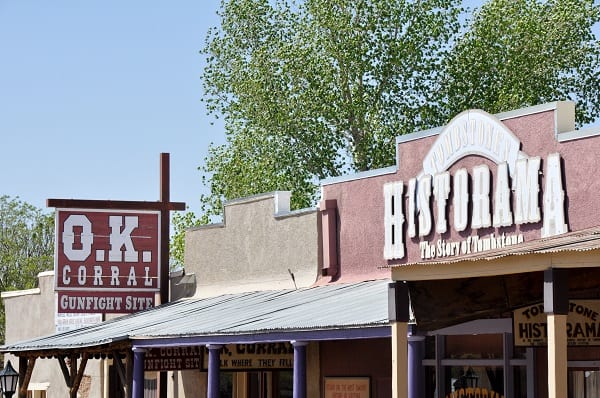 The final resting place for all of the town's hanging, lynching, and shootout victims. The number of graves is estimated at 276, many of them unmarked. Visit the Bird Cage Theater A theater, dance hall, saloon, and brothel, the Bird Cage is said to have 140 bullet holes in the wall and ceiling. Planning to stay the night? Tombstone has many hotels that many people can go sightseeing at. Tombstone is a great place to learn and have fun around the history of this ghost town.
Swansea
Step into the creepy abandoned town of Swansea, Arizona. To find any abandoned places in Arizona is not difficult, what is very interesting about this particular town is the location it is found. Swansea is located in the middle of nowhere at La Paz County. Swansea has a unique history, unlike many other ghost towns. Part of what makes Swansea is so unique is that it is partially preserved, meaning Swansea appears to be suspended in time.
Visit the old buildings found in Swansea as these buildings have succumbed to natural weathering and vandalism ever since people move on from this town. As you walk around the buildings, you can get to see the place the 1971 film The Day of the Wolves shot their film. This middle of nowhere town has some of the best and interesting places to go to. Swansea does not disappoint as a tourist attraction and as a creepy place in the middle of nowhere.
Agua Caliente
Once a hot water spring that was used as a spa from pre-European times until the aquifer was drained dry by farmers & ranchers in the late 1940s, Agua Caliente is a ghost town worth a visit. Agua Caliente was home to an exclusive resort in Arizona.
There was a 22 room hotel, built-in 1897, and hot springs to boot. IT has survived into the present but its main attraction; the hot springs have been dried. Explore the ghost town and its former glory as you learn about how this once-bustling town turned into a ghost town. Agua Caliente is a town worth visiting if you are interested in the ruins of this ghost town.
Hackberry
Hackberry, Arizona, an unincorporated community located on Route 66 in Mohave County, got its start as a silver mining town in 1874. With very few residents and numerous abandoned buildings today, it is a virtual ghost town, but, because of Hackberry General Store, filled with relics of a simpler time. This ghost town was once a silver mining town, now it is on its way to becoming a popular ghost town.
Visit the rustic store where you can, Photo ops abound around Hackberry; a rustic storefront, the tin-can billboard, nostalgic gas pumps, craggily mountain faces, old blacktop, and scenic vistas. Hackberry is a microcosm of Route 66, if you want to visit a place where you can explore a lot, Hackberry is the place to go.
Seneca Lake
You might be wondering, "How is a lake this beautiful and amazing considered a ghost town?". The answer to that lies near the borders of Seneca Lake. In the early 1970s, a certain tribe had high hopes and opened a large restaurant, trading post, and campground on the site. They even had future plans on expanding with a motel, golf course, and more. With a few complications, the plan was halted and it has become the ghost town that you see today.
The site has an eerie feel to it today. Several people appear to be living in makeshift camps closer to the lake. People can fish in the lake but you need a permit from the tribe to do so. Another thing to do there is to visit the nearby Seneca Falls and see a drop of a hundred feet into a beautiful natural stone pool, this is best to see when it rains. This lake is ideally a great place to catch the scenery of the lake and the eerie ghost town; two very contrasting things to see.
Two Guns
Two Guns is a ghost town with a "bloody" great history. Once a popular stop on Route 66, this ghost town was met with a long and sordid history. It is a place where fact and fiction mix because the internet considers the place to be cursed. This place was originally known as Canyon Lodge and started out as a trading post in the late 19th century. Not too far away is the Apache Death Cave, where a tribe fought and made a huge massacre to another in that cave.
This cave can be visited and explored if you are daring enough to try. The remains of this ghost town aside from the horrid cave are the abandoned trading post, the "Mountain Lions" sign from the remains of the zoo, a bunch of crumbling stone buildings, and a set of gas pumps that appeared to have exploded. Two Guns is a great place for people who want to check out the horrid yet amazing sites in this ghost town.
Chloride
Take a step back and enjoy one of the most peaceful ghost towns in Arizona, Chloride. Now called a "living ghost town", Chloride has a history of being the longest continually inhabited mining town in Arizona. It was the first incorporated town in Arizona and the home of the state's oldest all-volunteer fire department. It was once served by the famed Butterfield Stage and the Santa Fe Railroad. Drive around and look at the old houses and metal yard art. There is an antique store, some tiny shops, a restaurant, and the Jim Fritz Museum operated by the Chloride Historical Society. It is open every Saturday, and gun reenactments by the High Desert Drifters are the first and third Saturdays at high noon. Take the trek up to the petroglyphs and murals like "The Journey" which covers 2,000 square feet of cliffside granite and is dense in symbolism, featuring a yin yang, a giant red snake spanning multiple rocks, and a fertility goddess. Chloride is a peaceful place for tourists to visit and for others to retire to.
Cordes
Visit a ghost town with the longest family living in it, Cordes, Arizona. This ghost town was named after the first postmaster in town, John Cordes. Still standing at the original townsite is a gas station that closed in 1973, the family home, and a barn constructed in 1912.
The Cordes family continues to live at the site, a testament to the pioneer tradition of putting down roots, doing hard, enterprising work, and adapting to the changing times. After visiting the ghost town, take a break and head to Cordes Junction where you can dine in some of the restaurants located there. Cordes might be one of the ghost towns that will remain stuck in history.
Goldfield
Enjoy some fine desert entertainment you can find in Goldfield, Arizona. This ghost town has a lot of tourist attractions like a mine tour, a mystery shack, a reptile museum, some legends of a lost treasure, recreated buildings, and a Wild West trappings that tourists crave. There are loud, choreographed scuffles during the day that are announced via speakers. Crowds are confined to building boardwalks and the ends of the street as a crusty assemblage of outlaws, troublemakers, and lawmen — the Goldfield Gunfighters — wander onto the dirt main drag, shout at each other, and then, reaching no amicable solution, blast away.
Visit the classic structure of illusion and perceptual distortion called the Mystery Shack. Take a tour in the Mammoth Mine, where this mine is conveniently tunneled under the town. With this tour, you get to learn about late 19th-century ore extraction and processing. Goldfield is really a roadside reconstruction of a gold discovery boom town
Oatman
Visit a ghost town with the most unusual residents, Oatman, Arizona. suffered the same fate as many Arizona mining towns and faded into a ghost town if not for Route 66 nostalgia and nearby casinos. The town prides itself on maintaining a Wild West feel, down to the wooden sidewalks, staged shootouts, and kitschy shops. The people in Oatman know how to have fun, from its residents, the burros, to the famous gold mine history as well as the legend of its namesake. There are plenty of shopping opportunities in Oatman.
Many of the shopkeepers make their own products and obtain other rare and interesting items from far and near. There are many handmade leather goods, handmade jewelry, and excellent knives sold right from the wooden sidewalks running the length of the town. Near noon, the Oatman Ghost Rider Gunfighters regularly put on a free show in the middle of Route 66. There would be crowd participation as the people act out the heist, complete with loud gunshots. Oatman is a must-visit town for those who travel the old route 66 or take a trip along the West Coast.
Gleeson
Visit one of the forgotten ghost towns by Arizonians, Gleeson. with Arizona have over 400 ghost towns scattered around the state, there is no question that Gleeson has become forgotten. Located on the Ghost Town Trail, Gleeson has managed to bring people to see the derelict ruins. As you travel to the ghost town, you can encounter the remnants of the town's mining past scattered in the hills surrounding the town.
Visit the old saloon that is in better shape despite not being restored along with the crumbling houses, old hospital, crumbling school, and the Gleeson jail. Today, the old settlement still supports a couple of residents as well as numerous ruins, including a hospital, a saloon, dry goods store, several houses, a jail, numerous mining remnants, and the large foundation of what was once a large school. Gleeson is sure to be a forgotten ghost town with many things to see and be fascinated by.
Recent Posts