11 Best Hammocks with Mosquito Nets for Hiking or Camping

Are you looking for the best hammocks with mosquito nets? A mosquito net hammock is a great way to spend a night outdoors instead of carrying a bulky tent and having to sleep on the hard ground.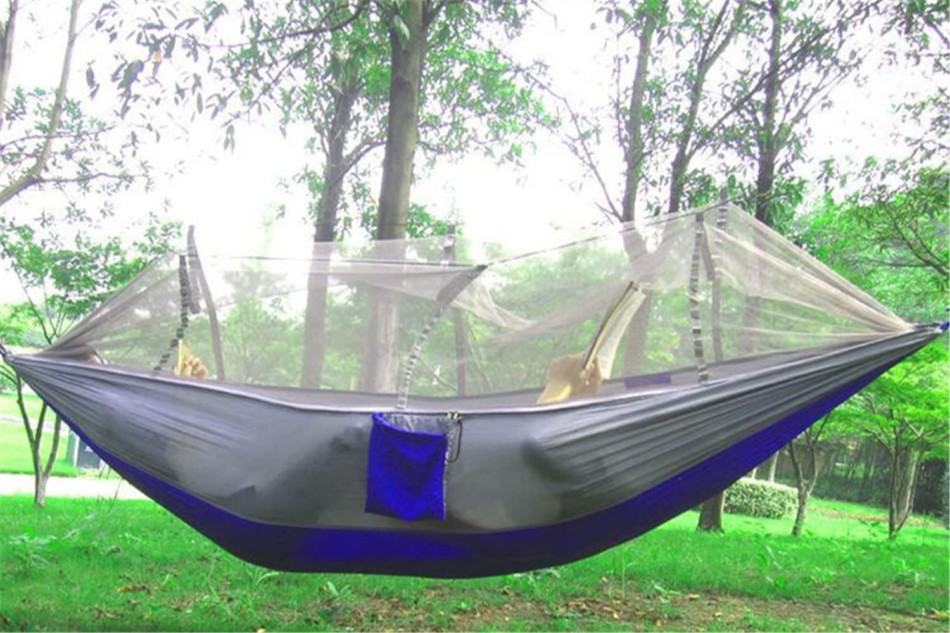 A hammock with mosquito netting is essential if you are planning to spend the night outdoors. I've put together this list of hammocks with mosquito netting so you can find the right one for you. I've put together everything you need to know when you buy hammock with mosquito net.

Whether you are looking for the best camping hammock with a mosquito net or a backpacking mosquito net.

Features to look for in hammocks with mosquito nets:

Full Enclosure Nets

This is the most important thing to look for in a mosquito net hammock.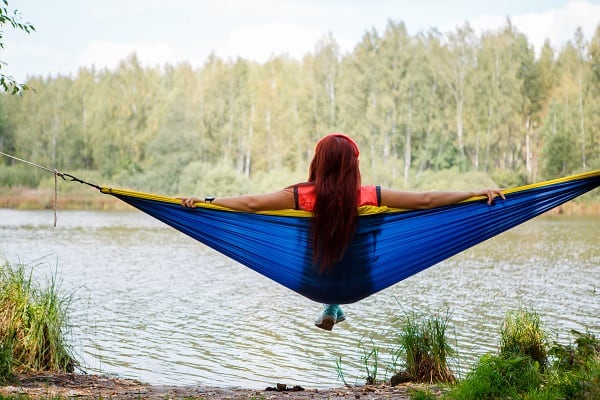 If you are too afraid that mosquitos, bugs, or other insects might infest you and disturb your sleep while on camping, go for hammocks that have full enclosure nets. Full enclosure nets give you an endless supply of fresh air while keeping you protected from insects and getting bitten. And this kind of net uses either zippers or Velcro to attach itself right to the body of the hammock.

Loose Nets

Loose nets are practically useless because they are only protecting you from the top, so it allows any insect to fly or crawl up underneath the netting at the bottom. Also, it will require you to purchase a fully zippered enclosure net that can fit perfectly over the hammock so it would be an additional cost for you.

Capacity – Weight/People

If you are planning to do outdoor adventures or trips with a loved one or perhaps with a friend, the capacity can be an important factor for you. Choose a hammock where it can fit a maximum of two persons in it. But you have to remember that the more it can accommodate persons inside the hammock, it could also quickly add to the weight you have to carry on hikes, camping, or traveling.

Dimensions

If you are slightly taller than the average size, you may want to consider buying a hammock that is long enough for you. When it comes to choosing the best hammock, size does really matter.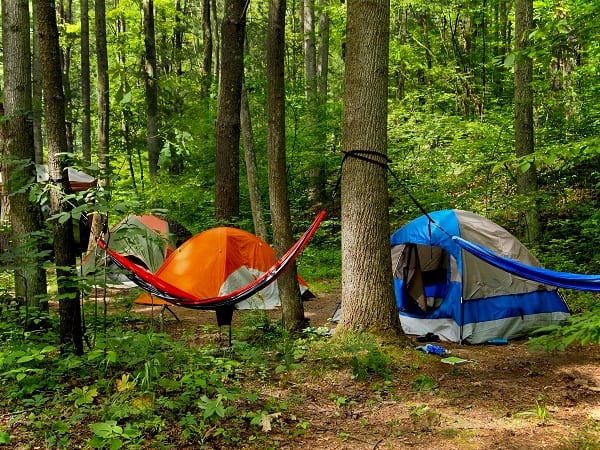 Straps

The straps of hammocks must be sturdy and stable enough as to prevent any accident from happening. It must also be able to carry all of your weight. Some hammocks have included tree straps where you can place your hammock while on camping.

Strength

The quality of material used in a hammock will say a lot about its strength. Most hammocks are made from parachute cloth or nylon. Make sure that when you choose a hammock, it must be stable and sturdy.

The Top 11 Hammocks with mosquito nets

If you are a frequent traveler or camping enthusiast, this Outfandia Camping Hammock is a must-have item for your survival kit. It is made of quality 201T nylon which is a material widely used in parachute manufacturing. Plus, it is super lightweight and can hold up to 660 lbs which is a perfect companion whenever you travel or go camping.

With its tool free installation, this camping hammock is very easy to assemble and it comes with everything you need such as ropes for hanging net and hammock, carabiners. And you don't need to suffer from unbearable itching by those annoying mosquitoes and flies because the Outfandia Camping Hammock uses a high density polyester mosquito net which prevents 100% bug and insect.

Size: Folds out to 94.5 x 47.3"
Pros: Uses hammock ropes, durable pouch, powerful carabiner, light and tough mosquito net ropes
Cons: Cordage for the mosquito net is thin
The Covacure Camping Hammock is one of the most durable camping hammocks that you can find in the market today. In fact, it was designed for long-term use on trekking expeditions, or for those who want to do stargazing on beaches or mountains.

It's an ultra lightweight hiking hammock that is great for backpacking, hiking, climbing, and trekking and it adds hardly any weight on your backpack. And compared to other hammocks, it comes with bug nets that can be packed under 2 pounds. Plus, you can remove the string and turn the hammock over when you don't need it. And it is made from ripstop nylon material that is so soft, smooth, and breathable

Size: 9.5 ft/290 cm (long) x 4.6ft/140cm (wide)
Pros: Ultra lightweight, easy setup, comfortable, affordable
Cons: Fabric is thin
If you are a type of person who loves to sleep in different positions, this Grand Trunk Skeeter Beeter Pro Mosquito Hammock is a great choice for you. This hammock is spacious enough and made of comfortable nylon and you would find it easy to be comfortable in many different positions when you sleep inside the hammock.

When it comes to durability and protection of this hammock, it's very durable and it has a 400-pound capacity so you can share it with your lover or friend. It has a solid construction with hefty zippers to aid its longevity.

Say, if you are on the beach and you want to enjoy the view of the coast, and you don't need the mosquito netting, all you have to do is flip the hammock over and sit on it as a normal hammock. You have the option of sitting in the hammock or zip yourself in with the double-sided zipper.

Size: 10'6"x5'
Pros: Durable, comfortable, versatile
Cons: Mosquito netting is very fragile
ETROL Hammock – best camping hammock with mosquito net

There are a lot of reasons why you would want to choose this ETROL camping hammock. First, it is a true camping hammock that is comfy and ultra-resilient. It uses 70D breathable parachute nylon fabric which is so soft to the skin and good for the health. Second, it has an excellent mosquito net to keep bugs and insects away. And third, it is easy to set up because it comes with all the installation tools such as carabiners and straps.

This hammock has a huge space and a stretch size of 115"x57" which allows you to flip and move it freely. And it has a maximum load of 40 pounds which means it can accommodate two adults. It also features a 2-in-1 function where you can use it as a mosquito net hammock and an ordinary hammock mode.

Size: 45″x22″
Pros: 2-in-1 function, huge space, double load, comfortable
Cons: Complicated ropes
Hennessy Hammock – Expedition Series – best hammock bug net

This favorite all-purpose Hennessy Hammock is great for backpacking, family camping, expeditions, kayaking, or any other purposes that would require comfort and durability. In fact, this Hennessy Hammock has been the top choice for epic expeditions and extreme outdoor adventures around the world.

It has an asymmetrical design that will make you experience another level of comfort that is almost as good as your bed. And the patented asymmetrical shaped hammock supports your back and knees just like a mattress off the ground.

And when it comes to protecting yourself from mosquitoes or bugs, the classic bottom entry works great. When you duck your head down to open the bottom entrance, the mosquitoes won't even know what you are doing, so they go out of the way.

Size: 9.1 x 3.9 x 6.7 inches
Pros: Unique bottom entry, comfortable
Cons: Rain fly is too small
This versatile Lawson Hammock Blue Ridge can be used as a hammock and tent which is perfect for people who like to have the best of both worlds. This unique and hybrid tent-hammock has been rated as one of the best hammocks by some leading publications.

Some of the best features of this hammock-tent are lightweight, easy to set up, and perfect for all types of camping or to anyone looking for a comfortable and bug/waterproof place to sleep or relax. It is made with highest quality materials such as waterproof ripstop nylon and polyester and it has a weight capacity of 275 lbs.

And when you purchase this hammock-tent, it comes with a Rainy Fly, Stuff Sack, Poles, Storage Pockets, and Ceiling O-rings. And the waterproof ripstop full-coverage attaches directly to the hammock and there is no need for additional trees and the integrated no-see-um mosquito netting keeps the bugs away. Sounds very convenient, right?

Size: 90 x 42 x 42 inches
Pros: lightweight, easy to set up, can be used as a hammock or tent
Cons: Can be slightly bulky to pack
Camping Hammock BugNet – Nylon Hammock for Camping, Backpacking, and Travel

This compact and lightweight hammock is one of those hammocks you can actually sleep in outside. And it protects you from all those creepy crawlers because of its mosquito nets. It also comes with an elegant pouch with all its installation tools. This camping hammock is ideal for solo travels, camping, hiking, or backpacking.

And what is amazing about this camping hammock is that you can use this in two ways. You can either use it as a sleeping bag and protect yourself from insect bites or you can flip it over and use it as a relaxing hammock. And it is made of high quality 210T parachute nylon materials.

Size: 55" W x 106" L
Pros: can be used either as a sleeping bag or hammock, comfortable, easy to put up
Cons: only 2 available colors to choose
This Easthill Outdoors Portable Double Camping Hammock can be your companion for your next adventure. You can set it up, lie down, relax and enjoy the scenery with your friends and family. It has got everything you need for a camping hammock such as 2 tree straps with 16 adjustable loops, 2 aluminum wiregate carabiners, 2 net ropes, and a hammock with bug net.

This camping hammock is crafted from high-strength, breathable 210T Taffeta parachute with triple stitch edge seams. And for easy adjustments and reinforced hanging points to prevent tearing, this hammock has integrated SBS double-side zippers and it features 4 internal hanging lops to hold your personal belongings.

Size: 118 x 79 inches
Pros: compact and can easily fit inside a backpack, easy to set up
Cons: the sides may be a little steep
You will definitely enjoy your time laying in this ultra comfortable Newdora Hammock with Mosquito Net that can accommodate two persons at the same time. If you are fond of camping with your significant other, or perhaps with your friends, this hammock is a great choice for you. It is a high quality hammock that has a silky soft feeling that can hold about 300 kgs.

The materials of this hammock are made out of a rigorous process, and it has a delicate sewing. It also comes with accessories that are of high quality such as stainless steel carabiner and climbing rope. Plus, this hammock can be used in 3 ways! You can either use it as a hammock, swing, or a picnic blanket. Talk about versatility!

Size: 275 cm x 145 cm / 108 x 57 inch.
Pros: can be used in 3 ways
Cons: No tree straps
This Outdoors Mosquito Net Hammock can be used anywhere and is your perfect companion for your outdoor adventures such as hiking or camping. The fine mesh bug-free netting of this hammock will keep you protected from mosquitos and other insects.

It has an ultralight portable design and you can easily fold it up to the point that it can fit inside a travel bag or small pack. Yes, you've heard it right. And not only that, it is made with high grade ripstop 210D Oxford Nylon that dries easily. Although this hammock is compact, it is still very spacious and supremely comfortable.

Size: 128 x 55 x 40 inches
Pros: compact and spacious
Cons: The mosquito net is very fragile
When it comes to comfort and strength, you can never go wrong with this EIALA Camping Hammock. This hammock is crafted with 100% parachute cloth while still giving you breathability. Plus, it is equipped with hook holders and strong ropes so you can truly enjoy your outdoor adventure.

This hammock is also simple and versatile that you can use it in many different environments, with or without the mosquito net. And it comes with a storage bag where you can fold and put it there for your convenience.

Size: 240 cm x 120 cm
Pros: Nylon fabric is sturdy
Cons: low quality tree straps
Conclusion: Best Hammocks with Mosquito Nets
Let me know what you think in the comments. Which one do you think is the best hammocks with mosquito nets?
Sharing is Caring! Pin this article to save for later.
Recent Posts