15 Natural Hot Springs in Arizona to Soak In!
Are you looking for the best hot springs in Arizona? This list is full of Arizona Hot Springs. These are all natural hot springs in Arizona you won't want to miss.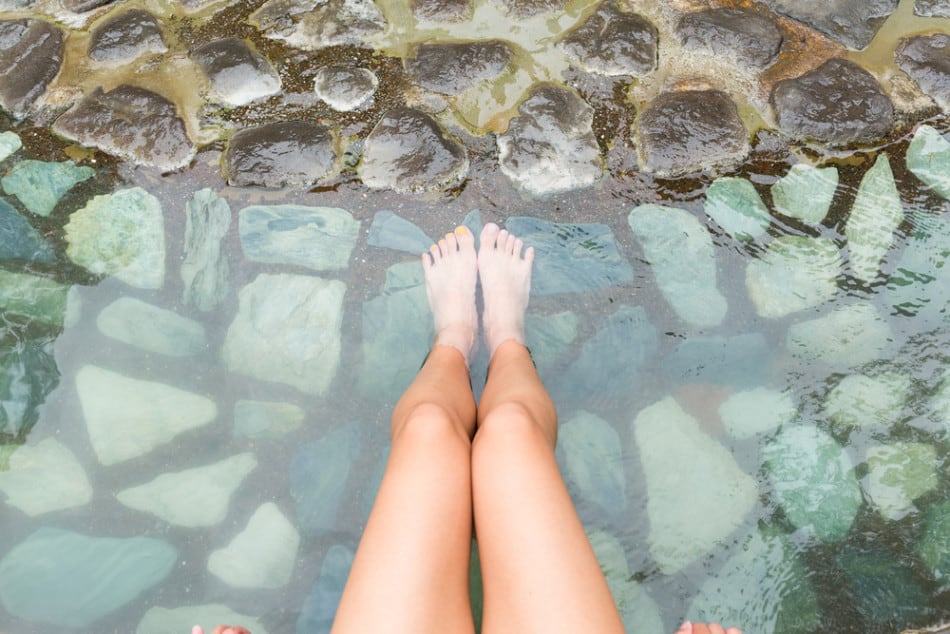 You might think that Arizona gets too hot to go into hot springs but I assure you there is nothing like taking a dip in these AZ Hot Springs.
Some of these are a great Arizona Hot Springs Hike but all of them are quite short. You can check out the Arizona Hot Spring map below.
CASTLE HOT SPRINGS near Phoenix
Castle Hot Springs is a popular resort in Arizona that offers wide open spaces to explore with its multiple hot spring pools. According to its colorful history, indigenous people explored the waters for medicinal purposes.
Later, Frank Murphy, an Arizona entrepreneur, purchased the property to capitalize on the restoring benefits of the water and the desert environment. It has remained untouched for nearly 40 years, this so called "natural gem" nestled in a remote desert of northwest Phoenix has become Arizona's first wellness resort.
You will start your journey upon entering a dusty dirt road, and you will find the lush and magical oasis of Castle Hot Springs. A lot of people flock to this place just to experience the healing properties of the springs. Each hot spring boasts its own natural mix of minerals in it and the water temperature can reach 115 degrees which falls into 3 pools.
Aside from being a top hot spring destination in Arizona, Castle Hot Springs is also a premier luxury resort. You can choose from their spring bungalows that were designed for pure luxury and relaxation, or their sky view cabins that overlook the lush grounds and incomparable view of the desert sky.

ARIZONA HOT SPRING, Lake Mead National Recreation Area
Arizona Hot Spring is considered as the most famous hot spring in the state. It is a great place to relax and unwind especially if you are having a rough week. It has a sizzling temperature of 85 to 120 degrees year-round. The spring itself forms several pools that are located about 1,000 feet from the river.
The hike going to the spring is probably better than the destination itself. And there are three ways to reach Arizona Hot Springs. The first one is you will hike for approximately 3 miles from White Rock Canyon Trailhead along Highway 93. Second is to float down 4 miles from Hoover Dam. However, you need to secure a permit and fee first. And lastly the third option is to paddle 8 miles upriver from Willow Beach that also requires a fee of $10 per vehicle entry.
EL DORADO HOT SPRINGS, Tonopah
Nestled above a subterranean hot spring, El Dorado Hot Springs is a rustic jewel in the desert that boasts of its pure, odorless, and tasteless mineral water. The water is naturally heated to an average of 107 degrees and due to the large volume of water that flows at the El Edorado Hot Springs, the water temperature varies from time to time, depending on the season. The mineral waters here are delicious and nourishing to drink and it has a natural pH level of 8.3 which means it acts like a natural conditioner for your hair and skin.
The Sunset Pool at El Dorado Hot Springs can be reserved ahead of time and it is a perfect place to soak away all the stress of the day and just be with nature. The spa, on the other hand, is open to the west and it gives you an uninterrupted and exclusive view of the Arizona desert. And even though El Dorado is located in an open desert, it is still a private environment. Plus, the sound of the flowing water gives an additional element for your relaxation.

ESSENCE OF TRANQUILITY
Essence of Tranquility is a rustic commercial resort located in the south eastern part of Arizona. If you are coming from Tucson, it is a two hour drive to get there. There are a total of six hot springs to choose from and there are casitas and camping available in the area. The place is not something fancy but you will truly have a great time soaking.
As mentioned above, it has six hot spring tubs with different temperatures that you can choose from. And it is very awesome to think that you can choose the temperature that you prefer in your hot springs. It is worth noting that some springs are private, that even clothing is optional, and there are some that are open and require clothes so be prepared.

HOT WELL DUNES HOT SPRINGS
Hot Well Dunes Hot Springs is considered as a hidden gem in the southern desert of Arizona, especially for off-road enthusiasts because it sits in the middle of 2000 acres of off-road trails and dunes. There are two hot tubs available in the area plus 10 tent/RV units where you can camp, as well as fire grills and vault toilets.
Some of the popular activities that you can do here are hot-tubbing, camping, picnicking, fishing, and off-road vehicle driving. However, camping is not allowed within designated parking areas. But the good thing is you can bring your furbabies here since it is a pet-friendly hot spring but dogs must be put on a leash.
The hot spring has been flowing here since the 1920s and the temperature can go up as high as 106 degrees Fahrenheit. And it has two cement and gated tubs available for soaking and the pumps and hot tubs are powered by solar panels.

KAISER HOT SPRINGS
If you are in need of a good escape and have natural medicine to get rid of the toxins in your body, a good dip at Kaiser Hot Springs is what you need. It is surrounded by beautiful and soothing quiet of nature.
The hike going to Kaiser is fairly easy and the surface is coarse ground. You will have to pass through a narrow canyon in order to get to the hot spring but don't worry because it will lead you to a wider, deeper gorge containing a warm spring and then to the permanent stream of Burro creek. But you don't need to rush when you hike going to Kaiser Hot Springs and just take your time to see the beautiful sights.
The spring water has a temperature of approximately 100 degrees Fahrenheit. And if you are lucky enough, you may enjoy the spring to yourself. But if not, you may wait for a while and sit on a nearby rock until you are ready to soak in the hot water.
Pumpkin Spring Pool
It is no wonder that you can find a lot of hot springs near the Grand Canyon considering how large it is but there is one particular spring pool that is beautiful but toxic. And that is the Pumpkin Spring Pool located at the bottom of the Grand Canyon.
Pumpkin Spring pool has been given such a name because it resembles a giant pumpkin the same as Cinderella's pumpkin where she would step out of after being magically dressed by her fairy godmother. At first glance, you would be amazed with the spring pool but it is actually so toxic that you would even want to avoid it.
This spring pool actually contains the most poisonous water in all of the Grand Canyon and soaking in it is strongly prohibited. Nonetheless, you can enjoy the place and take lots of pictures especially the beautiful limestone formation.

Roper Lake State Park, Safford
Roper Lake State Park is one of the best places to relax after a long day of driving and hiking in Arizona. The natural hot springs are inviting you to take a good soak and just chill and unwind. Roper Lake has 30 lake surface acres, a boat ramp, natural stone hot tub, camping cabins, and picnic tables and drills.
Aside from that, it is also a great place for bird watching where you can catch a lot of species such as but not limited to Blackbird, Great horned owl, Cardinal, flycatchers, Kingfisher, Herons, and Egrets. Mammals are commonly seen in the park too such as bobcats, raccoons, rabbits, coyotes, and squirrels.
Camping is also allowed in the area and there are about 15 campsites available. However, reservations must be made at least 14 days in advance.

Kachina Mineral Springs, Safford
Kachina Mineral Springs is actually a spa in Safford, Arizona where you can detoxify, rejuvenate, and invigorate your mind and body. You can choose from their seven spa packages that feature different treatments. Their massage treatments can accommodate one person or couples with the option of sharing or using separate soaking indoor tubs.
What is even more amazing with this spa is that they are nestled in a hidden oasis, just two hours northeast of Tucson. They are tucked away between Mount Graham and Roper Lake on Highway 191. You can also get a beautiful view of Mt Graham and the famous telescope.

Verde Hot Springs, Yavapai County
Verde Hot Springs is one of the unique hot springs that you can find in Arizona. Just by going to the place itself, you will be traversing a rough dirt road and a river to get to the hot springs. Accessibility of the area will depend on the road condition so make sure to check the weather first before going here.
There are two hot springs areas that you can soak at Verde Hot Springs. First is the art gallery filled square tub that has a water temperature of 102 degrees. And the other one is the outside deeper pool like tub that is next to the river and it has a water temperature of 99 degrees.

Gillard Hot Springs
Gillard Hot Springs is considered as the hottest spring that you can find in Arizona. It has a water temperature of 180 degrees! The hot spring is under supervision by the Bureau of Land Management.
Gillard Hot Springs can be found along the Gila river, off the Black Hills Byway. You can even ride your mountain bike going to the hot spring. But if you don't have a mountain bike, you can hike there for about half-mile.
Recent Posts