15 Best Las Vegas Hotels with Jacuzzi in room
Hotel rooms in Vegas with jacuzzi: Are you looking for hotels with jacuzzi in room Las Vegas? This list of hotels with jacuzzi in room inLas Vegas is perfect for all budgets to help you find your in room hot tub Las Vegas.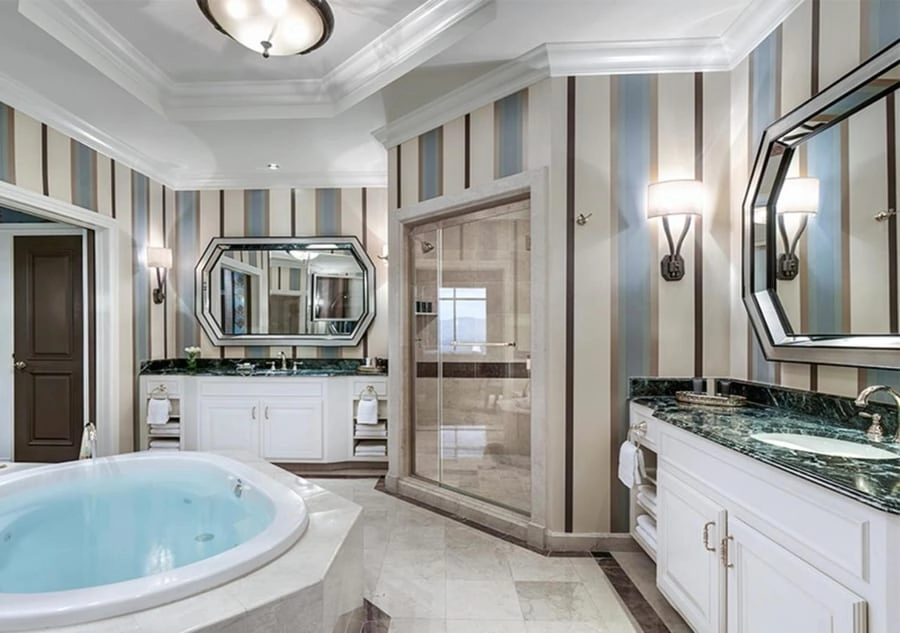 There are several Las Vegas hotel rooms with jacuzzi to choose from on this list. If you want to celebrate with a jacuzzi hotel rooms Las Vegas you are sure to find the perfect one for you.
Thank you for supporting this website written by an American. This post may contain affiliate links. This means I earn a small commission on these links at no extra cost to you.
15 Best Hotels in Vegas with Jacuzzi Tubs – In Room Vegas Hot Tubs
The Bellagio – romantic hotel rooms with jacuzzi suites
The Bellagio is a five star resort and one of the main attractions on the  Vegas  Strip,  so you know you're in for a treat when you stay here. Beautiful rooms and suites with private whirlpool tubs and spa baths, as well as one of Las Vegas' premier spas, are available at the Bellagio.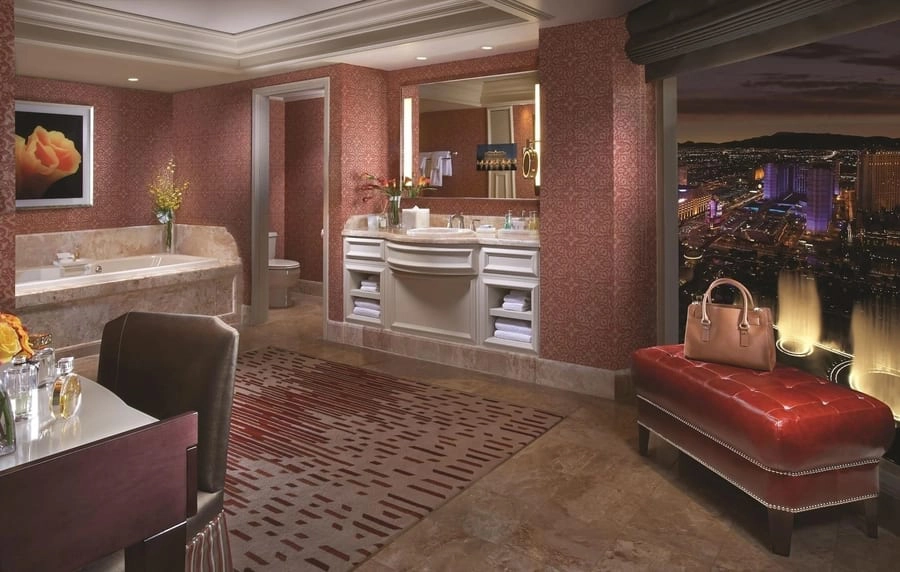 Experience everything this great resort has to offer with a luxury stay at this Las Vegas hotel featuring in-room jacuzzi tubs. The Bellagio provides large and comfortable rooms with excellent decor and private Italian marble bathrooms, in addition to its friendly and attentive staff.
There are several types of suites available, including Stay Well Premier suites. The suites have luxury fittings and smart devices that add to the overall look and feel of the room. Plus the spa jet bathtub, plush bathrobes and separate shower add to the over the top feel.
Lounge areas and a couple's bath with a steam shower, spa soaking tub, and deluxe spa goods are available in upgraded suites.
The Bellagio is a busy resort, but as you can see, there are plenty of opportunities to relax and unwind. The rooms also provide stunning views of the Nevada mountains or the Bellagio Fountains, which are home to the world-famous dancing water and light show that is one of the most popular nighttime activities in Las Vegas.
So, if you're looking for a Las Vegas hotel with jacuzzi tubs in the rooms, a spectacular setting, and luxurious guest amenities, go no further!
ARIA Resort & Casino – Las Vegas jacuzzi rooms
Beautiful downtown hotels in las vegas with jacuzzi suites with views of the city and mountains are available at the ARIA Resort & Casino.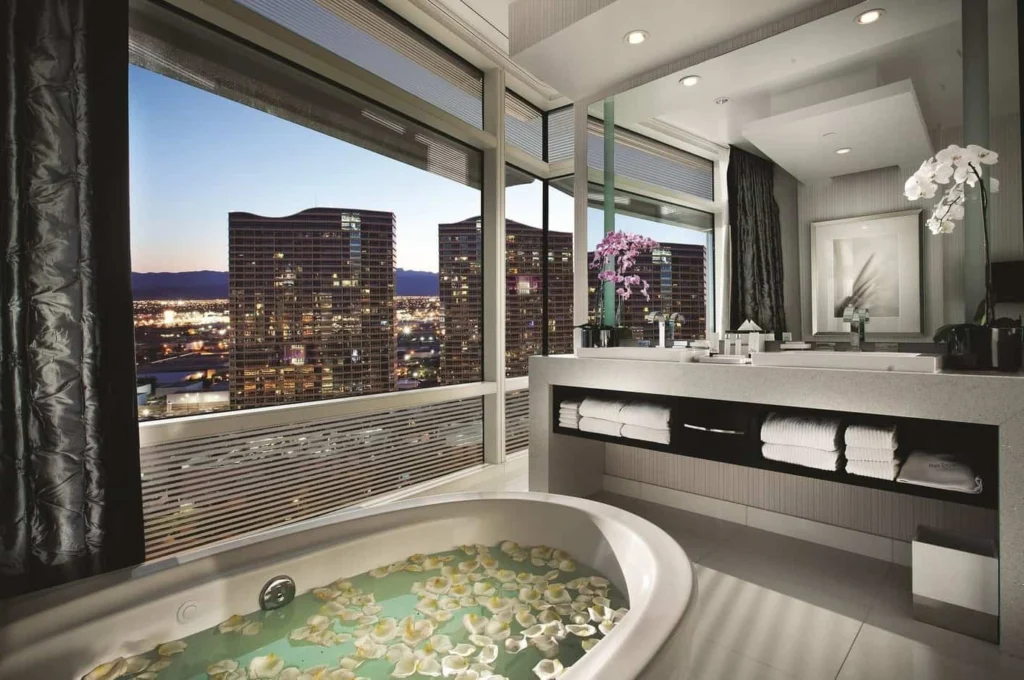 ARIA is an upscale resort with an on-site spa and salon that won't break the bank. It also offers some of Las Vegas' best pools, with not one, but three to select from.
Every room also comes with a minibar. You also have a soaking tub and separate shower.
The ARIA is one of the top Vegas hotels with jacuzzis, with a AAA Five Diamond certification. After a day of shopping, dining, and exploring the resort's impressive art collection, return to your suite for a relaxing spa bath. Then relax in a complimentary plush robe and take in the view before retiring for the night.
Caesars Palace – romantic jacuzzi suites Las Vegas
Caesars Palace is a beautiful Las Vegas hotels with a Jacuzzi tub. The hotel, in addition to its lavish appearance and stellar reputation, is located in the center of Sin City, ensuring that you are never far from the action.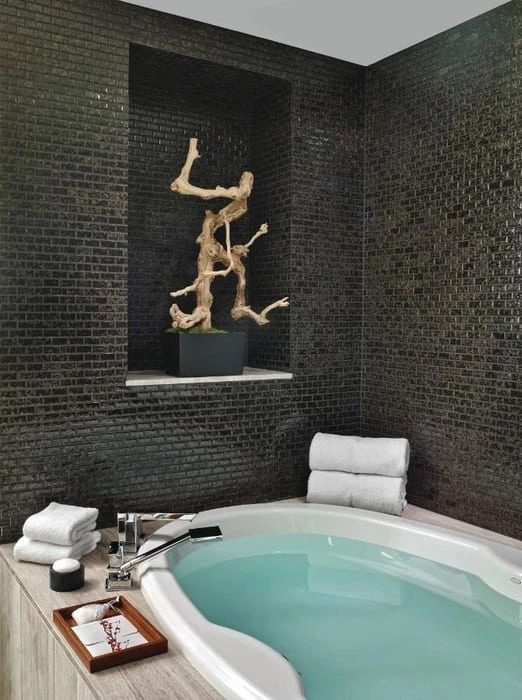 Caesars Palace offers a wide range of spectacular suites, rooms, and villas, all at the best possible rates. Caesars Palace may be the most elegant and comfortable of all the Vegas hotels with Jacuzzi.
Pillowtop mattresses, complimentary Apotheke bath items, and blackout curtains are included in every room. The whirlpool baths are only available in a few rooms and suites, but they're well worth the extra money!
On the Las Vegas Strip, this premium hotel and casino boasts celebrity-owned restaurants, The Forum Shops, an upmarket spa, and seven swimming pools. A flat-screen cable TV is available in every room.
These luxury suites have Caesars signature private marble bathrooms with dual basins and large spa bathtubs, as well as separate walk-in showers. Room service is available 24 hours a day, and you can also have an in-room massage or unwind with a well stocked minibar.
There's nothing like unwinding in your own private jacuzzi spa tub, but bear in mind that this resort is one of the best in Las Vegas, with incredible attractions like the Forum Shops, the Garden of the Gods Pool, Omnia nightclub, and Qua Baths & Spa.
Treasure Island – jacuzzi roomsLas Vegas
Treasure Island hotel features a variety of restaurants, bars, a spa, and a seasonal outdoor pool and is located right on the Las Vegas Strip. Each guest room has a flat-screen LCD TV with digital cable and pay-per-view channels.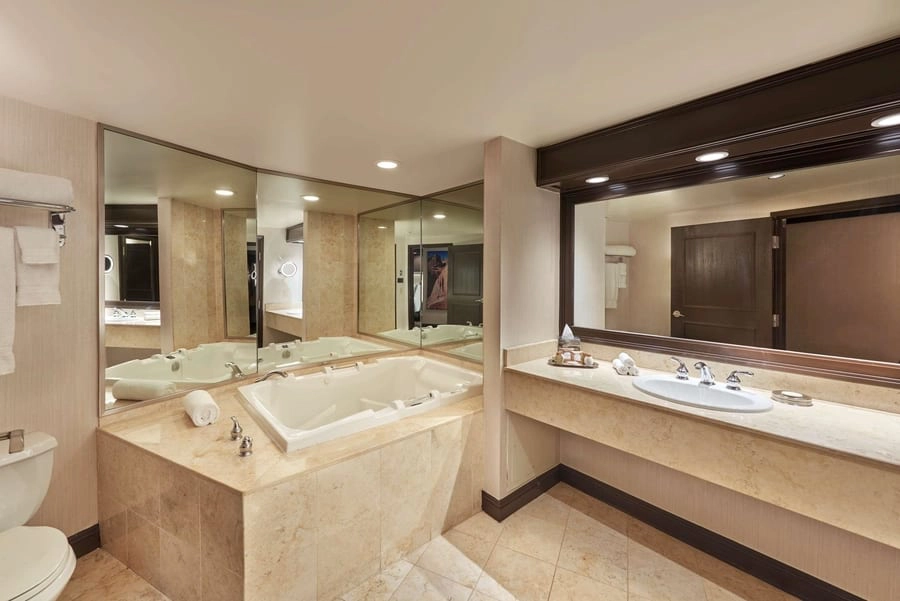 Treasure Island Hotel & Casino's guest rooms have floor-to-ceiling windows that overlook the mountains and the Las Vegas Strip.
A wide work desk, a small refrigerator, and a laptop safe are included in the air-conditioned rooms. In the private bathrooms, you'll find a hairdryer, a lighted makeup mirror, and complimentary toiletries.
As one of the greatest casino hotels in Las Vegas, Treasure Island is known for its bustling environment and proximity to the Strip's main attractions. In addition to its outdoor pool, spa, hair salon, and retail area, the resort offers exquisite Vegas jacuzzi suites to help you relax.
A large casino with table games, slots, and video poker, as well as a sportsbook and a poker lounge, are available at the hotel. Guests can also access the fitness center, gaming room, and spa, and wellness facility. There are dry cleaning and laundry services available. On-site amenities include a chapel and a variety of stores.
Hilton Grand Vacations – jacuzzi suiteLas Vegas
If you're looking for a relaxing Vegas hotel with jacuzzi suites, check out Hilton Grand Vacations. This hotel is located among the most popular attractions and venues on the Strip's northern end. It's also one of the best hotels in Las Vegas without a casino, so it provides a serene ambience in which you can thoroughly rest.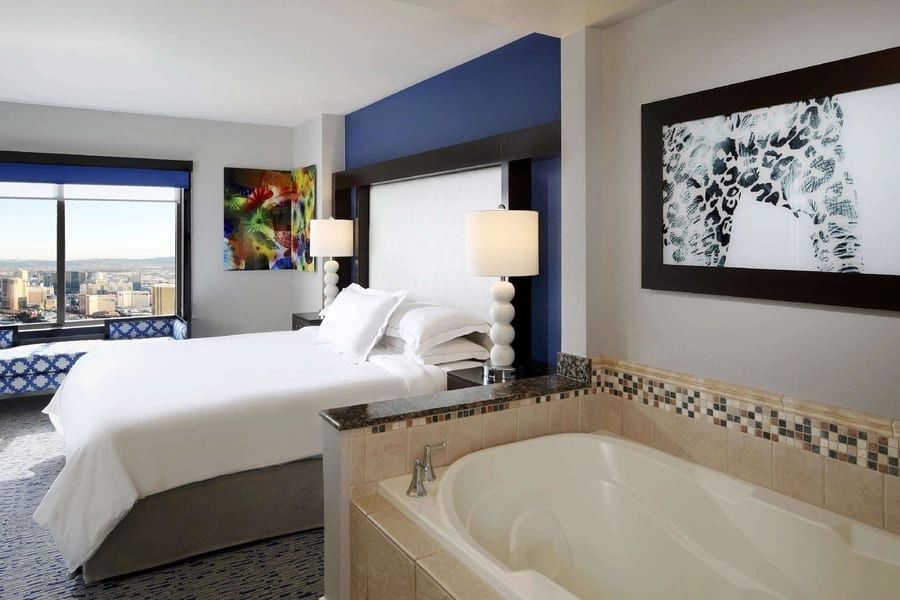 Hilton Grand Vacations is a great downtown family resort featuring a luxury outdoor pool with fountains and whirlpools, as well as a spa with a steam room and specialty body treatments. At the on-site bar and restaurant, you can even have a poolside meal.
Book an efficiency or King suite, which includes a jacuzzi jet tub and a separate full shower, if you prefer a soothing bath in privacy.
Jacuzzi suites with free Wi-Fi, cable TV, microwaves, refrigerators, coffee machines, and other convenience facilities are available at this Hilton hotel in Vegas. So, relax and unwind while soaking in a rejuvenating bath in the solitude and serenity.
The Venetian –Las Vegas hotel with hot tub in room
If you're looking for a 5-starLas Vegas hotel with jacuzzi in room, The Venetian is the place to go. This stunning resort, which is one among the top Las Vegas hotels with free parking, boasts a prime Strip location and some of the city's greatest lodging options.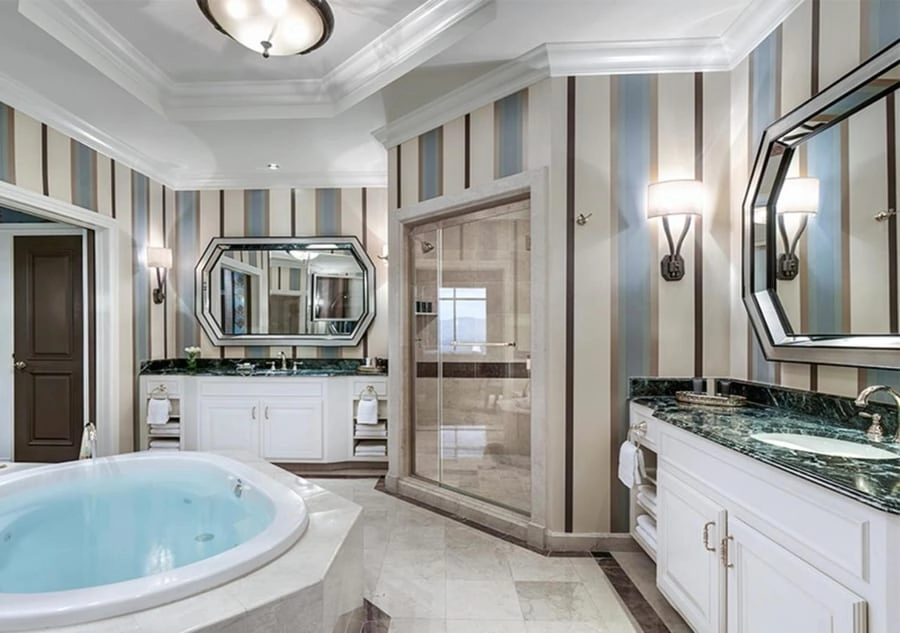 If you rent one of the better suites, be prepared to live in luxury, as these aren't your typical Vegas jacuzzi suites! The rooms have huge bathrooms with vanity mirrors, large Roman jet bathtubs, and separate showers. Your suite also includes Roman shades with remote control, Egyptian cotton linens, and comfortable beds.
The Venetian Suite Collection encompasses all of the resort's rooms, ensuring that no matter your budget, you'll find beautiful, spacious accommodations.
The suites are larger than the normal Vegas hotel room, with sitting areas and private bathrooms with Italian marble countertops and complimentary toiletries, reflecting The Venetian's luxurious atmosphere.
Although leaving the comfort of your hotel may be difficult, you should take advantage of The Venetian's other amenities and attractions, such the Madame Tussauds Wax Museum and the Grand Canal Shoppes, which provide water gondola rides.
Trump International Las Vegas hotel with jacuzzi tub in room
At the Trump International you'll feel pampered and revitalized after a stay in this Las Vegas jacuzzi suite. Every room at Trump International offers floor-to-ceiling windows with breathtaking views of Sin City, the Las Vegas Valley, and the mountains beyond.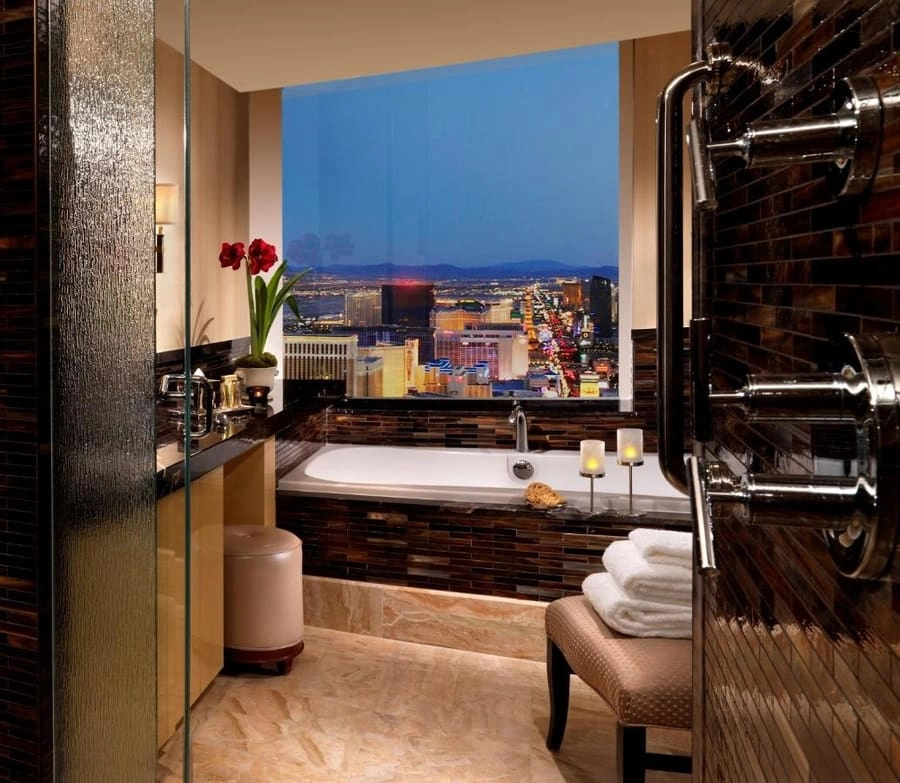 The Trump International Hotel in Las Vegas is an all-suite hotel with in-room jacuzzi spas and contemporary decor. The resort's sparkling gold building is only a 5-minute walk from the Strip and provides a tranquil, sophisticated setting for guests.
One of the best luxury hotels in Las Vegas, this resort pays special attention to detail, creating a contemporary and opulent ambience with granite surfaces and hardwood accents. In addition to the luxury bedding and breathtaking views, you'll have access to an Italian marble bath with a deep soaking jetted tub and separate shower.
The outdoor pool, spa, and salon treatments are available to all guests. Consider a penthouse suite or a private gourmet meal in your suite if you want to go all out in thisLas Vegas rooms with hot tub.
Paris Las Vegas
Consider booking a hot tub Vegas suite for your next romantic getaway at Paris Las Vegas, one of the best hotel rooms with jetted tubs.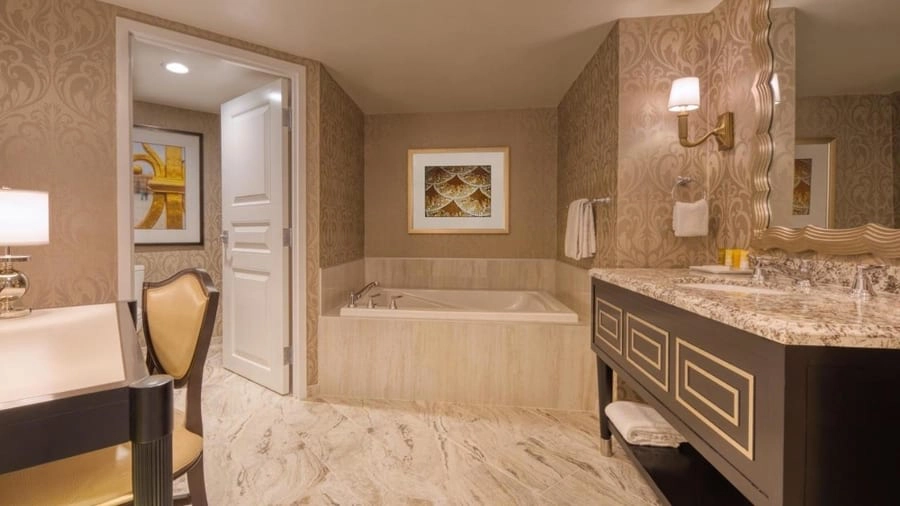 This resort has the ideal Strip location, and its gorgeous and quiet rooms will provide you and your partner with a relaxing night's sleep.
You'll want to book one of these Vegas jacuzzi tub rooms. Imagine spending your luxurious holiday in a lovely suite with French rural décor.
On top of all of the beautiful furnishings, you'll get a front-row seat to the Bellagio Fountains and other famous Strip sights. Imagine overlooking the fountains every night.
Although spa baths are not available in every room at the Paris Hotel, they are well worth the extra money.
Apart from being a lovely Las Vegas hotel with hot tub, the Paris Hotel is conveniently located.
The Signature at MGM Grand –Las Vegas hotels with jacuzzi in room
The Signature at MGM Grand has it all. Each suite has a separate living space with cutting-edge entertainment systems, a full kitchenette, a king-sized bed with luxurious bedding, and a relaxing whirlpool spa tub. When it's time to relax, you'll want to retreat to a Vegas jacuzzi suite, and this hotel does not disappoint.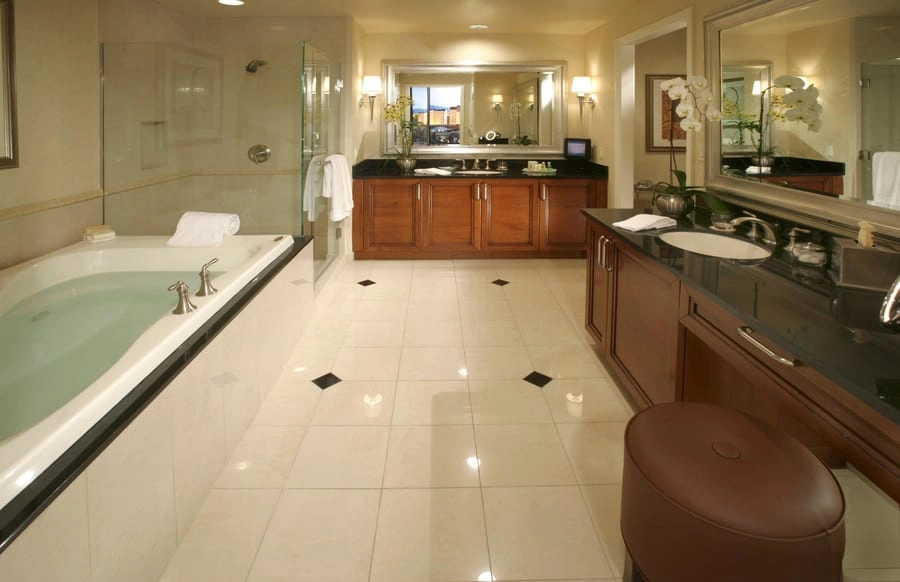 The Signature is a universe within a universe. As your own gateway to all Las Vegas, you're free to partake in a dizzying array of activities, all of which share one thing in common: a high degree of personalized service.
Whether you're enjoying a drink at The Lounge or relaxing in the privacy of your own poolside cabana, you'll receive unrivaled attention and committed service right in the center of the world's most dynamic city. This is Las Vegas at its finest.
New York-New York –Las Vegas hot tub suites
The New York-New York Hotel recreates the best of the Big Apple. With spectacular recreations of iconic Landmarks such as the Manhattan Skyline, Brooklyn Bridge, Times Square, and the Statue of Liberty, it towers over the Las Vegas Strip and gives views, sounds, and spirit of New York.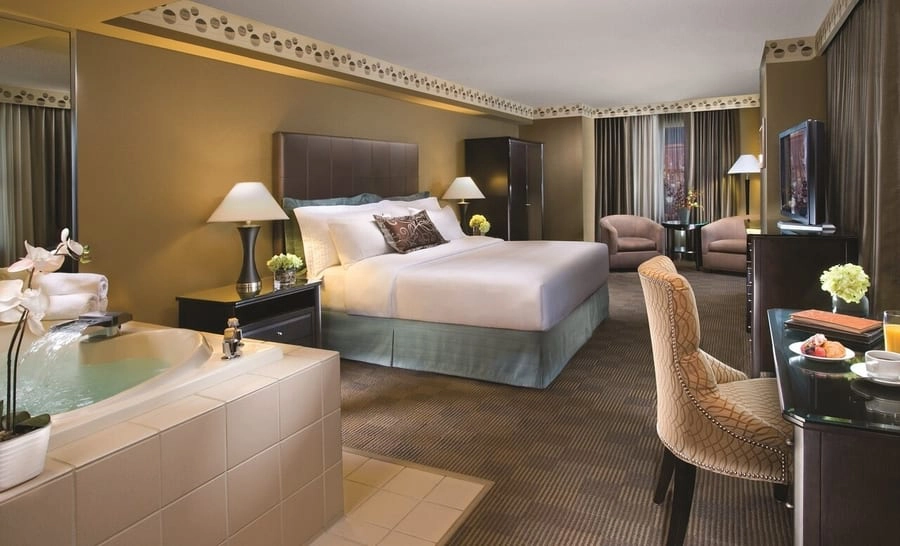 New York-New York has among the most luxurious jacuzzi suites in Vegas. The Marquis Suite, which has a 4-person whirlpool tub, refrigerator, and sound system, is a guest favorite.
New York New York offers spacious, modern rooms equipped with a flat-screen cable TV and a work desk. Guest rooms include an in-room safe and granite bathrooms.
The rooms at New York-New York all include pillowtop mattresses and bedding, as well as great views of the city lights and a calm environment to help you unwind after a busy day.
Golden Nugget Hotels with jacuzzi in roomLas Vegas
The Golden Nugget, one of the city's oldest hotels, is a great place to stay if you want to immerse yourself in history for a night or two in Las Vegas. It first opened its doors 75 years ago and has remained a popular tourist destination on Fremont Street ever since.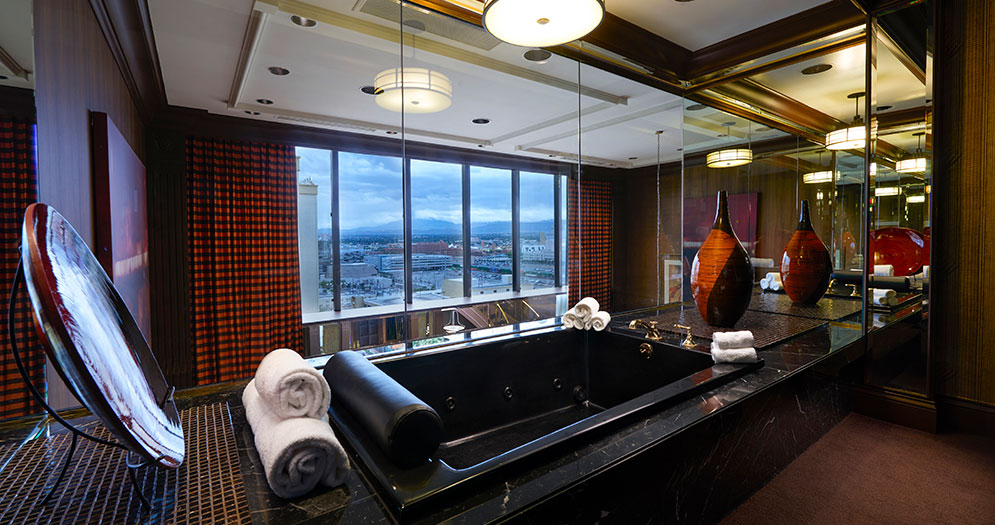 The Golden Nugget is the city's largest and most luxurious hotel. It's located on the Fremont Street Experience, a five-block pedestrian strip featuring an overhead video screen, various live music stages, and a parade of bustling casinos with bright lights and neon signs.
The hotel provides a variety of room types, but the Spa Tower is the best choice because it is quieter and less family-oriented. The spa, accessible via the tower's elevator, is a delightful respite for a brief massage or makeover.
However, staying in your room upstairs might be just as enjoyable. The Spa Suites are two-story buildings with a spiral staircase leading to the second floor.
A Jacuzzi tub rests on the edge of the loft-style second floor, gazing down on not just the living area, but also the pool deck through large, dramatic windows. Make your way down there eventually and ride a water slide that goes across a shark tank.
While this hotel is not located on Las Vegas Boulevard, it is close to all of the excitement on Fremont Street as well as other important attractions such as the Las Vegas Convention Center, which is only two miles away.
If you're looking for a jacuzzi suite at this historic Las Vegas hotel, book the Spa Tower Spa Suite, with the spa-like bathroom with jetted tub.
Marriott's Grand Chateau
This non-gaming, non-smoking hotel is 15 minutes' walk from the Las Vegas Strip and offers air-conditioned rooms with complimentary WiFi for all devices. An outdoor swimming pool is available. The hotel provides complimentary valet parking to its guests.
Each accommodation at Marriott's Grand Chateau comes equipped with a flat-screen TV, a microwave, and a mini-refrigerator. All of the rooms have a seating area and are colorfully designed. Panoramic views of the Strip are also featured in some rooms.
The Resort offers a variety of dining options, including a marketplace with hot "Grab & Go" sandwiches, Starbucks coffee drinks, and a pool bar and grill. Food is available at the Lobby Bar, and the Sky Bar on the roof gives sunset views of the strip.
Further, all guests at Marriott's Grand Chateau get free access to the on-site fitness center and hot tub. The Hard Rock Casino is also a 20-minute walk from the Grand Chateau Marriott.
Club Wyndham Grand Desert
The Wyndham Grand Desert offers gorgeous one- and two-bedroom suites with fully outfitted kitchens, washers and dryers, dining areas, spacious bedrooms with plenty of closet and storage space, living areas with pull-out sofas, and spa tubs in the master bedrooms in certain units. This is the ideal holiday home away from home for a weekend trip or a longer stay.
The Mediterranean-style mega-three resort's towers offer panoramic views of the beautiful mountain, dramatic city, and exquisite courtyard of our lagoon-style pool.
You may relax on the large sundeck, work out in one of the two fitness centers, or have a massage. The resort also has tanning beds, a sauna, four outdoor hot tubs, WiFi, and an entertainment center with a range of games, films, and activities.
Since there is no casino on site, Club Wyndham Grand Desert is ideal for families wanting some quality time together, or non-gambling couples interested in the range of magnificent entertainment that Las Vegas has to offer.
The Club Wyndham Grand Desert offers a complimentary shuttle service to the iconic Las Vegas Strip, as well as a full-service concierge to assist you in planning your off-site Vegas entertainment, such as sporting event tickets, local area attractions, meal reservations, and performances. If golf is your game, the resort is only five miles away from four different courses.
Romance Phenthouse at Palms Place
Romance Phenthouse at Palms Place is located in Las Vegas and offers free WiFi, as well as a swimming pool, a restaurant, and a bar with views of the city. There is air conditioning and a Jacuzzi bath in the suite.
Each room comes with a dishwasher, a fireplace, a dining area, a flat-screen TV, a washing machine, and a private bathroom with a hot tub. There's also a microwave, a fridge, and an oven, as well as a kettle and a coffee machine. There is a hot tub in the spa section of the aparthotel.
Romance Penthouse is 2.6 km from Bellagio Fountains and 2.8 km from the Eiffel Tower at Paris Hotel. The nearest airport is McCarran International, which is 5 kilometers away, and the hotel has a chargeable airport shuttle service.
JW Marriott Las Vegas Resort & Spa 
It's easy to forget you're staying at the JW Marriott in Las Vegas. A well-kept lawn, garden walks, waterfalls, and towering palm trees imported from the Middle East make up the landscaping that surrounds the hotel.
The Rampart Casino, which shares space on the property, is an older establishment that caters to locals. Splashing in the pool or dining at the Hawthorn Grill are both excellent options.
The JW Marriot Las Vegas Resort & Spa is a stunning Mediterranean-style hotel that feels like an oasis away from the hustle and bustle of the Strip and downtown Las Vegas. The JW Marriot is a short distance from the casino, dining, and nightlife scene that keeps Vegas alive 24 hours a day, yet it's close enough to experience all of the city's activities and attractions.
The JW Marriott is located on the outskirts of Summerlin in the west valley. You get a little more bang for your buck in the hotel suites if you stay off the Strip. The rooms are spacious, and several have Juliet balconies where you may take in the fresh air. Every room at the hotel has a Jacuzzi-style tub in the bathroom corner.
The KW Marriot's appeal is that every guest is treated like a VIP, with accommodations that feature luxurious facilities. When you eventually emerge from your personal spa-like experience, there's also a walk-in shower and soft robes to wrap yourself in.

las vegas hotels with jacuzzi tubs in room las vegas hotels with spa tubs in room
Recent Posts