15 Best National Park Scratch-Off Maps for National Park Lovers
Scratch off map National Parks: Are you looking for a way to commemorate visiting National Parks in the US? Getting a National Park scratch off map is a great way to keep track of which national parks you have visited. I've included all the best national park scratch off maps in this list.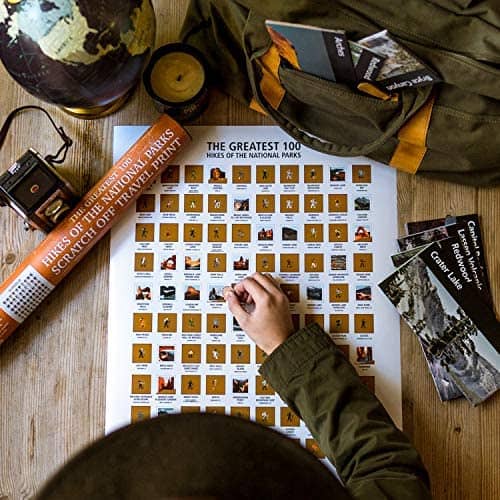 A national parks scratch off map can act as a national park map checklist for you to cross off the parks you have visited. All of these national park checklist posters have all 63 National Parks in the USA for you to keep track.
Whether you are looking for the perfect national park scratch off map as a gift or you want to buy a national parks scratch off map for yourself, there is something for everyone on this list of the best national park scratch off maps.
This is the National Park scratch off map I have and love. It has a clean simple design, is easy to read and is a great way to keep track of the national parks you visit.
Thank you for supporting this website written by an American. This post may contain affiliate links. This means I earn a small commission on these links at no extra cost to you.
15 Best National Park Scratch Off Maps – National Park Checklist
National Parks Map print with Tree Stickers and frame to keep track of your travels
As you seek out some of the United States' most stunning treasures—its National Parks—draw your adventures on this map.
This Etsy Scratch off map is extremely popular and for good reason. It lists all 63 National Parks and it is a minimal design that fits in any decor.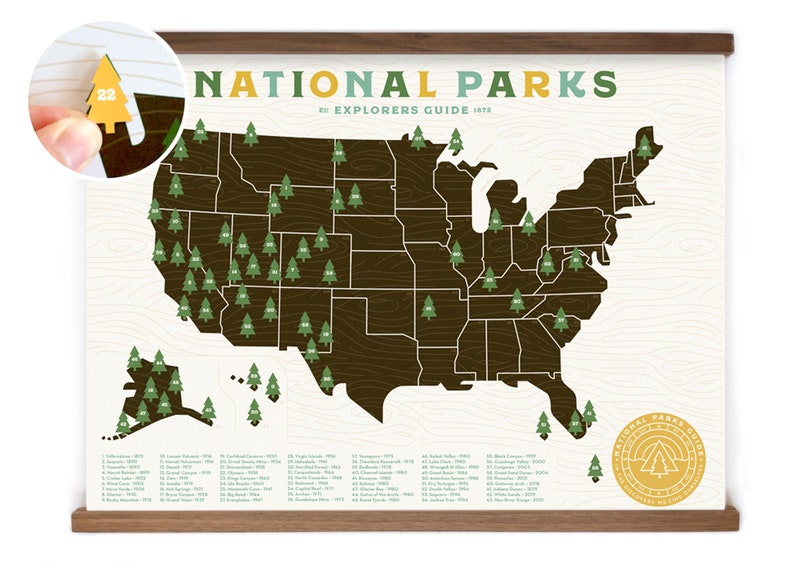 It encourages you to plan some road trips and explore the ones you've missed, with an intriguing blend of antique textbooks and classic adventure movies. Then use the provided tree stickers to designate those iconic wonders and hidden jewels on your map.
New River Gorge is included in the key, which lists all 63 parks in chronological sequence of their establishment. Optional birch poster frame handcrafted in Chicago completes your evergreen print. The magnetic panels are held in place by a safe and tight clamp.
Each National Park is listed alphabetically and numerically so that you can keep track of where each park is located.
All of the parks are presented as green trees, and a sheet of mint tree stickers is included. You can put a sticker over where you've been each time you visit a park, filling up your map with more and more trees each time.
Scratch Your Travels® US National Parks USA Scratch Off Map
This Scratch Off Map pushes the edge in design and creates an artistic map with hand-made materials if you adore stunning attention to detail and specially designed maps.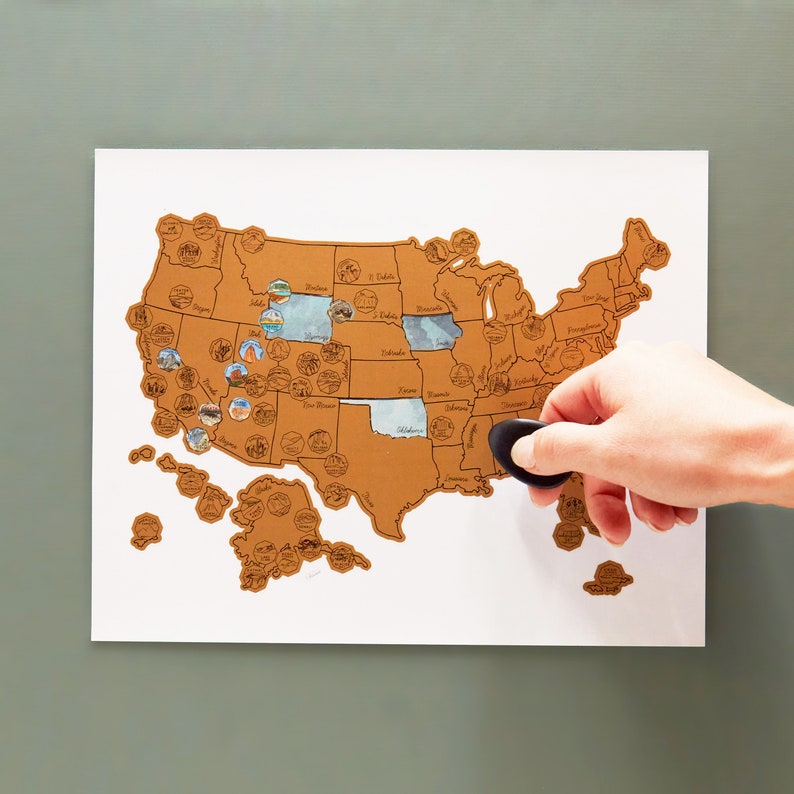 Each park is hand-drawn and hexagon-shaped, making it easier to scratch with greater precision. Simply scratch off the foil over the states and national parks you've visited with the provided tool.
While the map is a little out of date, with just 61 parks listed, if you're not concerned with that and are more interested in the map's unique properties and watercolor elements, this would be an excellent bucket list map to tick off all the places you've visited!
This is ideal for artists that value the use of handcrafted materials!
Personalized National Park Push Pin Map, National Park Map
Custom designed by California artist Wendy Gold, this popular push pin map features a scenic mountain-inspired design that incorporates a map of the USA with 63 certified National Parks.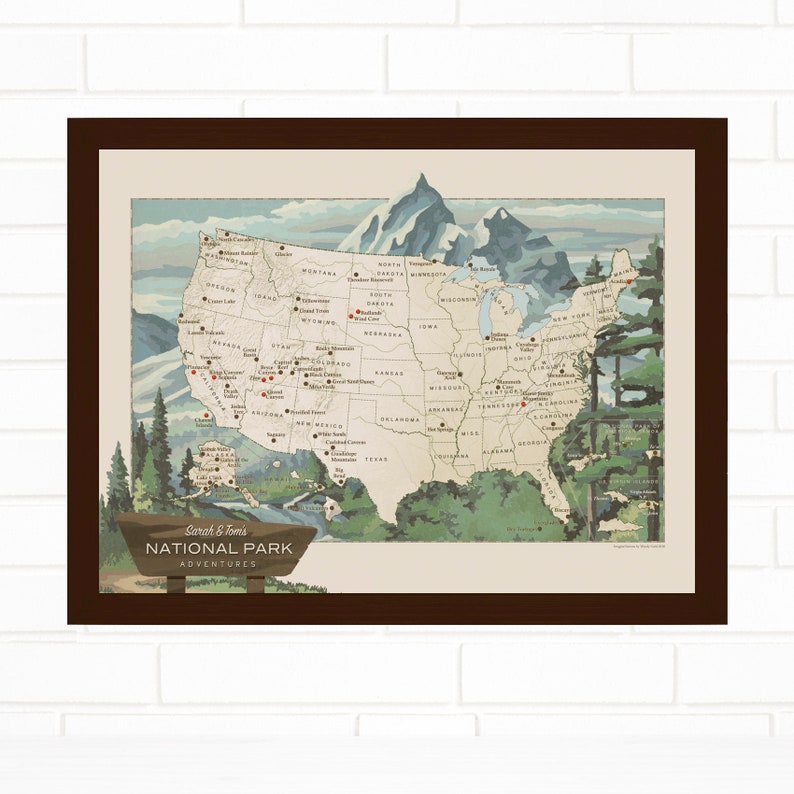 This scratch off map is designated for pinning your travels and visits to each park. You can chart your journeys to the beautiful National Parks with the personalized National Parks USA Push Pin Map.
Each push pin map comes with free personalization of an individual's, couple's, or family's name, and important cities can be added to the map at no additional cost. This map is professionally printed on archival quality paper and comes with 100 map pins.
It is also available in three common sizes. Rolled prints, unframed foam mounted prints, and high-quality reclaimed wood frames in four colors are all available as framing options. The maps are delivered framed and ready to put on the wall.
You can add a map legend to your pin map to help you track many travelers and different sorts of travels.
National Parks Scratch Off Map of United States Poster
This National Park Scratch-Off Map is fantastic since it's poster size, so you can keep it in good shape in a poster frame once you've completed scratching off a National Park.
This National Park Scratch-Off Map features wildlife, national parks, the United States map and states, and more. It's ideal for decorating your house or office! This would look fantastic in a family or game area. It'd also make a great present for both men and women.
Scratch Off USA National Parks Poster
If you're the type of person who can't get enough of the great outdoors, this all-new Scratch Off USA National Parks Print is the perfect present.
The National Park Service manages 62 protected places in the United States, which are referred to as National Parks on this magnificent map.
Scratch them off the map as you visit them and move on to the next one. As you scratch your way across America, take in the breathtaking grandeur of each state's National Parks.
Scratch Off USA National Parks is a great present for outdoor enthusiasts who are planning their next family adventure or road trip with friends. Maps International creates stunning, geographically exact maps that inspire and encourage people to learn more about the world we live in.
Newverest US National Parks Scratch-off Poster
Some adventures in the US National Parks are worth more than merely crossing off areas on a map; they may be deeply informative and act as a thought-starter on days when you dread being outside and going on adventures!
Newverest is quite creative in this regard; they engaged a group of local artists to hand-draw drawings of all of their adjacent parks for a poster, and they crowdfunded the project on Kickstarter and Indiegogo.
The National Parks poster is no exception, as it features hand-drawn illustrations of all 62 parks, including White Sands, the newest addition. Local artisans hand-paint each image on the National Parks poster to capture the true essence of each breathtaking landscape. Cards, a metal scratcher, a microfiber towel, and a poster are included.
This is perfect for people who wish to set themselves challenging goals when visiting a new place.
Epic Adventure Maps US National Parks Scratch Off Poster
Look no further if you're seeking for a one-of-a-kind explorer map that has all the true makings of making a fantastic map regardless of the interiors of your home or business!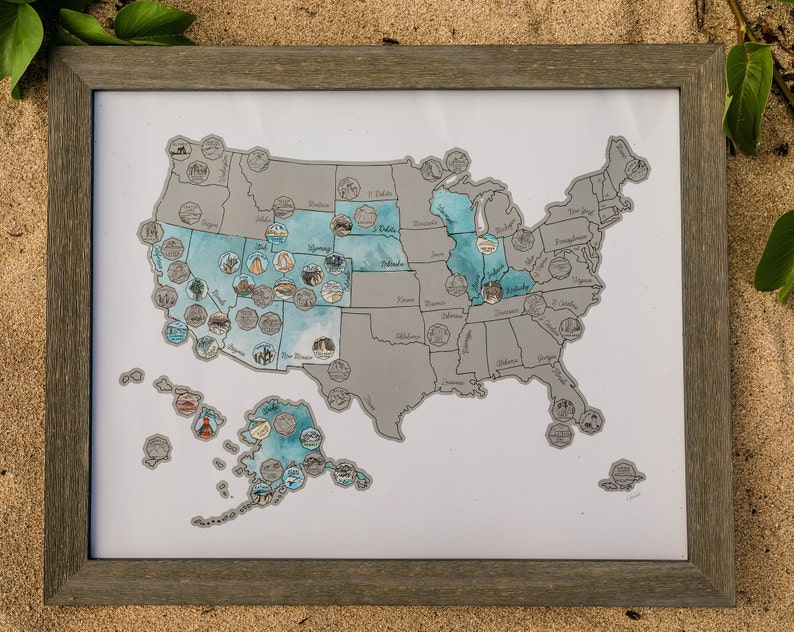 The large 24″ x 17″ National Park Scratch Off Map is printed on thick professional grade quality cardstock paper for a long-lasting, high-quality poster.
The image of the park is revealed by scratching each tree, which is wrapped in an easy-to-scratch gold foil. The best part is that you won't need to purchase a separate frame! A strong magnetic frame is included.
Each package includes four wooden strips that are firmly sandwiched between your artwork by strong magnets.
The National Parks Scratch Off Travel Map
This is the most popular National Parks scratch-off travel map in gift shops across the country. National Park at Night named it one of the best holiday presents for National Park enthusiasts.
For National Parks adventurers, this is the ultimate scratch-off trip map. Scratch off the gold foil arrowheads for each of the 62 National Parks you visit on an up-to-date, finely designed map poster print to keep track of your trips. There are 62 national parks in total, including the newest, White Sands National Park, which was established in December.
After your next experience to America's finest natural and national assets, you may use this print to log your travels or exploratory journeys!
It can even be exhibited without framing in a normal 16×20 frame. It's also a fantastic reminder for you to visit parks you haven't yet visited.
Make It Your Own Scratch-off your National Parks Adventures Map
Make-it-your-own and personalized With this US Map depicting all 61 US National Parks, including the Gateway Arch and Indiana Dunes National Parks. You may scratch off your Personalized National Park Adventures and select the font you want to use.
This map measures 24″ by 16," totally developed and manufactured in the United States. This also comes with a Travel Theme gift sticker.
The map is printed on high-quality museum paper. The paper is strong and glossy, allowing the watercolor to shine through. Recycled and recyclable paper/cardboard is also used for the packaging and insert.
The Greatest 100 Hikes of the National Parks Scratch Off
Hikes in the United States' national parks range from deep glacier treks to lush jungle treks, and they contain some of the best hikes in the world.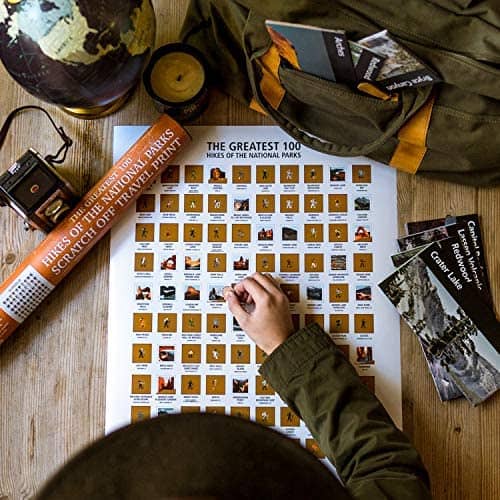 The only way to guarantee that you'll climb all of those mountains is to have a scratch-off travel print map showing the top hikes in all of the national parks.
Angels Landing, Beehive Loop, Delicate Arch, Grinnell Glacier, Half Dome, Iceberg Lake, The Narrows, Navajo Loop & Queens Garden, Observation Point, Yosemite Falls, and others are among the top walks.
Scratch off the gold foil for each of the 100 National Park walks you complete to keep track of your progress.
This is great for all of your trekking buddies and those who want to trek all of the mountains in the National Parks. The map is packaged in a lovely, stylish tube for convenient gift-giving and protection.
Mappinners The National Parks Scratch Off Travel Print
If you're a fan of national parks, you'll appreciate the little classic images that Mappiners have created!
All pictures are covered in gold foil, with a "sneak peak" arrowhead-shaped cutout in the foil, and feature gorgeous artwork of the most prominent sites at each of the 62 National Parks.
After your next experience with America's finest natural and national assets, you may use this print to track your footprints or explore journeys!
It can even be exhibited without framing in a normal 16×20 frame. It also serves as an excellent reminder of which parks you have yet to visit.
Landmass – Scratch Off Map Of The United States
This is ideal for extra travelers who want to see everything the United States has to offer, including national parks! Beyond national parks, the Landmass scratch-off maps offer a diverse range of activities for hikers, explorers, travelers, and road trippers.
State capitals, significant cities, 59 National Parks, highest peaks, the Appalachian Trail and Pacific Crest Trail, and notable highways are all covered, ensuring that you remember the intricacies of your travels for the rest of your life.
Scratching away at the golden foil reveals each destination, which is printed in bright hues like pink and yellow over a black background. A scratch true and stickers are included, as well as an easy-to-open triangular box with a list of US National Parks. The interstate roads, as well as key cities and river systems, are hidden beneath the surface, allowing you to track your road travels.
US National Parks Scratch Off Poster
The Enno Vatti U.S. National Parks poster has a clean design that showcases the gorgeous natural landmarks, and it comes with a wonderful selection of ready-to-gift National Parks posters for all your adventure buddies!
The poster features 63 eye-catching images of all of the United States' national parks, from Acadia to Zion. All you have to do after visiting a new park is scratch off the gold foil layer for the big reveal. This is an excellent approach to introduce your family to the national parks if you have one.
This poster can be hung on your wall to remind you of the parks you've visited and to inspire you to plan new exciting journeys to California's redwood forests or Alaska's snow-capped mountain peaks.
This 16 x 20-inch poster is produced on glossy paper and comes in a high-quality box that has been beautifully hand-wrapped in protective paper, making it perfect as a gift.
Outbound Wonder US National Parks Scratch Off Map
While there are many new-age scratch-off National Park maps available, some people prefer the traditional scratch-off maps that may be displayed in their living rooms.
Outbound's Wonder is just that — it's for everyone, from the office worker to the family man to the adventurer or outdoorsman, who needs a visual representation of the best National Parks so they may travel again!
The map's best feature is its high quality. Each element of the map, from the logo to the packaging to the design to the overall feel, has been carefully considered and is constructed of high-quality paper.
This is an excellent conversation starter for anyone, and it will let you realize how many more destinations you have yet to see. Also great for families and friends who want a long-lasting map to brighten up their area!
Colorado Fourteeners Scratch Off Map
Something a little different for my friends in Coloradao is the scratch off map off all of the peaks above 14,000 feet in Colorado.
This scratch-off map focuses entirely on the epic climbs in Colorado, making it a unique alternative to the conventional national park maps. The fourteeners are 58 mountain peaks above 14,000 feet in Colorado. They are a wonderful way to remind you that there are still amazing adventures to be had.
The entertaining and interactive map contains the notable 14,000-foot and higher summits. The map is quite visually appealing, and it allows you to plan your fantastic trips in Colorado with your friends or family!
The outdoorsy scratch-off poster is the perfect method to chart your peak bagger progress and reflect on your prior climbs if it's just for you. As you do additional treks, your poster will become more colorful, culminating in a magnificent filled-in poster to commemorate all of your Colorado mountain peak adventures!
This is the perfect gift for aspiring mountaineers who love Colorado!
Recent Posts