15 Best National Parks Passports and How to Use Them
National Park Passport: Are you interested in the National Parks Passport program? A National Park Passport Book is a great keepsake to have for your visits to the national parks.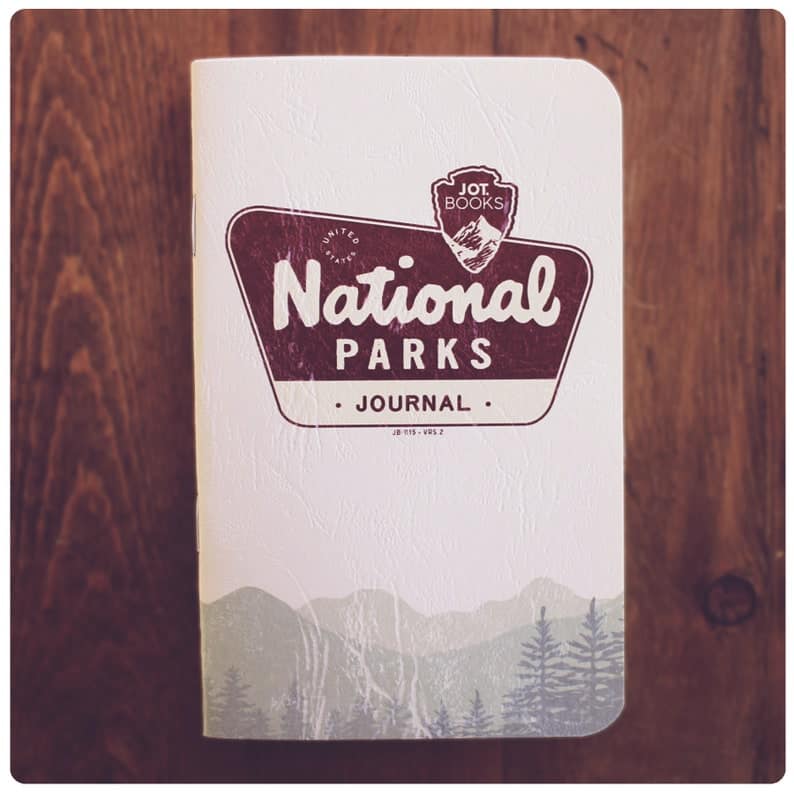 Having a National Park Passport is a great way to collect stamps when you visit the National Parks of the USA. This is a souvenir you can keep and a passport to your national park visit.
In this guide to the Best National Parks Passports, you will find a variety of different National Parks Passports Books and how to use them. Plus cool accessories you can use along with your Passport.
Thank you for supporting this website written by an American. This post may contain affiliate links. This means I earn a small commission on these links at no extra cost to you.
To visit any of the National Parks in the USA, I recommend buying a National Park Pass. The America the Beautiful Pass is valid for one year and costs $80. Plus 10% of sale proceeds go to the National Park Foundation.
15 Best National Parks Passport Books – Travel Keepsakes you will Treasure
U.S. National Parks Adventure Journal & Passport Stamp Book: National Parks Map, Adventure Log, and Passport Book for Kids, Teens, Adults, and Seniors Paperback
Is visiting all of the United States' national parks on your bucket list? This all-in-one journal will keep you organized and chart your National Park adventures from Acadia to Zion and every park in between.
There's even enough for all of your stamps from National Parks!
This US National Parks passport is great for both adults and children who like visiting National Parks across the United States. It's a one-of-a-kind present for a National Parks pass holder or a 4th grader taking part in Every Kid in A Park.
Among the key features are: Map of all 63 U.S. National Parks, Map of all 63 U.S. National Parks, Pages for each National Park, and has also Bonus Pages if you run out of space.
The handy 6″ x 9″ dimension is small enough to take with you but large enough to write in. The cover is soft and flexible, making it ideal for packing in a backpack or suitcase.
With this well-thought-out journal, you can keep the memories for a lifetime. For many years to come, you will remember these valuable moments.
National Parks Passport Book: U.S. National Parks Stamp Book (Dark Blue) Paperback
You can keep stamps, memories, and ideas from a lifetime in this well-thought-out passport. You will remember these priceless memories for many years to come.
The National Parks Bucket List contains everything you need to know about national parks. It also keeps track of all your national park trips, including dates, locations, lodges, fees, experiences, weather, stamps, and other details.
This National Parks Passport Journal is a Travel-Size Book that measures 6″x9″ and is suitable for people of all ages.
Passport To Your National Parks Spiral-bound NPS Passport Book
A map is included in this spiral-bound edition. It also has ample capacity to retain all of the stamps and stickers, as well as a lot of information, squeezed into the small pages adjacent to almost every page of the stamp area.
This is a wonderful present for your children and future generations. This passport allows anyone to fill it up by visiting as many parks as possible and discovering firsthand the actual natural resources of the United States.
The notepad Spiral-bound full-color travel guide 6″ x 4″; 112 pages; includes a foldable pull-out color interpretative map of the national park system.
Passport To Your National Parks® Classic Edition – Passport for National Parks
The classic passport companion is this small notebook. It contains 112 pages and is roughly the size of a postcard, making it convenient to carry in your bag or pocket. It also includes a map of all 400+ national park sites to assist you in planning your travels.
This is a compact device that is simple to transport. It's also durable and includes useful maps for each part of the country. Book's also Spiral Bound, which makes it sturdier and easier to add pages.
Color-coded regional maps, need-to-know park information, an official NPS interpretive map, and plenty of room for cancellations and commemorative stamps from the annual series are all included in this handy travelogue. The Passport Classic Edition is a great way to keep your favorite memories of America's national parks safe and sound.
The only downside is its small size. Each region is only 4-5 pages long. If you run out of space, however, there are a few extra blank pages in the back.
There's always something appealing about owning a classic edition.
Passport To Your National Parks® Collector's Edition
The Collector's edition is for you if you want a more comprehensive national parks passport that will last you for years. More than 400 national park sites are featured in this issue (including monuments and historic sites).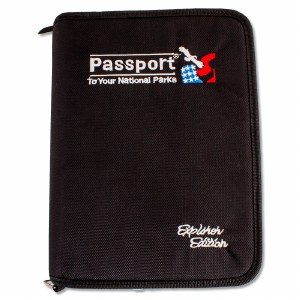 The size of the collector's edition is the most significant distinction. Each national park has its specified area, though it is missing some that were established after its publication. With a size of 7.5 x 10 inches, the book is much larger. There are 192 pages in all, with plenty of space in each region for larger or additional stamps. It's a little more expensive at $30, but it's ideal if you're enthusiastic about collecting national park passport stamps.
It's organized into color-coded zones, just like the traditional edition. The collector's version, on the other hand, has a designated area for each national park stamp, making the entire book a park checklist!
Passport To Your National Parks® Explorer Edition
For a frequent traveler or someone who wants more creative freedom with their passport, the explorer edition is the best option. This is the largest passport, and it comes in a binder format. 
This edition is also the highest-end of the passports offered by America's National Parks. This passport fits into a 5-ring binder and comes with a weatherproof, zip-up case with typical passport pages, only bigger, better, and fully up to you to organize in any way you like. You can also put other tiny national park items in your cases, such as stickers and photos, in addition to stamps.
A small mesh compartment keeps collectibles safe, as well as a photo pocket, pen slot, rear inner mesh pocket, and a map to help you find your next journey!
If you run out of space, you can add expansion packs, which are also shown. The options are practically endless!
Passport To Your National Parks® Junior Ranger Edition
The Junior Ranger Passport was created in conjunction with the National Park Service and features brilliant images by famous artist Dave Klüg.
This passport also has a free collection of colorful park-themed stickers and interactive educational content. The regional sticker sets are also available to collect. For kids of all ages, the Junior Ranger Passport is the ideal introduction to national park life.
If you have a young park explorer in your family, you might want to consider getting them their national park passport. Don't forget to include the kids in the national park passport fun! A Junior Ranger Edition of America's National Parks is also available!
This edition is designed with children in mind, featuring numerous images and a set of stickers to personalize it. This book, like the Classic Edition, is organized by area and includes 100 pages for stamping national parks.
Passport To Your National Parks® Classic Expander Pack
The official park cancellation is much more than ink on a page, as anyone who has ever stamped their Passport knows. Each stamp commemorates a once-in-a-lifetime encounter at one of the country's more than 400 national parks. 
Keep stamping with the new Passport Classic Edition Expander Pack! Each pack includes 16 papers that are simple to connect and provide room for dozens of future cancellations. To a well-traveled Passport, add fresh park experiences!
If you hold a Classic Edition passport and visit national parks frequently, you may run out of pages, however, expander packs are available! The Classic Edition expander pages are only $5 and provide you with an additional 20 stamping pages.
2021 Passport Stamp Set for your National Park Passport
Collectors of Passport to Your National Parks®, take heed! The annual regional stamp set for 2021 is already available! Beautiful, new color photographs and descriptive text from National Park Service sites across the country are featured in each annual set.
The 2021 set includes the following national park treasures:
National Stamp: Golden Gate National Recreation Area
North Atlantic Regional Stamp: Castle Clinton National Memorial
Mid-Atlantic Regional Stamp: Flight 93 National Memorial
National Capital Regional Stamp: Dwight D. Eisenhower Memorial
Southeast Regional Stamp: Virgin Islands Coral Reef National Memorial
Midwest Regional Stamp: Nicodemus National Historic Site
Pacific Northwest and Alaska Regional Stamp: Kobuk Valley National Park
Western Regional Stamp: Pu'ukohola Heiau National Historic Site
Rocky Mountain Regional Stamp: Timpanogos Cave National Monument
Southwest Regional Stamp: Chamizal National Memorial
The stamps are trimmed to match appropriate spots in passports to your National Parks guidebooks, and the notebook is self-adhesive.
U.S. National Parks Journal by JOT. Books — National Park Journal, Pocket Notebook
In this all-inclusive journal and souvenir, you may keep track of your national park adventures.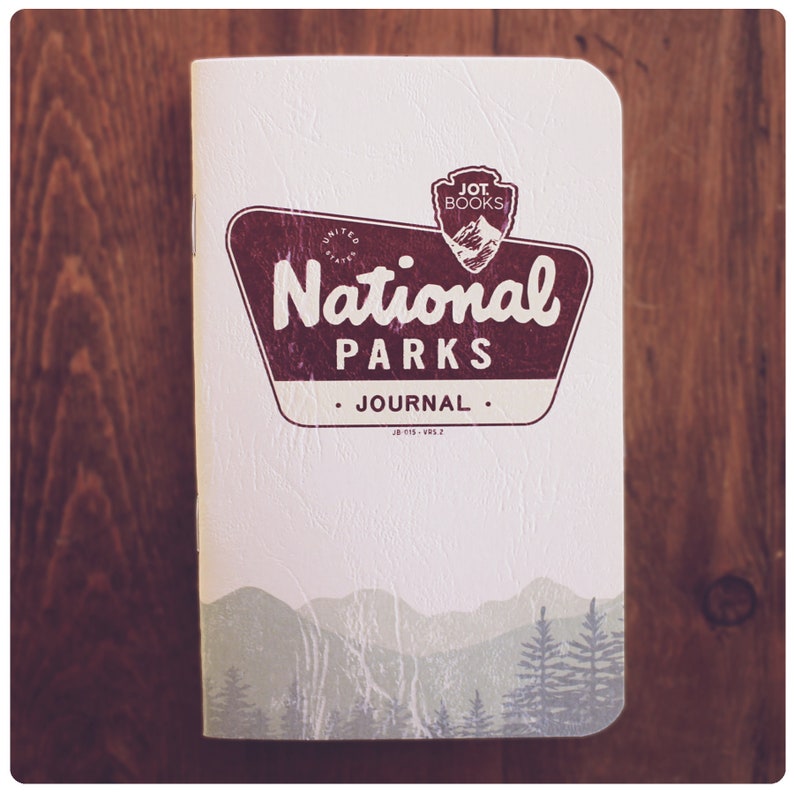 Guided prompts to write in every element of your trip, from date of visit and where you stayed to wildlife observations and what you did, as well as room for comments and passport stamps, are included in this alphabetical listing of U.S. National Parks from every state.
The designer wanted to create something that would allow you to look back and remember what you liked, loved, and didn't care for. As a result, this is version 2. With this new U.S. National Parks Journal, you can now trim down and keep track of everything in your back pocket.
JOT Books Pocket Notebooks are designed to be tough and durable while also looking excellent and organizing your thoughts. Each pocket notebook has 32 pages of various papers with a JOT. design on each page.
The product is 3.5″ x 5.5″ in size and is manufactured in the United States.
USA National Parks Bucket list journal
Use this Bucket List Journal to plan your trip across the United States of America's 63 National Parks.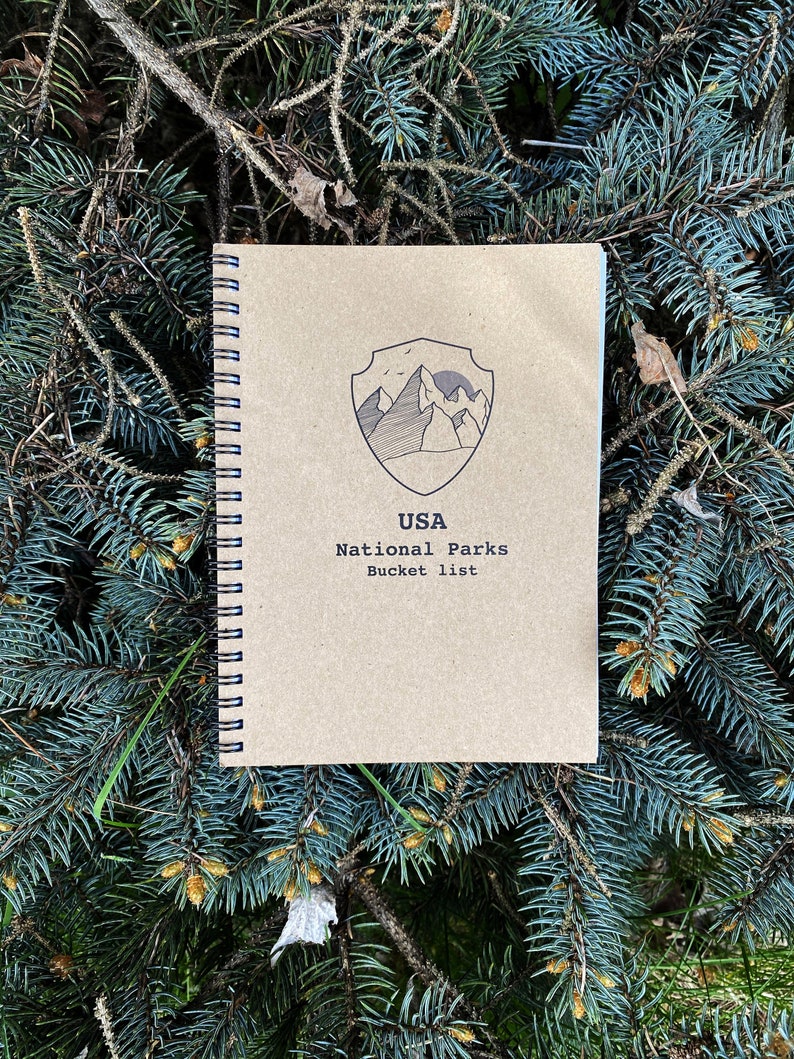 You'll adore it because the paper in the book is thicker and includes stickers. It's also made of recycled paper and measures 5.5″ x 7.5″ with 136 pages.
How can you benefit from this journal:
Reach your travel goals: Planning your trips ahead of time and taking notes make success more likely.
Make your trips more enjoyable: Taking notes during your journey will make it more enjoyable.
Make memories: This journal will help you make memories and share those with your loved ones.
This is a great gift idea for your younger kid as this will keep them engaged during all stages of your trip or your grown-up kids as an ideal gift to inspire them for the first big journey on their own or their gap year or you can give it as a present to your parents after retirement.
It'll be an excellent travel companion as you visit all of the national parks!
Vintage 1980 The National Parks of the USA Hard Cover Book
Discover the grandeur and diversity of America's most iconic and beautiful national parks on a journey of the country's great outdoors.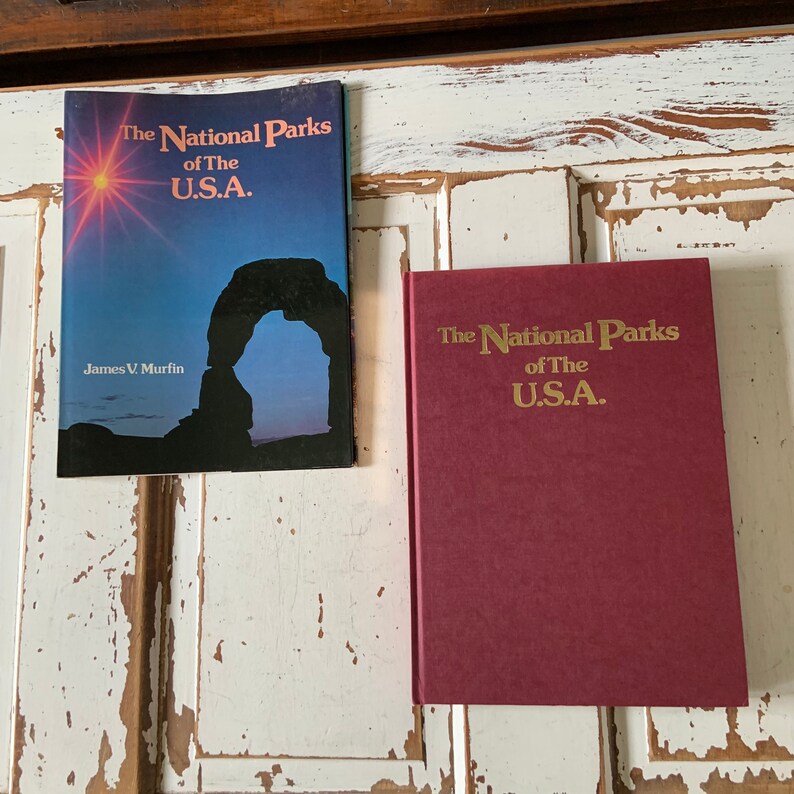 Explore the Everglades, travel down the Grand Canyon's white-water rapids, walk across the deserts of Death Valley, and conquer the soaring peaks of the Rocky Mountains with this book that takes you up close to nature's biggest adventures.
Packed with maps and fascinating facts about the flora and fauna unique to each park, this fully-illustrated coast-to-coast journey documents the nation's most magnificent and sacred places—and shows why they should be preserved for the future generations to enjoy. With maps and information about flora and fauna found in each of the 21 icon parks portrayed, this is a fantastic celebration of the great outdoors.
Explore the Everglades, cruise down the Grand Canyon's white-water rapids, walk across the deserts of Death Valley and conquer the soaring peaks of the Rocky Mountains with this book that takes you up close to nature's biggest adventures.
A pictographic map at the outset of each segment, divided by area (East, Central, Rocky Mountains, West, Tropics, and Alaska), displays the locations of the parks to be covered. Each park begins with a beautiful, poster-worthy depiction of one of its landscapes and a description of its features, followed by unique illustrations of the animals and plants that call it home.
US National Park Journal – can be used as a travel notebook – map journal – hiking book – nature sketchbook
A Coptic-bound diary with a print of numerous national parks in the United States. It's made of.80 Davey board and has brown eyelets, brown waxed linen thread, and brown paper on the interior.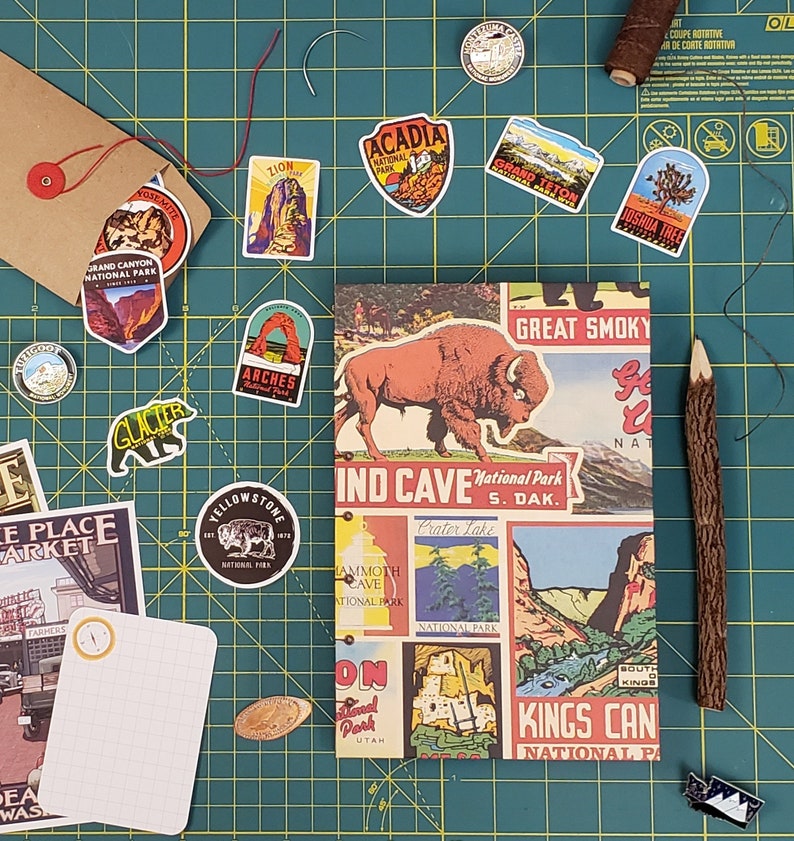 There are nine different size and paper variations to choose from. A collection of 49 National Park-themed stickers for 17 parks, as well as a 7″ twig pencil, are also available.
This book is manufactured to order and takes around 3-5 days to complete.
Recent Posts