Are you looking for the best ramen in Las Vegas? This list of ramen in Vegas includes places on the strip and the best ramen in Las Vegas – Chinatown.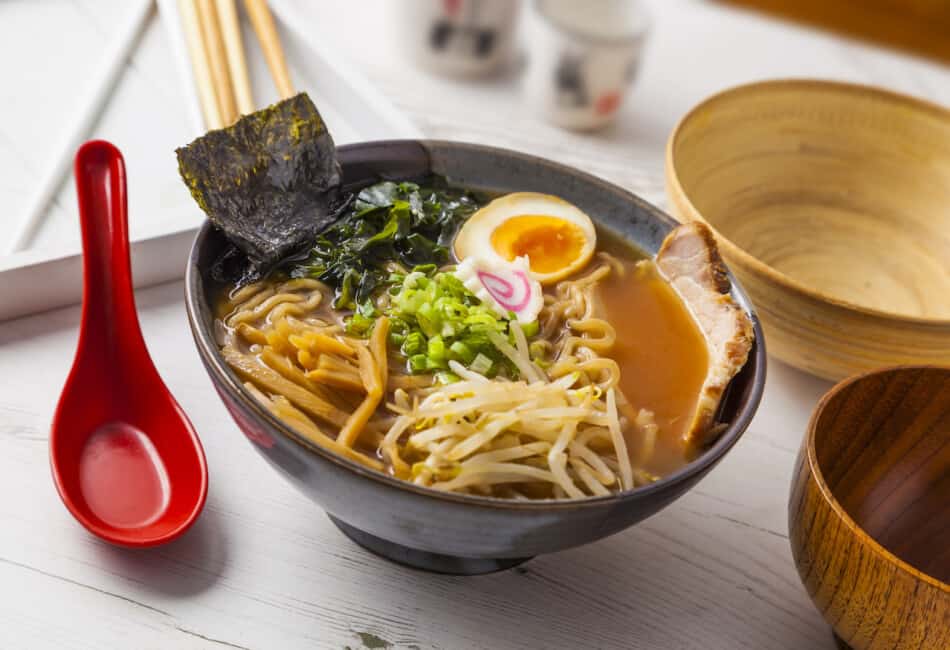 Ramen has become quite popular and Las Vegas has some great eateries. This Japanese snack is a great way to fuel up before a night out or just a quick and easy meal for the family.
Everytime I am in Vegas we end of getting Ramen so I have tried quite a few places. Here are my favorites and I hope you enjoy as I love sharing food with people.
21 Best Ramen Places in Las Vegas, Nevada
Ramen Sora – Las Vegas Ramen
Japan's Sapporo is the origin of ramen sora. Chefs Yoshi and Tomio, the brains of Ramen Sora, are natives of Japan, where the restaurant first opened. The two promise that their customers will only receive the best ramen since they are so passionate about what they do.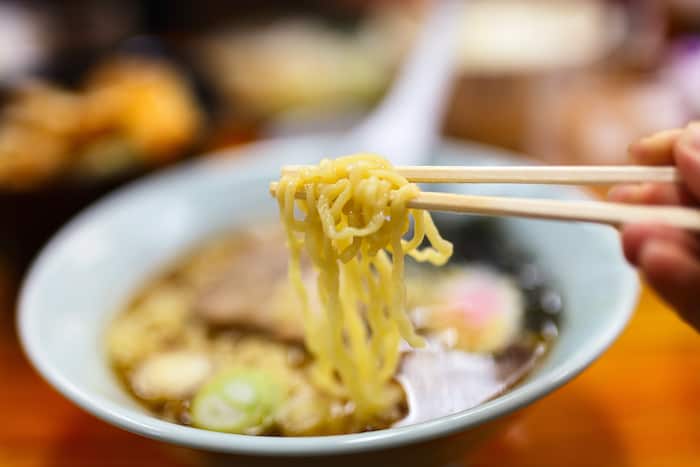 There are just four different ramen flavor choices at Ramen Sora, and they are Miso, Shio (salt), Shoyu (soy sauce), and Vegetarian.
However, the restaurant offers nine distinctive ramen dishes to pick from, making it easy for everyone to enjoy a meal there.
Yet, in addition to the outstanding food, this restaurant is a top choice because of its prime location in Chinatown.
Fukumimi Ramen
The ramen served at the modestly sized Fukumimi Ramen is affordable and simple. It's a fantastic ramen stop on the way to any Las Vegas attraction after arriving in the city since it is adjacent to the Harry Reid International Airport.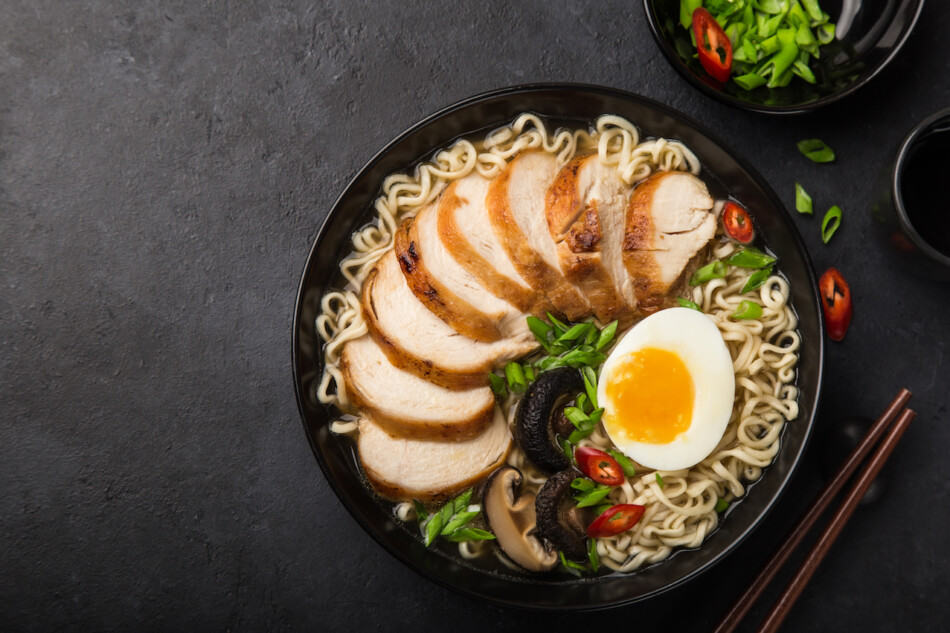 Despite its simple menu and ingredients, Fukumimi Ramen is just as tasty as the best ramen in Las Vegas. Classic varieties, including chicken, tonkatsu, miso, and kogashi, are available at the ramen establishment.
Most of the dishes at Fukumimi Ramen cost less than $10, making it incredibly economical compared to other ramen restaurants. This makes it a fantastic option for individuals on a tight budget who want some decent ramen.
Momofuku
In downtown Las Vegas, there is a classy Asian restaurant named Momofuku. The restaurant incorporates elements from the US, Japan, and Korea. This restaurant is a great option for any occasion because it offers quick bar bites as well as private dining rooms.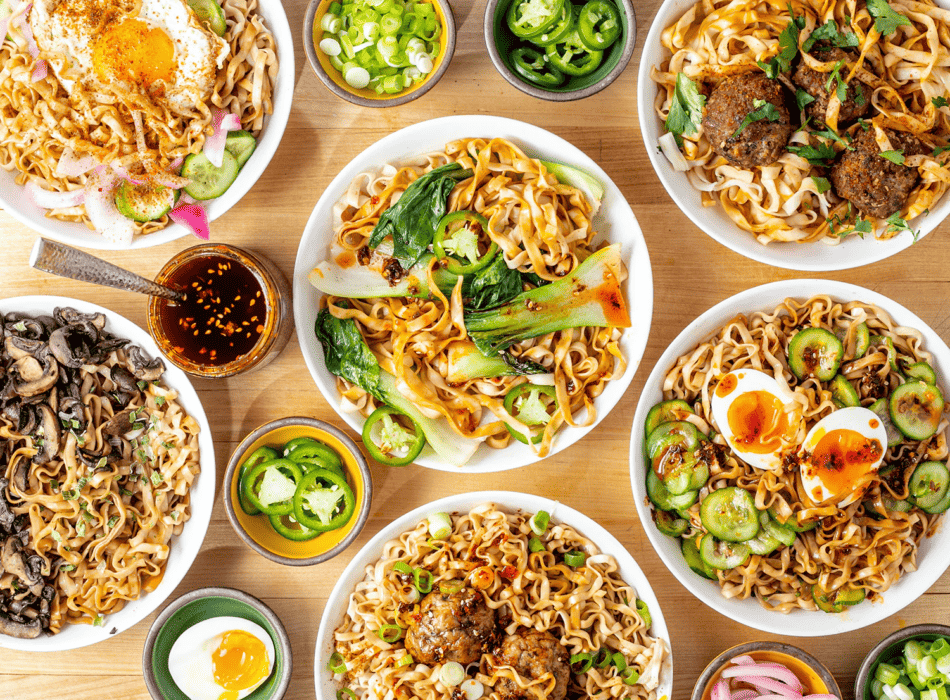 The ramen at Momofuku in Las Vegas boasts some of the most unique and delicious flavors. They provide ramen in flavors including truffle, Szechuan duck, and ginger scallion. At Momofuku, there is much more than just ramen to choose from, including roasted duck, lobster, shrimp, and several types of pork.
Due to their distinctive and difficult-to-find ingredients, Momofuku is quite pricey when compared to other establishments. The most expensive ramen dish costs $58 while the least expensive is only $21. The restaurant's most expensive item totals a whopping $328!
Tomi Ramen
Korean culture has a strong influence on Tomi Ramen, a ramen establishment. Its menu is very customizable and features dishes with unique names, such as Naruto, which is named after a well-known anime.
Along with its nine unique ramen dishes, Tomi Ramen offers a DIY (do it yourself) ramen option on its multi-page menu.
If you're going out to eat with someone who isn't a fan of ramen, there are plenty of options for them since there is also a complete page of appetizers and sushi.
For the most basic DIY ramen, Tomi Ramen is fairly priced, but the more substantial bowls can cost upwards of $20.
Ramen-Ya
The well-known Ramen Katana-ya restaurant, which is situated in San Francisco, has a sister establishment called Ramen-Ya. It is renowned for its delicious and authentic ramen choices.
For the best ramen in Las Vegas, Ramen-ya is still one of the top choices on the Strip. It makes sense that this would be more of a grab-and-go location. After all, there is a lot to discover on the Strip!
Don't be fooled by its size, though. One of the best places to get ramen in Las Vegas is Ramen-ya since it's quick, convenient, and affordable.
Despite having a fairly simple menu, Ramen-Ya is still distinctive and excellent. Ramen is available in pork, sea salt, soy sauce, soybean, and vegetarian flavors. Ramen-menu Ya's items range in price from $11 to $30, which is neither too cheap nor too costly.
This is an excellent ramen restaurant to try if you're traveling with picky eaters. They tend to tone down the flavors and spices in their dishes a little bit as they are more geared toward visitors.
Ramen Kobo
Since Ramen Kobo touts a "100% handcrafted menu," meaning everything is prepared in-house just before you dine, it made the list of the best ramen in Las Vegas.
100% handmade ramen is available at Ramen Kobo on a fully personalized menu. Customers decide on their preferred broth, amount of spice, extra toppings, and whether they want any side dishes.
Ramen Kobo is a fantastic affordable ramen option since it offers 5 basic broth choices for a price range of $11–$13 and any add-ons cost between $1–$3.
Shokku Ramen
The only 24-hour ramen store in Las Vegas, Shokku Ramen, made the list of the best ramen in the city and is thus easily accessible whenever you're in the mood for some! It is one of the most well-liked ramen restaurants for tourists and is within a 10-minute drive from the strip.
There are several moderate options at Shokku Ramen, but it is primarily known for its spicy ramen. They have a challenge just for completing their spiciest ramen bowl.
Although Shokku Ramen offers several signature dishes, it is also well-known for its "Build Your Own Ramen" option.
It's important to note that the Shinigami Challenge, Las Vegas' spiciest ramen competition, is hosted by Shokku Ramen. It costs $50 and has a heat rating of nearly 4 million Scoville units. The contestants have eight minutes to eat the entire three pounds of food. Winners are immortalized on the restaurant's notorious "Wall of Warriors" and given a free meal.
Although Shokku Ramen is a little more expensive, consumers get more food for their money at this restaurant. The prices vary depending on the additions, and the recipes are entirely customizable.
Yu-Or-Mi Sushi & Sake Bar
YU-OR-MI Sushi & Sake Bar is situated in the Arts District of Las Vegas. This is the spot to go if you want to have ramen and sushi or sashimi at the same time. It's hardly surprising that this restaurant has become one of the best ramen spots in Las Vegas given that it serves everything from bluefin tuna caprese to shoyu ramen with beef.
If you'd like to drink something along with your meal, try one of the specialty cocktails made by YU-OR-MI. You can choose from a variety of options to discover one that interests you.
However, if you prefer straight liquors, ask for a shot of unique Japanese whisky. Whatever your preference, you will receive hearty wine and dining service. This is undoubtedly a fantastic option for the best ramen in Las Vegas.
Ramen Arashi
The best ramen in Las Vegas can be found outside of the Strip at Ramen Arashi, so be sure to check it out. Now, this Las Vegas ramen shop is located in a mall and is a little off the usual path.
However, Ramen Arashi is a great place to stop for a bite to eat if you're looking for a change of pace and want to do some serious shopping.
The Tonkotsu Ramen is unquestionably among the top ramen dishes in Las Vegas. It's flavorful with mouthwatering Tonkotsu and Pork Chashu and acts as the perfect cure for a body that has been shopping nonstop.
You must visit this place if you want to eat the best ramen in Las Vegas.
JINYA Ramen Bar
Locals in Las Vegas love JINYA. JINYA was founded by Tomo Takahashi, a native of Japan, who was motivated by the success of his father's ramen restaurant in his native country.
The establishment is among the most artistically appealing ramen bars around. It has nothing but brick walls and is covered in lovely vines and lighting.
For all kinds of ramen aficionados, JINYA offers more than 15 original ramen dishes. The restaurant earned a spot on the list of the best ramen in Las Vegas because it offers a wide range of different dishes, such as tacos, curry, rice bowls, and more, for people who prefer to indulge in other types of food.
JINYA offers reasonably priced cuisine for the quantity that patrons get. The majority of their ramen bowls cost around $15, while some things cost about $10.
Izakaya Go
Izakaya Go is an outstanding location to enjoy some of Las Vegas's best ramen. Finding a healthy restaurant that is still serving food late at night can be challenging.
Izakaya Go is open every single day at two or three in the morning if you do want to have ramen in Las Vegas. This ramen shop's major draw is convenience, but that doesn't mean its food isn't good either!
You won't have any trouble gobbling down a bowl of the best ramen in Las Vegas with the menu's plethora of salty, soy- and miso-based ramen dishes!
Ramen Hashi
Ramen Hashi is the only place to go if you want the real deal when it comes to the best ramen in Las Vegas.
Due to its excellent open kitchen and genuine cooking methods, this restaurant has long been a local's choice for ramen in Las Vegas.
The most well-liked dishes at Ramen Hashi are made with chicken- and pork-based broths. The tantanmen and chashu ramen meals are two of these amazing delicacies.
Vegetables don't have to be left out, though! There is something for everyone with the variety of seaweed and egg-based toppings offered. The fact that everything in this establishment is cooked sans MSG should be proof enough that it serves some of the best ramen in Las Vegas.
Ichi Ramen House
"Ichi" is the Japanese word for "one," and the simple noodle shop claims that, in addition to providing fantastic ramen, they also provide excellent service.
There is a good selection of ramen dishes at Ichi Ramen House, including tonkatsu, miso, chicken, black garlic, and others. Since Ichi Ramen House only serves ramen, make sure everyone in your group agrees to go.
With ramen prices typically hovering around $20, Ichi Ramen is a more premium ramen restaurant in Las Vegas.
Monta Japanese Noodle House
Some of the best ramen in Las Vegas can be found at Monta, one of those places that you dine at one evening and just can't forget about. One such reputation belongs to Chinatown's Monta Japanese Noodle House. Despite not being the largest ramen restaurant in the world, it is a quiet spot that serves guests some of the best ramen in Las Vegas.
This is a great option for people who are unfamiliar with Japanese ramen in Las Vegas since the menu is wide and includes descriptions of each dish.
However, if you're unsure, ask the servers for advice! Whatever you order is unlikely to be dissatisfactory because everyone here is an expert on ramen. The best ramen may be found here.
Ramen Tatsu
Ramen Tatsu is a classic ramen shop in Las Vegas, offering a variety of ramen dishes and add-ons, along with other Japanese dishes. There are 11 different ramen options available at Ramen Tatsu, all of which may be entirely customized with a variety of add-ons.
. Ramen Tatsu offers a wide range of additional dishes in addition to ramen, such as traditional Japanese dishes, rice bowls, and numerous desserts.
One of the least expensive alternatives on this list is Ramen Tatsu, where the majority of the ramen bowls cost about $10.
Recent Posts