Sedona Tour: Sedona offers a variety of tours that cater to different interests. There are so many cool tours of Sedona and taking a Sedona tour is a great way to experience the natural beauty and unique culture of this Arizona city.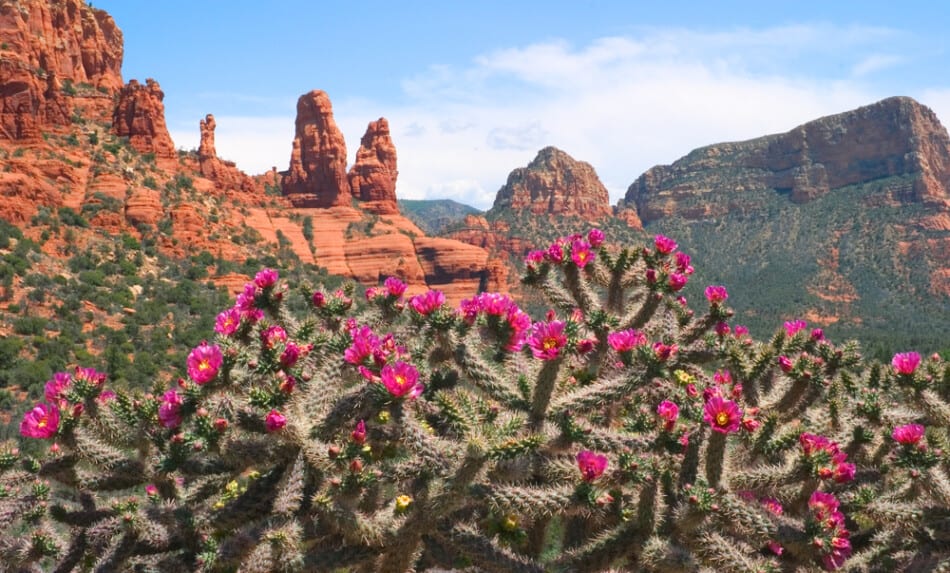 With its stunning red rock formations, diverse wildlife, and rich history, Sedona offers a wealth of opportunities for exploration and discovery.
Tours in Sedona can provide valuable insights into the area's geology, flora, and fauna, as well as its Native American heritage and modern-day attractions. Whether you're a nature lover, history buff, or simply looking for a memorable adventure, a Sedona tour is sure to be a rewarding experience.
Thank you for supporting this website written by an American. This post may contain affiliate links. This means I earn a small commission on these links at no extra cost to you.
17 Best Sedona Tours and Excursions – Top Tours of Sedona
Verde Canyon Railroad Adventure – Sedona tour
The Verde Canyon Railroad Adventure is a 20-mile roundtrip wilderness trip through a beautiful and untamed riparian canyon is offered by the Verde Canyon Railroad.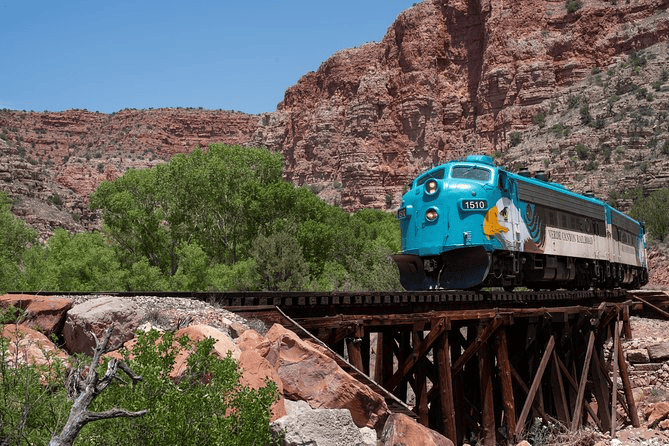 On a century-old route through a red rock wonderland along the Verde River, guests experience luxury, style, first-rate facilities, and great service in vintage vehicles for four hours.
Living room-style couches and first-rate bar service are included in first class. Upon boarding, a complimentary glass of champagne or sparkling cider is offered, along with a variety of hot and cold canapés.
Southwest plants and fauna, old trestles, stunning geology, odd rock formations, and a 680-foot tunnel are just a few of the picturesque features along the route.
The Verde River and the picturesque high desert are separated from one another by a remarkable riparian ribbon that is only 2% of the length of Arizona's landscape.
Throughout the journey, interesting narration and a variety of railroad music weave together to reveal the intriguing history of the Verde Canyon. Check out the Verde Canyon Railroad Adventure.
Sedona Wine Tour
A wine tour is a wonderful opportunity to experience the best that the area has to offer since Sedona is home to many different wineries.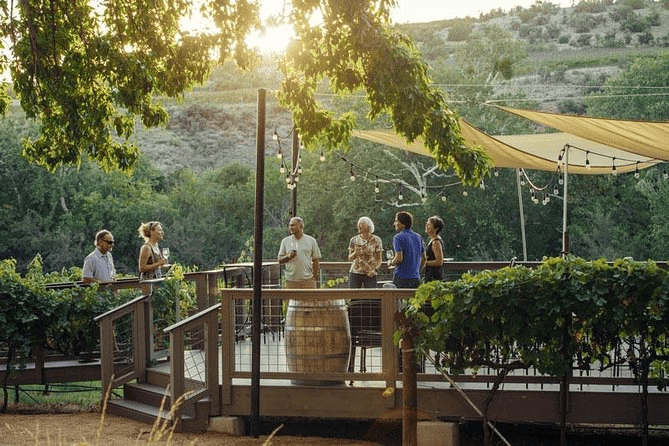 These tours are provided by several different businesses, and they will take you to numerous different wineries. Even better, you can decide to take a trip that stops at a vineyard.
If Arizona is unfamiliar to you, you might be surprised to learn that it is home to a developing wine industry that has recently gained significant attention as a hot spot for a range of superb wines.
This tour departs from Phoenix and travels north through the Verde Valley and Black Canyon hills, stopping at the breathtaking cliff dwelling remains at Montezuma's Castle National Monument along the way.
A private tasting at a nearby winery and tasting facility will cap it all off this Sedona Wine Tour.
Sedona Red Rock Tour
A Sedona vortex is a natural phenomenon where the Earth's energy is said to be amplified. These vortexes are located in and around Sedona, Arizona and are believed to have healing and spiritual properties.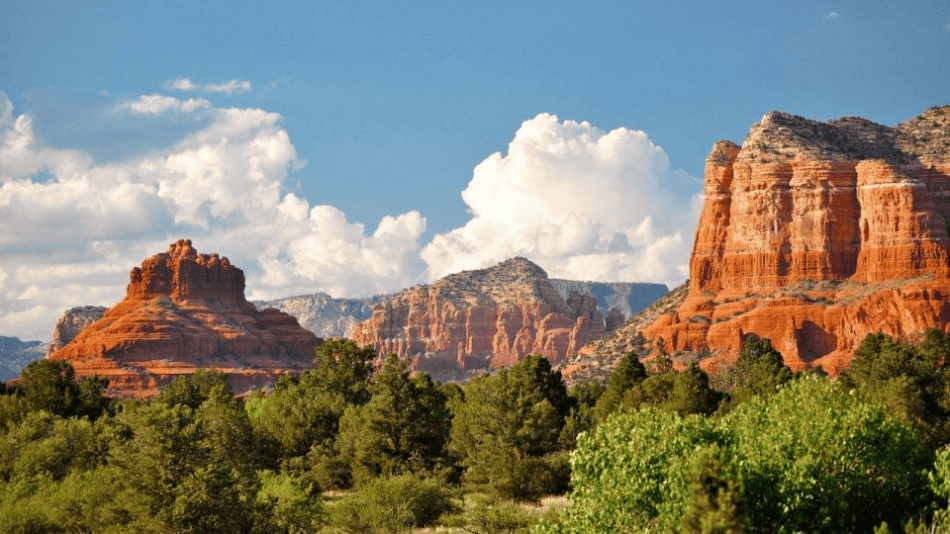 On the Sedona Private Red Rocks Vortex Tour, visitors will experience the beauty and energy of Sedona's red rock formations. The tour includes visits to multiple vortex sites, where visitors can feel the energy and learn about the history and significance of these spiritual locations.
The tour is led by a knowledgeable guide who provides insights and information about the area's geology, flora, and fauna. Visitors will also have the opportunity to take in stunning views of the surrounding landscape and capture memorable photos.
Overall, the Sedona Private Red Rocks Vortex Tour is a must-do for anyone looking to explore the natural beauty and spiritual energy of Sedona. Many people continue to visit Sedona in search of their healing powers.
Grand Canyon Small-Group Tour
This Grand Canyon tour takes in Grand Canyon National Park and the magnificent Painted Desert while incorporating ancient ruins, lava fields, towering volcanoes, and breathtaking views.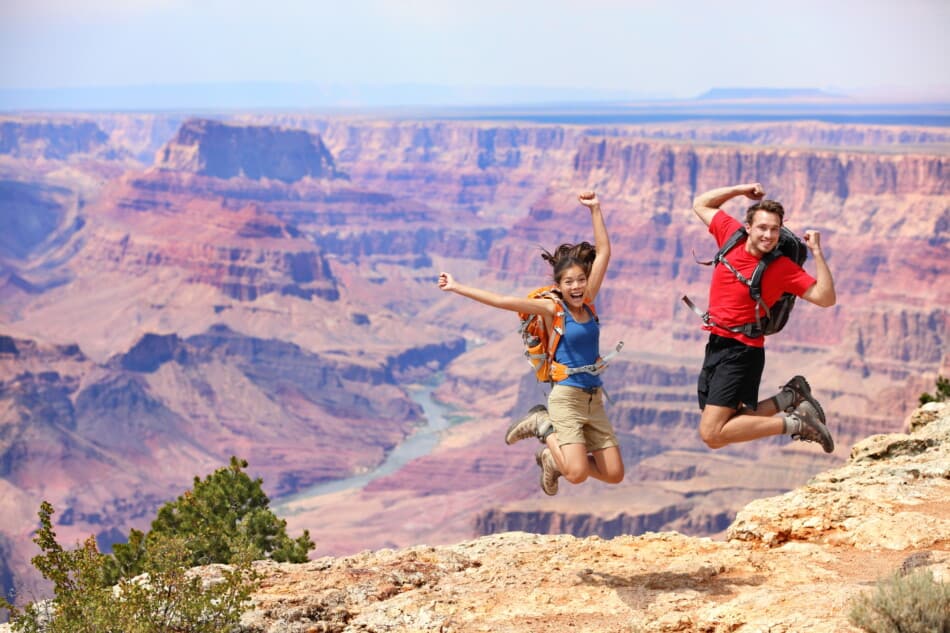 The drive through the South and East Rims, the stops at Wupatki and Sunset Crater Volcano National Monuments, and the Southwestern lunch at a revered Navajo tribe are all highlights.
Drive along the East Rim and South Rim, stopping to take in the vistas and go on foot explorations, and visit the interesting old Wupatki ruins and Sunset Crater Volcano National Monument.
Check out this Grand Canyon Tour.
Sedona Outback Trail Jeep Adventure
Take a Jeep tour through the red rock landscape of Sedona that isn't too challenging but explores some of the most stunning views in the area.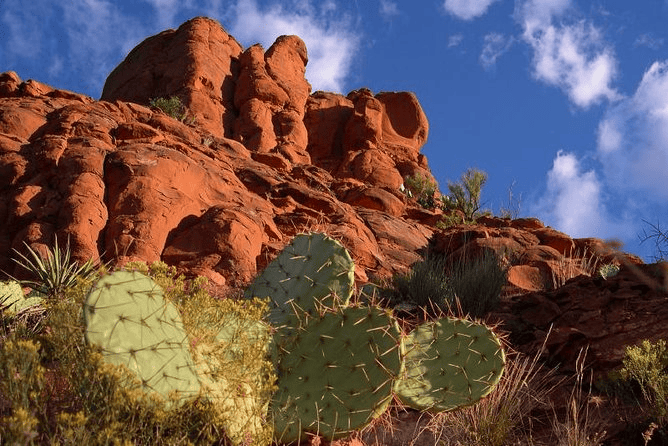 While you walk at the base of the rock formations, explore the vistas of Cathedral Rock, Thunder Mountain, Bear Mountain, and more, and learn about Arizona geology, local history, plants, and wildlife.
10 people are allowed on this enjoyable, intimate Sedona Jeep tour that departs from a central location in uptown Sedona.
Venture off the beaten path in a Jeep while learning about the area from a local driver or guide. Check out this Sedona Outback Jeep Adventure.
Sedona Vortex Tour by Jeep
During the Small Group Vortex Tour of Sedona, visitors are taken to four different vortex sites and given the opportunity to experience the energy of each location.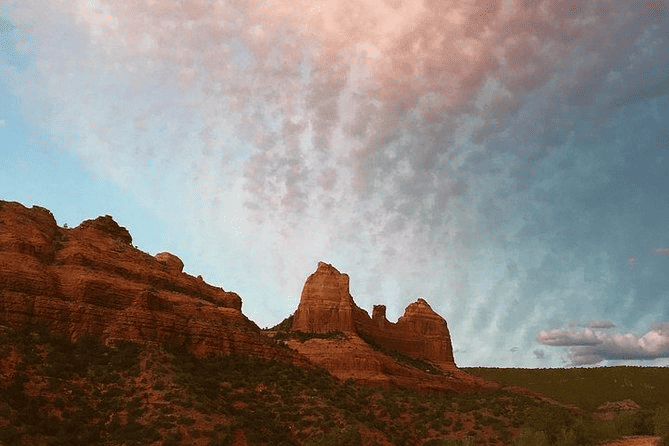 The tour is led by an experienced guide who provides information about the history and geology of the area. Participants are encouraged to meditate and connect with the energy of the vortexes.
One thing hasn't changed about the famous Sedona Vortexes (or "vortices") over the years: visitors from all over the world enjoy astonishing and illuminating experiences here.
With the aid of an educational guide, you'll travel the area by Jeep, visit some vortex sites throughout the city, and discover their histories. Find out for yourself the powers of a vortex, whether you feel the energy on your skin or feel educated.
On this small-group trip leaving from Sedona, discover the mystique and wonder of natural vortexes.
The tour is approximately 2.5 hours long and includes transportation to and from the sites.
Half-day Sedona Sightseeing Tour – Tours of Sedona
On a half-day sightseeing tour, explore Sedona's red-hued scenery and famous landmarks. Join a small group and make stops at notable sites like Peace Park, the Tlaquepaque Arts Village, and the Church of the Holy Cross.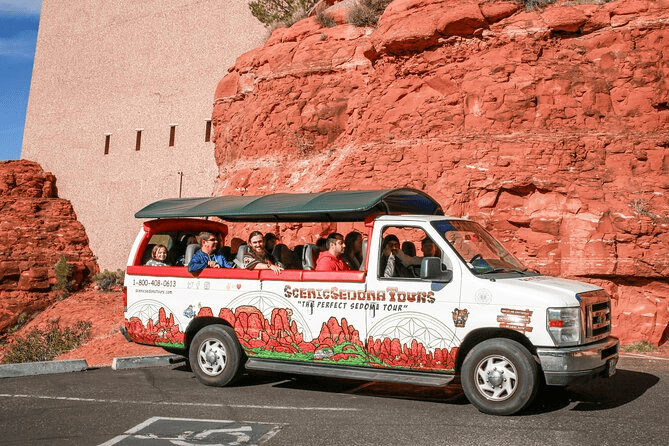 Learn about the geomagnetic vortexes that exist in the area and take a stroll through uptown Sedona while you have time to purchase lunch.
You'll see everything, including the stunning red rocks and well-known peaks of Sedona, the Buddhist temple Amitabha Stupa, and the enigmatic geomagnetic vortexes, and that's only the beginning.
Midway through your tour, stop for lunch in hip Uptown and continue to six spectacular locations.
On this unique trip, led by people who genuinely love what they do, discover all that Sedona has to offer.
Guided ATV Tour of Western Sedona
This guided ATV tour of Western Sedona is an exciting way to explore the stunning red rock formations and scenic landscapes.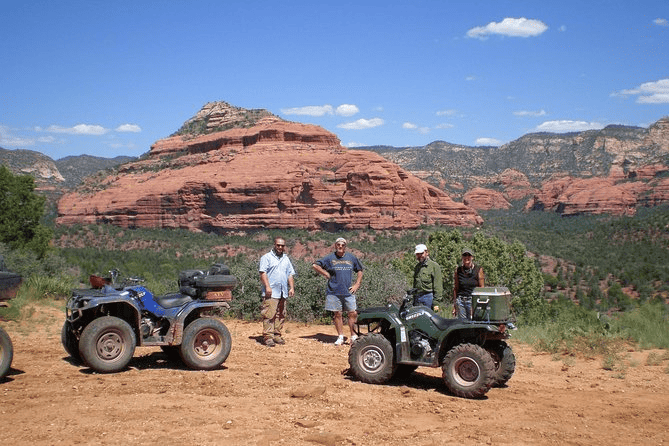 The tour lasts for two hours and covers a distance of approximately 20 miles. The tour guide provides informative commentary about the history and geology of the area throughout the journey.
The tour takes visitors through rugged terrain, steep hills, and winding trails, providing a thrilling adventure for all. This ATV tour is suitable for all skill levels and is a great way to experience the beauty of Sedona.
Sedona Stargazing Tour
This Sedona Stargazing Tour has something for everyone. The tour takes place in the heart of Sedona's Red Rock Country, where guests are treated to an immersive and educational stargazing adventure.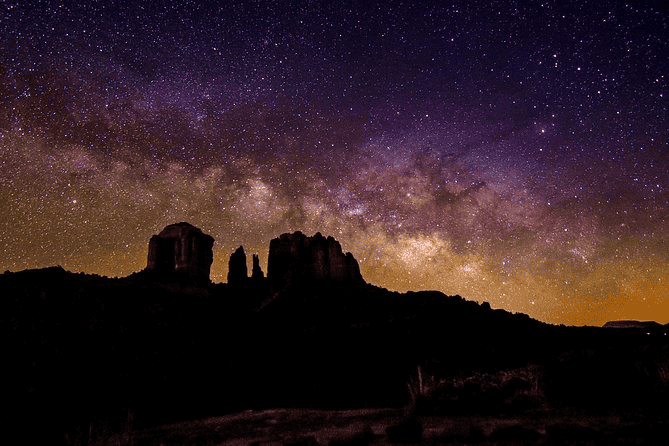 The areas around Sedona and Flagstaff provide some of the best locations from which to view the stars without being disturbed by city light due to their low population density and high altitude.
Your tour guide will be an expert astronomer who will point out lunar characteristics that, in good weather, will be wonderfully clear.
The necessary equipment is given, so all you have to do is look through the telescope to see distant planets, meteor belts, and moons.
Even at the height of summer, the desert may get chilly at night, so be sure to pack some warm clothing.
The Night Sky Star Story, Galaxy, and Sedona Story Tour
The Night Sky Galaxy and Star Story Tour in Sedona is a stargazing adventure that takes visitors to the outskirts of the city to experience the beauty of the night sky.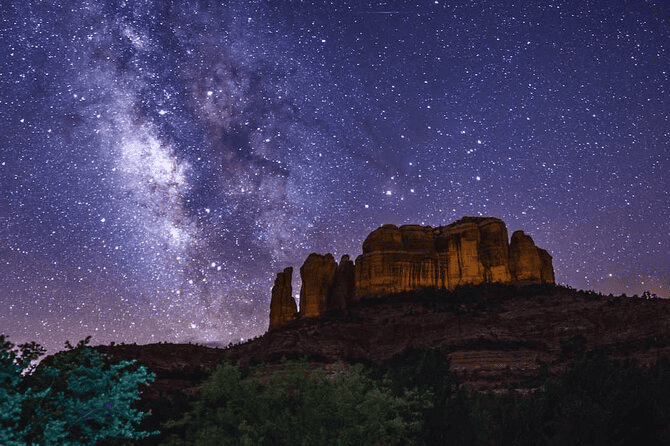 Led by an expert guide, the tour offers a unique opportunity to learn about the stars, constellations, and galaxies while observing them through a high-powered telescope.
Visitors can witness the stunning views of the Milky Way and other celestial bodies while the guide shares fascinating facts about the universe. The tour is a perfect way to escape the city lights and immerse oneself in the wonders of the cosmos.
For this tour, bring your favorite foods and drinks, relax under the cool night sky, and get ready to "meet the stars" as you discover more about Sedona, the indigenous people of the area, and your incredible place in the universe.
Kayak Tour on the Verde River
This tour is a half-day adventure that takes guests on a scenic journey through the river's serene waters.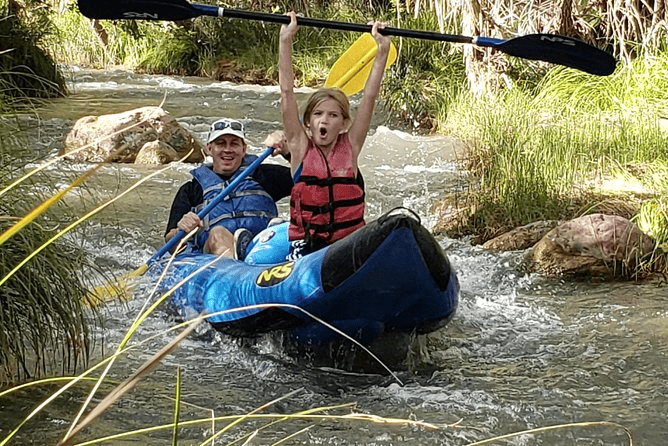 The tour is led by an experienced guide who provides insight into the area's history and wildlife. The tour includes a stop at a riverside beach where guests can relax and enjoy the beautiful surroundings.
Enjoy a unique way to explore while immersing yourself in Arizona's breathtaking environment on this family-friendly kayaking tour along the Verde River.
Overall, the tour offers a peaceful and enjoyable experience for nature lovers and adventure seekers alike.
RZR ATV Rental in Sedona
This ATV tour is a four-hour RZR ride in Sedona, Arizonar. Participants can choose between a mild or wild ride, with the former being a more leisurely experience and the latter being more adventurous.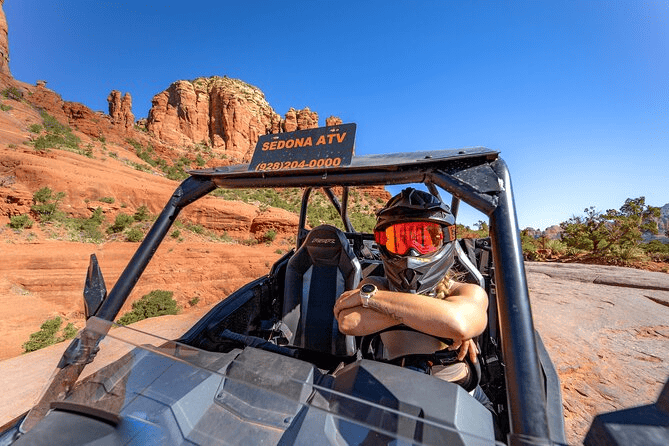 The tour takes riders through the scenic desert landscape of Sedona, with stops at various lookout points and photo opportunities.
The RZR vehicles are equipped with safety features and are easy to operate, making the tour accessible to all skill levels. Overall, the tour offers a thrilling and scenic experience of Sedona's natural beauty.
Grand Canyon Private Luxury Car Tour
On a private guided trip, explore the Grand Canyon at your own pace. With this private tour of the Grand Canyon from Sedona, you can avoid the hassle of rental cars and strict group tour timetables.
You can anticipate a comfortable and adaptable experience with just your party and a guide who is knowledgeable about the neighborhood history and geology, as well as the greatest vistas, shortcuts, and ways to avoid the canyon crowds. Included is lunch at the storied El Tovar Lodge.
EZRider Sedona Self-Guided E-Bike Tour over 650
This EZRider Sedona Self-Guided E-Bike Tour is a popular tour for those who want to explore Sedona on their own.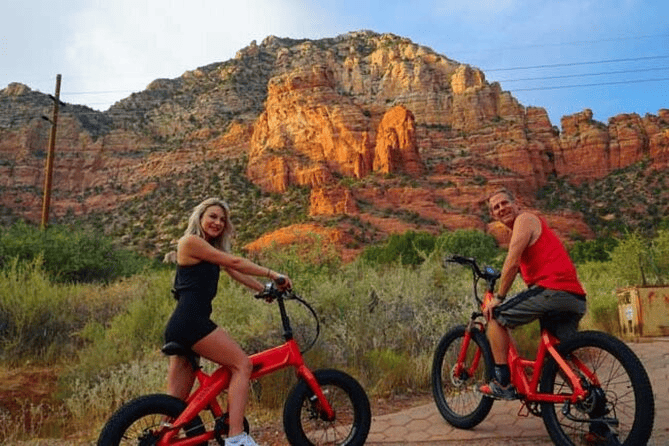 The tour provides electric bikes that allow riders to easily navigate the terrain and take in the stunning views. The tour covers various scenic spots, including the Chapel of the Holy Cross, Bell Rock, and Cathedral Rock.
The tour is self-guided, which means that riders can take their time and explore the area at their own pace. Overall, the tour is a great way to experience Sedona's natural beauty and enjoy a fun and active adventure.
With this self-guided e-bike tour of Sedona, you can cycle your way around the Tlaquepaque Arts and Shopping Village and the Red Rock attractions at your own pace.
Extreme Sedona Off-Road Canyon Jeep Tour
On this Jeep tour across the rough hills, valleys, and terrain that surround the city, uncover Sedona's daring side. and take in the unhindered sights from the open Jeep.
While touring local sights like Thunder Mountain, Doe Mesa, and Diamondback Gulch with an expert guide to tell local legends and detect wildlife, you'll learn about the local geology, history, and fauna.
This Sedona Jeep tour, which picks up and drops off at neighborhood hotels, is the ideal way to travel off-road and extensively throughout the Arizona desert.
Sedona Helicopter Tour: Dust Devil Tour
This aerial tour of the Anasazi cliff dwellings in a helicopter is one of Sedona's most stunning experiences.
This 20-minute aerial tour will fly you above the 700-year-old building that served as the Anasazi people's residence. After 1300, they inexplicably vanished, but the houses they left behind—carved deep into the stone walls—remain as a menacing reminder of the once-vibrant neighborhood.
Explore the Anasazi cliff dwellings by helicopter while admiring Sedona's breathtaking red rock landscape. Enjoy the breathtaking desert vistas and wind-carved rock formations that the area is famous for as you drive. Don't leave any traces, don't exert yourself, and don't forget your camera!
This tour takes off in the direction of Devil's Bridge, a natural rock feature that connects two enormous cliffs. Proceed to Hidden Canyon and take a bird's-eye view of the well-known hiking paths. As you make your way up to the Mogollon Rim, take in all the animals. Go through Boynton Canyon and get close to the houses.
Montezuma Castle – Tuzigoot National Monument Private Luxury Car Tour
This tour takes visitors to two national monuments, Montezuma Castle and Tuzigoot.
Montezuma Castle is a well-preserved cliff dwelling that was built by the Sinagua people over 600 years ago. Tuzigoot is a pueblo ruin that was inhabited by the same people in the 12th and 13th centuries.
The tour provides visitors with an opportunity to learn about the history and culture of the Sinagua people, as well as the geology and ecology of the area.
Antelope Canyon and Horseshoe Bend Tour
This jam-packed 3-day tour is for you if you have three full days to commit to seeing Arizona's breadth and magnificence.
Together with all the beautiful views you'll visit, the cost of your tour also includes all park admission costs, two nights in a hotel, and breakfast.
You will be escorted by a Native American guide to many of the state's well-known sights, including the Valley of Fire, Antelope Canyon, and the Navajo Nation.
This tour will be completed with stops in Sedona and Las Vegas, and you'll probably be surprised at how much ground you covered in such a short period.
Recent Posts