15 Best Shoes for Desert Hiking – Men's and Women's Sand Shoes
Desert Hiking Shoes: Are you looking for the best shoes for desert hiking? The best desert shoes are ones that keep the sand out and don't give you blisters.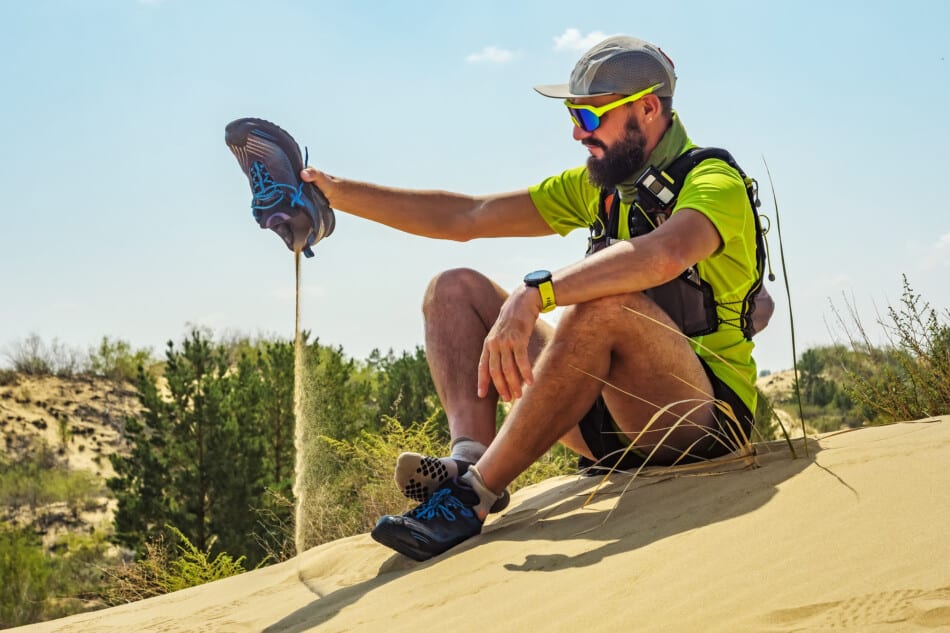 I have tested sand proof shoes to find the best shoes for sand dunes. Whether you are looking for desert running shoes or desert hiking shoes you are sure to find the best desert hiking boots on this list.
The American Southwest is the perfect place to use sand dune shoes. From the arid Arizona to the sand dunes of New Mexico. You can also use these shoes on beaches or along sandy rivers.
You can also check out my post on the Best Shoes for Rocky Beaches. I have a thing about shoes and having the right shoes for the right situation that are comfortable. I hope you enjoy this list of sand shoes.
TLDR: These are the pair of desert hiking shoe that I wear and love. These are the best hiking boots for Arizona desert. I also love these and wear them frequently as they are best shoes for desert walking.
Depending on the type of sand hiking you are doing you could also look at hiking sandals. Of course you have to be careful about the heat of the sand but if it is not so hot I do recommend sandals as the sand falls right out. These are the pair of shoes for the beach and hiking that I use.
Thank you for supporting this website written by an American. This post may contain affiliate links. This means I earn a small commission on these links at no extra cost to you.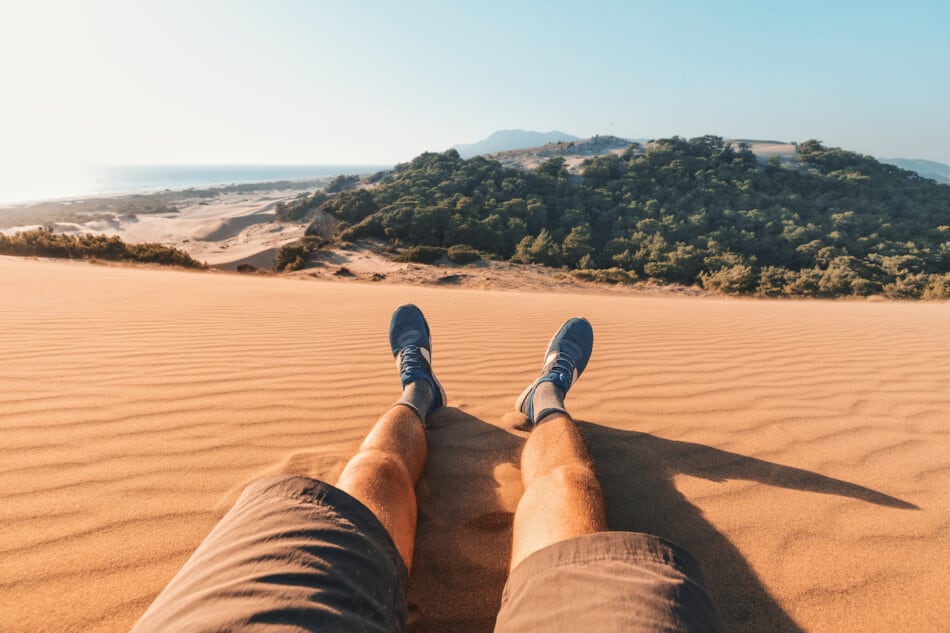 Choosing the right shoes for hiking in the desert, especially in sandy conditions, is crucial for comfort, support, and safety. Here are some factors to consider when selecting desert hiking shoes:
Closed Toe Design:

Opt for shoes with a closed toe design to protect your feet from rocks, debris, and potentially abrasive sand. This helps prevent injuries and discomfort.

Breathability:

Look for shoes with breathable materials to keep your feet cool in hot desert conditions. Adequate ventilation helps in preventing excessive sweating and discomfort.

Ankle Support:

Depending on the terrain, ankle support can be crucial. If you're navigating uneven surfaces, consider mid or high-top hiking shoes to provide extra support and reduce the risk of ankle injuries.

Sole Traction:

The sole of the shoe should have a tread pattern that provides good traction on sandy and rocky surfaces. Look for shoes with a durable and slip-resistant sole for stability.

Sand-Resistant Design:

Choose shoes with a design that minimizes the entry of sand. Mesh panels that are too open may allow sand to enter easily, so look for a balance between breathability and sand resistance.

Comfortable Fit:

Ensure a comfortable fit with enough room for your toes to move, especially considering that your feet may swell in the heat. Tight shoes can lead to blisters and discomfort on long hikes.

Lightweight Construction:

Lightweight shoes are advantageous for desert hiking to reduce fatigue during long walks. However, they should still provide sufficient support and protection.

Durable Materials:

Choose shoes made from durable materials that can withstand the abrasive nature of sand and rocky terrain. Reinforced toe caps and sturdy construction are important for longevity.

Adjustable Lacing:

Shoes with adjustable lacing systems allow you to customize the fit according to your foot shape and provide additional support. This is particularly important for stability on uneven surfaces.

Water Resistance:

While desert environments are often dry, unexpected weather conditions or encountering water sources may occur. Having water-resistant or quick-drying shoes can be beneficial.

Sizing Considerations:

Consider choosing a size slightly larger than your regular shoe size to account for swelling in hot conditions and to accommodate thicker socks if needed.

Gaiter Compatibility:

Some desert trails may have fine sand, and wearing gaiters can prevent sand from getting inside your shoes. Consider shoes that are compatible with gaiters if you plan to use them.
Always break in your hiking shoes before embarking on a long desert hike to ensure they're comfortable and don't cause blisters. Additionally, it's a good idea to test the shoes in similar conditions before embarking on an extended desert trek to make sure they meet your specific needs.
Best Shoes for Walking in Sand – Desert Shoe Review
Salomon X Ultra 4 Gore-Tex – Men's and Women's Sand Hiking Shoe
The Salomon X Ultra 4 GTX hiking shoe is designed to take on even the most challenging trails. These shoes are designed specifically for rough terrain and demand high performance on a range of surfaces.
These low-top desert walking boots are built on an AVD-C Chassis for superior support, and the SensiFit technology and Quicklace lacing system allow the shoe to contour to your foot.
These shoes are easy to put on and take off by cinching and uncinching the laces. They're also great for shaking out any entering silt and going in and out of a tent.
With all of these features, it's amazing that the X Ultra 4 GTX shoes are so light, weighing only 1.75 pounds. This redesigned version of a well-known and well-loved classic loses about a quarter-pound per pair. In addition, when compared to the other options, the price is reasonable.
The Salomon X Ultra 3 Mid is a favorite all-around hiking boot, built like a trail running shoe but with improved ankle support and protection.
These boots combine comfort and lightweight while maintaining excellent toe protection, a stable frame, and a lug design that grips remarkably well.
You also get Salomon's tried-and-true construction quality, which tends to withstand more trail damage than comparable boots in this weight and price range. The X Ultra 3 Mid is ideal for fast-paced day hikers, light backpackers, and even thru-hikers. These are perfect shoes for women and for men
Merrell Moab 2 Ventilator – desert hiking shoes
The Merrell Moab 2 Ventilator is one of the best-selling hiking shoes, which comes as no surprise. During warm-weather hikes, the side ventilation keeps feet cool.
The leather and mesh are also durable enough to withstand rocky scrambles, lengthy day hikes, and multiday adventures. They combine the low-top freedom of a shoe with some of the solidity and traction of a hiking boot.
The toe box was broad enough, however, because they are a little stiffer, you should gradually increase your mileage. Give them some time to break in and you'll have an excellent hiking shoe for many seasons. On typical paths, these are winners for day trails.
Merrel is a great quality brand for hiking shoes and these are perfect for hiking in sand. Check out the men's Moab 2 and the Women's Moab 2 – Best Women's hiking shoes for desert.
Astral TR1 Hiking Sand Shoe – hiking boots desert
Astral TR1 is good pair of quick-drying hiking shoes which is vital whether you enjoy exploring slot canyons or tracking through sand. All Astral shoes are vegan. They use recycled polyester and source materials as sustainably as possible. They also always promise to put nature first.
The TR1 shoes will keep your feet pleased whether you're a paddler who also expects to hike or a hiker who happens to be near water. The level footbed promotes balance and agility while the wider toe box lets your feet and toes spread out for stability.
They are also quick to dry and effortlessly drain water thanks to perforations in the front and back, and the mesh dries rapidly. They also let your feet breathe and stay cool, even on hot days.
Even when rock-hopping along the river's edge, the sticky rubber soles provided sufficient traction. The bigger toe box also allows your feet to spread out.
Stinky shoes are a thing of the past thanks to the Polygiene-treated insole. This shoe is ideal for moderate hiking, tropical adventures, and a variety of watersports. The women's shoe and the men's shoe are both available.
Lems Trailhead Hiking Shoe – desert hiking boots
The Trailhead is perfect for anyone looking for a single summer shoe. It can effortlessly transition from travel to trail to a night at the brewpub, owing to its ample comfort and design.
The Trailhead, which is known for manufacturing the ultra-packable Boulder Boot, is guaranteed to become a fan favorite. It's the ideal go-to for adventure travel because it's built for the trail yet tailored for the city.
The 4mm drop enables a more natural footstrike while staying away from extreme minimalism. The broader toe box also allows your feet to move around freely.
The firm EVA midsole may feel stiff at first, but after a few wears, you'll find it to be comfortable. The firmer foam molds to your feet and provides much-needed support.
Anyone looking for a shoe that isn't made of leather may feel good about wearing this vegan-friendly option. This is the shoe for you if your summer trip plans include hiking, biking, sightseeing, or general adventure.
These are great shoes for the sand and you can find the men's version.
Danner Trail 2650 – best desert shoes
Danner is noted for producing long-lasting, high-quality hiking footwear. This is also true of their hiking shoes. The Trail 2650 is built to go the distance, inspired by the terrain of the Pacific Crest Trail's 2,650 miles through desert and forest.
Even on scorching summer hikes, the mesh liner will keep your feet cool and will allow your foot to breathe. You'll like the excellent grip these provide in addition to the elegant appearance.
They'll be comfy right out of the box and suited for a variety of day hikes.
While some testers asked for greater arch support, others thought they were a perfect fit. This is a personal choice based on foot form and desire. The Trail 2650 shoe is available in a variety of designs, including waterproof, mesh, and mid.
You can find the men's Danner sand shoe and there is also a women's sand shoe available.
Adidas Terrex Swift R2 – best shoes for hiking in sand
As one sand hiking boot in the growing Terrex line, the Continental's outsole tips the hand early. Swift R2 is not a running shoe, but it performs in a variety of circumstances, including sidehill seeps and slick rock.
A toecap designed for apocalyptic rockfalls and small canyons protects feet like a few other models under evaluation. The padded collar reduces Achilles' damage while the tensioned speed lacing allows for quick on-trail adjustments.
These desert boots are perfect for the hiker who craves bigger multiday backpacking hikes. Tight mesh uppers keep abrasion resistance high, but the Traxion outsoles' weight of approximately 27.2 ounces for each pair is too much to resist.
Check out the men's Terrex Swift or the Women's Terrex Swift
SCARPA Rapid Sand Shoe – best shoes for sand dunes
Over a tongue that doesn't bunch or pinch, SCARPA's lacing system once again proves to be a favorite. At 22 ounces per pair, the weight is remarkably refreshing.
This model walks a fine line between hiker and trail runner, with a strong build for the former (hiker) and not enough rocker for the latter (trail runner). With a fluid, multisport approach to a low-cut style, the warm-weather hiker wins toes-down.
With a weight-cutting notched outsole, the suede and recycled polyester mesh upper hold together effectively throughout diverse terrain. Ankle twists are avoided by having enough torsional stability. The heel cup and moderate toe box volume that turns quickly and tightly around bends will appeal to normal feet.
Helley Hansen Loke Dash – best shoes for walking in sand
With superior lacing tension, a debris-shedding ankle cuff, and outsoles that give dirt and pebbles nowhere to hide, the Loke plays tricks on hikers' feet.
The Loke Dash runs where others stroll and accelerate when others fall, almost like a Fly knit upper shoe. These shoes are designed for mild terrain and warm weather rather than alpine conditions.
The lack of a stone guard plate will cause problems for anyone with sensitive feet. The Loke, another type that easily transitions from trail to train station, is comfortable with international and adventurous travel.
In a pair that walks tall in less demanding settings, a removable EVA footbed is a benefit that saves $30 or more.
There is a low profile men's shoe and women's shoe.
These women's water hiking shoes are available in black and walnut, the Teva Sanborn sandal has two pieces, a toe crisscross strap, and an adjustable hook and loop heel strap.
These sandals are comfortable and ideal for traveling, hiking, walking through water, and just going to the store. The straps are made from a water-ready polyester webbing which is durable and dries quickly.
I know people might think sandals are crazy but I wore these for several day hikes that included water, sand and on the trail. They have great grip and are extremely comfortable. You just have to know if the sand is going to be hot because it will touch your feet.
The sandals are injected with EVA-foam on the outsole for a lightweight feel and cushioned comfort.
The Teva Tirra water shoes are ideal for walking, hiking, swimming, walking over rocks, through water, going to the store, traveling and road trips.
Sound Interesting? Check out reviews and price on Amazon
The Merrell women's Terran Lattice II sandals have a lattice cross over toe strap which leads into the heel strap providing breathability, comfort, and stability.
The sandal has rubber soles, mesh linings, a removable ace footbed, a standard Merrell air cushion footbed which absorbs shock and adds stability to the entire foot.
Hiking in sandals has become more popular in recent years and I am here for it. I wore sandals when I hiked down to Horseshoe Bend. While this isn't a long hike, it is covered in sand. I wore my sandals and the sand was hot. It wasn't too hot that it burned my feet even though it was 100 degrees outside.
The shoe has a buckle closure and is available in nine colors. These sandals are ideal for hiking, walking, walking through sand, over rocks, and through streams.
Sound Interesting? Check out reviews and price on Amazon
Lowa Renegade GTX Mid
Consider this your one-stop-shop for boots. The Lowa Renegade GTX Mid was built from the ground up with backpacking in mind. It all starts with out-of-the-box comfort, so you'll be comfortable wearing these for a long time.
Lowa has a cushy polyurethane (PU) midsole hidden inside the Renegade. As a running shoe, it's light and springy, but it's significantly more durable.
The bouncy midsole is not only incredibly comfortable but also provides excellent support for heavy weekend loads. Most hikers appreciate a snug heel cup and roomy toe box, especially on extended camping trips when feet swell and change size.
The traction isn't terrible either. The Renegade is equipped with a Vibram outsole that mixes softer rubber with a multidirectional lug pattern, making it ideal for rocky and dusty trails.
A waterproof membrane keeps water out, but when paired with a tough leather upper, it comes at a cost: breathability. Since leather doesn't breathe as well as synthetic fabrics, save these kicks for travels where puny feet aren't an issue.
Sound Interesting? Check out reviews and price on Amazon
Topo Athletic Trailventure
When compared to standard leather hiking boots, the Trailventure has a nylon mesh upper and an EVA midsole, making it practically feathery.
Although Topo has slashed grams all over the place, the Trailventure isn't a lightweight shoe.
The Trailventure features a 30mm stack height under the heel, as well as a 5mm thick EVA midsole for pillow-like underfoot cushioning. A hard plastic rear rock plate protects the Trailventure.
In the Trailventure, breathability is a must. Since the boot is not waterproof, sweat vapor can readily escape through the mesh upper. It's an excellent alternative for people who live in warmer, drier areas (or who have sweaty feet).
La Sportiva Nucleo High II GTX
When you put on the La Sportiva Nucleo High II, a very nimble yet super supportive leather hiking boot that thrives on tougher trails and above treeline, you'll feel like a mountain goat. Tootsies are protected by a high ankle collar and strong armor.
The Nucleo High II shoe fits trim and snug on the foot, similar to an approach shoe, allowing for precise steps and edging, which the testers liked on alpine walks when the path of least resistance must be followed. As a result, the Nucleo High II is available in broad sizes, which is a welcome addition for people who have wider feet.
The Nucleo High II also features a soft EVA foam midsole, similar to that of a running shoe, but with TPU inserts. GORE-TEX® SURROUND®, a tried-and-true waterproof technology that allows perspiration vapor to escape through the sides and bottom of the boot when a spacer in the midsole is compressed, completes the boot's feature set.
REI Co-op Flash Hiking Boot
The new Flash boot reaches that coveted sweet spot: lightweight comfort with underfoot support and durability, according to feedback from more than 6,100 co-op members around the country.
With a softer midsole and a rocketed, or upturned, design that optimizes your natural walking stride and offers a snappier toe spring when hiking quickly, it fits like a trail-running shoe.
This shoe is waterproof, and the midsole contains a nylon shank that protects against rocks, roots, and other trail debris. Its woven knit upper is reinforced with a protective double layer of recycled TPU.
Designers also devised a proprietary waterproofing membrane (named HydroWallTM) that is 75 percent recycled poly and functions in the same way as other popular waterproofing membranes on the market. REI collaborated with BLOOMTM on the midsole, which is made of algae-based foam, and finished it off with a 20 percent recycled outsole.
The best part is that durability is unaffected. "Rain, sand, snow, sleet, and heat," says the weatherman. This will undoubtedly endure for many years.
Check out the women's and men's versions on REI.
Oboz Sawtooth II Low
Are you looking for a hiking shoe that looks and feels like a typical hiking boot? This below-the-ankle selection might be exactly what you're looking for. The Sawtooth weighs less than two pounds and cuts through difficult terrain better than most mid-height hiking boots.
The abrasion-resistant upper is made of a combination of leather and textile. In addition, the outsole has enough rocker to make walking on rollers and steeps simpler. It's ready to hike right out of the package. With a wider toe box and a heel cup that combats shifting even on difficult descents, it promotes more foot flexibility.
The lug design provides excellent traction. Abrasion is also prevented thanks to the toe overlays. Their testers are pleased to note that this exhibit little wear even after numerous seasons of use. You can also rest easy knowing that for every pair of shoes purchased, Oboz plants a tree.
This model runs about a half size large. For a waterproof version, take a look at the Oboz Sawtooth II Low BDry. It's the same shoe, but with Oboz's waterproof membrane.
Recent Posts