15 Fun Things to do in Kingman, AZ
Kingman Attractions: Are you looking for fun things to do in Kingman? I've put together this list of what to see and do in Kingman.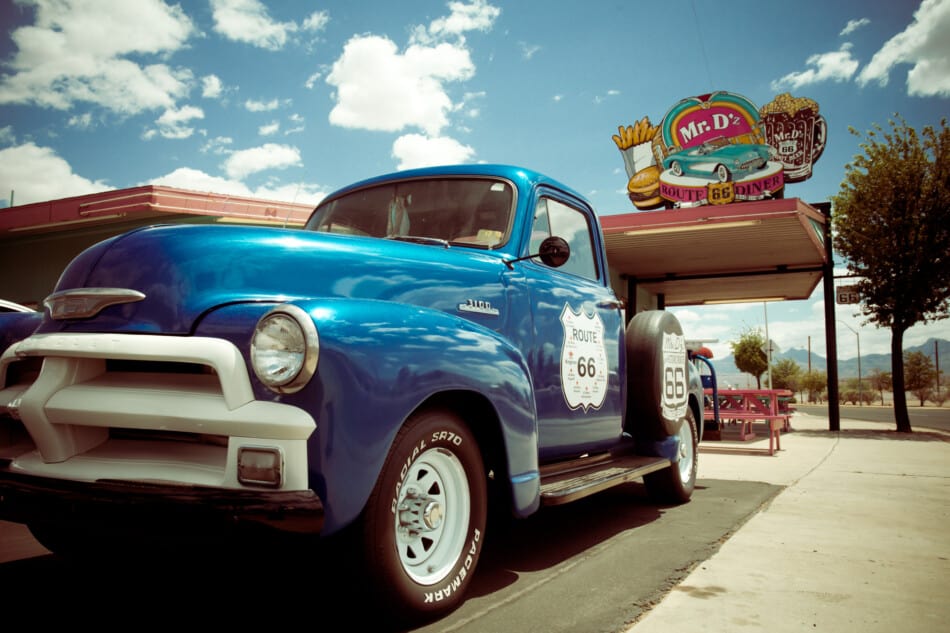 Kingman is located on Route 66 and most people traveling from Las Vegas to the Grand Canyon are sure to pass through and may be wondering if it is worth a stop. I say yes – there are a lot of things to do in Kingman.
Kingman, the county seat of Mohave County, with a population of slightly under 30,000 people. It grew rapidly once the railway came in the late 1800s. It grew in importance as a mining and ranching town over the years. The history that you won't find on its streets can be found in its museums.
15 Kingman, Arizona Tourist Attractions you need to check out!
Historic Route 66 Museum
The historic Kingman Powerhouse museum and visitor center complex, which opened to the public in May of 2001, now includes the Historic Route 66 Museum.
The Arizona Route 66 Museum recounts the history of Route 66 and the various modes of transportation that have traversed it throughout the years. When it first opened in 2001, the Historic Powerhouse was a big addition to Kingman's attractions.
The museum is open every day and features displays that trace the evolution of the 35th parallel into one of America's most iconic highway routes, from its beginnings as an indigenous trade route to the height of its Main Street America reputation in the 1950s.
The museum launched the nation's first Route 66 electric car exhibit in 2014, with more than a dozen vehicles on loan from the Historic Electric Vehicle Foundation dating back to the 19th century. For elementary and secondary school children, curriculum-integrated field trip possibilities are provided, as well as a museum scavenger hunt activity to enhance student groups' experience.
Beautiful images and murals are on display, and you can learn more about Native American routes and US Army operations. Add in the settlers' migration to California and, subsequently, migrants seeking a better life, and you have a complete picture of the region's history.
Lake Mohave
Lake Mohave, a 67-mile-long artificial lake on the Colorado River between Hoover and Davis Dams, is located in Kingman.
Fishing, jet skiing, and kayaking are just a few of the water sports available and are popular activities on the lake. Also, go hiking in the vicinity. Its water quality is in jeopardy due to the lack of rain, but it still provides lots of recreational activities.
The shoreline stretches for about 200 miles, making it a popular camping spot.
Boat cruises up the Colorado River to Lake Mead are available from the north end. Take advantage of the beautiful water, while hiking is a fun way to spend time.
Metcalf Park
Metcalf Park is a public park in Kingman, Arizona, dedicated to the remembrance of civic leader and land developer Charles Metcalfe, who was instrumental in the creation of Hualapai Mountain Park.
The tiny, tree-lined park is free and open to the public during daylight hours seven days a week, with seating spots, barbecues, and a children's playground that is ideal for three to six years old, making it simple for them to have fun while remaining safe!
The park's large open green spaces make it a popular spot for picnics and gatherings, such as the annual Mother's Day Arts and Crafts Festival in May. The Park also features a staging area showcasing concerts and events, including the annual Sounds of Kingman summer concert series.
The park's large open green spaces make it a popular spot for picnics and gatherings, such as the annual Mother's Day Arts and Crafts Festival in May. A stage area in the park hosts concerts and activities, such as the annual Sounds of Kingman summer concert series.
It always draws a large crowd since there are so many activities to choose from – no matter your age, you will find your favorite event here!
Kingman Visitor Center
The Kingman Visitor Center is located in Kingman, Arizona. It's most likely the first location you will go to in Kingman. You'll discover free and up-to-date information about this city and its surroundings here.
The historic Kingman Powerhouse building, which opened in 1909 and delivered revolutionary, affordable electric power to Kingman and Mohave Counties for three decades, now houses the Kingman Visitor Center.
Despite its initial success, the plant was in decline for much of the twentieth century after being purchased by the Citizens Utilities Company of Delaware in 1935 and remained unused until 1978, when it was purchased by the Powerhouse Gang restoration club.
The structure was turned into a visitor and museum center for the Kingman area with the help of the State Historic Preservation Office, and now houses museums such as the Arizona Route 66 Museum, the Carlos Elmer Photo Gallery, and the 66 Kid Exhibition.
If you plan to spend more time in the area than just passing through, you should visit the center and take a look around. The visitor center at the powerhouse is open seven days a week throughout the morning and afternoon hours, providing information on surrounding attractions as well as a gift store with local products.
Mohave Museum of History & Arts
In Kingman, Arizona, the Mohave Museum of History and Arts is a historical museum.
The Mohave Museum of History and Arts was founded in 1961 in a chamber within the Chamber of Commerce by the Daughters of Pioneers. He moved into a new facility with his parking lot six years later.
Exhibits depict the region's history from prehistoric times to the current day, with photographs, paintings, and arts & crafts objects made by indigenous populations on display. It is a private nonprofit museum committed to preserving the history of the ancient tribes of the region, with a focus on the Chemehuevi, Havasupai, Hualapai, Mohave, and Paiute.
The museum's research facility houses a rich collection of civic items connected to the Mohave County region. The museum is run by the Mohave County Historical Society, which also runs the Route 66 Museum and the Bonelli House, and provides combination tickets to both.
Two highlights are the Hualapai Indian Room and the Mohave History Room, while the library, which was established in 2005, contains a great deal of information. A ranching exhibit and mining machinery are among the other attractions.
Bonelli House
The Bonelli's are one of Kingman's most well-known families, a Swiss Mormon immigrant who married Effie, the daughter of the Kingman Santa Fe Railroad Station Master, in the late 1800s. They ran a 250,000-acre ranch in addition to four retail outlets.
The Bonelli House is a historic mansion in Kingman that was the second custom home built by notable cattle rancher and retail business owner George A. Bonelli after his family's previous home was destroyed by an electrical fire.
Before being purchased by the City of Kingman in 1973, the house had been in the Bonelli family for several generations. The Mohave County Historical Society turned it into a living history home museum, and it has been open to the public for guided tours since 1978.
Monday through Friday, 25-minute tours are available. The original architecture and furnishings of the house, as well as relics preserved from the first Bonelli house fire, can be seen here.
Giganticus Headicus
Giganticus Headicus is one of the typical Route 66 tourist attractions and can be found in the lovely Antares Visitor Center (about 20 minutes north of Kingman).
Giganticus Headicus is a large-scale sculpture placed at the Route 66 Antares Visitor Center, which opened in November 2016 near Antares Point, the United States' longest continuous curve.
Gregg Arnold, a New Jersey artist, created the one-of-a-kind roadside statue in 2004 and is now working on more sculptures for the site. It is 14 feet tall and is made of a mix of metal, wood, wire, cement, and styrofoam to resemble a tiki head.
Miniature reproductions of the statue, as well as other interesting gift shop goods, are available for purchase at the visitor center.
It is unquestionably worthwhile to take a photo here.
Cella Winery
Carlos Cella, a Buenos Aires native, and California body shop owner, created Cella Winery in 2006 after cultivating a passion for winemaking as a young man and planting his first vineyards in 2008.
The company's Estate Wines range includes varietals such as malbec, moscato, merlot, cabernet sauvignon, and zinfandel. It also makes merlots, cabernets, syrahs, and red and white wine mixes under the California Wines label.
Since 2010, the company has started producing Estate Wines, which have won numerous prizes at the Arizona Wine and Food Festival. The company's public tasting room, which opened in 2014, offers a full range of wines for tasting and sale.
Within a few years of starting, Cella Winery received three awards in competition with the best wineries in the state. Why not visit them and try them for yourself? You surely won't regret it.
Stetson Winery
Stetson Winery is a must-visit for wine lovers. This winery is a fantastic wine-tasting location nestled in stunning scenery. As you watch the sunset over the mountains and observe the myriad changing colors of the huge Arizona desert sky, sip strong cabernets and subtle chardonnays.
Stetson Winery was opened in 2012 by husband and wife team Jo and Don Stetson, located approximately 15 miles north of the city of Kingman along Route 66. The vineyard property is home to the barn-themed Stetson Event Center, which was constructed by California's Thirtieth Street Architects and is available for private special event rentals as northeastern Arizona's only winery and event center.
Eric Glomski, an award-winning vintner whose wines were chosen as the official wine of the Arizona State Centennial in 2012, carefully crafts its wines.
Peacemaker Petite Sirah, Red Lady California Merlot, Root 66 California Red Table Wine, and Cultured Cowboy Sonoma County Chardonnay are among the wines available for purchase and sampling at the venue's veranda tasting area.
Don't miss the opportunity to taste for yourself the deliciousness of Stetson Winery's product when you visit Kingman.
Black Bridge Brewery
Brew master Tim Schritter launched Black Bridge Brewery in 2013 and named it after a historic railroad bridge on Kingman's outskirts that has been a popular youth hangout site since the 1960s.
Schritter, a veteran welder and metal fabricator, built state-of-the-art 45-gallon brewing equipment by hand for the brewery. The company's Evil Red Hopbursted Ale, Wicked Poison Wheat Wine, 80 Shilling Ale, and Locomotive Stout beers are all available on draft at the public tap area.
Black Bridge is a railroad bridge on the outskirts of Kingman where kids used to throw parties in the 1960s. The Brewery, located in the middle of Kingman, allows tourists to sample its brews, coffee, and ginger beer while listening to live music.
Cold-brew coffee and the company's trademark housemade ginger beer are also available. The taproom offers a range of public special events, such as pub quiz nights and happy hour events.
This brewery is a must-see for craft beer enthusiasts.
Desert Diamond Distillery
This might be the location for you if you enjoy touring distilleries. This small craft distillery near Kingman Airport makes vodka and four types of rum.
The state's first craft distillery, Desert Diamond Distillery, launched in April 2010 within the Kingman Airport Industrial Complex. The distillery was founded by the Patt family, who had originally intended to open a brewery or winery before attending an industry distillery conference and falling in love with the craft of producing fine spirits.
The distillery now produces five premium rums, including their iconic Gold Miner White Rum, which received a SIP Award in 2011, and their Gold Miner Barrel Reserve Rum, which won five prizes at the San Francisco World Spirits Competition.
At their public tasting area, they provide flight tastings, craft cocktails, and behind-the-scenes tours, as well as a retail shop selling cocktail mixers and liquor-tasting accessories.
In its bar, you may taste and purchase the products.
Hualapai Mountain Park
If you want to get away from the summer heat or enjoy the winter snows, Hualapai Mountain Park is the place to go. You'll be able to hike through the forests and take in the views of the valley and surrounding desert. Elevations range from 5,000 to 8,400 feet, with juniper and pine flourishing – a stark contrast to the Mohave Desert climate.
Hualapai Mountain Park is a public park in Mohave County that was created as a Civilian Conservation Corps project in the 1930s. The park's name honors the Hualapai indigenous tribe of the region, who once called the park's lands home.
The park now spans over 2,300 acres across the county, including many public leisure areas, campsites, and RV hookups, as well as cabin and teepee rentals. The park's varied landscape, which reaches elevations of 8,147 feet, is traversed by 10 kilometers of hiking paths.
There's a chance you'll encounter elk, which couldn't possibly survive in the desert heat. The upper elevations are also home to mountain lions and mule deer.
Further, hikers and cyclists will find a variety of trails, as well as camping and cabin rentals. It's a great spot for a picnic, and there are also volleyball and softball courts.
The park's construction and development as part of the New Deal's urban development initiatives are detailed in informational displays around the park, as are data about its vegetation, fauna, and natural features.
The Farmhouse
Barb Charon opened The Farmhouse in 2016 as a décor boutique and art supply store. It relocated from its original position to a 4,000-square-foot refurbished storefront in Kingman's downtown district the following year. They urged her to turn it into a business when she hosted many gatherings for friends while working on the remodel of her home so that people might enjoy what she did every day!
The shop specializes in vintage and antique decor, as well as a wide range of handcrafted and refurbished home goods. Paints and signage from Annie Sloan's Chalk Paint® line, as well as custom upholstery, are available.
On Saturdays, the store distributes free cookies to all guests as a customer gratitude gesture, and public arts and crafting workshops are held regularly.
Desert Wonder Tours and Trips
Robert Walton started Desert Wonder Tours and Trips to provide custom-designed commercial tours and trips in the Mohave Desert region. Local author and personality Jim Hinckley narrate the trips, with some providing live narration during the tour and others featuring guided tours at attraction spots.
All trips range one to four hours and cover a variety of historical, natural, and cultural attractions throughout the year.
Historic Route 66, the Grand Canyon and its surrounding caverns, the Las Vegas strip, the Joshua Tree Forest, and the Hoover Dam are among the major sights explored as part of travel packages. Hiking, biking, and horseback tours, as well as vineyards, brewery, restaurants, shopping, and museum excursions, are all available.
Desert Wonder Tours and Trips is about more than just visiting the Mohave Desert. It's also an opportunity to see some of the country's natural, cultural, and historical landmarks!
Recent Posts