17 Fun Things to do in Pinetop, AZ
Pinetop Activities: The Pinetop-Lakeside Arizona area has so much to do and see. This list of the best things to do in Pinetop, Arizona has something for everyone on it.
This area is also known for its hiking so I have included a lot of great hiking trails in Pinetop-Lakeside.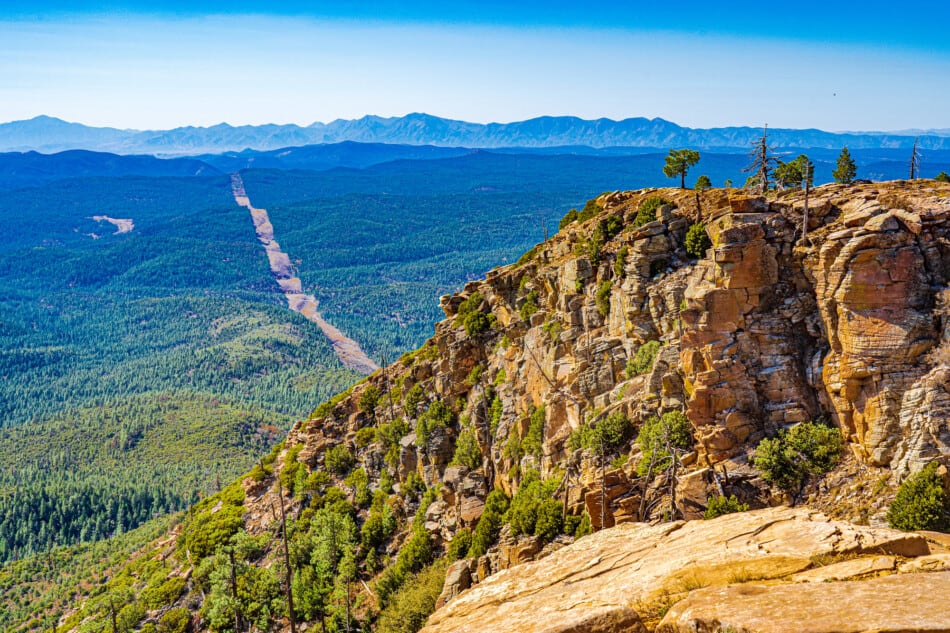 With a population of roughly 4,500 people, Pinetop-Lakeside is a tiny town in Navajo County, Arizona.
Most people prefer being outside, but they are aware that they may anticipate a lot of snow in the winter, with an average of 67 inches yearly – over twice the national average.
17 Best Things to do in Pinetop-Lakeside Arizona
Woodland Lake Park
Considered as the "Crowned Jewel" of Pinetop, Arizona; Woodland Lake Park has its charms to both tourists and residents alike.
Located in the heart of Pinetop-Lakeside, Woodland Lake Park is the shining centerpiece of our community. Have a blast with your family and friends in the developed areas of the park like the volleyball courts and softball fields.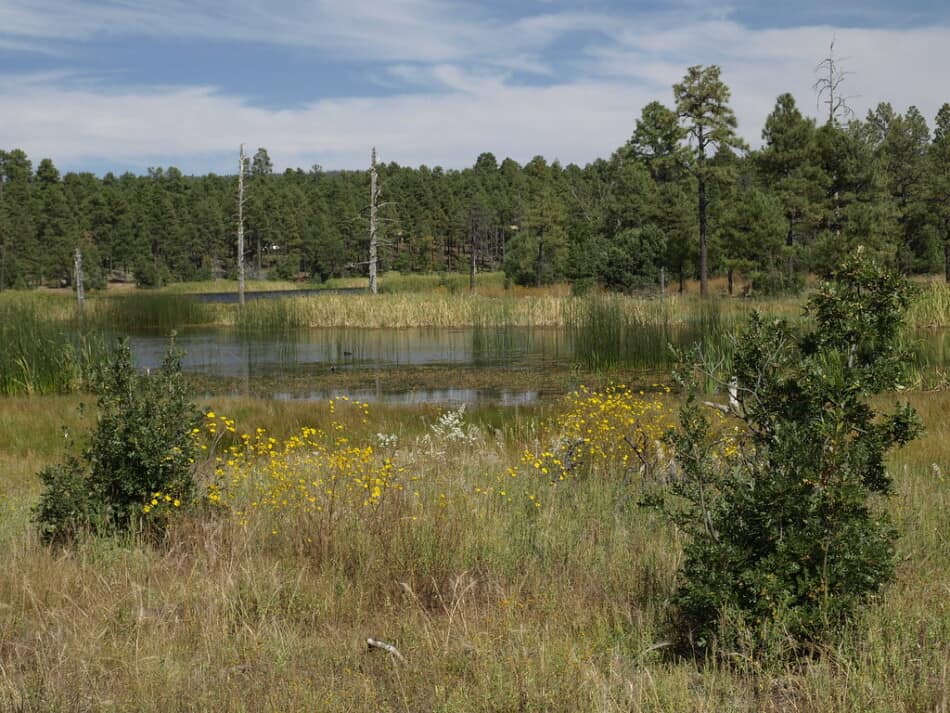 If sports are not up your alley, why not take a nice stroll in the wilderness section of the park. Home to more than 128 species of animals, hiking or taking a stroll around the lake has never been more fascinating than before.
Whether it is the pristine lake or the recreational activities it brings, Woodland Lake Park is a great place to relax and have some fun.
Fool Hollow Lake Recreation Area
Imagine camping among 100-foot pine trees beside a quiet lake watching majestic great blue herons at a cool 6,300 feet in elevation.
Located in the world's largest contiguous belt of ponderosa pine trees The campground features 92 RV sites with water and electric service (some sites with 50 amp) that can accommodate up to 40-foot rigs. There are also 31 sites without hookups.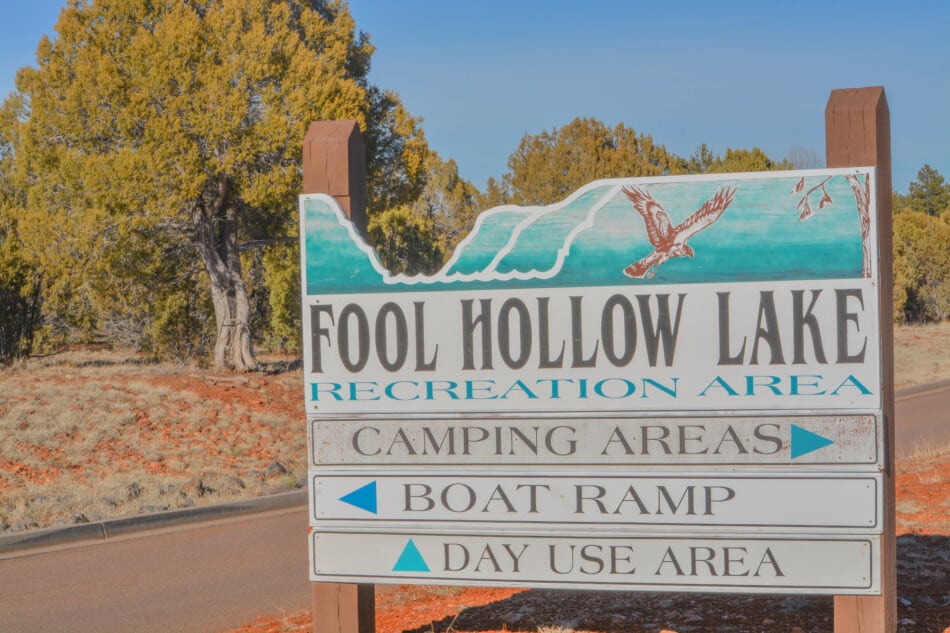 Year-round camping, fishing, picnicking, boating, and wildlife viewing opportunities make Fool Hollow Lake Recreation Area a popular place.
Fool Hollow Lake provides an array of recreational opportunities including camping, picnicking, boating, and fishing that will make your experience as immersive to nature as possible. Don't be a "fool" for missing out on the grand experience that is Fool Hollow Lake.
Timber Mesa Trail
Take your mind off things in a peaceful hike in Timber Mesa Trail. Timber Mesa Trail is a 12.2 kilometer moderately trafficked loop trail located near Show Low, Arizona that features beautiful wildflowers.
The Timber Mesa trailhead is one of the closest to both the local population base and a paved road, making it a good choice for folks who feel the need to amble on short notice.
One of the interesting things about the trial it passes through several distinct ecotypes. The 6-mile elongated loop divides equally into a pleasant single-track course through oak, juniper, and pinon woods and a rutted fire-control road for ATV enthusiasts. Once you are out of the woods, ride on the ridgeline and see the great view.
Take a breather and enjoy the trail as Timber Mesa is a good place to take your mind to rest.
Hawley Lake
Discover this hidden gem in the White Mountain Tribal Lake called Hawley Lake. Located on the Fort Apache Reservation, this 260-acre lake is surrounded by striking mountain peaks and pine trees.
The serene setting of Hawley Lake has become one of the most popular attractions on the Fort Apache Reservation.
At a high altitude of about 8,200 feet, the climate during late spring, summer, and early fall are cool and refreshing making it a popular getaway spot for the desert dwellers in the Phoenix and Scottsdale area.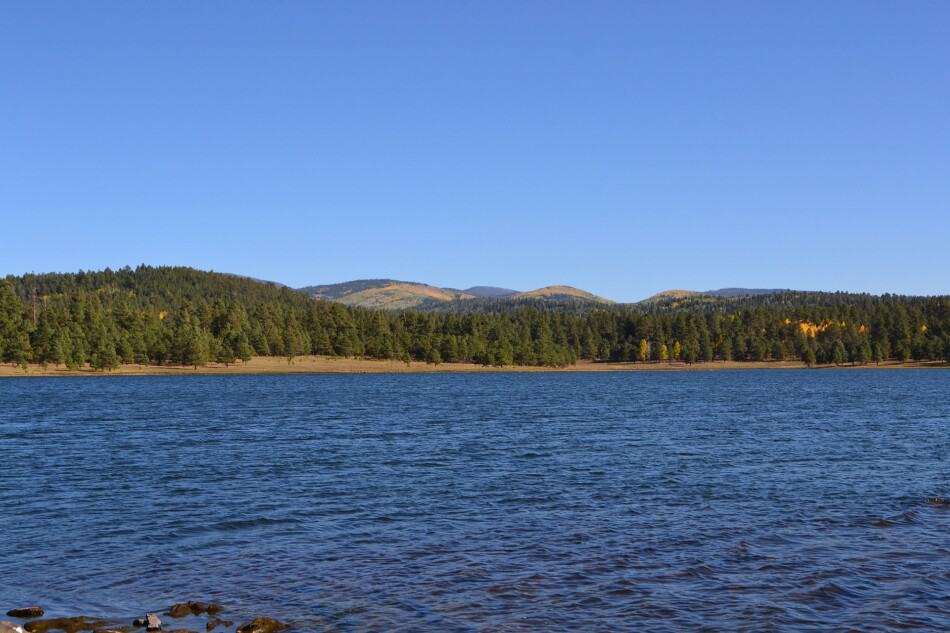 A nice 9 miles drive south of State Route 260 on State Route 473 will bring you to the jewel of the White Mountain Apache Indian Tribe, Hawley Lake Campground.
White Mountain Apache Tribe now consists of approximately 16,000 Tribal members. Many live here on their Tribal lands, but others live and work all over the country and throughout the world.
Today, the People proudly retain their culture through language, songs and dance, and their ceremonies. Hawley Lake caters to all camping activities from kayaking to fishing.
Enjoy cool evenings around the campfire or an afternoon rainstorm from the comfort of the covered back deck provided. Come experience everything it has to offer and don't miss out on the once-in-a-lifetime opportunity to relax and enjoy the pristine view of Hawley Lake.
Rainbow Lake
In the heart of the White Mountains of Arizona, Rainbow Lake Resort is the ideal escape for those that love the outdoors.
This 116-acre man-made lake near the town of Pinetop-Lakeside, Arizona is the most unique and beautiful community in the White Mountains. Temperatures in the Arizona White Mountains average 25 to 30 degrees Fahrenheit cooler than the Phoenix area.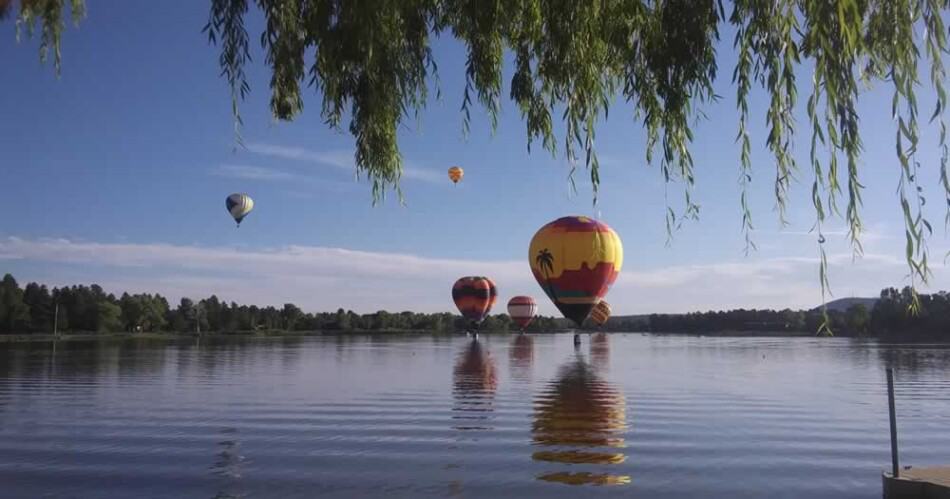 All the cabin rentals are comfortably furnished with fully equipped making relaxing in the cabin more enjoyable. That makes Rainbow Lake Retreat the perfect getaway spot for you and your family to escape the heat of Southern Arizona in the summer or go sledding in the winter.
No matter what season it is, the Rainbow Lake Resort is the ideal area for everything from hunting, fishing, and hiking in the springs and summer to tubing, skiing, and snowboarding in the winter.
Country Club Trail
Take a short and easy hike in the Country Club Trail. This 3.5 km loop trail located at Pinetop-Lakeside is a nice place for tourists to take a break and relax with the surrounding pines around the trail.
The trail is well-marked and maintained for walking, biking, and horses for those who are new to hiking.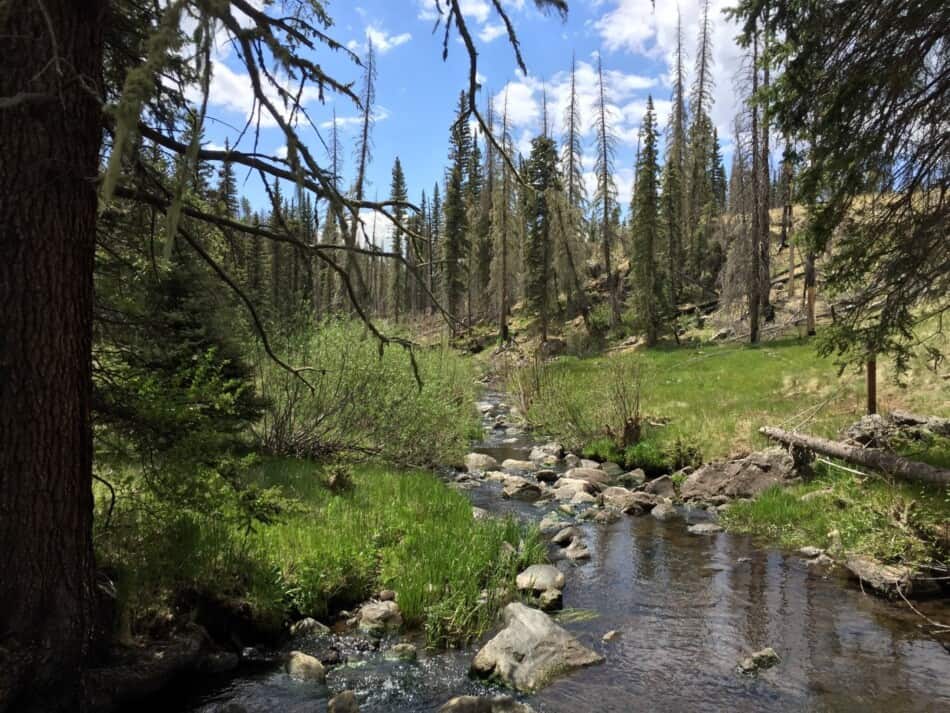 Around the trail, you will pass through ponderosa groves, spotted with both juniper and oak trees making for a relaxed and scenic ride. Take a photo with the various fauna in the vicinity, you may have a chance of seeing an elk, a mule deer, and other small animals and birdlife. You will never be disappointed in hiking on the Country Club Trail.
Panorama Trail
Every hiking enthusiast would be excited for this 14.3 km trail called the Panorama Trail.
Located near Lakeside, Arizona features a lush green pine forest setting and a magnificent flat view perfect for a cloudy day. The trail fully showcases the park's natural treasures.
As you hike down to Ilillouette Creek you can see beautiful cascading waterfalls and prolific birdlife. From there, the trail traverses the top of Panorama Cliffs among the yellow pines and cedar trees.
Experience the trail from valleys and along mountainsides to shades and blue skies. Hiking in the Panorama Trail would certainly make your experience wide-eyed.
Jacques Marsh Wildlife Area
Searching for a delightful aquatic area? Then the wait is over because the Jacques Marsh Wildlife is the place for you.
Located just two miles north of Lakeside, Arizona, this lush oasis consists of 130 acres of national forest land. White Mountain wetlands may not be expansive or widespread but all of them still provide many services without charge.
The area is managed for waterfowl, which makes this a wonderful location for hunting, and all that vegetation provides excellent blinds.
This marsh is a great place for caching and also for bird watching. The wildlife area has many protected ponds and homes for many migrating birds.
This is a perfect spot for bird-watching enthusiasts to ogle and admire the variety of birds located here. Jacques Marsh Wildlife Area is sure to be a great place to see new things that you have never seen before.
Ice Cave Trail
Of all the wonderful routes in the White Mountain Trail, the Ice Cave Trail is a favorite for hikers. Known for its easy tread and cool pine-juniper forest this interesting trail has its own set of mysteries like its own ice cave that you can explore on your hike.
The trail to the ice cave is considered "technical" with some steep drop-offs and icy and slick conditions which are perfect for experienced hikers to traverse. Immerse yourself in this 5 km trail as you get to see many animals like elk, mule deer, and a range of woodland birds.
Never underestimate the Ice Cave Trail and its easy-going and cool hiking experience.
Mogollon Rim Interpretive Trail
If you are looking for a short and sweet outdoor adventure to embark on, the Mogollon Rim Interpretive Trail is the place for you.
This trail is very popular and is visited annually by thousands of people from around the world. The trail follows relatively level terrain to the very edge of the Mogollon Rim. This trail is boasted of some of the most breathtaking autumn foliage in Arizona.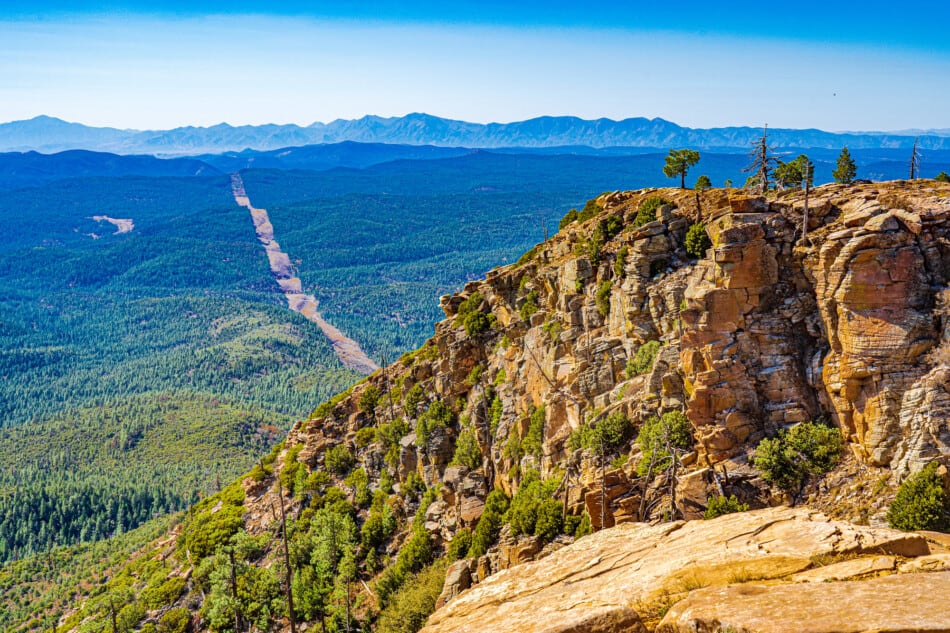 The area offers incredible windshield views that would take your breath away. A hike along this self-guided interpretive trail gives visitors a great appreciation of the characteristics of the Mogollon Rim and its uniqueness as the dividing line between the Colorado Plateau and the Gila-Salt River watersheds.
After half an hour of hiking feast your eyes on the awe-inspiring panoramic vistas of the entire rim. You will never be tired of hiking this incredible trail, so come down to Mogollon Rim Interpretive Trail.
White Mountain Nature Center
This Nature Center is your gateway to the wonderful 583-acre Woodland Lake Park parcel, the very heart of Pinetop-Lakeside.
Experience the different species close by with their hands-on outdoor presentations, hikes, and workshops. Learn about the increasing awareness, understanding, and responsible action towards nature with their family-oriented fun programs provided by them.
It is never too late to learn more about saving nature with the White Mountain Nature Center.
Show Low City Park
When visiting Arizona, don't forget to visit Show Low City Park and its many recreational activities. The park has a variety of different activity facilities and equipment.
You can try swimming, tennis, baseball, volleyball, Frisbee golf, exercising or just playing outside, and for dogs to run and socialize. In addition to just a large open space with trees with paths to walk and sheltered picnic tables to sit, eat, and/or relax. Show Low City Park is a great place for your family to connect and be with nature.
Show Low Museum
Know Pinetop, Arizona with its rich history and culture of Show Low in the Show Low Museum. Founded in 1995, this city-funded agency holds archaeological, cultural, and historical materials related to the White Mountains in Arizona.
Just a 10 minute drive away from Pinetop-Lakeside, Show Low Historical Museum awaits everyone! There are 2 different buildings with 16 rooms where you can wander around learning some of the histories of the area.
Visit the training room and see the scale version of White Mountain with a miniature train set. Experience the feeling of being in a cage as the museum houses the old police department and its jail cell Every room has treasures that let you imagine what their lives have been long ago.
Knowing Pinetop, Arizona takes time so let the Show Low Museum keep you up with the time.
Pinetop Lakes Activity Center & Stables
Feel the spirit of the wind while riding on the horses at the Pinetop Lakes Activity Center and Stables. Giddy up everyone!
Spend the day horseback riding and take in the vibrant, live forest. Your family's day will be made all the more exciting when you take a ride over the river and through the woods.
Horses are not just good in the warm summer breeze, visit in winter where you can enjoy a sleigh ride with a power team of horses while being bundled under a stack of blankets. It is simply a great experience. Never leave Pinetop, Arizona without getting a chance to ride the horses in Pinetop Lakes Activity Canter and Stables.
Spa Estique
When you visit a place like Pinetop Lakeside and spend your time out walking and cycling, one of the best ways to relax is to reinvigorate yourself with a spa treatment at Spa Estique.
This spa is a sanctuary of beauty and peaceful tranquil spa treatments for complete skin, body, and soul renewal. Immerse yourself with the spa services provided for the body and face as you will be surrounded and nurtured by the soothing sounds, aromas, and rich textures of nature.
Indulge yourself in a variety of spa packages like the Revive spa package where you will get to experience the Natural Salt Beauty Treatment, a 60 min Deep Tissue Massage and a Custom Organic Facial.
Loosen up your muscles with a heated stone massage. With a perfect union of hot river stones and indulgent muscle manipulation, your muscles will feel connected and healed by the earth. Experience Spa Estique for a relaxing change of pace.
Recent Posts