15 Things to do in Red River, New Mexico
Red River Attractions: Are you looking for the best things to do in Red River, NM? There are so many fun things to see and do in this area. I've also included where to eat and drink while you visit Red River.
Red River is a tourist community in the Sangre de Cristo Mountains of Taos County, New Mexico. At the time of the 2010 census, the population was 477. Red River is 36 kilometres from Taos and is located in the Enchanted Circle Scenic Byway.
Top Things to do in Red River, NM
Columbine Trail is the top Red River things to do
In northern New Mexico's Sangre de Cristo Mountain area, the best of two distinct natural worlds meet. The high, dry adobe plains here rise rapidly to 12,000 and 13,000-foot peaks, providing some of the most beautiful wilderness in the Southwest.
The Columbine Canyon Trail, a cold, aspen-studded ascent that follows a cascading mountain stream into the Columbine-Hondo Wilderness Study Area, is one of the more picturesque trails to the heart of this remote high terrain.
Columbine Canyon Trail begins in a short canyon and climbs through wildflowers to large meadows before connecting with alpine ridges that are rare in the Southwest. The Columbine-Hondo Wilderness Study Area is part of the Taos/Questa/Red River/Eagles Nest scenic circle, which is known for its alpine lakes and wildlife.
On State Highway 38, the campground is eight miles west of Red River and four miles east of Questa. The trail is signposted at the campground's south end. Parking is accessible at the campground's entrance.
In the summer, the trail can be utilized for hiking and equestrian riding. The first three miles of the track are designated for beginners and intermediate skiers during the winter months. After that terrain becomes an expert.
Water and outhouses are available at the Columbine campground. The campsite charges a fee for overnight camping, although parking at the trailhead is free.
Red River Canyon
The Red River Canyon affair, also known as the Battle of Red River Canyon, was a military event that took place during the Mexican–American War's Taos Revolt. Although the Americans wrongly called this river "Red," it was known as the Canadian River at the time and still is today.
Except for the deepest part of the gorge west of Questa, which is part of the BLM-managed Wild Rivers Recreation Area, where a paved road runs alongside the Rio Grande for 7 miles and ends at a narrow promontory above the junction with the smaller Red River, the majority of the gorge is only accessible by unpaved tracks that run to or along the canyon rims. This river travels westward from the Sangre de Cristo Mountains, and its lower end is also enclosed within a deep canyon, joining the Rio Grande 800 feet below the plateau.
The recreation area is part of the Rio Grande del Norte National Monument, which includes the river gorge southwards to the confluence with Rio Fernando del Taos, a relatively new national monument that includes the river gorge southwards to the confluence with Rio Fernando del Taos, and a large area of plains and volcanic peaks to the northwest.
Highway NM 522, which runs from Taos through Questa and on to Colorado, is the approach road from the east. A smaller road splits out westwards three miles north of Questa, passing through the run-down community of Cerro and into open land towards the river. The 13-mile route passes over a flat plain with dark-colored sagebrush shrubs and only a few rounded volcanic hills in the distance, though a line of basalt cliffs in the distance marks the Rio Grange gorge's course.
From the west, US 64 from Tres Piedras, a busy route that bridges the gorge 650 feet above the river, and from which the Recreation Area is a 45-mile drive away, to Taos, then north along NM 522, is the only road crossing the river for 40 miles south of Colorado.
The Red River Canyon offers spectacular views of the Red River and adjacent rock formations thanks to a bridge that spans the canyon. Hiking, all-terrain vehicle adventures, and fall Aspen color gazing are all possible from the canyon site.
Goose Lake Trail
When the weather in the Land of Enchantment is great, one of the finest things to do is get outside and hike one of the many fantastic hiking routes. This crystal blue lake route is located by Red River in Carson National Forest and is one of the woods' most popular lakes.
Goose Lake Trail is considered somewhat challenging due to its length; it is around six miles to the lake and another six miles back. This high-altitude trek isn't too difficult; it simply takes a little time. This trail may require a little more effort, but the beautiful lake at the end is well worth the effort.
This out-and-back trail is close to Red River, so it's a wonderful opportunity to see even more beautiful scenery after visiting the mountain town. The trail becomes less marked as you travel further along with it. Don't worry; simply follow Goose Creek until you reach the lake. Since fishing is allowed at Goose Lake, many hikers pause to catch a few fish.
Goose Lake Trail, with its challenging climb up through the Sangre de Cristo Mountain Range, is guaranteed to appeal to avid hikers and mountain bikers. The breathtaking views are also accessible via ATV or Jeep, but regardless of how you get there, you will be glad you did.
Even though this trail is rated as moderate, you should wear your finest hiking boots because there is a slight elevation and it is not a short hike. You'll be rewarded for your efforts with spectacular vistas along the way, especially when you reach the natural oasis at the end of the trail. Prepare for an out-of-this-world trekking adventure in Red River.
Pioneer Flyer Seated Zipline
This seated zip line soars above Pioneer Road on a regular basis. The 730-foot-long zip will reach 70+ feet above the earth at its highest point! It transports passengers in seated duo carriages backward, allowing four people to zip at once!
Fly over the pond, Pioneer Road, and up to The Face's tower for a thrilling ride! It's something you absolutely must do over and over! It's not enough to do it once! The two-seater ride begins at ground level and lifts you 600 feet backward over the Pioneer Corridor, with a brief halt for viewing.
Beautiful vistas, fun for the whole family, and a fresh experience. This trip is weather-dependent, and to ride The Pioneer Flyer, participants must be at least 42 inches tall to ride.
Hidden Treasure Aerial Park
Are you looking for a new challenge? What do ziplining, rope descending, and other high-five techniques seem to like to you? This adrenaline-pumping park has it all and more.
The aerial park provides exhilarating experiences for the entire family while encouraging active and healthy living. The course is divided into three levels. The First Level Course, the Second Level Course (More Difficult), and the Third Level Course are the three levels of training available (Most Difficult). There are two zip lines to choose from. The First Level zip line is open to everyone, while the Third Level zip line is only open to those who weigh at least 50 pounds.
You can take the Ultimate Decent from the tower to the ground for the spectacular finale at the end of the Third Level zip! It's a real thrill!
The Hidden Treasure Aerial Park promotes active and healthy lifestyles while providing exhilarating activities for the entire family.
Fishing
New Mexico is considered to be a resort town, one of the most joyful and relaxing things you can ever do is simply go fishing. After all, numerous rivers and lakes are running through the area. Fishing is one of the best activities you can do because there are so many incredible fish to catch.
You also don't have to bring your fishing equipment if you don't want to because the town of Red River offers several shops that will rent or sell you fishing equipment. They also sell fishing licenses as well which is needed to fish in the waters.
Visitors can then head down to one of the several fishing sites and begin fishing after everything is set up. Rainbow, Cutthroat, and even brown trout are among the many species of fish that can be caught. The Goose Creek, which is slightly upstream from the Carson National Forest boundary, is one of the most popular fishing spots. You can also go down to Columbine Creek or Goose Lake, both of which provide excellent fishing opportunities.
Overall, it's one of the most entertaining activities you can partake in while visiting Red River, New Mexico. There truly isn't anything better than casting your line, sitting patiently, and appreciating nature at its best.
Sundance Mexican Restaurant
If you're in the yearning for some wonderful Mexican food in Red River, New Mexico, the "Sundance Mexican Restaurant" is one of the best places to go.
Sundance Mexican Restaurant is a restaurant that specializes in serving traditional Mexican cuisine. Locals and visitors everywhere adore it for what it has to offer. Indeed, according to Yelp, they are one of the best-rated and most-reviewed restaurants in town.
If you're looking for alcohol, you should be aware that there isn't much to choose from. Beer, margaritas, and sangria are among the drinks available, but that's about all. However, other than that, the food served here is quite fresh and excellent. Additionally, the items served are affordable.
Visitors to this restaurant will discover that there are a plethora of delicious meal options to pick from. Nachos, chile con queso, shrimp quesadilla, sopapilla, fajitas, and other dishes are among them.
This is a restaurant that you should visit.
Red River Brewing Company & Distillery
One of the best parts about visiting a new town or city is getting to experience all of the amazing breweries the area has to offer. One of the top breweries in the area is the "Red River Brewing Company & Distillery," which is located in Red River, New Mexico.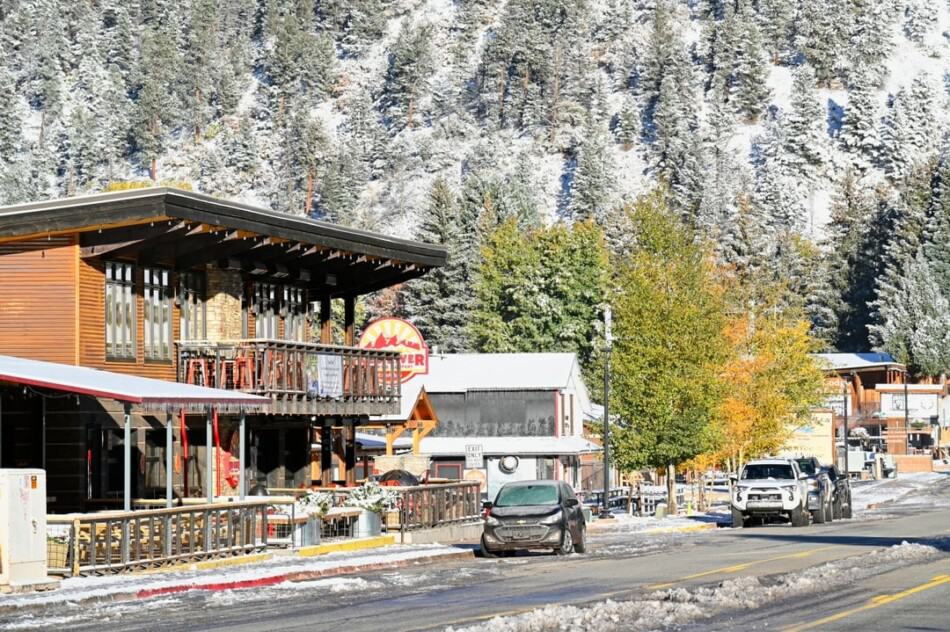 Red River Brewing Company, which opened in 2018, is the first and only brewery in the mountains of northern New Mexico. It has quickly become a favorite of many locals and visitors who visit this brewery since its establishment.
Red River, which began as a thriving mining camp in 1895, is full of character and history. Gold, silver, and copper drew eager prospectors from all over the western United States. Today, Red River is just as diversified, but it also offers outdoor activities, gorgeous wildlife, and family entertainment. In 2018, it was added to assist communicate the tale of Red River. The brewery's design is reminiscent of an ancient mining town, and the beer and dish names allude to local legends and specialties.
Visitors will discover that they have an incredible selection of beers to pick from. Beers like Lazy Bear Blonde, Greenie Peak Wheat, Blackout Ale, Calskinner IPA, and others are among the highlights. They will see that all of the beer and spirits are handcrafted from scratch right here at the brewery. They also make their unique drinks and whiskey, but some won't be ready for another few years.
They also serve some extremely good cuisine in addition to the drinks. They provide everything from soups and salads to sandwiches and burgers, and even BBQ on occasion.
Horseback Riding
Put on your Wranglers and boots for a true mountain adventure — horseback riding. Set off on horse right from the middle of town via Red River Stables to get a sense of life nearly a century ago. You can go on an hour-long trail ride or a full-day adventure deep into the mountains.
Visitors will be able to see beautiful views of the entire region while riding on a leather saddle through the high mountain regions. The best method to go horseback riding these days is to simply go with a horseback riding tour company.
If you're a beginner, start with one of the short-hour rides that will take you out of town to some nearby trails. If you're a more experienced rider, you may sign up for an all-day trip that takes you through the magnificent Carson National Forest.
Thus, horseback riding is unquestionably one of the top things to do in Red River, New Mexico.
Go Rafting Along the River
Going rafting along the huge river in Red River, New Mexico is one of the best ways to have a great time. The delightful, crisp, clear waters of the huge Rio Grande splash over you and into your raft as you tackle the rapids of the mighty Rio Grande!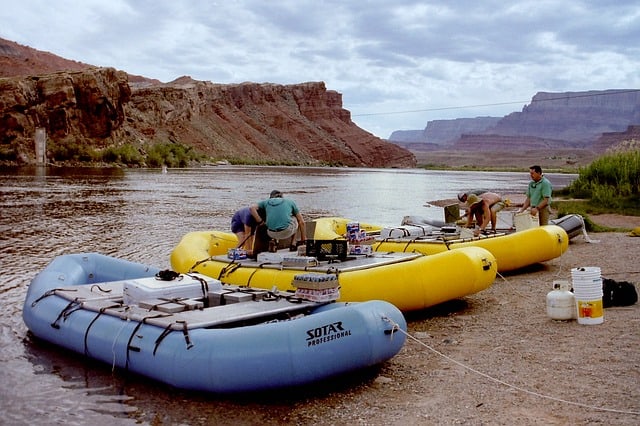 You're soaring past parts like "The Rock Garden," where the river drops 90 feet in less than a mile if you paddle wildly. This whitewater adventure has everyone in your company grinning ear to ear. And all you have time for before the following class-four rapid is to take a mental photograph.
The best part is that there are a variety of companies in the area that provide rafting services for individuals to try. New Mexico River Adventures is one of the most popular companies to go with. They are a company that offers guests the opportunity to try River Rafting, Kayaking, and Canoeing. They offer a wide range of rafting options for guests to choose from. Guests can, for instance, choose between a full day of rafting or even an overnight trip, among many other options. They'll also provide you with all of the required equipment and safety equipment to get you started.
However, no matter what company you decide to go with, your rafting adventure will be an experience you'll never forget.
Summer Mountain Tubing
Summer Mountain Tubing offers all of the thrills of winter tubing without the chill! Slide down Gold Rush Hill's longest tracks or take it a little easier on Lil' Blue's kid-friendly tracks. Under the summer sun, this unique family-friendly attraction will be sure to deliver plenty of thrills.
The tubing lanes are built of a material known as Neveplast, which is a strong plastic that changes with the weather. When it's cool outside, such as first thing in the morning, the plastic moves quickly. The plastic slows down when the sun shines. Red River's staff watches the weather, and tubers, and then either adds or takes away mats that work like brakes for the tubes. They also have a sliding agent they can put to the tubing lanes to speed things up if it's particularly hot outside and guests are moving slowly.
Guests have no control over anything except clinging on and keeping their feet up. It's more like being on a roller coaster than doing something like skiing or snowboarding, where you can slow down and stop.
There are three tubing courses at the Red River Ski Area right now. The long course (Gold Rush Hill) is 800 feet long and is suitable for children aged 7 and up. The 400-foot-long short course (Baby Blue Hill) is ideal for youngsters aged 4 and up. The ski area features a mini-lane course for children under the age of four.
On Gold Rush Hill, two tracks run side by side, allowing you to race down the 800-foot course to the base with your family or friends. Little Blue offers a gentler tubing experience for the younger members of the family, but it is still a lot of fun, and for those who are just walking, there is a little course that is free that parents can assist children with.
Snowmobile/OHV
When the first trailer or flatbed truck was laden with a ton of snowmobiles comes down Highway 38 from Bobcat Pass into town, you know it winters in Red River. They can be seen parked at lodges, on side streets, and in the municipal parking lot.
It's a breathtaking journey up Sawmill Canyon to the 11,249-foot Greenie Peak from the back of your snowmobile. You'll stop at a historic mine used by 16th-century Spanish explorers on your way down. This is a snowmobile journey to remember, with meandering paths, wide-open meadows, and jaw-dropping views.
Snowmobilers will find miles of groomed trails top Sawmill Canyon to the 11,249-foot Greenie Peak in Red River. From Sawmill Canyon, the Valle Vidal is a 100,000-acre nature preserve with a 50-mile loop.
All OHVs/snowmobiles in New Mexico are required to have a permit. Use the online licensing system to purchase your permit ahead of time and save time. You must first create an account, after which you will be offered the option to purchase an ATV permit.
Warm snowsuits, helmets, gloves, and seasoned guides who know the local trails and meadows are provided by each firm for an exciting ride through the stunning winter wonderland of the Sangre de Cristo mountains.
Cross Country Ski
Enchanted Forest Cross Country Ski Area is New Mexico's first full-service cross-country ski area. They're about 3.5 miles east of Red River on Highway 38, right below the peak of Bobcat Pass. More than 15 kilometers of marked snowshoe routes and 30 kilometers of ski trails are available including 5 kilometers of trails where you may ski with your best buddy.
Wheeler Peak, Gold Hill, Upper Valley, and the Latir Wilderness are all visible from the 1,400 acres of skiing and snowshoeing. With your family and friends, wander through aspen groves, wide-open meadows, and old-growth forests.
A full rental shop with cross-country skis, boots, snowshoes, and poles, as well as performance snowshoes for running, is available in the area. For the little ones, tow-sled rentals are offered, as well as gear sleds with Yurt rentals.
Cross-country skiing beneath the clear blue sky of New Mexico is the ultimate way to experience prepared trails that cater to diagonal striders and Nordic skiers. The Enchanted Forest Cross-Country Ski and Snowshoe Area, with over 15 miles of maintained trails, offers guided tours and lessons. A steaming cup of hot chocolate or coffee at the warming hut at the end of your adventure completes a fantastic Red River day.
Cross-country skiing is a strenuous activity. Even on cooler days, you can rapidly warm up. Wearing layers of warm clothing is always a good idea. Wear a hat, gloves, and sunglasses, or goggles to complete the look!
Biking around the Mountains
Biking in Red River, New Mexico is one of the best ways to get to the town and the surrounding areas.
Visitors may bike around on a variety of wonderful paths and pathways. Riders can, for instance, depart from Main Street and travel up Pioneer Canyon, Mallette Canyon, and even the Red River Nature Trail.
The best adventures, however, may be found in the mountainous terrains of the "Red River Ski Area," where riders' adrenaline levels will skyrocket. After all, riders will be racing a mountain bike down 4,000 feet of downhill terrain, going through diverse meadows, creeks, trees, and other features.
During these times, bikers can simply cruise around and take in everything that the area has to offer. They'll be able to see a variety of things in and around the area, including lush trees, plants, wildlife, and more.
If mountain riding is something you enjoy, the surrounding surroundings of Red River, New Mexico are ideal.
Day Trip to Albuquerque, New Mexico
If you're ever in the mood for a road trip outside of Red River, New Mexico, the city of Albuquerque is the place to go.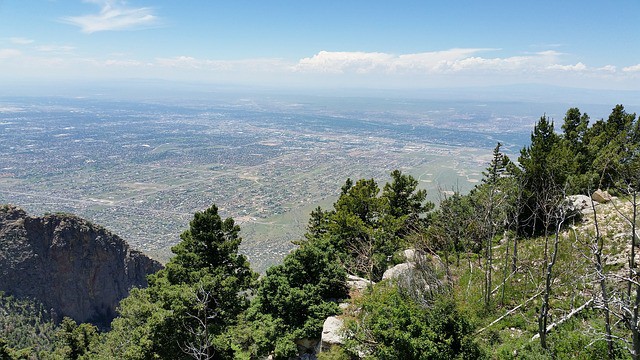 Albuquerque is one of the largest cities in the state of New Mexico and is roughly 3 hours distant from the town of Red River, New Mexico. It's a major tourist destination that draws millions of tourists each year.
Visitors exploring this city will discover that it is rich in history, has a beautiful culture, and offers a plethora of things to see and do.
This city has everything you could possibly desire for some fun and excitement, with a selection of tasty restaurants, cute cafes, fun galleries, historical museums, and more. Tingley Beach, The Indian Pueblo Cultural Center, The Albuquerque International Balloon Fiesta, Albuquerque Museum, New Mexico Museum of Natural History and Science, and other attractions are just a few of the city's features.
If you ever want to go somewhere other than Red River, New Mexico, one destination you should consider exploring is Albuquerque, New Mexico.
Recent Posts