15 Fun Things to do in Roswell, New Mexico
Roswell, NM Attractions: There are so many cool Roswell, New Mexico Attractions that you need to check out when you are in the city. Its more than just Area 51! You need to check out these things to see in Roswell, NM.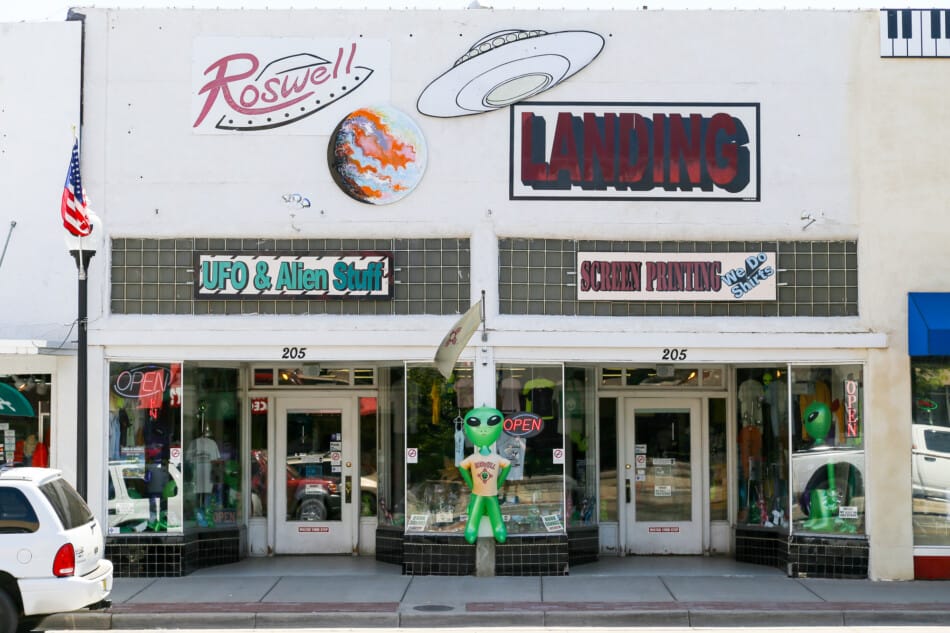 You will love checking out these attractions in Roswell, New Mexico! From the historic downtown to State Parks nearby there is something for everyone on this list of Roswell, New Mexico things to do.
15 Epic and Fun Things to do in Roswell, New Mexico 
Bottomless Lakes State Park
Bottomless Lakes State Park is aptly named for the nine small, deep lakes that are located within the park atop the eastern escarpment of the Pecos River Valley, 14 miles southeast of Roswell along the Pecos River.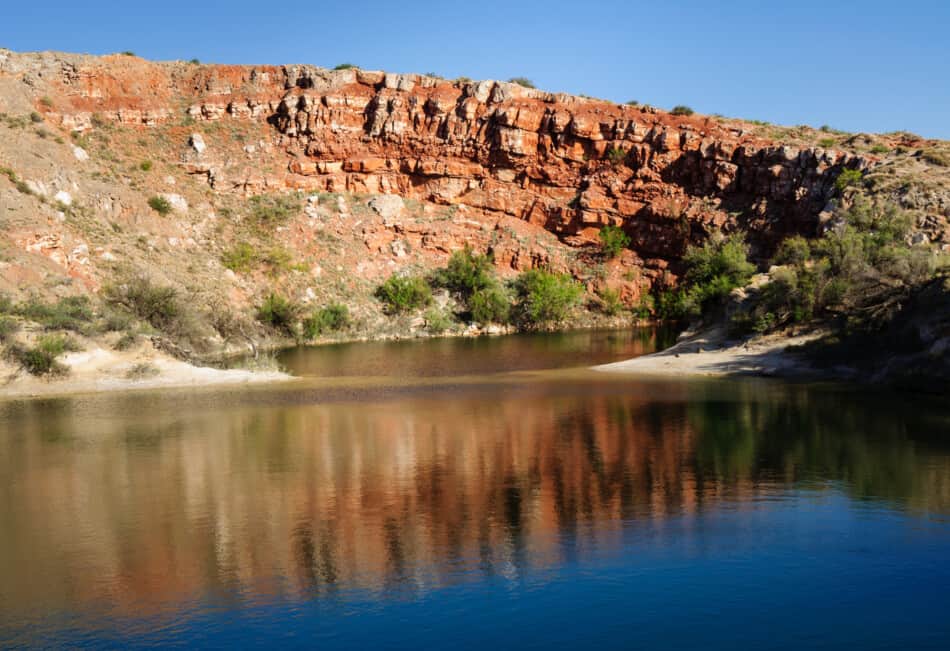 The Bottomless Lakes are a collection of nine small but extremely deep lakes. The lakes are old caves that have collapsed, carved out of limestone by the river and aquifer. Cenotes are the technical name for underground leaks that feed them.
Around Lazy Lagoon, the cliffs have eroded. Each year, a large number of visitors come to the cenotes to participate in a range of outdoor activities such as hiking, climbing, swimming (only in one of the lakes), fishing, and wildlife viewing.
Seven of the lakes are encircled by towering cliffs, but Lea Lake has a broad, sandy coastline on the western side, formed by the river that is constantly eroding the mountain's limestone cliffs.
Fishing, non-motorized boating, SCUBA diving, a 3.3-mile mountain biking trail, and significant bird-watching opportunities are among the other activities available in the park. A good campground with a combination of 42 serviced and non-serviced sites are also available at the park.
International UFO Museum and Research Center
The International UFO Museum and Research Center, which opened in 1991 as a nonprofit educational organization in the heart of downtown Roswell, is a great place to start a day in Roswell. Exploring the exhibits connected to the 1947 Roswell incident and learning about other unexplained phenomena related to UFO research takes about an hour.
The museum was founded in 1991 to investigate the details of the world-famous incident in which a rancher discovered metal debris and a massive trench extending hundreds of feet outside of Roswell. The museum's exhibits and information are not confined to the "Roswell Incident," with material on reported abductions, crop circles, and the infamous Blue Book also available.
Take one of the many Roswell UFO tours given by various companies in the area if you want a unique sightseeing experience. These tours often visit notorious places like Building 84 at the Roswell Army Air Field, where many think the remnants of the crashing UFO and its passengers once lie.
The museum is one of Roswell, New Mexico's most popular tourist attractions. It has a wide range of exhibits, displays, and information regarding the history of UFO encounters, as well as a large library on the subject. The museum also offers a gift shop with unique UFO-themed items and a large collection of UFO-related books.
Historic Downtown
The Downtown Historic District is the ideal destination for you whether you want to make the most of your day by visiting popular sights or prefer to stroll around and go window shopping.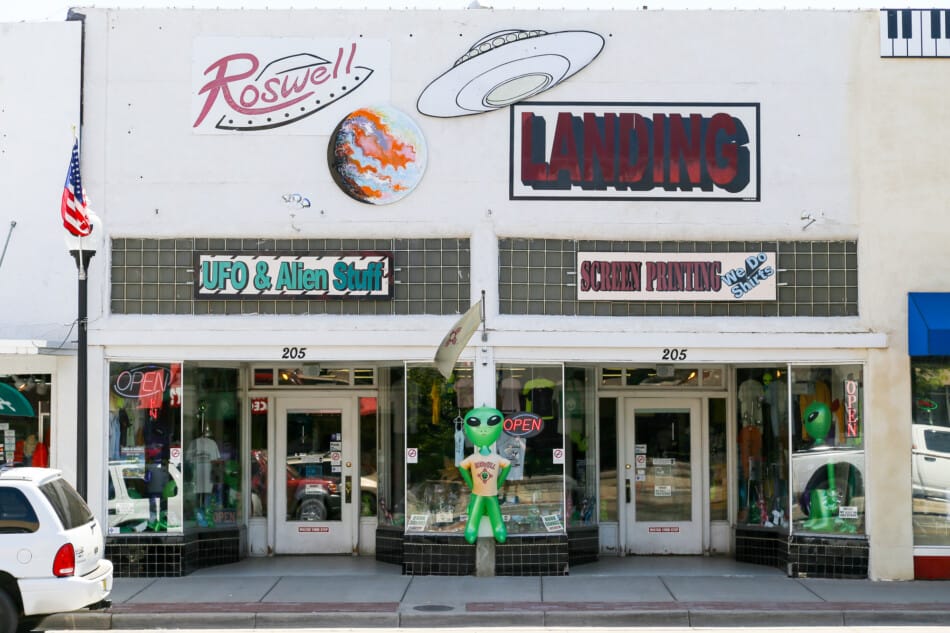 Located at the junction of the Spring, Hondo, and Pecos Rivers, The Downtown Historic District of Roswell has long been an important location of human habitation. The area was first inhabited in 1867 by Anglo ranchers from Texas, who founded the first ranching industry in Southeastern New Mexico. It was once the ancestral homeland of the Mescalero Apache and Comanches tribes.
With the advent of the railroad in the mid-1890s, a growing population and a variety of architectural styles were introduced, including Queen Anne, Bungalow, Victorian, Prairie, Italianate, and Tudor styles, which are still visible today. The Historical Society for Southeast New Mexico offers guided tours of the Downtown Historic District in Roswell.
The Downtown District is a bustling area with restaurants, hotels, boutiques, and well-known tourist attractions. It is a great place to spend a day with your friends. Here, you may have a beautiful tour while participating in a variety of exciting activities with your friends.
Exploring a museum, going on a shopping spree, trying out local food, discovering historical landmarks, resting in the park, and a plethora of other exciting activities are just a few of the things you can do here.
Roswell Museum & Art Center
Spend the day indoors at the Roswell Museum & Art Center, one of the best places to see in Roswell. You can learn about American Southwest history and see amazing artworks in a variety of mediums at this top-rated attraction through a range of excellent exhibits and displays.
The 50,000 square-foot facility, which serves as a cultural and educational hub for the town, features 12 galleries with paintings, prints and drawings, sculptures, decorative arts, and historical items. The museum's collection includes works by early modernists, the Taos and Santa Fe art colonies, Native American art, WPA art, and Spanish colonial pieces. It was founded by the New Deal Work Projects Administration (WPA).
The museum also exhibits fascinating historical collections, such as relics and exhibits about the history of the American West, as well as a large section dedicated to Dr. Robert Goddard's work on liquid-propelled rockets. The 120-seat Robert H Goddard Planetarium is located in the Roswell Museum and Art Center's adjacent wing. The Planetarium hosts celestial displays and multimedia programs, as well as UFO exhibits and children's scientific programs.
Looking through historical artifacts, and view an extensive collection of artwork, including sculptures, paintings, decorative arts, and so on are just some of the fun activities you can do in the museum.
Roswell Spacewalk
If you have some leisure time and want to spend it with your children, go to Roswell Spacewalk. The Roswell UFO Spacewalk, often known as the Roswell Spacewalk, is an interactive art exhibit and amusement park in Roswell, New Mexico.
This well-known tourist attraction provides an exhilarating experience as you go through their interactive exhibits and feel as if you are a part of the show.
With its high-tech, panoramic displays packed with shimmering lights, aliens, and more, you'll feel as if you're soaring through space or stepping inside a UFO. The centerpiece is a black-light maze stroll across alien landscapes.
What's even more intriguing is an extraterrestrial gift shop with some unusual items. Before you go, make a point of purchasing some souvenirs.
Spring River Park and Zoo
The Spring River Park is a 34-acre park with numerous habitats, a children's zoo, a miniature railroad, an antique wooden horse carousel, and a trail system with natural species. Visitors can learn about the Pecos River system, native species, and the southern Great Plains ecology, which includes prairie dogs and burrowing owls, on the Capitan Trail.
Lemurs, miniature horses, and pygmy goats are among the creatures at the children's zoo, which also has a ranch section with miniature horses and Texas Longhorn cattle, as well as South American llamas grazing around the perimeter.
Touring the Spring River Park and Zoo, one of the top things to do in Roswell with kids, will help you create memories that will last a lifetime. You may get up close and personal with the animals here, as well as participate in a variety of other enjoyable activities.
Have a great time with your kids by going on a carousel ride, taking a train ride, engaging in educational programs, making arts and crafts, stroking miniature horses, and so much more. Mountain lions, tortoises, lemurs, gray wolves, bison, and other species from throughout the world can all be seen here.
Pecos Flavors Winery
Go on a romantic date with your significant other at the Pecos Flavors Winery. Dining here and listening to occasional live music performances while enjoying a glass of wine is one of the top things to do in Roswell for couples.
Pecos Flavors Winery, founded by Paul and Cindy Ragsdale in 2004, offers a variety of local wines, including Compadres, a New Mexico Cabernet/Syrah blend.
The winery has a tasting area in downtown Roswell where visitors may try some of the estate's best vintages and learn more about New Mexico wines and products. The tasting area, which is decorated in southern New Mexico farm and ranch décor, features a 100-year-old barn that was discovered in the Hondo Valley, as well as a statue of Billy the Kid.
It has a large menu with a variety of delectable dishes to choose from, including fresh salads, delicious sandwiches, tasty pizza, exquisite burgers, desserts, and more. You can also have an intimate dinner date while sipping fine wine and munching on charcuterie board nibbles.
Tastings include a wide range of New Mexico wines from over a dozen labels and over 80 blends, as well as a delicious array of New Mexican treats such as chocolates, nuts, coffee, sauces, and cheeses. Tastings are held from Monday through Saturday, and a selection of New Mexico-brewed beer is also available.
Bitter Lake National Wildlife Refuge
Bitter Lake, which was established in 1937 to provide a habitat for thousands of migrating sandhill cranes and waterfowl, is one of the region's most biologically significant wetland habitats. It is a wildlife and wetland habitat for a vast range of mammals, birds, fish, and insects. It is located on the banks of the Pecos River in two different sections of central Chaves County.
The Bitter Lake area is home to more than 350 different species of birds, which attracts birders from all over the country and the world. It's not all about birds; the refuge is also a hot area for the more than 100 species of dragonflies and damselflies, also known as odonates
Away from Bitter Lake, the geography is fascinating, with sinkholes, sand dunes, plateaus, and marshy sections. There are also 59 mammal species, 20 waterfowl species, and 24 distinct fish species to be found throughout the refuge. Keep an eye out for one of the 50 reptile and amphibian species that can be seen sunning themselves on a log or rock.
One of the three walking trails or one of the two longer hiking trails is the best way to see the area. The majority of the paths depart from the main visitor center's magnificent eight-mile-long Wildlife Drive.
Roswell Symphony Orchestra
The Roswell Symphony Orchestra (RSO) presents an annual concert season featuring the best of orchestral literature, as well as music education programs for children and young adults, to the residents of Roswell and Southeast New Mexico.
The Roswell Symphony Orchestra performs a special Subscription Concert Series of five classical concerts in the beautiful Pearson Auditorium, as well as a variety of Children's Educational Concerts for elementary students in Roswell, Dexter, and Hagerman, and a free Labor Day Concert at Spring River Park and Zoo, in its 55th season.
The Pearson Auditorium is home to the Roswell Symphony Orchestra and also hosts a variety of other performances throughout the year. Drama presentations, concerts, and special speakers, as well as dance recitals, speakers, and presentations during the annual UFO Festival, are held every year in July.
Walker Aviation Museum
Consider visiting the Walker Aviation Museum on your trip to Roswell if you're looking for something fun to do. The Walker Aviation Museum, located in a wing of the Roswell International Airport, is a great place to visit while waiting for a flight or on your way to your hotel. The museum's displays focus on Walker Air Force Base's service as a Cold War-era branch of the Strategic Air Command from 1945 to 1955 when the base was active. The museum, despite its small size, is jam-packed with interesting items and information.
Model military aircraft, a flying jacket, and a variety of WWII-era armaments, including Japanese rifles and bayonets, as well as German and Russian weapons, are among the collections. Other displays include uniforms, movies, and documents, as well as flying and communications equipment. There are also exhibits about daily life at the Roswell Air Base, including cinema ticket stubs and other memorabilia from the 1940s and 1950s.
Spend a few minutes at the Walker Aviation Museum looking over the many exhibits. There are several military planes, mementos, antiques, photographs, uniforms, and other items on display here.
Robert H. Goddard Planetarium
Visit the Robert H. Goddard Planetarium to marvel at the beauty and brilliance of our planet and galaxy. It allows you and your friends or family to explore the huge solar system while also participating in fun, hands-on activities.
A state-of-the-art full-dome digital theater system with Digi star 6 programming is featured at the Robert H. Goddard Planetarium. This interactive experience brings the enthralling story of the cosmic origins to life in a way that has never been seen before!
The Robert H. Goddard Planetarium, often called the Goddard Planetarium, has a capacity of at least 120 and features state-of-the-art technology.
Each show also features a full-dome film and a star performance. The films are about 30 minutes long.
Mescalero Sands North Dune OHV Area
Do you want to do something exciting and thrilling with your family or friends? If you do, bring plenty of water with you and head to the Mescalero Sands North Dune OHV Area. For an affordable price, this magnificent attraction offers a variety of exciting activities in the sun and on the golden dunes.
The Mescalero Sands North Dune Off-Highway Vehicle (OHV) Area has a massive dune field made up of quartz particles that is suitable for all-terrain bicycles, dune buggies, and sand rails, with approximately 600 acres of towering sand dunes. There are also mature cottonwood trees in the region, which flourish in the arid climate.
The Cottonwood Site provides access to the dunes' southern section, while the Bowl Parking Area provides access to the dunes' northern section, which contains the "Bowl," a huge depression surrounded by dunes. Both the Bowl Parking Area and the Cottonwood Site have picnic tables, grills, and shelters, as well as restrooms.
There is, however, no water available. Off-highway vehicle use, motorcycle riding, and picnicking are all popular activities in the area, and RV camping is permitted in the north, middle, and south parking lots.
Apex Cinema 10
Consider visiting the Apex Cinema 10 if you reside in the region and are looking for the best things to do in Roswell, NM, to spend some quality time with your friends and family.
The Apex Cinema 10 in Roswell, also known as ICON Cinema, is a popular movie theater. It is a top-rated movie theater with comfortable seats, cutting-edge technology, a variety of snack stands, ample parking, and much more.
Watching a movie at the Apex Cinema 10 is one of the most enjoyable things to do in Roswell tonight. It has a selection of films to choose from, based on who you're traveling with and what you want to see.
You may snack on a wide variety of excellent cuisine selections while viewing a top-rated movie.
Roswell Community Little Theatre
The Roswell Community Little Theatre performs plays for the community and the general public, cultivates, stimulates, and inspires an interest in live theater, and offers a variety of opportunities for students and adults to participate in all areas of theater.
The Wizard of Oz, To Kill a Mockingbird, Sherlock Holmes, The Final Adventure, and The Mystery of Irma Vep are among the productions. The Roswell Community Little Theatre also conducts a variety of educational and youth seminars for the community, as well as mystery and dinner theater performances.
J. Kenneth Smith Bird Sanctuary & Nature Center
Spend a relaxing day at the J. Kenneth Smith Bird Sanctuary & Nature Center if you're tired of traveling and touring. Picnicking, sitting on a bench while reading a nice book, taking a tranquil stroll, birdwatching, and other activities are all available here.
Visit the J. Kenneth Smith Bird Sanctuary & Nature Center with your travel companions. It is the ideal position for you to enjoy the warmth of the sun, the fresh air, and a variety of outdoor activities. It boasts a plethora of features that make it a popular tourist destination.
Picnic spaces, ADA-accessible bathrooms, a wide parking lot, drinking fountains, and seats are just a few of the amenities available to make your visit more enjoyable.
Recent Posts