31 Best Travel Games – a fun way to pass the time
Best Travel Games: Are you looking for the best travel games for the car or games to play when you are camping? I've put together this list of travel games that includes the best travel games for kids, best travel games for families, and best travel board games.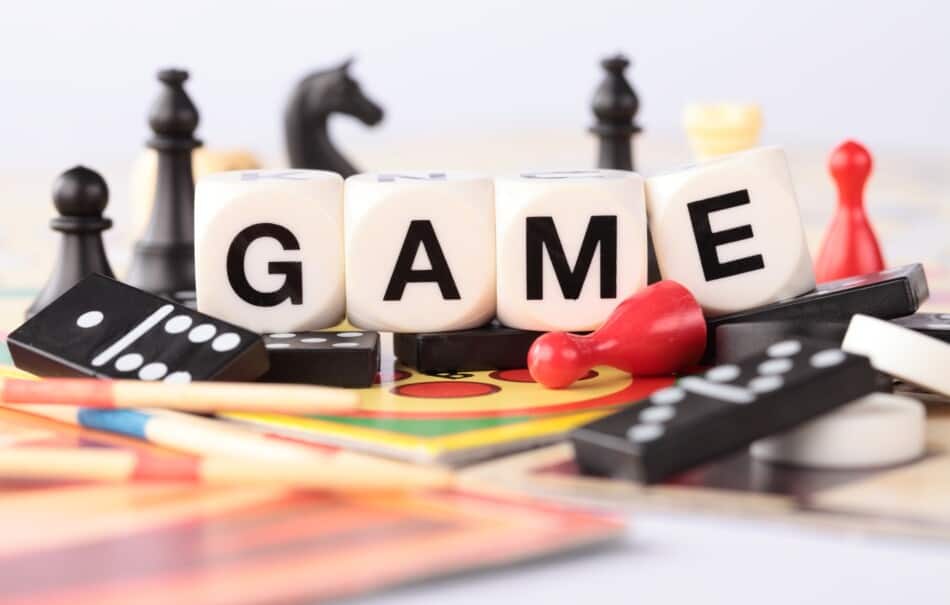 I guarantee there is something for everyone on this list. From my favorite card game, to classic board games – I've only included games I have played and enjoyed.
I think it is always important to pack a fun game for times when you are waiting a long time to eat, or its raining, or you're just looking for a relaxing way to spend some time.
50 Best Travel Games for 2021: Travel Game Reviews and Rankings
Monopoly Deal Card Game
If you are looking for a fun and enjoyable game, then this Monopoly Deal Card Game is perfect for a family game and it is travel-friendly too. This card game version of the classic Monopoly game is where the players' race to be the first to collect  3 full property sets in different colors and will eventually win the game. But, beware of Debt Collectors, Deal Breakers and Forced Deals. This card game plays from 2 to 5 players which approximately lasts a minimum of 15 minutes per round depending on the number of players.
This card game contains action cards, money cards, rent cards, property cards, and property wild cards. This game is very easy to learn and is suitable from age 8 and above. What is more entertaining is that this game has a great deal of play interaction. It needs players to read carefully and skills in simple math. Aside from that, the depth of strategies and tactics that players must use is highly entertaining in this game. Another best part is that you can bring this game anywhere and you do not have to deal with paper money and other little pieces from the traditional Monopoly game. 
Asmodee Harry Potter Dobble Card Game
Harry Potter fans will surely enjoy this dobble card game. This quick moving pattern recognition battle will let the players try to look for the single matching magical image between two cards. In a Dobble Card game, there is only one matching symbol between two cards and if you spot it first then you will win the game.
The card game features images from the Harry Potter characters like Harry Potter itself, Hermione Granger, Ron Weasley, Hogwarts crest, creatures, wands, and many more.
If you purchase this, the game comes in a tin case and is perfect for housing the circular shaped decks. It is small enough that you can put it in any kind of bag. It's easy to set up and the game can last up to 3-4 minutes. The game is suitable for ages 6 and above and can accommodate from 2 to 8 players.
Sushi Go! – The Pick and Pass Card Game
In this fast paced playing game, the objective is to grab the best combination of sushi dishes as they pass by. This card drafting game is a set collection game for 2 to 5 players that will play in about 15 minutes.
This card game is played for 3 rounds. On each round, all cards are shuffled and each player is given out a number of cards at the start. At the same time, each player will select one card and play it. Then, the remaining cards in their hand are passed to their left or right. The cards played will give players points at the end of each round based on how well they did with the set collection. At the end of the 3rd round, the player with the most points will be declared the winner and the sushi master.
The different card types include Sushi Rolls, Sashimi, Tempura, Dumplings, Nigri, Pudding, Wasabi and Chopsticks.
MindWare Travel Qwirkle Board Game
The Qwirkle board game features an extensive amount of game choices, and that includes three tiles of thirty six color symbol combinations. The game involves a combination of logic and strategy yet easy to learn.
The basic rules of the game are that you simply create columns and rows of matching tiles based on either their color or shape. Plus you score more points when you place a tile in multiple directions.
This game will definitely challenge children mentally and will help develop their ability to build complex combinations. It is also travel-friendly and comes in a pouch.
PlayMonster 5 Second Rule Game – New Edition
This new edition of the 5 second rule game has more than 150 fresh and fun cards. You simply pick a card, read out loud the topic, and each player is given 5 seconds to name 3 things that fit the topic. It seems easy, right? But can you do it under the pressure of a 5 seconds countdown?
When time is not on your side, you get tongue-tied and just spit whatever word comes to your mind. Enjoy the game and get good laughs as funny and ridiculous answers to slip out as the timer twirls down.
This fun and fast paced game are perfect for 3 or more players and suitable for ages 1o and above.
Everyone's Favorite – UNO
UNO Deluxe Card Game for with 112 Card Deck, Scoring Pad and Pencil, Kid Teen & Adult Game Night for 2 to 10 Players, Makes a Great Gift for 7 Year Olds and Up.
We all know that everyone loves UNO-kids, teens and even adults. This board game is definitely a perfect way for families to spend and enjoy an evening together.
Players compete to get rid of all their cards by matching color or numbers and can even use an action card to keep the tension. If a player is down to one card, do not forget to shout "UNO".
The first player to get rid of all of his or her cards wins.
Cards Against Humanity
Cards Against Humanity is a party game for horrible people. But, unlike most of the party games that you played before, Cards Against Humanity is awful and awkward for you and your friends.
The game simply involves that each round, one player asks a question from a black card, and everyone else answers with their funniest white card.
The game contains 100 black cards and 500 white cards that players can replay the game many times. It also includes a booklet of the game rules.
Connect 4 Grab and Go Game (Travel Size)
The Grab and Go game is a compact and travel size version of the Connect 4 game. It includes 21 red checkers and 21 yellow checkers. It also comes with a checker tray that folds up easily for easy storage after playing.
You and your opponent will get 21 checkers each and a chance to get 4 in a row. Also, both you and your opponent will get the chance to block each other's attempt to connect your own checkers.
This game can play only 2 players and is suitable for ages 6 and up.
SEQUENCE- Original SEQUENCE Game with Folding Board
This Sequence game offers a combination of fun, challenging and exciting games. As the player, you play a card from your hand, and then place a chip on the corresponding space on the board game. You will know if it's a SEQUENCE when you have five in a row. You will also have the chance to block or remove the chips of your opponent. The first player that will reach the required number of SEQUENCES wins.
This game is very easy for children and quite challenging for adults but it will develop your strategic skills. It can accommodate 2 to 12 players with ages from 7 and up.
Winning Moves Games Pass The Pigs
Pass the Pigs is a fun and addictive game that requires players' strategic skills and luck. The game is basically a dice game, players will roll a pig dice with different values depending on how the dice land. Each turn will involve one player to throw two pig dice, each with a dot on one side. If you get a Pig-Out or Oinker, then you pass the pig dice to the next player. If you get other than that, you may decide to roll again or pass the pig dice. The players either lose or gain points but it depends on the way the pig lands.
This game can play 2 to 4 players and the first player to reach 100 points or more will be declared the winner.
The game comes in a travel size carrying case that you can take with you anywhere.
Take 'N' Play Anywhere – Bingo
The classic bingo game features magnetic markers that are easy to use and hard for kids to lose and it also comes in a travel size form.
You simply need to spin the spinner and place your magnetic markers on the corresponding animal and if you have five in a row, do not forget to shout Bingo! And win the game.
The pack comes with 18 Blue Magnetic Markers, 18 Red Magnetic Markers, a spinner and a magnetic Game Board.
Suitable for 2 players with ages from 4 and up.
Battleship Grab and Go Game (Travel Size)
This Battleship game mobile version lets you command your own battle from the flip open game unit. Each unit opens to block the view of your opponent. It also includes carriers, cruisers, destroyers, submarines and battleships. Track your shots with the red and white pegs that come with the game.
When the game is over, you can easily store the game units and stack them together.
This game can only play 2 players with ages from 7 and up.
Scrabble Deluxe Travel Edition
This play on the go edition of Scrabble is perfect when you are traveling as it features a beautiful wood folding case and if opened, it will reveal everyone's favorite word game.
The built in game board contains a raised grid that holds the letter tiles in place. When you lift the game board panels, you will discover all the game components are neatly stored in two storage components.
Aside from the wooden case, it also comes with 100 solid wood Scrabble Letter Tiles, 4 scrabble letter tile racks, Scorepad, Pencil, Tile Pouch and game instructions.
Yahtzee

Yahtzee is a dice game with a score sheet. If you like, you can roll the dice in a cup. You might enjoy the sound of the dice rattling around within. This inexpensive game is easy to play and a lot of fun.
This travel version is the perfect size to take with you on a road trip or keep in your RV to bring out when it is raining.
Skull
This party game of bluffing and strategy is easy to learn. The skull is a game in which everything is played in the players' heads. You must practice your bluffing skills and be careful if you happen to come across a skull which bears terrible consequences.
Each player will have three rose cards and one skull, add a card to the pile in the front and challenge your opponents. Rose cards are a safe bet, but you will lose one of your cards if you expose your opponent's skull card.
To win this game, you must keep your card until the end of the game.
Taco Cat Goat Cheese Pizza
This simple and hilarious game will definitely give you a good laugh for a get together. The rules of the game are easy to learn and a round will only last up to 10 to 15 minutes.
In this game, each player places a card in the front pile while saying taco, cat, goat, cheese, pizza in the player sequence.
Always remember the 5 words in mind and as soon as there is a match between a card an a spoken word, everyone will slap their cards on the center pile. The last one to slap their cards, will take all the cards.
The winner will be the first one to get rid of all cards.
Bananagrams: Multi-Award-Winning Word Game
In this award winning word game, speed wins and not points. Players will race against each other to build words using their letter tiles. When you use all your letters, just shout "PEEL" and every player will take a new tile and everyone has to rebuild the word as fast as they can.
The banana-shaped pouch is perfect for traveling and great for playing anywhere you are.
It's perfect for a fun family night and friends get together.
Wonders of the World Top Trumps Card Game
You can play this game anytime and anywhere you go and with as many players as you like. It has an easy to carry plastic case that you can bring with you.
This highly entertaining and educational card game will definitely blow your minds with your Top Trumps knowledge. From the grand canyons to waterfalls, this game will take you around the globe and its Wonder of the World.
It also has a Treasure Hunt bonus game where you will answer questions on the card and decipher the code to unlock prizes online.
SKYJO by Magliano
In this game, the objective is to gain as few points as possible over the course of several turns. After each round, every player's points are counted and added to his score.
When a player reaches 100 or more points, the player with the feast points wins the game. It is important to look for a low or negative number to collect fewer points.
This is suitable for family, adults, and kids and perfect for travel and holiday games.
Gamewright Qwixx – A Fast Family Dice Game Multi-colored
The Qwixx Dice Game is a fun and exciting game that involves players with some quick thinking and math skills. Each player takes a turn to roll six dice of different colors, and the more numbers you cross off from your scorecard, the more points you score.
The game ends when a player strikes four penalties or strikes off a second color. Enjoy and engage your family, kids and friends with this simple and fun game.
R & R Games Hanabi Card Game
Players need to work together in this challenging card game with a twist. Each player will have 5 cards and the twist is that you can see everyone's card except your own card. You must give each other important information and remember all the information you received. Using the information, you will choose which cards you will use to play.
The key to this game is helping each other play the right cards at the right time.
WE Games Cabinet Cribbage Set – Solid Wood Continuous 3 Track Board with Easy Grip Pegs
This classic game involves battlefield strategy. It comes with 30 red army pieces, 2 label sheets, rules and a gameboard. Suitable for 2 players ages 8 and above.
The cribbage is known for its cribbage board or the crib used for scorekeeping. It features holes, known as streets, lanes or tracks where the score is tallied with pegs.
Use your army wisely and decide on a plan to capture the flag of your opponent.
Recent Posts