Are you looking for accommodation in Las Vegas for families? Embarking on a family adventure in Las Vegas means finding the perfect hotel that caters to both parents and children.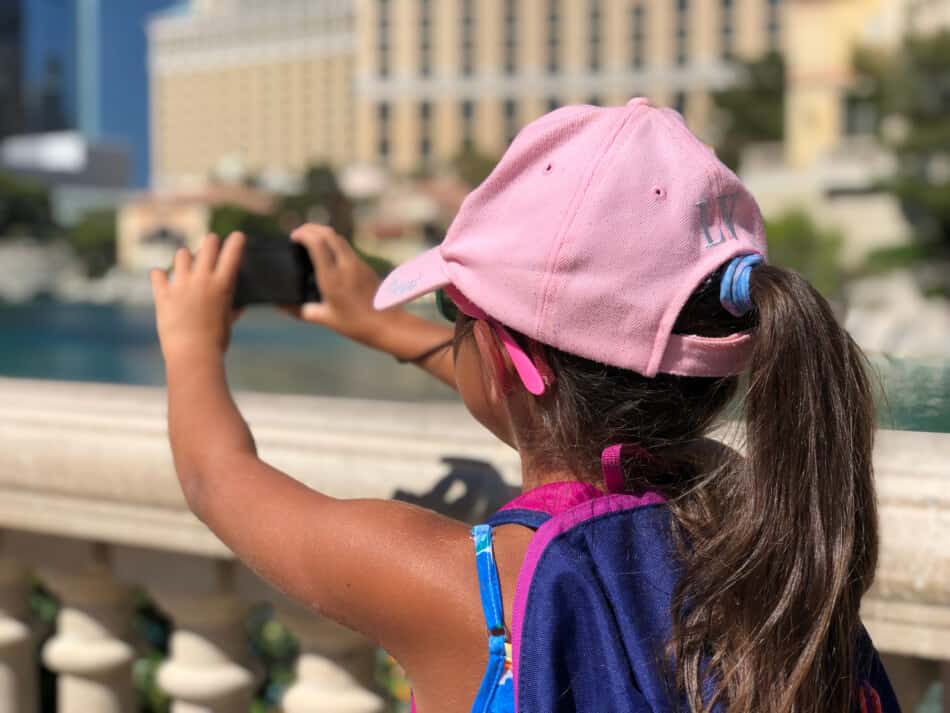 Amidst the city's renowned nightlife and entertainment, there's a selection of hotels designed specifically for families with kids.
These accommodations redefine the typical Las Vegas experience, offering themed resorts, expansive pools, captivating shows, and family-friendly amenities.
Imagine your family surrounded by the enchantment of a hotel featuring a pirate ship or a medieval castle – themed settings that spark the imagination.
Picture the joy on your kids' faces as they enjoy pools with water slides or lazy rivers. The best Vegas hotels for kids go beyond the glittering lights, providing spacious accommodations and thoughtful conveniences for families.
These hotels ensure a family-friendly atmosphere where children can experience the magic of Las Vegas without compromising on comfort. As you plan your family vacation in the city that never sleeps, this guide will help you navigate the top hotels, ensuring your stay is filled not only with the allure of the Las Vegas Strip but also with tailor-made experiences for your little ones.
Choosing the best family friendly hotels in Las Vegas involves considering factors that cater to both children's needs and the preferences of the whole family. Here are some tips and tricks:
Amenities and Activities:

Look for hotels with family-friendly amenities such as pools, water features, arcades, and supervised kids' clubs. Some hotels offer special entertainment and shows suitable for children.

Space and Room Configuration:

Opt for spacious accommodations or suites that provide separate living areas. This gives families more room to spread out and ensures everyone has their own space.

Themed Decor and Atmosphere:

Some hotels have themes that may appeal to kids. Whether it's a pirate ship, medieval castle, or tropical paradise, themed decor can enhance the overall experience.

Entertainment Options:

Check if the hotel offers family-friendly entertainment options such as magic shows, circuses, or other performances suitable for children. Consider proximity to attractions suitable for kids on the Las Vegas Strip.

Dining Options:

Look for the best family hotels in Las Vegas with diverse dining options, including restaurants with kid-friendly menus. Some resorts offer buffets with a wide selection to accommodate different tastes.

Recreational Facilities:

Consider hotels with recreational facilities like bowling alleys, mini-golf, or sports courts. These can provide additional entertainment for children during downtime.

Childcare Services:

Some resorts offer childcare services or supervised kids' clubs, allowing parents some time for relaxation while ensuring their children are engaged in age-appropriate activities.

Proximity to Family Attractions:

Check the proximity of the hotel to family attractions on the Las Vegas Strip or nearby. Access to kid-friendly attractions can make your stay more convenient and enjoyable.

Quiet Areas for Relaxation:

Choose a hotel that provides quiet areas for relaxation, especially during nap times. Some hotels have designated family pool areas or quieter sections away from the hustle and bustle.

Safety Considerations:

Prioritize hotels that take safety seriously. Check for features like secure entrances, lifeguards at pools, and well-lit areas to ensure a safe environment for your family.

Reviews and Recommendations:

Read reviews from other families who have stayed at the hotel. Their experiences can provide valuable insights into the hotel's family-friendliness.
Remember that Las Vegas is known for its adult-oriented atmosphere, so even in the best hotel in Vegas for kids, you'll want to balance kid-friendly amenities with options for the adults in the family. Always check with the hotel directly for the most up-to-date information and any special offers for families.
Thank you for supporting this website written by an American. This post may contain affiliate links. This means I earn a small commission on these links at no extra cost to you.
15 Best Hotels for Families in Vegas – Best kid-friendly hotels in Las Vegas
The Mandalay Bay Resort & Casino – Best Las Vegas hotel with family
Mandalay Bay Beach includes a wave pool and a lazy river.
Shark Reef Aquarium is a family-friendly attraction with a variety of marine life.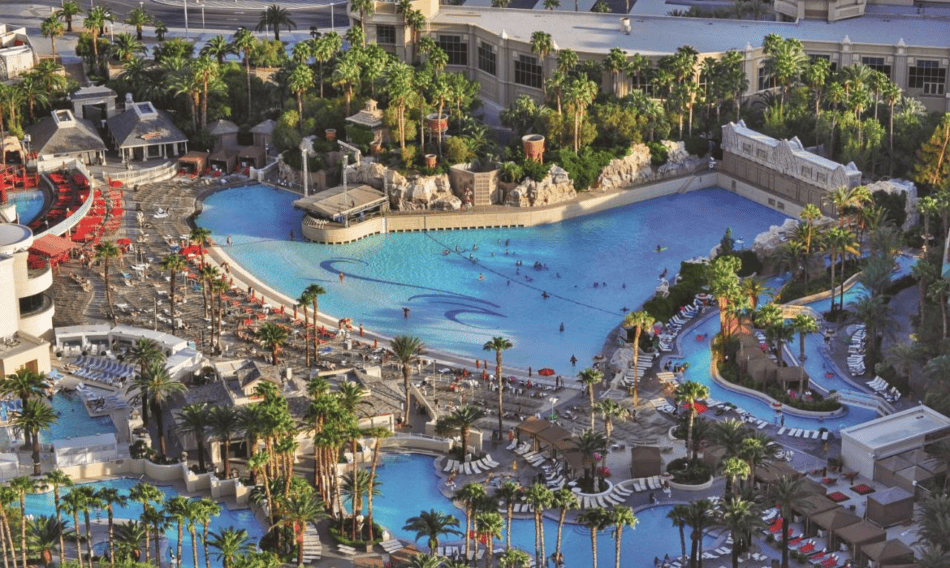 The Mandalay Bay Resort & Casino is situated directly on the well-known Las Vegas, Nevada, strip, but it is not as busy or packed as one might anticipate, making it the best Vegas strip hotel for families.
Instead of merely having a pool, they also have a water park with sand to simulate a real beach. Additionally, the same resort also has an aquarium with a volume of a little over 1.5 million gallons. It is enormous, spectacular, and certain to amaze kids.
Free Wi-Fi and room service are accessible, and the nearby restaurants feature delicious menu selections that are geared toward kids.
Circus Circus – family friendly Vegas hotels
Features the Adventuredome, an indoor theme park with rides and attractions.
Circus shows and carnival games add to the family-friendly atmosphere.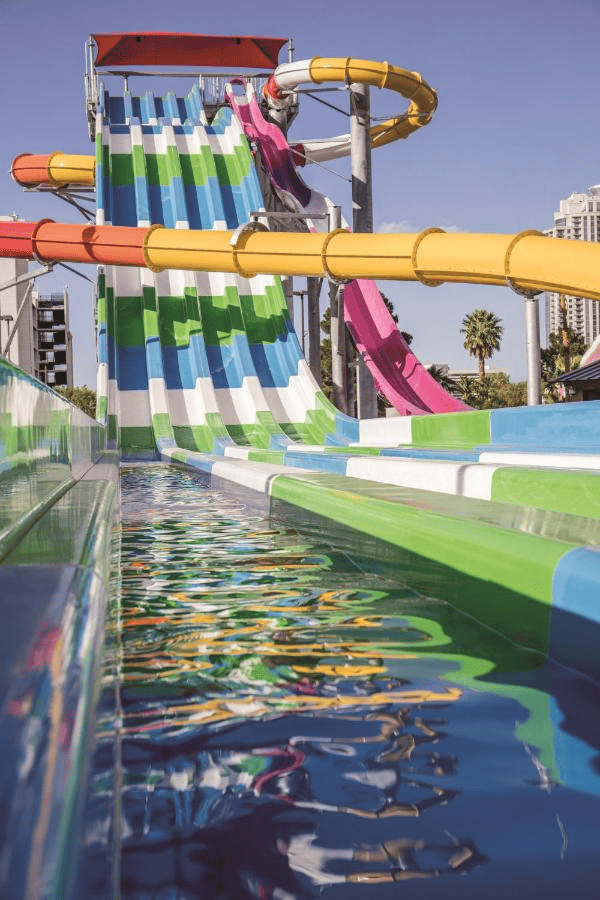 As a part of MGM Resorts, Circus Circus provides an opulent stay along with a striking but not overpowering circus motif and one of the best hotels for families in Las Vegas.
Kids are going to love the variety of circus-themed activities and events offered by the resort, which include treasure hunts, live performances, and the perennially popular carnival game choice.
Drinks are available right by the poolside, where adults will undoubtedly have a lot of fun.
One of the family-friendly hotels in Las Vegas, this one offers swimming lessons for younger children who are still learning the ropes.
Additionally, free Wi-Fi is accessible throughout Circus Circus, and you're in the heart of the Las Vegas tourist mecca.
The Mirage Hotel Las Vegas – best hotels for families
Secret Garden and Dolphin Habitat: Kids can see dolphins, tigers, and other animals.
The volcano show outside The Mirage is a visually exciting experience.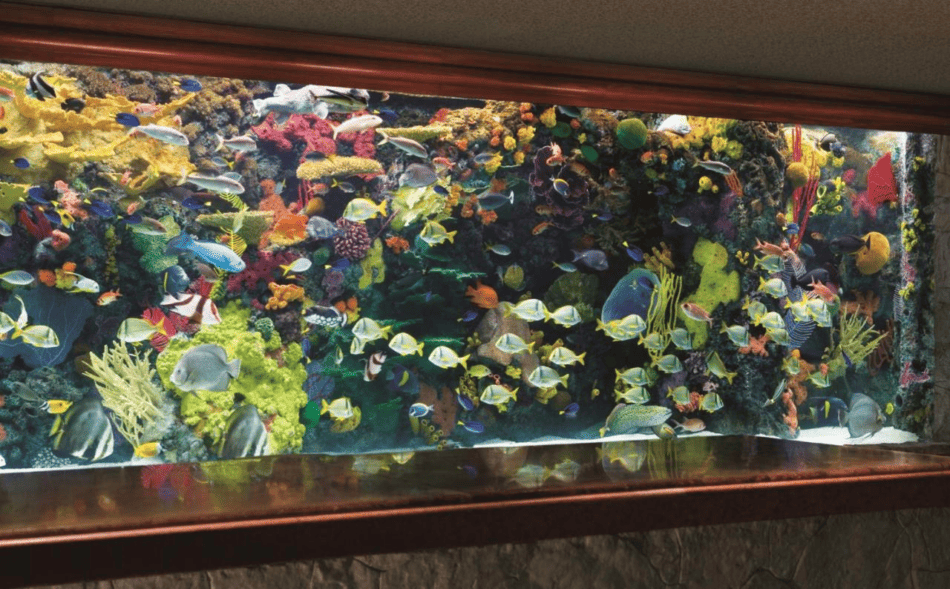 Being a member of the MGM brand, The Mirage Hotel takes pride in providing guests with a degree of comfortable, affordable luxury and a trip that kids won't soon forget. It is another excellent family hotel in Las Vegas.
The Mirage has appeared in numerous movie and television show opening credits, and kids will adore viewing the enormous water feature up close.
Additionally, there are kid-friendly pools spread out around the hotel, as well as a sizable aquarium with a lot to offer. There are even more shows available, such as Siegfried & Roy and Cirque du Soleil.
The Mirage's rooms are spacious enough to house the complete family without anyone feeling like they are interfering with anyone else's vacation; older children can even have an entire section to themselves.
Wi-Fi and smart TVs are also provided in each room in case any children or teenagers would prefer to stream a movie instead.
Excalibur Hotel & Casino – family hotels in Vegas
The medieval theme is appealing to children.
The Fun Dungeon offers a variety of arcade games and activities.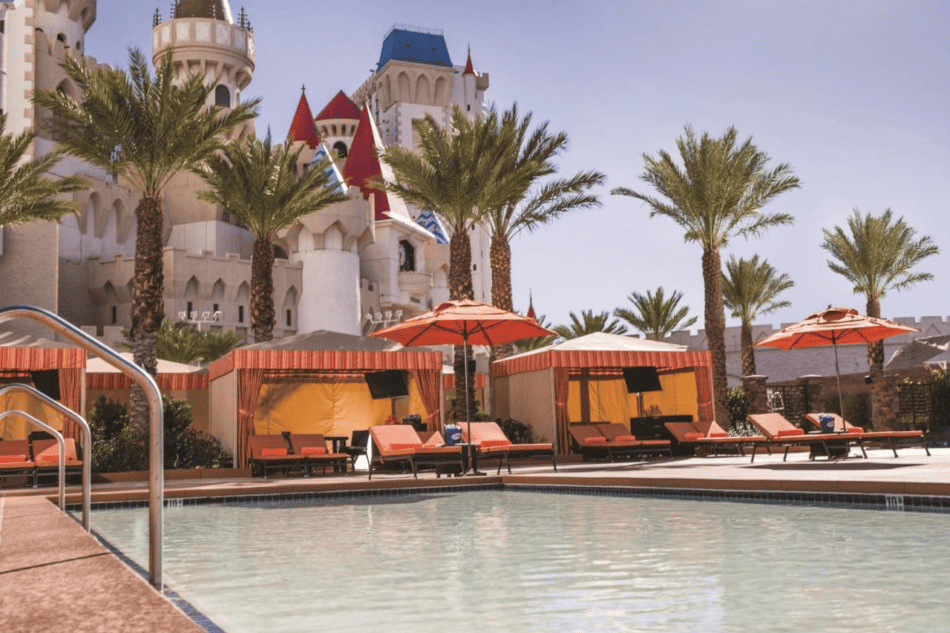 When you first arrive at Excalibur Hotel & Casino, it welcomes you as an amazing, intimidating, lit-up castle, staying true to its name.
Of course, most children will enjoy this, and once inside, they might not want to come out again because it also provides dining options, a pool, a spa, entertainment shows, and a casino with a medieval theme.
The Excalibur Hotel has made every effort to guarantee that everyone has a great time while pushing the Excalibur theme as much as they can.
Treasure hunts, live performances, themed dinners, access to the resort's arcade, any of its pools (the majority of which are kid-friendly), and many top-notch dining options are all available.
Suites are naturally arranged in a way that allows you to diverge from the theme and simply relax for a while.
Excalibur is one of the top picks when it comes to kid-friendly hotels in Las Vegas simply because it adheres to the concept.
Treasure Island – hotels for kids in Las Vegas
Mystère by Cirque du Soleil offers a family-friendly circus show.
The pool area has a tropical theme and a lagoon.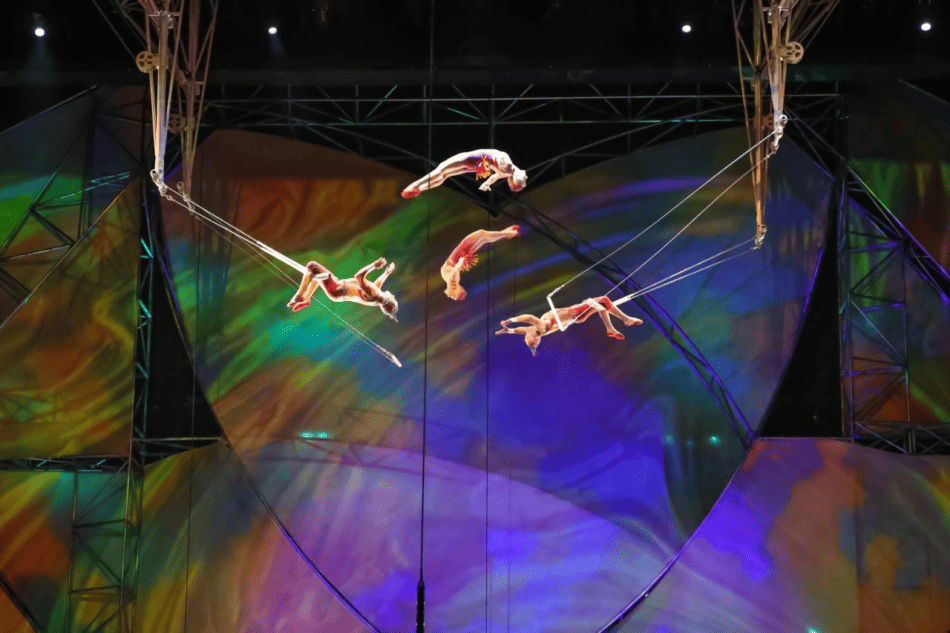 Treasure Island – TI Hotel & Casino stands out as one of the best Las Vegas hotels for families, seamlessly blending entertainment, comfort, and a whimsical atmosphere that appeals to both kids and adults alike. Its prime location on the iconic Las Vegas Strip sets the stage for a memorable family vacation.
The Mystère by Cirque du Soleil show, housed within the hotel, enchants audiences with its mesmerizing acrobatics and colorful performances, offering a captivating experience for all ages.
The tropical-themed pool area, complete with a lagoon and swaying palm trees, provides a delightful retreat where families can relax and play together. The hotel's exterior boasts a shipwreck and a lively pirate show, creating a visual spectacle that captures the imagination of young visitors. The spacious and family-friendly accommodations cater to the needs of larger groups, ensuring a comfortable stay for parents and children alike.
With its proximity to other family-friendly attractions on the Strip and a variety of dining options within the hotel, Treasure Island stands as a well-rounded choice for families seeking an engaging and enjoyable Las Vegas experience.
Whether exploring the pirate-themed decor or basking in the excitement of the Mystère show, Treasure Island offers a balance of entertainment and convenience that makes it a top pick for families visiting the entertainment capital of the world.
The Venetian Resort – Las Vegas best hotels for families
Venetian-style canals.
Madame Tussauds Las Vegas is nearby for wax figure fun.
The Venetian Resort in Las Vegas emerges as an exceptional choice for families, seamlessly blending luxury with family-friendly amenities to create an unforgettable experience for all ages.
Its iconic gondola rides through meticulously recreated Venetian canals provide a unique and enchanting experience for children, allowing them to embark on a mini-adventure within the hotel.
Families can explore the Grand Canal Shoppes, where the streets of Venice come to life with vibrant architecture, street performances, and charming boutiques. The resort's spacious suites cater to families, offering ample room for comfort and relaxation. The vibrant and lively atmosphere of St. Mark's Square, complete with performers and live music, adds a touch of European charm to the experience.
The resort's commitment to entertainment is evident with Madame Tussauds Las Vegas located on-site, allowing kids to rub shoulders with lifelike wax figures of their favorite celebrities.
Additionally, the Venetian Pool Deck provides a resplendent oasis for families to unwind, featuring multiple pools, hot tubs, and cabanas. With its immersive experiences and attention to family-friendly details, the Venetian Resort stands as a top choice for families seeking an opulent yet kid-friendly retreat on the Las Vegas Strip.
The Bellagio Hotel – best vegas hotel for kids
Fountain Show Spectacle: The Bellagio's iconic fountain show is a captivating visual experience that delights children with its choreographed water, light, and music performances.
Botanical Garden and Conservatory: The Bellagio's seasonal botanical displays and conservatory showcase vibrant flowers, whimsical sculptures, and themed exhibits, offering a delightful and educational experience for kids.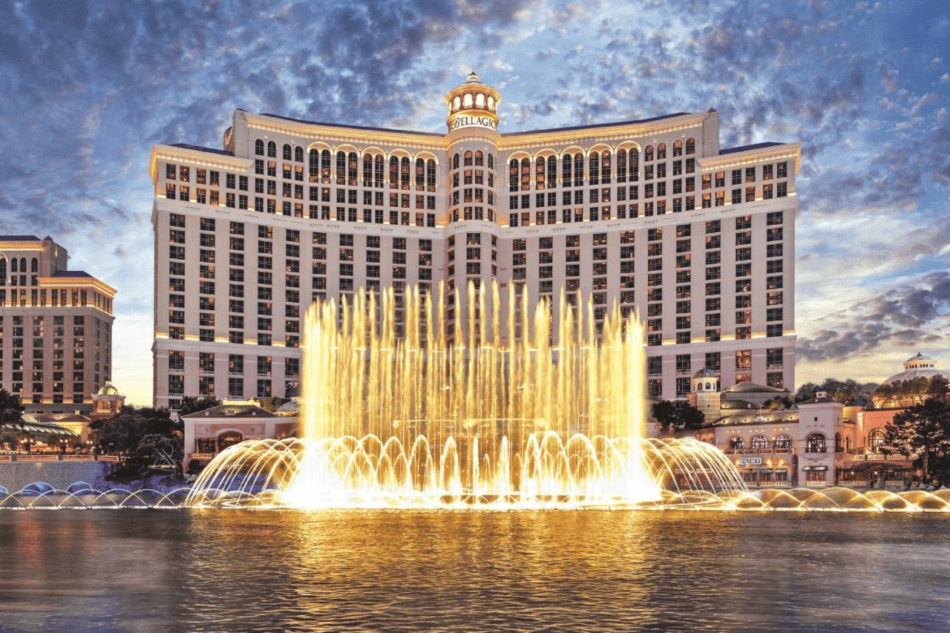 The Bellagio Hotel, which is located directly on the Las Vegas Strip and one of the best Las Vegas hotels with kids, has enormous suites with enough space for an entire family to sleep comfortably, as well as more facilities included in the price of your stay than you can shake a stick at.
An included breakfast, free Wi-Fi, gaming consoles that are accessible upon request, a children's arcade, and magnificent Cirque du Soleil extravaganzas are among the amenities that the kids will extremely enjoy.
By no means does a visit to one of the best family-friendly hotels in Las Vegas have to be a dull one for adults.
In addition to restaurants with on-site bars, the Bellagio has a lovely garden where you can lose yourself. You can also take a shuttle to any of the nearby amenities.
New York-New York Hotel – best hotel in Vegas for kids
Roller coaster: The Big Apple Coaster offers a thrilling ride around the hotel.
Hershey's Chocolate World provides a sweet experience for kids.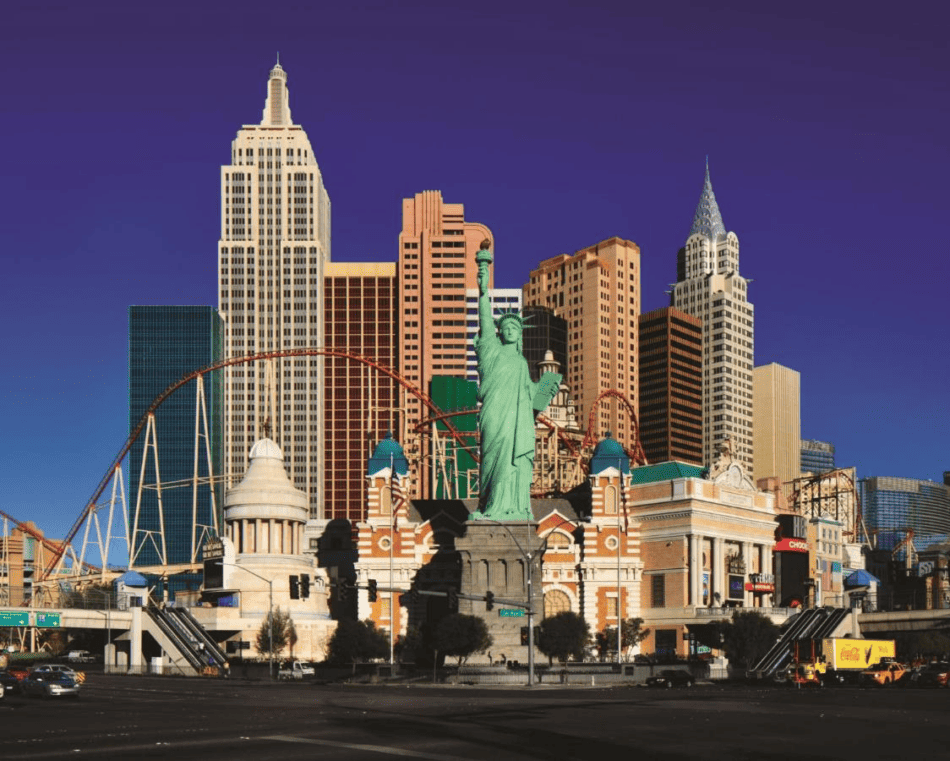 The New-York New-York Hotel & Casino is intended to be a peculiar and fascinating take on a little New York while being situated right amid Vegas. It also gets the song of the week stuck in your brain.
Children will adore the rollercoaster that takes them through the small version of New York City, and there is plenty more to enjoy, such as a children's game arcade.
While kids enjoy the arcade, adults are welcome to visit the hotel's casino. New York New York also offers several fantastic restaurants that can be enjoyed without leaving the resort.
The fact that this hotel offers a theme without feeling like it pushes it too far makes it fantastic. The kids will have a great time, and the concept fits.
What could be better for a holiday than chocolate? Families can also visit Hershey's Chocolate World for all the chocolate they could ever want—and then some more.
The Hilton Grand Vacations on the Vegas Strip
Spacious Suites: The hotel provides family-friendly suites equipped with kitchenettes and separate living areas, ensuring ample space for families to relax comfortably.
Outdoor Pools and Water Features: Multiple pools and water features, including a lazy river and water slides, provide hours of entertainment for kids, creating a resort-like atmosphere.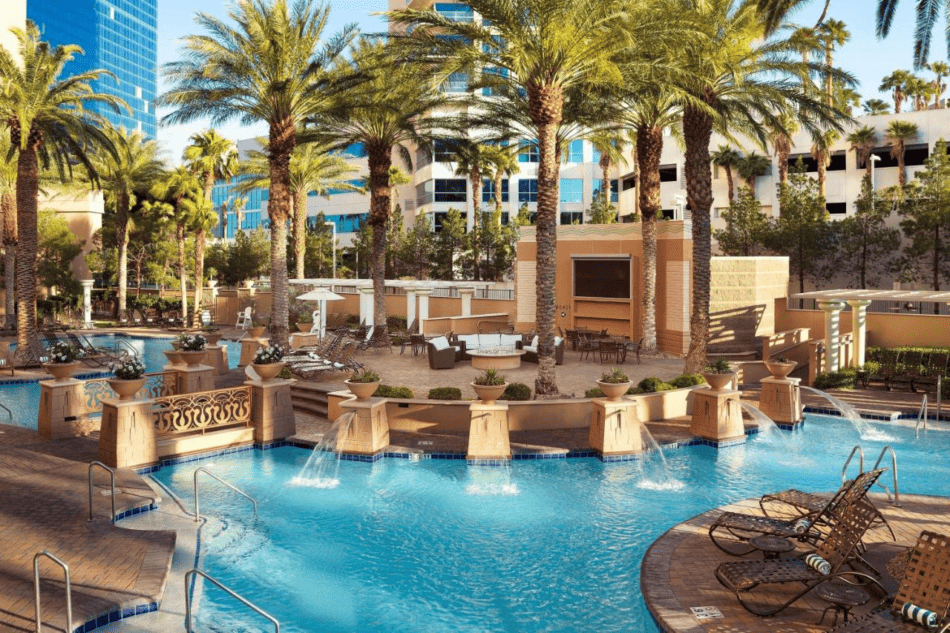 For anyone who wants to experience Vegas while staying a little bit further away from the hectic atmosphere of the casinos, the Hilton Grand Vacations on the Boulevard is fantastic.
The Hilton has a variety of pools for youngsters to enjoy, and kids over 12 can participate in any of the fantastic sports the hotel offers, such as basketball or volleyball.
A fully furnished games room is available at the Hilton Grand for both adults and children. Adults will love the BBQ rentals, or they can get lost in the variety of restaurants available.
Every room has free Wi-Fi, a TV, and additional features like a kitchen for each unit in case you want to prepare your food while you're on vacation.
South Point Hotel
Equestrian Center: South Point's Equestrian Center hosts events like rodeos, providing a unique and exciting experience for families interested in western-themed entertainment.
Bowling Alley and Arcade: The hotel features a well-equipped bowling alley and arcade, offering indoor entertainment options for families to enjoy together.
Another fantastic family-friendly casino and resort that is a little bit off the main Las Vegas strip is the South Point Hotel.
There is a large pool that is appropriate for both adults and children, as well as a movie theater, a gaming arcade, and a bowling alley. There is more than enough to keep the kids engaged for the duration of the trip, and it has everything a family could desire in a holiday, which is why the kids will adore it.
The rooms are thoughtfully designed, incredibly comfortable, and provide you with more than enough space for the kids to have a separate area to themselves.
When you reserve your stay, you'll also get free Wi-Fi, room service, laundry facilities, and a kitchen in your apartment.
The Tahiti Village Resort – kid friendly resorts Las Vegas
Lazy River and Pool Complex: The resort boasts a tropical-themed pool complex with a lazy river, sandy beach, and waterfalls, providing a fun-filled aquatic playground for kids.
Tahitian-themed Suites: The resort's Polynesian-inspired suites add an element of excitement and novelty for children, enhancing the overall vacation experience.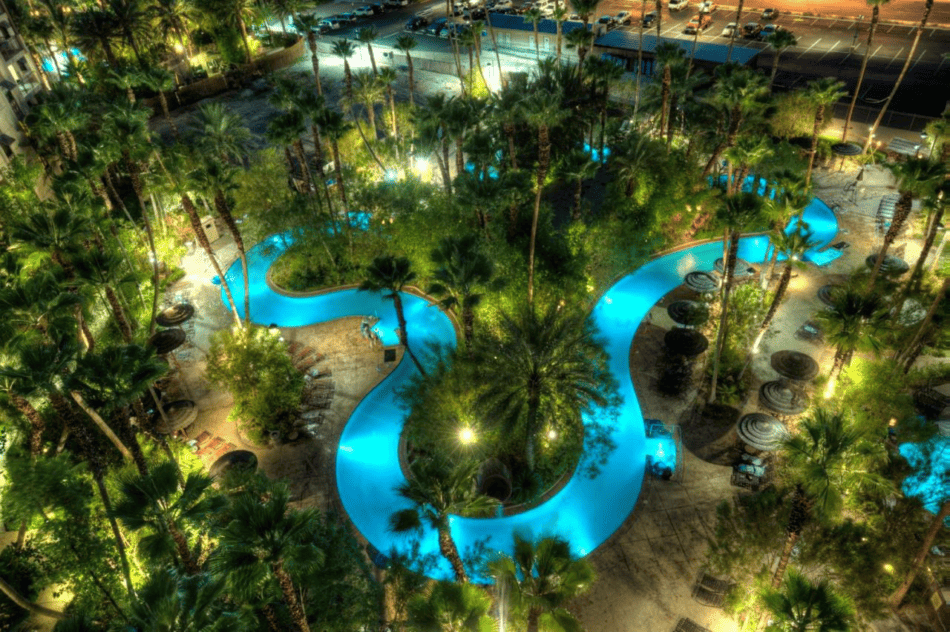 The Tahiti Village Resort has a fantastic family-sized pool where the kids can play while parents can enjoy cocktails poolside. However, it has a lot more to offer, including excellent restaurants and attractions that are around the resort, so it is not the only fantastic thing about it.
The rooms are furnished in a fantastic, cozy, and contemporary style that would put anyone at ease. While some of the rooms are larger and tucked away in the resort's center, others are smaller and have no access to a balcony with a lovely view of the city.
Near the pool, there are barbecue rentals available, and you are welcome to sit down and light one up.
Adults staying at the Tahiti Village have access to a free on-site gym with particular programs for anyone looking to continue (or start) a fitness regimen while on vacation.
The Red Rock Resort
Kids Quest: The supervised childcare facility, Kids Quest, provides a safe and engaging space for children to play and participate in activities while parents explore the resort.
Backyard Pool Area: The resort's expansive backyard pool area features a sandy beach, wading pools, and cabanas, creating a family-friendly oasis for relaxation and play.
The Red Rock Resort welcomes you to Red Rock Canyon, Nevada. Despite being a little off the Vegas strip, there is more than enough to do here that you won't miss the casinos or the bright lights at all.
Although their main pool is enormous—it is 3 acres—you can feel confident that it is kid-friendly because smaller children can use the pools that surround it, which the kids can enjoy.
A Kid's Quest playground is located away from the pool, while older children can utilize the resort's gaming arcade, bowling alley, or movie theater.
You can take the kids for a hike through Red Rock Canyon, which is nearby the resort. You'll be glad to know that there are several different trails, some of which are suitable for novices and young children.
The Green Valley Ranch Resort & Spa
The Pond Pool: The Pond Pool is a family-friendly oasis with a sand-bottom pool, a sandy beach, and a walk-in entrance, creating a resort-style environment suitable for kids.
Kids' Club: The resort offers a Kids' Club with supervised activities, providing parents with the option for a break while ensuring their children are engaged in age-appropriate fun.
If you want a fantastic resort that is accessible to everything in the area, The Green Valley Ranch Resort & Spa is a straightforward option.
Around the Green Valley Ranch Resort, there are more than 50 different restaurants and retail establishments, most of which are within a block or less of the resort and many of which are kid-friendly.
The Green Valley Ranch Resort & Spa has even more to offer, including a kid-friendly theater and game arcade. Their pool, which combines a regular pool with a beach with sand, is particularly noteworthy. The kids will surely have fun with this!
You'll be relieved to learn that all of the rooms are enormous, spacious, and feature free Wi-Fi if you'd prefer to remain in.
Even better, you can select room service.
The Orleans Hotel
Bowling Alley: The hotel features a family-friendly bowling alley, providing an entertaining indoor activity for kids and families.
Arcade and Midway: The Orleans offers a classic arcade and midway with various games and amusements, providing additional entertainment options for children.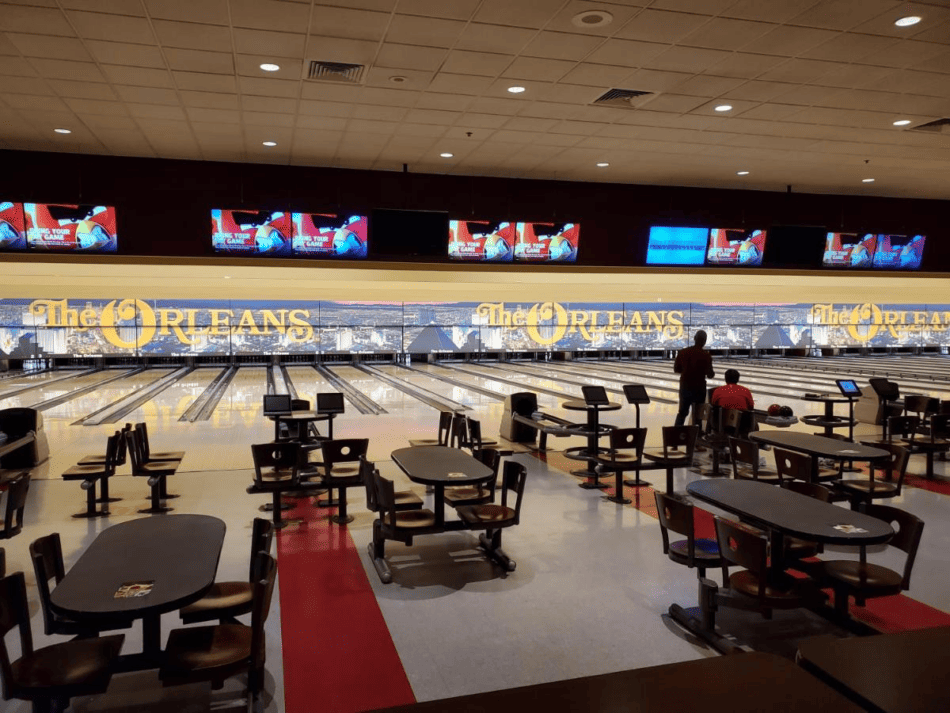 For a family vacation in Vegas, The Orleans Hotel and Casino is a great option if you need a location that will keep teenagers and younger kids entertained during their stay.
The Orleans is a large resort with a lot to offer, including an arcade, a movie theater, a bowling alley, and numerous pools scattered across the property.
There is also a sizable, fully supervised play area for children up to the age of 12 so that they can have fun while remaining safe. Additionally, the staff may meet your requirements if your child has allergies.
The Cancun Resort
Mayan Pyramid Water Slide: The resort's unique Mayan pyramid-themed water slide is a thrilling attraction for kids, adding an element of excitement to the pool area.
Spacious Villas: The resort offers spacious villas with kitchen facilities, providing families with the convenience of preparing meals and snacks.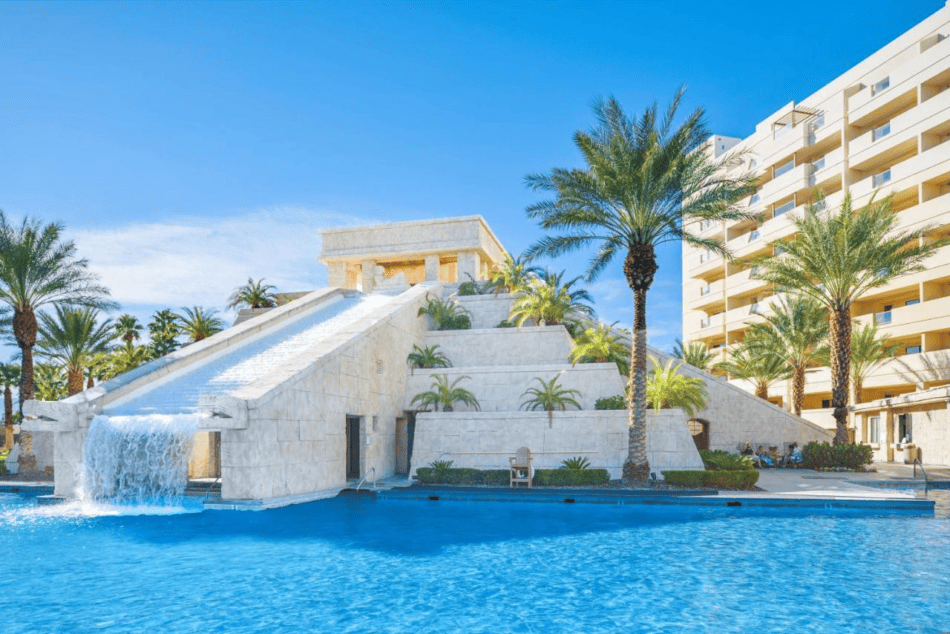 When you want to enjoy the best of Vegas without being right in the casinos, you should book a trip to the Cancun Resort.
The Cancun Resort completely downplays the casino aspect, in contrast to the majority of resorts in the vicinity, which are occasionally quite pleasant.
There are many things to do in Cancun, including poolside fun for both adults and children, cocktails by the pool for the adults, and a variety of other fantastic activities like video games and table tennis.
They undoubtedly provide more kid-friendly activities than other resorts, and the kitchenettes in their rooms let you maintain your normal routine while you're away.
Other amenities like Wi-Fi are included in the cost of your stay, along with other services like room service and laundry that are accessible upon request.
Trump International Hotel
Suites with Kitchenettes: The hotel offers suites with kitchenettes, providing families with the flexibility to prepare meals and snacks for children.
Non-Gaming Atmosphere: The non-gaming atmosphere creates a quieter environment, appealing to families seeking a more serene and relaxed stay.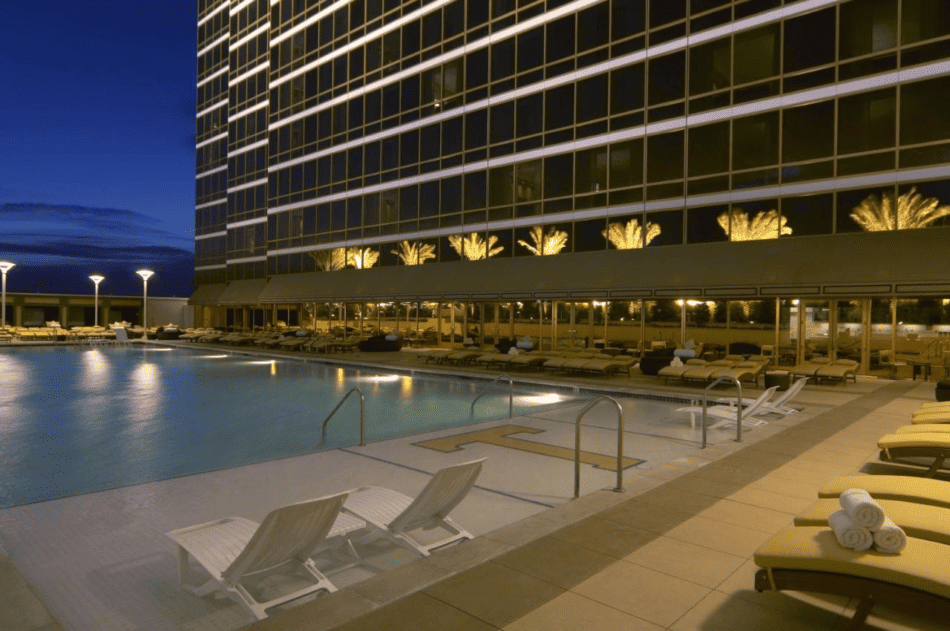 A significant factor in why it is worthwhile to stay at the Trump International Hotel is that it is a prime piece of real estate situated in the best area of Las Vegas.
The hotel provides many full-size pools with child care, room service with kid-friendly food selections, a mini-fridge in each room, and free Wi-Fi access throughout the resort.
The Trump Spa occupies more than 6,000 square feet. The spa offers a variety of facials, massages, and other treatments using special methods from all around the world. It features a health club with saunas and yoga courses, as well as an indoor heated pool.
Radio City Music Hall is not far from New York's Trump International. LaGuardia Airport is 10 miles from the hotel, and the Central Park Zoo is also just one mile away.
You won't be dissatisfied if you bring your family to this lovely site for your next vacation, although you might think of the Trump range of hotels and resorts as being more appropriate for business visits.
The Wyndham Grand Desert
Multiple Pools: The resort boasts multiple pools, including a lazy river, providing a variety of aquatic activities for families.
Spacious Condos: The resort offers spacious condo-style accommodations with kitchen facilities, allowing families to enjoy the comforts of home during their stay.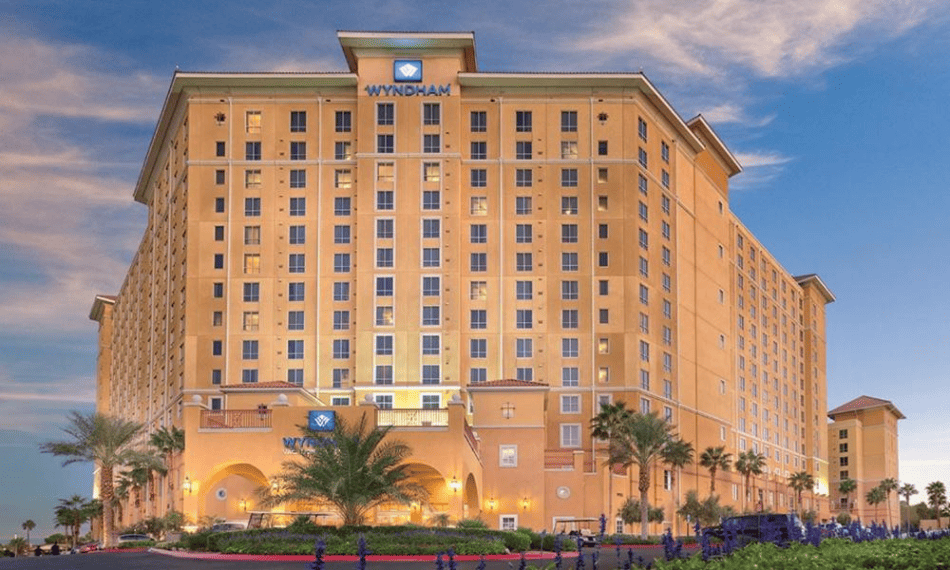 The Wyndham Grand Desert lives up to its name, as the suites are spacious enough to house large families and groups of people while still giving each person their own room.
If you're staying at the Wyndham Grand Desert, you may choose from several on-site dining options, bars for drinks if you're an adult, and lots of exciting activities (including an arcade) if you're a family.
The Wyndham provides tastefully appointed suites and complimentary WiFi as part of your stay.
The Wyndham staff is happy to assist you, even if you require instructions or have an odd child-related issue in the middle of the night. All you have to do is ask about additional amazing extras at the front desk.
Recent Posts