Best Waterparks in Las Vegas, Nevada to Cool Off and Enjoy!
Are you looking for the best Water Parks in Vegas? Las Vegas water parks are some of the best and there are plenty of Las Vegas water slides to choose from when you visit.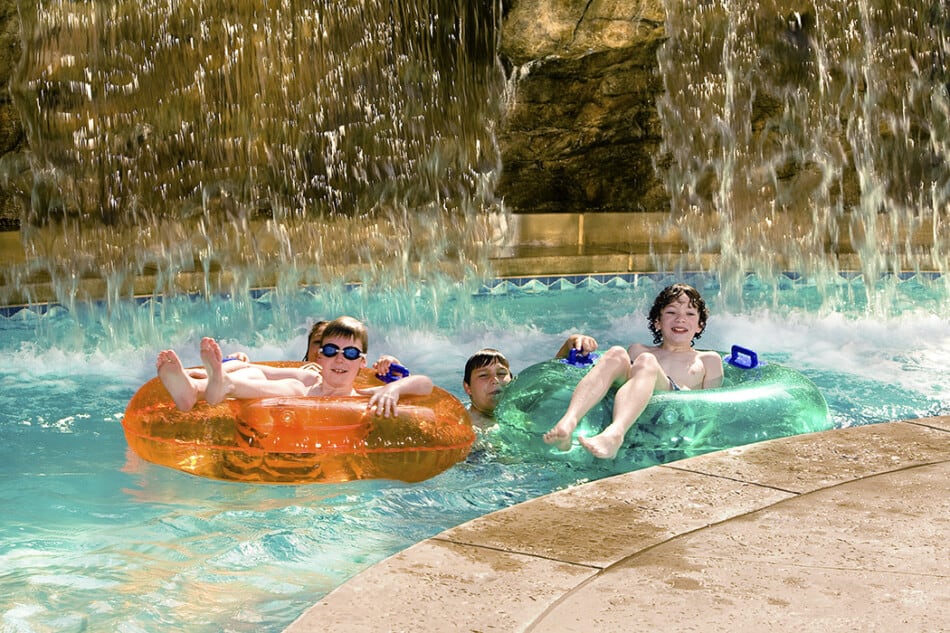 Las Vegas is just one big theme park full of entertainment but sometimes you just have to cool off. We cover everything on this list from Las Vegas water park hotel, Las Vegas water slides, Las Vegas hotels with lazy river pools, and hotels in Las Vegas with water slides.
Pro Tip: Book one of the hotels with water park in las vegas. That way you can visit the Vegas water park as much as you want. I have included helpful links below if you would like to book.
Thank you for supporting this website written by an American. This post may contain affiliate links. This means I earn a small commission on these links at no extra cost to you.
I recommend using Booking .com for all of your hotel bookings. I find they have the best prices on hotels and the more you book with them the more of a discount you get on your bookings. Also, they have free cancellations which is priceless if you need to change your plans.
Tips for Renting a car for your road trip
It's awfully hard to get to Provo without a car. The closest airport is Salt Lake City and you can use  Discover Cars to rent a car for your travels. You'll be able to pick up a car at any airport or in your hometown.
Check availability and get a quote for a rental car for your trip here.
Las Vegas Waterparks and Waterslides
Tahiti Village Vegas Water Park
Tahiti Village boasts one of Las Vegas's longest lazy rivers. It's lined with Tahitian torches and interrupted by four waterfalls in the winter and cool in the summer.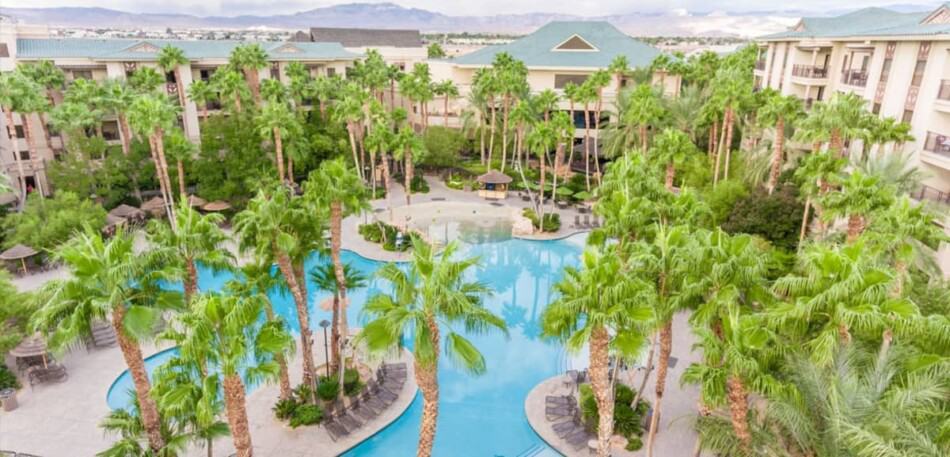 The pool area in Tahiti Village also has one of Las Vegas' longest Lazy Rivers. The seasonally heated Lazy River will float you and allow you to relax while keeping you cool as you pass through four gorgeous waterfalls.
Three multi-unit apartment buildings surround a lushly landscaped courtyard with a pool, hot tub, lazy river, and other on-site facilities in this Tahitian-themed resort.
Tahiti Village features a three-story, 42,000-square-foot hotel lobby and shopping center and boasts:
Lazy River 1/8 of a Mile in Length
Water Park contains over 185,000 gallons of water
Encompasses over 18,000sqft of pool decking with numerous thatch umbrellas and lounge chairs
Heated to over 80 degrees in the winter and mid 70's during the Summer
Four Distinct Water Fall Features
Complimentary Lazy River Tubes for all resort guests
Tahitian Tiki Torches placed around the Lazy River
When you're ready to leave, thatched umbrellas and towering palms provide shade from the blazing Nevada heat. Although the tranquil ambiance of this beach resort in Las Vegas is ideal for a family vacation, the casinos are only a five-minute drive away. Continue the party at Tahiti Village's adults-only hot pool after a night on the Strip.
MGM Grand – Las Vegas water park hotel
The MGM Grand is the largest hotel in the United States, with a waterpark to match. The MGM Grand Hotel and Casino is a wonderful choice for visitors to Las Vegas, offering a trendy atmosphere as well as a variety of helpful features to make your stay more enjoyable.
It spans 6.5 acres (2.5 hectares) and features four swimming pools, three whirlpools, and cascading waterfalls. A minibar, a flat-screen TV, and air conditioning are among the amenities available in the guest rooms.
The MGM Grand pool has a quarter-mile-long lazy river where you can relax while floating around the pool complex. A raft can be rented at the pool if you require one. The Lazy River is open from 9 am until 5pm.
Room service and a concierge are available at the MGM Grand Hotel to make your stay more enjoyable. Breakfast is also available at the facility.
The Wet Republic Ultra Pool, on the other hand, is where the actual party happens. DJs throw weekly raves while swimwear-clad guests dance in party cabanas at the 54,500-square-foot (5,060-square-meter) complex. Parking is provided at MGM Grand Las Vegas if you are driving.
Mandalay Bay Water Park
Mandalay Bay Beach is a one-of-a-kind and magnificent experience that can only be found in Las Vegas.
The Mandalay Bay Pool was named one of the top pools in the United States by TripAdvisor, but it's much more than that – it's 11 acres of outdoor water enjoyment! It is housed in the Mandalay Bay Hotel and features eight pools surrounded by palm trees, fountains, and waterfalls, as well as a gigantic wave pool (with waves up to twelve feet high) and a 2,700-ton sand beach.
Mandalay Bay Beach is a 4.5-hectare tropical oasis with eight pools, a three-story casino, a lazy river, an "optional" adult pool, and a white-sand beach. You'll discover any kind of adventure you're looking for on Mandalay Bay Beach.
The world-famous aquatic playground is set on a faux 'beach'. At Mandalay Bay Beach, you can swim, splash, bathe, or simply soak up the sun on your terms.
The Mandalay Bay Pool has a Lazy River. Not just any Lazy River, but one that stretches for a quarter mile! On a hot summer day, it's ideal for unwinding. The Lazy River is free for Mandalay Bay hotel guests, and inner tubes can be brought or purchased at the Mandalay Bay pool complex.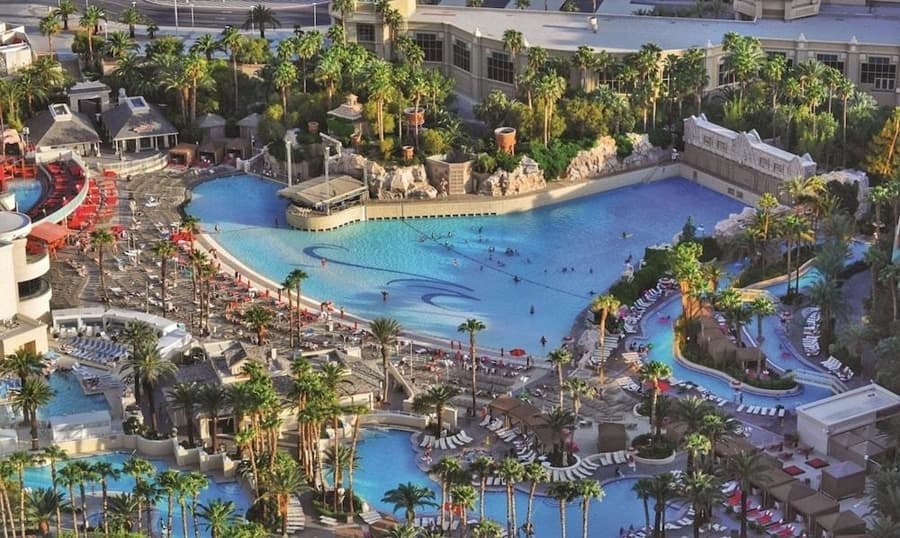 Mandalay Bay Beach strives to make each visitor's stay as memorable as possible. Guests staying at the hotel get access to the full pool deck for no additional charge (it's included in the resort fee).
Non-hotel guests are welcome to rent a lounge chair, daybed, or cabana on the pool deck, although hotel guests always have first dibs. If you want to go for a swim, drink, or gamble, you can do it without ever leaving Mandalay Bay.
You can also visit the Beach Bar & Grill for some delectable food and fantastic cocktails. Mandalay Bay has everything, whether you're searching for a laid-back, elite, party-oriented, or family-friendly vacation.
The establishment is normally open from 6 a.m. until 8.30 p.m. Monday through Sunday. Prior reservations may, however, be necessary.
Golden Nugget Hotel
In the heart of downtown Las Vegas, the Golden Nugget Hotel is home to the Tank, a $30m pool complex wrapped around a shark aquarium. Swimmers can peer into the mouths of the sharp-toothed occupants, safe behind reassuringly thick glass.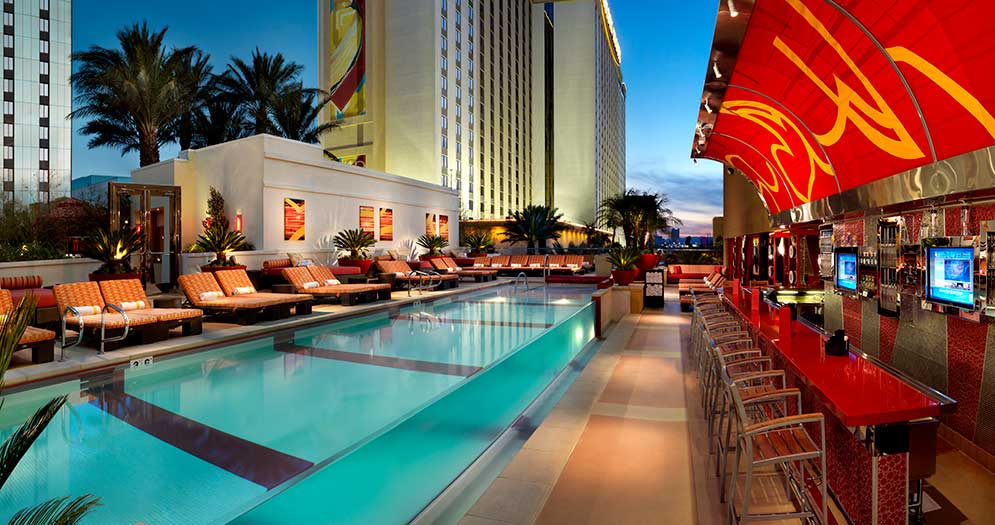 This Las Vegas resort offers luxurious bathrobes in each exquisite suite, as well as an outdoor pool, poolside bar, and lounge area. Each room has a pillow-top mattress and a separate vanity space off the marble en suite bathroom.
There's also a 40-inch flat-screen cable TV, white bedding, and gorgeous wood and leather furnishings. Two marble en suite baths or two flat-screen cable TVs are available in some suites.
At the Las Vegas Golden Nugget Hotel & Casino, guests can unwind in lounge chairs on the poolside terrace or in the sauna. The on-site casino has both slots and tables. In the Spa, there are massage services available. Dry cleaning and concierge services are available.
A twisting water chute cuts straight through the tank in Tank. It goes by quickly, which may be a good thing. The Hideout, an adults-only hideaway featuring a bar, infinity pool, and cabanas, is available.
Cancun Resort Las Vegas
Cancun Resort is a more kid-friendly resort in Las Vegas, located comfortably outside the flashing lights of the Strip. A colossal Mayan pyramid with a waterfall stands in the center of the waterpark.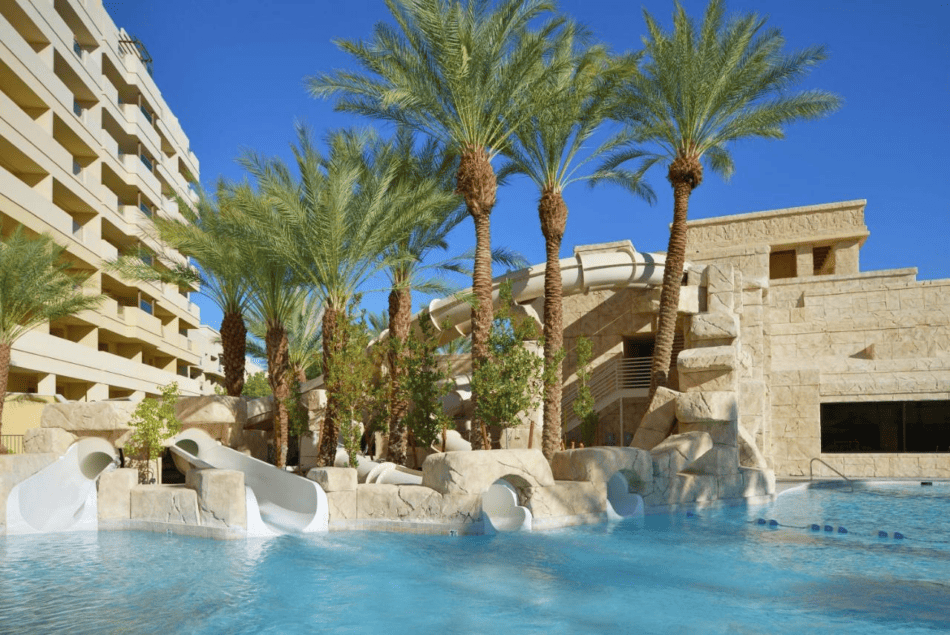 Climb one side to reach four water chutes that lead to the Mayan Cove, a smaller pool. There are enough sun loungers and shade along the waterpark's perimeter to provide adequate protection from the desert sun.
Cancun Resort Las Vegas By Diamond Resorts is located on Las Vegas Boulevard, about 5 kilometers south of the Las Vegas Strip, and has an on-site restaurant as well as a huge outdoor pool area with water slides.
The one- and two-bedroom villas are completely furnished and have a DVD player and cable television. The rooms are well designed and feature a fully equipped kitchen as well as a balcony. A spa bath is available in some villas. Caribe Lounge at Cancun Resort Las Vegas By Diamond Resorts serves Mexican food and is situated near the resort pool and a Mayan waterfall.
A full range of massages and aesthetic treatments are available in the on-site spa. The resort also offers a concierge service, a tour desk, and ticket savings for a variety of notable Las Vegas shows.
Polo Towers by Diamond Resorts
Polo Towers avoids the bigger-is-better mentality of Las Vegas in favor of a polished swimming complex. Guests walk to the rooftop, where they may relax on lounge chairs while taking in views of the neon-lit city, which are best seen at night.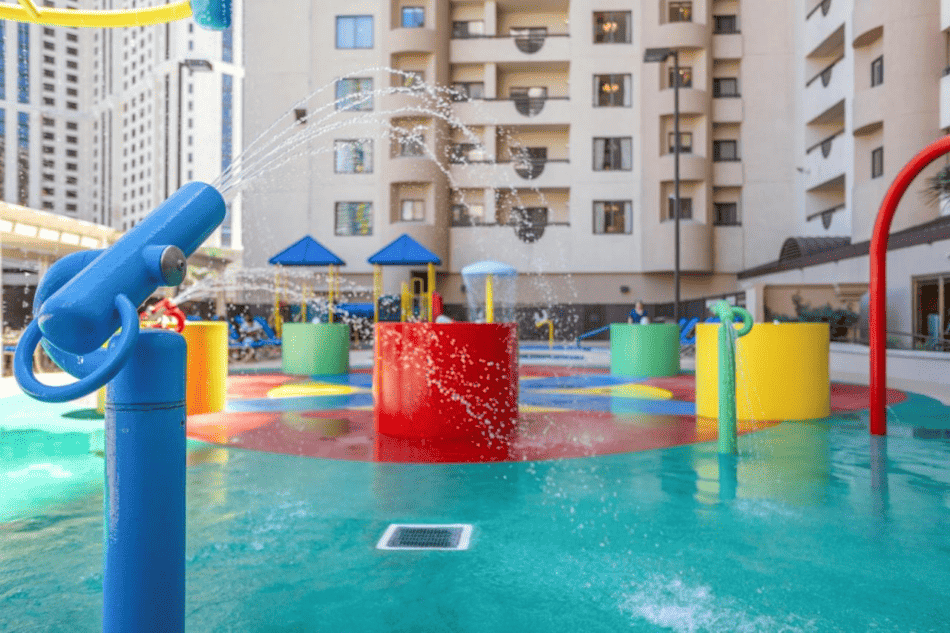 A splash pool and shooting fountains provide a welcome distraction for younger children at the aqua play park.
Polo Towers' suites are warmly designed and include a flat-screen TV and an iPod docking station. A kitchen or kitchenette with a microwave and a refrigerator is included.
Their concierge can arrange transportation, tours, and more. An outdoor pool, a hot tub, and a fitness center are available at the hotel. There's also a spa on-site where you may get a massage.
In less than 10 minutes, you may walk to the MGM Grand entertainment complex. The distance between McCarran International Airport and the hotel is 4.2 kilometers.
Excalibur Hotel
The Excalibur's spires and towers are straight out of a fairy tale, and they'll bring out your inner child. There are four pools (one for adults only) and a waterslide to enjoy.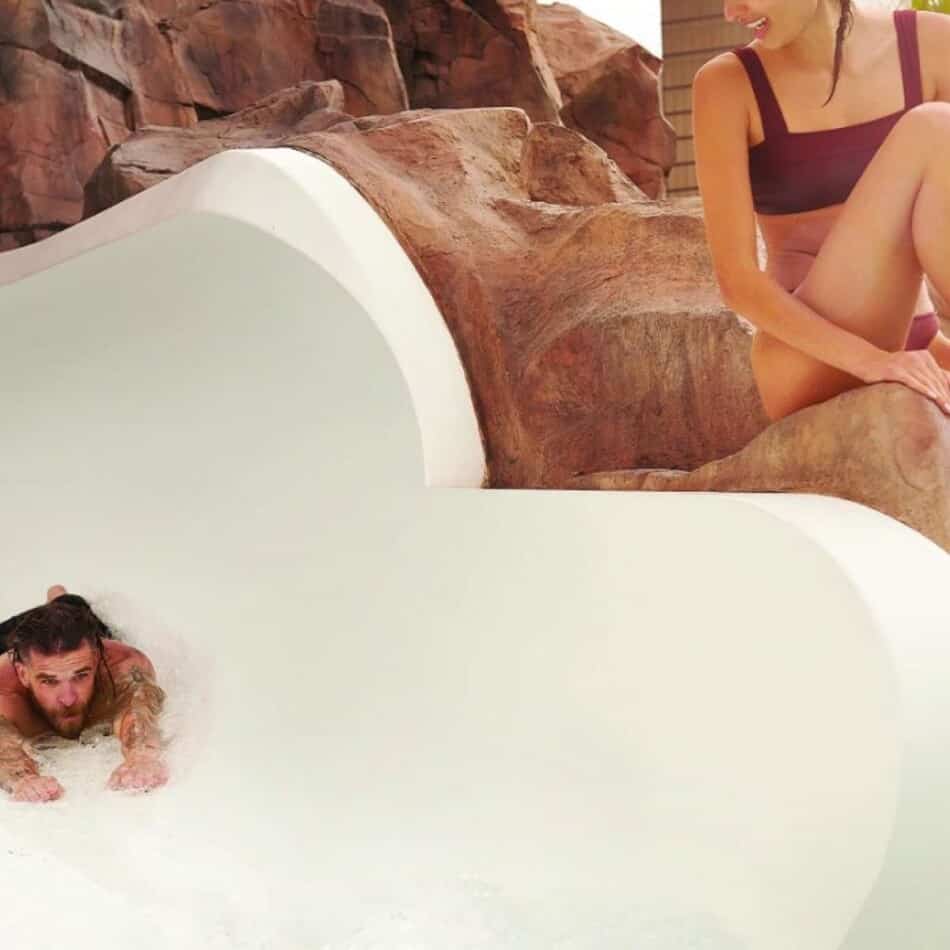 On the Las Vegas Strip, this castle-themed resort and casino are in the heart of the action. It has four seasonal outdoor pools, six restaurants, a 100,000-square-foot casino, and nightly live entertainment. WiFi (included in the resort fee) is available in all of Excalibur's rooms. There is cable TV in every room, as well as a huge bathroom with a hairdryer.
A tour desk is available at the Excalibur Hotel. The numerous on-site shops are provided to guests. There is also a spacious gym with current equipment.
The resort is located 1.6 kilometers from Interstate 15, providing easy access to local attractions. The hotel is 4.5 km from McCarran International Airport and 4 km from the University of Nevada-Las Vegas.
Cowabunga Bay
The Cowabunga Bay Waterpark is located in the Henderson area to the southeast of Las Vegas, about 30 minutes from the city center.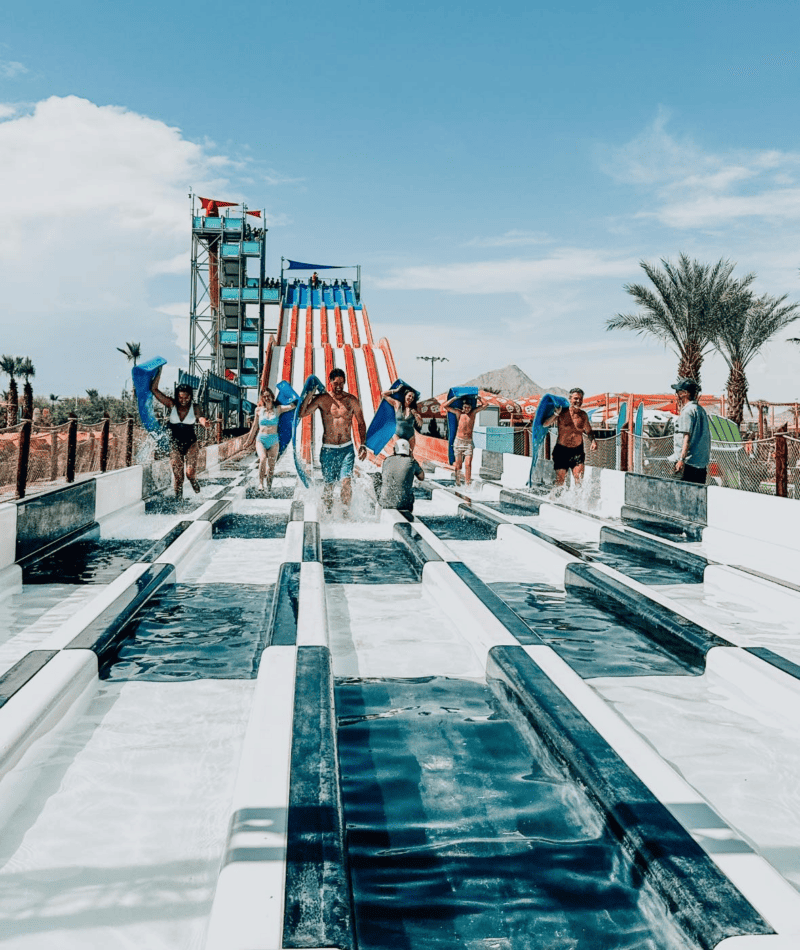 There are 10 slides, a lazy river, and a variety of pools to select from at the waterpark. The Beach Blanket Banzai is one of the best slides for families. Four people can fit on a raft and race down the 60-foot slide, which features sharp turns, drops, and a 180-degree turn.
Then there's the Surf-A-Rama Wave Pool, which provides the ultimate adrenaline rush for those seeking adventure. Bodysurfing waves up to four feet high seems much easier than it is.
There are several calmer pools and activities to select from, making the park suited for all ages, including young children. If you're planning on visiting Cowabunga Bay Waterpark, get your tickets online ahead of time to save $5.
Lake Las Vegas Water Sports (Aqua Park) – water parks near Las Vegas
The Aqua Park is one of Las Vegas's most popular water parks, and it's only 35 minutes away from the city center. This water park is entirely made up of large inflatables that float on the lake's surface!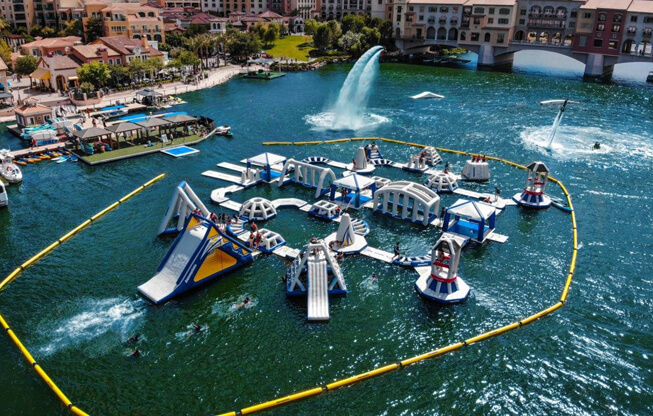 An obstacle course, swings, trampolines, slides, and more can be found at this inflatable aqua park. Without having to wait in large lines, you can climb, jump, slide, and swim.
The cost of admission for 45 minutes on the inflatables is $27, but it is well worth the money.
Renting kayaks, stand-up paddleboards, electric boats, and other watercraft is available in Lake Las Vegas. This is a great activity for the whole family, however, you must be at least 11 years old and wear a life jacket at all times, which they provide.
The neighboring lake has a fantastic and refreshing environment, making it the ideal place to cool off while making some unforgettable memories.
The park offers both easy and difficult areas, allowing you to participate in a variety of exciting activities. Visit the Aqua Park and get a feel for this unique location whether you want to spend quality time with your family or even if you just want to indulge your inner child.
The Tank
While the Tank at the Golden Nugget Casino just has one water slide, it is one of the best in Las Vegas and should not be missed if you are a passionate waterpark enthusiast!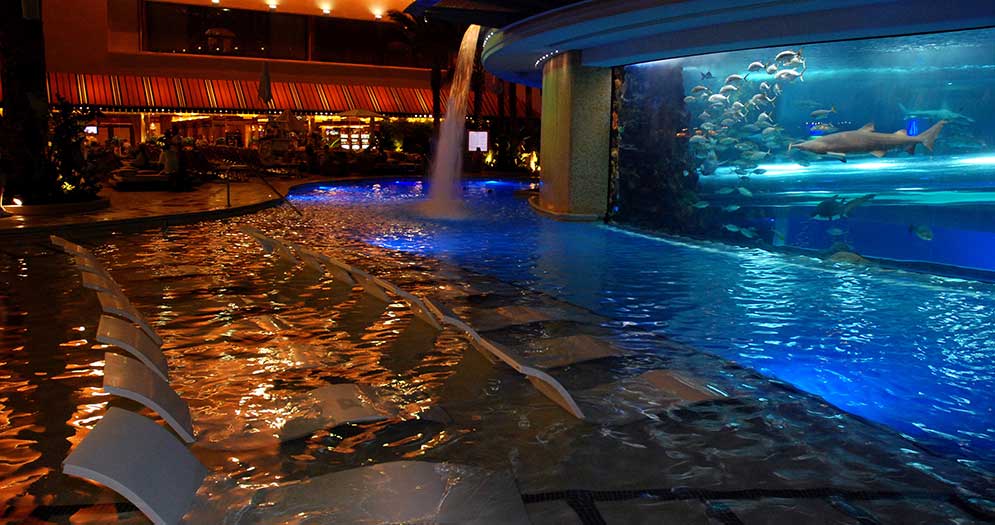 The Tank is a $30 million pool complex with all of the amenities of a high-end Las Vegas resort pool, including lounge chairs, private cabanas, fully stocked bars, and restaurants, all placed in a luxurious setting.
The Tank, on the other hand, features something the other resort pools don't: a 200,000-gallon aquarium filled with live sharks in the middle of the pool!
You can swim up to the side of the tank and watch the sharks swim up close, and if that's not cool enough, you can ride down a clear tubed waterslide through the middle of the tank! Riding a water slide through the middle of a shark tank should be on everyone's "bucket list" when it comes to waterparks.
It will cost you roughly $25 to enter the hotel for the day if you are not a current guest.
Walnut Water Park
Walnut Water Park is located at 3075 N. Walnut Road in Las Vegas, Nevada, in the northeastern part of the city. The park is a Clark County park that is typically open during the summer.
On a hot summer day, the park is a great place to visit with the kids for a half-day adventure.
The property also has a playground, a walking trail, and a sports area in addition to the water park. Enjoy the water park as well as the on-site playground, as well as a newly constructed walking trail and sports field. However, Clark County water parks often open Memorial Day weekend, so check the website for the most up-to-date information.
During the summer, the park is open from 12 p.m. to 5 p.m. on Tuesdays and Thursdays. On Sundays, from 12 p.m. until 8 p.m., it is also open. Before visiting, you can book and confirm operations on their website.
The Splash Zone at Circus Circus
The Splash Zone at Circus Circus Las Vegas is over an acre of fun and excitement for the whole family. Unless the management offers limited-time public access for a fee on select occasions, entry to the Splash Zone and Pool complex is reserved to Circus Circus-Las Vegas' registered guests.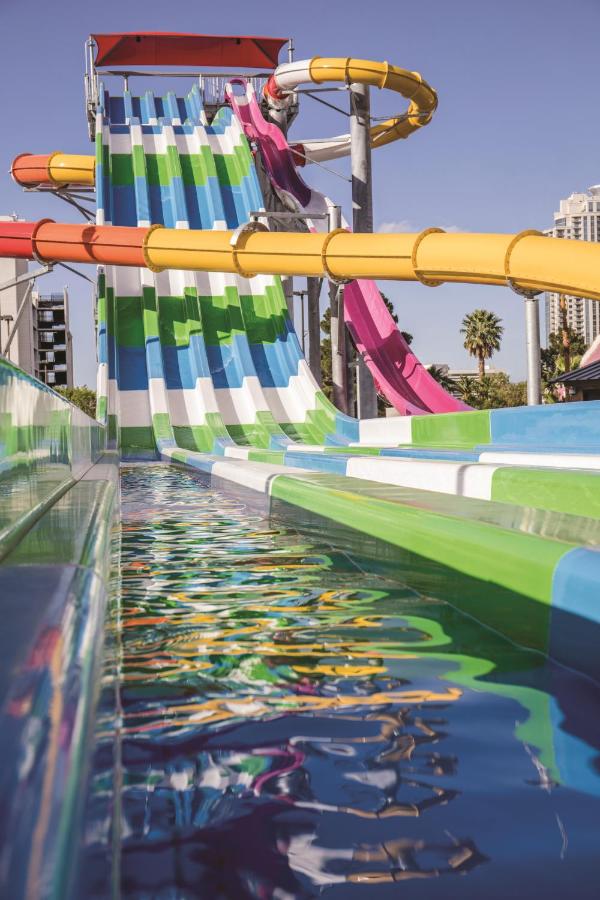 The splash pad has a 50-foot slide tower as well as an interactive water play area. Hotel guests have access to the Splash Zone from 9 a.m. to 5 p.m.
The facility, which is located at 2880 S. Las Vegas Boulevard in Las Vegas, Nevada, is an all-ages water playground where you can have some excellent family fun during your stay. The Splash Zone promises a full-fun experience with water cannons, rain trees, spill buckets, and more. Swim in one of the two refreshing pools or unwind in one of the calming whirlpools.
A limited number of cabanas are also available, starting at $100, and are normally provided on a first-come, first-served basis. A cabana can also be reserved at the Splash Zone check-in counter.
Circus Circus is a fantastic spot that provides great value for money for the budget-conscious family, and it's a perfect way to cool off in the summer.
Cambridge Water Park
Cambridge Water Park in Las Vegas is a clean and attractive water park that offers a stimulating and lively environment for both children and adults.
Cambridge Water Park is more on the scale of local parks and recreation than the huge glamorous hotel pools and massive water parks. Located at 3930 Cambridge Street in Las Vegas, Nevada, the park is a Clark County attraction that is typically open during the summer months.
During the hot summer months, you can have some fun and cool off at the Cambridge Water Park for only $2 for children aged 3 to 17 and $3 for adults aged 18 and above. Before visiting, you should check their website for updated information and see if they are open.
Desert Breeze Aquatic Facility
Another budget-friendly pool in Clark County is the Desert Breeze Aquatic Facility. A year-round indoor pool is available, while the outdoor water park is ideal for younger children. Within the water, there is a shallow entryway, two slides, and a play structure.
The outdoor water park is usually open during the summer, although the indoor pool is open all year. The indoor pool is regularly utilized for training, but it is also used for recreation on certain days.
Children aged 3 to 17 years pay $2, while adults aged 18 and up pay $3. There is also the option of purchasing a summer pass for up to four people in a family.
The location provides fantastic family water fun at a minimal price. The facility is located at 8275 Spring Mountain Road in Las Vegas, Nevada.
Red Ridge Park Kids Water Park
The water park is a great place to take the kids for a fun day out. Aside from the big splash pad, which is the water park's major attraction, there are more than 20 acres of rolling hills, playgrounds, and picnic grounds.
Red Ridge Park Kids Water Park is a city-funded park featuring a huge splash pad and playground designed for kids who are ready to play. A huge illuminated outdoor basketball court, baseball diamonds, a disc golf course, and two little league fields are also available.
Next to the splash pad, there are two playsets, one for children aged 5 to 12 and the other for children aged 2 to 5. There's never a bad time to visit Red Ridge Park Kids Water Park, which is open daily from 9 a.m. to 10:30 p.m.
On the park grounds, there is also a refreshment stand and restrooms. This entire area offers to keep your kids entertained while also allowing them to sweat and cool off during the summer.
Flamingo Hotel
A Caribbean-style "GO Pool" with 21+ entertainment is available at this Las Vegas Strip resort. A family-friendly Beach Club Pool, a spa, and two casinos are all available at the resort.
On-site, there are a variety of food options and lounges. The Flamingo Las Vegas Hotel spacious air-conditioned rooms are equipped with a work desk, a lounging space, and a cable television entertainment center. A safety deposit box is provided in each room.
More than 1,600 slot machines, including video poker and Megabucks, are available at the Flamingo Las Vegas Casino. Craps, blackjack, baccarat, and roulette are just a few of the games available. A 15,000-square-foot casino with 14 gaming tables and 220 slot machines is accessible at Jimmy Buffett's Margaritaville.
Major world-renowned musical acts, stand-up comedians, and adult-oriented burlesque shows are among the entertainment options at the Flamingo Las Vegas Hotel & Casino. Center Cut steakhouse serves superb steaks and seafood to guests of the Flamingo Hotel & Casino.
Also available are handcrafted brews and gourmet coffee. The picturesque Paradise Garden Buffet serves a wide range of international cuisines, while Carlos 'n Charlie's Restaurant serves casual Mexican cuisine.
Go to the Flamingo's Go Pool DayClub if lazy rivers make you sleepy. House DJs and international celebrities perform for a rowdy crowd modestly dressed. The Beach Club Bar and Grill, which serves food and drinks, is also close by.
Wet 'n' Wild Las Vegas Water Park
Wet 'n' Wild is one of Las Vegas's most popular family attractions.
The park, which is located at 7055 S Fort Apache Road in Las Vegas, Nevada, approximately 20 minutes from the I-215, promises something for everyone.
The park has everything, whether it's fun for the whole family or huge thrills and adrenaline. With 33.5 acres (13.5 hectares) of land, you can be sure that there will be something for everyone. Within the park, there are a total of 26 water slides and attractions, including some of Nevada's largest and most extreme slides, as well as some of the world's tightest banking, turns that send excitement coursing through your veins.
The park is a popular tourist destination that attracts visitors from all over the world. A VIP cabana can be reserved if you want a more intimate stay. This large water park also has a courteous staff to assist you with all of your requirements while you're there. The park has a variety of interactive areas, ranging from high-octane thrill rides to a more relaxing and kid-friendly area.
Recent Posts