The Best Glamping in Arizona – domes, yurts and airstreams
Arizona Glamping: Are you looking for the best places to go glamping in Arizona? Arizona is the perfect place to get out in nature all day but still have a nice place to sleep at night.
There are some really unique glamping spots in Arizona you must check out. A lot of these places are budget stays with some modern comforts. It is a step above camping and glamping in Arizona is quite comfortable.
I have chosen my favorite spots for peace and quiet yet getting out to see the beauty and vastness of Arizona and the Grand Canyon State.
Here is an overview of the Best Places to Stay for Glamping in Arizona
Disclaimer: This post may contain affiliate links so if you make a purchase through one of the links we might earn a small commission ( it's at no extra cost to you)

Best Glamping Arizona Spots
Love Shack, Williams
The Love Shack is a completely off the grid RV located 30 minutes from the Grand Canyon. This is your chance to explore living off the grid. The Love Shack is a renovated vintage camper.
The Love Shack has everything you need for a private, comfortable, and immersive outdoor experience. Enjoy your own personal fire pit, bathhouse, and outdoor deck in beautiful Northern Arizona.
This 1962 Red Dale Camper has a propane stove and oven, ice box, water, wood stove to keep you warm, bathhouse with a solar shower camping bag and compost toilet, comfortable bedding, and so much more.
There are a couple of things to take into account when you book this place which you can read about here. You will still have the modern comforts you just need to be a bit prepared.
One Reviewer said: The love shack was perfect for a weekend getaway. It's only about a half hour drive to the southern entrance of the Grand Canyon. Even though it was small it was extremely comfortable and the wood burning stove kept us warm all night.
Another Reviewer said: We had such an amazing time at the Love Shack. The stars were breathtaking, and it was wonderfully romantic and fun! The place was well stocked, and we were nice and warm thanks to the woodstove. The hosts were lovely, Rob introduced himself and checked on our propane supply- we couldn't believe how well put together space was. 10/10!
Out of Africa, Camp Verde
Out of Africa affers Luxury Camping (Glamping!) with Stout Tent. After a day at the park, return to an exclusive enclosed camp, surrounded by African wildlife. Under the cool canvas of your own private tent, you'll enjoy a peaceful night's sleep in a real bed with luxury linens.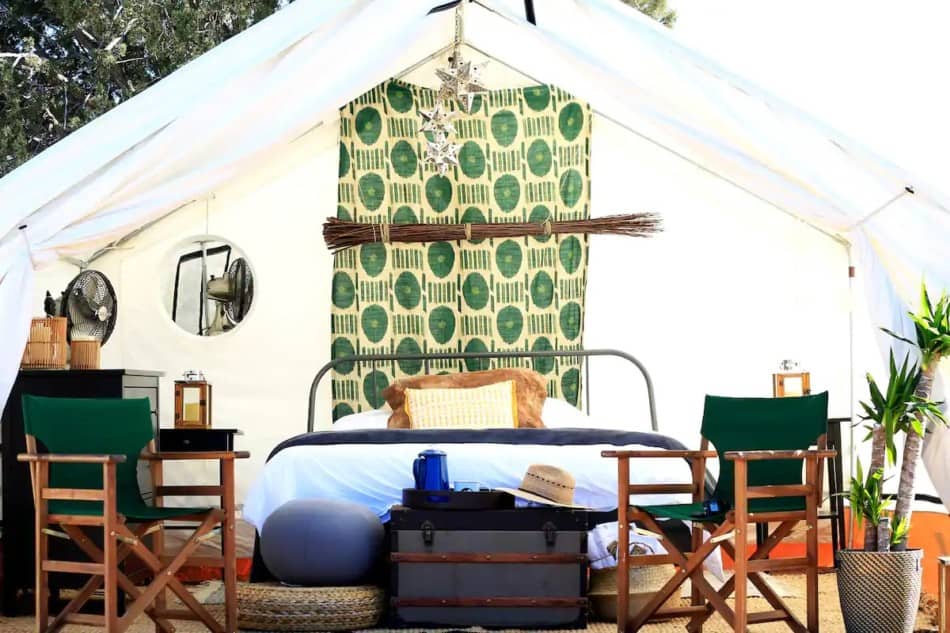 Had an African Safari trip on your Vision Board? Time to check it off your bucket list! Now you can experience the wonder of the wild AND enjoy the comforts of home.
This exclusive enclosed Safari Village campground is surrounded by the park's African wildlife animals (non-predatory only), providing the opportunity for up close encounters, viewings, and nighttime soundtrack of the African Savannah come to life.
The campgrounds also include a community fire pit and a communal Glamping Bath Suite, complete with a hot shower, flushing toilet, and running water.
One reviewer said: Such a fun and unique experience that you can only have at out-of-Africa! I definitely recommend warm clothes for the fire and to bring your own food. Sam (basically the groundskeeper) takes care of all your needs and clearly loves his job!
Another reviewer said: What an amazing experience!! Loved this Glamping trip! Had so much fun spotting different animals around our tent and enjoyed swapping stories with other "glampers" around the campfire.
Yurt at the Top of the Mountain, Bisbee
The Yurt is located in a beautiful spot, in the mule mountains. At this elevation the views are lovely. Surrounded by nature. If you're into birding or nature watching there are often several birds to view and you may even spot a deer or two.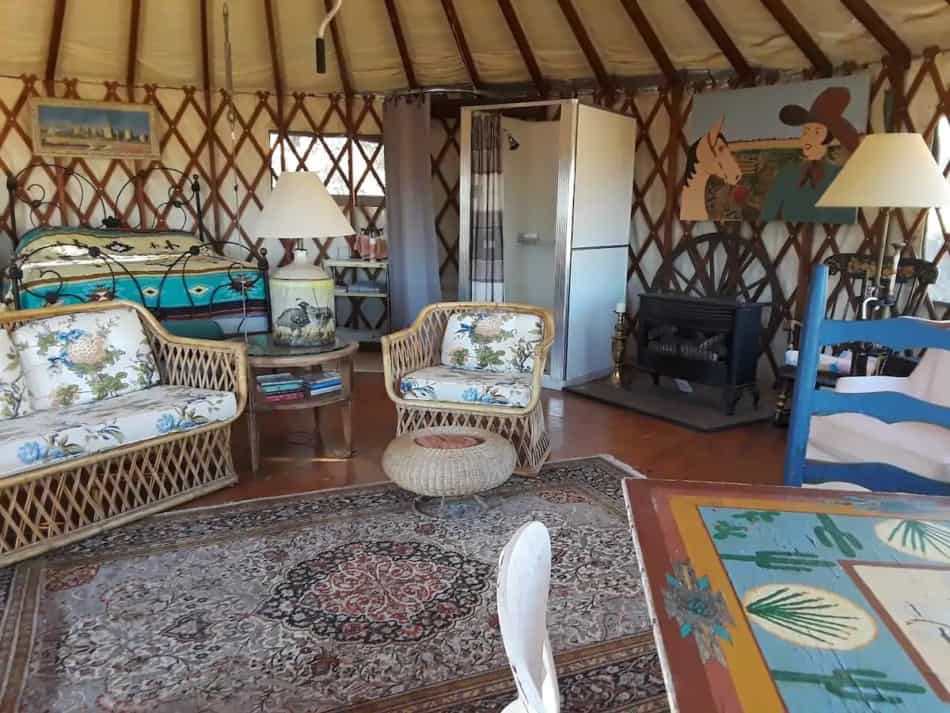 About 30 minutes away is Whitewater Draw nature conservatory and we are also about 25 minutes from to the border of Mexico. The nearest grocery store is about a 15 minute drive away. The patio is perfect for star gazing and watching the sunrise.
The yurt experience is somewhat like "glamping" but with a super home like feel. It is an open circular space, equipped with a kitchen area (stove, fridge, sink), dining table and couch/seating. Has a stand up shower and toilet area. (The toilet area has a privacy curtain) located next to the shower.
There is Air Conditioning in the Yurt! There is also electricity and hot water and indoor lighting and a porch light. There is a propane fireplace inside the yurt, privacy flaps on the windows and removable Velcro windows so you may adjust to your comfort.
Yurt has a TV for DVD player use, no cable.
One reviewer said: Doreen's little yurt on top of the mountaintop was the getaway my SO and I needed. The fireplace was cozy and the stars at night were beautiful. Doreen was very accommodating and communicative. We even brought our doggo and he loved it because he had his own fenced in area to roam! So that was a bonus for us. Overall, I would definitely recommend it.
Another reviewer said: When can we move in?? Doreen's Yurt at the top of the mountain was an absolutely perfect escape. We felt cozy and blissful. The shower water pressure was stronger than expected! The fireplace was a cozy treat.
Antelope Pass EcoRetreat Glamping Bell Tent, Page
Located on the Navajo Nation, you can sleep under the soft twinkling lights of the Milky Way. Sit outside beside a glowing campfire in this gorgeous serenity filled environment full of wonder & adventure!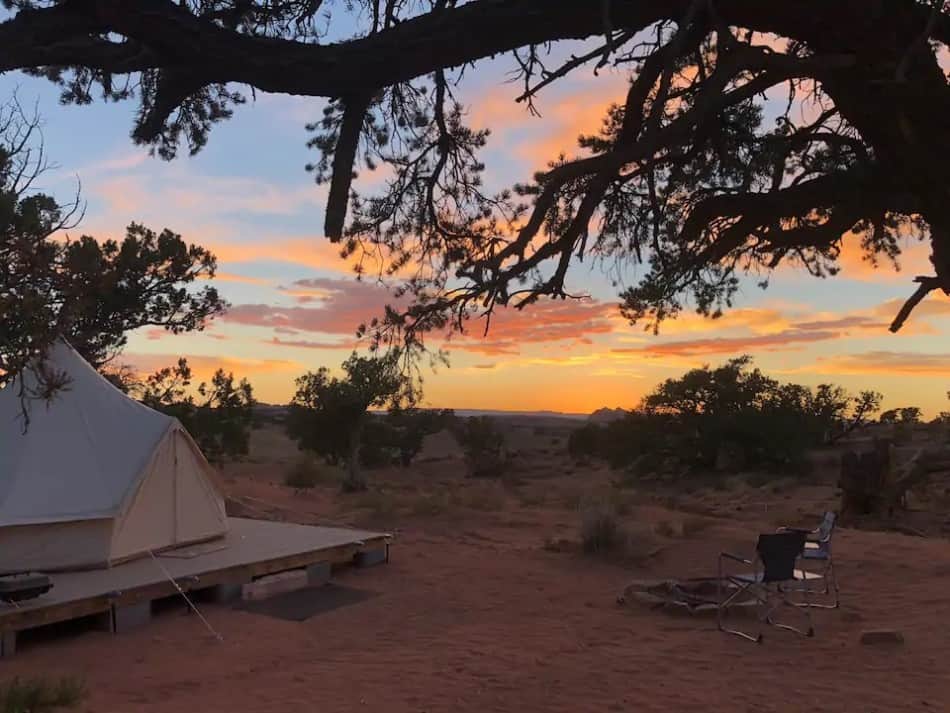 This area holds beauty that is quite unlike any other in the Southwest! Your host is Navajo and is a wealth of information and knowledge of both culture and local sites. Local tours are available to nearby attractions such as the Petroglyphs and "The Edge" experience it all here!
Guests have access to the mesa for hiking and exploring! Guests also may also visit the old hogan, a historic relic of the past. An example of life on the reservation from the old southwest!
You are located on Navajo Land so it is important to understand the rules before you book.
One reviewer said: Wonderful escape from civilization! Truly felt in touch with the land + sky as if it were at my fingertips. The amenities were just as described and even on the chilly night we were there, the heater kept us warm. We did go ahead and bring some linens just to be Covid conscious but it wouldn't have been necessary if not for that because there seemed to be plenty provided!
The fire pit was well built and extremely easy to use and our sunset hike +meditation made for a glorious experience! I would suggest coming in the spring/summer if you plan on having a late night outside as temps drop quickly after night fall! Or just being layers to bundle up 🙂 The tent was shockingly clean and well maintained and nestled in the middle of very calming land! Perfect for anyone looking to unplug and have an easy evening in nature. It really felt as if the whole stay was effortless! We will definitely visit again!!
Yurt Glamping Tent, Fort Defiance
This is "glamping" on Navajo land at it's finest. This is a primitive camping experience on a family ranch. Located in a quiet secluded area where the sheep and the horses roam free. Must be somewhat of an experienced camper to enjoy this spot. Electricity and water is limited. Our bathroom is an outhouse so if you are not comfortable with that concept this might not be the place for you.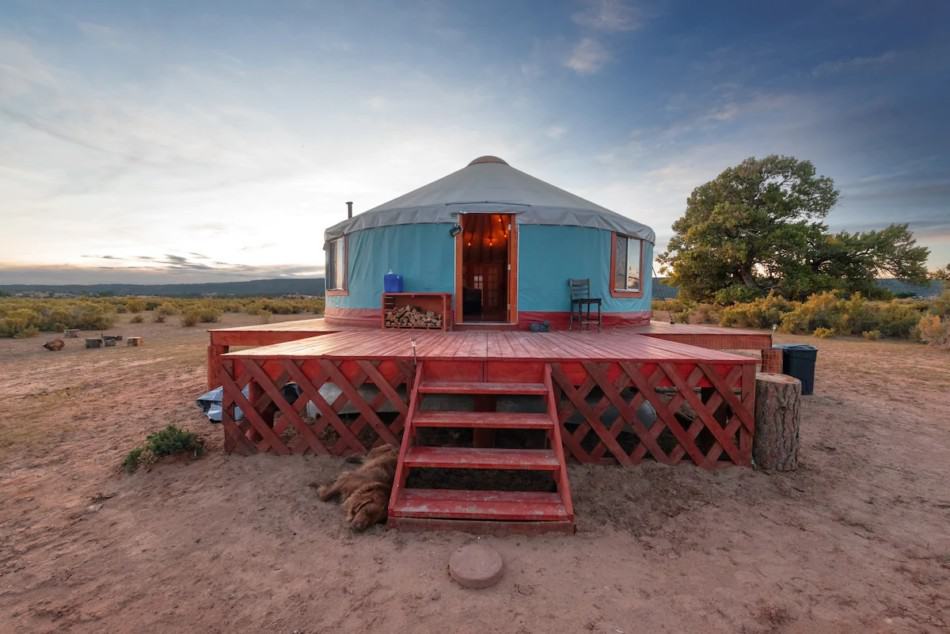 You will have the yurt entirely to yourself. You may roam within the fence and surrounding areas. Take a short hike to the black rocks or walk among the back pasture. Familiarize yourself with the area but please be weary of snakes or prairie dog holes. The desert wilderness will be right at your front door so please be cautious.
This is a primitive teal camping yurt tent located in the Goat Springs valley. The valley is accessible by dirt road only and the yurt is located in a secluded and serene location
One reviewer said: Jacinda's place is amazing! It is nicely decorated and cozy. It has an incredible location that's peaceful and idyllic. The description is very accurate with the exception that Jacinda fails to mention how wonderful their dogs are!!! It is absolutely worth the stay!
Another reviewer said: This is an awesome place! The pictures don't do it justice. It is beautiful and so cozy inside. Not only do you get the life experience of staying in a yurt but the view from the front door is amazing. Best of all is the gorgeous night sky. There is even a huge skylight so that you don't have to go outside to lay back and gaze at the stars.
The Ultimate Stargazing Experience Dome House – near the Grand Canyon
Staying in this dome house will let you have a once in a lifetime experience of sleeping under the bright night sky. This space looks like a bubble and it has a glass-like ceiling that allows you to have uninterrupted views of the sky.
Photo Courtesy of Airbnb
The inside of the dome house has 1 bedroom with a heated bed that is good for 2 people. However, the clean bathroom and shower area are shared together. There is also a fire pit in the property so guests can get warm during cold months. And you don't need to worry because this place is very safe and secluded to give you a great camping experience.
Check out my post on the Best Airbnbs near the Grand Canyon
Lotus Yurt Glamping – near the Grand Canyon
Everything is provided in this Lotus Yurt to make your stay a comfortable and memorable one. The Yurt is equipped with a full-size foam mattress and two individual memory foam foldable floor mattresses. You can also cook sumptuous meals here because it has a tiny kitchen with a two-burner camping stove, French press coffee maker, mini refrigerator, pots/pans, and basic utensils.
Photo Courtesy of Airbnb
The Yurt is located on a 7-acre land shared with other glampers but they have separated the Yurts so guests can have privacy. And his yurt runs in solar power and there are day when solar batteries many not be fully charge so you'll likely experience some minor inconveniences. But if you prefer simplicity, then this place is for you.
Airstream Dreaming
This restored 1965 Airstream is set up on a private .5 acre surrounded by picturesque mountains and flowers. It is equipped with 2 beds, a fully-stocked kitchen for easy cooking, and a full shower and bath. And to maximize space, there is a storage area under the queen bed for suitcases and there is also a spot where you can hang your clothes.
Photo Courtesy of Airbnb
The whole space is very open and inviting that you would want to stay in it forever. Although pets are not allowed on the property, you can still catch a glimpse of sweet goats in the paddock right next to the Airstream. If you want a place that is clean and cozy and will definitely give you a unique experience, this is your place to be.
Nomad's Pad Grand Canyon
Nomad's Pad is another off-grid accommodation near the Grand Canyon. Plus, the property is just 30 minutes outside of the Grand Canyon South Rim entrance which is very convenient if you are exploring the Grand Canyon. The tent is made of durable natural fiber and it is water and weather resistant. The tent floor is made of PVC with a heavy-duty zipper ground sheet. And inside the tent, you can expect 2 beds good for 3 people. There is an available outdoor shower that is shared to all guests.
Photo Courtesy of Airbnb
This pad is camped inside a private ranch community so there are multiple tent sites inside the property. But rest assured, the tents are at least 500 feet apart to give guests the maximum privacy that they deserve.
Sharing is Caring! Pin this article to save for later.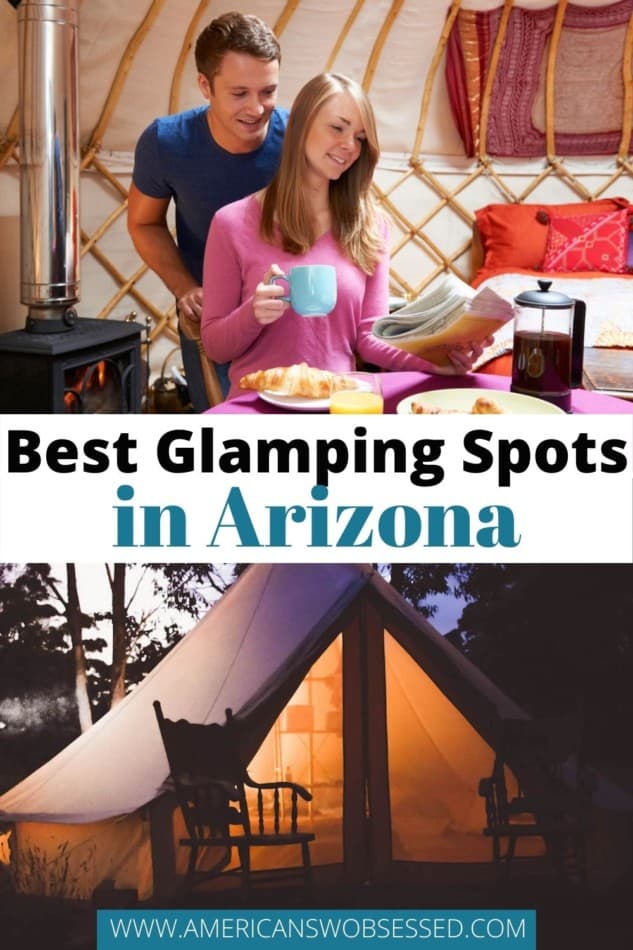 Recent Posts
link to 15 Best Airbnbs in Logan, Utah
Airbnb Logan Utah: Are you looking for the best Airbnbs in Logan, Utah? I have put together this list of the best Logan Airbnb's for any budget. St.John's Episcopal church in yellow brick and...
link to 101+ Grand Canyon Quotes to inspire your trip
101+ Grand Canyon Quotes and Grand Canyon Captions Are you looking for Quotes about the Grand Canyon? This list of Grand Canyon Quotes are some famous and inspirational quotes about the...