The Best Glamping in Arizona – domes, yurts and airstreams
Arizona Glamping: Are you looking for the best places to go glamping in Arizona? Arizona is the perfect place to get out in nature all day but still have a nice place to sleep at night.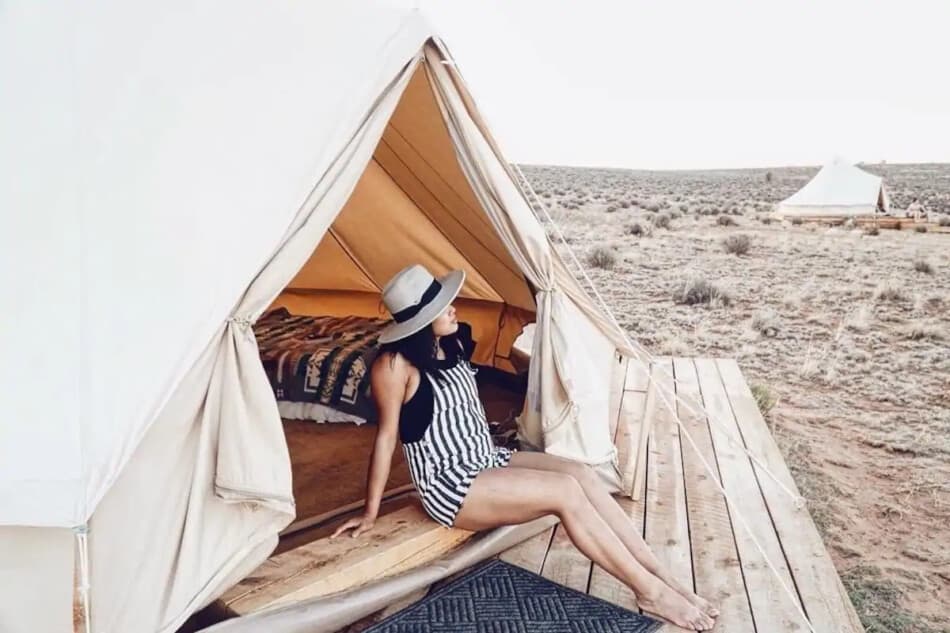 There are some really unique glamping spots in Arizona you must check out. A lot of these places are budget stays with some modern comforts. It is a step above camping and glamping in Arizona is quite comfortable.
I have chosen my favorite spots for peace and quiet yet getting out to see the beauty and vastness of Arizona and the Grand Canyon State.
Here is an overview of the Best Places to Stay for Glamping in Arizona
Thank you for supporting this website written by an American. This post may contain affiliate links. This means I earn a small commission on these links at no extra cost to you.
I recommend using Booking .com for all of your hotel bookings. I find they have the best prices on hotels and the more you book with them the more of a discount you get on your bookings. Also, they have free cancellations which is priceless if you need to change your plans.
15 Best Glamping Arizona Spots with Stunning Views
Under Canvas Glamping
Set upon 160-acres of secluded piñon and juniper forest, Under Canvas Grand Canyon is located just 25 minutes from the South Rim entrance to Grand Canyon National Park.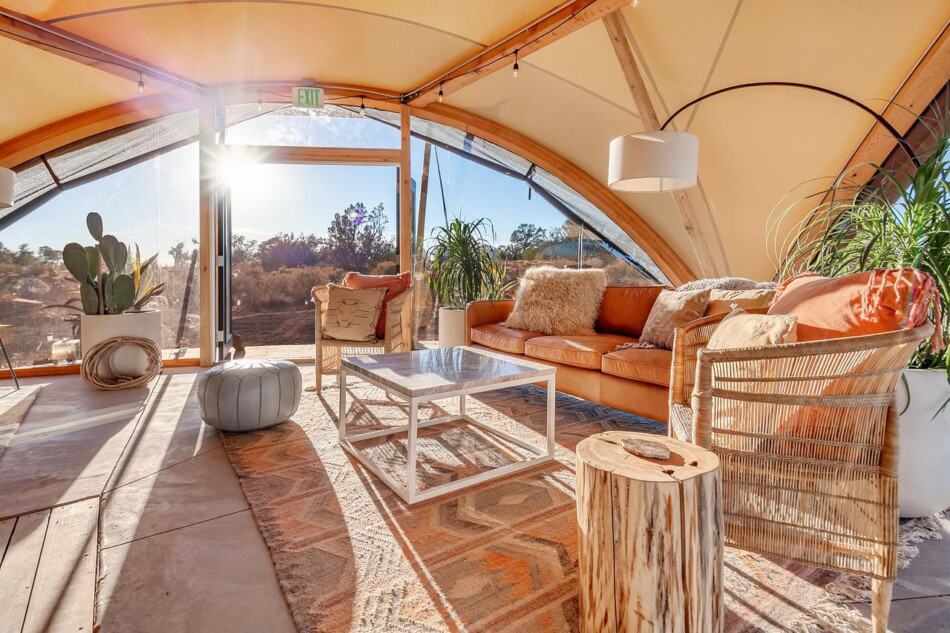 Recognized in 'Top 25 Resorts in the US – Midwest & West' by Condé Nast Traveler, Under Canvas Grand Canyon offers upscale accommodations near one of the Seven Wonders of the world. Come explore Arizona's vast landscape and the grandeur of the Grand Canyon with safari-inspired glamping accommodations in Valle, Arizona.
A stay at Under Canvas is a one-of-a-kind experience offering an inviting way to get in touch with the outdoors without sacrificing the comforts of home.
The Under Canvas experience isn't all about the safari-style canvas tents or the plush king-sized beds. It's just as much about the experiences you have with friends, families and loved ones. Its about the experiences you have in extraordinary places.
Its about the connections you make with nature, family and strangers. Experience all that Under Canvas has to offer in Culinary and On-site Programming below.
Shash Dine' EcoRetreat, Page
Located in Page, Shash Dine' EcoRetreat is in a rural area and near the airport. Lake Powell National Golf Course and Hanging Garden Trail Trailhead are worth checking out if an activity is on the agenda, while those wishing to experience the area's natural beauty can explore Horseshoe Bend and Glen Canyon Dam.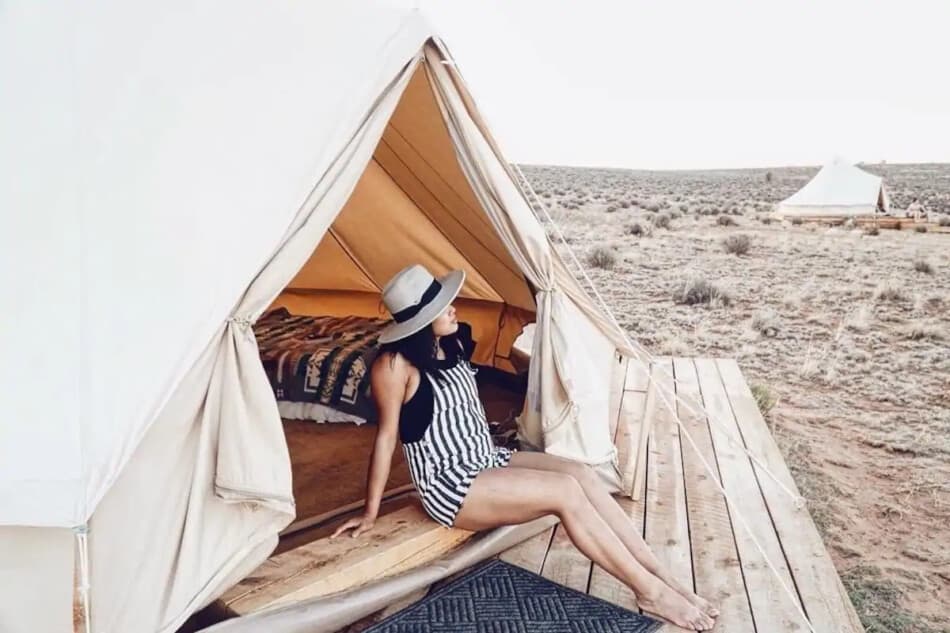 Kayaking and rafting offer great chances to get out on the surrounding water, or you can seek out an adventure with rock climbing and skydiving nearby.
One Reviewer said: It's an amazing place to experience nature and breathtaking sunrises and sunsets. You get a chance to really unplug; no electricity and no running water but still comfort and relaxation!
Another Reviewer said: I've stayed there before it was amazing this time it was a bit hot but Baya and Paul the owners are very nice and it's very special to stay on Navajo land.
Out of Africa, Camp Verde
Out of Africa affers Luxury Camping (Glamping!) with Stout Tent. After a day at the park, return to an exclusive enclosed camp, surrounded by African wildlife.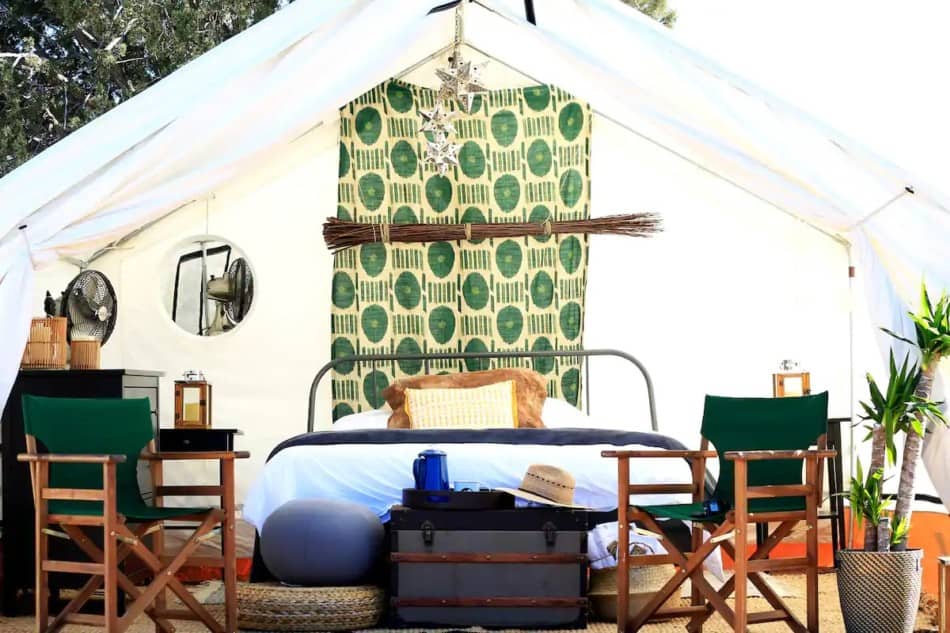 Under the cool canvas of your own private tent, you'll enjoy a peaceful night's sleep in a real bed with luxury linens.
Had an African Safari trip on your Vision Board? Time to check it off your bucket list! Now you can experience the wonder of the wild AND enjoy the comforts of home.
This exclusive enclosed Safari Village campground is surrounded by the park's African wildlife animals (non-predatory only), providing the opportunity for up close encounters, viewings, and nighttime soundtrack of the African Savannah come to life.
The campgrounds also include a community fire pit and a communal Glamping Bath Suite, complete with a hot shower, flushing toilet, and running water.
One reviewer said: Such a fun and unique experience that you can only have at out-of-Africa! I definitely recommend warm clothes for the fire and to bring your own food. Sam (basically the groundskeeper) takes care of all your needs and clearly loves his job!
Another reviewer said: What an amazing experience!! Loved this Glamping trip! Had so much fun spotting different animals around our tent and enjoyed swapping stories with other "glampers" around the campfire.
Clear Sky Resort – Grand Canyon – Luxury Sky Domes
Clear Sky Resort holds the reputation of being America's first and only luxury skydome resort. Whether you are looking for an action-packed trip or a relaxing getaway, Clear Sky Resort is ready to offer you that. Its location is just 20 minutes south of the South Rim entrance.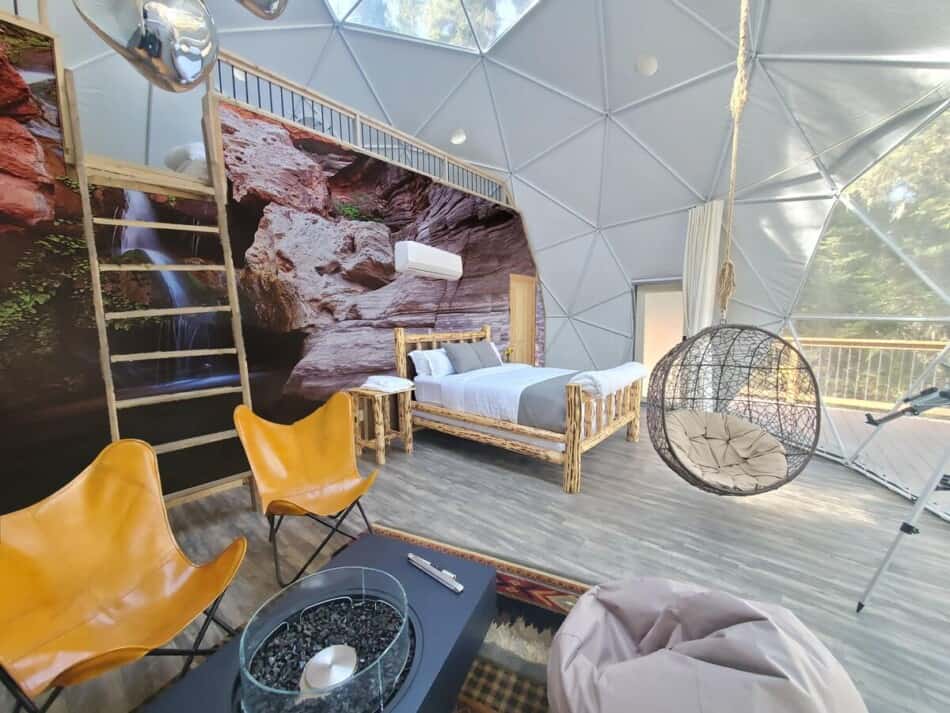 All their tent domes are uniquely styled and themed to make your stay even more wonderful and spectacular.Their luxury tents come with plush bathrobes, slippers, upscale linens, deck hammocks, skylight with telescope for stargazing, modern bathroom, and eco friendly fireplaces in some domes.
Upon entering the resort, you'll be amazed by the 1000 sq/ft panoramic window and the swinging chairs from the 26 foot tall ceiling. Each guest will have an exclusive access to the Welcome Dome lounge where guests can enjoy drinks during daily happy hours.
Sound interesting? You can check out the latest prices here.
Wander Camp Grand Canyon
Another luxury camping tent that you can avail of and try near the Grand Canyon is the Wander Camp. They offer rustic tents that will give you the most beautiful locations each night and you will never have to miss a sunrise.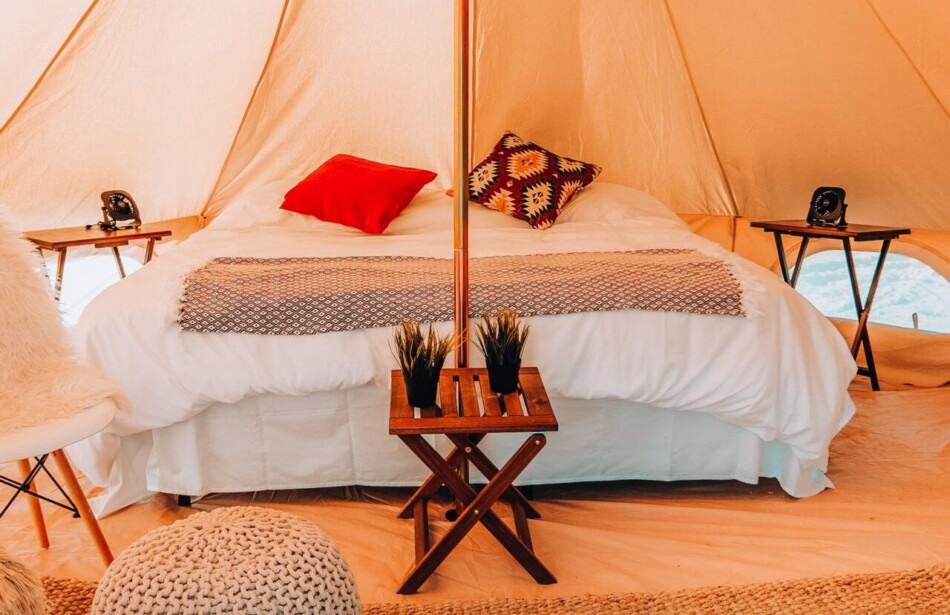 Each tent has a space of 200+ square feet and it is made from sturdy Waterproof Canvas with low profile windows and a large netted door. It is also equipped with all the camping necessities. Inside the tent, it can hold 1 king bed or 2 twin beds, plush down comforter, pillows, side tables, solar powered lanterns, USB fans, and a soft rug.
Sound interesting? You can check out the latest prices here.
The Grand Cabin
Guests: 8
Bedroom: 3
If it's your first time visiting Williams, Arizona, it is recommended that you stay in one of the beautiful cabins that this beautiful place.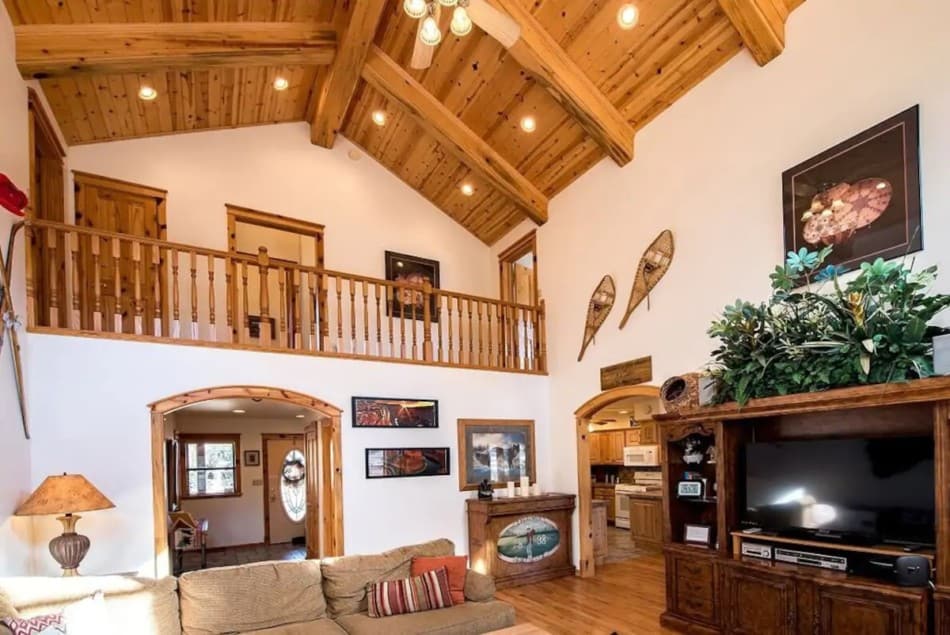 This vacation home was designed to take advantage of the beautiful Northern Arizona landscape.  French doors and windows frame the breathtaking Arizona scenery.  The house provides a perfect, peaceful get-away or a home base to see the best of what Northern Arizona has to offer.
The main house has 3 bedrooms and 2 bathrooms with hardwood floors throughout. The master bedroom has a queen bed, TV and DVD player with private bath. The other 2 bedrooms are also furnished with one queen bed with one double bed.
Traditional Navajo Hogan, Page
The Hogan is an eight sided traditional Navajo dwelling that has been the family Hogan for decades.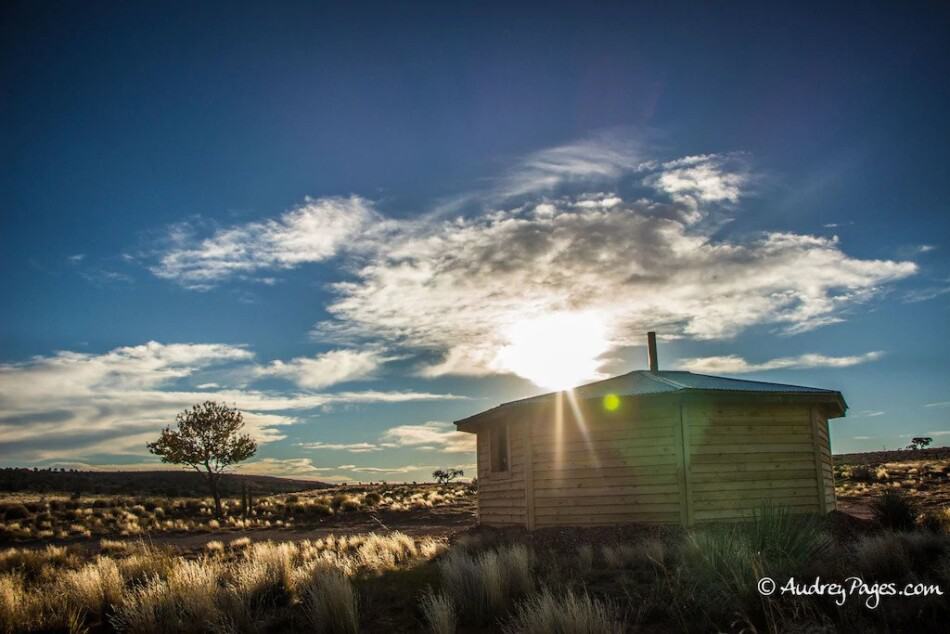 We are a Native American owned large acreage working sheep ranch and off grid glamping hotel offering guests a unique stay on the Navajo Nation. Immersion in nature. Near zero light pollution. Unparalleled views.
Shash Dine' has been featured and recommended by Travel & Leisure, The Guardian, USA TODAY, Phoenix Magazine, The Huffington Post, The Lake Powell Chronicle, Arizona Highways, The Grand Canyon Trust, Indian Country Today, and the Navajo Times, and more.
One reviewer said: Wonderful escape from civilization! Truly felt in touch with the land + sky as if it were at my fingertips.
The amenities were just as described and even on the chilly night we were there, the heater kept us warm. We did go ahead and bring some linens just to be Covid conscious but it wouldn't have been necessary if not for that because there seemed to be plenty provided! 
The fire pit was well built and extremely easy to use and our sunset hike +meditation made for a glorious experience! I would suggest coming in the spring/summer if you plan on having a late night outside as temps drop quickly after night fall! Or just being layers to bundle up 🙂
The tent was shockingly clean and well maintained and nestled in the middle of very calming land! Perfect for anyone looking to unplug and have an easy evening in nature. It really felt as if the whole stay was effortless! We will definitely visit again!!
The Canyon Motel & RV Park
Located on 13 acres property in the City of Williams, Arizona, the Canyon Motel & RV Park provides unique lodging choices for all guests. The place is surrounded by the beautiful mountains of Northern Arizona and the Kaibab National Forest.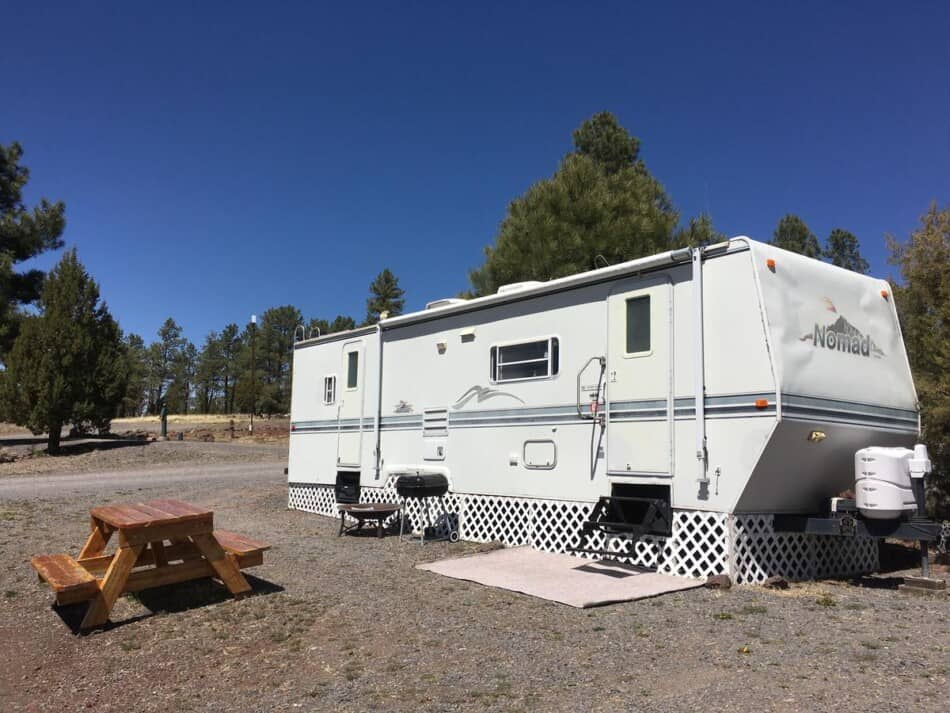 What is great about the Canyon Motel & RV Park is that you can choose from their 7 different accommodations depending on your preference. You can book their motel rooms or their RV and tent camps. Each of their accommodations offer a unique experience for guests without the hassle. So, if you are looking for a place that has it all, this is perfect for you.
Sound interesting? You can check out the latest prices here.
Grand Canyon RV Glamping
If you are looking for a unique camping experience that is a fusion of luxury and comfort, you have come to the right place. Grand Canyon RV Glamping will give you a one-of-a-kind glamping experience near Grand Canyon.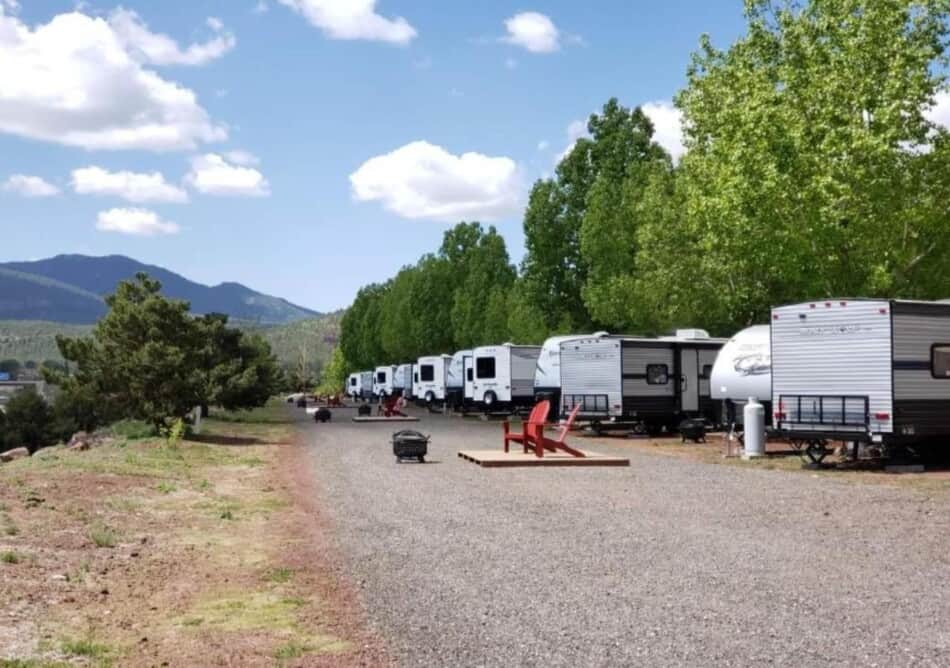 A lot of family-friendly activities await you here and all you need to do is bring yourself and your guests and the rest of the comfort and necessities will be provided by them. 
Currently, they have a total of 24 Grand Canyon RV glamping suites. Each unit is equipped with camping getaways perfect for parties, family retreats, and more. It also comes with an air conditioning, a seating area, flat screen TV with cable channels, a kitchen, dining area, and a private bathroom with free toiletries.
Sound interesting? You can check out the latest prices here.
Unique Cave on The Creek Airbnb Sedona, Arizona
If you wanna experience how the Native American-Indians lived more than 600 years ago, this unique Airbnb in Sedona will let you experience it but with a modern touch.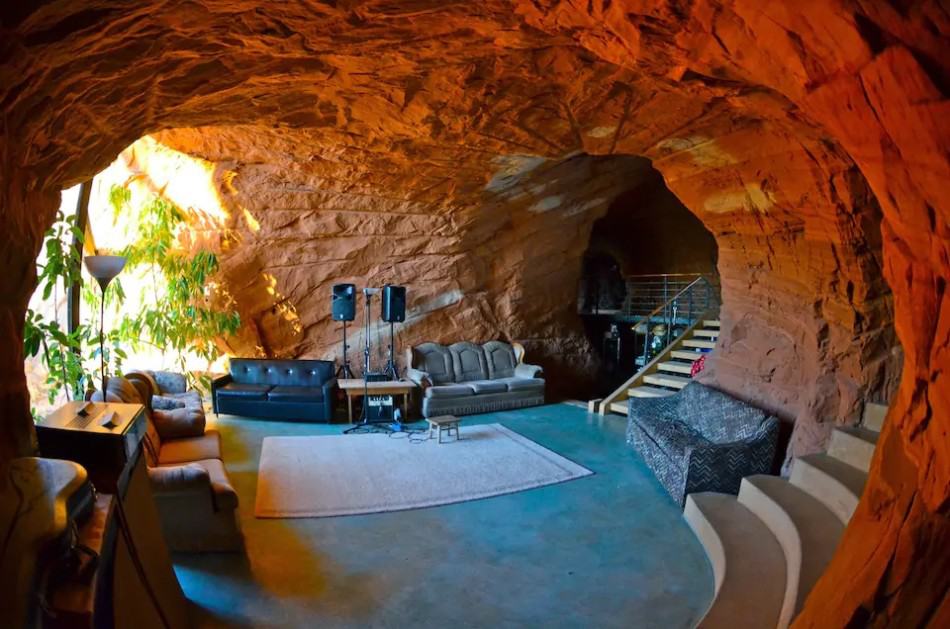 It has 1 bedroom with 2 beds that can cater up to 4 guests. It has the basic amenities that you need such as a bathroom, wifi, indoor fireplace, laptop-friendly working space, 3 hammocks, and more. 
It is worth noting that you will be living in the wilderness so if you are bringing the family with you, there will be a lot of steep terrains on the hiking trail. And kids cannot be left unattended while on the property premises.
One reviewer said: Not your normal hotel room. It is an adventure, a cave in which Native Americans once dwelled. We loved the serene atmosphere (it overlooks a creek and beautiful foliage) and the wonderful energy we experienced while staying there.
But included in the package is an actual room with a private bath which you can use as a Plan B which also gives you some of the comforts of home. Kathy is a wonderful host, and made every effort to make sure we were comfortable so that we could enjoy the total experience.
Nomad's Pad Grand Canyon
Nomad's Pad is another off-grid accommodation near the Grand Canyon. Plus, the property is just 30 minutes outside of the Grand Canyon South Rim entrance which is very convenient if you are exploring the Grand Canyon.
The tent is made of durable natural fiber and it is water and weather resistant. The tent floor is made of PVC with a heavy-duty zipper ground sheet. And inside the tent, you can expect 2 beds good for 3 people. There is an available outdoor shower that is shared to all guests. 
This pad is camped inside a private ranch community so there are multiple tent sites inside the property. But rest assured, the tents are at least 500 feet apart to give guests the maximum privacy that they deserve.
Sharing is Caring! Pin this article to save for later.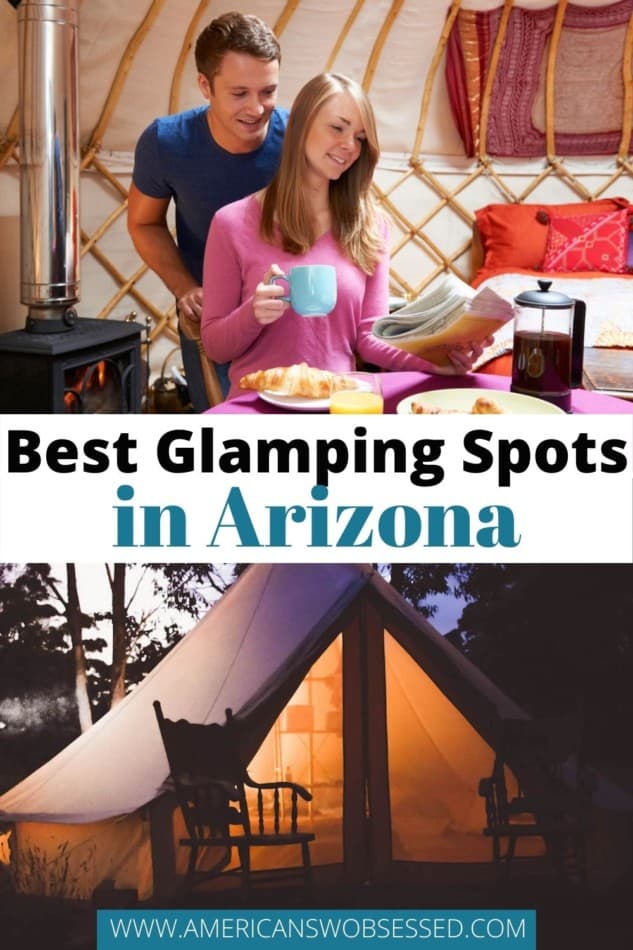 Recent Posts