Visiting Havasupai Falls, Arizona
Are you thinking of doing the Havasu Falls Hike? Hiking into Havasupai Falls is an amazing experience and this guide tells you everything you need to know about Havasu Creek hike and how to get to Havasupai Falls.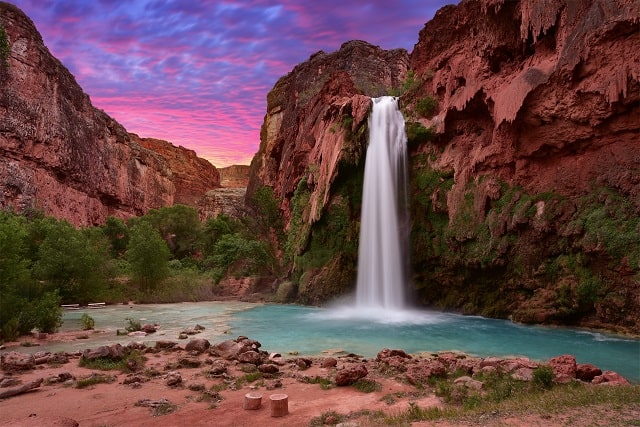 This is a comprehensive guide to the Havasupai Hike and Havasu Falls backpacking and hiking Havasu Falls. 
You will learn how to get a permit to hike to Havasu Falls, where to stay once you get to visit Havasu Falls, and the best time to hike Havasupai Falls.
If you want to do the Havasu Hike you need to ensure you are properly prepared. This guide to the Grand Canyon Havasu Falls Hike will help you. Here is what you need to know about Havasu Falls, Arizona Hike.
Why You Should Go on the Havasupai Falls Hike
Crystal clear turquoise blue-green water pouring from brilliant red rock. A canyon that lights up in a palette of color with the changing sun from rich dark brown, amber and red, to pinks, purples, and blues. Colors that almost look like they are painted on a canvas and yet they are very real.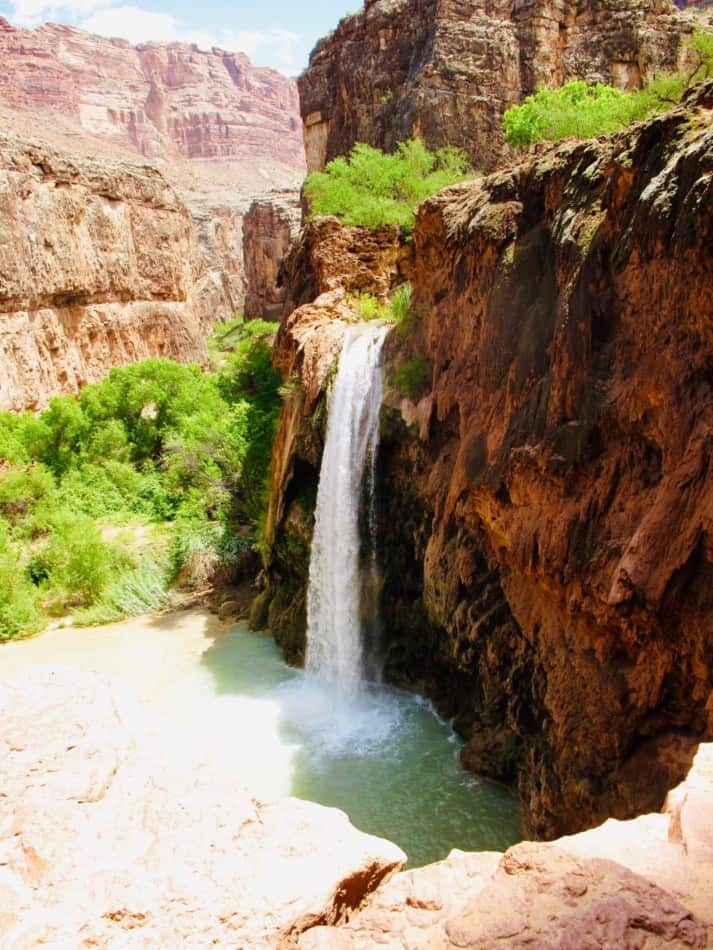 Hiking Havasupai is one of the most breathtaking hikes in the world and if it's not on your Arizona bucket list, you might want to reconsider. This stunning oasis in the middle of the desert is bucket-list worthy and something everyone should see in their lifetime. This is the Havasupai Falls hike.
The Havasupai Falls Hike
Havasu Canyon is located in a remote area in the northwestern part of Arizona. It's around a three-hour drive from Flagstaff and an almost four-hour drive from Phoenix.
Phoenix has an international airport and it's worth visiting as there are a lot of fun things to do in Phoenix. Of course, the summer is quite hot in Phoenix so if you do go then, you may want to head to Sedona or Flagstaff to check out those areas instead.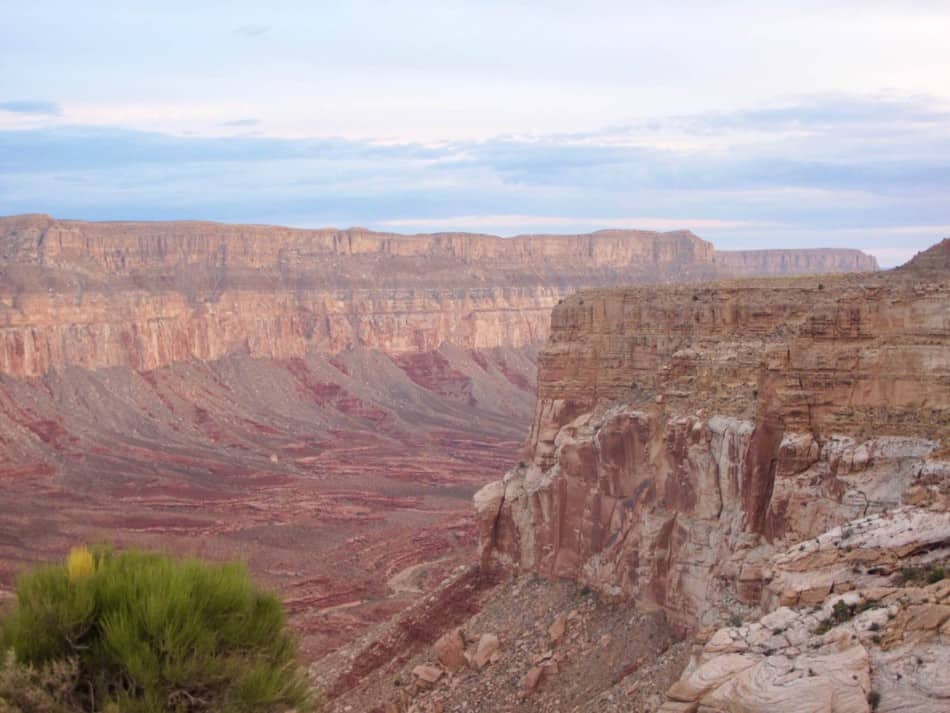 It's not far from the Grand Canyon as the crow flies and though it's not as famous, it's every bit as beautiful. The most special feature of Havasu Canyon is the stunning waterfalls. There are a number of waterfalls in this area collectively known as Havasupai Falls.
The lands belong to the Havasupai Native American Indian tribe. The Havasupai, "people of the blue-green waters," are the guardians of this ancient land, which is considered sacred by the Tribe. You are able to hike with their approval, so please be respectful of the land and its residents.
Havasu Falls Permit
Over twenty thousand people go on the Havasupai Falls hike every year. The falls are on Native American lands, so a permit is required in advance of your trip.
This sounds easy enough, though getting a permit is anything but. It can be challenging to secure one as it is highly competitive, so you need to be prepared.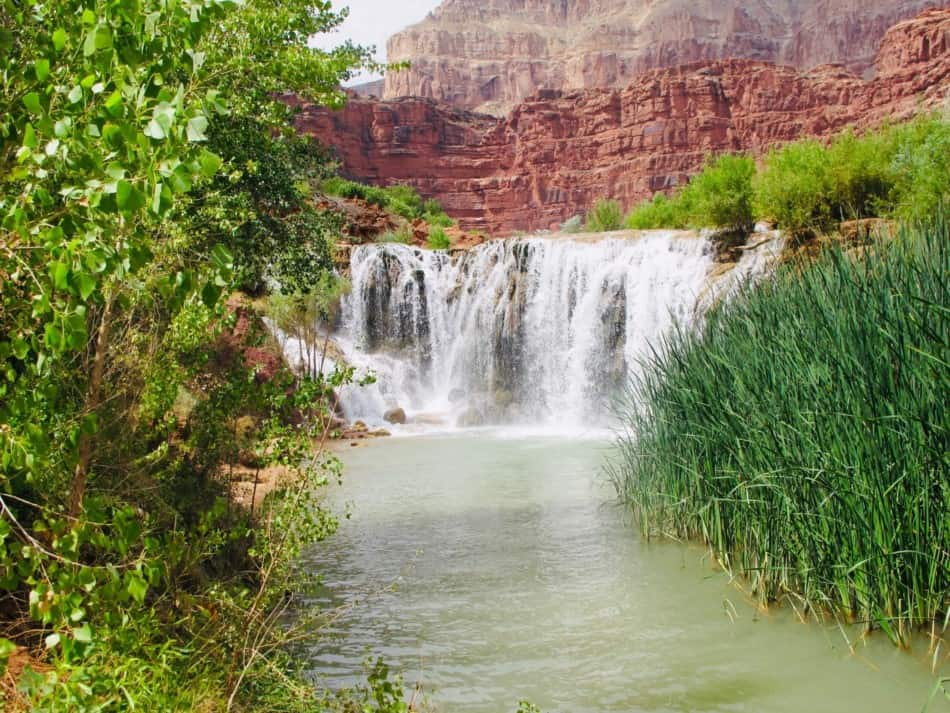 Permits go on sale starting February 1st at 8.a.m. and they sell out quickly, often within days. If you want a permit, and especially if you want one during the most desirable times of the spring and fall, you need to go online immediately when they become available.
Permits are sold on the Havasupai Reservations website and the minimum reservation required is 3 nights and four days. Due to the high volume, the website is prone to going down so keep trying.
Before trying to make your reservation, it's a good idea to be prepared with the following:
The name that will go on the reservation. This is important because the reservation is only valid if the person named on it presents the reservation at the Tourist Check-in Office in the Supai Village with their ID.
The dates you want to go. You may not get your first, second, or even your third choice, so be prepared with options. Have a number of your options ready when you make your reservation.
A method of payment. Reservations are paid when they are made and they are non-transferable, non-refundable, and cannot be changed.
The number of people in your party.
Where you plan to sleep (more on that shortly).
Also, it's a good idea to complete your profile before trying to get your Havasu Falls permit. The key is to get onto the site and to secure your reservation as soon as possible when reservations open, so completing your profile in advance saves precious time for this process.
When is the best time to go to Havasu Falls
Peak season for the Havasu Falls Trail is from May to September, which is the hottest time of the year. However, there is a higher flash flood risk during monsoon season, which runs from June to August, and it can get quite crowded during peak times.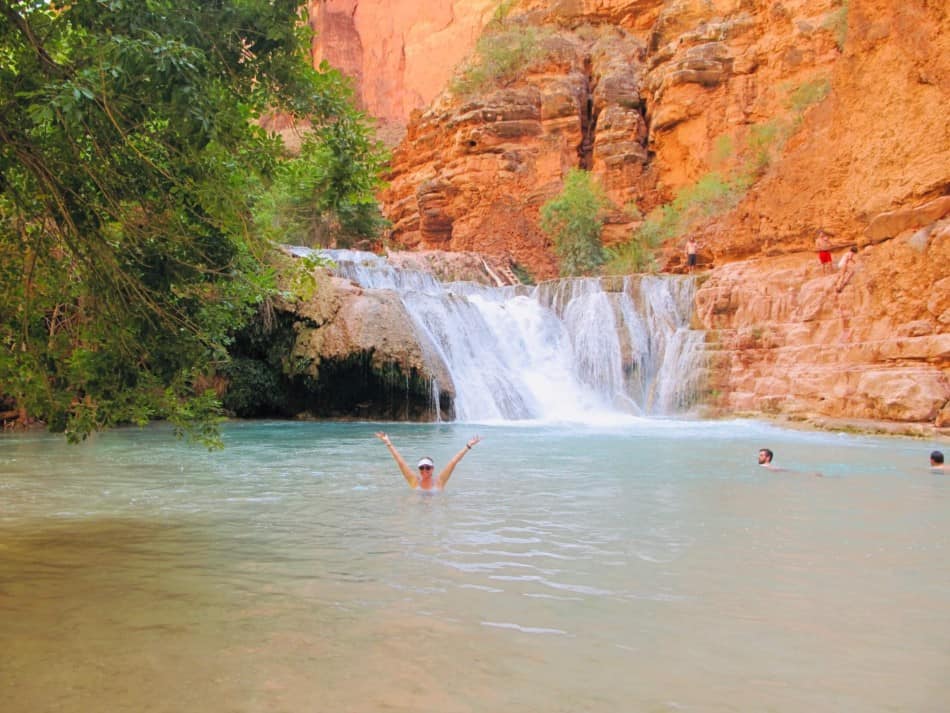 During the summer, from June to August, highs are generally between 100°F and 105°F (between 37°C and 40.5°C) and lows are in the mid-60s°F to 70°F (18°C to 21°C). This does coincide with monsoon season so expect some rain which will cool things down a bit if you're lucky.
April to May and September to October range a bit more widely with average highs from 80°F to 95°F (27°C to 35°C). The coldest temperatures are in December and January with an average high of 58°F and a low of 34°F (14°C and 1.1°C).
The best time to go to Havasu Falls are spring and fall as there is less of a flash flooding risk and it is much less crowded. If you want to avoid the crowds, try for early spring and late autumn as there are much fewer people though cooler temperatures. Ultimately, though, you'll go whenever you can get a reservation.
Where to Stay for the Havasupai Falls Hike
You have two options for accommodation for the Havasupai Falls hike. The best place to stay is the Havasupai Campground, which is located right next to two of the falls.
It's rustic, with only composting toilets and a small spout of drinkable water sourced by a spring that runs out of a small metal pipe in the rocks. You're coming to this stunning area, why not stay in it?
If you're not a camping type of person, the only other option is the Havasupai Lodge located in the Supai Village. It's a modest place with limited amenities, but it does have a proper bed.
You are required to stay overnight for two nights to secure a reservation so you must choose one of these options when you make your reservation.
Heading to Havasu Canyon
It's a good idea to head out on the hike at first light, as the area heats up during a good portion of the year. The closest accommodation is in Peach Springs, which is close to an hour-and-a-half from the trailhead. That's an option, however, there is nothing for much of the drive except for private homes spaced at some distance apart.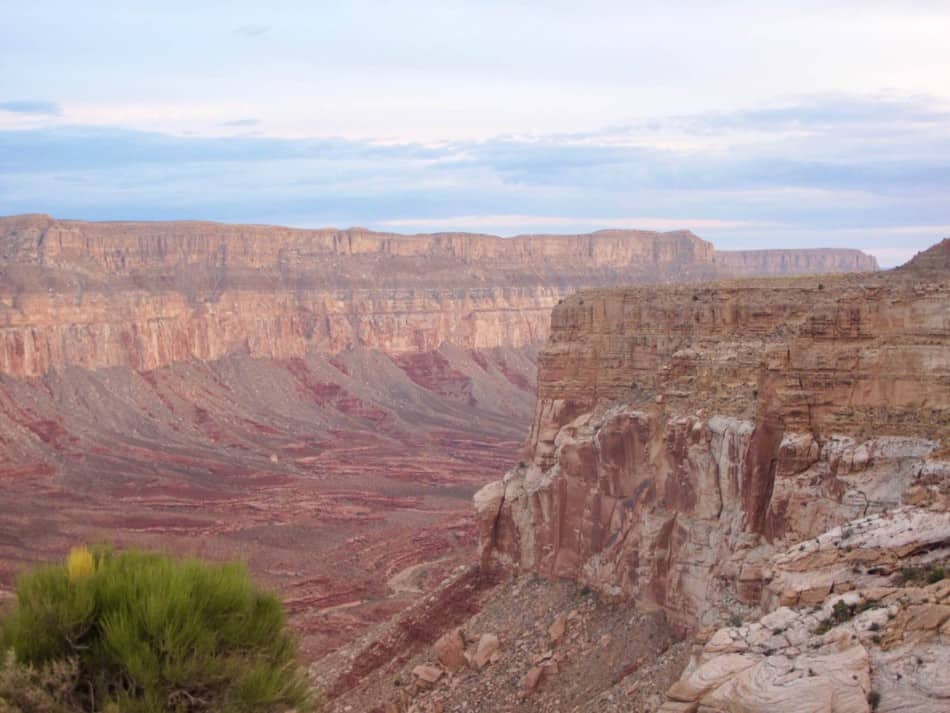 It's a local dirt road, Indian Road 18, and you'll be without cell service for much of it. There are also often loose farm animals so it's not a good idea to drive it when it's dark. If you were to break down, no one would likely see you for some time.
The better option is to sleep at the trailhead. There is a large parking lot and you can pitch a tent or just sleep in your car. There are composting toilets and portable toilets but no other facilities. You're going to be completely off-the-grid for a few days, so consider it practice for your trip to come!
Hiking into Havasupai Falls
After what may not be the most restful night of sleep, pack up and make your way to the trailhead. There are Native American Tribesmen who will check your reservation before you start to head down into the canyon, so make sure you have a copy of it.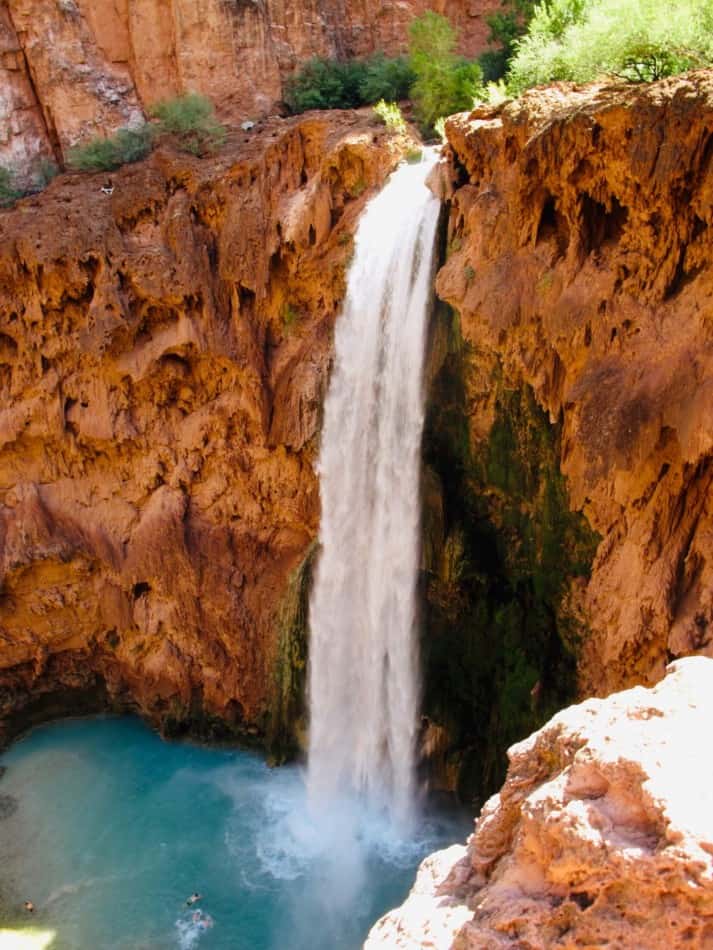 If you get an early start, you'll get to watch the rising sun light up the canyon in the most incredible colors. It's spectacular to see all of the shades the canyon walls will turn during your descent. This hike generally takes 4-5 hours in total to get to the campground, depending on your pace.
The initial descent is fairly steep with two miles of switchbacks guiding you down. You'll hike for around an hour (again, depending on your pace) until you reach the silty riverbed floor, which can be surprisingly challenging to walk on. The hike is a couple of hours in this area, and if you leave early enough, you'll find some pockets of shade along the way. There are some gorgeous and interesting rock formations worth checking out along the way.
Beware of horses and donkeys running along this area. Sometimes they are tied together but more often they are running loose with a Native guide trailing behind. You'll hear them well before you see them so head to the outer parts of the riverbed to make sure you avoid them.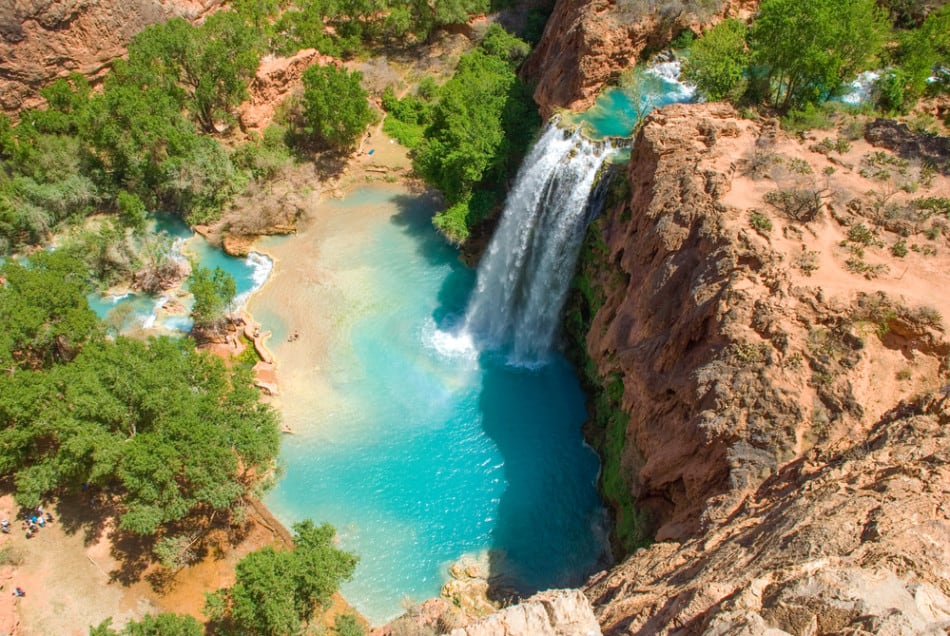 Supai Village
It won't feel like long before you arrive in the Supai Village. It's very small and you'll see some homes, a small store, a restaurant, a school, the lodge, and a few other buildings. Stop at the tourist office to check-in and to get your wristband and tent tag. It's right along the main path in town and well-marked, so you can't miss it. They will ask to see your license and a copy of the reservation.
Fill your water bottles at the water spicket near the office and it's a nice spot to take a break before the final push to the campground. Feel free to explore some but remember that this is their home so please be respectful. You are asked to not take any pictures of the area and especially not of the people who live there.
At this point, you only have two miles left of the hike. There are some smaller waterfalls on your way worth checking out that provide a nice little tease of what's to come. Fifty Foot Falls and New Navajo Falls, also called the Upper and Lower Navajo Falls, are small but beautiful. There are a lot of interesting rock formations in this area as well worth exploring.
The entrance to the campground is a fairly steep incline and you'll see the stunning Havasu Falls on your right. Take a few minutes to just appreciate how amazing it is and get some pictures as this is a great viewing spot.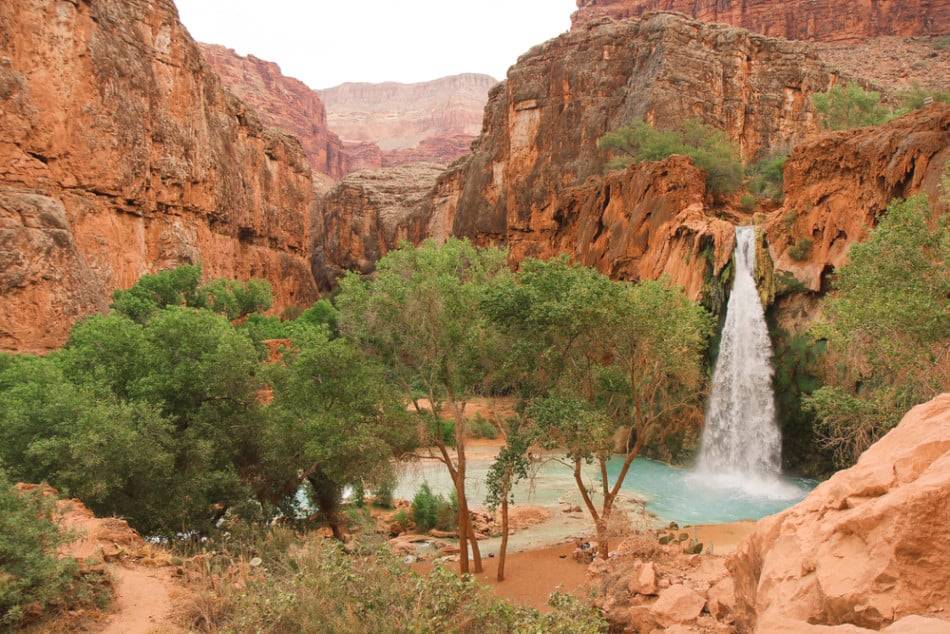 Havasupai Campground
Choose your spot where you'll set up camp for the next few days. It's first-come-first-serve so pick any open spot for your tent or hammock. There are lots of mature trees with shade, especially nice in the hotter months. This area is prone to flash floods, so if you visit during monsoon season running from June to August, take high ground away from the water.
Straight and towards the left not far after you enter the campground, you will see a row of composting toilets. They are surprisingly clean and not bad at all to use. A little further back from the toilets, you'll find the small spring with drinkable water.
The Havasupai Waterfalls
There are two falls located within the campground not far from each other.
Havasu Falls
The first is Havasu Falls, which you passed as you entered. Once you set up your camp, head over to Havasu Falls and prepare to be wowed by the beauty and the power of them. They fall almost 100 feet (30 meters) from the rocks above and it is stunning.
The water is usually quite cold all year-round and it feels great for soothing your legs after the hike. Enjoy a swim but be careful as the rocks are quite slippery from the limestone in the water which gives the falls their stunning color, so it's a good idea to wear water shoes. You'll see people with pool floats swimming around and you may see people jumping off the rocks by the falls. That's actually not allowed by the Havasupai Tribe so be cautious.
Mooney Falls
Next, head to Mooney Falls, around a half a mile from Havasu Falls and still within the campground. You'll find some great viewpoints both directly above the falls and on the path you take to climb down to the bottom of the falls.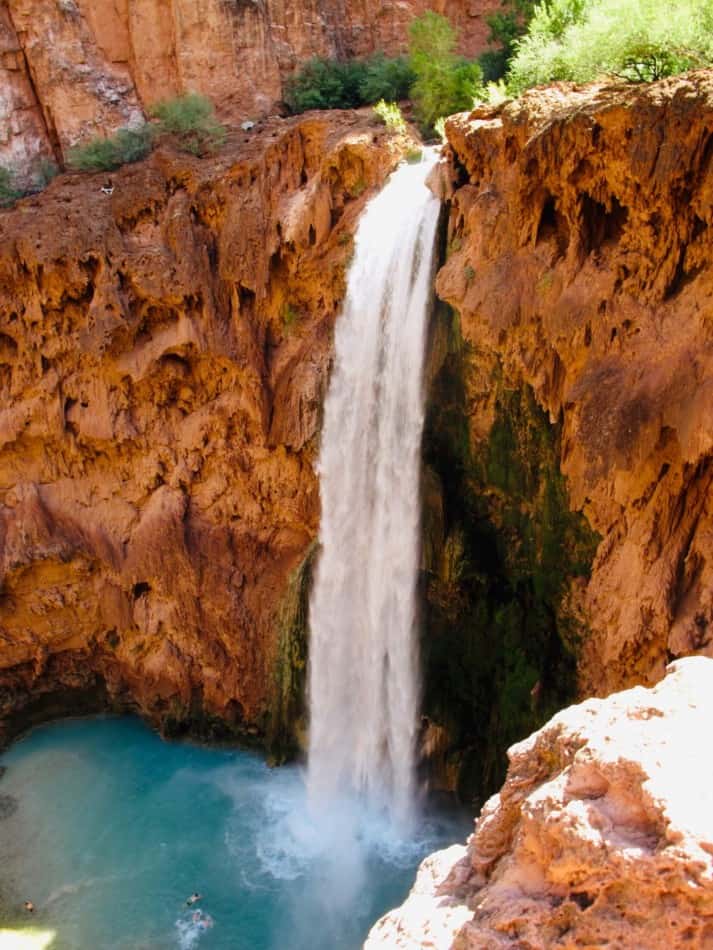 It's a daring climb to go down to the falls, and you need to pass the "proceed at your own risk" sign, twist through some narrow areas through the rock, and climb down using ladders bolted in the rock and negotiate uneven toe holds carved directly into the rock. For your effort, Mooney Falls makes it worthwhile as it's breathtaking.
Beaver Falls
If you're up for continuing, Beaver Falls is close to 8 miles further. The path is winding and not always well marked so keep a close eye out to follow it. You'll cross the creek several times navigating a slotted "bridge" of sorts and a 2×4. They make you work for visiting Beaver Falls, and it's worth it.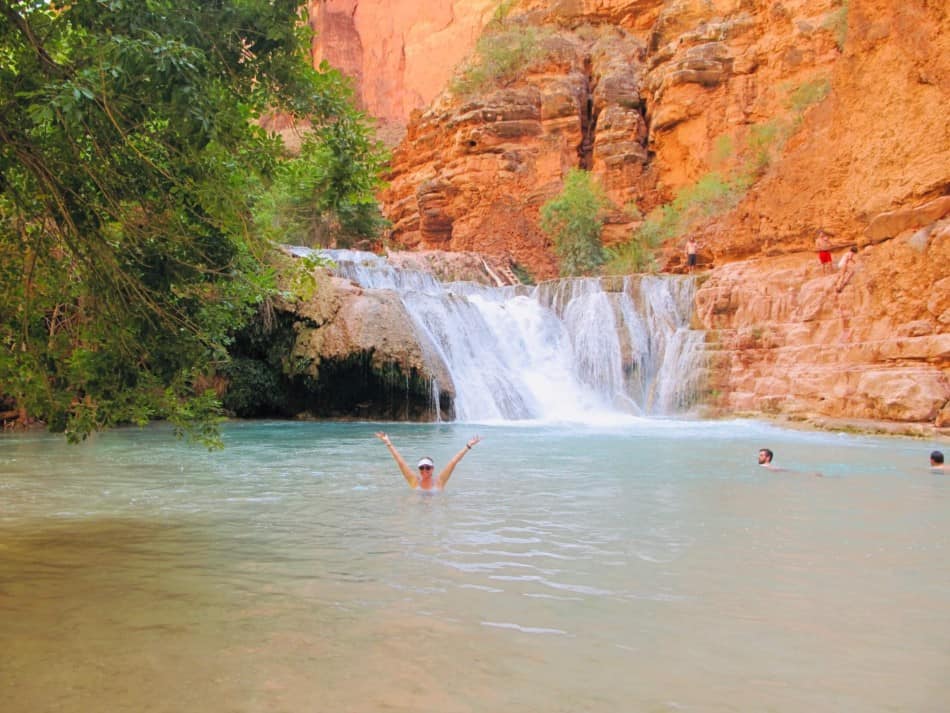 Beaver Falls doesn't have the heights of Havasu Falls or Mooney Falls but they are that striking blue-green color and worth visiting. These falls are also much less crowded as fewer people make the trek to go there.
The Climb Out of Havasu Canyon
Eventually, your time in this oasis must come to an end and you'll pack your belongings to head back up. Make sure to carry out all that you brought in to help maintain this pristine area. It's a good idea to start early again because, as you might imagine, the climb up is much more challenging on the switchbacks than they were on the way down. And keep in mind that it'll be a few hours before you begin your ascent as well.
The switchbacks are grueling and seem to continue for a long time, especially as there's little-to-no shade on the way up. By the time you get to this area, the horses and donkeys are running so again, be careful as you climb up some of the more narrow areas in the switchbacks. Just take your time, make sure you remain well hydrated, be careful of the horses and donkeys on the path, and you'll do great. It's time to celebrate once you make it to the top!
The Havasupai Falls hike is an incredible experience you'll want to be sure to check off on your bucket list. It's challenging to get a reservation, but possible if you plan accordingly. Make sure to train for this hike and plan your packing carefully. The Havasupai lands with their striking blue-green waterfalls is one of the most incredibly-beautiful places in the world.
Conclusion: Hiking into Havasupai Falls
Backpacking Havasu Falls is a once in a lifetime experience. I hope this article has helped you prepare for hiking to Havasu Falls and I hope it has inspired you to make your Havasupai Falls reservation.
Sharing is Caring! Pin this article to save for later.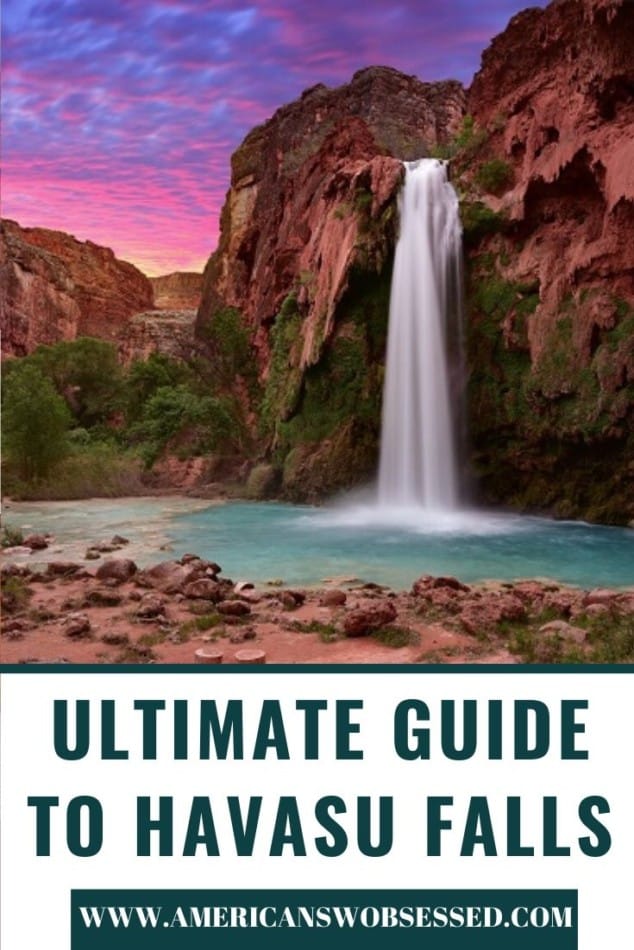 This guest post was written by Sam at My Flying Leap who is a travel-obsessed animal lover with big plans to travel the world with her dog. When she's not blogging about her travel adventures at My Flying Leap, you can find her volunteering with her pet-therapy cat and dog, on the top of a mountain, or enjoying a glass of bold red wine planning for her next trip.
Pinterest Facebook Instagram Twitter
Recent Posts