15 Dreamy Joshua Tree Airbnbs and Joshua Tree Cabins
Joshua Tree Airbnbs: Are you looking for the perfect Airbnb in Joshua Tree National Park? I've put together a list of unique places to stay and cabins in Joshua Tree National Park for an incredible experience.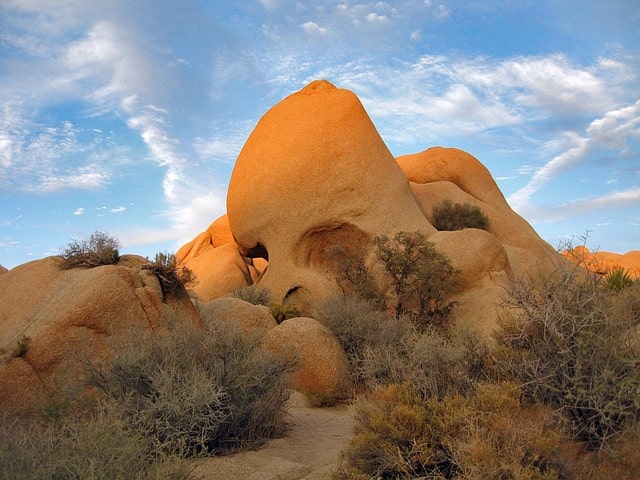 Staying in an Airbnb near Joshua Tree is the way to go. There are unique places such as yurts, domes, airstreams and more.  Each of the places on this list has an amazing aesthetic and have an incredible design to make sure you are comfortable for the night.  This is definitely not roughing it!
You will definitely want to check out these amazing properties. I guarantee you will be surprised at how affordable they are and close to the park!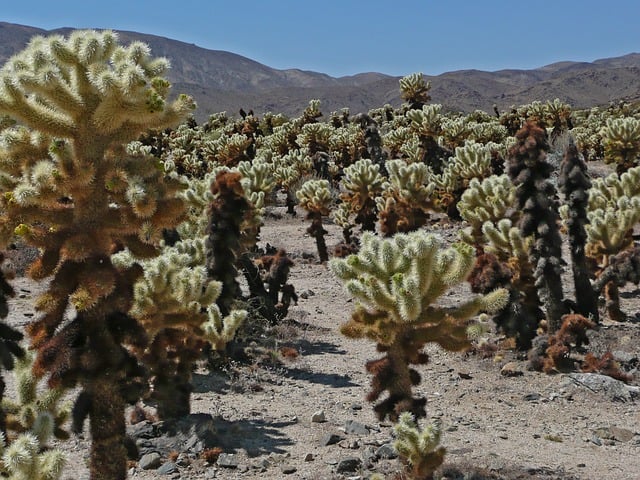 Check out my post on the Best Hikes in Joshua Tree National Park to help you plan your visit.
Thank you for supporting this website written by an American. This post may contain affiliate links. This means I earn a small commission on these links at no extra cost to you.
Best Joshua Tree Airbnb – amazing places to stay
The Joshua Tree House
This is the Joshua Tree House the best Joshua Tree Airbnb! This hacienda was built in 1949. With over 100 Joshua Trees on the property, the views from the house are magical. If you're up for it, sunrise on the front porch is incredible.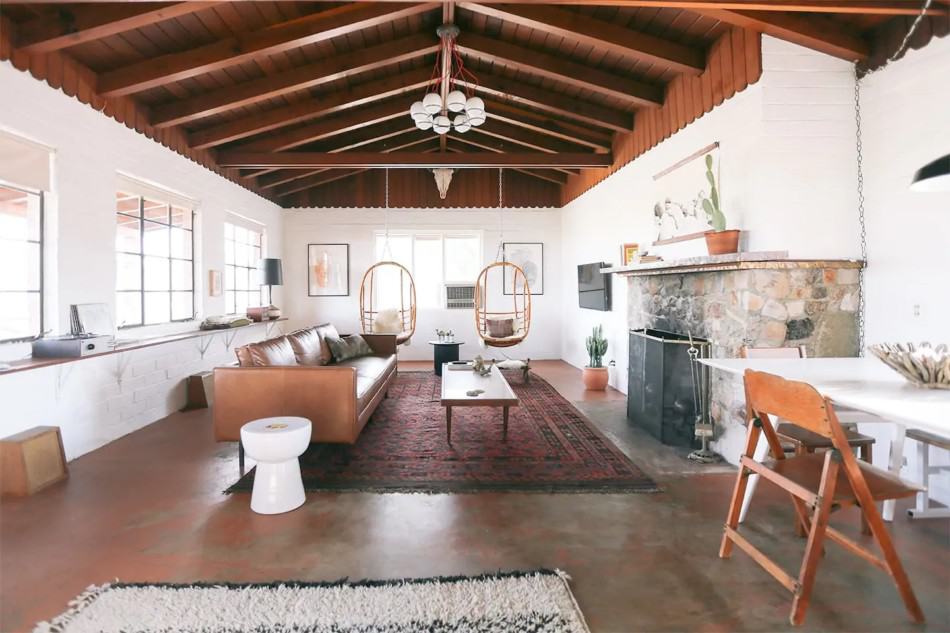 This is a place for dreamers to reset, reflect, and create. Designed with a 'slow' pace in mind, our hope is that you enjoy every part of your stay; from making local coffee by drip in the morning, choosing the perfect record to put on as the sun sets, or by relaxing in the hot tub surrounded by over 100 Joshua Trees and a starry night sky.
Silver Star – Off-the-Grid Airstream Joshua Tree
If you don't mind sleeping on a camper or RV that has the amenities of a regular inn, then this off-the-grid airstream is a great choice for you. This airstream has stunning panoramic views in all directions nestled in a serene and private area.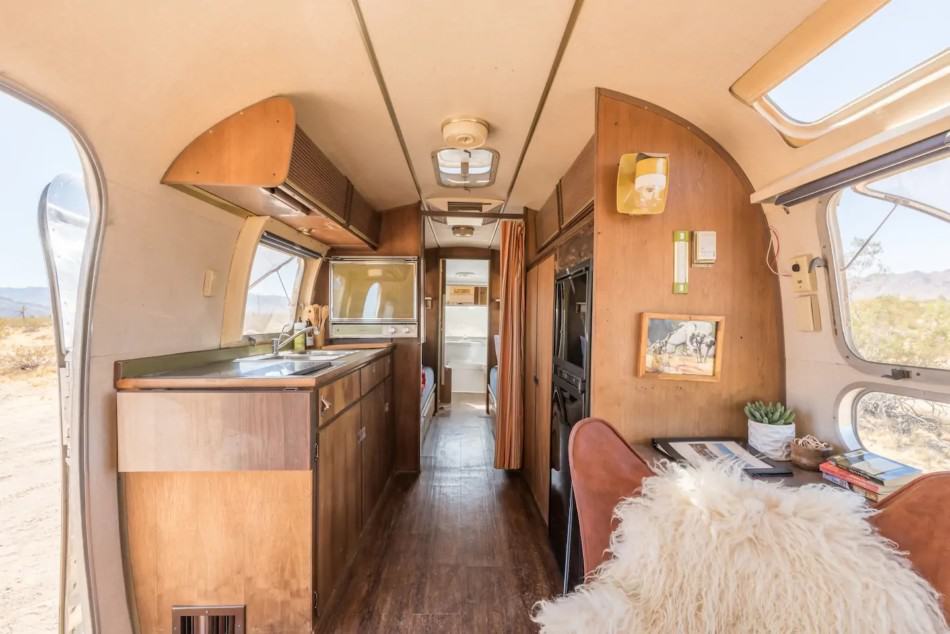 This classic Airstream is being powered by solar panels and back up batteries. And even though there's wifi (which is also a great way to have a quality time with your loved ones or friends) but the cellphone reception is excellent.
There are two beds provided in this camper and it can fit up to 3 guests. There is also a living bank sofa in the front of the trailer where kids or adults can sleep on it. It is also complete with amenities such as kitchen, laptop-friendly workspace, and bathroom.
Minimalist Modern Joshua Tree Cabin with Amazing Views
This unique dwelling situated in the hills of yucca valley has everything you could want in a desert getaway. Its clear walls take the "indoor – outdoor" experience to a whole new level.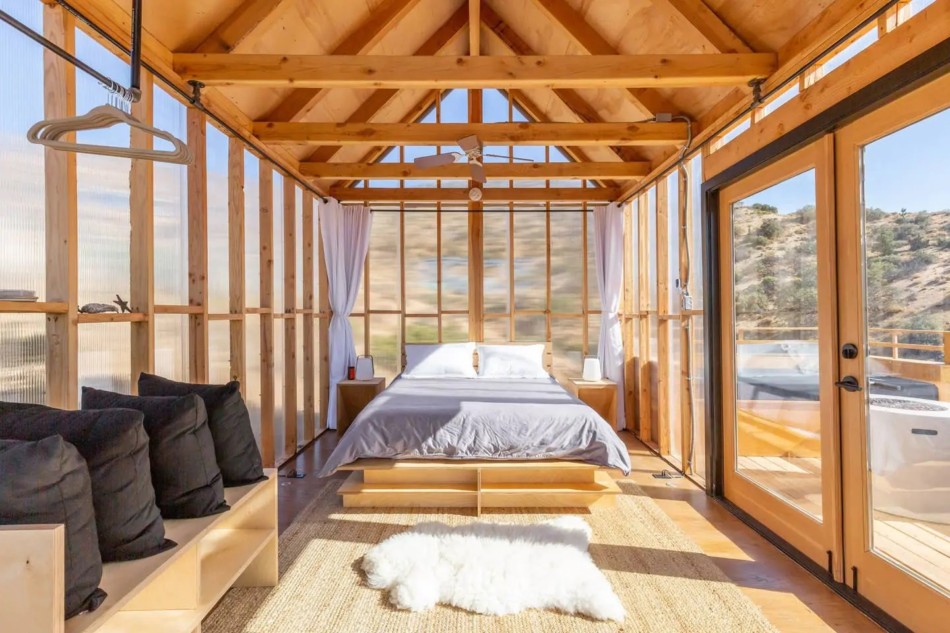 The cabin is on a 100 acre property with two other short term rental locations. The cabin has its own detached yet private bathroom and kitchen and is a good distance from the other two location. So you do have your own privacy but may see the occasional guest driving by or hiking. Speaking of hiking there are many hiking trails right off the property so you will never need to leave!
The Moon Cabin
This lovely Moon Cabin is the perfect place to stay for a weekend getaway for two people in Joshua Tree. This is actually a 1959 homesteader that has been restored and improved with modern amenities and custom elements. The space has a rustic design that highlights the beauty of the desert.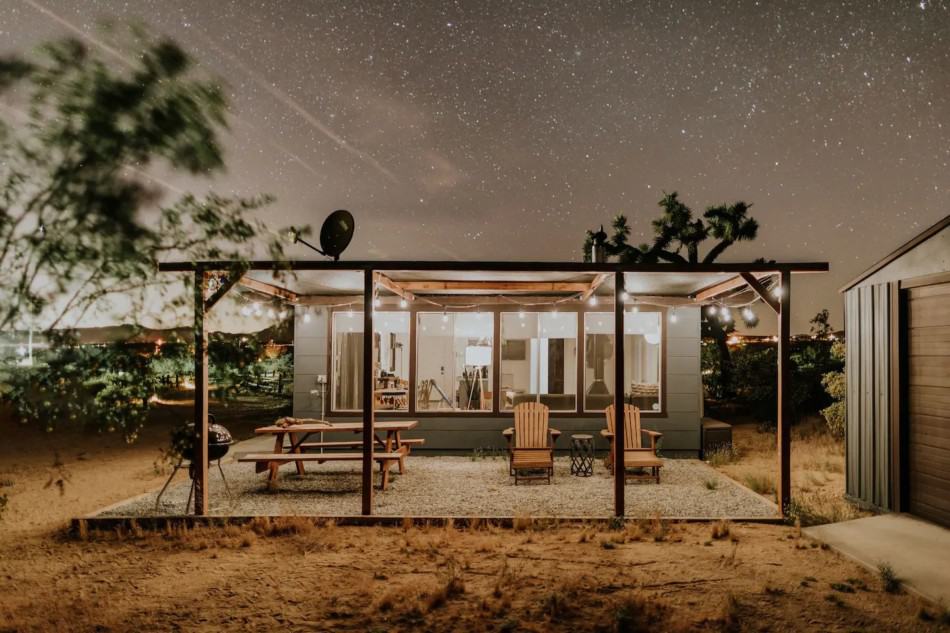 There is a heater and AC so you can stay comfortable no matter what the weather is. In addition to that, the cabin has a porch, hammock, and a fireplace here where you can cozy up while staring at the gorgeous desert. The whole cabin can be enjoyed by two guests plus the entire 2 acre property where it is situated. 
Dome in the Desert in Joshua Tree
This modern-bohemian dome features many personal designs and handcrafted items that will surely invigorate your soul. The interior is filled with natural wood and stone elements and it is well-decorated, clean, and very comfortable. The natural wood burning stove and space heaters will keep your warm during chilly evenings while the AC keeps the whole dome cool during hot desert days.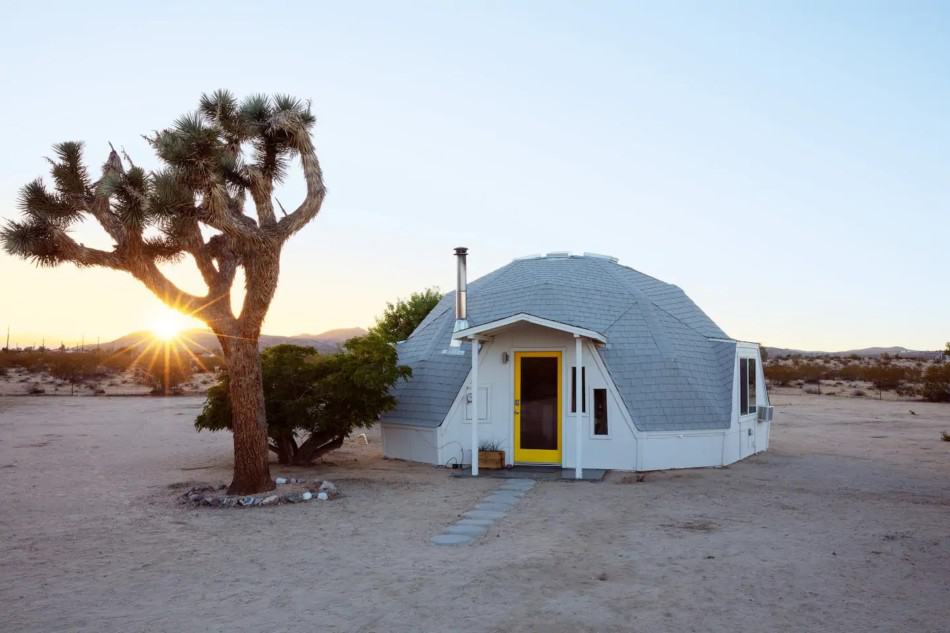 The location is pretty great too because it's close to town or main strip, and some cafes and thrift store. Although the property is located on a dirt road, you just need to drive slow and it's passable by any type of car.
Joshua Tree Beauty at the Habibi House Ranch
The Habibi House is a restored desert ranch that features locally sourced furnishings and handcrafted pieces from Morocco. The entire house is spacious and clean and it has three bedrooms with three beds and can accommodate up to 7 guests.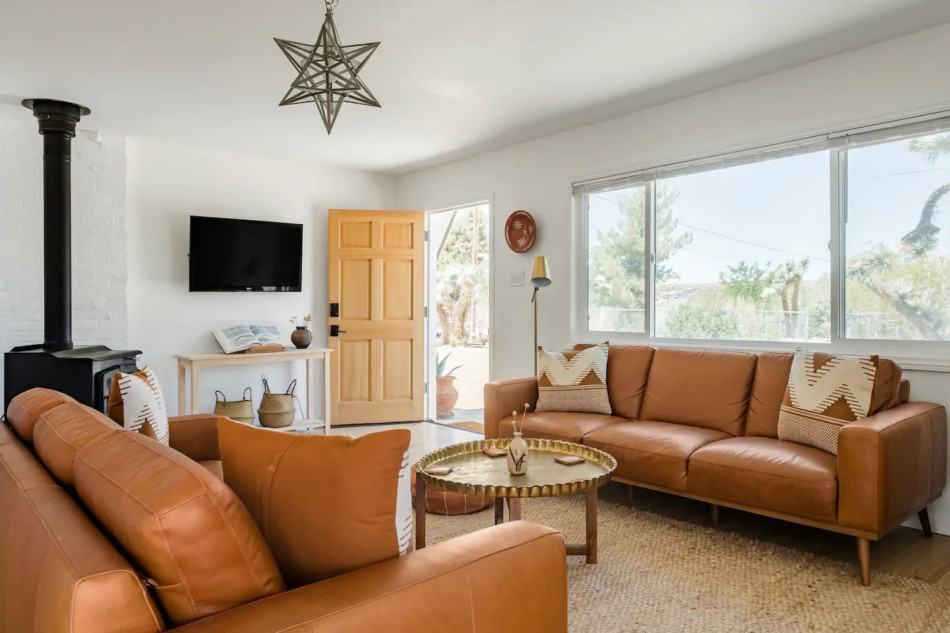 There is a sunroom where you can watch the sunrise or spend your precious evening sitting around the fire pit while gazing at the twinkling stars.
Merchant on the Road Airstream
Merchant on the Road airstream has been curated by the mother/daughter duo of Merchant Modern. Their carefully picked mid century modern and moroccan touches will leave your design palette transported.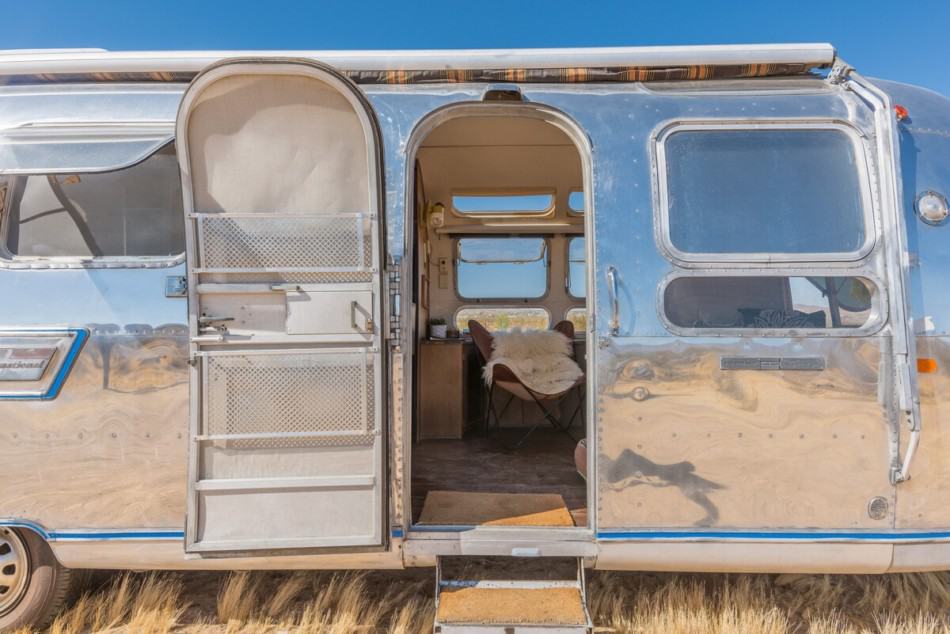 There are several airstreams on this property and the restrooms, kitchens, pool, hot tub, solar shower, outdoor table & clawfoot tubs are all SHARED spaces with up to 8 other guests.
Mojave Desert Cabin in Joshua Tree
Another great Airbnb in Joshua tree is this Mojave Desert Cabin which has two bedrooms and can accommodate up to four guests. It is a casual yet gorgeous cabin set in a cool neighborhood and it is conveniently close to downtown.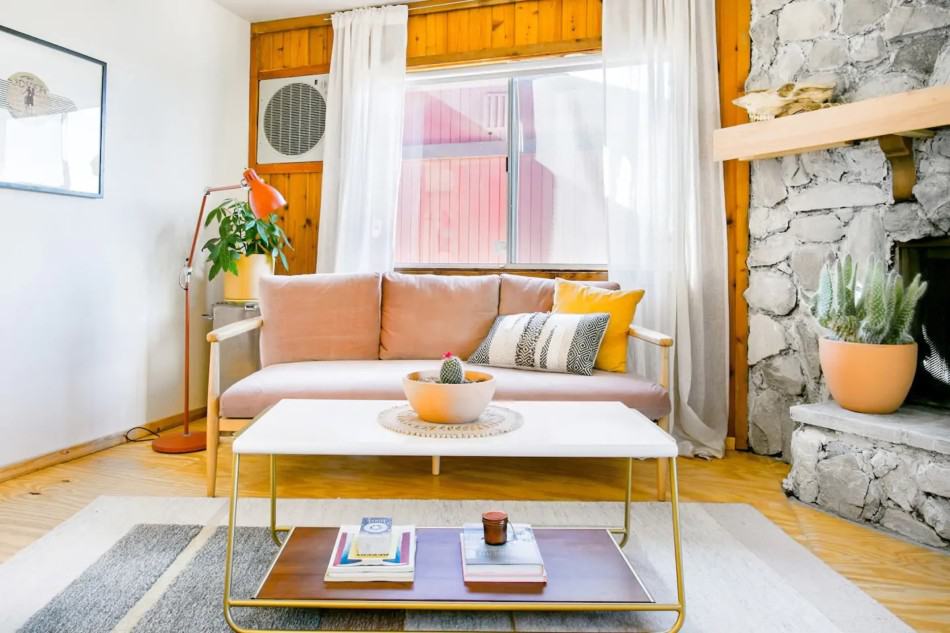 And unlike other accommodations, pets are welcome in this cabin with a charge of $25 per night, per pet. It has the basic amenities that you need for n incredible stay except for a TV. So, just be aware that there's not TV in the cabin in case you are catching up on some shows on Netflix.
"Desert Wild" Joshua Tree, Pool and Hot Tub
Another luxurious space that you can stay in Joshua Tree is this "Desert Wild" that has two beds, two bath oasis with a pool and hot tub that is situated in a safe residential neighborhood. And it is just a 10-minute drive from the West entrance of Joshua Tree National Park, and a 5-minute drive to the downtown where shops, cafes and galleries are. Sounds convenient right?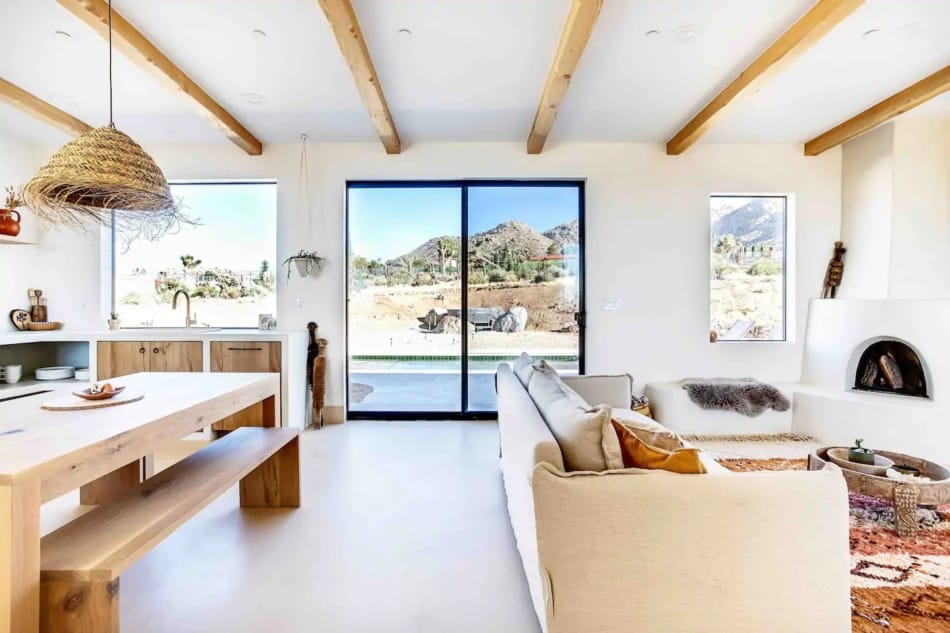 What makes this place even more amazing is that it has a heated pool and hot tub where you can soak anytime you want. This place can be extremely expensive for people who are on the budget, but if you don't mind paying for a luxurious space that has all you need, then this place is for you.
Palms Ranch Stargazing Yurt
With endless desert views, you will surely enjoy this private Yurt that is just 20 minutes away from the less-crowded North entrance of Joshua Tree National Park. This Yurt is the best way of experiencing an amazing natural observatory when taking in the night sky.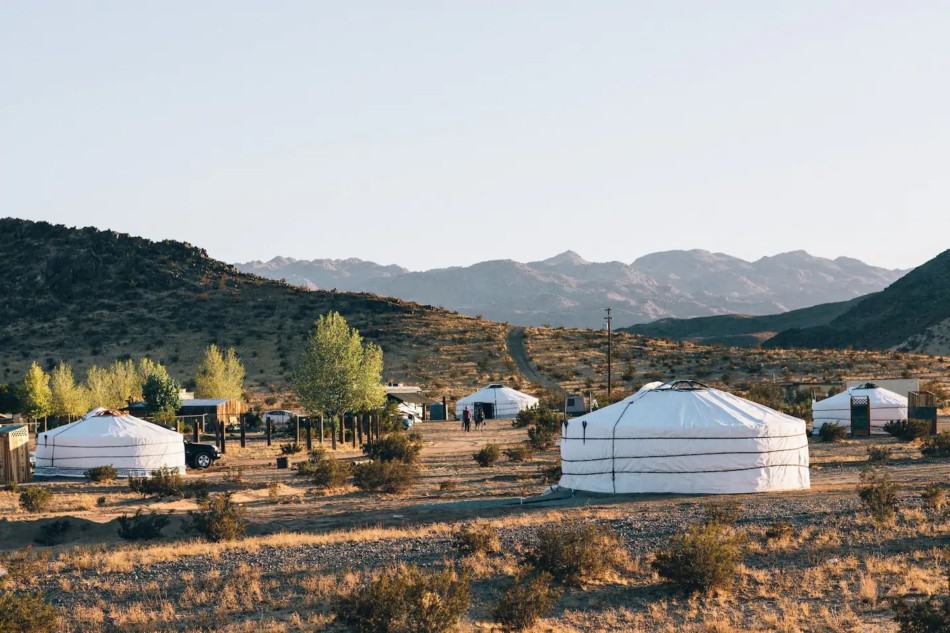 It can accommodate up to 4 people and it has a Mongolian sink, heated shower, composting toilet, BBQ sink, and a fire pit. Basically, you can sleep, camp, cook, and play in this yurt. But you need to know that there are 5 yurts available in the area and you will be sharing the whole property with other guests.
The Land Yacht
The Land Yacht is a 31-foot Classic Airstream trailer that has been converted into a functional glamping unit in Joshua Tree. Like any other accommodations, it is complete with amenities like one bedroom, laptop-friendly workspace, and kitchen.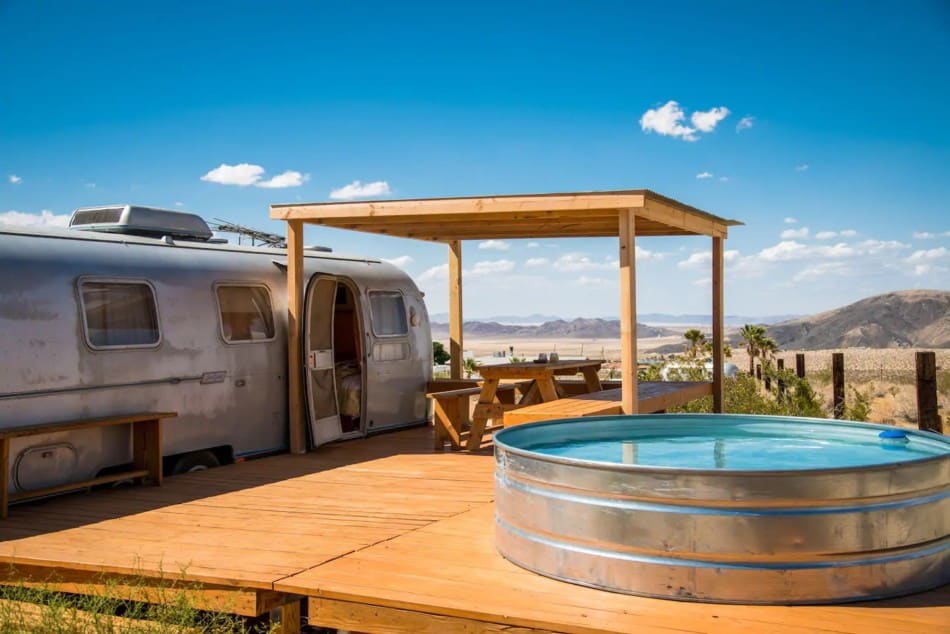 Ideally, this Land Yacht is perfect fr 2 guests, a couple, or a couple with little kids. But 4 adults guests are doable but you have to sacrifice on the limited space. But what makes this Airstream unique is that it has large Stock Tank Pool on the dock that has a powerful filter and pump to keep the water clean and filtered.
Joshua Tree Little Jo Cabin
Set in Joshua Tree, this 1950s homesteader is a short drive from the National Park entrance, as well as various eateries, shops, and cafes in town. Grab a slice of pizza at Pie For The People or visit Natural Sisters Cafe for organic fare.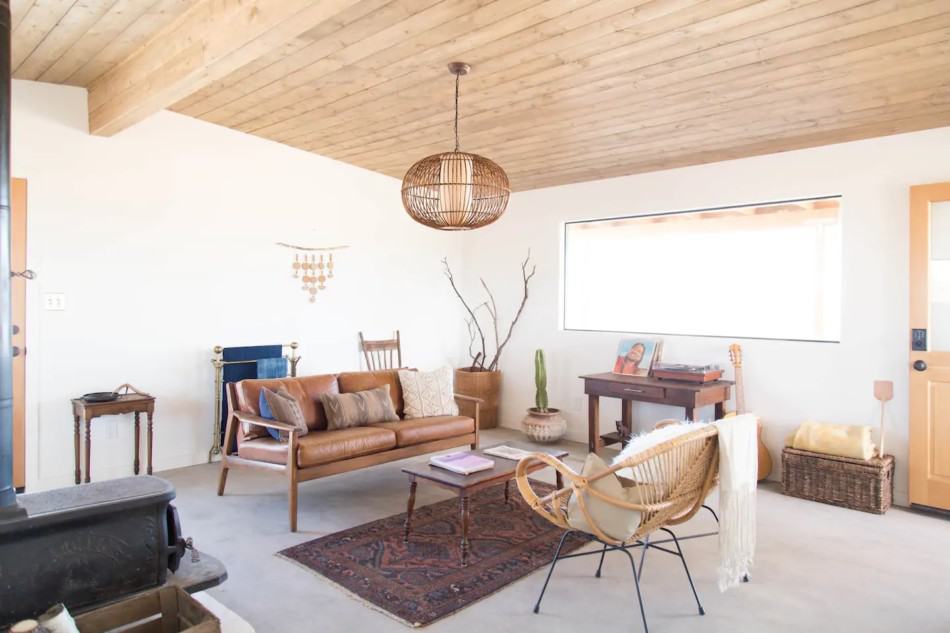 You have to read the reviews to believe just how good this place is to stay. We had the most AMAZING time!! The accommodation was stunning. We had high expectations but were blown away when we walked through the door and were very sad to leave.
LOVE Egg Glamping in Comfort
This 16 foot egg trailer is located on a paved road in a very central location among Joshua Trail National Park. It has all the basic things that you need for a great glamping experience such as two beds, toilet, shaded patio, fire pit, outdoor kitchen with pots and pans, French press coffee maker, microwave, mini fridge, hammock, and BBQ grill.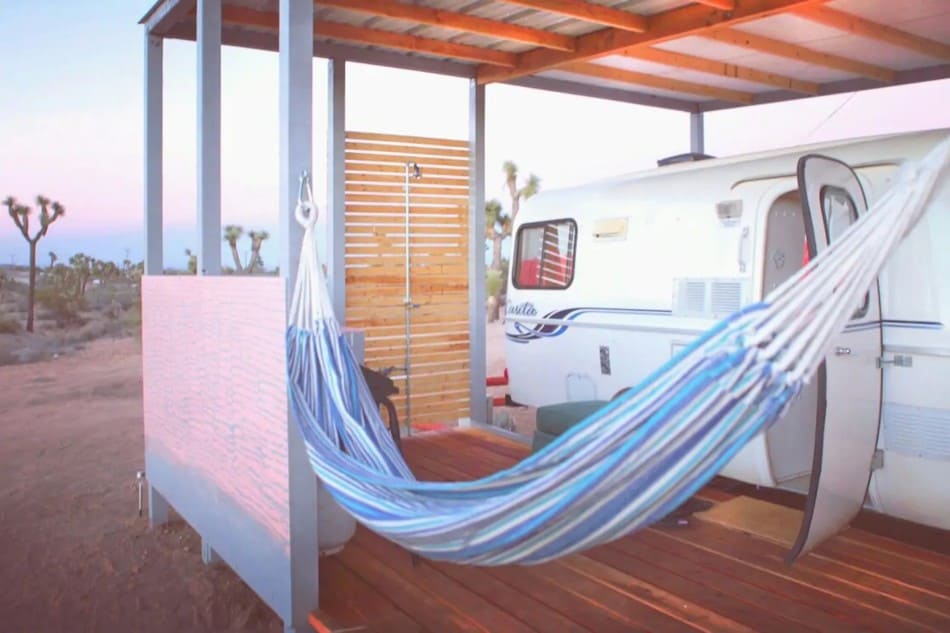 The host has also provided towels for guests, as well as toilet paper, shampoo, and conditioner. This is a small camper that can fit up to 3 guests for a very reasonable and affordable price.
Airstream with Hot Tub
This restored vintage airstream trailer sits comfortably in a private and raw desert land and far from any neighbors so it will keep you as private as possible. It has 1 bedroom that can accommodate two people, freshly installed modern AC and Heat to keep this trailer's ideal temperature, a kitchen, bathroom, and more.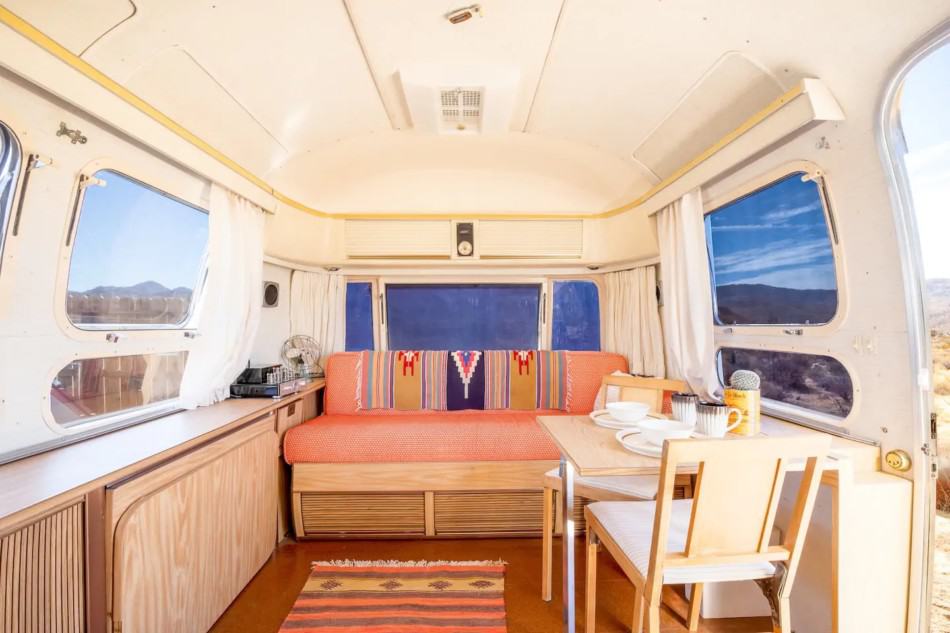 On top of it all, the location of this Airstream is very perfect because it is extremely close to the Joshua Tree Park entrance. It has a hot tub that is very clean and the outdoor shower will amaze. This is a very affordable airstream that is totally worth it.
Sun Catcher House
Sun Catcher House is outfitted with rich textiles, curated local art, and a whimsical basket chair. The home features two master bedrooms, allowing privacy among guests.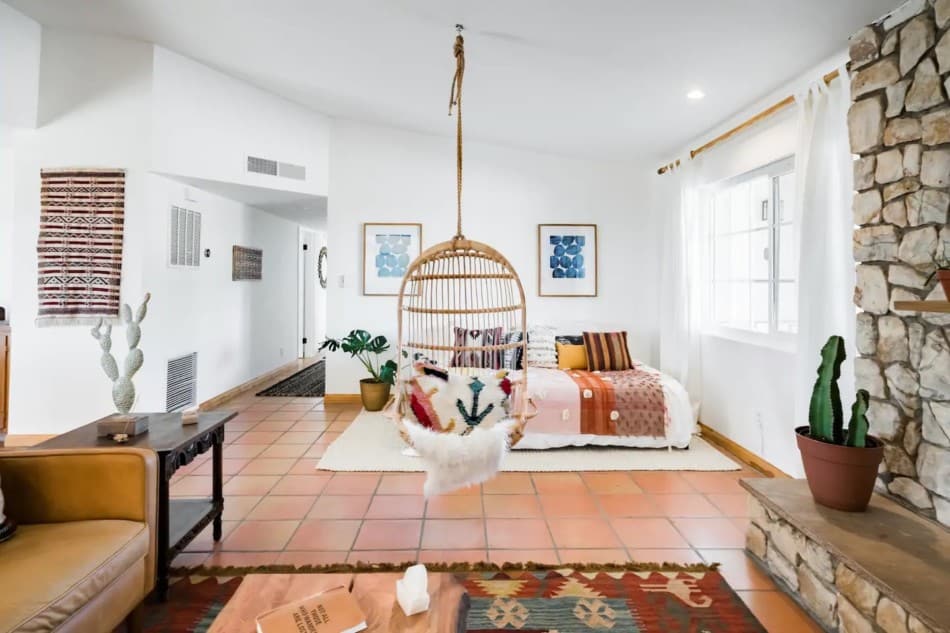 One reviewer said: Amazingly styled house with everything you need for a desert getaway! Meticulous styling exudes authentic Joshua Tree vibes while maintaining a homey feel. We had everything we needed to cook a full delicious meal and get a comfortable night's sleep.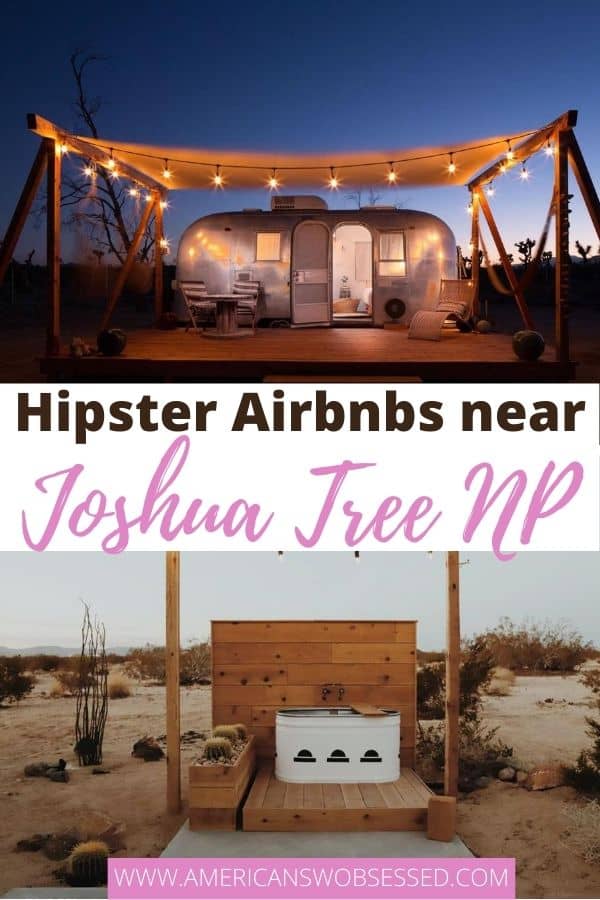 Recent Posts