15 of the Coolest Joshua Tree Glamping Accommodations – VRBO Glamping
Best Joshua Tree Glamping: Are you looking to go glamping in Joshua Tree National Park?  I've put together a list of unique places to stay in Joshua Tree and spots for glamping.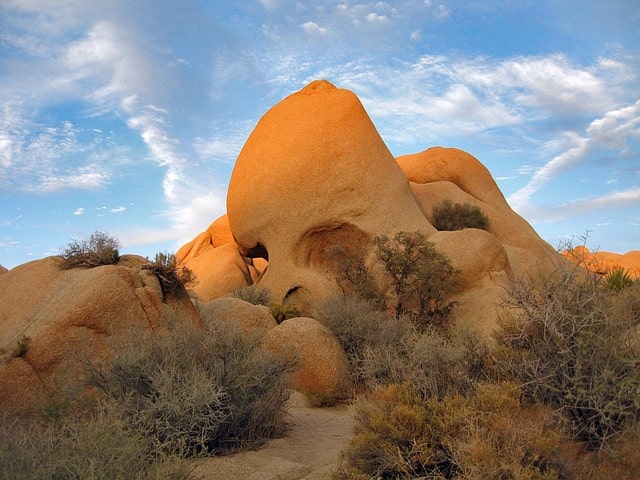 If this is your first time glamping, Joshua Tree is the perfect place to start!  These are unique places such as yurts, domes, airstreams, and more.  Each of the places on this list has an amazing aesthetic and have an incredible design to make sure you are comfortable for the night.  This is definitely not roughing it!
You will definitely want to check out these amazing properties. I guarantee you will be surprised at how affordable they are and close to the park!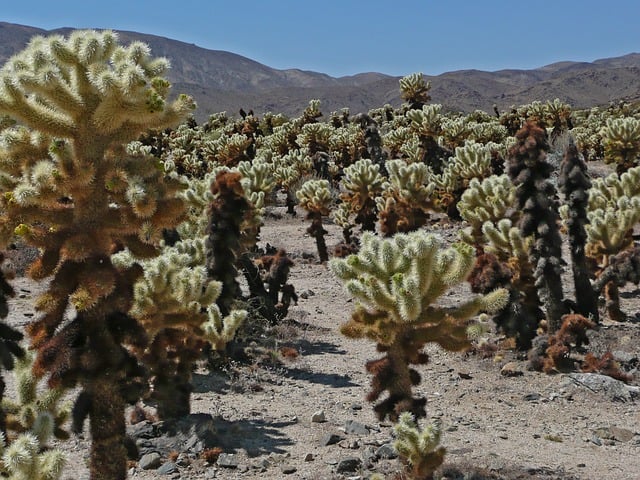 Check out my post on the Best Hikes in Joshua Tree National Park to help you plan your visit.
Thank you for supporting this website written by an American. This post may contain affiliate links. This means I earn a small commission on these links at no extra cost to you.
Glamping Joshua Tree National Park – amazing places to stay
Dome in the Desert in Joshua Tree
This modern-bohemian dome features many personal designs and handcrafted items that will surely invigorate your soul. The interior is filled with natural wood and stone elements and it is well-decorated, clean, and very comfortable. The natural wood burning stove and space heaters will keep your warm during chilly evenings while the AC keeps the whole dome cool during hot desert days.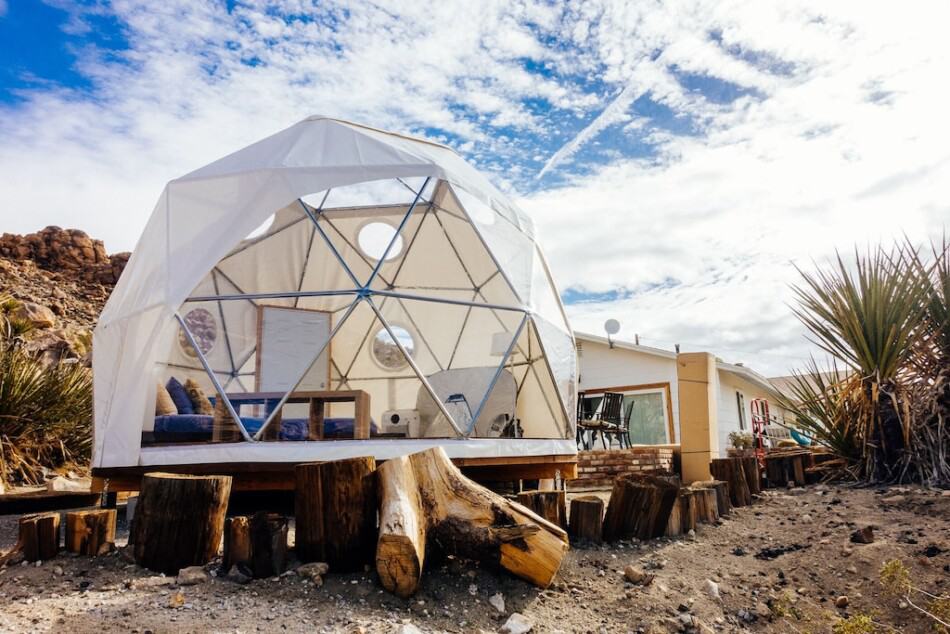 The location is pretty great too because it's close to town or main strip, and some cafes and thrift store. Although the property is located on a dirt road, you just need to drive slow and it's passable by any type of car.
Joshua Tree Home w/ 360 Views
This spacious home in South Central Joshua Tree has two bedrooms and two bathrooms, as well as a stunning sunroom, and is just 4.4 miles from the West Joshua Tree National Park Entrance and 1 mile from downtown Joshua Tree. The hot tub / spa and back patio spaces are best enjoyed when admiring the soaring Wonderland of Rocks thanks to the over one acre of natural desert landscaping.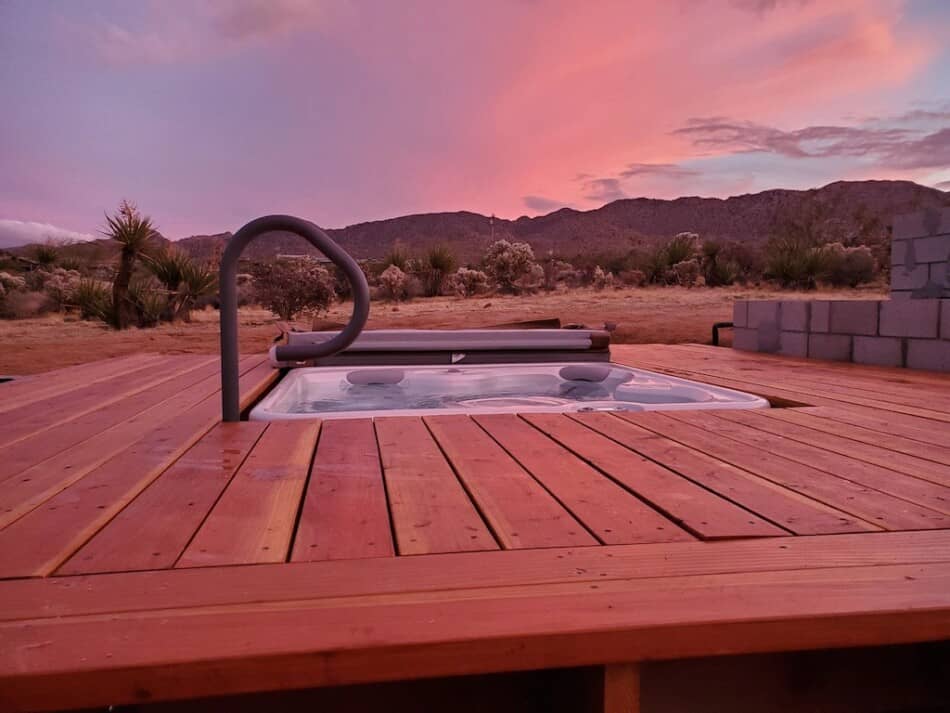 One reviewer said: we couldn't be more pleased with Rose's Joshua Tree home. It's not an exaggeration to say that it is literally 6 minutes from the driveway to the West Entrance Gate of Joshua Tree National Park!! There were three adults staying in the home and it was adequate and comfortable (perfect for two couples). The kitchen was above average stocked with everything one would need to cook a simple or gourmet meal.
Joshua Tree Modern Stargazing Bubble-tent & House – the Best Joshua Tree Glamping Spot
Marbella Lane Joshua Tree Modern Stargazing Bubble-tent & House is 10 miles from The Maze Loop Trail, 11 miles from Eureka Peak, and 11 miles from Lower Covington Flat. The Joshua Tree Visitor Center is 3 miles away, and visitors can enjoy free WiFi and private parking on site.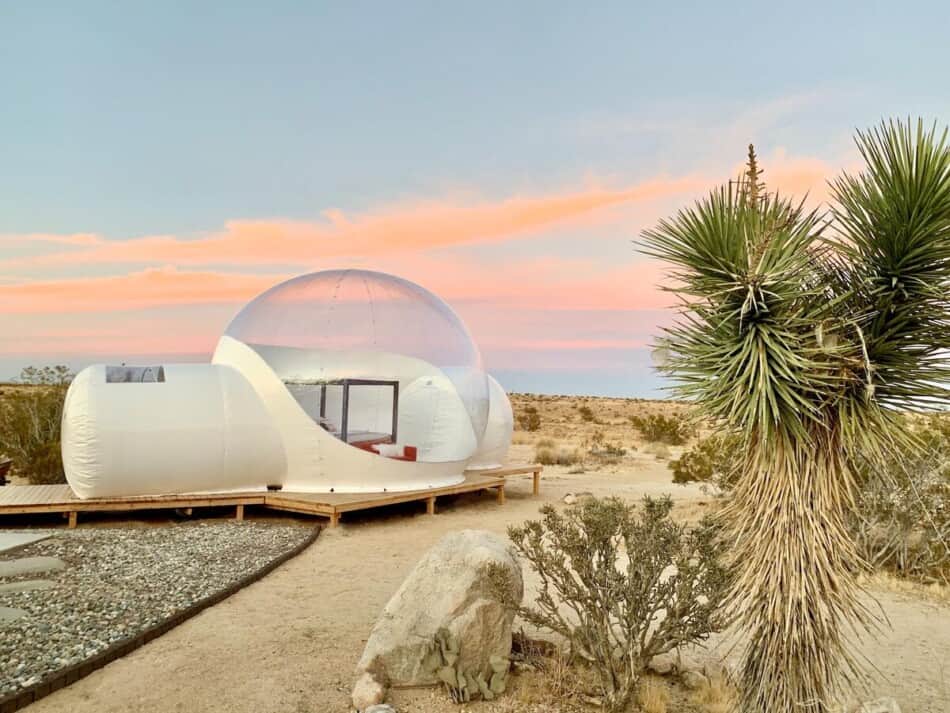 Two bedrooms, a dining room, a fully fitted kitchen with a dishwasher and a coffee machine, and two bathrooms with a hot tub and a shower make up the air-conditioned vacation home.
Desert escape, stunning views of mountains, close to JT National Park!
The "Sunset Skyline" is located on the north side of Joshua Tree's downtown district. The stunning sunset views are amazing from this Joshua Tree Glamping spot.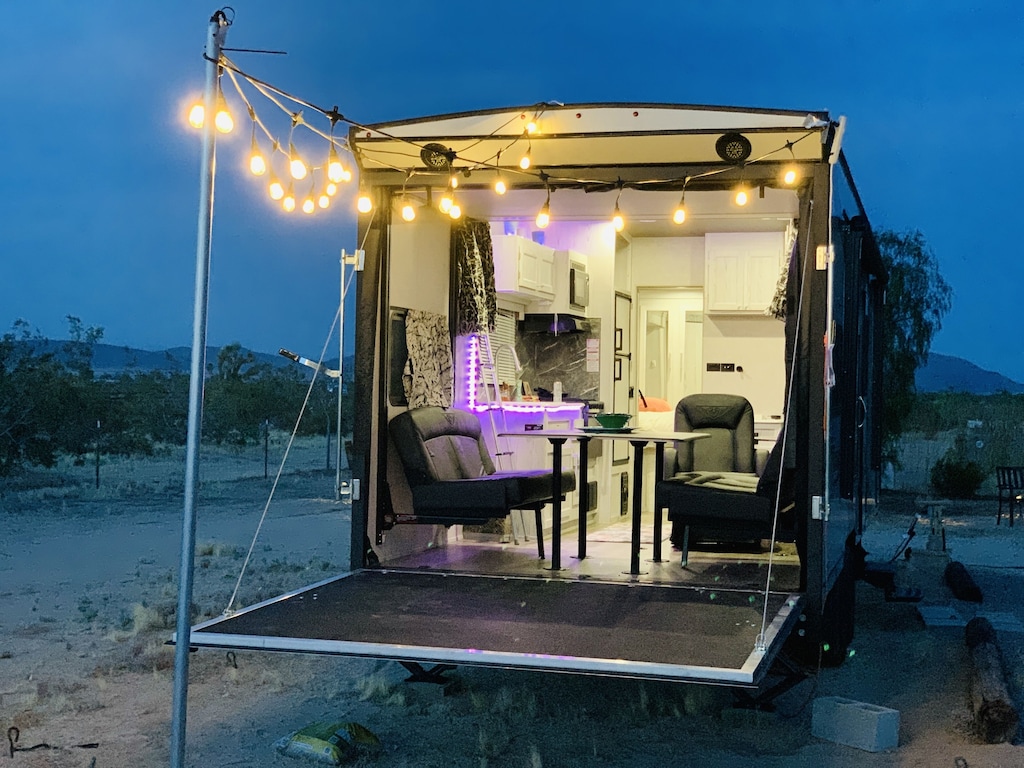 Beautiful brand new 2021 Attitude toy hauler with a private room and king size bed, and mirrored closets.
The bathroom has small tub for the little kids or babies, with a stand up shower and a skylight. It also has a fully functional flushing toilet and a sink with mirror. Soap, shampoo, conditioner and body lotion provided.
The kitchen is beautiful, fully equipped with large sink and dish drainer, 3 burner gas stove, full sized microwave, large fridge, and ice cold freezer. All the kitchen utensils, cookware and dishes that you would need. Ground coffee and coffee maker for a morning cup!
Living space has two comfortable swivel lounger chairs with a small removable table in between.
Air conditioning, full kitchen, bath, shower and private outdoor space. The bedding is all high thread count 100% cotton for extra comfort. We can accommodate up to 6 people comfortably.
Dreamy Desert RV – Off-the-Grid Airstream Joshua Tree
If you don't mind sleeping on a camper or RV that has the amenities of a regular inn, then this off-the-grid airstream is a great choice for you. This airstream has stunning panoramic views in all directions nestled in a serene and private area.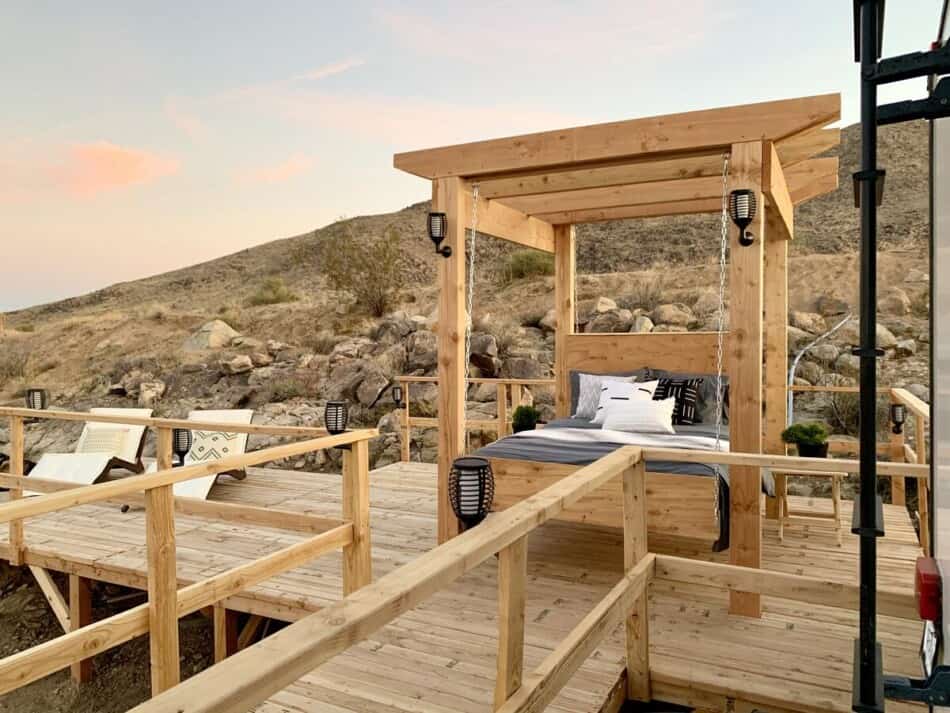 This classic Airstream is being powered by solar panels and back up batteries. And even though there's wifi (which is also a great way to have a quality time with your loved ones or friends) but the cellphone reception is excellent.
There are two beds provided in this camper and it can fit up to 3 guests. There is also a living bank sofa in the front of the trailer where kids or adults can sleep on it. It is also complete with amenities such as kitchen, laptop-friendly workspace, and bathroom. 
Joshua Tree Remote Airstream Stargazing Glamping!
This Airstream is located in a private 30 acres lot, 13 miles from Joshua Tree National Park in Joshua Tree, CA. The Airstream travel trailer: Fully equipped with all kitchen essentials you need for preparing meals, (hot)shower+toilet, and powder room — a comfortable bedroom with queen-sized mattress.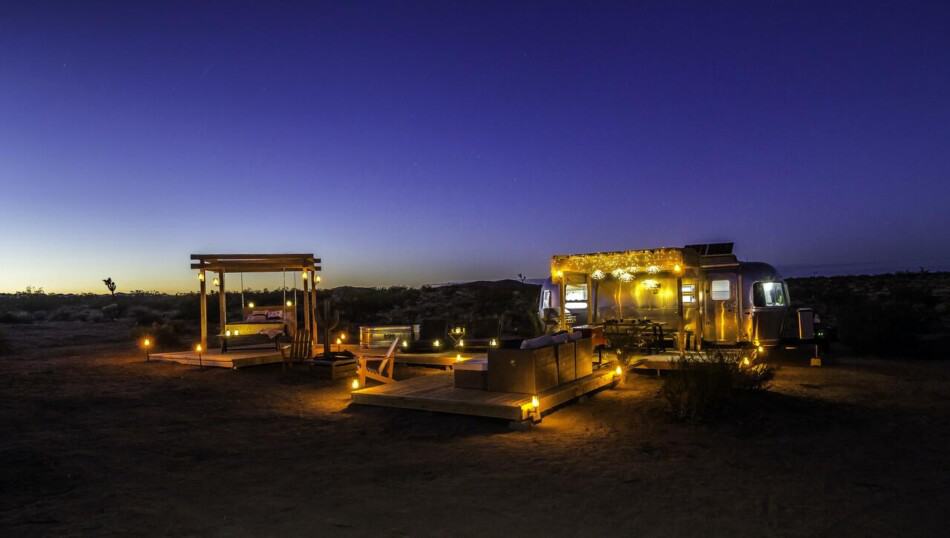 The living room couch pulls out to provide a double bed as well. Enjoy a desert getaway on the Joshua Tree National Park with awesome sunrises and sunsets, and star-filled nights. • sanitized, self-check in (contact-free) • Quietstream climate control (AC and heating) • Ultraleather seating (incredibly soft, ea Outdoor:- • Outdoor shower • Outdoor bed • BBQ grill • Wood burn fire pit • Outdoor setting area • Cow boy bathtub.
The Home Sweet Homesteader
The Home Sweet Homesteader is a restored desert ranch that features locally sourced furnishings and handcrafted pieces from Morocco. The entire house is spacious and clean and it has three bedrooms with three beds and can accommodate up to 7 guests.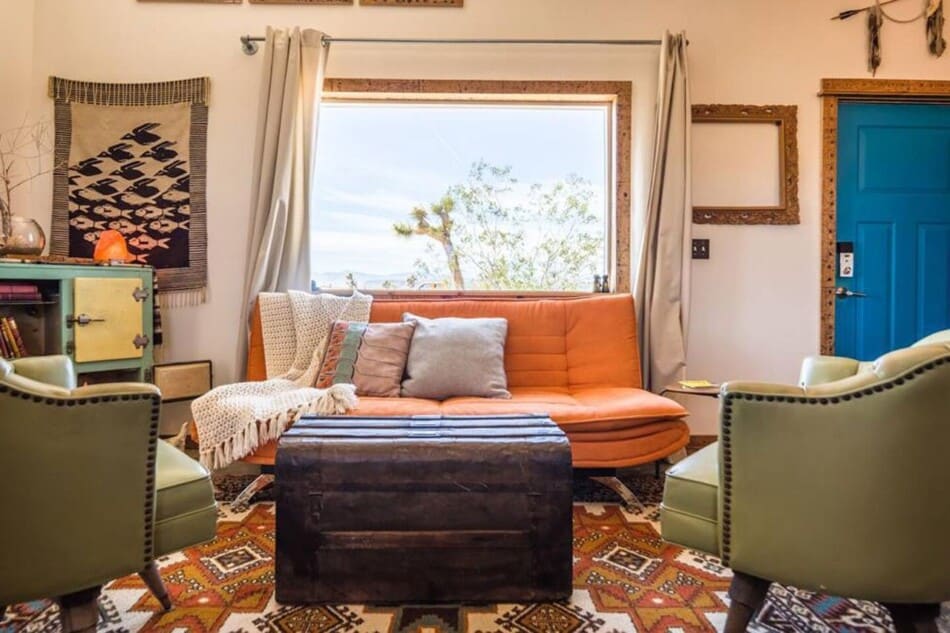 There is a sunroom where you can watch the sunrise or spend your precious evening sitting around the fire pit while gazing at the twinkling stars.
THE BIRD'S NEST – A modern, secluded & quiet Joshua Tree experience
Formerly a bird haven, this house in Joshua Tree has been transformed into a respite for humans. Enjoy some seclusion, quiet and star gazing while within a reasonable distance from activities.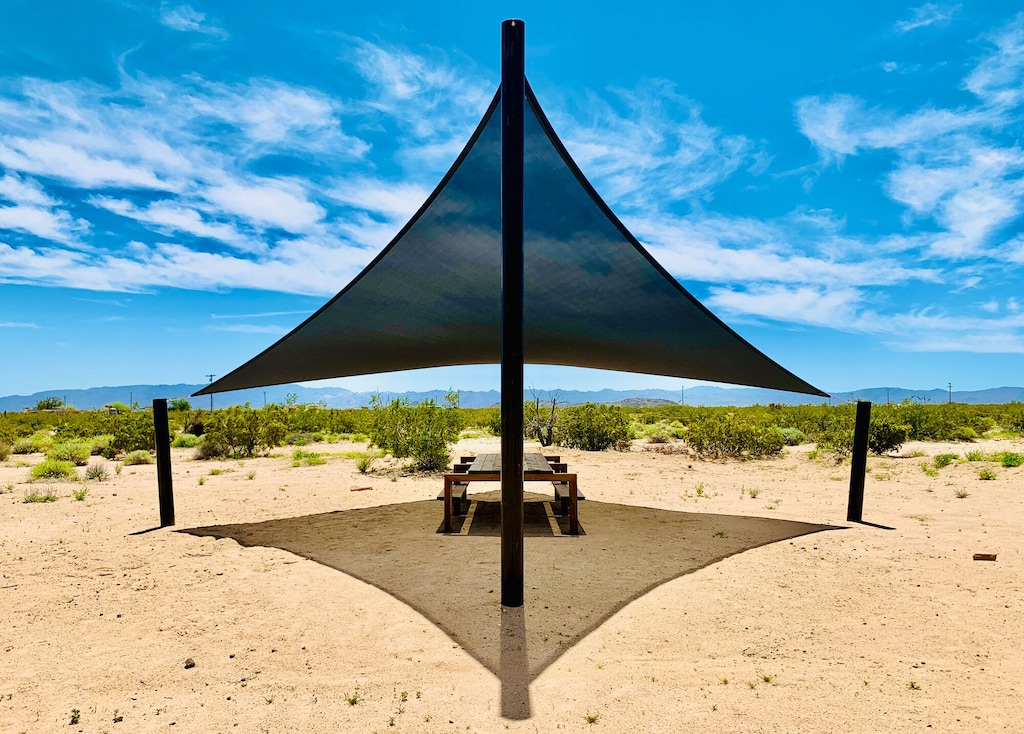 Completely renovated, The Bird's Nest is full of custom designed/built elements & furnishings with a smattering of vintage decor. The house's open floor plan encourages socializing while the completely separate bedrooms ensures nighttime privacy.
The house features vaulted ceilings, concrete floors and modern amenities including central air conditioning & heating, ice maker, dish washer, AirPlay for music, broadband internet with Wi-Fi.
The first bedroom has direct access to patio 1 and a built-in desk if you need to get some work done privately.
The master bedroom has its own private bathroom with tub and direct access to patio 2.
The Birds Nest is located in Joshua Tree, 1.5 km from Lower Covington Flat and 4.2 km from Joshua Tree Visitor Center. It has a garden and free WiFi throughout the property, as well as free private parking for visitors who drive. There is a kitchenette in each bed, as well as a private bathroom. The Maze Loop Trail is 9 km away, and the land is allergy-free.
Air conditioning, a refrigerator, a stovetop, a kettle, a tub, a hairdryer, and a wardrobe are included in the rooms. Each room in the guest house has a seating area.
The Sunset Road House (Hot Tub! Hammocks! Fireplace!)
The Sunset Road House is a newly restored 1952 homesteader cabin located 15 minutes from Joshua Tree National Park's west entrance in Joshua Tree, California.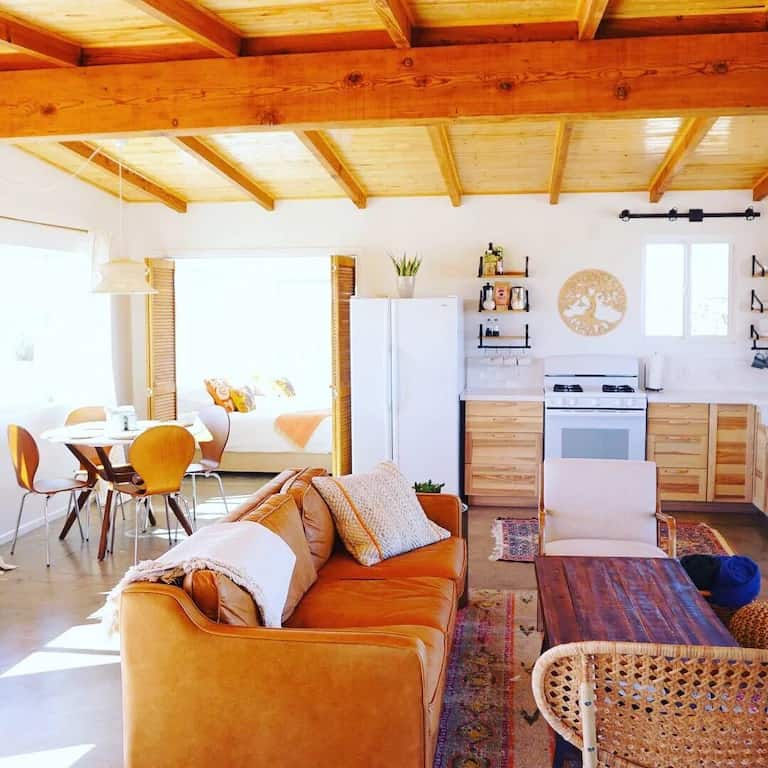 This home is built to encourage visitors to unplug and relax while still having access to all of the modern conveniences. Relax in the hot tub at night while taking in the stunning sunrises and sunsets from the spacious balcony, which is surrounded by open desert views, wildlife, and a starry, starry sky.
"Lucille" Vintage Glamper Hideaway
The holiday home features 3 bedrooms, a flat-screen TV, an equipped kitchen with a dishwasher and a microwave, a
Perched on the Downtown South side in the quaint village of the peaceful artist community known as Joshua Tree sits "Lucille".
A one of a kind 1964 vintage Rolls Royal Glamper, with everything you'll need for a magical escape. Air conditioning, BBQ, fridge, shower, water and toilet. Less than a mile from the Joshua Tree visitors center and just minutes to the gates of the national park entrance. The perfect cozy hideaway where you can stargaze in privacy. Come enjoy our wonderful bnb, and a quiet glamping getaway with "Lucille"!
"Lucille" is located high on the South side of Joshua Tree and is a very short distance to the National Park gates. Our Glamper is an extremely rare 1964 vintage Rolls Royal that has been lovingly taken care of and updated. She is very cozy & clean and surprisingly roomy. We offer free WIFI to all of our guests. High thread count 100% cotton bedding for extra comfort is provided.
Cooking is via BBQ on a stainless steel Uniflame grill with a side burner and there is also a fridge and coffee maker for your convenience. But there are also plenty of delicious restaurants in the area to enjoy. The trailer stays nice and cool with an a/c unit for year round visits, she has an Indoor toilet to use and running water. We have an awesome outdoor tiki-themed shower that is handicap accessible. The grey water from the shower goes into our gardens so we ask that you only use the eco-friendly shampoo and soaps that are provided.
Our Glamper is on a shared property but is in its own private secluded area and is also suitable for tent camping under the starry skies; however, campfires are not permitted. So what exactly is Glamping? Glamping is a term for glamorous/luxury camping so it's like roughing it easy. This is a unique experience that you wont get from just anywhere. Others in the area have tried to mimic our ideas and we realize imitation is the biggest form of flattery, do not be fooled "Lucille" is the original. Come join us for a one of a kind visit.
During your stay, You will have access to a large private secluded fenced in compound of Lucille, the intimate outdoor tiki shower, pergola and BBQ area.
Eclectic Joshua Tree provides air-conditioned accommodation with a patio and free WiFi. The property has garden views.
Dirtbag Z Yurt Tent
This is one of the cheapest Yurts that you can stay in Joshua Tree and it brings a full glamping experience and provides all that you need to for a comfortable stay. Staying here entitles you to a 15" bell tent, table,chairs, propane fire-pit and propane grill, cooking gear, USB charging station, and more. It can fit up to 6 people without limiting your movement inside the tent.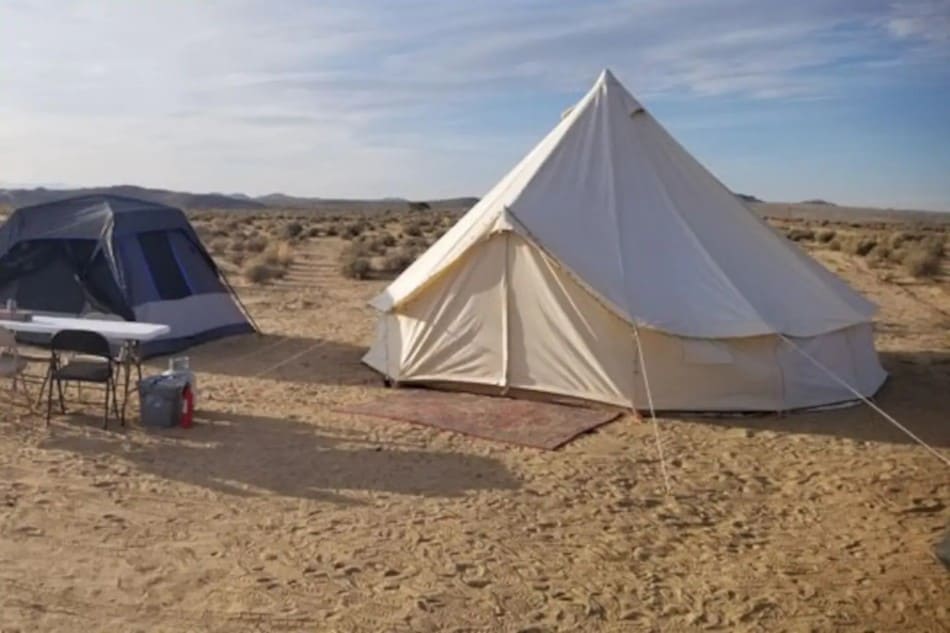 This beautiful campsite can be extremely hot during the day but once the sun goes down, it can be extremely cool. Here you can catch some bats and birds, jackrabbits, and coyote. And it is just 10 minutes away from town if you want to get food and drink supplies.
Romantic hide-a-way for two in our secluded canyon perfect spot
Hawks View House in Joshua Tree is located in a secluded canyon 6 minutes from downtown Joshua Tree. Hiking is available right out the back door, featuring back porch shower, fire pit and amazing views in every direction. A short drive to JTNP.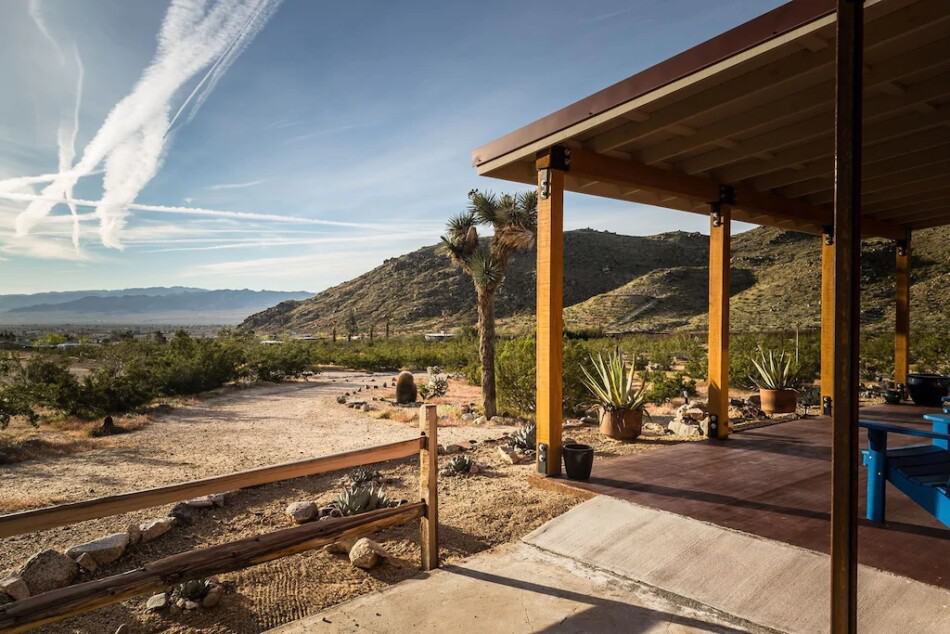 We rebuilt this 1950s Homesteader Cabin from scratch. After jack-hammering and re-pouring the old cement floor, we wood framed inside the original cinder block walls to provide lots of electrical outlets and additional insulation.
Sacred Sands Joshua Tree Retreat
Sacred Sands is located in Joshua Tree, 500 metres from Lower Covington Flat and 6 kilometres from Joshua Tree Visitor Center. It features a garden and free WiFi throughout the house, as well as free private parking for visitors who drive. This property offers luggage storage as well as a terrace to its guests. A patio with mountain views is included in each suite.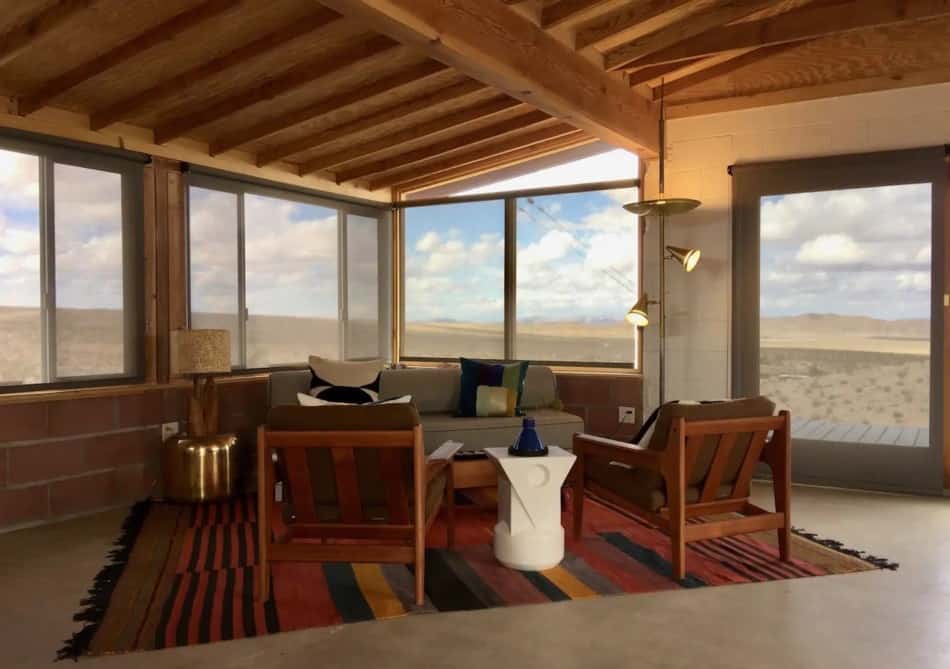 The guest house's rooms have a dining space. Every space at Sacred Sands has air conditioning and a private bathroom. Guests at the hotel will be able to engage in events such as hiking in and around Joshua Tree.
Yurt in Volcano Vortex
Transcend your meditative mind and atone in this 20' yurt, curated in Moroccan theme, set inside a 12 acre portion of a volcano vortex. Wake up to towering view of ancient lava butte, watch the sunsets from the shaded deck, or lounge in hammock under a Joshua Tree. Guests will have access to shower/toilet facility 20' away as well as shaded benches next to the horse arena with BBQ, microwave, and outlets for electronics. The powers of the earth surround you and it's your turn to channel them.
The yurt is sited at the front of the 12 acre property next to the 1 acre horse arena office. The arena office has fridge, microwave, toaster oven, coffee, BBQ and ample shaded seating. Hot shower and toilet are 20' away from yurt. Some cell services like t mobile work here. Otherwise you have to use the wifi by the red house. There is no electricity in the yurt to keep your vibrations elevated. A lantern is provided for light.
What makes this place even more amazing is that it has a heated pool and hot tub where you can soak anytime you want. This place can be extremely expensive for people who are on the budget, but if you don't mind paying for a luxurious space that has all you need, then this place is for you.
Modern Airstream on 12 acres near Pappys & Harriets
Come dream in a 22″ 2019 Airstream at Roadhouse Rodeo on a sprawling 12 acre property ideal for stargazing surrounded by Lava Buttes. Also known as the "Volcano Vortex".Trailer has chilly AC, wifi, heat, shower, kitchen, and Donizetti that converts to 2nd bed. Sleeps 3 comfortably or two adults and two kids. Outdoor seating around propane fire pit for relaxing and dining amongst an open desert filled with Joshua Trees. 10 minutes to Pappy and Harriets and 15 minutes to Integraton and Giant Rock.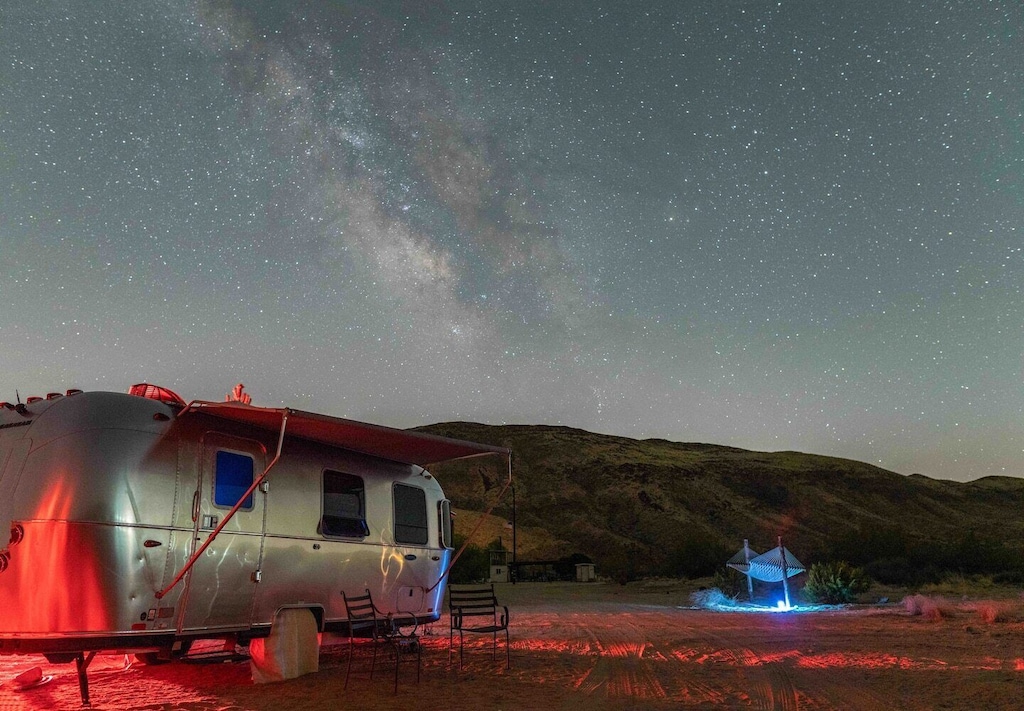 The Airstream features modern amenities such as cooktop, TV with Apple TV, wifi, microwave, radio, dining area, hot water, heater. The dining area folds into a single bed. If using this, ask host for instructions on how to do it
Outdoor Tub ☆ Stargaze ☆ Hammocks ☆ WiFi ☆ Near Joshua Tree Natl Park
Enjoy being only a few minutes walk from Downtown Joshua Tree and a quick 10 minute drive to the National Park entrance, Quail Run is the perfect place to call home for your desert getaway.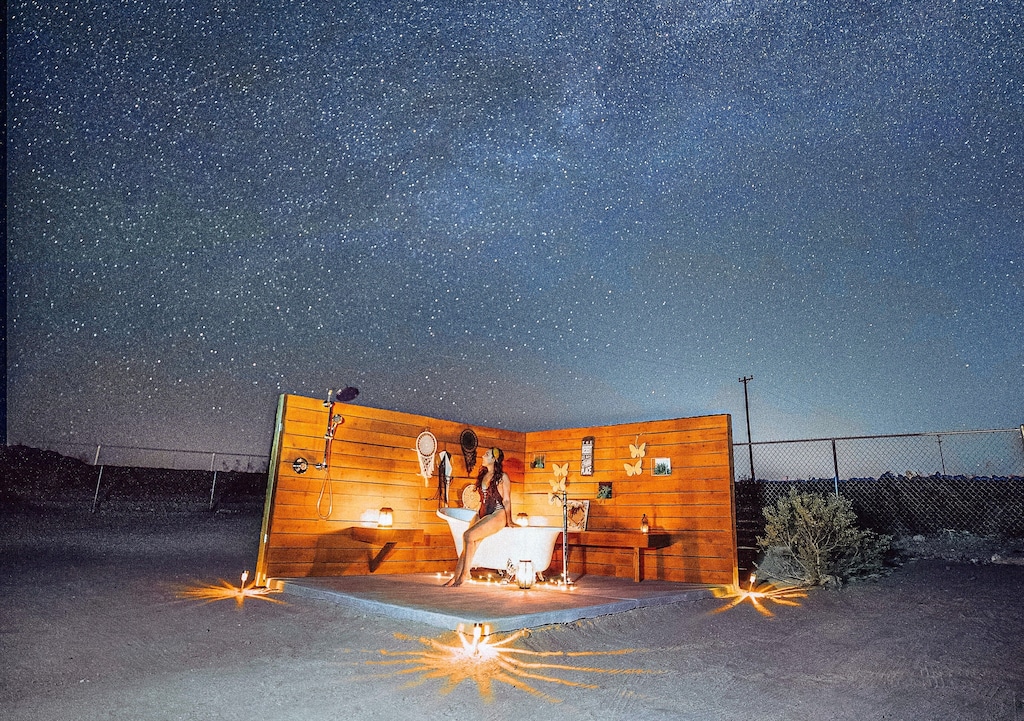 Wake up to mountain VIEWS FROM THE BEDROOM, Sip your morning coffee from the PRIVATE DECK
☆ Relax in the OUTDOOR TUB AND SHOWER after a day of exploring
☆ DINE OUTDOORS under the shade of your PERGOLA
☆ Stargaze while laying in cozy HAMMOCKS
☆ Reliable WiFi to remote work
☆ Fully fenced & gated
☆ 12 and 15 miles to both Joshua Tree National Park entrances (~17 mins)
☆ Fully Equipped Kitchen
☆ Indoor Bathroom with Walk-in Shower
Sacred Sands
Relax and disconnect at this unique and tranquil getaway. Get back in touch with mother nature and your higher self out in the Joshua Tree desert in style. A perfect place to find peace and conduct your sacred ceremony. Light up the fire and enjoy the stars.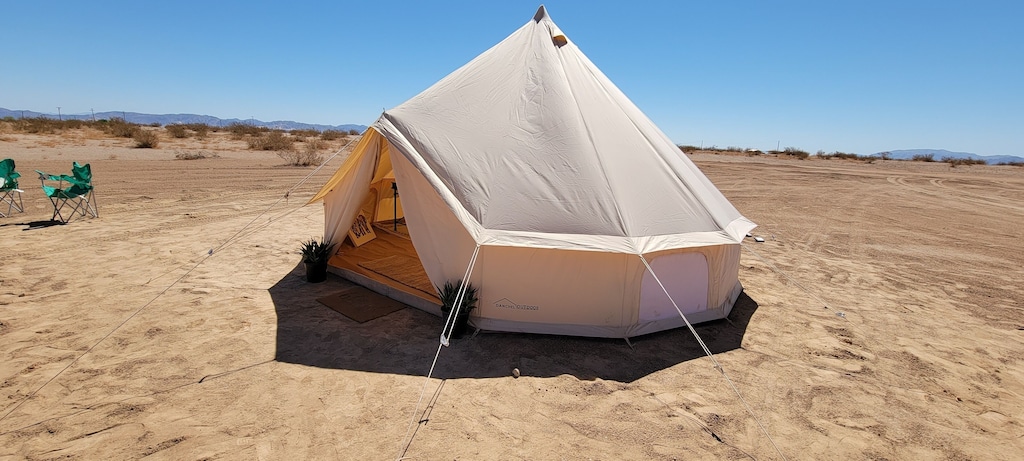 On top of it all, the location of this is very perfect because it is extremely close to the Joshua Tree Park entrance. It has a hot tub that is very clean and the outdoor shower will amaze. This is a very affordable airstream that is totally worth it. 
Recent Posts