Balcony rooms in Las Vegas: Are you looking for hotels in Vegas with balconies? There are several Las Vegas hotels with a balcony to choose from on this list of hotels with balconies in Las Vegas.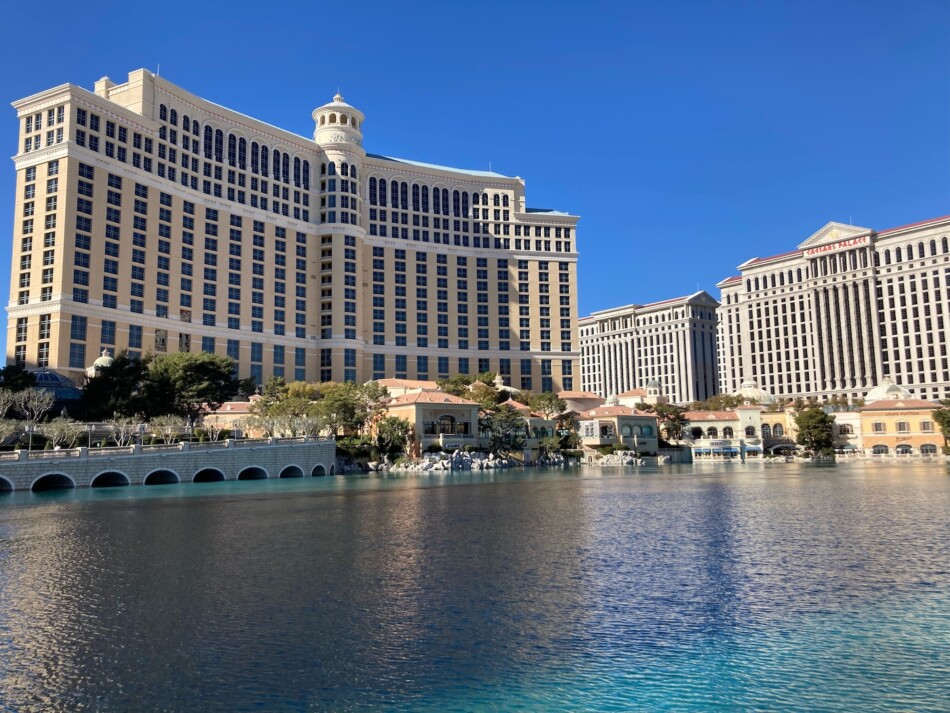 When planning your trip why not consider a Las Vegas hotel with balcony. You're probably going to spend a lot of time indoors so why not choose one of these Las Vegas hotels with balconies so you can spend a bit of time outside.
You can treat yourself to one of these hotels with balconies in Vegas and people-watch along the strip. Use this list of Las Vegas strip hotels with balcony to book the right hotel for you.
Thank you for supporting this website written by an American. This post may contain affiliate links. This means I earn a small commission on these links at no extra cost to you.
15 Best Las Vegas Strip Hotels with Balcony – Suite Las Vegas
Bellagio One of the Top Vegas Hotels with Balconies
The Bellagio is unquestionably a top-rated Vegas Strip hotel with balcony rooms and suites. Because of this resort's excellent location, you'll want to book a balcony room with views of the entire Strip, which is particularly beautiful at night.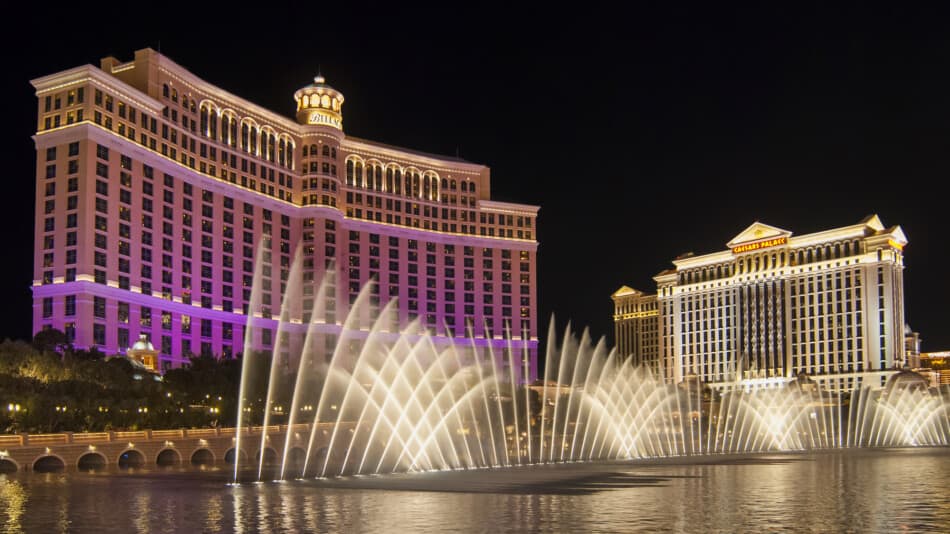 The Bellagio hotel includes what they call "Lakeview Suites" with balconies that can be booked. If you're traveling with a group or simply want more space, there are some one-bedroom units as well as some with two bedrooms.
The lavishly designed rooms at the Bellagio feature a flat-screen satellite TV and smart curtains. Soft bathrobes, a minibar, and an iPod docking station are also included.
You can relax in one of Bellagio's five stunning courtyard pools or take a stroll through the lush botanical grounds. Among the many dining options are Sadelle's, Prime Steakhouse, and the Mayfair Supper Club. Several premium boutique shops are also located within the hotel.
Best of all, you can enjoy the Bellagio Fountains from the comfort of your room by looking out your balcony. From above, the water show appears to be spectacular.
The resort also has five courtyard pools, as well as big, luxury suites, dedicated personnel, and room service. The spa, fitness center, and botanical gardens are just a few of the additional attractions available at this Vegas hotel.
Since the Bellagio is one of the best hotels in Las Vegas for all of these reasons, make your reservations early.
Tropicana Las Vegas hotel with balcony
The Tropicana Las Vegas offers quiet and perfectly clean Las Vegas balcony rooms. It offers beautiful views and a relaxing atmosphere and is located on the southern end of the Strip.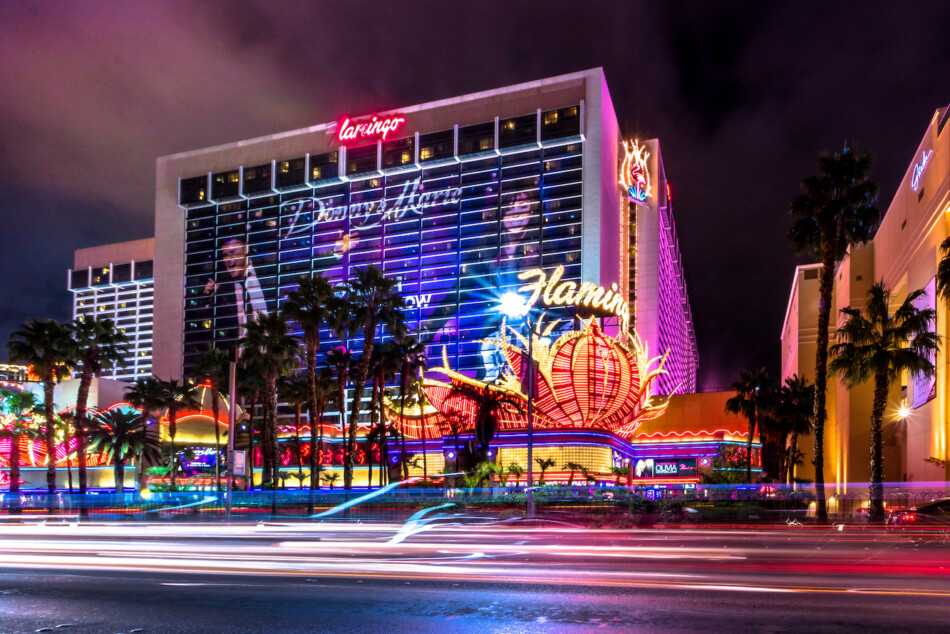 This hotel and Resort, has a 50,000-square-foot casino, multiple award-winning restaurants, a lush pool with waterfalls and whirlpools, a spa, and a fitness center.
The rooms with balconies in Las Vegas at this hotel are decorated in warm tropical colors and feature a 42-inch LCD TV and plantation shutters to create a tropical South Beach ambiance. The on-site salon offers skincare services to guests. Over 50 different services are available at the spa.
The Tropicana is also home to award-winning restaurants and all types of entertainment, including a large on-site casino, in addition to being one of the best Las Vegas hotels with a balcony.
Make sure to visit the Laugh Factory comedy club, dance your worries away at the nightclub, or relax on your balcony while using the free in-room Wi-Fi. You can also book a treatment at the spa or have a drink at the poolside bar if you prefer something more low-key.
Moreover, Tropicana offers a few different rooms with balconies overlooking their tropical pool complex, though they are not overlooking the bright lights of the Strip. On booking platforms and when booking directly with the hotel, balcony rooms are marked as such.
Polo Towers by Diamond Resorts – One of the best hotels in las vegas strip with balconies
Polo Towers by Diamond Resorts is a budget-friendly hotel with plenty of amenities and services. It offers relatively affordable balcony rooms and suites in Las Vegas.
Studio, one-bedroom, and two-bedroom accommodations are also available. Each of these alternatives offers some rooms with balconies, so make sure to request one when making your reservation.
A variety of spacious suites with individual bedrooms, a kitchenette, and a balcony are available. Two outdoor pools, a hot tub, an on-site spa, and a fitness center are available on-site. In addition, the attentive personnel at the front desk can assist you in arranging transportation and sightseeing tours to nearby attractions.
Polo Towers is one of the nicest hotels near the Las Vegas airport, yet it's still only a 10-minute walk from several popular attractions, including the MGM Grand. Because the mountain and city views from this hotel are incredibly stunning, you'll want to reserve an in-room balcony
If you want a hotel that isn't quite so expensive and offers rooms with balconies with stunning views, you'll want to take a look at the Polo Towers.
The Signature at MGM – Las Vegas Hotels with Terrace
Many of the rooms at The Signature at MGM Grand, which is located behind MGM Grand and just off the Las Vegas Strip, have balconies.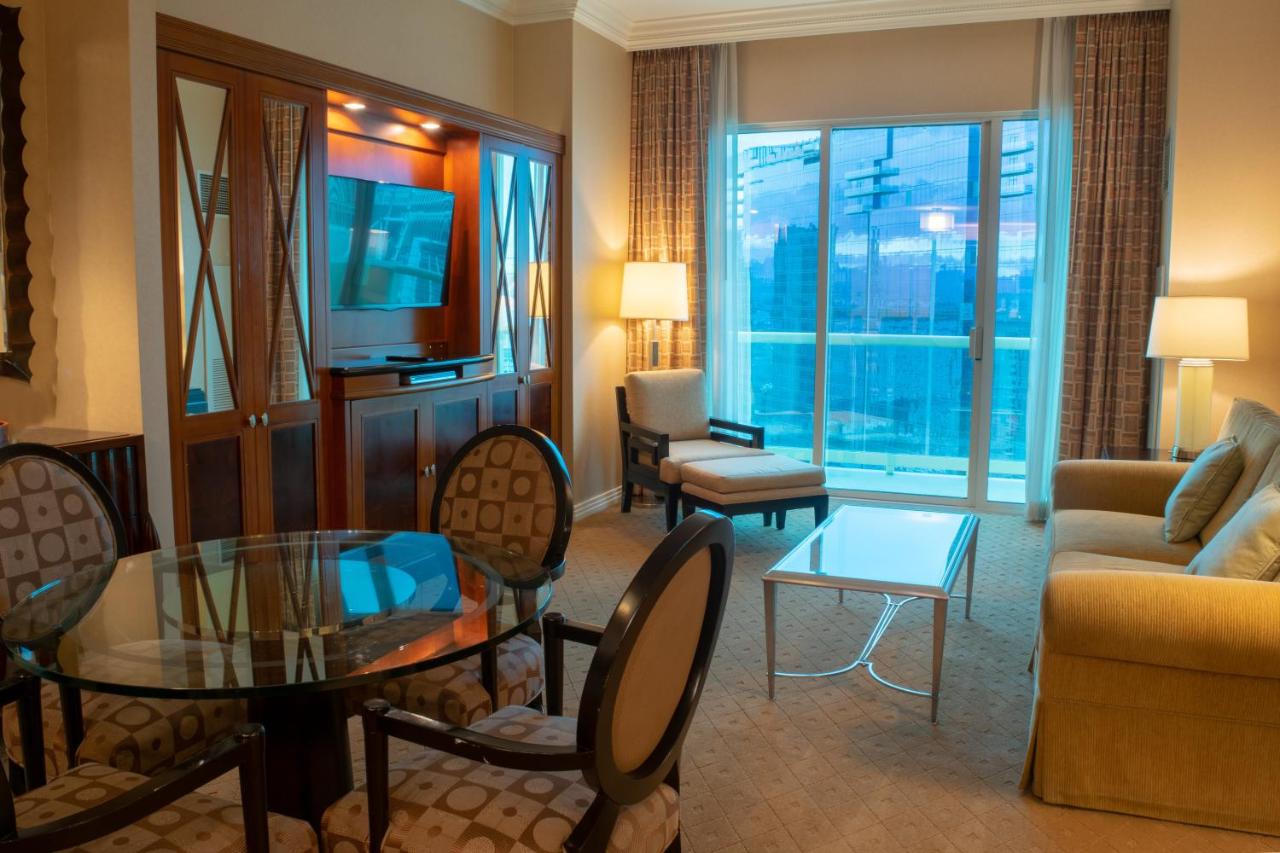 It will be difficult to leave your suite at The Signature at MGM Grand! The on-site amenities will keep you comfortable and relaxed as this is one of the most luxurious Vegas hotels with a balcony.
Enjoy a relaxing dip in the pool in one of the three outdoor pools, a workout in the on-site gym, or a rejuvenating bath in your room's whirlpool spa tub. There are also in-room massages available, so book a room with a balcony view of the Strip for the ultimate getaway.
Book the deluxe balcony suite to relax in front of a floor-to-ceiling window or step out onto the balcony behind it. Stay in a deluxe balcony Strip view suite for a view of the Strip lights from the MGM Grand.
The one-bedroom balcony suite is nearly twice as big as the other rooms, and it comes with a balcony with panoramic views. You can also upgrade to a room with a Strip view and relax in the open air while sipping a cocktail.
Although the MGM Grand Casino and Topgolf are both within walking distance, the Signature at MGM Grand is a beautiful Las Vegas hotel without a casino. This Vegas Strip hotel with balconies is a good choice for couples and families because of its spacious suites, variety of amenities, and a pet-friendly policy.
New York New York – balcony suites in Las Vegas
The New York-New York resort is another popular Las Vegas hotel with balcony suites. This is an excellent choice for families because there is something for everyone, regardless of age.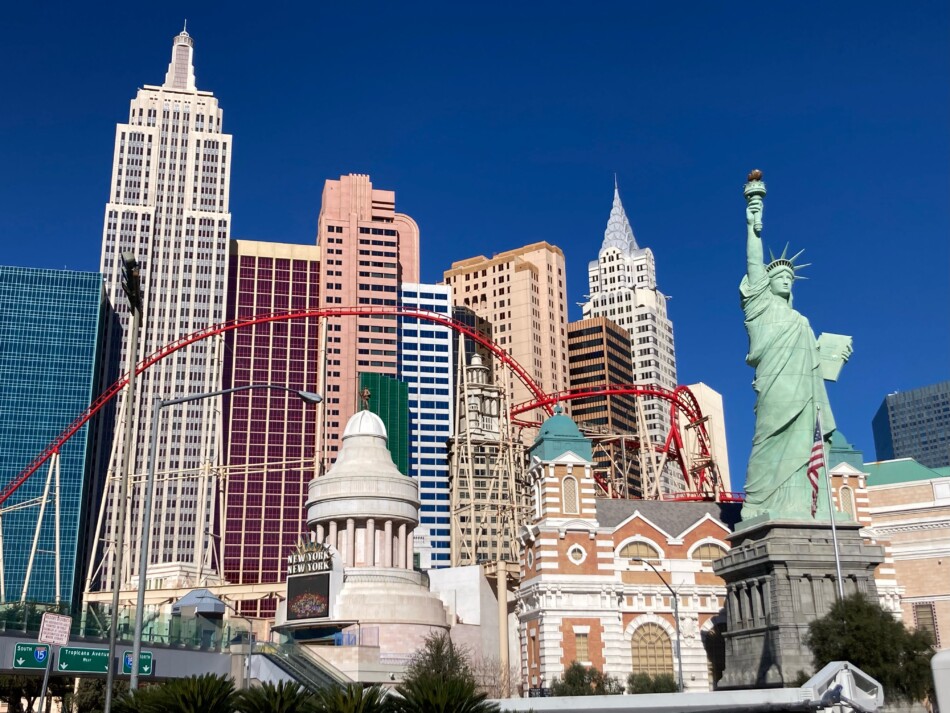 New York New York contains a 150-foot replica of the Statue of Liberty, as well as a cutting-edge casino, a 180-degree adrenaline-pumping roller coaster, live entertainment, and a variety of restaurants.
At this Vegas hotel, the spacious rooms are clean and modern, with a flat-screen cable TV and a work desk, and you can select from a range of balcony rooms. There is a safe in each room, as well as granite bathrooms. This is also one of Las Vegas' coolest hotels. Although the property itself has all you need, the resort provides easy access to everything.
There are more than a dozen restaurants on-site, as well as live entertainment, a gym, massage, and salon, and an outdoor pool with private cabanas. Since the casino is separate from the main hotel, it is safe and quiet.
The Big Apple Coaster and arcade are two of the top things to do in Las Vegas for the younger demographic. This City Pass also includes access to the roller coaster.
Palms Place Hotel and Spa – one of the Best Hotels with Private Balconies in Las Vegas
Check out Palms Place for a more subtle yet equally spectacular experience. On the 51st floor of this Vegas hotel, you will find balcony accommodations with spectacular views of the city and the Strip.
Palms Place is the farthest away from the Strip of all the Las Vegas hotels with a balcony or terrace, but this allows you to enjoy a truly relaxing and peaceful stay.
The contemporary guest rooms at the Las Vegas Palms Place Hotel and Spa feature floor-to-ceiling windows, a kitchenette, and an all-marble bathroom. Each room has a 42-inch plasma flat-screen TV and complimentary Wi-Fi.
Further, guests can also relax in the coed hammam or Turkish bath. The seasonal and contemporary 50,000-square-foot pool is located on the 6th floor and features waterfalls and stone gardens.
Palms Place features an on-site gym, wellness lounge, steam room, and Turkish baths, as well as massage services. On the roof, there's a heated pool where you can unwind and take in the sights while sunbathing on the sundeck or at the poolside bar.
There is also an attached casino where you can play table games and slots if you want to have some typical Vegas fun.
Platinum Hotel and Spa – Largest Las Vegas hotels with balcony
One of the most impressive Vegas hotels with balcony rooms is the Platinum Hotel & Spa. It's a tranquil non-gaming resort just a block from the Strip where you can relax and enjoy your vacation.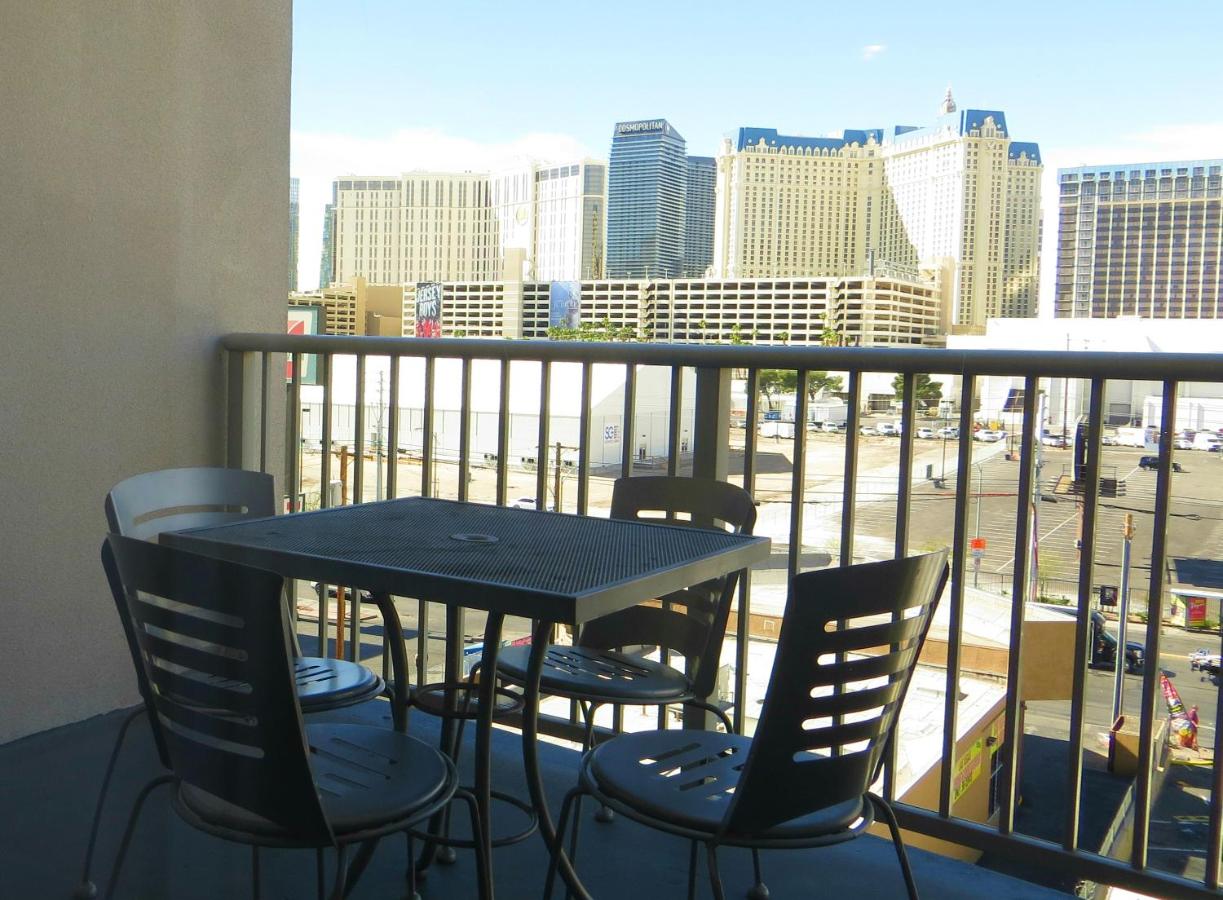 The Platinum Hotel and Spa is a non-smoking, non-gaming facility and has indoor and outdoor heated pools. A full kitchen and a private balcony are included in the suites.
The spacious guest suites feature a sofa bed and a 42-inch flat-screen cable TV. There is also safe deposit boxes available and complimentary Wi-Fi. Free parking and a modern fitness center are available to guests, ensuring that they have everything they need for a comfortable stay.
In addition, Platinum offers spotless full-suite accommodations and is one of Las Vegas' best pet-friendly hotels, making it perfect for the whole family. From your private walk-on balcony, take in the stunning views of the Strip.
The Bellagio Fountains, the Paris Hotel's Eiffel Tower, the High Roller, and other renowned Vegas sights can all be seen from your hotel.
Club de Soleil All-Suite Resort in Las Vegas with Balcony
The Club de Soleil All-Suite Resort is another outstanding Vegas hotel with balcony rooms. The Club de Soleil All-Suite Resort is a wonderful choice for visitors to Las Vegas, offering a family-friendly setting as well as a variety of helpful features to make your stay more enjoyable.
Club de Soléil, located in the heart of Las Vegas, offers a taste of a luxurious European lifestyle. They are located on West Tropicana Avenue, just a few minutes from the world-famous Las Vegas Strip.
This Mediterranean-style resort has a lovely outdoor pool and offers a free shuttle to the Las Vegas Strip. The Club de Soleil All-Suite Resort's relaxing suites include cable TV, a microwave, and a refrigerator. A coffee maker, a DVD player, and a kitchen or kitchenette are also available.
At Club de Soleil, you can unwind in the hot tub, work out in the fully-equipped fitness center or enjoy the view from your balcony.
Nobu Hotel at Caesars Palace
There are no traditional balconies in the rooms at Nobu, although there are penthouse suites with balconies.
The patio is on the second floor of these penthouse suites, which have two stories. Head upstairs and outside to enjoy the desert sun or the brilliant lights of the Las Vegas Strip through a winding staircase. This feature will astound you, and you'll want to invite others over to see it for themselves.
Furthermore, a large number of ordinary suites feature views of extremely modest, balcony-themed areas. The sculpted columns that can be seen through your windows offer a touch of ambiance to your already stunning vista.
This Las Vegas hotel features an outdoor pool, a casino, and a restaurant at a prime location on the Las Vegas Strip. The hotel offers modern rooms with complimentary Wi-Fi.
Each air-conditioned room at Nobu Hotel at Caesars Palace comes with freshly prepared hot tea upon arrival, as well as a 55-inch flat-screen TV, an iPod docking station, and free Natura Bisse amenities in the en suite bathroom. Room service is available. Each accommodation also comes with priority reservations at Nobu Restaurant.
The Nobu Hotel at Caesars Palace Las Vegas has high-end stores on site, in-room massages, and numerous body treatments in the spa, as well as a sauna.
The Mirage
The Mirage features numerous rooms with balconies, but the Lanai and Villa rooms are the most luxurious and exclusive.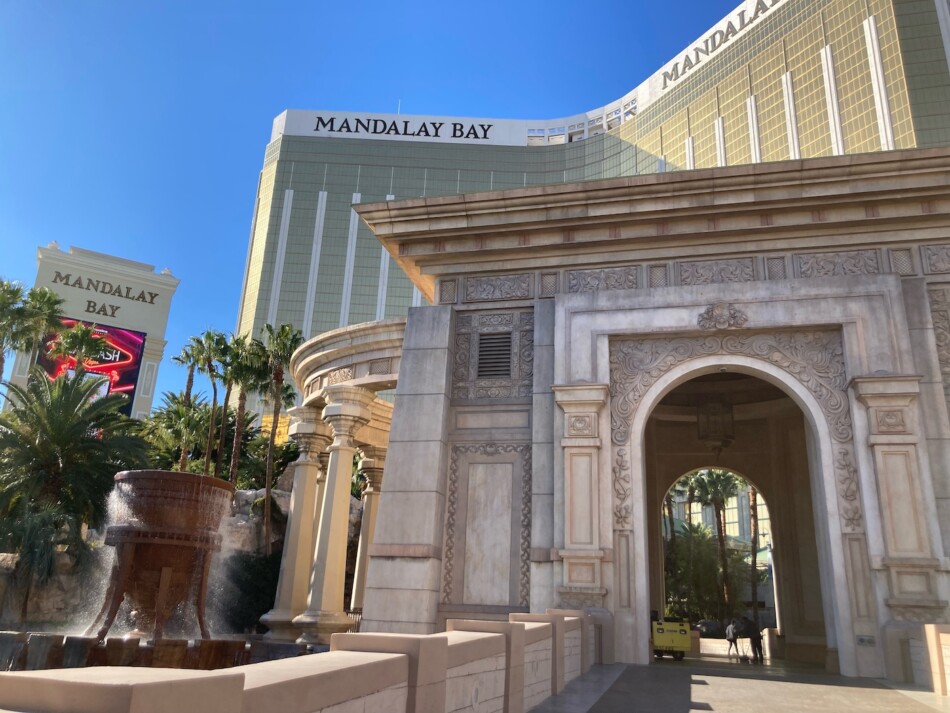 This lovely resort is a tropical oasis in the heart of Las Vegas, complete with a unique dolphin and wild animal habitat. Among the amenities are large pools, a full-service casino, and a spa.
The Mirage's guest suites have a 42-inch flat-screen cable TV and contemporary design. It has a variety of restaurants, including Tom Colicchio Heritage Steak and Osteria Costa Restaurant, both of which serve gourmet cuisine. Guests are also served casual meals at the Pantry restaurant.
On the premises, there are various bars and lounges. Among the hotel's other popular features are a full-service casino, spa, salon, celebrity chef restaurants, boutiques, and stores.
Recent Posts