11 Best Las Vegas Hotels Without Resort Fee
Hotels without Resort Fees Las Vegas: Are you looking for Hotels in Vegas without resort fees? There are so many hotels on the Vegas strip without resort fees even some nice cheap hotels in Las Vegas no resort fee.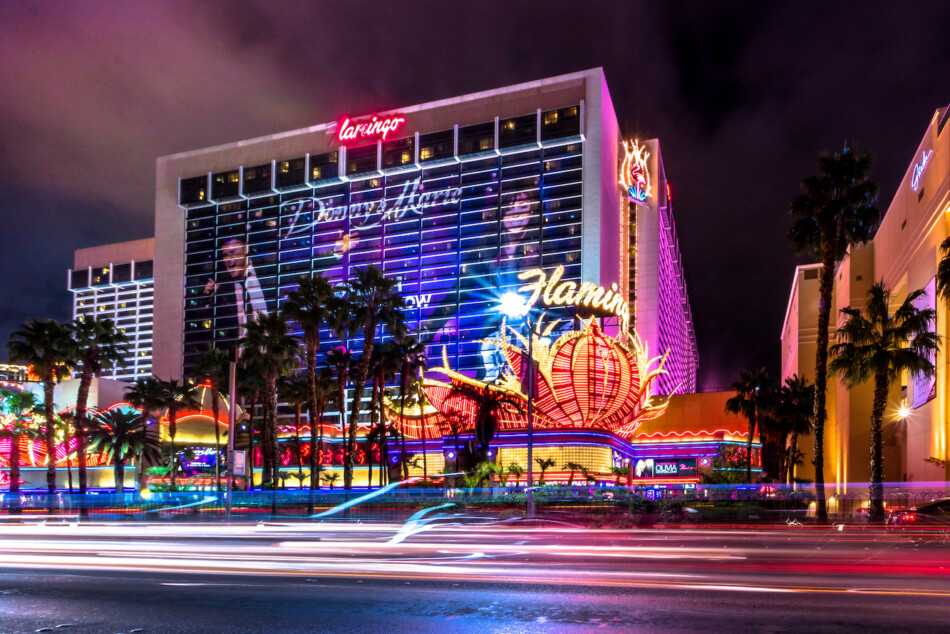 Do all hotels in Las Vegas charge a resort fee?
No, there are several hotels in Vegas that do not charge a resort fee. To avoid a resort fee you can stay at one of these hotels in Vegas without resort fees. There are several hotels on the strip that do not charge a resort fee such as Tropicana and many others.
Thank you for supporting this website written by an American. This post may contain affiliate links. This means I earn a small commission on these links at no extra cost to you.
11 Best Hotels in Vegas without Resort Fees – On and Off the Strip
Here are the Top 8 Best Hotels without Resort Fees in Vegas
Virgin Hotels Las Vegas – One of the no resort fee hotels in Las Vegas
The popular hotel chain has opened a site on the strip in Las Vegas, which is getting increasingly popular.
The 4-star Curio Collection by Hilton Virgin Hotels Las Vegas combines a superb modern ambiance and decor with iconic Las Vegas entertainment.
Virgin Hotels Las Vegas is a 2-kilometer walk from the Las Vegas Strip and features eight restaurants and free WiFi.
This hotel, which is ideally located on the East Las Vegas Strip, offers a 24-hour front desk, room service, and currency exchange to guests.
Each of the hotel's guest rooms features a television and a bathroom with a hairdryer. All rooms at this hotel include air conditioning and a wardrobe. Several leisure facilities are available on-site, including The Bar at the Commons Club.
Five swimming pools, a variety of restaurants ranging from Japanese to Thai street food, a spa, gym, sports bar, casino, and even a hair salon are among the on-site amenities. The guest rooms are exceptionally great, with a few special touches.
Tropicana Las Vegas – One of the Top Vegas hotels without resort fees
The Tropicana Las Vegas offers calm and clean balcony rooms in Las Vegas. It is positioned on the southern end of the Strip and offers great views and a relaxed ambiance.
A 50,000-square-foot casino, multiple award-winning restaurants, a lush pool with waterfalls and whirlpools, a spa, and a fitness center are all available at this hotel and resort.
To create a tropical South Beach ambiance, each room is furnished in warm tropical colors and includes a 42-inch LCD TV and plantation shutters. Guests can get skincare services in the on-site salon.
In addition to being one of the best Las Vegas hotels, the Tropicana is home to award-winning restaurants and all forms of entertainment, including a massive on-site casino.
Visit the Laugh Factory comedy club, dance your problems away at the nightclub, or unwind on your balcony while enjoying the complimentary in-room Wi-Fi. If you prefer something more low-key, consider treatment at the spa or a drink at the poolside bar.
Desert Rose Resort – Top Vegas Hotels without resort fee
Desert Rose Resort is a non-gaming resort located just one block from the famed Las Vegas strip. Desert Rose in Vegas offers lovely, fully equipped rooms without a resort fee, so it's worth a look.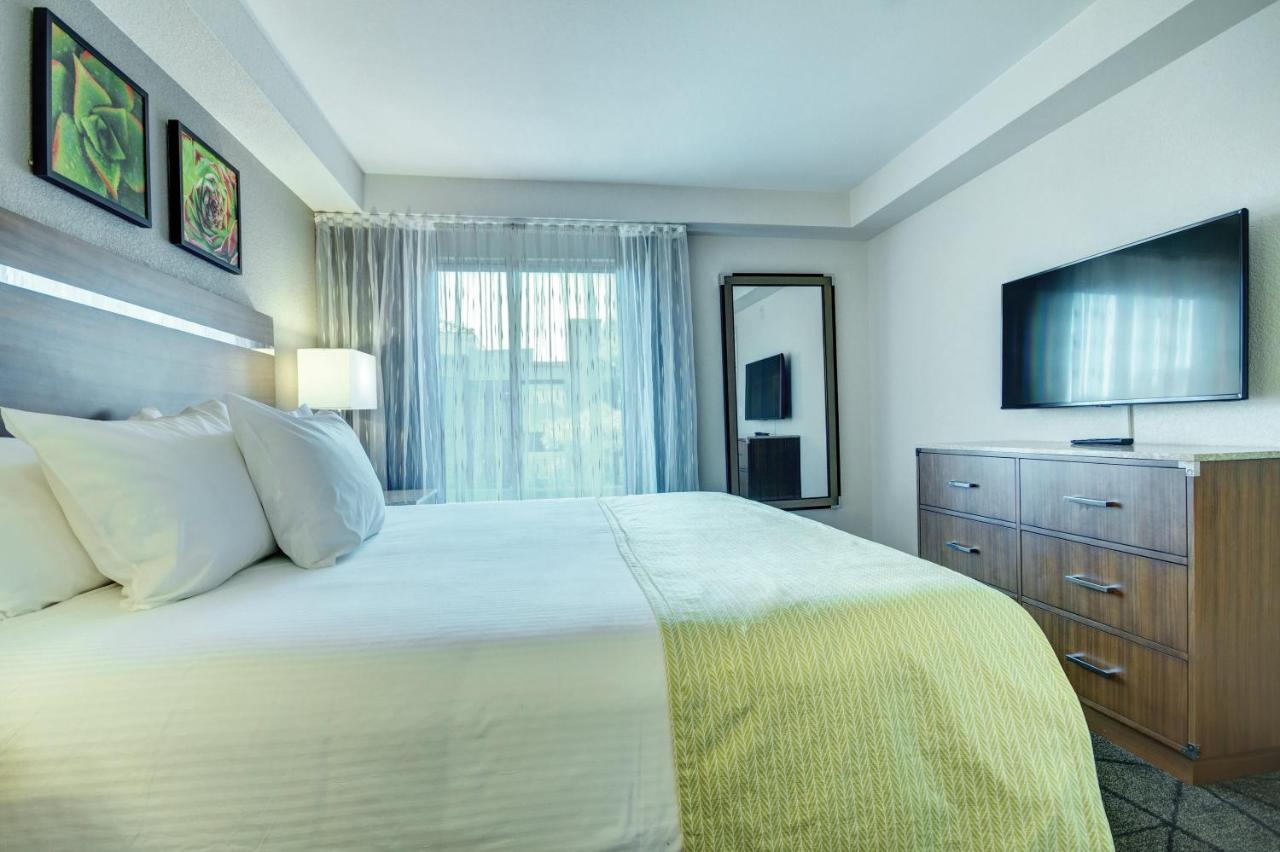 It's a little off the Strip, so you'll get some peace and quiet, plus it's one of the top hotels near the Las Vegas airport, so the location is perfect.
While this hotel is away from the hustle and bustle of the Strip, it is close to Mandalay Bay, making it easy to get to all the fun.
Enjoy the outdoor pool and hot tub, or catch some rays on the sun deck or in-room balcony when you want to unwind. On-site laundry facilities, in-room minibars, and full-service kitchens are just a few of the amenities available at Desert Rose.
Desert Rose offers a lot of features for a Vegas hotel without resort fees. This non-gaming resort has one and two-bedroom suites that can accommodate four to eight people comfortably.
This is the hotel to stay at if you're a family, traveling with a group of friends, or in town for a bachelor/bachelorette party and doesn't want to pay resort fees. Free WiFi, balconies and patios, better linen, and other amenities are also provided.
It's very clean and peaceful, and it's a fantastic value for money!
Four Queens Hotel and Casino – no resort fees Las Vegas
Four Queens Hotel and Casino, located in the center of Fremont Street in downtown Las Vegas, offers high-quality, typical Las Vegas gaming and entertainment.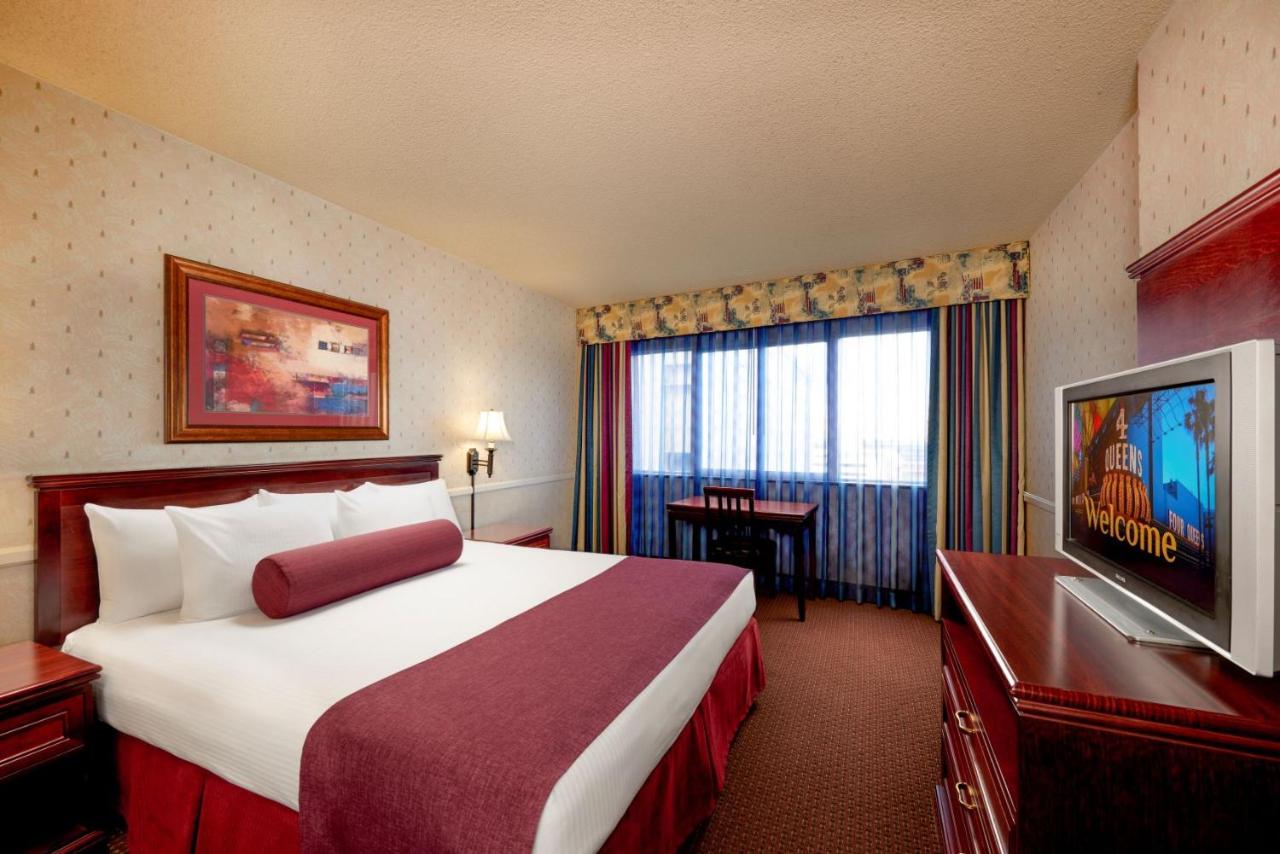 Without resort fees, Four Queens is one of the coolest Vegas hotels on the Strip which includes many fun things that are included in the City Pass (the best CityPass in Las Vegas).
You can get a good night's sleep here, gamble at the casino, or take in the sights and sounds of the area. Since the 1960s, Four Queens has been a Vegas fixture, offering luxury rooms and suites with stunning views of Las Vegas Boulevard.
It has air-conditioned rooms with in-room safety lockers, as well as a coffee maker and a hand dryer. This hotel also offers a variety of card games such as roulette and three-card poker, as well as a variety of on-site restaurants to meet your food needs and a seasonal outdoor swimming pool for your enjoyment.
Because of the rich linens and cozy accommodations, it's also a favorite resort for couples. Book a reservation in Hugo's Cellar, the hotel's romantic restaurant, or go for a more relaxed meal at Chicago Brewing Company or the Patio Bar.
There are no resort fees at this high-end Las Vegas Strip hotel, which also boasts an outdoor pool and a fitness facility. It's also a top Las Vegas hotel with complimentary parking.
Best Western Plus Casino Royale – One of the best Cheap Hotels in Las Vegas without resort fee
The Best Western Plus Casino Royale in Las Vegas is another fantastic hotel that does not charge a resort fee.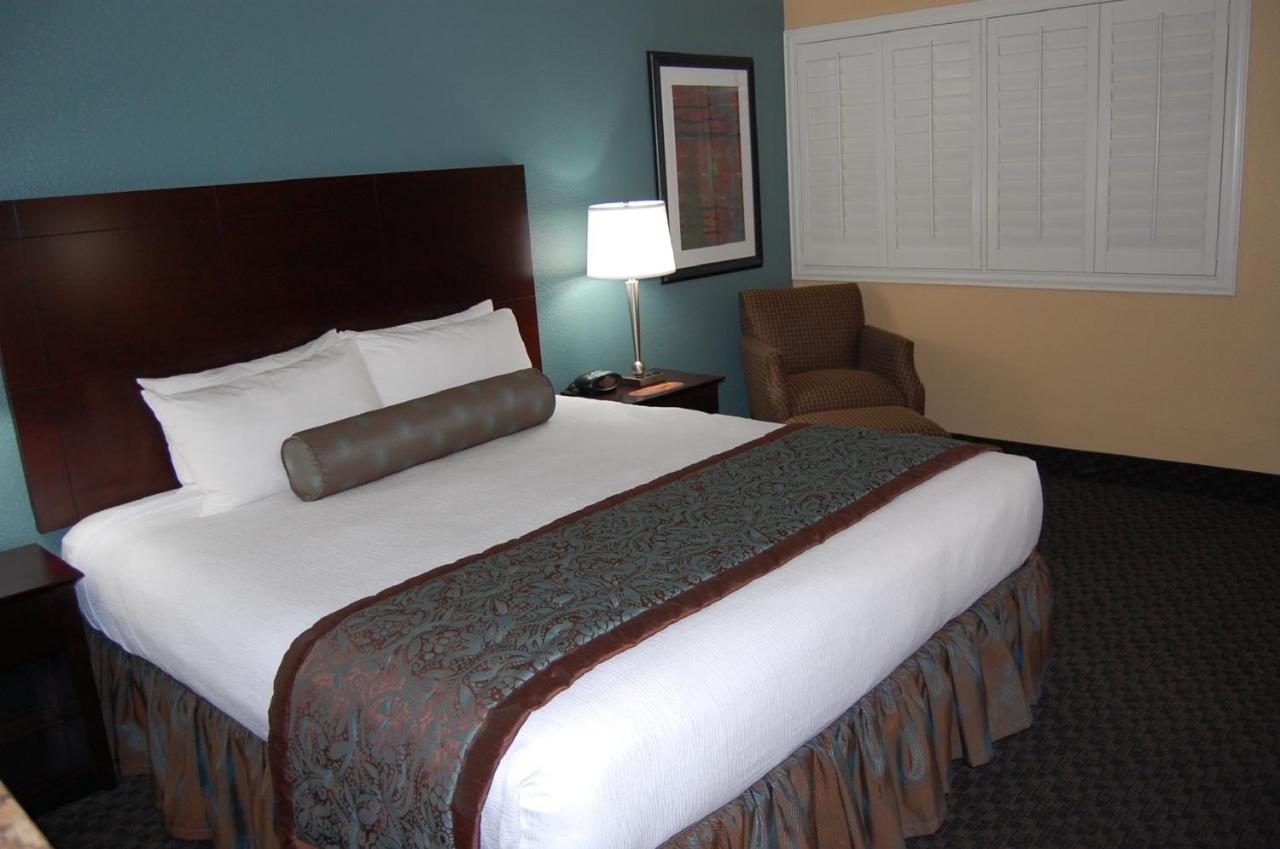 Many popular Las Vegas attractions are easily accessible by foot thanks to the hotel's handy location. You can even cross the street to visit the Mirage volcano, which is one of the top free things to do in Las Vegas.
This hotel also provides free parking, so you won't have to worry about your vehicle while you're out having fun in Sin City. This Best Western hotel features an on-site casino, as well as an outdoor heated pool and 24-hour fitness facility, so you're never more than a few feet away from a good time.
Wi-Fi is available in peaceful, refurbished rooms, and you may walk downstairs to one of the restaurants or the cocktail lounge.
Give this one a try if you're looking for a hotel in Vegas that doesn't charge resort fees but still has all of the best amenities.
Embassy Suites by Hilton Las Vegas hotels without resort fee
The Embassy Suites Convention Center in Las Vegas is an all-suite hotel with no resort fees and a variety of family-friendly features.
This Hilton hotel is ideal for families, dogs, and couples traveling together, and it's just minutes from the Strip.
There are no resort fees, and you may make use of a free scheduled shuttle service to local attractions such as the Convention Center and the Strip Monorail.
This hotel also has an indoor pool, a fitness center, an outdoor hot tub, and a sundeck, making it one of the few in Las Vegas with such amenities.
A 6-story atrium, Starbucks Coffee, complimentary cooked-to-order breakfast, the quiet and comfortable Three Palms Cafe restaurant, and the Coconut Lounge corner bar serving exquisite beverages are among the hotel's amenities.
Remember to attend the evening manager's reception, which will include complimentary snacks, appetizers, and beverages.
Enjoy complimentary breakfast and in-room Wi-Fi, and don't be afraid to inquire about attraction tickets and bargains from the friendly staff. If you're looking for a non-gaming Vegas hotel that doesn't charge resort fees, this is the place to go!
Club Wyndham Grand Desert – A Great Option for hotels in Las Vegas without resort fees
The Club Wyndham Grand Desert Resort is located on Harmon Ave, close to several of Las Vegas's most popular attractions.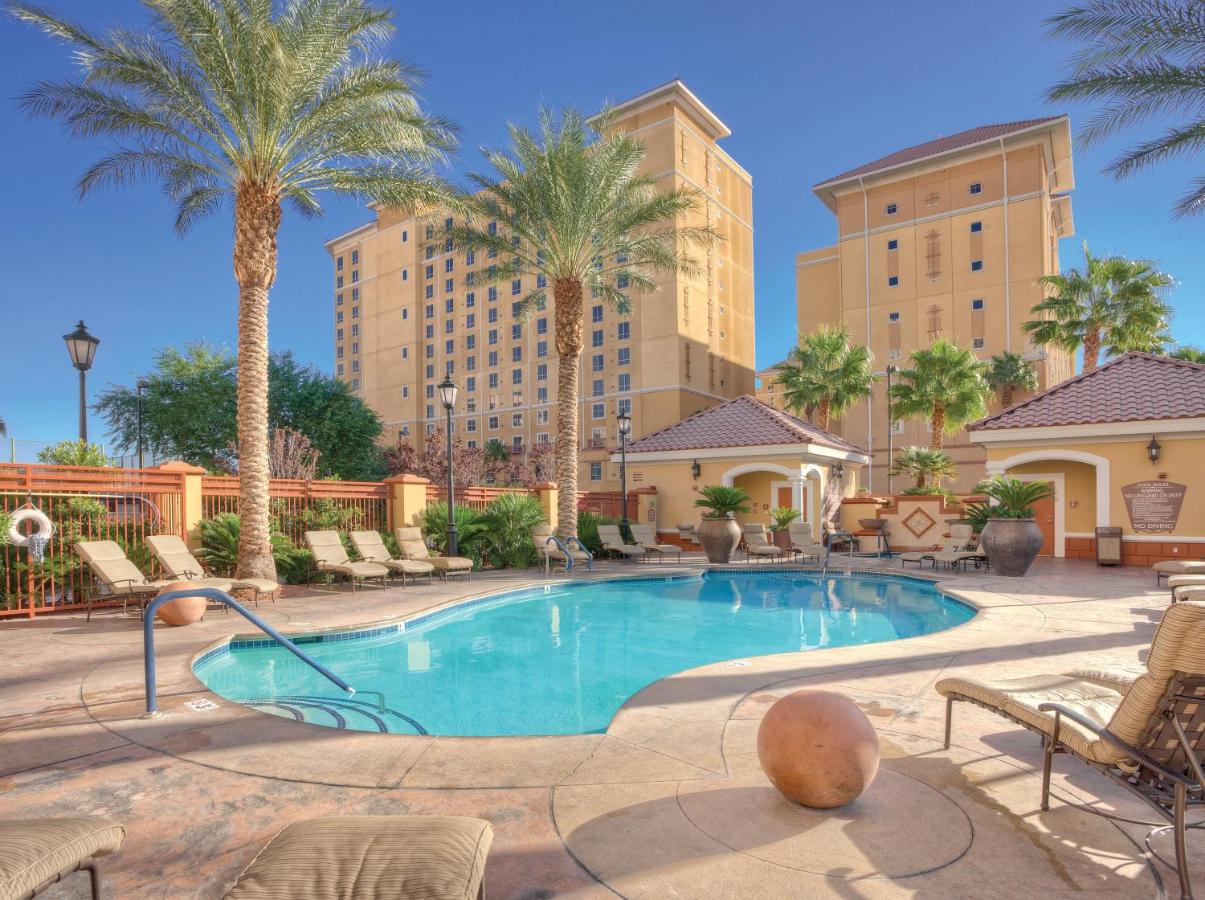 The suites are excellent for parties traveling together, as many of them sleep up to eight people. The majority of their suites are also prepared for people who require assistance with mobility, vision, or hearing.
One- and two-bedroom suites with a full kitchen, washing, dryer, dining area, and other amenities are available. Instead of a standard hotel room, you'll have a condo-style experience.
The hotel itself has a lush desert aspect about it. There's an outdoor pool, a fitness center, a hot tub, free parking, free WiFi, and an onsite lounge, and it's one of the few Las Vegas hotels without a resort fee that's also kid-friendly.
Travelodge – hotels in Las Vegas Strip without resort fee
Another affordable hotel in Vegas is the Travelodge by Wyndham Las Vegas Center Strip, which does not charge resort fees.
Don't be fooled by the low prices; this is a comfortable and clean hotel that will fit singles, families, and couples.
It's difficult to top the location: it's directly across the Strip from the Aria hotel, and Planet Hollywood is just over Harmon Avenue.
It's also only a half-mile from the Bellagio Fountains, Caesars Palace, and other well-known Vegas resorts.
Enjoy complimentary parking and free in-room Wi-Fi, as well as on-site laundry facilities for longer stays. Discount attraction tickets and sightseeing assistance are available 24 hours a day, at the 24-hour reception area.
After spending some time on the Strip, return to the hotel and relax in the pool or a poolside cabana. In addition, some suites feature balconies. With its wonderful location and low rates, it's hard to believe this Vegas hotel doesn't charge a resort fee, so book now!
Recent Posts