Merrell vs Keen Hiking Shoes: Comprehensive Guide to finding the right Hiking Shoes for you.
Which is better Keen vs Merrell: Choosing the right hiking shoes for you is a very personal thing. Choose the wrong one and you will be in pain and not able to enjoy yourself on the trails.
That's why I've put together this comprehensive guide to Merrell vs Keen Hiking Shoes.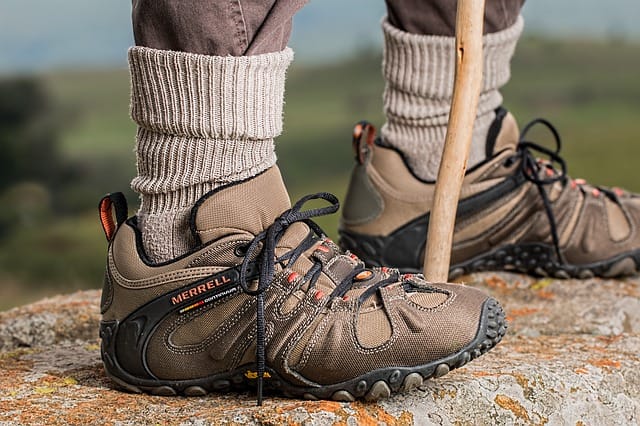 I've listed out the unique features of both Merrell and Keen and compared the most popular hiking shoes of each brand.
I hope you find this helpful in deciding between Keen vs Merrell and that you find the right hiking shoe for you! I've also scoured the internet to find the best price on each shoe so you know you are getting the best deal.
TLDR: If you decide on Merrell, this is the best men's hiking shoe and this is the best women's hiking shoe.
If you decide on Keen, this is the best men's hiking shoe and this is the best women's hiking shoe.
These are the hiking sandals that I use as I mainly hike in warm weather. They also come in the men's sandals.
Thank you for supporting this website written by an American. This post may contain affiliate links. This means I earn a small commission on these links at no extra cost to you.
Background on Merrell
From kicking up dust to climbing up mountains, Merrell Shoes have been designing and manufacturing custom boots for a small group of outdoor enthusiasts over three decades ago. Founded by Randy Merrell who started with a custom pair of cowboy boots to eventually trying his highly skilled hand at making hiking boots.
From their very first custom made hiking boots, they make their products while keeping in mind the four core values: comfort, durability, design, and versatility. They believe that doing what you love should feel good both mentally and physically and the design of the Merrell gear should be made and perform right.
Today, Merrell stands for durable and high-performance products that will really last even for decades. And they build their gear to hold up even in the harshest conditions without sacrificing comfort.
Background on Keen
Keen Shoes began as a mutual love of sandals and sailing by Martin Keen who founded the brand. Keen had worked as a shoe designer for big names in the shoe industry like Saucony and Timberland, so he created a hybrid shoe that would be comfortable to wear on his boat and in the outdoors.
Keen's new shoes became an instant success so they debuted in 2003 at a shoe trade show and were hailed as the "Launch of the Year" by Footwear News. After their success, Keen began to diversify their product line by adding cold weather footwear and they became even more popular because of it.
Today, they still maintain their promise of creating quality products and services and they look for innovative and resourceful ways to do things and have fun along the way. And not only that, they have a program called Giving Back that aims to support local causes that align with their values. They support grassroots nonprofit partners around the wold through grant-making, board service, and shoe donations.
Comparing Keen vs Merrell Features
Waterproof Shoes – M-Select Dry vs Keen.Dry
The M-Select DRY is a versatile waterproof hiking shoes which you can wear every day whether you need the footwear, clothing, accessories, or all three. This waterproof footwear uses moisture-wicking technology to keep you cool even in the wettest outdoor activities.
The Keen.dry, on the other hand, is a membrane that is used in their waterproof line of shoes that provides a waterproof outer layer while still giving that breathability effect. Plus, it is treated with Cleansport Odor Control that not only wick moisture from your foot, but also keeps the moisture out.
Both have done a great job when it comes to its waterproof feature, and the two are trusted brands for hiking shoes, so there's not much of a difference. As a verdict, you will be fine with either one.

Soles of the shoes – Vibram vs Keen All Terrain Rubber
The outsoles of the Vibram set the bar high when it comes to durability. The sole was designed to provide excellent grip on the widest range range of surfaces. In fact, it is one of the most durable and rugged soles that you can ever find in footwear. And Merrell uses Vibram outsoles in most of their shoes
The Keen All Terrain Rubber, uses an outsole that pretty much gives a great traction and grip, but it is nothing compared to the Vibram outsoles. You will be fine with the grip and traction of Keen but only for the first few months because it quickly wears out. And you might be spending more money because you'll be replacing them pretty soon.

Insoles of the shoes – Merrell Kinetic Fit vs Keen Metatomical Footbed
The Merrell Kinetic Fit provides great comfort and it has an intuitive shape that is contoured like your foot. Plus, it has an ergonomic and shock absorbing cup to give your feet excellent stability without compromising the comfort.
Keen Metatomical Footbed, on the other hand, comes in various versions. You can choose from low arch, medium arch, and high arch footbeds. And what's amazing is that they are replaceable, so you can take it out and put your desired footbed.
In terms of choices, I recommend the Keen because you will have no issues finding footwear that perfectly fits you.

Odor Control: M Select Fresh vs Cleansport NXT
Merrell uses antimicrobial agents that penetrate right into the lining and materials of the shoe. As a result, any odor-causing microbes will be disrupted with the help of these agents.
Keen Cleansport NXT is similar with Merrell's Select Fresh when it comes to infusing microbes to the surfaces of the shoe fabric. Plus, the dormant microbes help reduce sweat-causing odors. So overall, there is no much difference between the two.

Insulation: M Select Warm vs KEEN.Warm
Merrell's Select Warm technology uses a very lightweight and soft material that is thinner compared to most insulation. As a result of the thinness, it helps reduce the bulk in your shoes while still giving you that warmth feeling.
The Keen.warm integrates charcoal bamboo into their insulation to keep the layers as light as possible while adding in some anti-microbial features to keep the odor down.

Eco Friendly Sustainability
Merrell is committed to using sustainable practices which includes recycling and updating their equipment to keep abreast with the latest energy efficient guidelines. And as much as possible, Merrell uses renewable energy like their packaging is made of recycled materials and they also introduced recycle fabrics and other materials.
While Keen is very transparent when it comes to their business practices like introducing innovate manufacturing products to keep up with the environmental standards. Their goal is to exceed the highest levels of social and environmental standards.

Warranty
Merrell has different warranties for each product that they sell. Usually, their shoes and boots have a 1 year warranty while their sandals have a 3-month warranty only.
Keen's warranty has the same 1-year warranty policy with all their products starting from the date of purchase.
Merrell vs Keen Hiking Shoes
Merrell Moab 2
Merrell Moab 2 Vent is made of 100% suede leather which gives you out-of-the-box comfort with durable leathers, a supportive footbed, and Vibram traction. Its leather and mesh upper gives breathability and durability even on harsh outdoor adventures.
Another feature of Moab 2 is its waterproof technology that can withstand both dry and wet surfaces and your feet will stay dry even if you step or splash on a little bit of water.
Since this is a new version from their Moab line, this Moab 2 has more prominent arch than the older version of Moabs. However, this new model has one less eye hook on each side and you may find it difficult to tighten or adjust the shoe for each foot.
Merrell All out Blaze 2
From hiking, trail running to casual and work, you can definitely wear this shoes anywhere you go. It has lightweight and breathable mesh upper with supportive overlays and its purely 100% vegan-friendly construction.
This is a good pair of light hiking shoes that you can also wear as water shoes. The soles are very rugged and super grippy yet still very flexible. And it's made of sturdy and durable materials that can withstand any kind of weather, even the harshest ones.
Merrell Hi Top Hiking Boots
One of the most impressive features that these hiking boots have is their comfort level.
It is one of the most comfortable hiking boots that you will ever wear plus it is very lightweight.
The boot's grip is also impressive especially if you are traversing on rocky trails. The boot's traction will also give you comfort on uneven surfaces and sufficient support to the ankles.
Merrell Siren Strap
This comfortable strap in sandal is designed for the way women move by offering support, alignment, and stability. This sandal is also versatile as you can wear it for hiking or just going to the groceries.
This sandal has an air cushion in the heel that absorbs shock and adds stability and lycra neoprene lining for padded comfort. However, the only problem with this sandals is it's ankle strap. If you have a wider ankle girth, the strap may be too short for you. Merrell could have used a bit more length on the strap in order to secure perfectly around your feet.
Merrell Hydrotrekker
The Merrell Hydrotrekker Strap hiking shoes will make your hiking adventure a smooth one with its water-friendly mesh uppers that help dryout fast and protect your feet from debris and obstacles. It has three-point straps to ensure that it will securely fit around your feet.
Although this isn't the most attractive sandals that you will have, but it will definitely give you the comfort that you need for your outdoor adventures. Plus, it is very lightweight and provides a little protection to the foot.
Keen Targhee Hiking Boots
This waterproof hiking boots offers four-wheel-drive performance for you feet and it is designed to keep your feet and dry and as breathable as possible.
The aggressive outsole grips into the terrain and the mid-cut height gives ankle support. It is made of 100% waterproof Nubuck leather and the Metatomical Footbed design of this hiking boots gives excellent arch support. And a lot of users are impressed with its fitting even on broad feet.
The Targhee boots also feature Keen.Dry membrane that covers the whole shoe. And they also injected TPU heel-capture system on this boots to give extra stability and support.
Keen Voyageur
The Keen Voyaguer hiking boots is more improved than the Keen Targhee because it is more lightweight and the materials is made of water-resistant leather and mesh upper. But when it comes to the footbed, midsole, and outsole, the two hiking boots are alike.
However, the Voyageur's membrane has been removed but the shoes are still waterproof. And they have added another feature which is the ventilation inserts which makes this boots the most breathable boots that Keen has ever manufactured.
Keen Newport Sandal
https://amzn.to/2YFe5s9 Women's https://amzn.to/2ZeiHVf
If you are hiking in hot or summer conditions, the Keen Newport H2 Sandal is your perfect companion. They are very lightweight and are also great for every day walking. And if you are tired of using closed hiking shoes that only gives you discomfort, then you should probably shift to these sandals.
Some of the features of these sandals are Aegis Microbe Shield that controls the bacteria and fungi production that cause odors, Metatomical Footbed design to give excellent arch support and the Keen.Protect where the shoe outsoles wrap up and over the toes. And honestly, I can only give good words about this product.
Conclusion: Merrell vs Keen – Which is best?
I hope you have found this guide helpful in choosing the right hiking shoes for your next trip.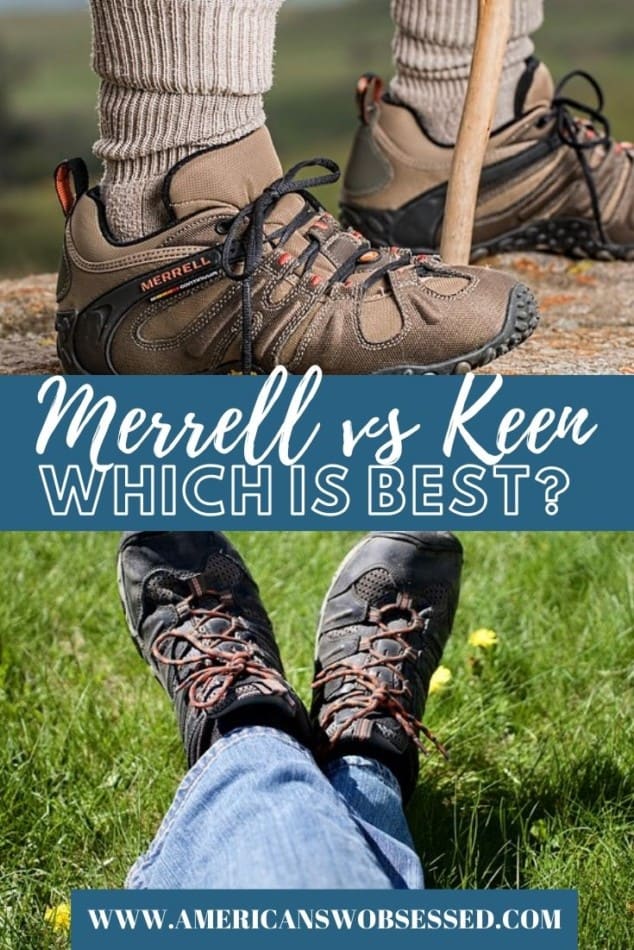 Recent Posts