Visiting Sedona in December – The Best Things to do in Sedona in December
Are you thinking of visiting Sedona in December and wondering what to expect? Sedona is beautiful year-round but if you have the chance to visit in December, Sedona is a winter paradise.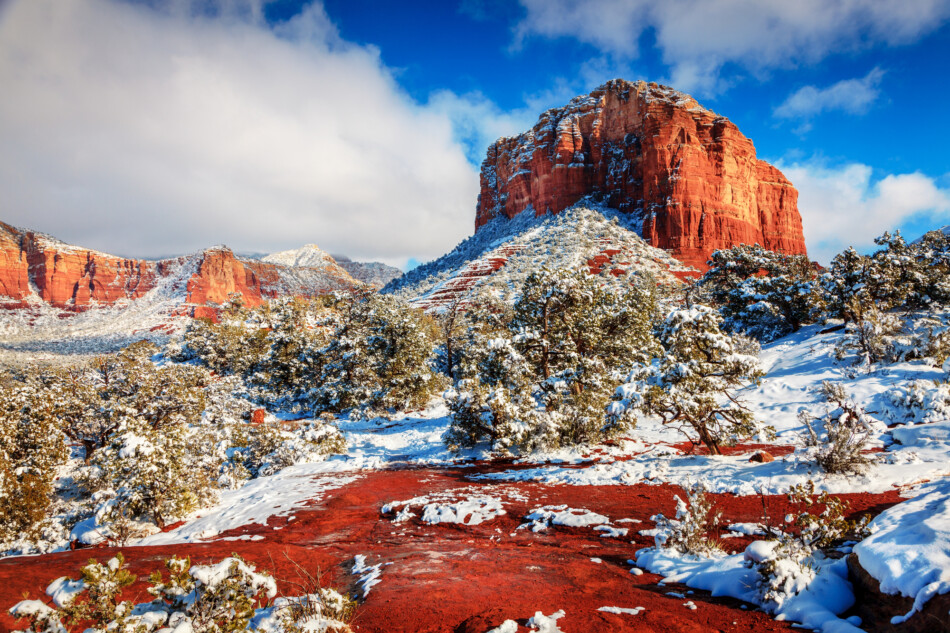 If you are wondering what to do in Sedona in December you are in the right place. December in Sedona sees fewer visitors yet there is so much to do, see, shop and eat – there are so manySedona Activities in December.
Sedona, with its majestic red rock scenery and evergreen vegetation, is one of the few reasons you need would want to visit Sedona. Many people visit Sedona for its most recommended activity to do there, hiking.
Hiking in Sedona in December is a popular activity. The popular trails will be open and have significantly fewer crowds which offer you peace and solitude in your hiking adventure. There are many places to go here in Sedona like the Cathedral Rock Trail, Bell Rock Loop, West Fork of Oak Creek, and many more.
Sedona Weather in December – what to expect in December in Sedona
If you visit Sedona in December, you will need to bring many layers since the place will be chilly. It may be Arizona but Sedona can get cold.
Expect the mornings and evenings to be freezing in December in Sedona. At the peak of the day, the temperature can be incredibly pleasant. The temperatures in Sedona on average are at around 60°F (16°C) and the lows to clock in at around 32°F (0°C), so keep an eye out on the weather forecast on plan accordingly.
Thank you for supporting this website written by an American. This post may contain affiliate links. This means I earn a small commission on these links at no extra cost to you.
21 Awesome Things to do in Sedona in December
Hike Devil's Bridge Trail – Open in December with Fewer Crowds
Visit one of Sedona's most beautiful red rock scenery, Devil's Bridge Trail. As one of the most popular trails in Sedona, Devil's Bridge is one of the most recommended places to take a photo of one of the most beautiful red rock arches and the view around it.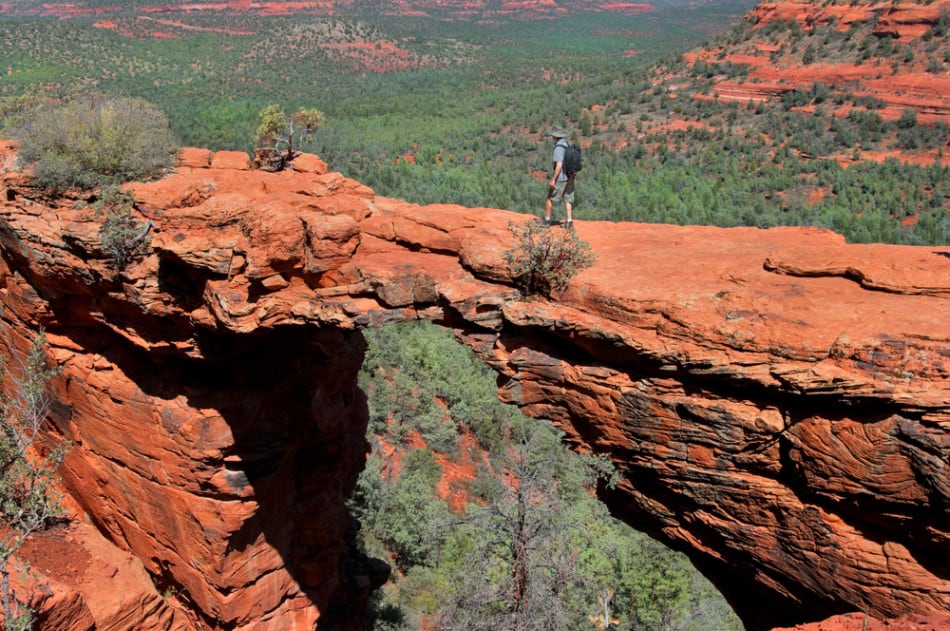 Though many people will recommend you to visit Devil's Bridge in Spring or Fall, there is something unique about visiting this trail in December.
As you hike on Devil's Bridge, you will get to see the beautiful view of red rocks covered in white. The trees and even the cacti clad in white sheets of snow. You will never experience something as dazzling as this in any other season. The area is fully open, so come to Devil's Bridge Trail, where even the heat is wrapped in snow.
Ride the Sedona Trolley – Perfect Sedona Activities in December
If you entered Sedona, Arizona, the first place that you should do is take a ride on the Sedona Trolley. The Sedona Trolley is a fun and informative tour with the purpose to visit Sedona's finest sites and landmarks.
The sites and landmarks you will visit have unprecedented views that are good enough to take a photo of. Along this one-hour ride, you will travel through Sedona and Boyton Canyon as you listen to exciting little-known facts about the town and hear American Indian legends from your guide.
Their tours are also complete with photo opportunities, during which you can take a break from the ride and explore and capture the essence of Sedona's red rock formations through photography.
If you are worried about time, there are many timeslots for the tour to choose from. Taking a tour of the Sedona Trolley is a fun experience to learn about the town and many more.
Do a Vortex Hike Sedona Hiking in December
Sedona has long been regarded as a place both sacred and powerful. People across the world travel here just to meditate and experience the mysterious cosmic forces within the area.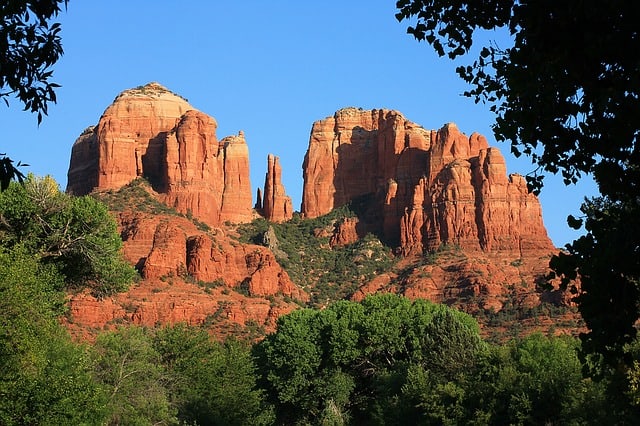 These vortexes consist of small energies that exist in the town and the surrounding areas. The energy fields are believed to be powerful and used for healing, meditation, accessing psychic abilities, spiritual and self-exploration, and more.
There are seven vortex sites around Sedona, and Native Americans believe the vortexes aid in spiritual transformation. The Bell Rock hike; one of the vortex sites mentioned, is a great moderate hike for the whole family.
Many healers, spirit counselors, and tourists come for the energies on Bell Rock. When you reach the site, you might see people chanting or meditating on the clear space midway on the hike. Visit the vortexes and experience the calm serene experience.
Sound Interesting? Check Availability and Read Reviews
Drive the Red Rock Scenic Byway
The thought of a road trip in December makes traveling more enticing. Driving the Red Rock Scenic Byway is one of these enticing road trips that you should ignore.
Experience 7.5 miles of stunning scenery featuring red rock formations and plenty of lookout points that will take your breath away. What's fascinating is the snow that envelope these red rocks. The red and white colors somehow complement the environment making the place interesting and photogenic.
This 30-minute ride begins in the town of Sedona, turning left onto Chapel Road, passing by many trails you can try to hike, and ending up arriving in Oak Creek which features art galleries, lodging, and spas. Drive by the scene and admire everything mother nature produces in the Red Rock Scenic Byway.
Visit the Chapel of the Holy Cross
Hiking to Cathedral Rock is an essential experience in Sedona. This hike is short and sweet, and with some rock scrambling and jaw-dropping views, it's tons of fun from start to finish.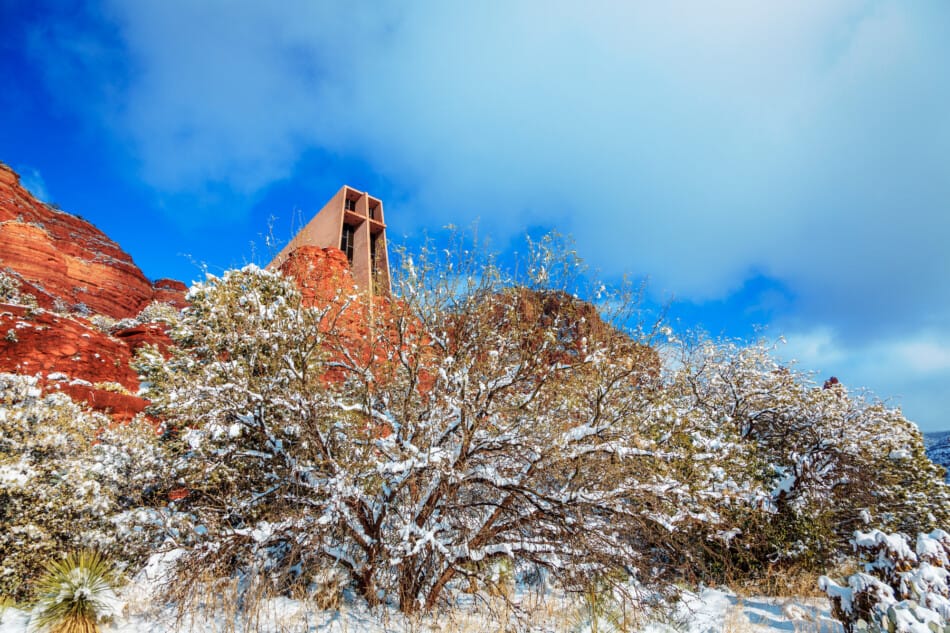 The hike is one of the most popular hikes in Sedona. This experience is much more about the climb up Cathedral Rock and the reward of panoramic views.
Hiking Cathedral Rock Trail is worth the trip to Sedona, worth the vulture-like hovering to get a parking spot and worth the challenging climb to the top. Its views from various points on the trail are stunning. No doubt about it—you are rewarded for your effort.
Take an ATV Tour with Arizona Safari Jeep Tours
Taking an ATV tour with Arizona Safari Jeep Tours in December might be something worthwhile to do. This Jeep will take you through Sedona's famous vortexes while showing the amazing views of red rock arches and formations.
Their tours range from mild to wild on the thrill scale so there is never a time when you will feel bored inside. Arizona Safari Jeep Tours provides a guide that will treat you with some historical stories and fascinating geology and ecology facts.
Taking this tour in December might show the scenery as something calming rather than wild, regardless this tour is something you shouldn't miss out on. To ride an ATV while listening to some interesting facts with Arizona Safari Jeep Tours.
Sound Interesting? Check Availability and Read Reviews
Go for a hot air balloon ride
Whether you are afraid of heights or not, taking a hot air balloon ride is a must when visiting this fall. It is truly a magical feeling, soaring gently with the wind experiencing an aerial nature walk.
Take the hot air balloon ride at the Red Rock Balloon Adventures as they give you one of the most special experiences of your life. They start in the early morning to give the tourists one of the best views you have ever seen.
As the balloon starts to rise from the ground, you get to see one of the most beautiful sunrises you cant see on the ground.
Take a Pink Jeep Tour – Broken Arrow
Take a tour around Sedona's Broken Arrow Trail in a literal pink jeep in the Pink Jeep Tour. Conquer the rugged terrain of the popular Broken Arrow Trail in a 4×4 vehicle.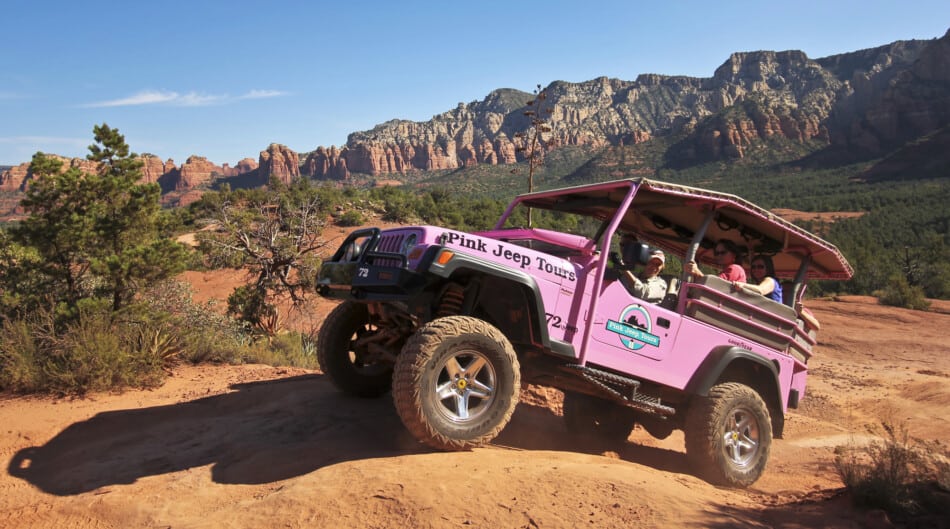 Bounce along and experience the important landmarks like the Devil's Dining Room which is a sinkhole just a few feet beyond the end of a short spur. Pass by Submarine Rock as it offers nice views of white cliffs instead of the red rocks of Sedona.
Enjoy this one-way down thrill in the hill known as "The Steps" which would make you scream for more in this tour. Ending the tour is a spot called "Chicken Point" as the jeeps drive beyond the present end of the trail and circle around a very small point with steep drop-offs.
Taking the Pink Jeep tour is sure to be a very thrilling and fun experience.
Sound Interesting? Check Availability and Read Reviews
View the Tlaquepaque Christmas Lights
Spending time at the internationally renowned Tlaquepaque, Sedona Arizona's Arts and Crafts Village should be one of the best things to do in Sedona.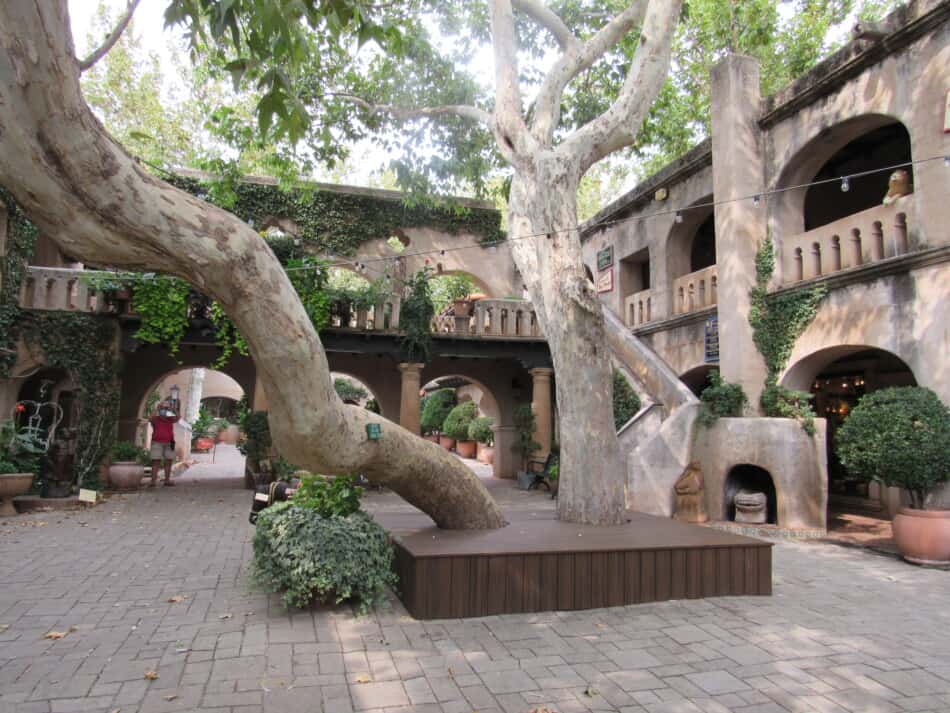 Nestled beneath the shade of the sycamores on the banks of beautiful Oak Creek in Sedona, Tlaquepaque is the most distinctive Sedona shopping experience to be found in the Southwest.
Aside from its wide array of arts and crafts, Tlaquepaque has something special happening every December. The Tlaquepaque Christmas Lights is a signature winter event there.
This 49-year old holiday tradition is anticipated and enjoyed by Verde Valley residents and visitors alike. Each year, Tlaquepaque transforms into an even more enchanting winter wonderland.
The entire month is jam-packed with festivities that include shopping, lights, holiday treats, caroling and so much more.
One of the anticipated events in this holiday is the 6000 luminaries. During this event, they light a small candle in small paper bags and sand for weight, throughout the arts and crafts village. These bags will line the walkways and walls of Tlaquepaque for everyone to light up.
Enjoy the winter holiday in Tlaquepaque and the Christmas Lights holiday.
Eat dinner at Elote Cafe
When you think of Sedona, Arizona, many would say the beautiful red rocks, the outdoor activities, and some of the best tours you can get.
Another thing to get excited about is the food there and the Elote Cafe is one of the few places you can get amazing cuisine.
Elote Cafe is an award-winning modern Mexican and Southwestern restaurant. Its authentic cuisine is culled from James Beard Award semi-finalist Jeff Smedstad who is the chef and owner of Elote Cafe.
This cafe has become a desert port of call for food lovers from near and far, regardless of the season. They have a wide array of food to choose from and a variety of drinks to indulge in while waiting for your food to come. Elote Cafe is by far one of the nicest places to dine and have a good time.
Visit Cathedral Rock
Hiking to Cathedral Rock is an essential experience in Sedona. Cathedral Rock is a natural sandstone butte that is one of the most photographed places in the entire state of Arizona.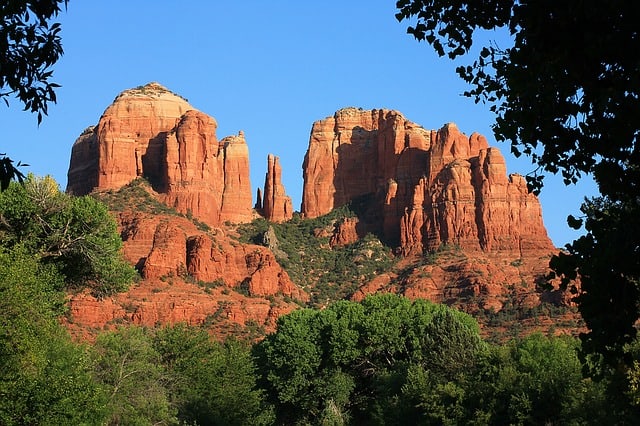 The hike is short and sweet, and with some rock scrambling and jaw-dropping views, it's tons of fun from start to finish.
The best time to hike Cathedral Rock is in the hours leading to sunset, there is something magical about the sun setting over the red rock formation. Hiking in December might feel different from any other season, but by wearing some layers, this cold hike will turn into something beautiful as you marvel at the snow covering the horizon.
This experience is much more about the climb up Cathedral Rock and the reward of panoramic views.
Take a helicopter ride over Sedona
Sedona has one of the most enjoyable tours and rides over the red rock horizon. From ATV to hot air balloons, there are many to choose from. Among them, a helicopter ride may be one of the most exhilarating tours you may come across.
Unlike the gentle hot air balloon rides, helicopter rides are fast and quick but cover more ground. Though the tour will be quick, the places you get to see are a lot more than the slow pace of a hot air balloon.
When booking a helicopter in December make sure to book it in the morning to see many vibrant colors appearing before you. Nothing makes the scenery so beautiful than colors blending with each other in the cold morning. So take a helicopter ride and experience something more thrilling and memorable.
Sound Interesting? Check Availability and Read Reviews
Visit a Winery in the Verde Valley
In the last decade, Arizona has been recognized as a producer of great wine. Verde Valley has become a popular wine region in Arizona and is now home to over a dozen wineries and vineyards.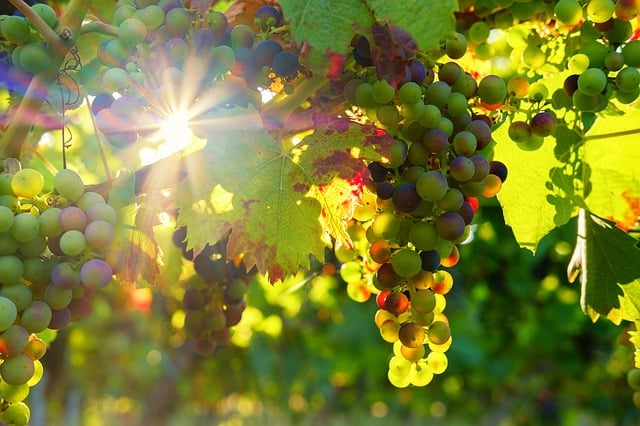 Sedona currently has three wineries on the Verde Valley Trail; Winery 1921, Flying Leap, and Creekside Bistro. At Winery 1912, you will enjoy the Spanish and Iberian varietals grown at Dragoon Mountain Vineyard.
In the Flying Leap, they grow a vast variety of French, Spanish and Italian winegrapes in their vineyards. As you enter the Flying Leap Winery, you are shown one of the most beautiful wine venues in the southwestern United States ensuring the customer experience at the winery is first class.
On the other hand, Creekside Bistro sits overlooking Oak Creek, with one of the most beautiful red rock views in Arizona. They feature Javelina Leap wines and a wide variety of dishes to complement the wine. Visiting a winery here in Sedona is a good change of pace from all the excursions and events.
Sound Interesting? Check Availability and Read Reviews
Visit Palatki ruins
Located near the town of Sedona in north-central Arizona, is the Palatki Heritage Site cliff dwelling and rock art site. The Palatki Heritage Site is an archaeological site that is brim with ancient cliff dwellings and history.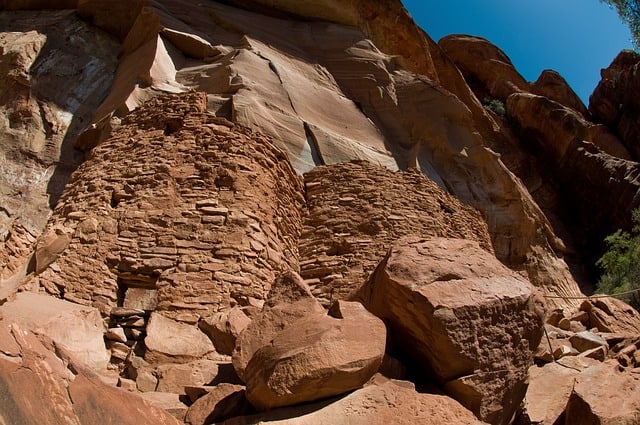 There are three trails at the site, one trail will take you to the Sinagua cliff, another one that takes you to the dwellings, and the last trail that goes to the alcoves that shelter the painted symbols or pictographs from every native culture to ever occupy the Verde Valley.
A volunteer will lead the tour to the heritage site and would provide stories, and information regarding the dwellings and rock art. Palatki ruins are one of the heritage sites that should be cherished and preserved.
Explore the Sedona Heritage Museum
Sedona would not be able to thrive if it weren't for the people in the past that live there. The Sedona Heritage Museum is focused on the lifestyles and works of the people who pioneered this community from 1876 to the present.
This once orchard now museum preserves the history of Sedona with over a thousand artifacts and over 500 volumes of photos. Kids visiting can also embark on a scavenger hunt or dive into the Museum's activity book.
In December, the Sedona Heritage Museum has an annual holiday called Christmas In The Park. Every December, everyone will be treated to hot apple cider, holiday cookies, and free entertainment and activities. There are many things to learn and enjoy here in the Sedona Heritage Museum.
Recent Posts