Las Vegas Thanksgiving: When it comes to finding a place to enjoy Thanksgiving dinner in Las Vegas, you'll be spoiled for choice. The city offers a wide range of dining options, from upscale restaurants to casual eateries.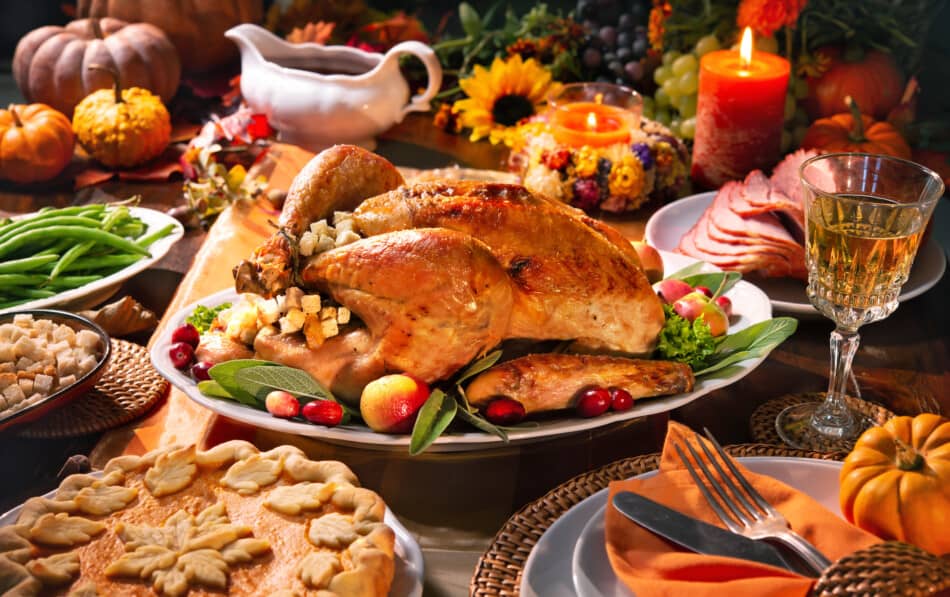 Many hotels on the famous Las Vegas Strip host special Thanksgiving buffets, featuring traditional holiday favorites. If you prefer a more intimate setting, there are also plenty of off-Strip restaurants that serve Thanksgiving dinner with a unique twist.
Whether you're looking for a classic Thanksgiving feast or a more adventurous culinary experience, Las Vegas has something to satisfy every palate on this special holiday and visiting Las Vegas on Thanksgiving Day is something special.
15 Delicious Restaurants to eat Thanksgiving Dinner in Las Vegas
Buddy V's Ristorante – best Thanksgiving dinner in Las Vegas
Buddy Valastro is probably best known to you from TLC's Cake Boss, but he has also established himself with several Las Vegas restaurants. At Buddy V's Ristorante, which is inside the Venetian, you can enjoy one of the best Thanksgiving dinners in Vegas.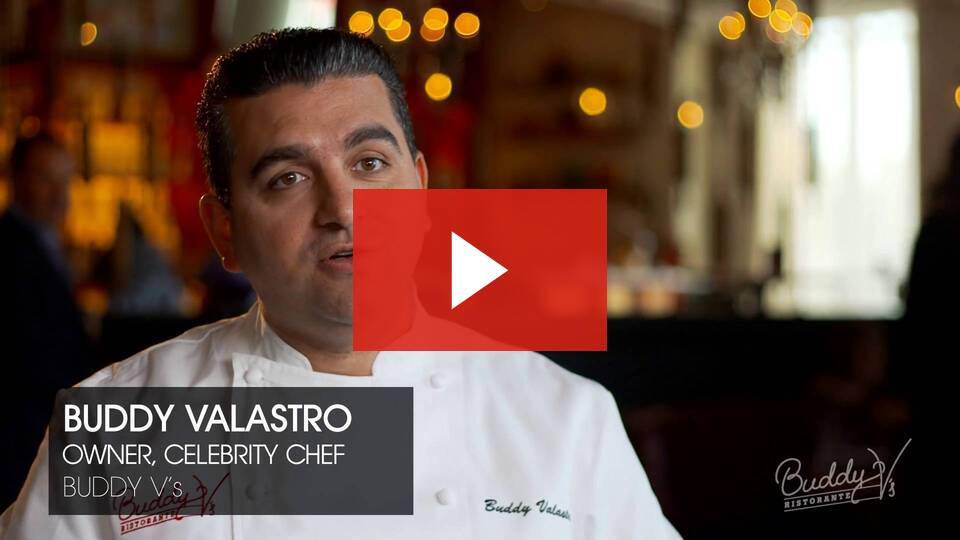 Buddy V's Ristorante | Buddy Valastro | The Venetian® Las Vegas las vegas thanksgiving best thanksgiving dinner in las vegas
Enjoy slow-roasted turkey breast with turkey sausage, pancetta-herb stuffing, sweet potatoes, cranberry relish, and conventional gravy as your main course. An appetizer of roasted butternut squash soup with apple-squash compote, spiced pepitas, and Panna dolce is offered as part of this year's homestyle Italian-American menu.
Nibble into Buddy's pumpkin bundt cake with candied pecans and a maple glaze for dessert. Add a bottle of Prosecco for $28 or charge $24 per person for personalized wine pairings.
Bardot Brasserie
French comfort food with a twist is served at this fine dining bistro at ARIA by Chef Michael Mina. They are renowned for their outstanding wine list, a menu of traditional French fare, and legendary weekend brunch.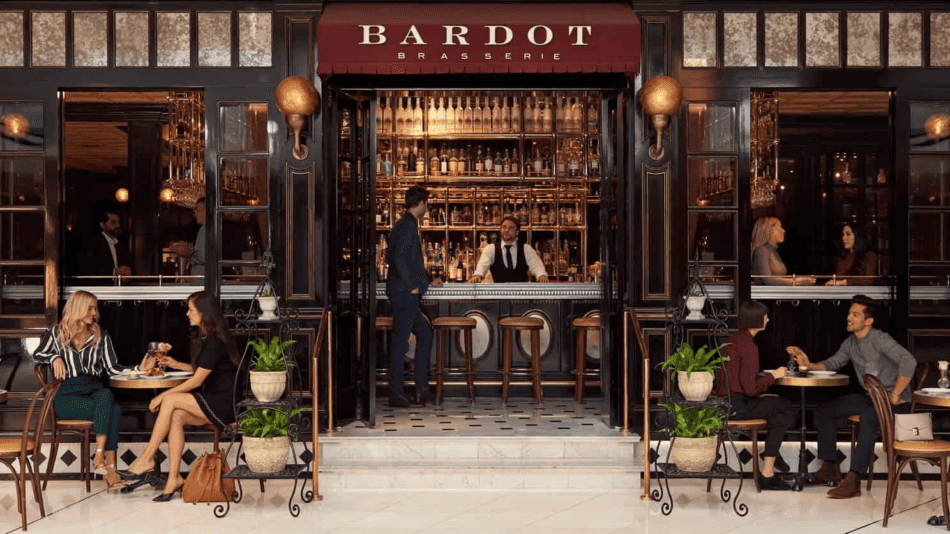 For the discounted price of $115 per person, Bardot is providing a special prix-fixe Thanksgiving menu that is served family-style. Heritage roasted turkey and cognac-glazed ham are served after premium chilled shellfish, a charcuterie, and cheese selection, along with an endive salad. You'll be given pumpkin and pecan pies with vanilla ice cream on top as dessert.
Eiffel Tower Restaurant
Want to eat while enjoying one of Vegas' best views? The Eiffel Tower Restaurant, located at the top of Paris Las Vegas replica of the Eiffel Tower, offers delectable French cuisine in a chic, upscale atmosphere while overlooking the Las Vegas Strip's flashing lights.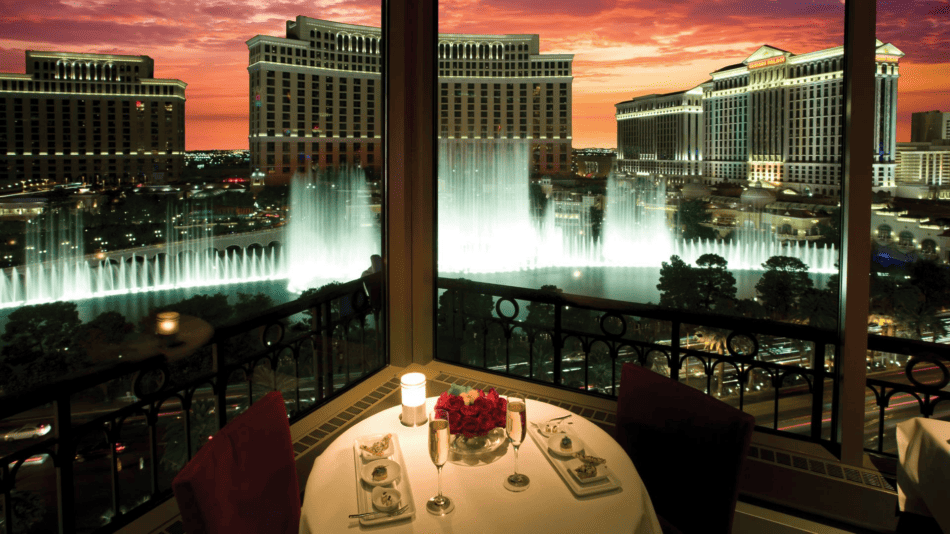 You can enjoy their Thanksgiving 3-course menu created by Chef J. Joho for $89 per person. Delicious dishes on the menu include turkey with chestnut dressing, potato gratin, Brussels sprouts, and cream of butternut squash soup.
For dessert, there is an old-fashioned pecan pie with butterscotch ice cream.
Bacchanal Buffet – #1 Las Vegas buffets for Thanksgiving
Nothing says Vegas like a buffet, and Caesar's Palace's Bacchanal Buffet is undoubtedly among the best in town.
This recently renovated buffet, which is the biggest in the city at 25,000 square feet, serves food that is prepared in open kitchens right in front of you. It's like having access to nine different restaurants in one location.
Bacchanal will serve smoked turkey breast with a herb crust and roast turkey with an apple cider glaze on Thanksgiving.
Along with mashed potatoes and gravy, they will also be served apple sausage and sage stuffing, cranberry sauce with mandarin oranges, and sweet potato casserole with bruleed marshmallows. For dessert, don't forget to grab a piece of pumpkin pie!
Mon Ami Gabi – Las Vegas restaurants open on Thanksgiving
Mon Ami Gabi consistently impresses us with lavish Thanksgiving feasts served in a classic bistro setting on the Strip.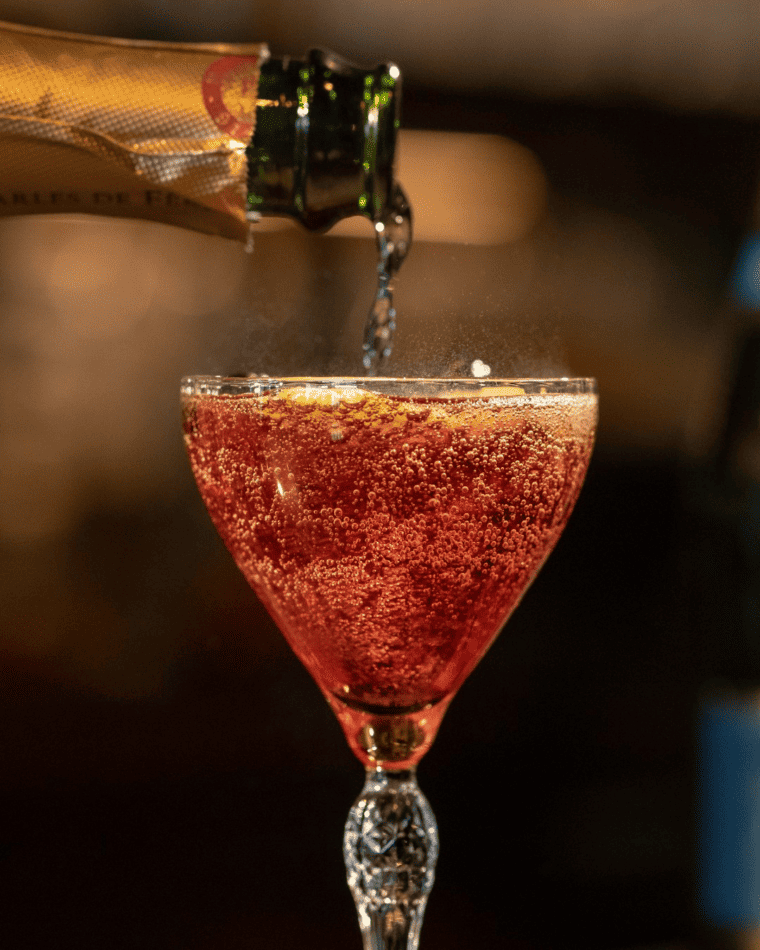 Your go-to French restaurant in the Paris Hotel will be serving Thanksgiving to-go meals in addition to dine-in specials this year.
For your first course, pick between endive and pear salad with blue cheese and walnuts or smoked salmon with pumpkin spice brioche, black peppercorn crème fraîche, and chives.
Enjoy a bowl of the house-made pumpkin soup with amaretto cream puff from Mon Ami Gabi before moving on to the main course of herb-roasted turkey with caramelized yams, garlic, and sage cornbread stuffing, French green beans, potato purée, bourbon gravy, and vanilla-cranberry relish.
Choose between a pecan chocolate tart with caramel sauce and vanilla whipped cream for dessert or a pumpkin bread pudding with maple crème anglaise and vanilla ice cream.
SoulBelly BBQ
In the Downtown Arts District, SoulBelly BBQ was established earlier this year by Top Chef veteran chef Bruce Kalman. The restaurant is offering Thanksgiving feasts to serve anywhere between 4 and 10 people.
Rolls and butter, smoked turkey breast with gravy, mushroom and sausage dressing, Yukon Gold mashed potatoes, buttered green beans with almonds, candied yams with marshmallows and maple syrup, and your choice of either traditional pumpkin pie or chocolate silk pie are all included in each meal kit.
As a nod to its origins in barbecue, SoulBelly is also providing extras like smoked beef tri-tip, pork, hatch chile, cheddar hot links, Gigi's corn casserole, and pigs in a blanket for a fee.
Bazaar Meat
If you feel like treating yourself, Thanksgiving dinners at Bazaar Meat by José Andrés are some of the most creative and delicious in all of Las Vegas.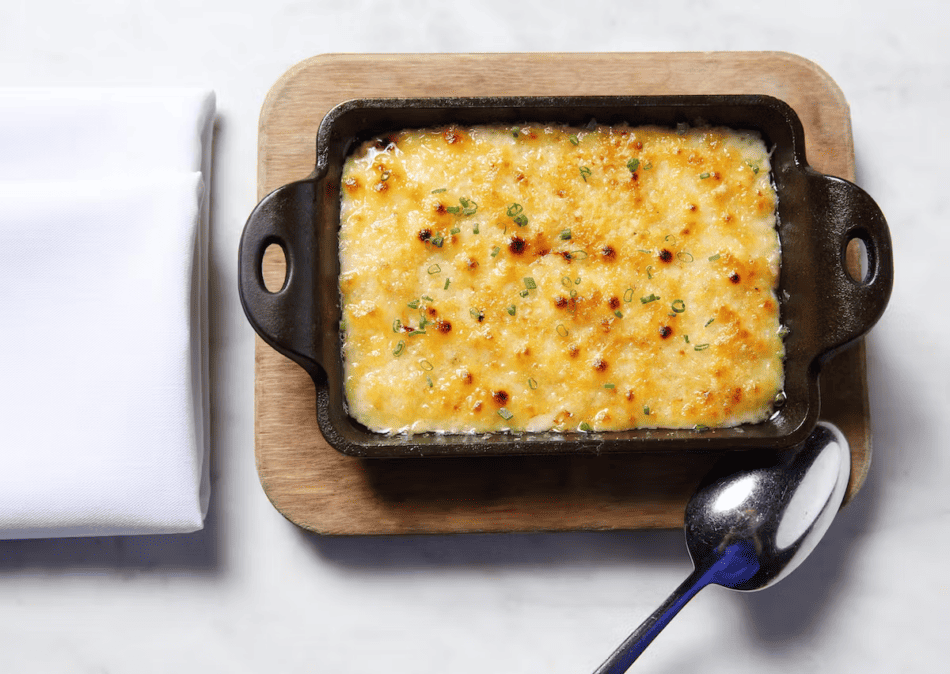 Bazaar Meat, which is housed inside the Sahara Las Vegas, offers groundbreaking culinary artistry that fuses conventional and cutting-edge Spanish cuisine.
All things meat are the focus at this upscale steakhouse operated by Michelin-starred chef Jose Andrés. "A celebration of the carnivorous in all its forms," is how Andrés describes his restaurant. The restaurant's decor is eclectic and amazing, and there is an open kitchen where you can watch your food being prepared.
The delicious Thanksgiving meal from Bazaar Meat costs $85 per person and includes a variety of starters like cheesy Delmonico potatoes, croquetas de Pavo (turkey-bechamel fritters), shrimp and crab cocktails, and more.
For your main course, choose from Bill Niman Ranch Heritage turkey with a sous-vide breast, confit leg, and traditional gravy, or Josper-Roasted Monkfish with Mojo Verde. Desserts like pecan tart, layered pumpkin cake, and apple pie cream puff will make you grateful as well.
Picasso
Another one is this exquisite fine-dining establishment at the Bellagio. This restaurant was designed by Chef Julian Serrano and offers amazing French and Spanish fare while being surrounded by original Picasso art.
The cost of Picasso's Thanksgiving dinner, which features delectable dishes like foie gras au torchon, Maine lobster salad, and roasted milk-fed veal chop, is $165 per person. Servings of sweet potatoes, brioche stuffing, and cranberry sauce are offered at no charge to every table.
The Buffet at Wynn
The Buffet at Wynn, one of our top 10 buffets in Las Vegas, upholds the high caliber for which Wynn properties are renowned.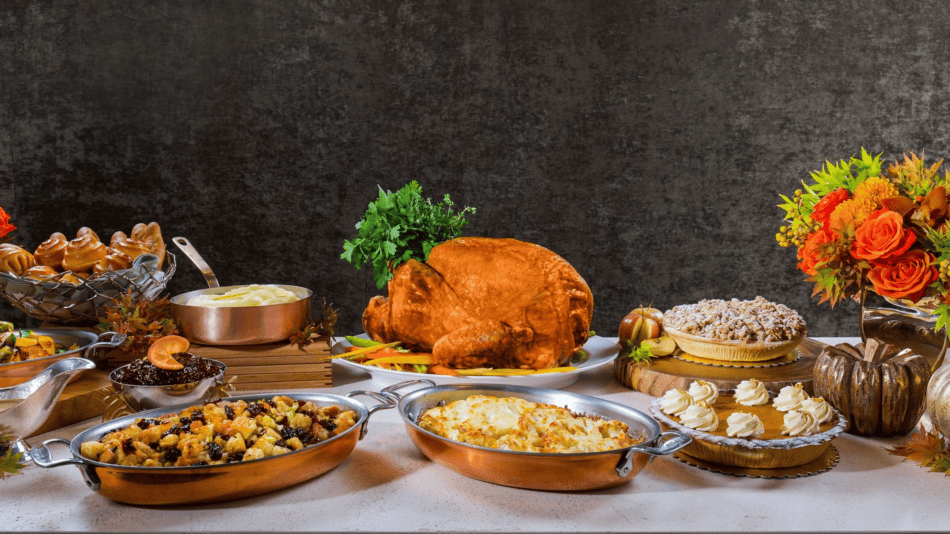 The food is excellent and there are plenty of options for vegans and vegetarians, and the exquisite marble dining room is decorated with lovely floral arrangements. You can choose from a wide variety of delectable options thanks to the 15 cooking stations.
Thanksgiving dinner is available at The Buffet at Wynn for $54.95 per person. There are several options, including roasted turkey with herbs and butter, turkey roulade, sea salt-crusted prime rib, and autumn corn succotash.
They'll be also serving crème Brulee, pumpkin spice cake, orange-cranberry cupcakes, and conventional pumpkin pie for dessert.
STK at Cosmopolitan of Las Vegas
STK Steakhouse is situated in the ultra-hip Cosmopolitan Las Vegas and serves inventive takes on classic steakhouse cuisine in a lively setting with a popping bar and a DJ. Both locals and celebrities frequent this hangout.
Thanksgiving dinner will be available at STK all weekend long. Roasted free-range turkey breast, confit turkey thighs, cranberry sauce, twice-baked sweet potatoes, foie apple stuffing, Brussels sprouts, and sweet corn pudding are all included in the holiday meal, which costs $69 per person.
Ri Ra Irish Pub
You can choose between a traditional or Celtic-style Thanksgiving at one of the best Irish pubs in Las Vegas. With pan gravy, Sage Stuffing, Mashed Potatoes, Green Bean Casserole, and Cranberry Sauce, a Herb-Roasted Turkey Dinner is offered.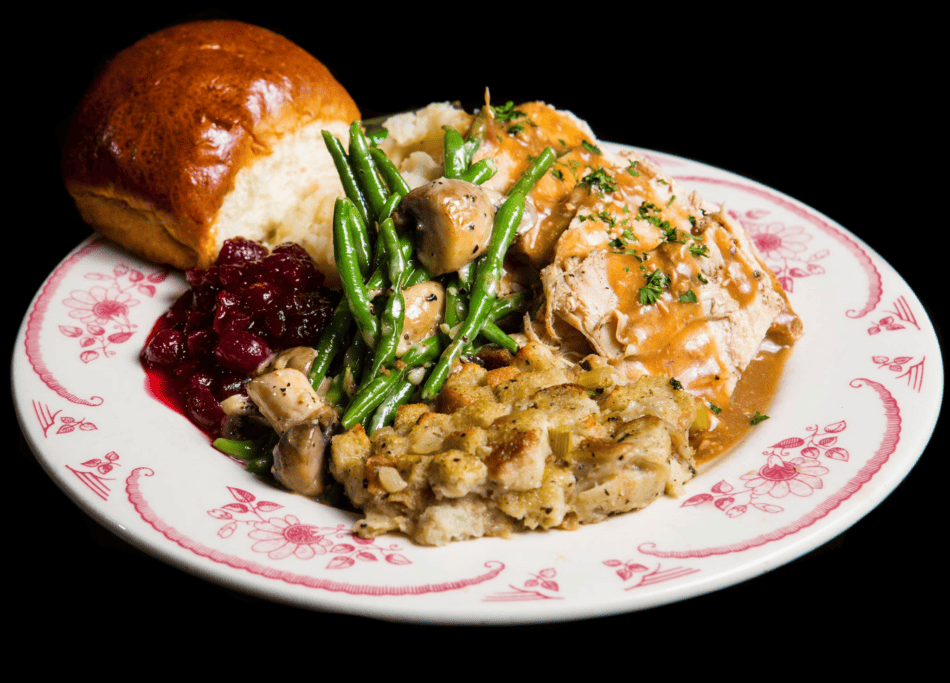 The Kilbeggan Salmon is a baked salmon filet topped with a seafood cream sauce, champ, and asparagus. It is stuffed with cream cheese, dill, crab, and shrimp. In either case, you should order the pumpkin cheesecake with whipped cream and a whiskey from Ri Ra's extensive selection for dessert.
Ferraro's Italian Restaurant & Wine Bar
Ferraro's Las Vegas is a renowned Italian restaurant located in the heart of the city. With its elegant decor and warm ambiance, it offers a truly immersive dining experience. Ferraro's has an Italian take on Thanksgiving in two different formats.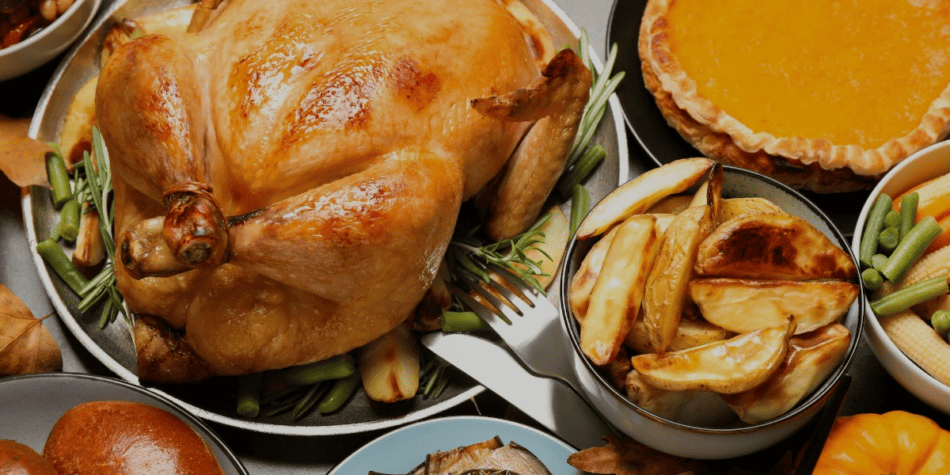 Dine in for a multicourse meal featuring Pistachio and Potato Gnocchi, Beet and Mozzarella Salad, Butternut Squash Ravioli, or Mushroom Risotto with a main course of Free-Range Turkey (with cranberry chutney, sausage stuffing, potato puree, and green beans), and Pistachio Cannoli, Pumpkin Pie, or Tiramisu for dessert.
Ferraro's also has a takeaway meal for six to eight people, featuring a similar menu and a ten-inch pumpkin pie.
Sparrow + Wolf
Thanksgiving will be the only meal served at Sparrow + Wolf, and chef Brian Howard is putting an eclectic spin on the holiday meal with a special three-course menu.
The dish starts with Crispy Half Bird Chicken Roulade, Cranberry and Curry Sourdough, and a red wine-poached apple, endive, and beet salad. Then, a Chestnut and Mushroom Dumpling with shaved foie gras and Duck Breast with Sichuan peppercorn sauce, Potato Pavé, and Crispy Brussels Sprouts serves as the main course.
Challah Bread Pudding and ice cream can be used to round out the meal. There will also be two specialty drinks with a fall theme available.
Hash House A Go Go
Hash House A Go Go typically takes a twisted approach to classic farm food, serving up specialties like their renowned stuffed burger and sage-fried chicken and waffles. However, they're sticking with a more traditional holiday takeout menu for Thanksgiving. Even though the lineup appears conventional, you will not regret trying it.
This year, Thanksgiving Dinner 2 Go Go is offering two options. The six full Thanksgiving meals come with a fully cooked and seasoned spatchcock turkey, cornbread stuffing, rich turkey gravy, garlic mashed potatoes, candied yams, green beans, mac and cheese, cranberry sauce, buttermilk biscuits with jam, and pumpkin pie with whipped cream if you want the full Hash House experience.
For just $99.99, you can order delectable sides for up to six people if you've already taken good care of the turkey.
Lucille's Smokehouse BBQ
This year's best Thanksgiving dinner in Vegas is being served at Lucille's Smokehouse BBQ, a restaurant at Red Rock Resort, with both dine-in and take-out options. Thanksgiving dinners are available for $30.99 at restaurants, and kids' plates are only $15.99.
With sides like garlic mashed potatoes, mashed sweet potatoes, seasonal vegetables, southern stuffing, giblet gravy, cranberry sauce, biscuits with apple butter, and a piece of pumpkin pie, you can choose between slow-smoked turkey or ham.
The Thanksgiving Family Feast is the most affordable and delectable Thanksgiving takeout alternative. You can get a whole smoked turkey, sliced smoked turkey, sliced ham with Coca-Cola glaze, or sliced smoked turkey and ham with all the fixings for a family of ten for just $21.99 per person.
Recent Posts