15 Fun Things to do in Ruidoso, New Mexico
Ruidoso Attractions: There is so much to see and do in Ruidoso, New Mexico. Ruidoso was named by the Spanish Rio Ruidoso, which means "noisy river."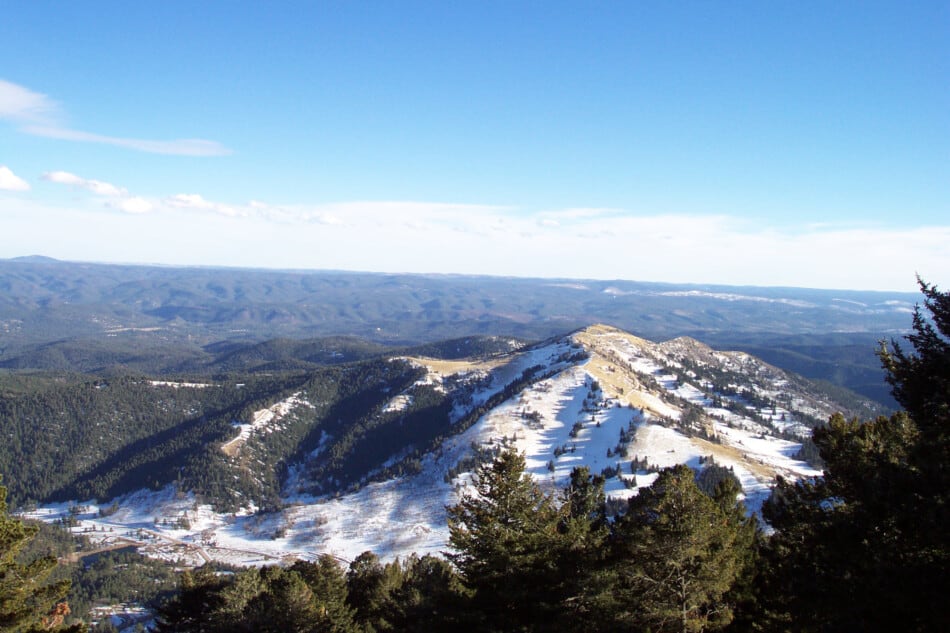 ruidoso new mexico things to do
Ruidoso is now a year-round mountain playground with rustic cabins, cozy motels, opulent lodges, and resorts. Horseback riding, hiking, camping, and winter skiing are all available amid stunning mountain views and alpine forests, as well as world-class horse racing and casinos, historical museums, and sporting leisure facilities.
If you are wondering what to do in Ruidoso, I have you covered. This list of activities in Ruidoso has something for everyone.
The VERY BEST Things to do in Ruidoso, NM
Fort Stanton
When visiting Lincoln County, the Fort Stanton Historic Site is a must-see. New Mexico's newest historic site, located on Highway 220, which bisects the Billy the Kid Scenic Byway, features over 155 years of southwestern history, from its beginnings as a military garrison to its significance as the state's first tuberculosis hospital to its use as a German seaman internment camp during World War II.
The Fort Stanton Museum has carefully kept and presented the fort's unique and historic past, which visitors can explore and tour to learn about the fort's history and the individuals who lived and worked there throughout the decades.
Fort Stanton was a detention center for those considered to be enemies of the United States during the Second World War, which took place around this time. It was eventually recognized as a living historical site and declared as a state monument in 2008. The surrounding area, which includes a large cave system, was designated as a national conservation reserve.
The museum is open from 10 a.m. to 4 p.m. seven days a week, and the grounds are always available to the public. Although admission is free, donations are always welcome.
Choose a trip that piques your interest to learn more: Join an educational tour, join a docent-led tour, book a private group, go self-guided, learn about history while riding horses, or join an educational tour.
Fort Stanton is situated next to Lincoln and 18.5 miles from Ruidoso and is located off the Billy the Kid Scenic National Byway near the Bonito River.
Ski Apache
Ski Apache, the country's southernmost ski area, boasts the best warm-weather powder skiing in the world, with snowmaking covering 33% of the mountain. 
This massive resort is the United States' southernmost ski area, and it's a perfect place to enjoy some warm-weather skiing. Ski Apache provides something for everyone, with over 55 courses and trails spread across 750 acres of skiable territory, 11 lifts, and slopes for beginners, intermediates, and experts.
Take in the sights of White Sands National Park and Valley of Fires Recreation Area, which was called after the fiery lava that formerly covered it. From a starting height of over 11,500 feet, ride the world's highest and third-longest zipline. The Apache Wind Rider ZipTour is about 9,000 feet long and travels at 60 miles per hour across the mountain air. Thrill enthusiasts can ride side by side owing to parallel cables.
Ziplining isn't your thing? Play a thrilling round of disc golf. Explore miles of trails by hiking or riding a mountain bike. During the winter, you can ski and snowboard. The Mescalero Apache owns and operates Ski Apache.
Visitors may still enjoy the adventure during the summer by taking a gondola ride to the top of the mountain or a zip line tour on the way down, which starts at almost 11,000 feet. There are also some fantastic hiking and mountain bike tracks.
Midtown Ruidoso
Midtown is a one-of-a-kind shopping and entertainment destination in Ruidoso. Colorful and fascinating shops, wine-tasting trips, fantastic local cuisine, and nightlife with live music and dancing can all be found here. Beautiful decorations glitter brightly during the holiday season, transforming the district into a vision straight out of a fairytale. Every Ruidoso vacation should include a stroll through Midtown.
You'll discover local goods everywhere, from the Old Barrel Tea Company and Noisy Water Winery to The Woodsman, Nomad, Brunell's, J Roberts, and so much more.
Midtown is Ruidoso's main street and the heart and soul of the village – and has been for decades! Locals and visitors alike wander the village's sidewalks, linger on public benches and restaurant patios, shop their favorite stores, and watch local musicians performing.
Fruit trees located around Midtown bloom with pink and white blossoms in the spring. It's tough to tell when the buds will peak, but it normally happens in mid-to-late April — and it's a sight to behold!
Midtown is on Sudderth Drive. It is incredibly walkable and you can park anywhere in Midtown as there are plenty of free parking spaces.
Pillow's Funtrackers
Pillow's Funtrackers is a great attraction for all ages to bring out the kid in everyone, whether traveling with family, friends, or even coworkers. This is a family-friendly amusement park in Ruidoso that features 3 go-kart tracks, bumper boats, a maze, and arcade games.
Visitors can race around a variety of go-kart tracks, crash and wreak havoc on the spin bumper cars, and try their hand at bumper boats, which each include a water cannon for added excitement in the summer.
Pillow's Funtrackers also has a challenging and entertaining 18-hole miniature golf course, as well as a massive, human-sized maze.
It has an indoor arcade with a wide range of games and prizes, as well as the ability to pan for gems, so there's no shortage of activities and enjoyment.
Spencer Theater for the Performing Arts
The landmark $22-million Spencer Theater For The Performing Arts, which opened in 1997 and was named one of the world's seven best theaters right after, is one of Ruidoso's best cultural attractions.
A landmark 514-seat world-class theater that stages a major touring Broadway production, dance, or musical performance every 11 days on average year-round during summer and winter seasons.
You can also see the Dale Chihuly installations within the Spencer Theater while you're there. Also, don't miss the two pear treats that have been brought in and installed in the courtyard! This provides a breath of fresh air for the actors whenever they need a break from perfecting their skills.
Bonito Lake
Bonito Lake's high elevation of 7,380 feet ensures that the water is cool and pleasant all year, even in the hottest months of the year, and it is home to a big population of rainbow trout, making it an excellent place to go fishing.
Also flanked by many excellent campgrounds and several enjoyable hiking routes, Bonito Lake provides a peek into the past by displaying a wooden pipeline erected in 1907 to supply water to steam engines.
Hikers, campers, and fishermen will discover a calm and beautiful small part of the Sierra Blancas to spend some time away from it all at Bonito Lake.
Near Lincoln National Forest lies this magnificent reservoir in the Sierra Blanca Mountains.
The Hubbard Museum of the American West
The Hubbard Museum of the American West is a Smithsonian Institute affiliate, and its displays and exhibits will educate visitors about life in the west throughout the centuries for those who once lived there, as well as specific illustrious figures such as Pat Garrett, Butch Cassidy, and Billy the Kid.
Old stagecoaches, covered wagons, and other Wild West items are on display, as well as an extraordinary portion of the museum dedicated to the history of the horse.
This amazing site is like a window into the past, giving visitors a glimpse into the lives of early New Mexican settlers as well as the Native Americans who had lived here for generations.
Village Buttery
The Village Buttery is a classic Ruidoso dining establishment. Customers enjoy delicious sandwiches, soups, and quiches at this cozy and laid-back restaurant and cafe, which has been rated the Best Lunch in Lincoln County by many are the sources.
It's a tourist and local favorite, with a delectable menu that includes not only dinners, but also handcrafted desserts and baked products including pies, cookies, cakes, and more.
Granny Guthrie's Buttermilk Pie is their signature dish, but they also have a sticky caramel pecan cheesecake and perfectly baked gourmet cookies.
The Buttery's catering service is also well-known. Their pleasant and knowledgeable staff will "cater" to your needs, whether it's a dozen boxed lunches for your business meetings or an elegant wedding celebration.
Hondo Iris Farm And Gallery
The Iris Farm Gallery is located in a 2100 square foot structure that includes a portion of a historic adobe shepherd's home from the mid-eighteenth century. This section of the building is worth seeing in and of itself, with its hand-hewn ceiling beams, unique architecture, and tile work.
Alice Warder Seely, a New Mexico artist of Anglo, Hispanic, and Native American ancestry, is featured in the gallery. Alice is also the resident horticulturist, and she is in charge of the Iris Farm and landscaping, along with Chris Camacho, the resident horticulturist. She is a jewelry and textile designer, as well as a painter and sculptor. The gallery features her work along with the work of dozens of other craftspeople from around the world.
The rest of the gallery is brimming with affordable pottery, purses, baskets, and decorative items.
A contemporary collection of women's apparel assembled from throughout the world is one of the gallery's most surprising features. The apparel brand is one-of-a-kind and sophisticated, and it caters to all sizes. The unique designs, the level of tastefulness, and the fact that so many well-known American designers are also represented astound women who visit the museum. And, once again, the pricing is reasonable.
Ruidoso Parks and Recreation Areas
If you are looking for a one-of-a-kind location to host a special event or gathering or just a wind-down or recreational activity, Ruidoso Park is to go. 
For locals and tourists alike, Ruidoso parks, public areas, natural areas, and recreational possibilities bring life and beauty to the village. Wingfield Park, conveniently located in the center of Midtown, is a must-see.
Picnics, concerts, weddings, and birthday parties can all be held in Ruidoso parks. They also have soccer grounds, tennis courts, pickleball courts, and baseball/softball fields for athletic activities.
Get your adrenaline pumping all year long! Ruidoso Parks & Recreation provides a wide range of recreational and sports amenities. They have plenty of areas to relax or be active, from playgrounds and walking trails to tennis courts and a municipal swimming pool with a water slide, as well as lakes and rivers where you can fish.
Celebrate Autumn in Ruidoso with Old West photographs, cuisine, kids games, a mechanical bull, live music, arts and crafts, and a parade!
Grindstone Lake and Alto Lake
Grindstone Lake and Alto Lake recreation areas in Ruidoso are two cool, clear alpine reservoirs that will keep you coming back for more. Bring a picnic, cast a hook for fish, paddle a boat, cycle, horseback ride, or explore on foot along multi-use trails.
Grindstone Lake is a picturesque mountain lake. Over 18 miles of hiking, biking, and horseback trails are available, and the lake is ideal for swimming, kayaking, canoeing, boating, and fishing, with an abundance of rainbow trout, catfish, and smallmouth bass.
The Lake has a 27-hole disc golf course where friends and families can have a fun game while navigating the heavily wooded course. Leashed dogs are permitted on the trails and in the lake, and it has ample parking and public restrooms.
Keep a camera handy in case you see a black bear, deer, elk, blue heron, osprey, or bald or golden eagle in the lake areas. Grindstone Lake features a viewing platform dedicated to these amazing birds and their acrobatic feeding routine.
Non-motorized boating is permitted all year. It is necessary to have a boat permit, which may be purchased online.
The miles of gorgeous, multi-use trails that circle Grindstone Lake are used by mountain bikers, hikers, and horseback riders. When interacting with other trail users, please be respectful.
If you're bringing children, the Eagle Creek hiking trail at Alto Lake is a one-mile out-and-back that follows the creek and crosses it with bridges, the second of which is near a series of waterfalls that create an ideal swimming place in the summer.
Fort Stanton – Snowy River Cave National Conservation Area
Fort Stanton was built as a military outpost in 1855 and served for more than 40 years. It later served as a tuberculosis hospital, a CCC camp during the Great Depression, and a German Internment Camp during the war.
This was a detention center for those considered to be enemies of the United States during the Second World War, which took place around this time. It was eventually recognized as a living historical site and declared as a state monument in 2008. The surrounding area, which includes a large cave system, was designated as a national conservation reserve.
The Fort Stanton Museum has meticulously preserved and presented the fort's unique and historic past, which visitors can explore and tour to learn about the fort's history and the individuals who lived and worked there throughout the decades.
The museum is open seven days a week, and visitors are always welcome on the grounds. Although admission is free, donations are always appreciated.
Fort Stanton is located next to Lincoln and 18.5 miles from Ruidoso and is situated off the Billy the Kid Scenic National Byway near the Bonito River.
Inn of the Mountain Gods Resort
The top mountain resort in New Mexico greets you with outstanding service, delectable cuisine for all tastes, thrilling gaming excitement, and magnificent alpine scenery to soothe your spirit.
Located in the gorgeous mountains of Mescalero, New Mexico, just outside of Ruidoso, guests return time and time again to experience the fresh mountain air, breathtaking panoramic vistas, and thrilling entertainment options at Inn of the Mountain Gods.
Ziplining over Lake Mescalero, kayaking on the lake, hiking or biking through the surrounding countryside, and even hunting for elk or other big game in the Southern Rocky Mountains are just a few of the activities available, and that's not even measuring the activities available right at the resort. The Inn of the Mountain Gods has a full casino with everything from blackjack to roulette, as well as frequent entertainment such as concerts by nationally touring performers.
Inside the premium spa, reconnect with nature while revitalizing your mind, body, and spirit. Custom services ranging from trademark facials to reviving massages to a high-end salon provide the ultimate in relaxation. Their knowledgeable staff will assist you in feeling renewed.
The Inn of the Mountain Gods Resort and Casino is a lovely destination to visit on any holiday, but vacationers and regular visitors alike will appreciate the various amenities available at this stunning mountain resort.
Three Rivers Petroglyph Site
You know how amazing it is to connect with the messenger if you've ever found a message in a bottle. Imagine 21,000 messages etched into the rock in the shape of images, none of which were created in the recent decade or even the last century, but which were created 10 centuries ago. The prehistoric Jornada Mogollon people carved on the rocks at the Three Rivers Petroglyph Site sometime between AD 900 and 1400.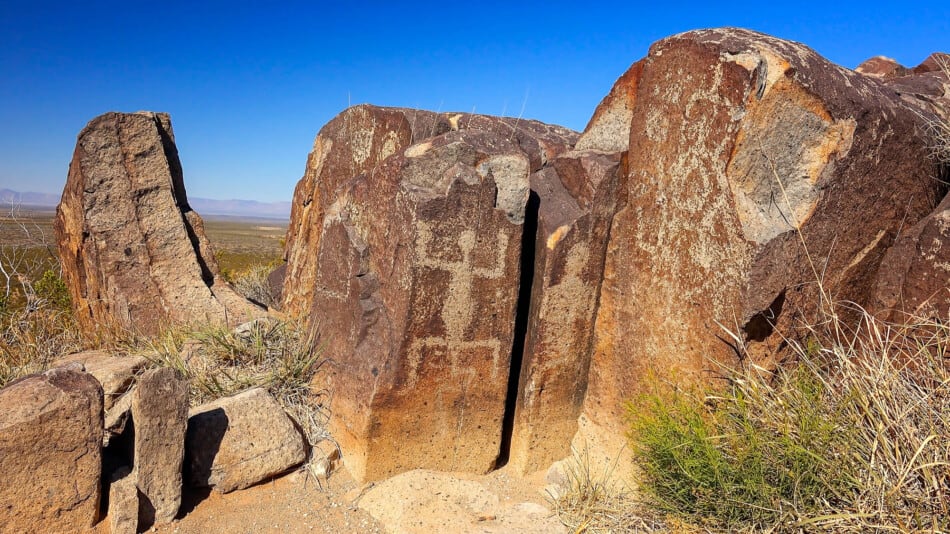 Find the visitor shelter within an hour of Ruidoso and go for a short half-mile hike. You've arrived at a location where you can travel across time. You can easily find the petroglyphs and stroll right up to them.
A short trail leads to a partly discovered prehistoric settlement, which was most likely occupied by the Jornada Mogollon people, who inexplicably vanished after hundreds of years here.
Explore the 50-acre site – as a day hiker or overnight camper – and reflect on the people who were here before us. They stared at the Tularosa Basin and sought refuge in the Sacramento Mountains, just like modern-day tourists. Their rock etching legacy is a gift that brings a sense of wonder
Noisy Water Winery
Visitors can try some of Noisy Water Winery's outstanding products, including Besito Caliente and Rojo Caliente, two best-selling reds infused with New Mexico chile peppers, and Jo Mamma's Red, a sweet red that is a bit too easy to drink.
Noisy Water Winery also dabbles in cheesemaking, with delectable alternatives like garlic-infused Green Chile Jack cheese and the Ghost Chile Jack, which Noisy Water claims are the world's spiciest cheese.
Visitors can try all of the cheeses and wines at the lovely winery, as well as some of the Noisy Waters' Balsamic Vinegar and Olive Oils, which are also available for tasting.
Recent Posts