Strawberry, Arizona is a must-visit destination for nature enthusiasts and history buffs alike. Nestled in the breathtaking Mogollon Rim region, this charming town offers a unique blend of outdoor adventures and rich historical sites.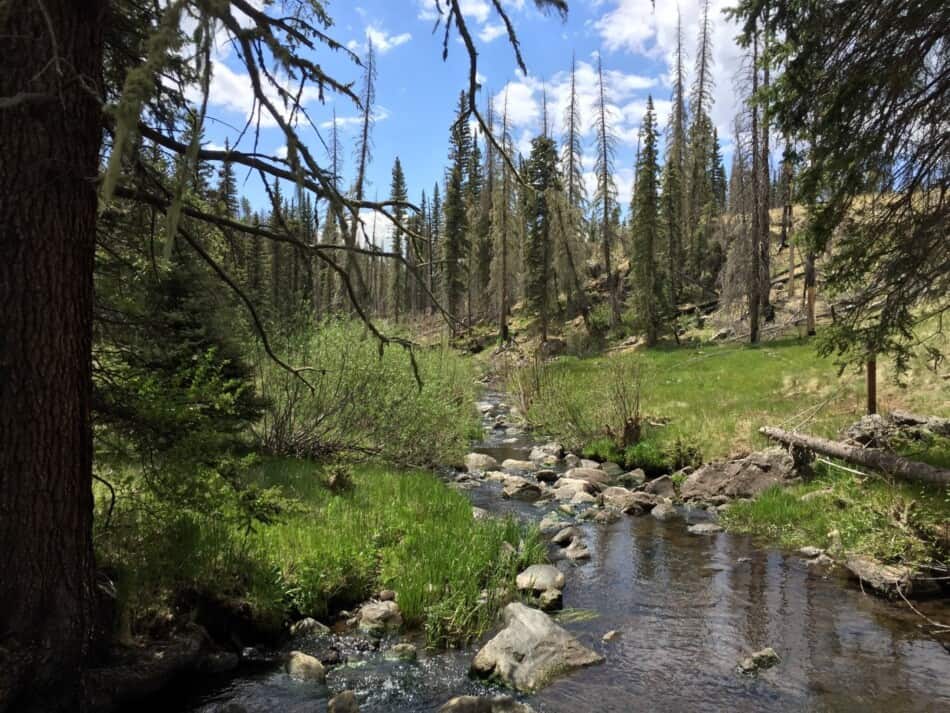 With its picturesque landscapes, including the nearby Tonto National Forest and the iconic Strawberry Mountain, visitors can immerse themselves in the beauty of nature through hiking, camping, and wildlife spotting.
Additionally, history comes alive in Strawberry with its well-preserved historic buildings and landmarks, such as the Strawberry Schoolhouse and the Pine-Strawberry Museum. Whether you're seeking outdoor thrills or a glimpse into the past, Strawberry, Arizona promises an unforgettable experience.
15 Things to do in Strawberry, Arizona – Must Visit!
Fossil Creek
When looking for red rocks and waterfalls, tourists frequently travel along Fossil Creek. It is among the top attractions in Strawberry, Arizona.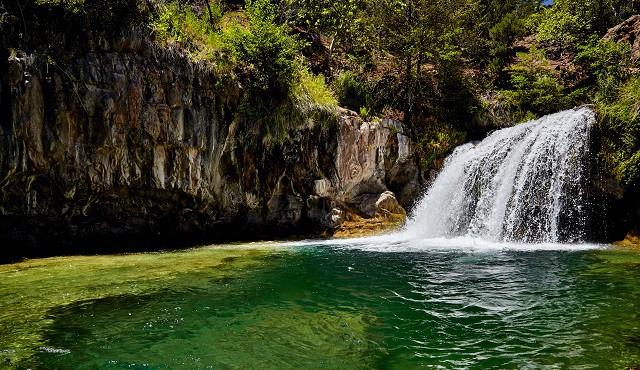 There are additional trailheads that you can take to get to the creek. The length of Fossil Creek is considerable—at least eight kilometers.
The sunlight and the various trees that provide shelter on both sides will welcome you to the canyon when you arrive in the early morning hours.
The next stop on the transit route is a big open area with numerous stones and ponds, which may or may not be filled depending on how hot the previous weeks were. Hiking this trail is very enjoyable, so you should go.
Pine Strawberry Trail
Arizona's Pine and Strawberry villages are located on the Pine-Strawberry Trail, which is situated on the northern border of Gila County and the Tonto National Forest.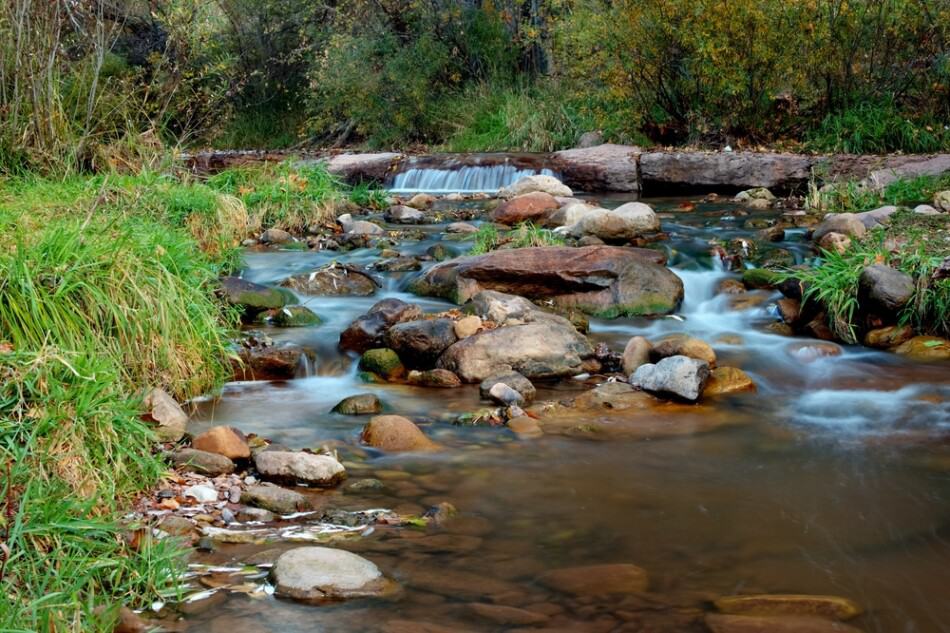 The trail is great for horseback riding, hiking, and biking. It provides a lovely setting and a peaceful atmosphere.
This engaging, difficult course will take about three hours and 33 minutes to finish.
The trail system is constantly being improved, including by adding new pathways, restoring older trails, and including educational components. They are carried out by Pine Strawberry Fuel Reduction, Inc.
Tonto Natural Bridge State Park
In the Central area of Arizona, close to Payson, sits the Tonto Natural Bridge State Park. It takes 16 minutes to get reach Tonto Natural Bridge State Park from Strawberry.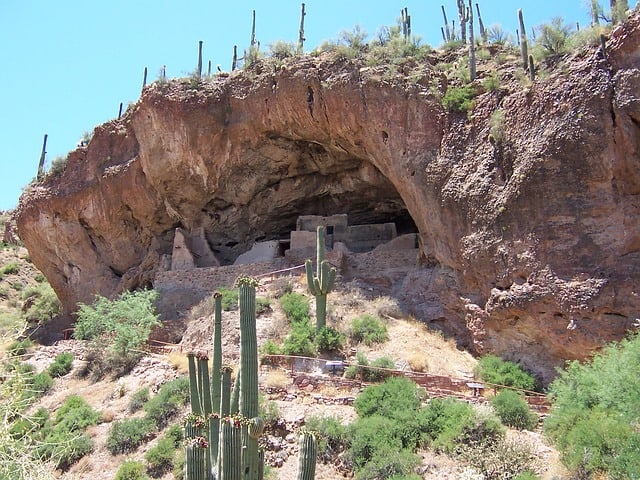 The world's largest naturally occurring travertine bridge, according to folklore. The bridge is 45 meters wide and rises to a height of 55.7 meters. 72 meters.
It has three hiking trails, lots of space for gatherings, and picnic sites. In addition to housing animals, birds, and insects, Tonto Natural Bridge State Park also features exhibits that trace the development of the bridge.
Randall House
The Randall House is a well-liked restaurant in this area. The building was made of pine wood and had an adobe veneer.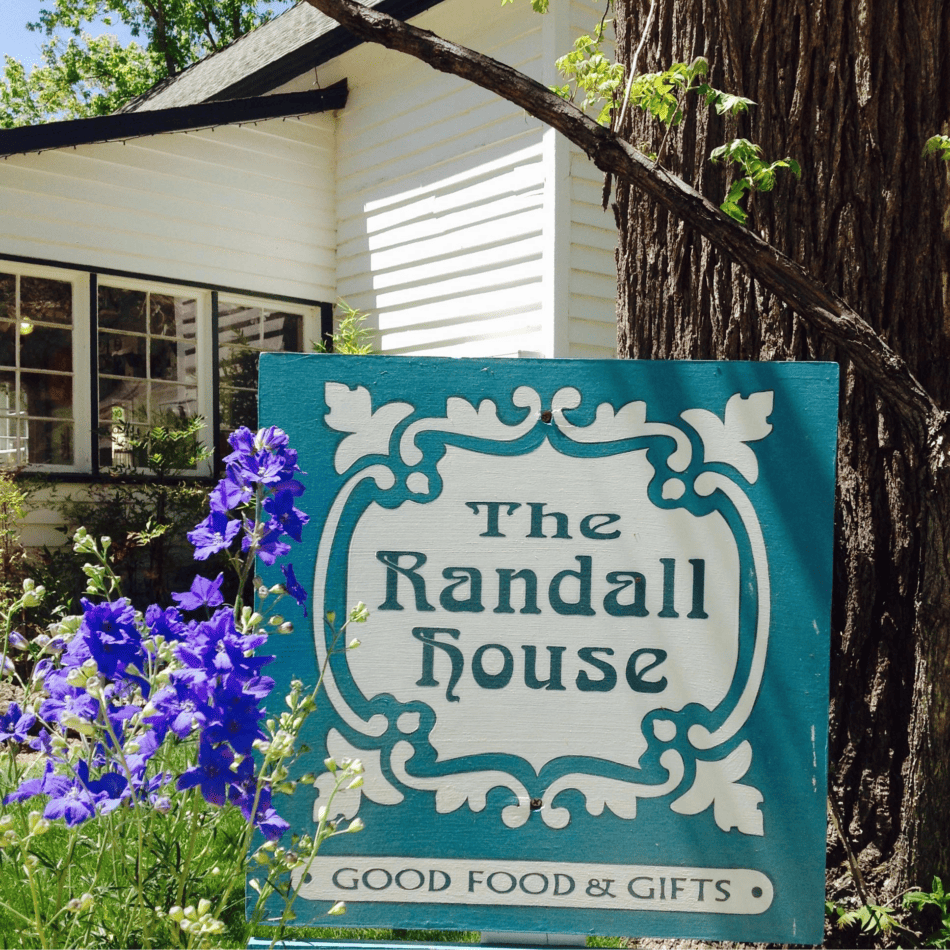 For more than 20 years, this family-run restaurant has served both tourists and locals food created from scratch.
It's the perfect setting for enjoying delicious food, unwinding, and spending time with loved ones. Sandwiches, souvlaki, and a variety of handmade baked pastries constitute the majority of their menu.
They also use fresh fruits and vegetables from their garden when cooking. They are so nice and friendly.
Old County Inn
You will undoubtedly be ravenous after spending many hours touring and need a location to fill your belly with some delectable delicacies.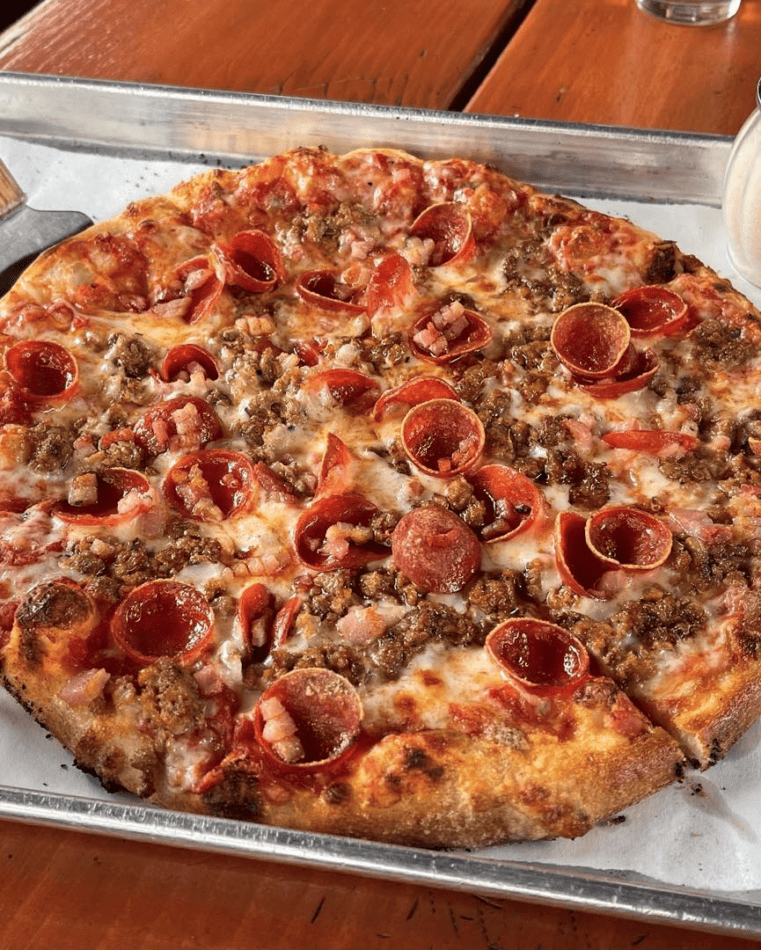 The Old County Inn should be that one location since it offers the best, freshly prepared food for your enjoyment.
Arizona's Strawberry is only five minutes away from the Old County Inn. All of their cuisine is kept simple, delicious, and prepared well, and the costs are reasonable for everyone.
Locally produced ingredients are used in the preparation of the tour pizzas as well as other delicacies in wood-burning ovens.
The Old County Inn serves only freshly prepared food. Don't forget to swing by and taste their delicious pizzas and locally brewed Arizona beer. Enjoy Rim County's breathtaking sights!
Mamajoe's Italian Grill
Visit Mamajoe's Italian Grill to taste their traditional Italian fare after spending many hours touring around so many attractions. They provide you with the most delicious meals possible, making you want more.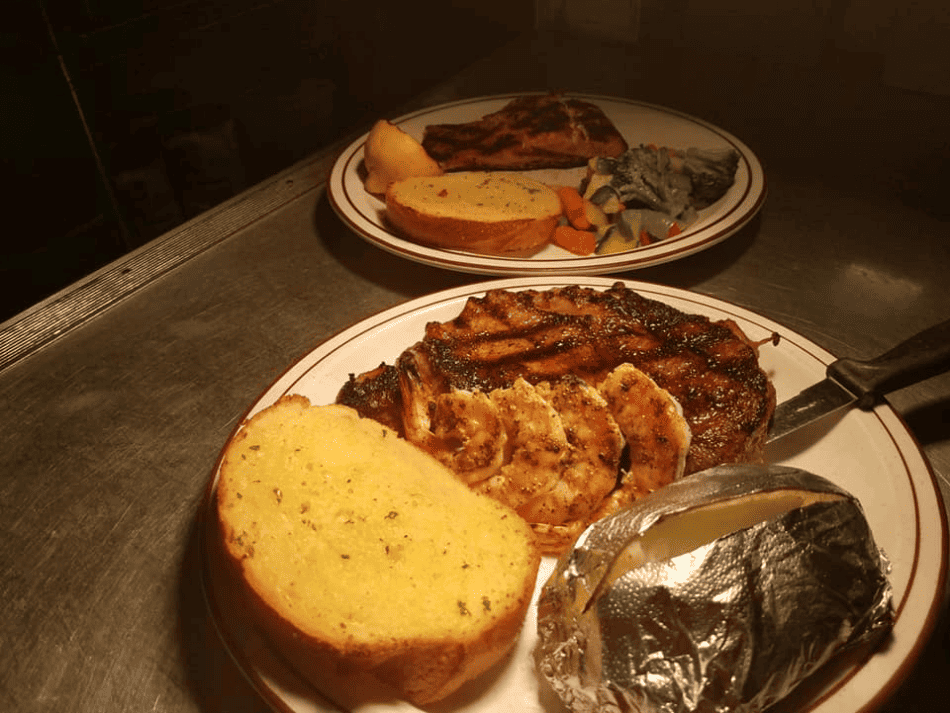 In this location, Mamajoe's Italian Grill is well-known for its emphasis on traditional and genuine Italian foods. They have a great crew that is always on hand to take your order.
Spaghetti, lasagna, fettuccine alfredo, ravioli, gourmet, Angus beef, and other special meals are all on the menu.
They make all of their soups, salad dressings, and sauces. You can also order their handcrafted dessert to complete your meal.
Pine Creek Fudge Ice Cream & Espresso
A family-run sweets shop called Pink Creek Fudge and Espresso was founded in 2009. It offers the most mouthwatering desserts you'll ever taste.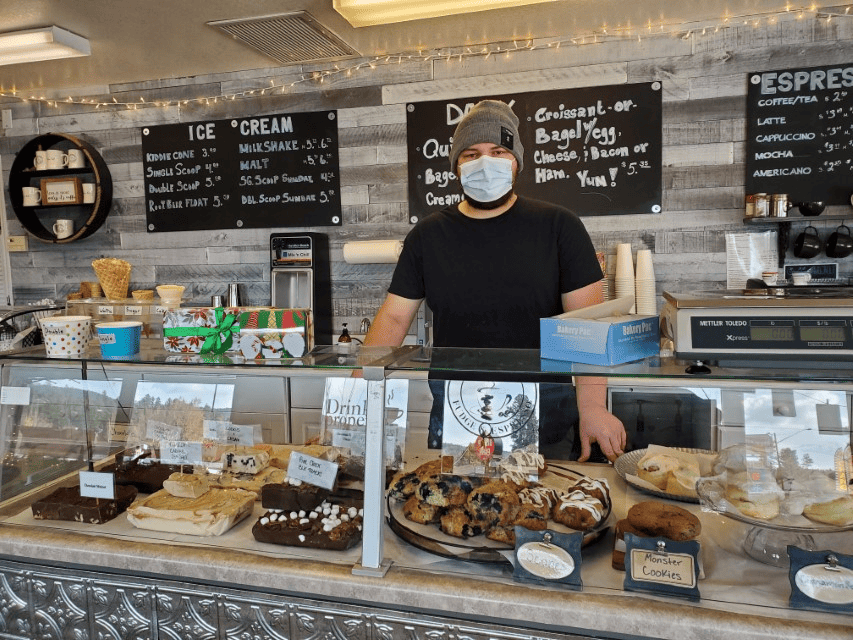 Pine Creek Fudge is roughly a five-minute drive from Strawberry. Traditional fudge comes in a variety of flavors, including coffee, delectable cinnamon buns, and breakfast sandwiches.
Everything you can eat here is done well, especially their ice cream and fudge. The atmosphere is friendly and relaxing. Also, you may unwind on their patio, which is accessible by ferry, and there is free WiFi.
Trident Winery
Visit the Trident Winery if you're searching for a lovely setting to unwind and enjoy the weekend or an evening.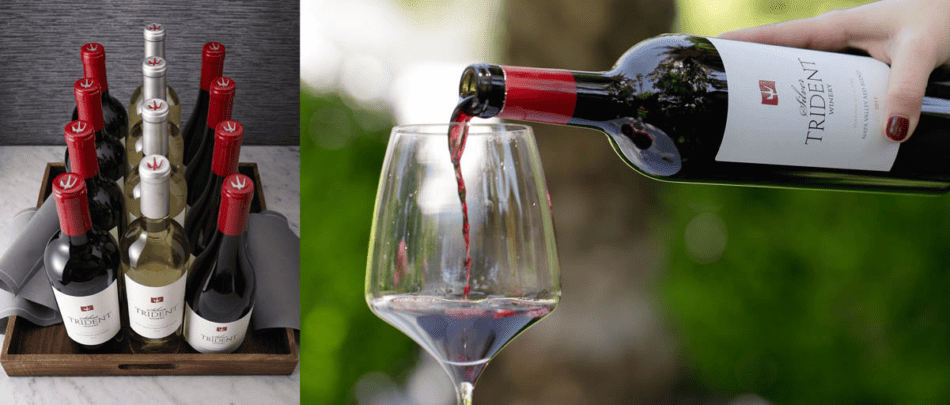 A small mountain town winery in the Rim Country, Trident Winery offers a variety of wines for everyone to taste.
At the Winery House, you may unwind and take in the views of the setting sun while sipping from their extensive range of great wines.
Trident House uses locally grown fruits and therapeutic herbs to make its wines. In this winery, everything is nourishing for your body. You must go there if you're in town due to how lovely the area is.
Strawberry School House
See the renowned one-room schoolhouse, which is one of the best things to do in Strawberry, Arizona.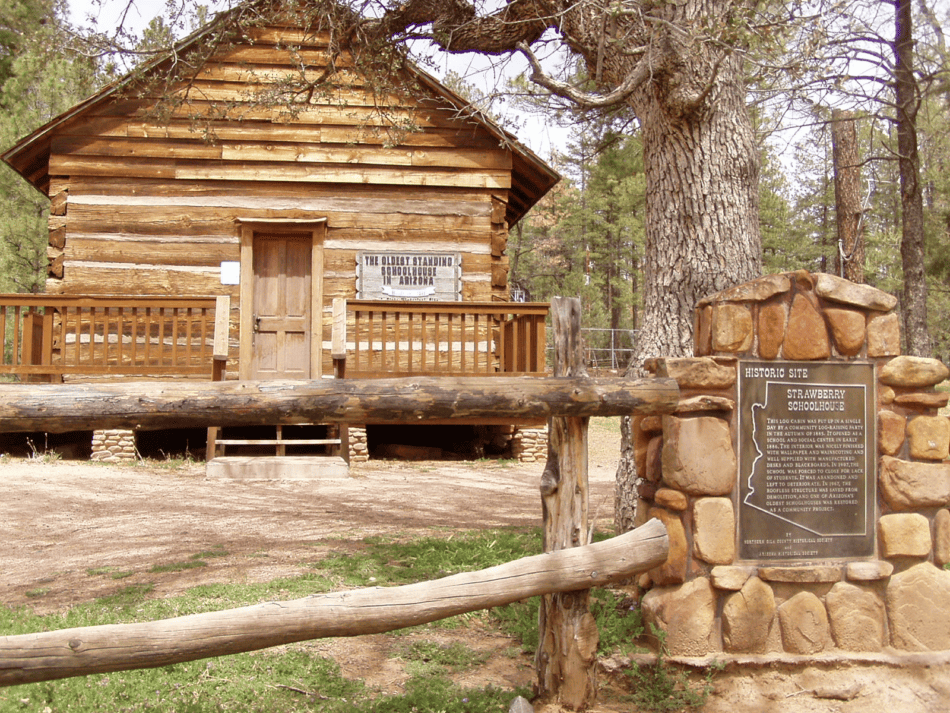 Pine logs were used to construct the schoolhouse in 1885. It is acknowledged as the oldest still-operating schoolhouse. It currently functions as a complete indigenous historical museum and features an exhibit reminiscent of a nineteenth-century classroom.
On May 10, 2005, The Strawberry School House was added to the National Register of Historic Places.
The School House is a unique treasure in this area of the nation since it is a classic illustration of an Arizona wooden building.
Pine-Strawberry Museum
A must-do activity in Strawberry, Arizona, for history buffs and enthusiasts, is to visit the Pine-Strawberry Museum. The museum was made available to the public in 1979 and contains artifacts related to the history of Pine and the areas around the pines.
The Museum is situated beneath the well-known Mogollon Rim, the Arizona Backbone. An area of exquisite beauty with remarkable dimensions is the Mogollon Rim.
Ancient artifacts were discovered in the Pine and Strawberry Valleys as well as the neighboring plateaus. The Pine-Strawberry Museum also houses more artifacts that were brought and used by the original settlers of these villages.
The museum also has artifacts on display. Here you can also see irons, oil lights, and wash buckets. As a result, many of the items in the Pine Strawberry Museum date after 1945.
Windmill Coffee
The origins of Windmill Coffee date back to the 1970s. It has served as a barbecue restaurant, tanning bed, and storage facility, and is now a coffee store and roaster.
Dan and Marina, residents of Pine/Strawberry and both from Southern California, are the owners and operators of the coffee shop.
They are pleased to share their extensive selection of coffee tastes with you after realizing their dream of opening their own coffee business.
While admiring the lovely views of Strawberry, stop by to buy a beverage from their walk-up window, or you can order a delicious cup of roasted coffee to be delivered right to your door.
Herb Stop
Herb Stop was established in 1992 by Leilah, a skilled herbalist and pharmaceutical assistant from Switzerland.
The Herb Shop began as a modest 300-square-foot store in Arizona and expanded to host apprenticeship programs and Herb Stop Certification programs.
Natalie Hajdu, a Master Herbalist who assisted Leilah in 2002, is currently in charge of the Herb stop.
Together, the two herbalists produced an exceptional line of more than 2,500 herbal medicines. They are committed to ensuring that the general public and anyone who wish to improve their lives and state of well-being have access to their great herbal products.
PIEbar AZ
If you want to eat a delectable meal, head by the PIEbar, AZ. One of the best restaurants in this part of the nation is this one.
After a long day of exploring Strawberry, Arizona's numerous attractions, you can travel there with your family and friends to enjoy some delectable meals.
If you want to taste their delicious empanadas cooked in the area, be sure to stop by the PIEbar AZ. Their menu items are always changing as a result of the addition of new recipes. The restaurant also serves coffee, specialty drinks, tiny pies, and cocktails.
Visitors and locals alike frequently stop by to taste their succulent pies.
Sportsman's Chalet
Dining at Sportsman's Chalet is one of the best things to do in Strawberry, Arizona. It has a lovely covered terrace where locals and visitors congregate to enjoy a drink in the evening.
Several customers of Sportsman's Chalet appreciate their properly prepared elk, fried fish, pork, and burgers. The establishment specializes in making Mexican food.
It draws a lot of customers because of the exceptional customer service that it provides. It's a lovely location to visit.
The Strawberry Inn
If you're looking for a spot to spend the night and continue your trip the next day, stop by the Strawberry Inn. Travelers, adventurers, and lovers of the outdoors will find this boutique hotel to be an interesting location.
The inn is excellent for hunting trips, family gatherings, business meetings, romantic getaways, and fun family vacations.
If you want to go on a glamping tour, it also has private cabins like The Creek Cabin, The Bunkhouse, Small Cottages, The Bungalow, The Guesthouse, and Airstreams.
Myra's Art
Myra's Art Gallery is among the top attractions in Strawberry, Arizona, for art enthusiasts. Myra's Art Gallery has existed in this area for more than 19 years and has withstood the test of time.
Myra Kraemer, who is also an artist, founded the gallery. Her spouse helps her manage the gallery.
The workshop sells a variety of artworks, including sculptures, elegant prints, Indian jewelry, real ceramics, and locally made presents. Myra will give you a tour of the gallery when you get there.
Fossil Creek Creamery
Visiting the Fossil Creek Creamery is one of the things to do in Strawberry, Arizona. On Fossil Creek Road, the Fossil Creek Creamery is a real llama ranch with stunning vistas and goats that are fed by bottle.
It is a brilliant idea to bring your kids to this location. If you come at the right moment, you'll be able to feed the goats and even milk them.
In addition to raising goats and llamas, it also makes cheese, fudge, and even soap. The brewery's signature beers can be enjoyed on the outdoor terrace there as you relax.
In addition to raising goats and llamas, it also makes cheese, fudge, and even soap. The Scottsdale, Phoenix, and Flagstaff farmer's markets carry all of their products.
To take a tour of the wonderful farm, make reservations before going to the goat and llama ranch. When you visit the ranch, you can also go on a hike. When you travel through this sizable goat and llama ranch, these llamas can assist you with carrying your belongings.
Bear Foot Trail
Going for a little hike on the Bear Foot Trail is one of the enjoyable things to do in Strawberry, Arizona; it's a well-designed trail with stunning scenery.
The trail is fairly difficult, but there are several little but considerable rises along the way, and the landscape is quite rugged. The track quickly dries, even if there has been a lot of rain recently.
Since the road has a good connection to a significant portion of Pine Canyon, campers can move north of Camp Lomia. In general, this fantastic out-and-back trail might be connected to the Pine-Strawberry route.
Fancy Finds
Sherri Gray runs Fancy Finds from her home in Pine, Arizona. It is a cutting-edge marketplace with a variety of home decor, handcrafted flowers, upcycled items, clothing, furniture, and gifts.
Sherri personally chose each item in this space. When you come, there is always something you can purchase.
They were fortunate to find an old house in Pine, Arizona, where they could stock up on unique items that people could uncover and purchase. You will always find a new stock to buy at their store because the items are continually changing.
Recent Posts