17 Fun Things to do in Vernal, Utah
Vernal Attractions: Are you looking for fun things to do in Vernal, UT? This list of tourist attractions in Vernal has something for everyone – hidden gems and top attractions in Vernal.
Northern Utah has some special places to visit and Vernal is no exception. There is so much to do near Vernal you will not get bored.
17 Best Things to do in Vernal, UT
Dinosaur National Monument
Time to get prehistoric and see some relics of the past in the Dinosaur National Monument in Vernal, Utah. This place is unlike any other, many visitors and tourists are drawn to the area by the huge number of dinosaur fossils.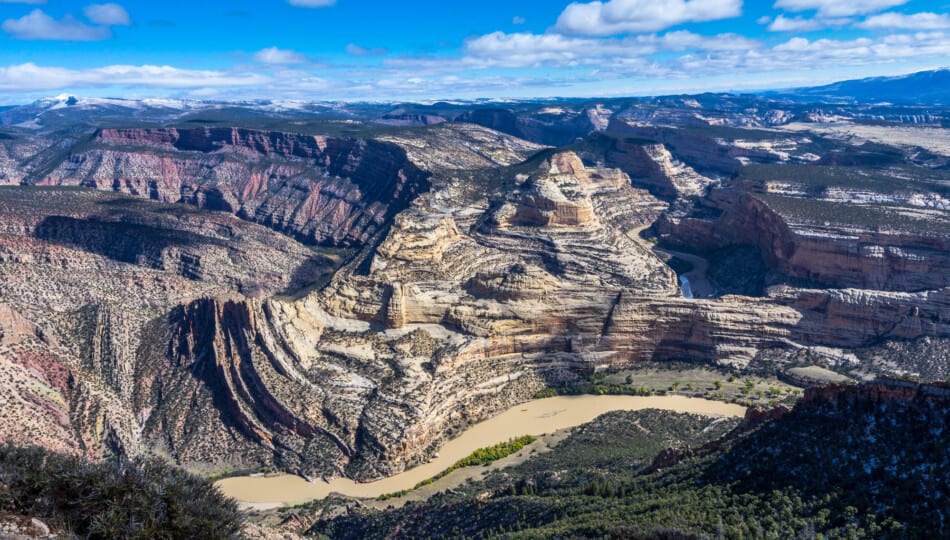 You can explore this special place on foot, but don't miss the opportunity to experience the monument by water. If you take the raft on the gorgeous Green River, you would pass by beautiful striated sandstone walls and lush coves.
On foot, you get to pass by ancient National American rock art of animal-like drawings, abstract designs, and human-like drawings that till this day is a mystery to all. Enter a blast from the past in the refreshing way here in the Dinosaur National Monument.
Red Fleet State Park
Enjoy one of Utah's stellar parks in the Red Fleet State Park. The Red Fleet State Park is surrounded by beautiful sandstone cliffs.
Located a few miles north of Vernal, Utah, this state park is both cozy and scenic which is a perfect place for exploring the surrounding area and offers stellar camping, hiking, swimming, fishing, and biking.
On the western shores is a campground that gives a panoramic view of the reservoir. It may have a "No Wake Zones" in the area but the beautiful red cliffs are nice to paddle around, people refer to the park as a paddle craft destination.
For the adrenaline enthusiast, one of the most popular things to do while visiting the park is cliff jumping. The "Cave", as referred to by the locals, is located directly across the lake that allows all levels of jumpers to enjoy a splash in the cool water.
The Red Fleet State Park is a place full of excitement and enjoyment that many visitors will love.
Utah Field House of Natural History State Park Museum
So much time is revealed here, even more, geologic time than in the Grand Canyon. Within an 80-mile radius of Vernal, evidence of the entire Earth's history is visible.
At its center is the Utah Field House of Natural History State Park Museum. This house museum houses an extensive collection of dinosaur fossils from several different dig sites around Utah.
The main specimens here include a 90-foot long Diplodocus skeleton, Stegosaurus, Brontotherium, and a near-complete Haplocanthosaurus lying beneath a towering Allosaurus. Besides the amazing dinosaur skeletons on display, visitors can also try to spot different fossils still left within a stone wall exhibit.
At the Field House, there are people doing paleontology research and you can see them do what they do best. You can also do some fossil-finding yourself, at the Morrison Dig exhibit, they let visitors experience what it's like to work on a real dig site.
There are a variety of interactive exhibits, displays, and activities available here in the Utah Field House of Natural History State Park Museum.
Fantasy Canyon
Take a step into a fantasy-like scenery here in Fantasy Canyon. Fantasy Canyon is such an amazing spot in Utah. It is so unique and accessible to almost everyone.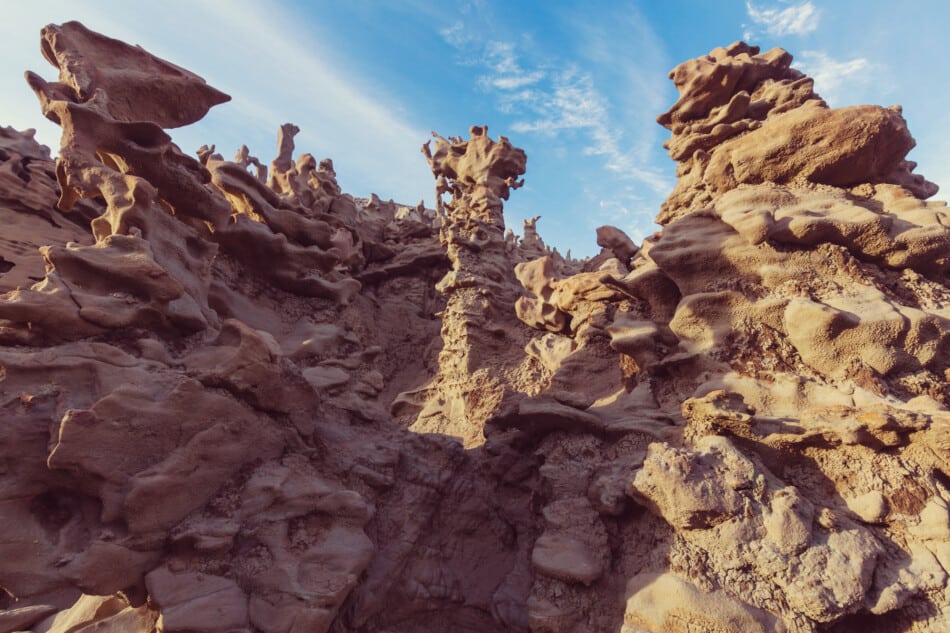 Fantasy Canyon is located near Vernal and is definitely worth the 45-minute drive from Vernal to visit. Though it is the most unique, it is also one of the most fragile geological places in the world.
This place was also called "The Devil's Playground" due to the area being full of unique erosional features. This place may be hard to get to but it is very rewarding to see this beautiful scenery. Fantasy Canyon is such an amazing spot in Utah. It is so unique and accessible to almost everyone.
Fantasy Canyon is located near Vernal and is definitely worth the 45-minute drive from Vernal to visit. Experience fantasy set in tone here in Fantasy Canyon.
Steinaker State Park
Fish for rainbow trout, enjoy sandy beaches, and a lot more here in the Steinaker State Park. Steinaker State Park and the reservoir around which it is centered serve as a popular recreational spot for both visitors and locals year-round.
Boating is one of the popular activities on the reservoir as it is common to see wakeboarding and water skiing during the summer months. There are also calm water areas away from the boats where you can enjoy paddleboarding and kayaking.
The state park is a great fishing spot for both new and experienced anglers. The popular fish caught are the Rainbow Trout and Largemouth Bass. The terrain around Steinaker is easily walkable and various trails make for a good day for hikers to take a step on to relaxing areas.
The main attraction in the state park is stargazing. The Steinaker State Park was designated an International Dark Sky Park in 2018. Nighttime here is a great opportunity for astronomy enthusiasts and stargazers to spend an evening looking at the stars. There are many things to enjoy and experience here in Steinaker State Park.
White Water Rafting
Paddle hard and float well as you scream with excitement as you do white water rafting. White water rafting is an engaging activity for everyone, whether you choose a relaxing float or a heart-pounding adventure, your family and friends have a choice of guides and outfitters to get you down the river in style.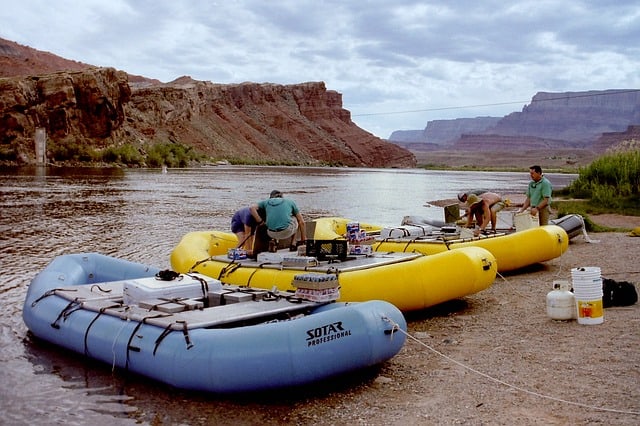 The Green River is one of the country's world-class river rafting destinations to experience the true enjoyment of nature at its best sometimes people call it the Green Water Rafting because of the river's name. The Green River winds through Flaming Gorge in northeast Utah and continues through Dinosaur National Monument which is also a nice place for people to enjoy.
The span of the Green River between the Gates of Lodore and Split Mountains is home to extremely intense Class 3 and Class 4 rapids which include some of the most incredible scenery found in the western United States. Some come to Vernal, Utah for some fun White Water Rafting.
McConkie Ranch
There are a few places in Utah where you can see excellent examples of Native American rock art. You might have heard of Newspaper Rock, the Great Gallery in Canyonlands, Parowan Gap, and Nine Mile Canyon.
McConkie Ranch is a bit less well-known, being a bit off the beaten tourist track, but is just as impressive in its own way. These well-known sites are best to visit as they can handle visitors without damage, and are also the easiest way to see a lot of art in a small area. Rock art can be found throughout Utah, not just at the well-known, impressive locations.
From the parking area, walk up the small slope to the base of the cliff where you can see petroglyphs about a quarter-mile to the parking lot. These petroglyphs are in a unique "Vernal Style", which includes figures shaped like an inverted trapezoid.
Some petroglyphs are in places that don't catch your eye so you have to keep your eyes open as you hike around the ranch. McConkie Ranch is a place full of beautiful Rock art and amazing hiking trails.
Moonshine Arch
Moonshine Arch is a wonderful vista just north of Vernal at the end of a short but moderate hike. Once you get the Moonshine Arch, you will get a sense of just how massive this place is.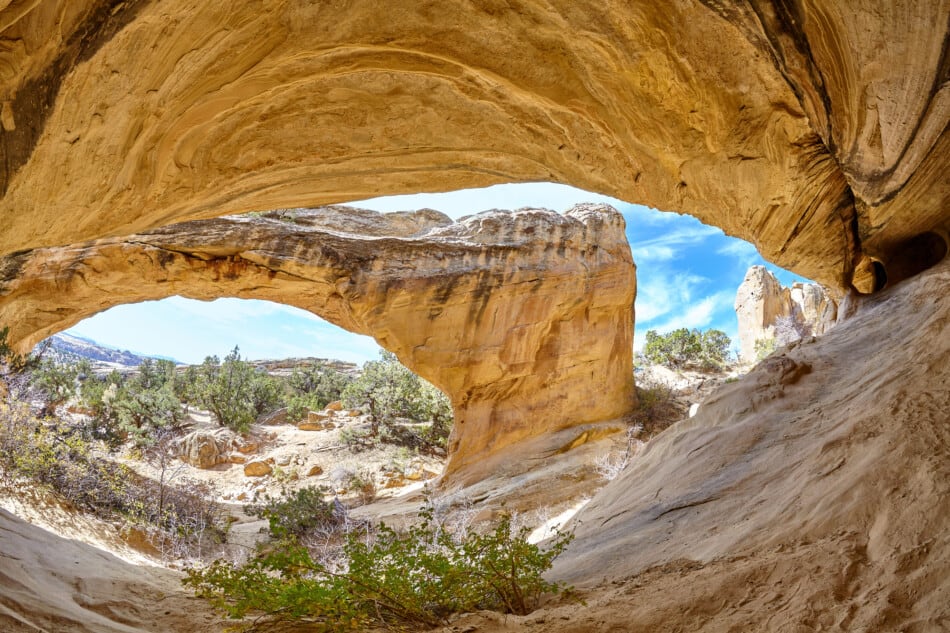 There is a large grotto behind the arch, which makes a great echo chamber. You can walk under the arch as well. The Arch makes a perfect frame for taking pictures of the Steinaker Reservoir and the scenery of the area.
Behind the arch are caverns where you can sit in the shade and eat or you can go exploring. You can also bring your dog to the area and have a wonderful stroll around the arch.
Make sure you visit this place in the afternoon as to not experience harsh heat from the sun. Moonshine Arch is a great place for visitors and tourists to explore and take pictures.
Pink Brontosaurus
Aside from Science, Hollywood and TV are responsible for our misconceptions about the lives of dinosaurs. Cartoon versions of dinosaurs are the norm more than the exception.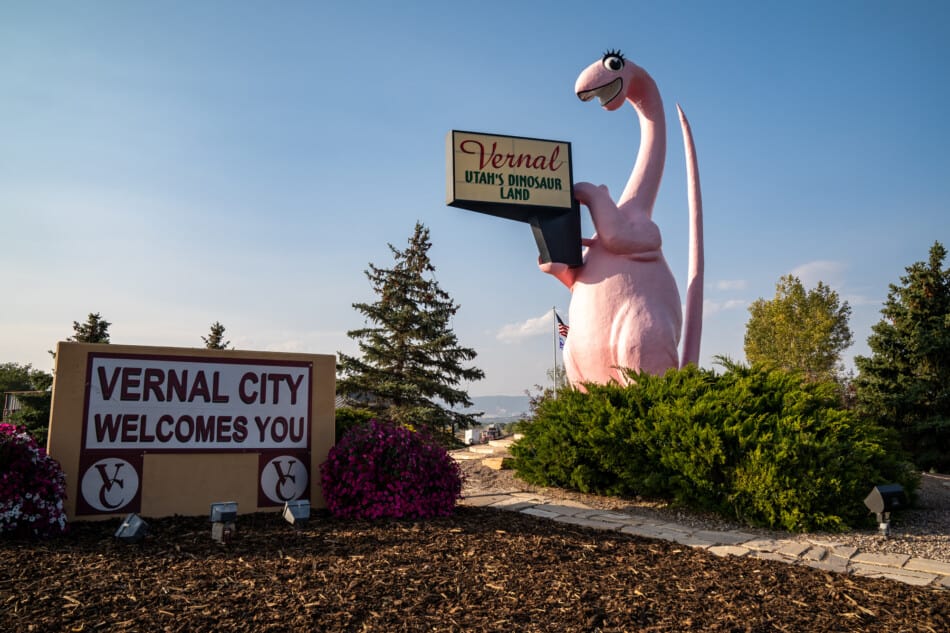 As you drive by at the east end of town, there is no way you can miss this large pink dinosaur which is the Pink Brontosaurus. Dinah is a 40-foot tall fiberglass Brontosaurus with long lashes.
Built-in 1958, this cute pink dinosaur was made at Dine-a-Ville Motel to attract customers. Aside from Dinah, the owners of this motel have also made other dinosaurs around 5 feet tall.
There is a 23-foot tall T-rex built for the Dine-a-Ville Motel. It is located at the motel's original location. Other than that, Dinah, the Pink Brontosaurus is a nice place to take a photo at. After all, who wouldn't take a photo at a pink dinosaur in Vernal, Utah. The Pink Brontosaurus is one of the few dinosaur monuments that are hard to ignore here in Vernal.
Dry Fork Rock Art Trail
There are always many places to see petroglyphs in Vernal, and the Dry Fork Canyon is no different. There are way more pictographs that are more densely collected and more accessible than many would believe.
As you hike up the Dry Fork Rock Art Trail, you can see petroglyphs and many rock arts. Some are fairly primitive in design and seem to represent hunting or similar types of scenes.
Some petroglyphs show similarities to human figures and animal-like figures that keep people intrigued and fascinated by their mystery and beauty. As you keep hiking up the trail, there are many impressive panels found along this trail.
Among these petroglyphs are people with interesting features like oversized feet or unique headgear. There are many things to see as you hike up the Dry Fork Rock Art Trail.
The Sound of Silence Trail
Don't mistake a depressing song for a beautiful trail hike in The Sound of Silence Trail. The Sound of Silence Trail is the longest hike in the Utah Section of the Dinosaur National Monument known as Cub Creek.
The trail winds through a colorful desert environment and along with various geologic formations. This is one of the best hikes in the main section of Dinosaur National Monument for anyone looking for true solitude.
The trail makes use of several gullies and ridges to form a nice loop through a section of the colorful desert. As you hike here you can see the occasional deer, bighorn sheep, or coyotes, it makes hiking more interesting to do. This trail crosses the sagebrush flats from the roadway and enters the dry bottom of Red Wish.
As it is the longest hike in the Utah Section, there are many trail markers provided to make sure that you don't get lost on the way. This trail is one of the most challenging yet impressive trails to ever exist so come to The Sound of Silence Trail and experience it yourself.
Eagle Ridge Trail
If you ever want to feel the thrill of hiking and more, come to the Eagle Ridge Trail. There is fun for everyone on this multi-use trail that has a lot to offer.
There are easy access, views, and steep downhill switchbacks into the old-growth forest for the thrill-seekers which makes this a popular summertime trail. The trail will provide you with views all around, including a glimpse of Moonshine Arch, Hogback Ridge, Betsy in the campground, and an almost empty Steinaker Reservoir.
This trail is also good for pets such as dogs who want to give their pets exercise around the trail. Tourists can also enjoy this trail and take photos of the beautiful scenery all around as you hike more. The Eagle Ridge Trail is a place where you can hike as long as an eagle soar in the sky.
Where to eat in Vernal
Antica Forma
If you want to eat good pizza in Vernal, then the Antica Forma is a good place to dine. The restaurant Antica Forma serves pizza as if you are eating in their birthplace.
The pizzas here are baked in ovens over 800 degrees that can serve pizzas in about ninety seconds. There are many choices of pizzas to choose from, from Margherita, Provola, and Sopressata to Cotto, Vegetariana, and La Nonna.
As you choose the pizza of your choice, you can also order some appetizers to go along with it. If pizza is not to your liking, then the Lasagna Alla Bolognese is the one for the pasta lovers out there.
Antica Forma provides a variety of dishes that anyone can enjoy, not only for regular customers but also vegan and healthily living customers out there. So if you want to eat good pizza in Vernal, then the Antica Forma is a good place to dine.
Vernal Brewing Company
Visiting historical places, rock art, and funny dinosaur monuments are all good things to do in Vernal but drinking and eating are also things to do here in Vernal.
The Vernal Brewing Company is your East Utah haven for good food and beer. There are many drinks to choose like craft beers like the Little Hole Lager, Pilgrimage Extra Pale Ale, Ms. Bee Hiven Honey Blonde Ale, and many more.
Aside from drinks, there is also food that pair with these amazing beers, burgers like VBC Burger, Evil Burger, and the American Burger, salads like the Garden Salad, House Salad and Ceasar Salad and other foods like Fried Chicken Sandwich, Pork Chop, Mac and Cheese and many more. The Vernal Brewing Company is an amazing place to dine, drink and have fun.
Plaza Mexicana
Experience Mexico cuisine in Vernal here in Plaza Mexicana. For travelers who are eager to dine, Plaza Mexicana is a very nice place to take a break and eat.
They have a wide array of Mexican dishes to choose from, from Enchiladas to their own Chimichangas, the taste and the size of the food here are all delicious that many people will never complain to dine in.
One of their popular dishes to serve here is their burritos and you can never complain about the taste and the variety of fillings in their menu. Dining here in the Plaza Mexicana is like being in Mexico in another Country.
Recent Posts