15 Dreamy Treehouses in Utah for a Unique Stay
Treehouse Airbnb Utah: Staying in a Treehouse in Utah is a unique experience. There are so many cool Utah Treehouses to choose from that you are sure to have a great time. Check out these Treehouse Rentals in Utah.
There are lots of options for Treehouse Airbnbs in Utah. These little woodsy hideaways are ideal for adventurous couples, families, and groups of friends searching for a unique outdoor adventure. There are many treehouse rentals in Utah that will suit different types of travelers. The majority of these treehouses are equipped with modern and luxurious amenities, allowing you to rest while being surrounded by trees.
Thank you for supporting this website written by an American. This post may contain affiliate links. This means I earn a small commission on these links at no extra cost to you.
15 Best Utah Treehouses for a Dreamy Stay
The Treehouse Summary – The Most Popular Utah Treehouse
The Treehouse Summary in Orderville is certainly one of Utah's most popular treehouse rentals, perched high in a tree and open to spectacular views of nature. This treehouse, which is built on a century-old cottonwood tree, has one bedroom and a bathroom and can sleep up to three people.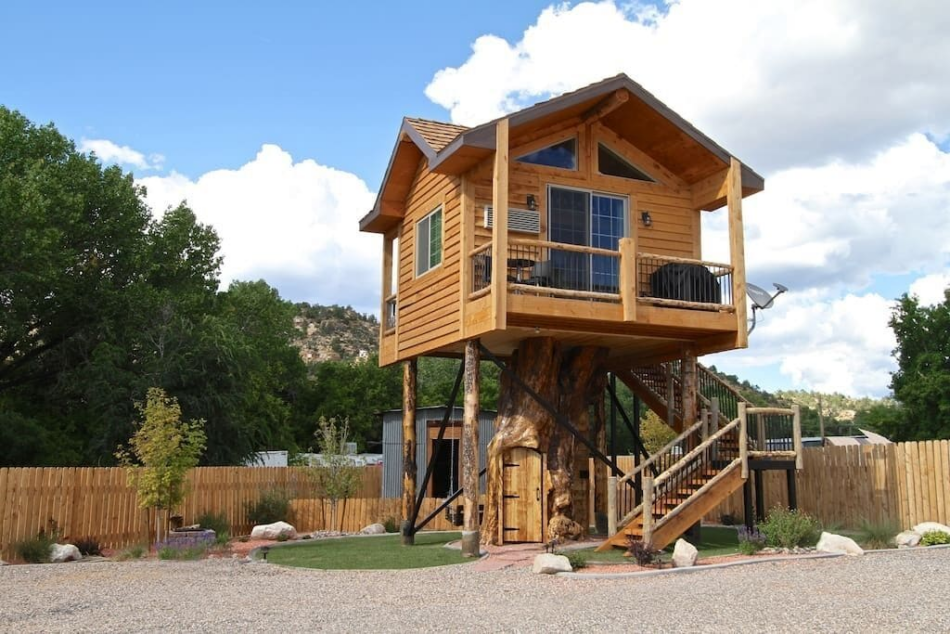 The interiors are rustic in style, but with modern elements and clean accents. You'll have everything you need when you stay in this treehouse. The full bathroom comes equipped with toiletries, and the kitchenette has a refrigerator, stove, and other cooking appliances. A king-sized bed and a pull-out couch are located on the left side of the room.
This cabin is 2.4 miles from the Thunderbird Foundation for the Arts. Basic facilities also include a coffee maker and an ironing board. Guests staying at this cabin also have access to a garden and BBQ grills.
This treehouse rental is perfect for travelers wishing to visit Southern Utah's national parks. The Grand Canyon is around an hour away, while Zion and Bryce Canyons are only 20 minutes away.
Other nearby attractions include Cedar Breaks National Monument, Coral Pink Sand Dunes, Antelope Canyon, and Lake Powell.
Modern Treehouse
Even though a treehouse is intrinsically related to nature, it can nonetheless be modern. A sophisticated treehouse in Sundance has turned a childhood dream into luxury. It features a contemporary design that blends in with natural features and floor-to-ceiling windows with breathtaking views of the outdoors.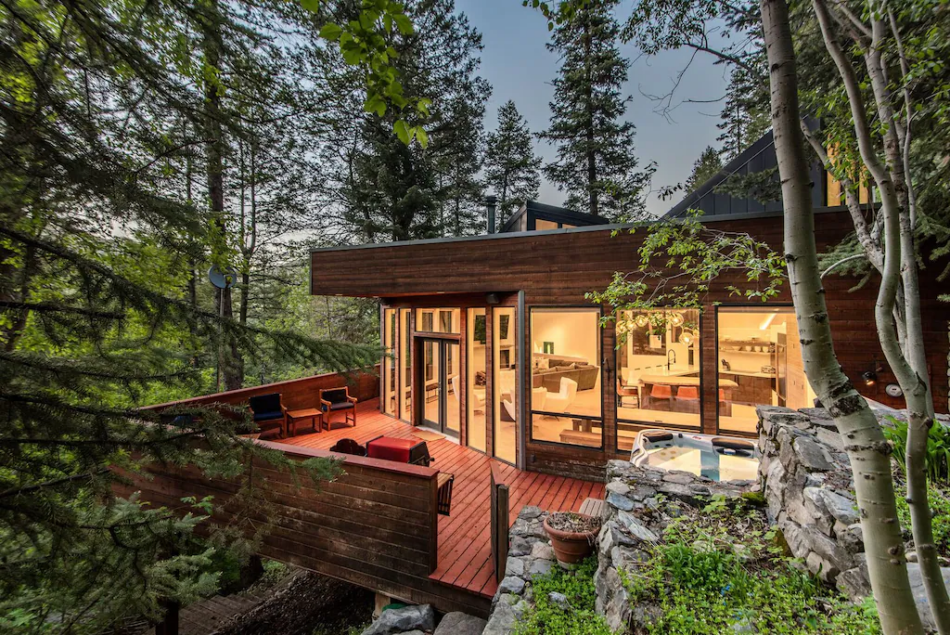 This charming property has four bedrooms and can sleep up to 12 guests. This has four bathrooms, a living room, and a kitchen. There's also a hot tub on the deck where you can relax beneath the stars!
The sauna is accessible if you wish to relax indoors. It's a great place to unwind after a day of exploring the outdoors. This trendy treehouse will surely attract families with children.
While staying in this treehouse rental, you will not be bored because there are several outdoor activities to keep everyone occupied. There's a game room that has a pool table, a big scrabble board, and a ping pong table.
A zip-line swing and an outdoor fireplace are also available. In addition, the host offers full concierge services and will arrange for guests to participate in activities like fly fishing, local day hikes, and more!
Luxury Treehouse
This opulent treehouse near Brian Head is great for both skiers and wildlife enthusiasts. It has two bedrooms and can accommodate up to six people in total. High in the mountains, this newly renovated cabin is situated amongst old pine trees.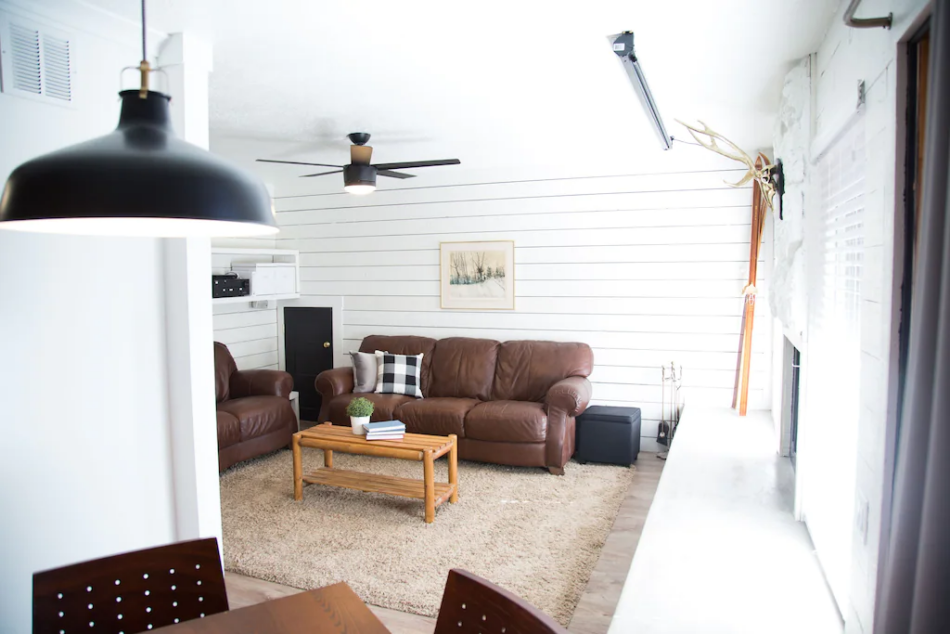 This treehouse rental is only a short distance from the Giant Steps. A general store is also close by, as is a tubing hill just across the street. Other well-known sites in the area include the Cedar Breaks National Monument, Brian Head Peak, and Panguitch Lake.
This exquisite treehouse, which has two bathrooms and two baths, is a superb place to relax in nature while still enjoying comfort and luxury. It has everything you need for a relaxing stay, including a utility room, a fireplace, an entertainment system, and a surround-sound movie projector.
If you're heading to Utah for a ski vacation, this is the best place to stay because it's close to several ski slopes. Aside from the indoor amenities, this property has a large deck with a fire pit, perfect for roasting marshmallows and spending quality time with family and friends late at night.
Cozy Mountain Getaway
The Nordic Valley Ski Resort, Pineview Reservoir, and the beautiful town of Eden are all within a few miles of this beautifully renovated A-Frame nestled in the Eden foothills.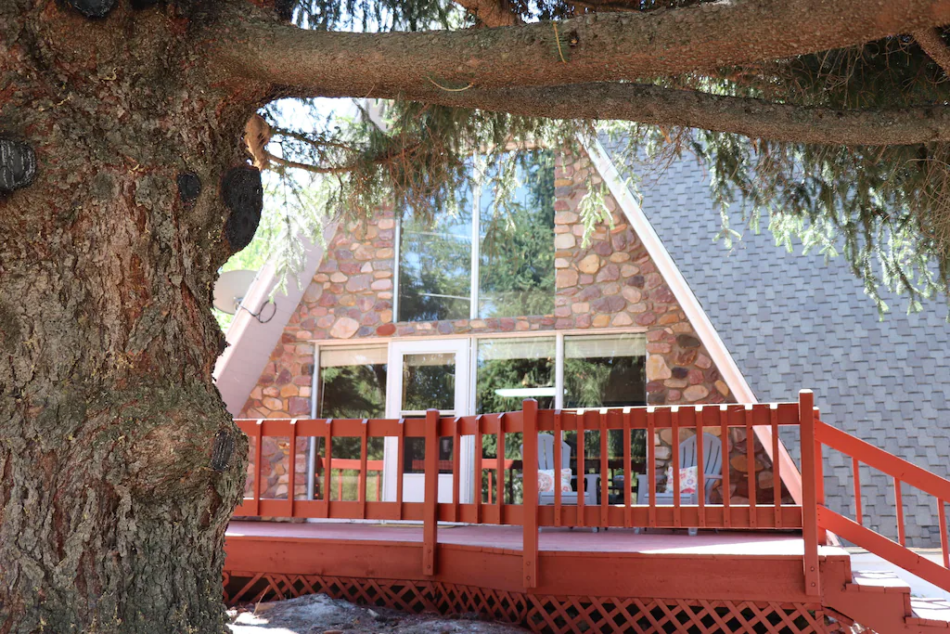 With modern furnishings, a well-stocked kitchen with premium equipment, and plenty of space to relax, this pleasant 2-story, 3-bedroom, 2-bath cabin is the ideal spot to get away from the city with family and friends.
Except for the master bedroom, which features a queen bed, reading space, a desk, a mountain view, and plenty of closet space, all of the rooms have recently been updated for comfort. The cozy guest bedroom has a queen bed and a small, private terrace.
The bunk room downstairs also offers two sets of bunk beds and plenty of space for the kids to play games and watch movies while their parents relax in the sitting area beside the wood stove. The cottage also features a balcony with a nice reading nook, where you may relax or nap after your outdoor explorations.
There is plenty of room to relax in both the rec room and the living room, which both include a TV with cable. The cabin has a variety of games and puzzles, as well as literature, wood, and additional pillows and blankets.
In addition, the backyard includes a huge, private yard, a wide terrace with spectacular mountain views; plenty of seating; and a BBQ. There are storage rooms, a mudroom for boots and ski coats, and on-site parking.
Only 1.5 miles from the cottage is the Nordic Valley Ski Resort, which offers skiing, night skiing, and tubing in the winter and hiking, mountain biking, disc golf, and concerts in the summer. A huge supermarket and several restaurants are less than a five-minute drive away.
The scenic Pineview Reservoir, which is just a 10-minute drive away, offers fishing, boating, water skiing, paddle boarding, and kayaking. Powder Mountain (20 minutes away) and Snowbasin (20 minutes away) are also alternatives for skiers (30 min drive).
Family and Pet-Friendly
Another great option for a calm mountain retreat in Utah is this charming cabin in Meadow View Heights in Duck Creek Village. This peaceful haven, surrounded by lofty pine trees and a rich assortment of species, will satiate your need for nature.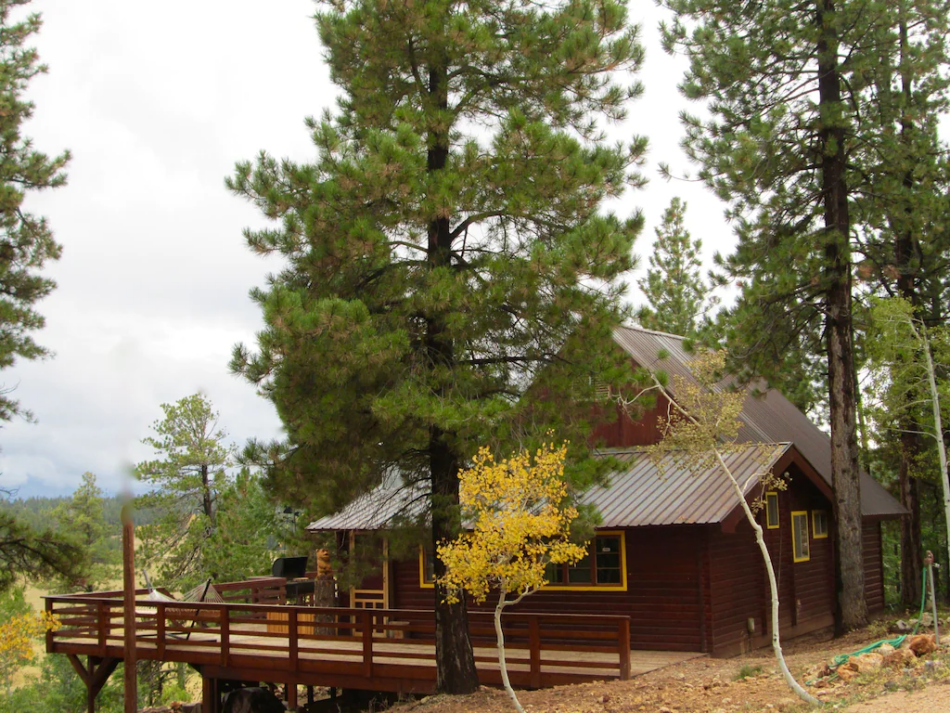 This rustic cabin is pet-friendly, making it ideal for families that enjoy vacationing with their pets. However, when making your reservation, make sure to inform them in advance. This cabin accommodates up to seven people and has three bedrooms. The downstairs bedrooms both have queen beds, while the upstairs bedroom has a large double loft with a full-size bed and two single beds.
A vast range of DVDs, an Amazon Firestick, board games, and a DVD player are all included. While roasting s'mores or frying hot dogs around the newly built fire pit at night, sit back, relax, and watch the stars. They offer a daily variety of animals and views that will take your breath away, including deer, turkeys, hawks, and a variety of bird species.
From the large 1000 sq. ft. terrace, your family and guests may take in the breathtaking views of Duck Creek Meadow, Zion, Pink Cliffs, and the surrounding mountains. ft. deck with two propane grills.
This treehouse rental is near Utah's biggest tourist attractions, including Zion National Park, Bryce Canyon National Park, and Cedar Breaks National Monument. Outdoor activities include cross-country skiing, fishing, hunting, snowmobiling, and hiking, to name a few.
You can also visit Cedar City (31 miles) for shopping and theater, as well as the yearly Shakespearean Festival.
Sunny and Spacious Ski-In, Ski-Out Mountain Home
Get away from the stress of life. Sip a cup of hot chocolate while relaxing in front of a crackling fire. Bring your friends and family to Brian Head, Utah, for a relaxing vacation in the heart of Southern Utah's most beautiful scenery.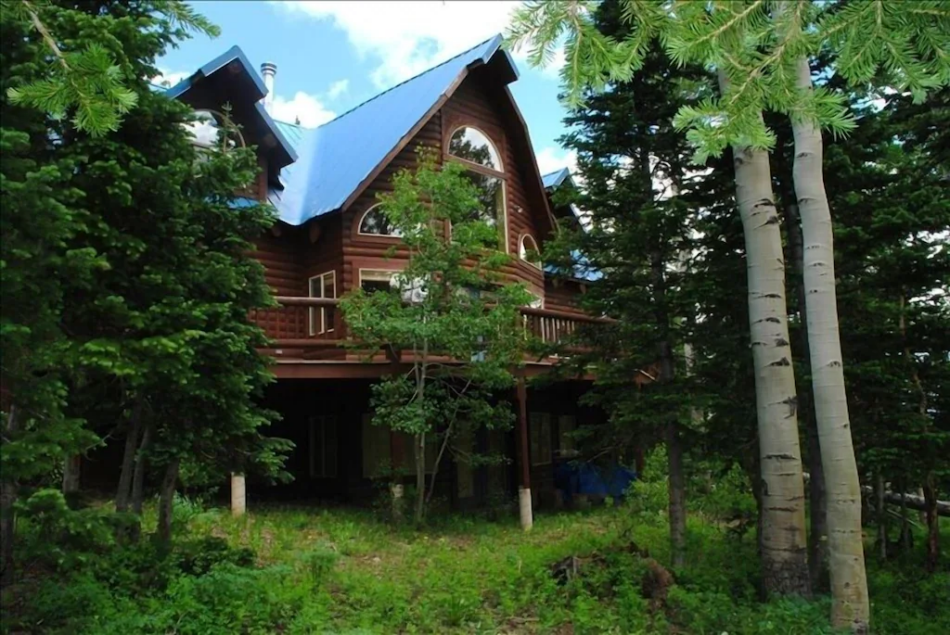 Come experience one of the most unforgettable vacations of your life. Hiking, biking, fishing, photography, 4-wheeling, skiing, snowboarding, inner tubing, and a variety of other sports are all available.
This massive mountain home has many rooms that can accommodate larger groups. This treehouse in Brian Head, Utah, allows you to reconnect with nature without giving up all of your creature comforts.
When you stay at this huge mountain cabin, you'll have access to a well-equipped kitchen with stainless steel equipment, a dining area with a long dining table, a large family room, and a basement with a giant flat-screen TV and a range of movies.
In addition, this home has six and four bedrooms, sleeping up to 19 people, making it ideal for large groups of friends. There will be enough to do during your stay at this hotel. The cabin is located in Trails at Navajo, a paved neighborhood.
Also, apart from other ski-in/ski-out lodging, it is surrounded by woodlands and situated amid the slopes.
Dreamy Treehouse
Stay at this Dreamy Treehouse in Park City if you're looking for a unique and eccentric escape for a romantic weekend break. At 8,000 feet, this beautiful treehouse rental is surrounded by a 200-year-old fir tree. It features one bedroom with a double bed that sleeps two people.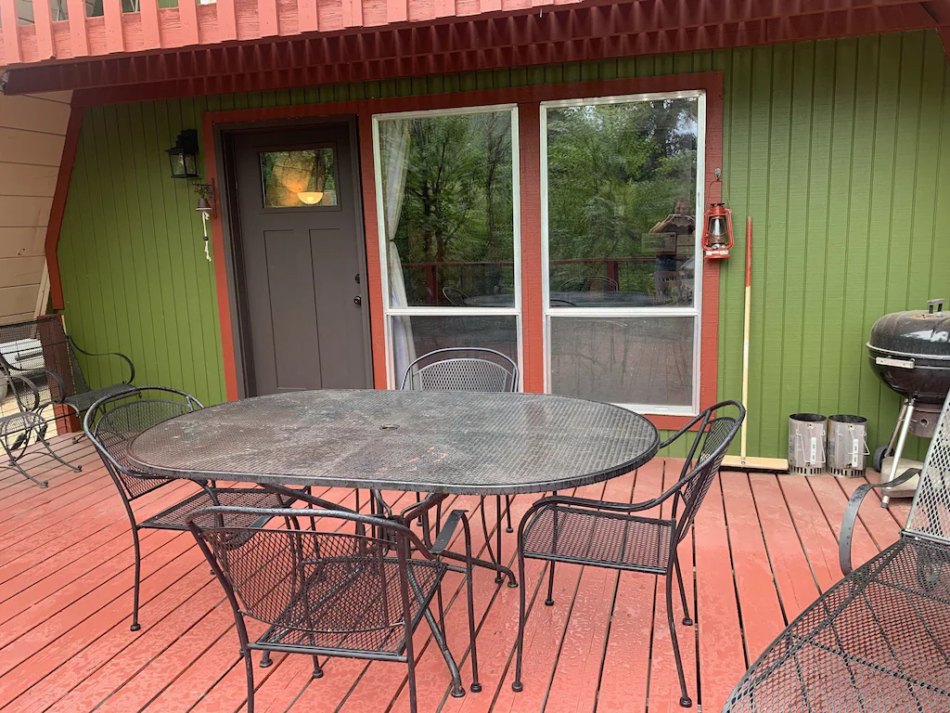 This location is made even more interesting by the fact that it is only accessible by 4/4/AWD. To get there, you'll have to drive three miles on dirt roads, which will be covered with snow throughout the winter. This is the best spot to stay if you and your partner are adventurous types.
A lofted bedroom with a skylight, a fully equipped kitchen, and a living room with floor-to-ceiling glass windows characterize this treehouse in Utah. There's also a large deck where you may unwind, exercise, get some fresh air, or simply admire nature at its finest!
Treehouse on the Stream
This lovely treehouse beside the stream is suitable for both nature enthusiasts and luxury travelers. This rustic mountain cabin in Sundance allows you to reconnect with nature while still enjoying the conveniences of home.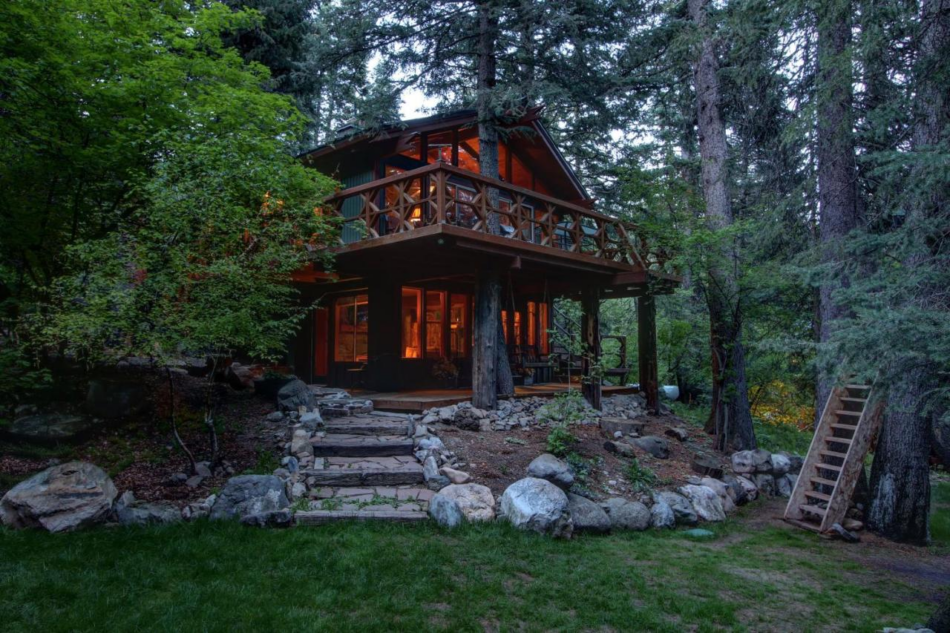 It features three bedrooms and two baths and can sleep up to 11 people.
A balcony is included in every unit, as well as a satellite flat-screen TV, CD player, and Blu-ray player. This treehouse cabin comes with a full kitchen and cooking supplies. There's also Wi-Fi, so you won't be bored if you stay inside. You won't be spending much time inside this house, though, because of the range of activities accessible nearby.
This property is within walking distance of Sundance, and there are several hiking trails nearby. These trails will take you through the woods and up into the mountains. Along the way, you'll see squirrels playing, wild turkeys, and even deer strolling near the house.
Furthermore, this treehouse rental is adjacent to Sundance Resort. The resort offers spas, ski slopes, zip lines, restaurants, and evening entertainment.
The closest airport to Treehouse on the Stream is Salt Lake City International Airport, which is 88 kilometers away.
Apple Hollow Tiny House #3 
This Tiny House takes a fresh approach to vacation lodging by mixing rustic charm with modern amenities! This property is one of the most beautiful in the Zion area! 14 acres of apple trees and farms are surrounded by stunning mountain peaks just off Highway 89.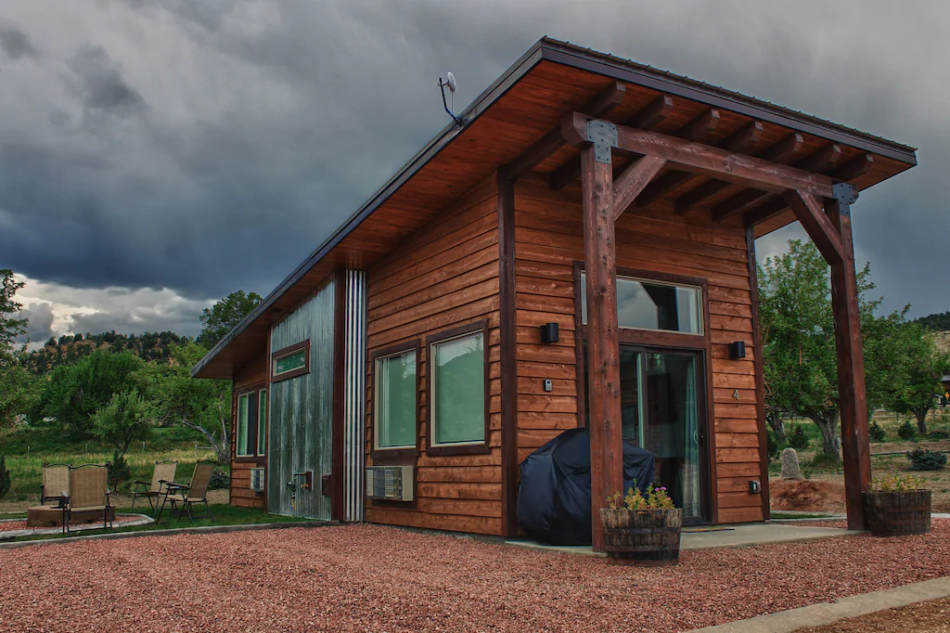 While being only 5-15 minutes away from food stores and restaurants, the orchard provides isolation and calm that are uncommon in most holiday rental properties. This Tiny House was designed with a rustic but modern style and feel in mind, as well as conveniences to guarantee you have all you need for multiple nights.
Guests prefer returning to this location to relax after a long day of hiking or seeing the parks. While sitting around your private fire pit, watch the sunset behind the breathtaking mountain peaks. Far enough away from city lights to enjoy some spectacular stargazing in the clear night sky!
You can pick some of the greatest apples you've ever tasted right off the trees from July to September. From your porch, you might even see or hear flocks of wild turkeys or mule deer across the river!
This property is strategically located, only 25 minutes from Zion National Park and 55 minutes from Bryce Canyon National Park. Visitors who want to tour both parks and other sites in Southern Utah will love this location!
You can also rent more than one at a time for larger groups traveling together!
Treehouse at Little Cottonwood 
This gorgeous four-bedroom, three-and-a-half-bath Cottonwoods ski and summer home, which features a modern design and is one-of-a-kind, will make you fall in love.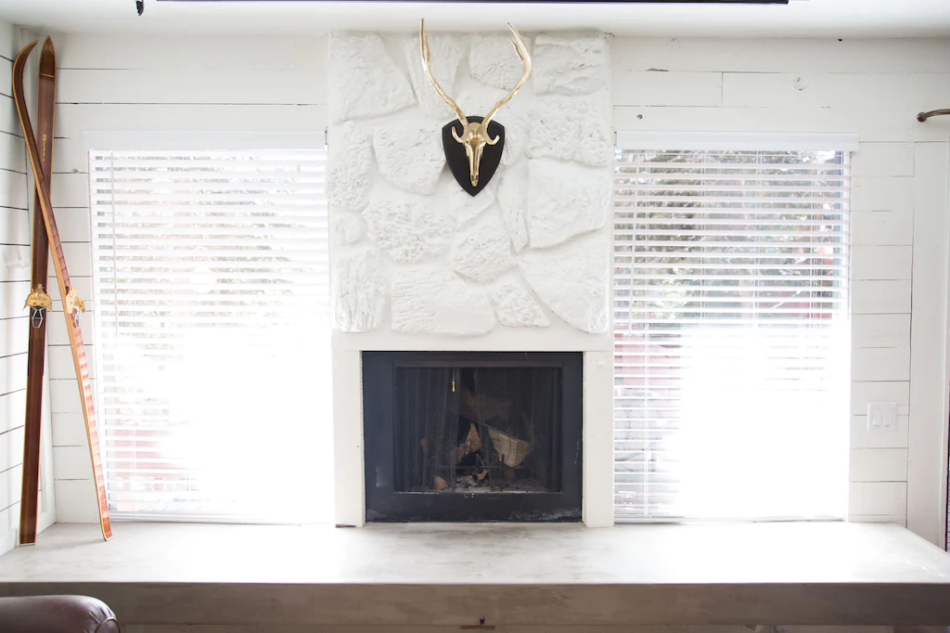 Cottonwood Heights, at the base of Little Cottonwood Canyon, is within 10 minutes of the Snowbird and Alta resorts. Park City is 30 minutes away, and downtown Salt Lake City is 20 minutes away.
This three-story home includes a raised deck where you can sit and sip your favorite beverage while taking in the spectacular views of the Wasatch Mountains. It's nestled among hiking and mountain biking trails in a tranquil area. This property is equipped with everything you'll need to make the most of your time in Utah.
The living room's mountain views are magnificent. It's built for the opulent skier or mountaineer, and it's bathed in natural light thanks to large picture windows and skylights. Cooking in the stunning modern kitchen, which includes big skylights that flood the space with natural light, will be a pleasure for you.
You will also be captivated by the stunning scenery and mountain views. The location of this home puts you right on the slopes in minutes! It has everything you need to make the most of your stay in the mountains of Utah.
Tree House
Tree House is a 7-kilometer drive from Cedar Breaks National Monument, near Brian Head.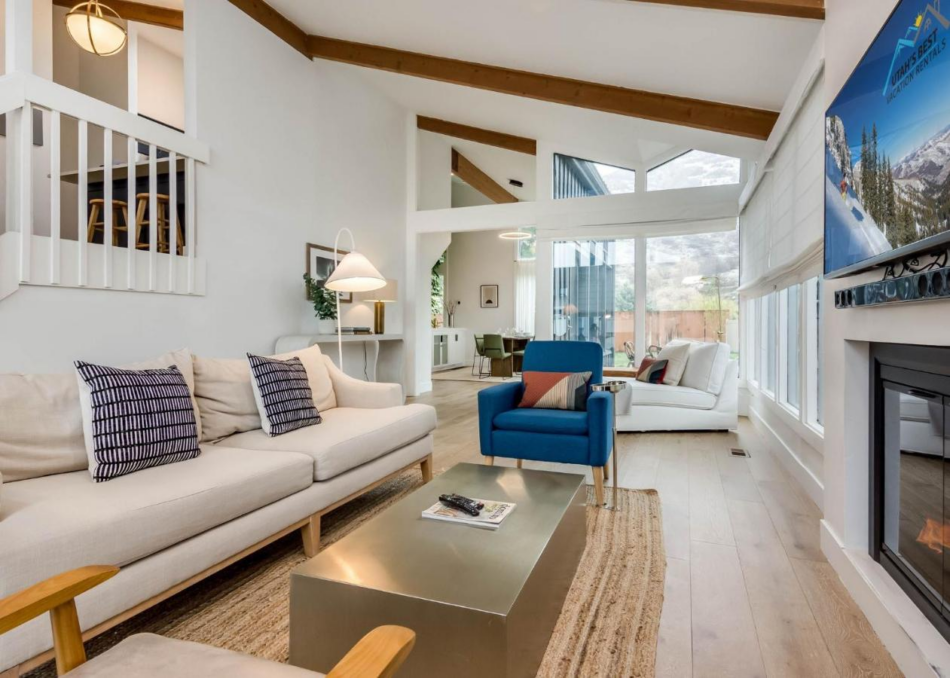 The rooms come with a TV, a private balcony, a trouser press, and a kitchen. Each bedroom has a pillow-top mattress and linens, while the kitchen has a dishwasher, refrigerator, and oven.
There are also terry bathrobes, bath sheets, and towels in the bathroom, as well as showers and a bathtub. A private bathroom, as well as a dining area and kitchen, are included.
The Tree House apartment features a swimming pool and is 14 miles from the Cedar City Aquatic Center. Guests have access to two bedrooms. There is also free Wi-Fi throughout the facility, as well as free on-site parking.
This guest house is half a mile from Brian Head's downtown area, which also has Apple Annie's Country Store.
In addition, the Summer Chairlift is roughly a 10-minute walk from the unit. Only a few kilometers away is the Brian Head Resort. The facility is a 30-minute drive from Cedar City Regional Airport.
Recent Posts