Things to do in Southwest USA – Places to add to your Bucket List
Want to know what places in the southwest to visit? These south west attractions are bucket list items you won't want to miss.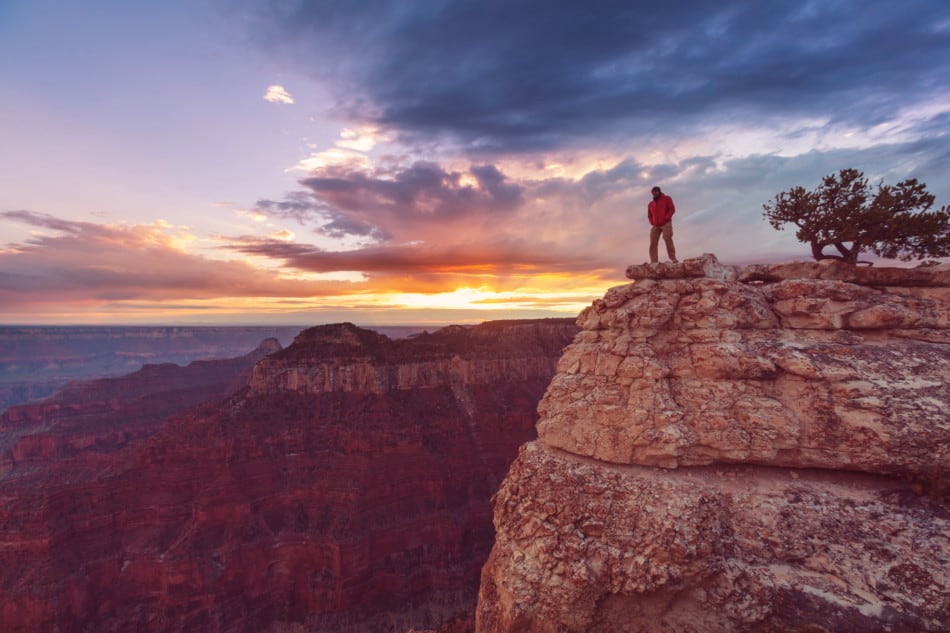 These are the top things to do in the Southwest, USA – from Horseshoe Bend, Antelope Canyon, Route 66 and of course the Grand Canyon and so much more! That's only Arizona and we still have to cover New Mexico, Utah, Nevada and Southern California.
Best Places to Visit in the American South West – landmarks in the southwest region
Arizona Bucket List Items
Grand Canyon National Park, Arizona
James Ian at Travel Collecting
Grand Canyon National Park should be at the top of your Southwest bucket list!  It is truly breathtaking.  The south rim is the most commonly-visited place to see the canyon. 
There is a large "village" there with several lodges, restaurants and campsites.  There are incredible views of the canyon right from the center of the village, but it is worth walking along the Rim Trail east from the village to Yavapati Point and west along Hermit Road past Trailview Overlook and Powell Point.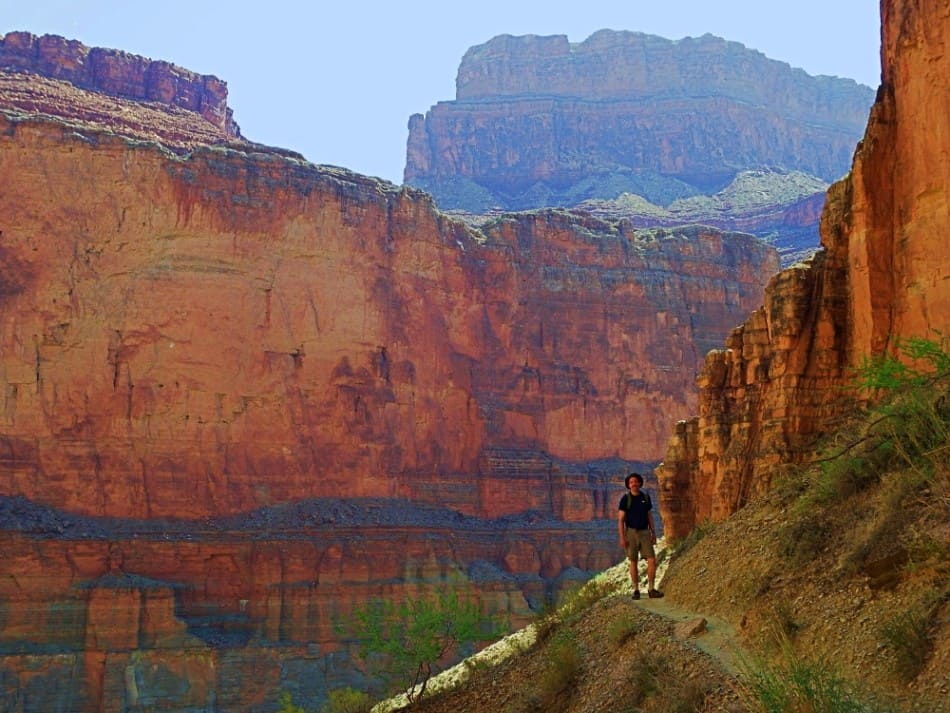 Even better, though, is to hike down into the canyon and get a real sense of its enormity from below the rim.  The most popular trail – and my favorite spot – is the Bright Angel Trail, which leaves right from the village. 
You can hike half way to Indian Garden then back up again in one day, or all the way to the Colorado River, overnight at Phantom Ranch, then hike back up again the next day. 
The trail involves several major switchbacks, so you do have to fit to do it.  Whether you hike, or just see the canyon from the south rim village, you will definitely be left in awe!
Saguaro National Park, Arizona
Katie Diederichs from Two Wandering Soles
If you've ever taken a look at the Arizona license plate, you've seen the saguaro cactus. These giant, picture-perfect cacti have arms that stick out on either side and can tower a staggering 60 feet tall!
Arguably the best place to see the saguaro cactus is in the National Park of the same name.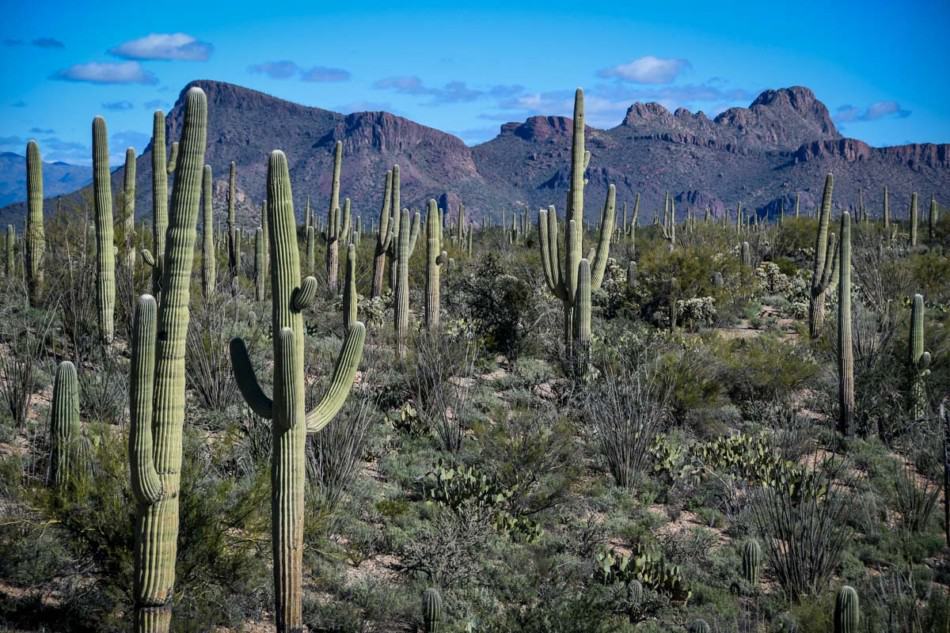 Just a 30-minute drive from downtown Tucson, Arizona Saguaro National Park is filled with these southwest icons.
There are two portions of the National Park — the east side and the west side. The east portion tends to be less visited while the west side has more people, but also a higher concentration of saguaros.
While you're visiting the park, be sure to take some scenic drives and get out under the sun for a picnic lunch. There are also plenty of hiking trails — ranging from very short and easy to those that are more remote and require the better portion of a day.
Don't miss the short hike to Signal Hill where you can see several petroglyphs that date back more than 800 years.
When you're finished visiting Saguaro National Park, head back into Tucson and refuel with some of the best Mexican food you'll find in the United States!
Monument Valley, Arizona
Jeff from Our Passion For Travel
There can be few places as both iconic and isolated as Monument Valley. Set miles from nowhere, Monument Valley straddles the Utah and Arizona state borders.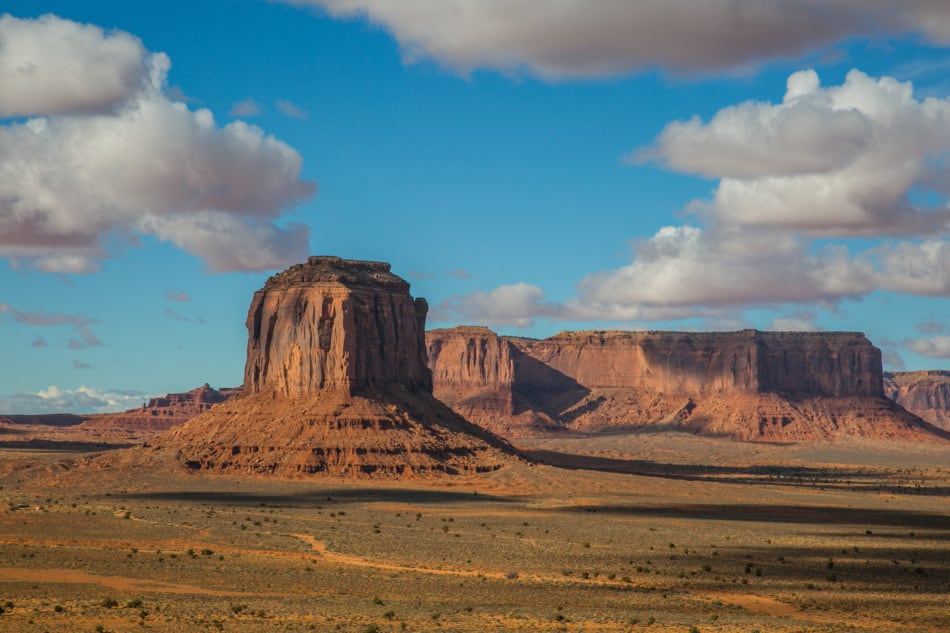 At times, it can feel like another planet altogether, Mars most likely with its jagged, statue like monuments and its deep red rock topography.
The monuments themselves are scattered throughout Monument Valley, but you'll find the most well known of them concentrated around a 17 mile loop in the Monument Valley Navajo Tribal Park.
Fans of western cinema will be well acquainted with the monuments, made famous in countless old westerns. Even modern cinema has featured Monument Valley heavily.
Back to the Future and National Lampoon's Vacation featured the deep reds of the valley, but arguably the most famous use of the area was in Forrest Gump. So famous in fact, that there is now a spot along the road called Forrest Gump point, named so for where Tom Hanks' character stopped his cross-country marathon.
Whilst Monument Valley is well featured in cinema, an up close and personal visit is the only real way to experience this bucket list site. The silence in the air of an evening. Watching the sun go down over the monuments. And getting to meet some local Navajo who can tell more than a few stories about the area.
Monument Valley takes some effort to visit, but it's a location well worth the visit for those who love the wide open spaces.
Antelope Canyon- Page, Arizona
Rhonda from Travel? Yes Please!
Antelope Canyon is one of the most visited natural landmarks in Page, Arizona thanks to its beautiful colours, ever changing with the light, and mesmerizing rock formations carved from years of erosion.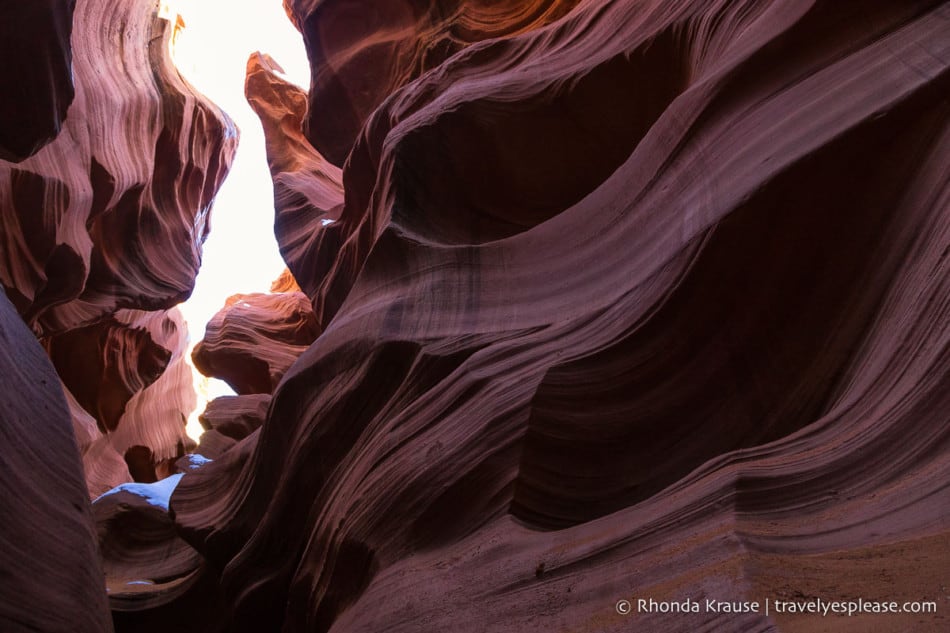 This slot canyon has two different areas visitors can walk through- Upper Antelope Canyon and Lower Antelope Canyon. Both sections can only be visited on a guided tour and each offers a slightly different experience.
Upper Antelope Canyon is popular with photographers eager to capture their own version of the famous picture of a light beam shining into the canyon. Lower Antelope Canyon brings a sense of fun and adventure because of its ladders and slender passageways.
No matter which section you choose to visit, you will be surrounded by towering walls of sandstone rock. The warm tones, textured surfaces, and eroded shapes make this slot canyon a must-see landmark in northern Arizona.
Hiking to Havasu Falls in Arizona
Allison from She Dreams of Alpine
Havasu Falls is definitely a must-do on any bucket list of places to visit in the South West. Located in Arizona on the Havasupai Reservation in the Grand Canyon, Havasu Falls has turned from a hidden gem to one of the most popular hikes in the United States.
While it is very competitive to get hiking permits for Havasu Falls, it is totally worth the advance planning necessary to make it happen.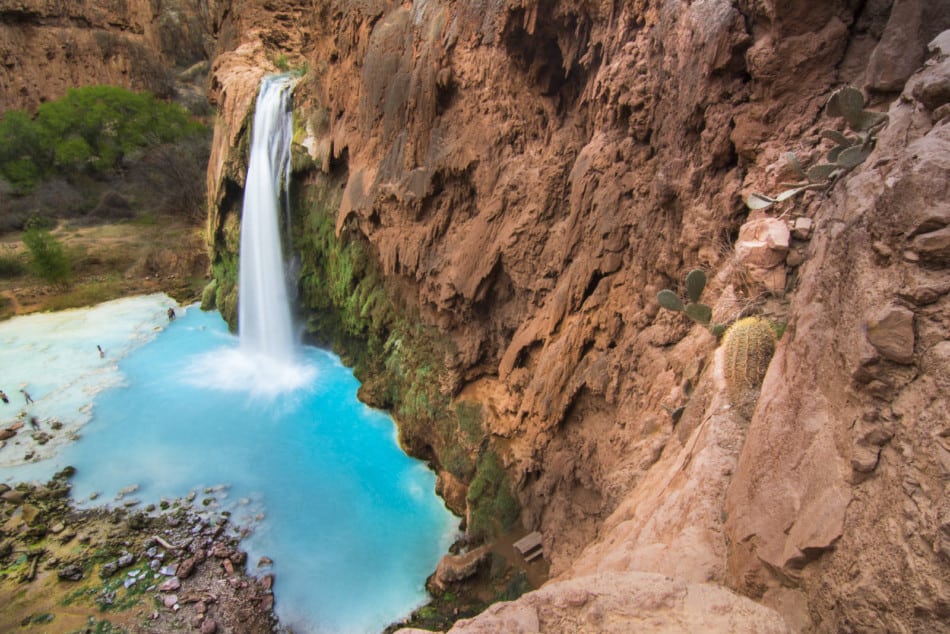 After you make the 10-mile hike to Havasu Falls, you will be rewarded by stunning views of the insanely blue water contrasted against the red sandstone rock of the desert.
With your Havasu Falls permit, you get a campground reservation for three nights, giving you plenty of time to hike and explore all five waterfalls that make up the Havasu Falls Trail.
Havasu Falls is absolutely worth all of the hype! Each of the waterfalls along the trail is truly breathtaking and like nothing else you can see in the United States. You won't regret putting Havasu Falls hike high on your South West bucket list!
Cathedral Rock – Sedona, Arizona
Valentina from Valentina's Destinations
Cathedral Rock is one of the most unforgettable hikes in Sedona. Watching the sunset from the top of Cathedral Rock is a bucket-list-must! You may have seen glimpses of Cathedral Rock, as it is one of the most photographed Red Rock formations in Sedona.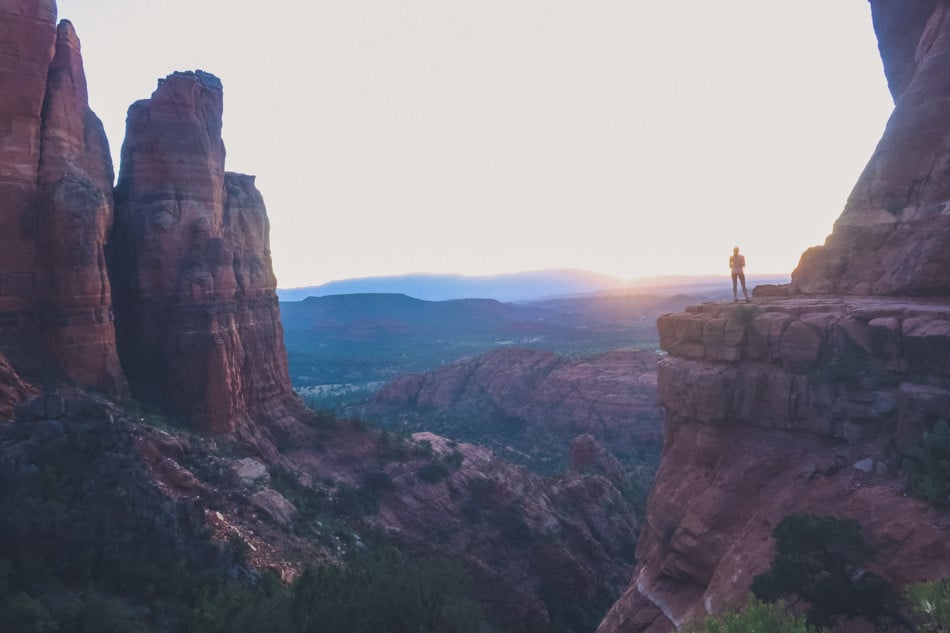 The trail takes you on a 1.2 mile out and back journey that's quite difficult. The trail is unpaved and extremely steep. At times, you're essentially rock climbing up Cathedral Rock! Expect that it might take you 45 minutes to get to the top.
Once you reach the top, you'll be rewarded generously. Views from the top are absolutely stunning! It's no wonder that many locals choose to have their engagement photos take up here!
The Cathedral Rock site is also important because it's the site of an energetic vortex. Vortex locations are places thought to have an especially strong and unique energetic flow. These are good places to reflect, meditate, practice yoga, or think creatively.
The Cathedral Rock Vortex is located near Red Rock Crossing. Historically, it was even a sacred place for the Native Americans that once lived here. The Native Americans believed this place to be the birthplace of the gods.
Crescent Moon Ranch Hiking Trail – Sedona, Arizona
Vicky from Buddy The Traveling Monkey
The landscapes in Arizona are truly some of the most beautiful in the South West, United States. During a girls' weekend in Sedona, we discovered the Crescent Moon Ranch Hiking Trail just outside of town. We parked at the Crescent Moon Ranch parking lot ($11 per car) and started our hike on the trail next to the barn.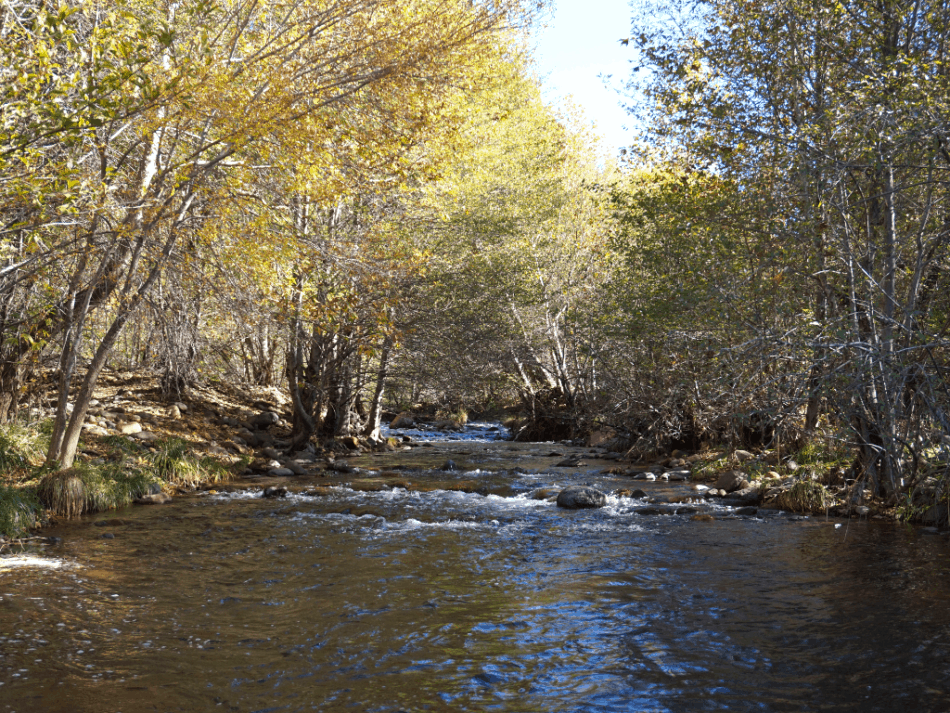 Heading northeast, at first the trail goes through a beautiful wooded area. Then the trail leads to Oak Creek. The trickling of the water is very peaceful and relaxing.
This area is also a popular place to take photos of Cathedral Rock because of the reflections in the water.
We also enjoyed the area known as Buddha Beach. Not really a beach, but a lovely place to get close to the water. While we were hiking we saw people meditating and families picnicking. Overall the Crescent Moon Hike was really spectacular because it had a few different landscapes for us to enjoy.
Chiricahua National Monument, Arizona
Wendy Elliott of Adventurous Retirement
Chiricahua National Monument in Southeastern Arizona is one of the most spectacular National Parks in the USA.  Small in comparison to some of the huge US National Parks, but large in its visual spectacle. 
Just west of the Arizona-New Mexico border and east of Tucson Arizona, this little gem boasts the most amazing rock formations that you'll likely see nowhere else.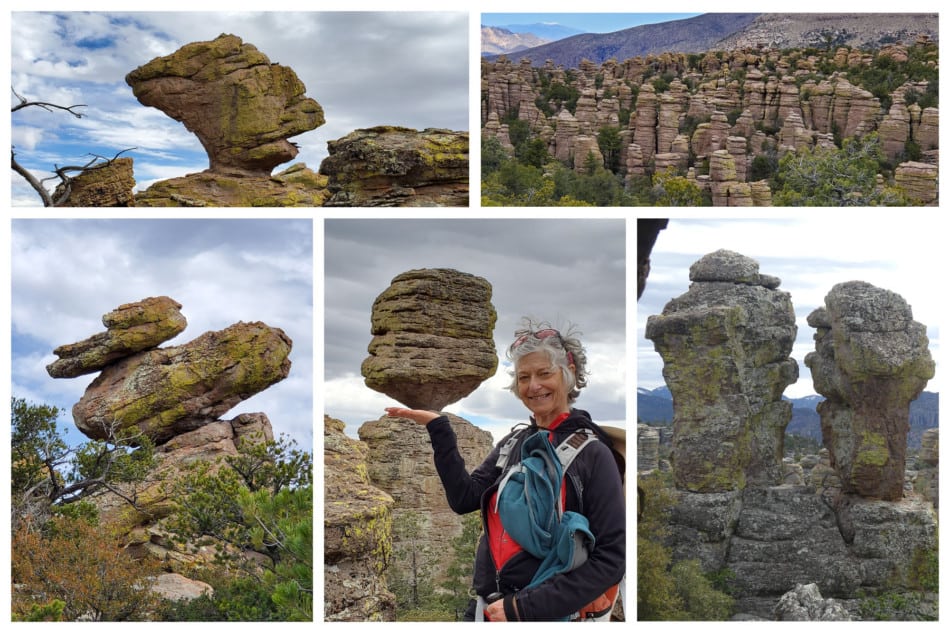 Called balancing rocks, the formations have been sculpted by nature.  With the ability to drive to the top, the views are astonishing.  Easy trails at the top allow visitors to see much of its beauty. 
Getting up-close provides views of specific natural sculptures, like ducks, 'Punch and Judy,' and mushroom rocks, requiring longer more strenuous hikes, but worth the effort.
If you are unable to do 9-mile difficult hikes, it's worth a drive to the top for vistas of these unique formations. We spent 2-nights and hiked; 3-4-nights is better to the several easier hikes. 
Chiricahua is remote, so take food and water.  There is a Visitor Center and a small campground on-site; prior reservations for camping are a must. 
Willcox Arizona is the closest town at 45-minutes away with accommodations and campgrounds.  BnBs are also nearby in Hilltop.
Papago Park, Arizona
Constance of The Adventures of Panda Bear
Spanning the cities of Phoenix and Tempe, Papago Park is an underrated, yet beautiful park with a lot to offer. The park covers 1200 acres in Phoenix and 296 acres in Tempe and is home to the famous Desert Botanical Garden, Papago Ponds, and Hole in the Rock.
The Desert Botanical Garden is one of the coolest places to visit in Papago Park. The garden has over 50,000 different types of plants of which one-third are native to the area. It also houses exhibits depicting Native American dwellings providing the perfect opportunity to learn more about the history of the Phoenix area.
Papago Ponds are a set of fishing ponds located in the middle of the park surrounded by palm trees and desert landscape. You can fish for rainbow trout, largemouth bass, sunfish, channel catfish, tilapia, and carp.
Hole in the Rock is the most famous of all of the sights within the park. The top of this red sandstone rock formation provides a beautiful view of the city and you can get there by taking a quick 0.2 mile hike in and out.
Papago Park is one of the best places to visit when spending a few days in Tempe or Phoenix.
Horseshoe Bend – Page, Arizona
Jessica from Uprooted Traveler
Horseshoe Bend is a stunning bend in the Colorado River, whose waters has dramatically carved a deep canyon in the gorgeously striated sandstone. Located just outside Page, Arizona in the Glen Canyon National Recreation Area, this spot is a stones-through from several other geological wonders endemic to this area, such as the Grand Canyon National Park, Lake Powell, and Antelope Canyon.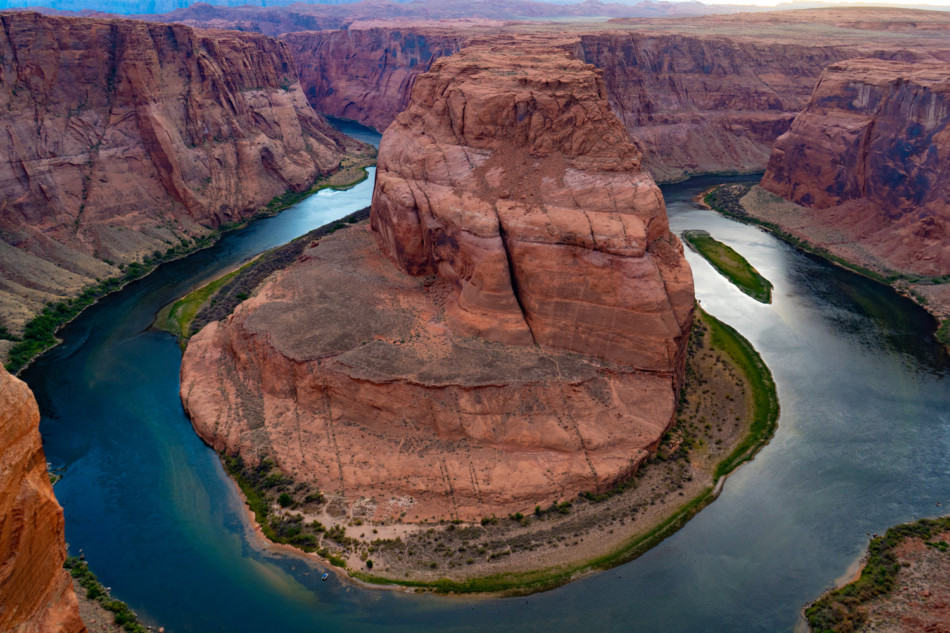 The best place to take in the view of Horseshoe Bend is from a steep cliff some 1,000 feet over the base, providing a jaw-dropping vista over this 200 million year old horseshoe-shaped meander. To reach its viewpoint, you'll need to hike 0.75 mile jaunt from the parking lot, through some sandy, steep hills, but don't worry- the view at the end will definitely be worth it, especially if you plan your visit at sunset!
New Mexico Bucket List Items
White Sands National Park – New Mexico
Kristen from Yonderlust Ramblings
White Sands National Park, located in southern New Mexico, is the ideal Southwestern icon for those looking for a one of a kind place to let their inner child's imagination run loose! Where else can you hike, camp, and sand sled all in one place, in the middle of miles of stark, ivory, dunes!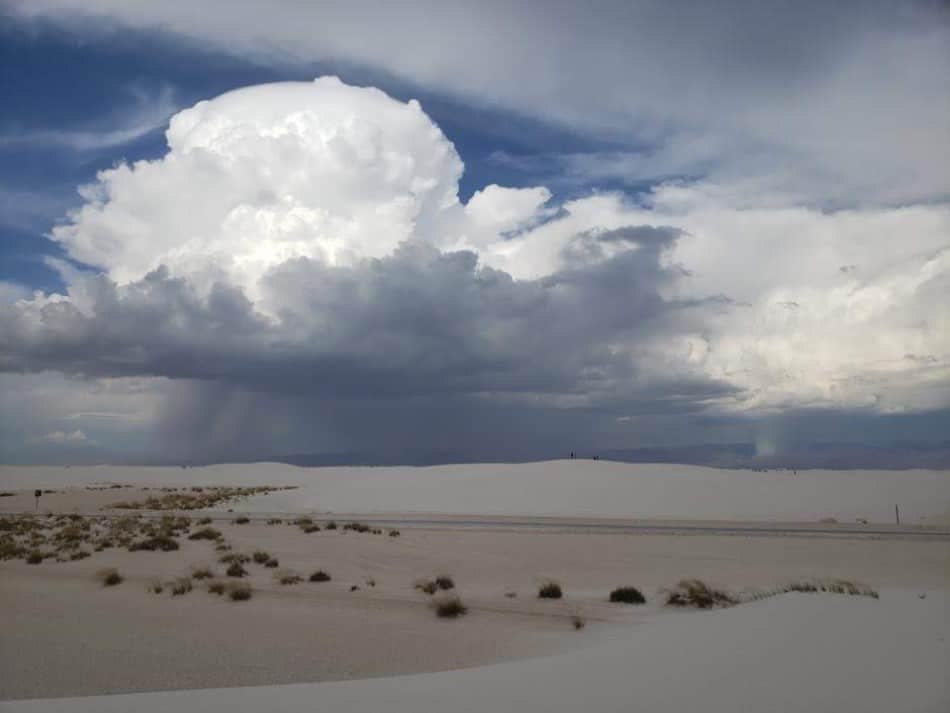 No matter what level of outdoor enthusiast you are, White Sands offers other worldly adventures! If you're short on time, road-trip through Dunes Drive to view the majestic gypsum slopes. There's multiple hiking trails that trace through White Sand's unique ecosystems, ranging from short half mile hikes, like the Playa Trail, to strenuous day hikes, like the 5 mile Alkali Trail.
Each hike provides glimpses of the distinctive trademarks of this dune environment, from resilient wildlife to crystalized lake beds. It's also possible to camp at White Sands and experience some of the most intense backdrops for sunrises and sunsets!
Finally, don't forget about sand sledding! The gypsum mounds at White Sands offer a unique chance to get in touch with your inner child, while navigating the ups and downs of sand sledding. You can bring your own saucer to use, or purchase one from the Visitor Center.
Bandelier National Monument – Los Alamos, New Mexico
Stephanie from Explore More Clean Less
Tucked away in the desert countryside, exploring Bandelier National Monument feels like you're stepping back in time. Bandelier National Monument is the type of place people remember visiting decades later, with an interesting interpretive center, hiking trails, and unforgettable rock cliff dwellings. A living museum, instead of just looking at the cliff dwellings, you can climb ladders and explore them yourself with different accessibility ranges for all ages and adrenaline-seeking levels!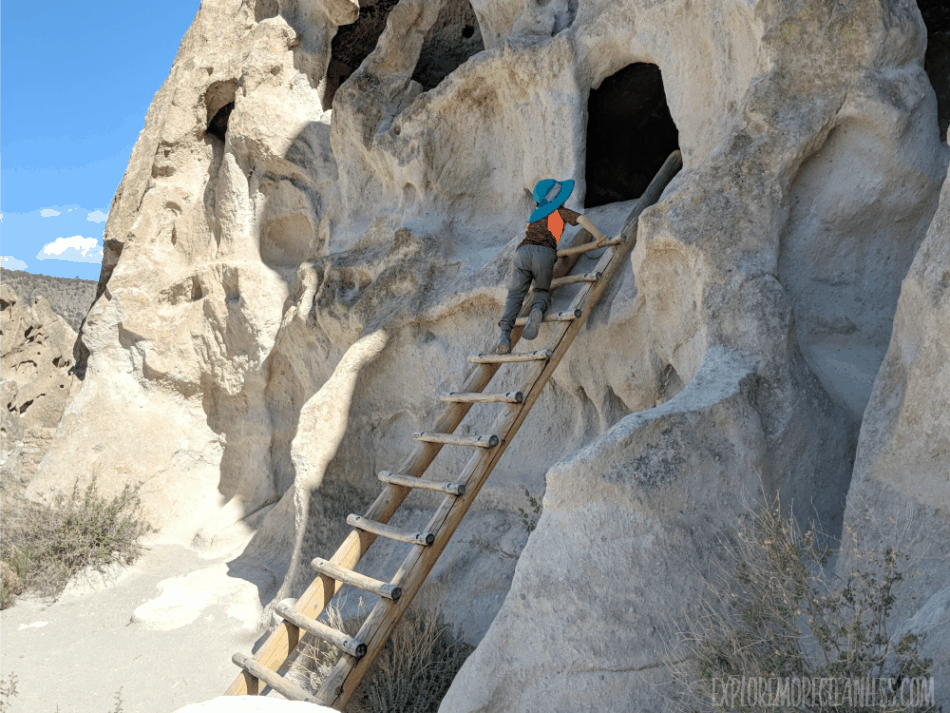 The rangers have worked hard to provide educational material and ways to learn about the Ancestral Pueblo people who lived here and the animals that remain, allowing you to walk around and learn with hands-on opportunities. Visitors can see petroglyphs, butterflies, Abert's squirrels, a waterfall, lizards, mule deer, and countless birds. Once you're done exploring the ladders, choose one of the other trails and explore the diverse ecosystems of the Southwest including woodlands, conifer forests, grasslands, wetlands, and riparian areas.
Santa Fe, New Mexico
Dave Chant, www.davechant.com
Santa Fe, or La Villa Real de la Santa Fe de San Francisco de Asis – to give its official name – is just like no other place. It's the state capital of New Mexico just an hour North East of Albuquerque, and has been since 1607. This makes it the oldest US Capital.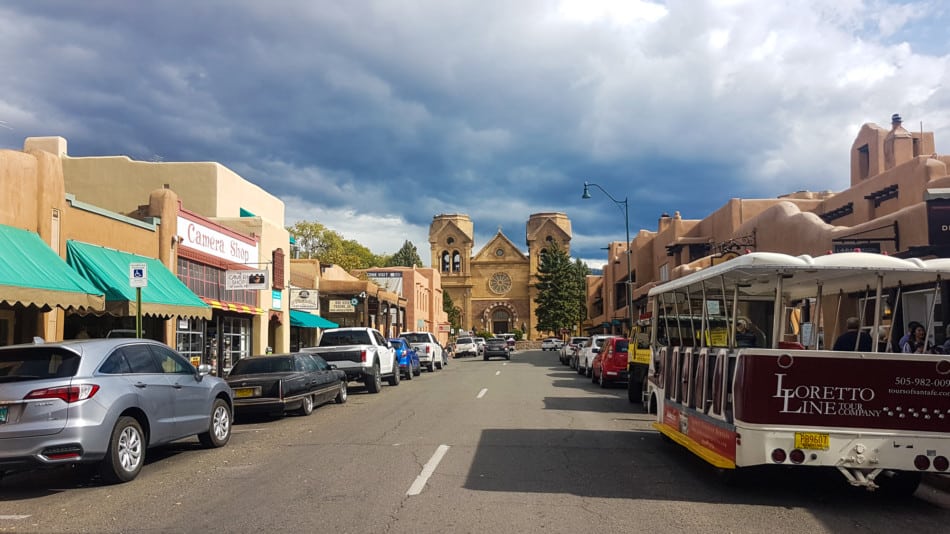 It's rich in history from the Spanish settlers in the seventeenth century, and as far back as 900AD, the Pueblo people have lived here. To this day the buildings here are made from adobe, that's using earth and organic materials, with flat roofs. Even the most contemporary buildings at least use stucco that mirrors the look of the old.
The city is known for its art – you can check out the New Mexico museum of art and Museum of Contemporary Native Arts amongst others. Other visitor attractions include the Santa Fe Plaza and the San Miguel chapel (the oldest standing church in the USA circa 1610)
Moreover, Santa Fe sits 2194 metre high, making it one of the highest cities in America. They even have a ski resort not far from town!
Santa Fe is a perfect place to relax and see a capital city unlike any other, and for that reason, it should be on your bucket list.
Kasha-Katuwe Tent Rocks National Monument – Cochiti, New Mexico
Umiko from Two Worlds Treasures
With its unique cone-shaped tent rock formation, Kasha-Katuwe should be in everyone's South West bucket list. Located between Santa Fe and Albuquerque in New Mexico, visiting this Monument is one of the so many exciting things to do in both cities that you can't miss.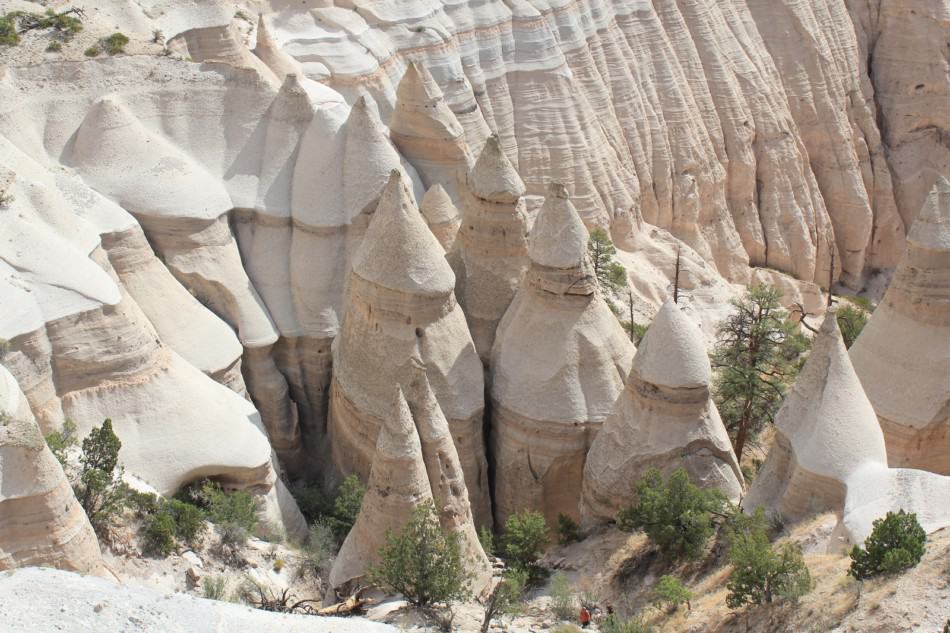 These rock formations formed by pumice, ash, and tuff deposits from volcanic eruptions that occured 6 to 7 million years ago. Although you can see these cone-shaped rocks from the ground, it is way better to see them from the higher ground. You need to hike the Canyon Trail in the Monument, the 1.5-mile, one-way trek into a narrow slot canyon, where at the end of trail you must do a steep 630-feet climb to the mesa top. A few yards before you reach the top, there's a photo spot overlooking the tent rocks. Views from here are just spectacular.
Once at the top, you can also enjoy views of Sangre de Cristo, Jemez, Sandia Mountains, and the Rio Grande Valley. Another trail in the park is the easy 1.2 miles Cave Loop Trail than you can do on the way back. Because of the volcanic eruptions, then geologic observation is another thing to do in this Monument, besides bird watching and plant identification.
Nevada Bucket List Items
Las Vegas, Nevada
Ketki from Dotted Globe
Las Vegas, also known as Sin City, is one of the best places to visit in the southwest USA. The city is known for its glamorous casinos, gambling that goes on well into the night, star-studded shows, and a great nightlife.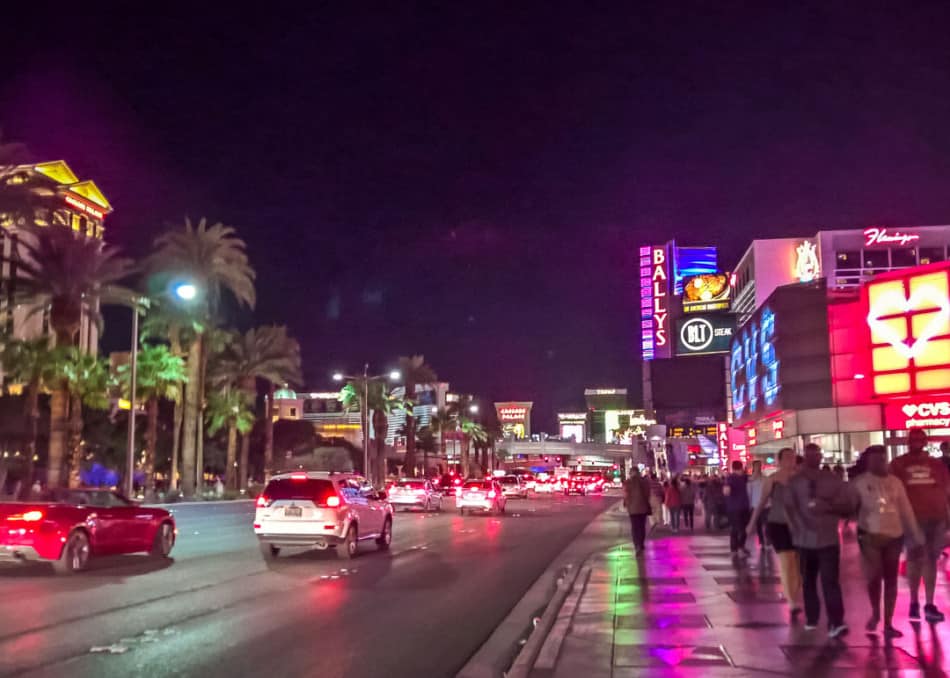 But the city also has many attractions apart from the casinos. Couples can explore the romantic side of Las Vegas by strolling in Paris Paris, taking a gondola ride in the Venetian, and seeing the fountains of the Bellagio. Families will love seeing the acrobats at Circus Circus, the magic shows, and the wildlife habitat at the Flamingo.
But the Vegas fun goes even beyond the Strip. Downtown Las Vegas is home to Fremont Street and its huge screen while museums such as the Mob Museum and Neon Museum are great for culture lovers. Las Vegas also has many outdoor attractions such as the nearby Valley of Fire State Park, Springs Preserve, and the Nevada desert.
Red Rock Canyon, Nevada
Kenny from Knycx Journeying
While Las Vegas is filled with resorts, casinos, and all sorts of entertainment. the city also has a dramatic nature one doesn't have to drive far. The Red Rock Canyon is merely a 30-minute drive from the Strip. Red Rock Canyon is not as grand as the Grand Canyon in scale, but its scenery is not anything less.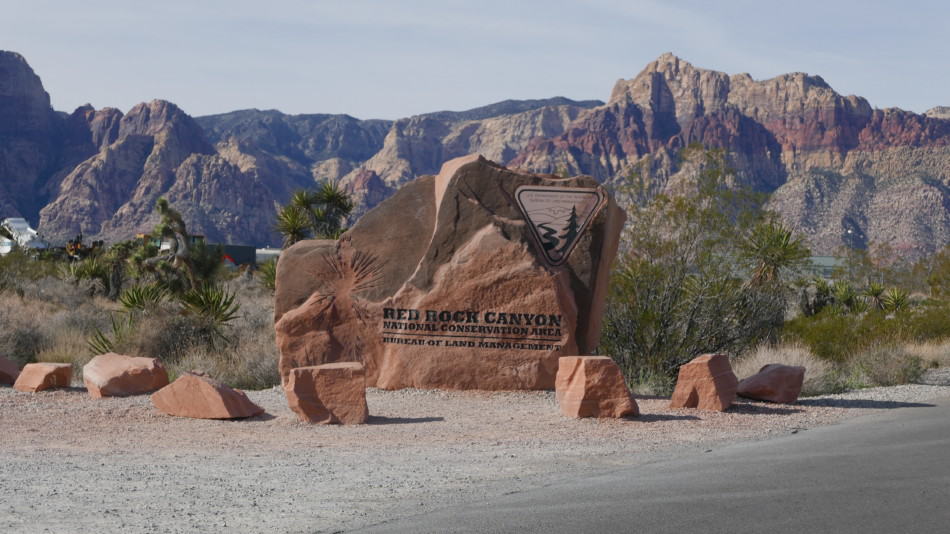 The National Conservation Area has 500 million years of history lie exposed in rock. The rugged canyon lies within the Mojave Desert, the smallest and driest desert in North America, and it's defined by its geology elevation and characteristic plants such as Joshua trees.
There are so much to learn about the Mojave Desert and there are also opportunities to be active. Go on a scenic drive route and explore the natural wonders at various checkpoints, climb on the rocks and get close to the canyon, search for the diverse flora and fauna that is native to the site – you may spot a giant tortoise passing the road if you are lucky!
If you are looking for something even more active, sign up for a rock-climbing tour and the view on the top of the rock is breathtaking!
Utah Bucket List Items
Angels Landing in Zion National Park – Utah
Liliane from My Toronto, My World
Zion National Park is one of Utah's Mighty 5 parks and also happens to the state's first national park. Located closed to Springdale the park is one of the most beautiful parks that the United States have to offer. As you drive in to the park you will come across mountains and valleys so stunning you'll want to take it all in.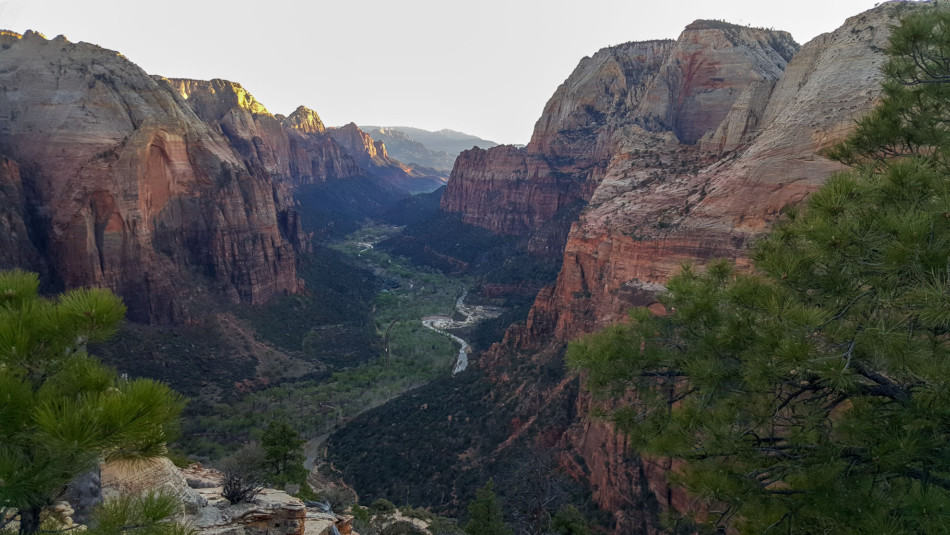 While there's certainly many different hikes and things to do in Zion National Park, the one that stands out and is an absolute must do is hiking Angels Landing. The hike is considered strenuous and if you're scared of heights you may want to skip this one. The estimated hike is 4 hours but that will vary depending on your fitness since this hike is quite elevated.
The round trip hike is 8.7 km and has an elevation change of 453 m. The first portion is easy enough to walk as it's a wide paved road that curves upwards along the mountain. Luckily it's wide enough to account for any stops you may require. The second portion is along a narrow ridge which would not be safe for children. While you have to be careful, the hike is totally worth it as the views from on top are absolutely amazing."
Capitol Reef National Park – Torrey, Utah
Megan from Red Around the World
Capitol Reef National Park isn't the least visited national park in Utah, but I think it's the most underrated. Situated almost right in the middle of the Mighty Five, it's the perfect stop on a national park road trip. It's also one of the most unique parks in Utah because not only does it have the towering sandstone cliffs, but it also has orchards that you can pick fruit from yourself. There are three sections to the park, so it's very easy to get away from the crowds.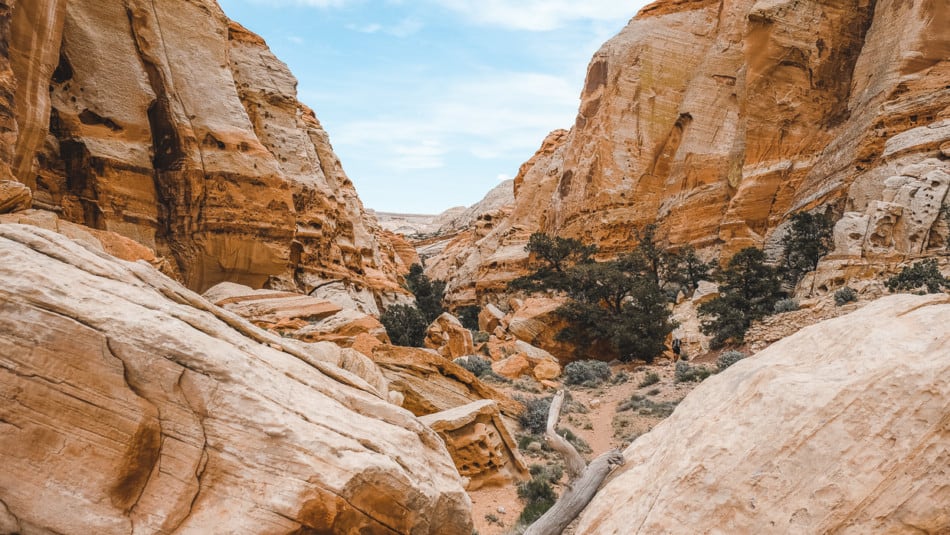 If you really want to get away and have a four-wheel-drive high clearance vehicle that you're comfortable driving, head up to Cathedral Valley. If you want to see a couple of slot canyons, head down Notom Road to the Wateerpocket Fold and hike Headquarters and Surprise Canyons.
But most of the hiking in the park is going to be near the main Fruita District. This is also where the orchards are. Some of the best trails are Sulphur Creek, Hickman Bridge, and Cohab Canyon. If you want to pick fruit, you'll have to visit later in the summer or early fall. And make sure, whenever you go, to stop in the Gifford Store for pie, ice cream, cinnamon rolls, and salsa.
Bryce Canyon National Park, Utah
Hannah from That Adventurer
Bryce Canyon National Park is in south-west Utah. It's one of Utah's Mighty 5 Parks and is roughly 2 hour's drive away from Zion National Park.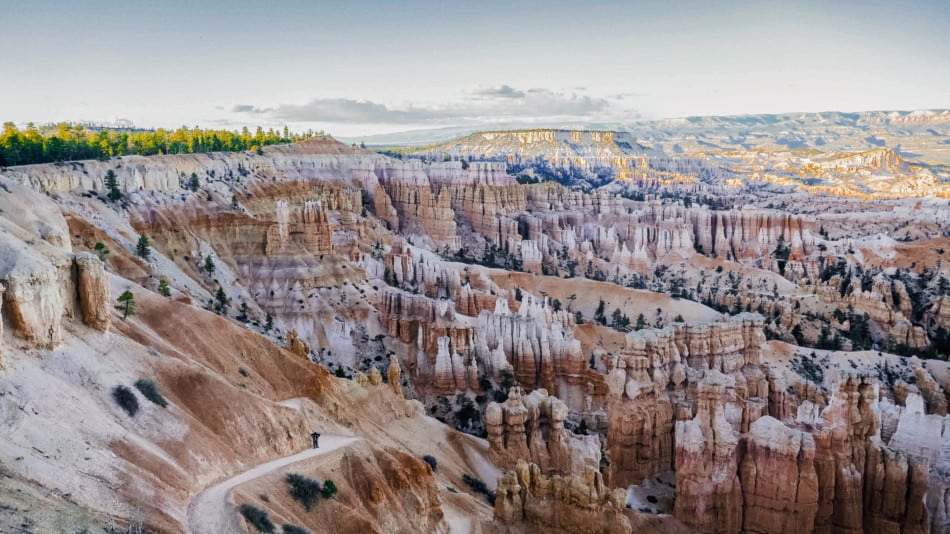 Covering 35,835 acres of land and with elevation from between 8,000 to 9,000 feet Bryce Canyon gets pretty cold! Even at the end of April, it's not uncommon for the hoodoos (the unique rock formations) to be dusted with snow. These rock formations are what make it a bucket list place to visit in the south-west USA. They're pretty uncommon and the sheer size and number of them in this area is incredible!
While there are many stunning things to see, the best thing to do is to take a hike in Bryce Canyon National Park. There are hikes for all abilities but one of the most accessible ones is to hike from the Queen's Garden area to Sunrise Point. The hike is just shy of 3km and takes you into the Bryce Amphitheatre. It's not a loop trail so you will need to retrace your steps back. You could also make the hike slightly longer by hiking further down into the amphitheatre and returning via the Navajo Loop Trail. The Queen's Garden hike gets its name from the uniquely shaped hoodoo that really does look like a Queen sitting on her throne!
Wire Pass Slot Canyon – Kanab, Utah
Anna from My Travel Scrapbook
Wire Pass slot canyon is a stunning slot canyon in the American Southwest. This slot canyon is less famous than Antelope Canyon and is much cheaper to visit to! At just $6 per person this is a great slot canyon to visit if you are on a budget – you can even bring your dog on the Wire Pass Slot Canyon day hike too!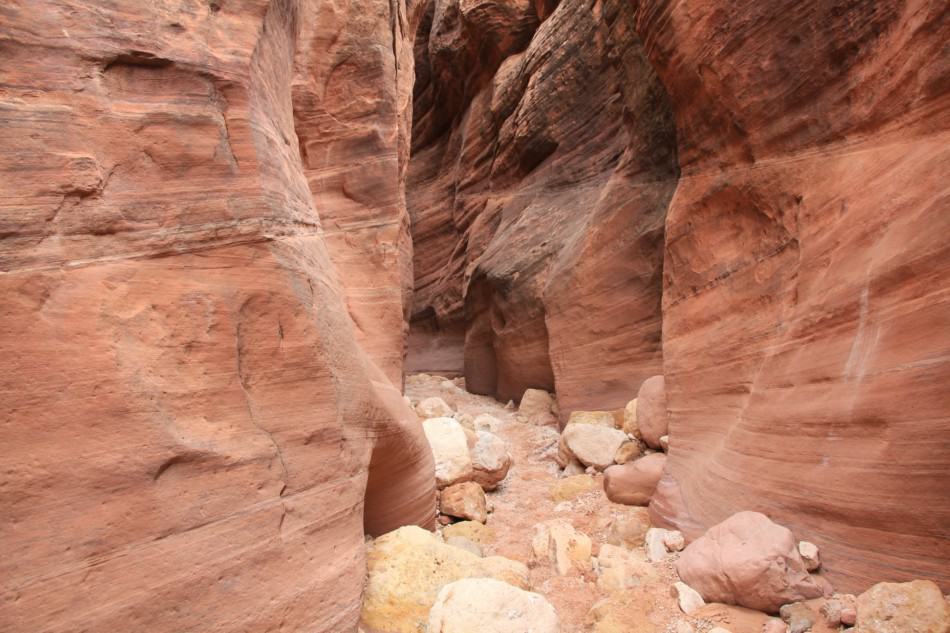 To reach Wire Pass Slot Canyon you will have to drive along an 8mile dirt road which is fine in a sedan when dry. You park at the same place as you would to visit the Wave and hike for 1 mile to reach the slot canyon.
Once you walk into the reddish canyon, you enter another world. All the sounds of the wind stop as you begin your descent into the depth of the earth. There is a stunning beauty in a slot canyon, made bitter sweet by the danger should it begin to rain. After all, these desert landforms have been carved out by desert storms. 
Walk as far as you like down the slot canyon – you can even go into the larger Buckskin Gorge which it joins. After exploring this amazing slot canyon in the American Southwest head back to your vehicle. Wire Pass slot canyon must be on your Bucket List of places to visit in South West USA.
California Bucket List Items
The Queen Mary, Long Beach California
Sarah from Lets Grow Cook
The ocean liner the Queen Mary made her maiden voyage from Southampton England on May 27, 1936, and set a new benchmark in transatlantic travel. This iconic liner was on active service during the World War II and retired in 1967 to her current location in Long Beach, California after carrying 2.2 million passengers and more than 800,000 military personnel during the war.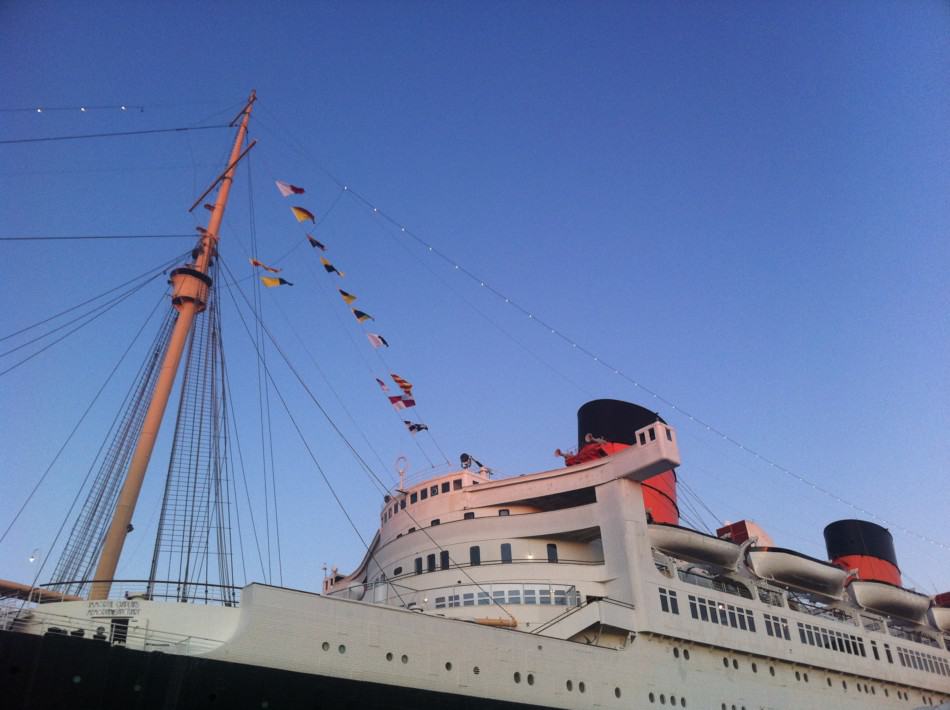 Now occupying a glorious location in Long Beach harbour, the Queen Mary is listed on the National Register of historic places and is one of the Historic Hotels of America.
You can visit the Queen Mary for the day, or stay longer. Her art deco staterooms are a glorious way to spend a few days in a hotel that's like a resort in its own right. You'll find beautiful decks, portholes and original 1930's artwork that really do give you the feeling that you're experiencing the luxury transatlantic travel of the 1930s and 1940s.
There are many tours and attractions based on the ship – from an exhibition of the Cunard story to tours of the "below decks" experience as well as the 'haunted encounter", where you'll get to learn all the myths and legends of this legendary attraction.
Anza-Borrego Desert State Park, California
Jenn of Coleman Concierge
California has over 300 state parks filled with diverse landscapes, panoramic views, and watchable wildlife. The Anza-Borrego Desert State Park is the largest, and arguably, most beautiful of the lot. Located east of San Diego, it occupies nearly 20% of the county, protecting desert life and providing access to this unique world. This enormous park covers 12 designated wilderness areas, and has 110 mi of hiking trails and 500 mi of dirt roads.
The gateway to the park is a little town known as Borrego Springs. Lovers escape to Borrego Springs on romantic Southern California getaways to watch the stars blazing in the dark desert skies in the Anza-Borrego Park. However, everybody comes for the super bloom. Every decade or so, the slopes erupt in a blanket of color that ignites the imagination and exercises cameras everywhere. Come to Anza-Borrego Desert to explore the dusty trails and sparkling streams. Stay for the light show under the desert skies. But, if you hear the super bloom is coming, come early, stay late, and enjoy the show. It's a bucket list experience that you don't want to miss.
La Jolla, San Diego, California
Nikki from SheSavesSheTravels
Southern California needs to be on your Southwest USA bucket list! The city of San Diego offers not only the perfect weather year-round, but also tons of activities with beautiful scenery. From the nation's #1 ranked zoo, the San Diego Zoo, to the incredible art and outdoor space at Balboa Park, to the diamond-like sand on Coronado Island, San Diego is truly a spectacular place to visit.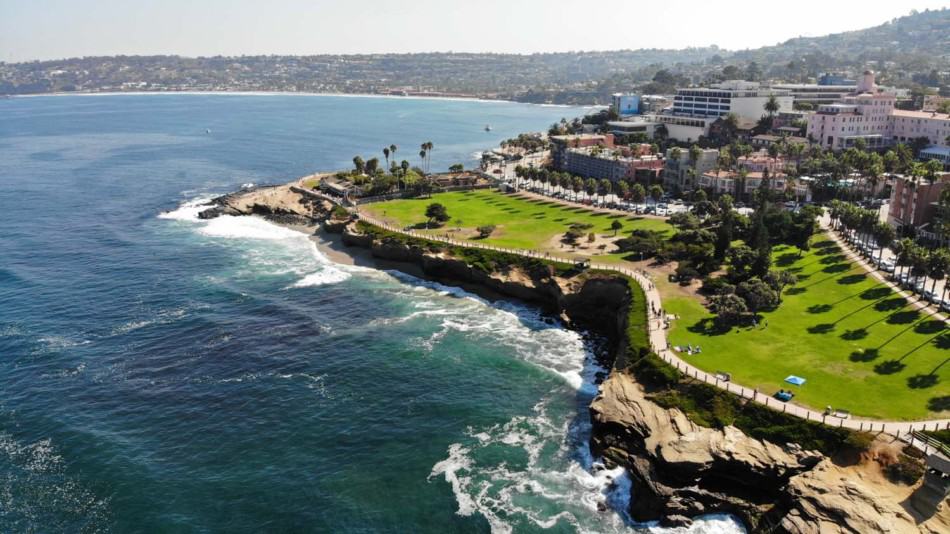 While in the area, make sure to spend a day in the La Jolla area. Kayak the La Jolla cove and find the secret cave. Take a dip in the ocean or walk the boardwalk, full of street vendors. Grab some gelato or dinner with the most picturesque Southern California views.
La Jolla is a southern California staple, and known for the sea lions! Watch them sunbathing along the shore and frolicking about in the vivid blue water. If you've only got two days in San Diego or even a long weekend, La Jolla should be on your list!
Death Valley, California
Michelle from The Wandering Queen
One of the best places to visit in the Southwest is Death Valley National Park. This park is filled with outstanding unique views like bright white salt flats, mountains splashed with the pastel colors, large stunning sand dunes, craters, and rocks that move of their own. The mysterious formations and views are the reasons why photographers flock here.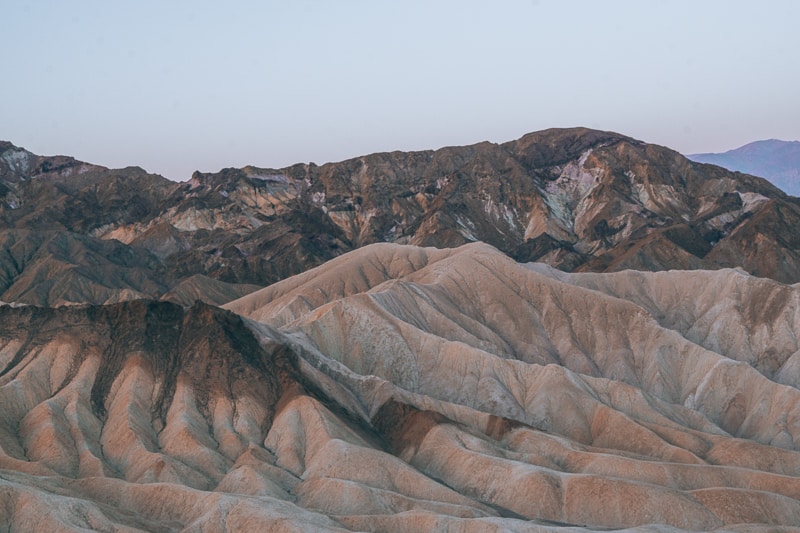 One of the best things to do is to visit Badwater Basin. Badwater Basin is the lowest point in North America, and the basin stands at 282 feet below sea level. This basin is a vast white salt flat area that feels like it stretches on forever. There are also stunning mountains in the distance. It is a popular area to take great photography pictures.
Another great thing to do is to experience Zabriskie Point for sunrise. People love getting up early in the morning to experience the sunshine on the colorful pastel colored mountains. It really is beautiful. After sunrise, you can do some hikes nearby called Golden Canyon, Gower Gulch, and Badlands Loop Hike. Make sure to bring plenty of water, though. The sun and heat are ruthless in this area.
There are so many other activities to do in Death Valley National Park; it is a fantastic park with unique places you will not see somewhere else.
Torrey Pines State Natural Reserve – La Jolla, California
Gina from Evergreen & Salt: West Coast TravelOne of the very best things to do in San Diego is located right on the northern edge of the city limits and is well worth the drive: Torrey Pines State Natural Reserve.
Located in the coveted neighborhood of La Jolla right before you cross into Del Mar along the Coast Highway is one of the most beautiful places in San Diego — and one of the best places to hike. Torrey Pines State Natural Reserve spans a stunning, sloping cliff right by the beach. There's a parking lot at its base, but it's best to drive to the top where you'll find another parking lot (both are pay lots) right by the visitor center and the trailheads.
Stop in the visitor center to learn more about the wildlife in the area and then head to one of the trails, which vary in level of difficulty — but all have gorgeous ocean views. There's even a trail that leads right down to the sand.
The Imperial Sand Dunes – Imperial County, California
Kay from The Awkward Traveller
Visiting the Imperial Sand Dunes should be on everyone's bucket list places to visit in the South West! The Imperial Sand Dunes are also known as the Algodones Dunes, and are the ancestral lands of the Cahuilla and Kumeyaay Native people. Since the state park is less than three hours from three of the nearest major cities, Los Angeles, Palm Springs, and San Diego, it is an easy day trip to find slow down from exploring the busy cities.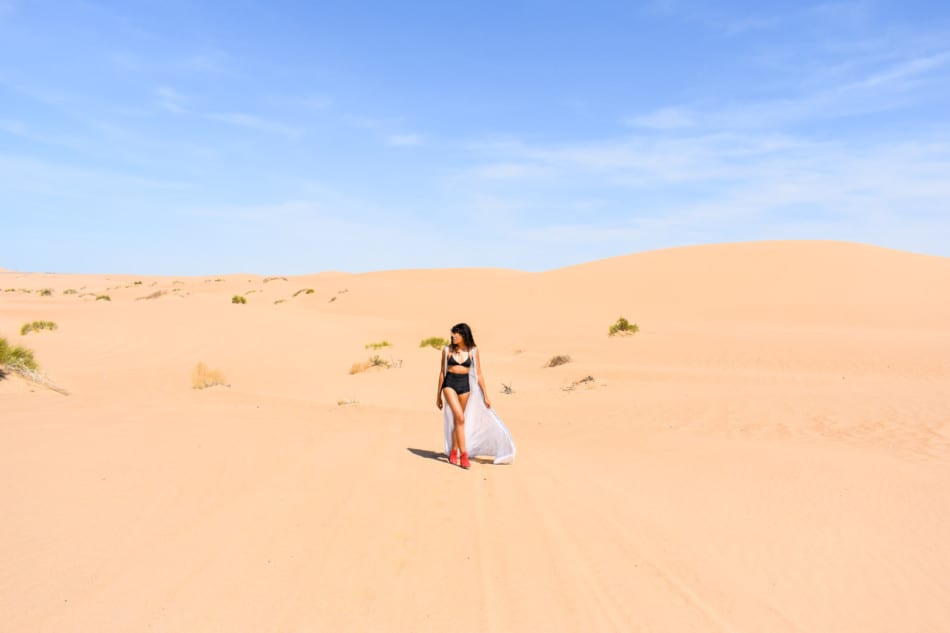 Permits/day passes are required during the high season, late fall to early spring. But if you happen to be brave enough to venture out to the Imperial Sand Dunes any other time of the year, you will be all alone – FOR FREE!
Pack water though, because summer temperatures swiftly soar above 110 degrees Fahrenheit before breakfast cafes are even clearing their first table. And while you can certainly just visit for a quick picture, hands down the most popular activity in the park is ATV and off-road driving! Just remember to wear protective gear and attach your visibility flags at all times! Then you're set to go dune bugging to your heart's content!
Route 66
Stephanie from Oklahoma Wonders
Route 66 is the most famous American Road Trip, and it cuts right through the Southwest! You can start in Chicago and drive all the way along with it to Santa Monica, or you drive just a portion of it from New Mexico to the coast.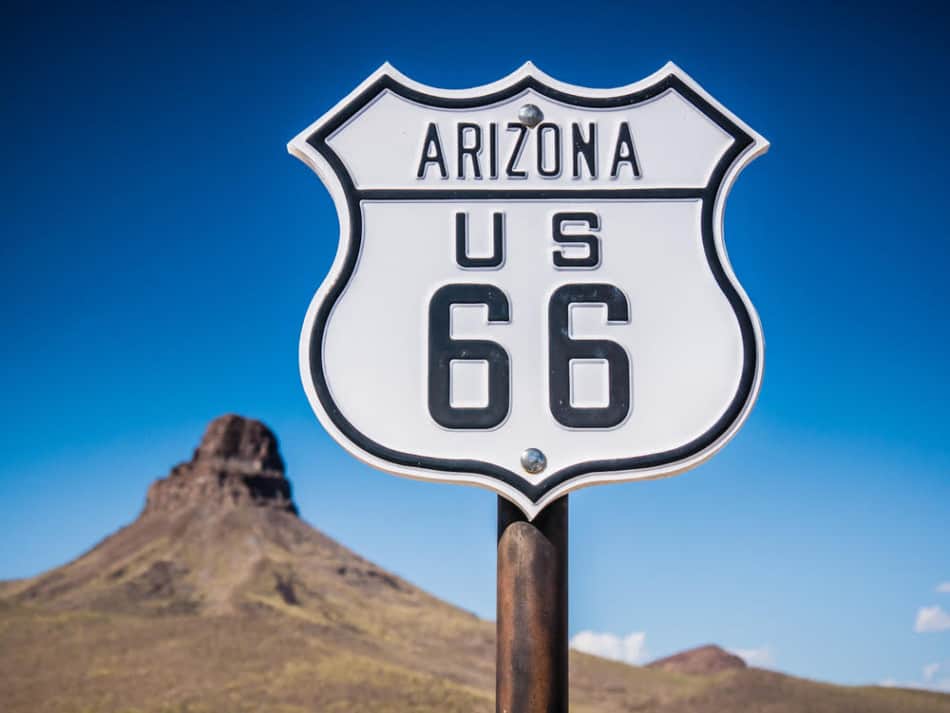 While many people know that Route 66 is famous for being a conduit of Americans heading west, they're less familiar with its actual layout. The biggest cities on Route 66 are Chicago and Los Angeles, but in the Southwest, you can explore Santa Fe, Albuquerque, and Flagstaff, as well as seeing typical roadside kitsch like the Twin Arrows in Arizona.
A Route 66 road trip is a great way to also see places like the Grand Canyon and the Petrified Forest, as well as great state parks in each of the states that you travel through.
Make sure to take it slow! The route is meant to be enjoyed. Have fun at every pit stop and every site!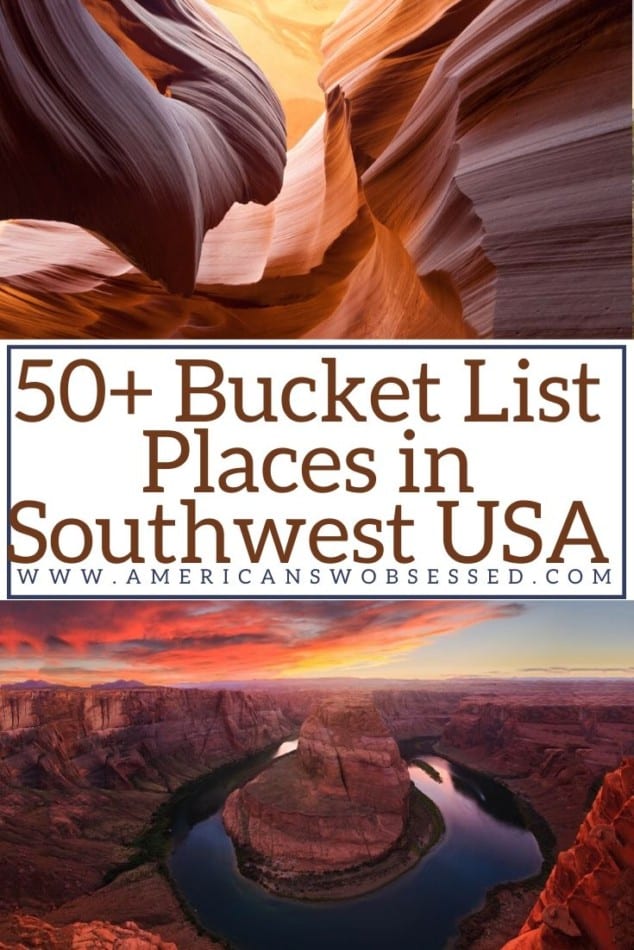 Recent Posts