Arizona Apple Orchards: Are you looking to go apple picking in Arizona? I have put together this list of apple orchards in Arizona to help you plan your fall fun.
Apple picking is a popular fall activity and you may not think of Arizona as a prime place to go apple picking but there are lots of apple orchards in AZ that host a ton of fun fall activities.
You can also check out my post on 15 Best Pumpkin Patches in Arizona – 2023 Local's Guide for more fall festivities.
15 Best Places to go Apple Picking in Arizona – A Perfect Fall Day
Apple Annie's Orchard
The most well-known apple orchard in Arizona is located on this property, which offers hundreds of excellent apples in nine varieties from August to October.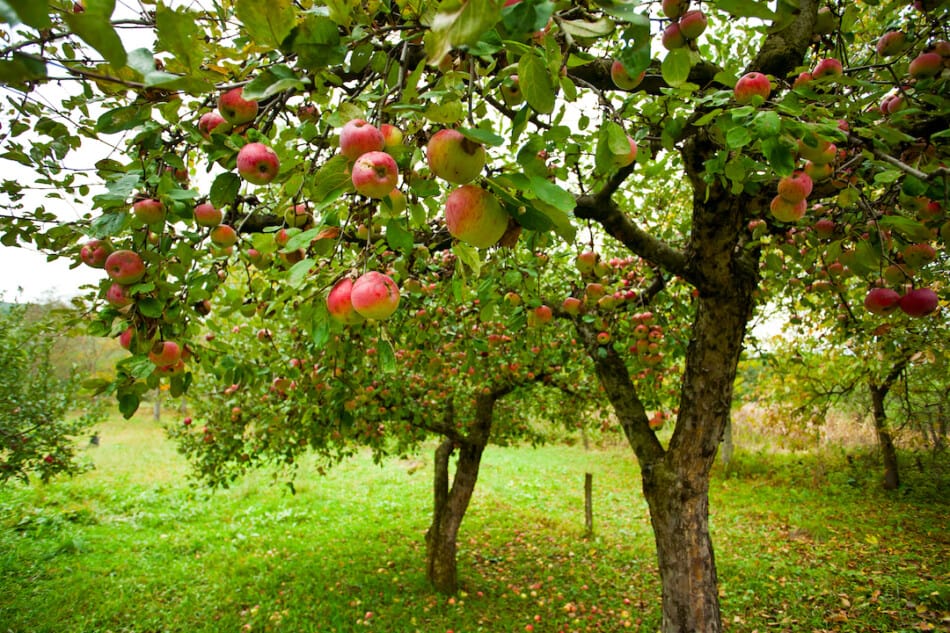 Apple picking is as healthy as it gets and is a great family activity. Apple Annie's Orchard in Willcox is one Arizona apple orchard where picking is encouraged, even though the majority of them are now wholesale-only. The best part of the enjoyable day's activities is that you get to take a basket of crisp, fresh apples home with you! You don't want to choose your own? No problem, you can purchase a batch that has already been selected at the site's country store.
Weekend celebrations are common throughout the fall, with apple cider donuts, lunch at the Orchard Grill (where burgers are cooked over apple wood), and pies, pies, and more pies. Pancake breakfasts with hot cider syrup and apple topping are also popular.
Fenway Park Orchards
Can fruit be grown in arid conditions? Well, it all began around 49 years ago. Carol and Allen Way both adore trees. In the middle of a desert, more than 2,000 trees are growing. For their consumption, they have always farmed a wide range of fruits. But they desired to grow more fruit so that everyone might enjoy it.
Fenway Park Orchards was finally established. Over a thousand fruit trees can be found, and the owner personally takes care of every tree. The fruit-based products are also entirely natural.
Additionally, for more than 45 years, residents of Arizona have received excellent, juicy apples from this orchard. Fenway is an organic, pesticide-free orchard. In addition to a wide variety of peaches, they specialize in Anna and Golden Dorset apples.
Angle Orchard
Arizona's apple picking has never been more enjoyable. On Mount Graham, there is a secret orchard that is a fantastic treat to visit. If you choose it yourself, they have a few apples available in the summer and more in the fall for approximately $0.75 per pound.
It all began with a peach pit, according to the descendants of Andrew Preston Angle and his wife, Viola, who started producing fruit in the Pinaleo Mountains of eastern Arizona in 1922. According to the story, somewhere in the 1910s, a traveler ate a peach and discarded the pit close to Jacobson Creek, right off of the current State Route 366. (the Swift Trail). Even during years when freezes harmed the peach harvests in the Gila Valley below, a peach seedling continued to grow and produce fruit each year.
The Angles, who were homesteading in Artesia, a location at the base of the Rockies known for its natural wells, had migrated to Arizona from West Virginia. They concluded that thermals, or warm air currents, were keeping the peach tree from freezing. After receiving a 10-acre plot from the United States, Angle Orchard was created thanks to a 100-year license with the Forest Service.
Around the Fourth of July, small, doughnut-shaped Saturn peaches begin to ripen. Other peaches follow through in early September. Between August and October, Gala and Elstar apples start to ripen, followed by Fuji and Granny Smiths.
Visitors are advised to bring their own boxes and bags for fruit, as well as adequate footwear and lots of drinks. Check their Facebook page often for new dates and times.
Schnepf Farms
Visitors can explore the unique Schnepf Farms, which has been in existence for more than 75 years, in the quaint community of Queen Creek, which is located just east of Mesa. This fourth-generation family farm, which is Arizona's largest organic peach grower, is more than not simply a festival or event farm; it's a place where you can visit and enjoy the best of Arizona agriculture.
Guests may have the opportunity to participate in activities like peach harvesting, historical re-enactments, classic vehicle shows, and antique craft fairs.
At Schnepf Farms, you are not limited to purchasing apples. This farm in the East Valley has a lot of u-pick gardens with a wide selection of fruits and veggies. Peaches are, however, their most well-known export. Consider going to one of the special seasonal farm celebrations or simply dropping by to choose vegetables from the u-pick garden.
Their u-pick gardens are free to enter and open from Thursday through Sunday. Early summer is often when apples and other fruits are in season.
Sedona's Heritage of Apple
It's difficult to imagine that Sedona was once the go-to location for an Arizona apple orchard 100 years ago. Water was easily accessible from the nearby Oak Creek, and Sedona farmers created irrigation systems to support their orchards. The Sedona Heritage Museum is housed in a former apple processing facility near Jordan Historical Park. Even the iconic red rocks are placed on an apple in the museum's emblem.
The Jordan family farmstead's historic structures still stand, but the orchard area was sold off in the 1970s. These buildings help to shed light on Sedona's fruit-filled history.
Visit a 1940s one-room farmhouse where apples were the center of attention and view vintage farming equipment and apple sorting tools. One of the interesting things to do in Sedona during the fall is this.
Date Creek Ranch
Date Creek Ranch is the place to go if you're wondering what to do in Arizona during the fall. Apple picking and grass-fed beef are two items that are associated with Date Creek Ranch. The best "ranch style" experience may be had at this family-run cattle ranch, which is a favorite among apple pickers.
This ranch in the heart of Arizona has a beautiful Golden Delicious apple orchard (perfect for snacking or adding a different flavor to baking recipes).
September through October are prime months for apple picking. You are free to choose your preferred Golden Delicious apple while strolling through the orchard with bags or even a wheelbarrow. Additionally, you'll get the opportunity to interact closely with some animals and even purchase some apple pie.
Quiet Valley Ranch
Check out this small bed and breakfast if you want to experience the atmosphere of a farm while staying in the Verde Valley.
Furthermore, check the orchard's inventory before going to collect apples or other fruits since it produces fruit from June through September.
Slide Rock State Park
Don't overlook this location. One of the best areas in Arizona for apple picking is Slide Rock State Park. This state park is on the site of a historic homestead, where the house and orchard still survive.
When you go, you can stroll through the orchard, but if you want to play games and have fun there, go for the fall festival in the middle of October!
Make sure you have cash on hand before paying because many of these great apple orchards in Arizona and other farms only accept cash.
Briggs and Eggers Orchard
In 1968, Joe and Jean Briggs started farming in the bountiful Bonita Springs Valley, and that was the start of it all. The optimum conditions for growing sweet, luscious fruit are created by the 4,500-foot elevation, sunny days, chilly nights, and an abundance of clear water. In 1993, Melissa and her husband, Lance Eggers, began working for the family business.
Since 1968, this 400-acre orchard has been a supplier of premium apples. Furthermore, it is situated in a prime harvest environment, so there is no shortage of tasty organic apples to be had. Visit their storage facility, which is next to the orchard, to satisfy your apple needs.
Pendley Homestead
It's not necessary to visit a farm to go apple picking. The Pendley Homestead at Slide Rock State Park is a fantastic location for picking traditionally.
Before it was sold in the 1980s, the Pendley Homestead had a sizable apple orchard in the 20th century. It is still possible to see the historic orchard and its surroundings today. One day can be spent looking for some of the 13 apple varieties that still thrive here.
Howard's Orchard
Just like a piece of apple pie, Howard's Orchard. You are always left wanting more. Hundreds of tomato plants, peach trees, apple trees, and other fruit trees may be found at this orchard in Tucson.
People travel from near and far to taste the rich fruit. In contrast to the seasons of many other orchards, apple season also starts in August. Wednesday through Saturday mornings are when it is open.
Beatty's Guest Ranch and Orchard
Are you looking for apples in southeast Arizona? Choose Beatty's Guest Ranch and Orchard without a second thought. It is situated between two peaks in a basin. This particular location offers the best conditions for apple production.
Beatty's once had 1,300 trees and 34 different apple varieties. Unfortunately, a fire in 2011 destroyed a large number of trees.
Today, this orchard is steadily recovering and offers southern Arizonans who are hungry more than enough options.
Mother's Nature Farm
Since 1968, Mother Nature's Farm has been a pillar of the Valley. However, Mother Nature's Farm didn't start to gain popularity for its pumpkin patch until the late 1980s. Each year, they host an autumn festival that draws thousands of people thanks to the patch.
Mother Nature, though, is all about apples in the summer. During May and June, their Gilbert farm facility offers u-pick peaches and apples.
Agritopia Farm
On the northwest side of Ray Road and Higley Road, in the Agritopia area, is where you'll find Agritopia Farm. It was developed as a community gathering spot as well as a way to preserve urban agriculture on this piece of land.
The farm is a beautiful location, and the owners take delight in cultivating a setting that not only generates food but also offers a lovely spot for everyone to enjoy.
There are many photographers who frequent the farm. Additionally, they demand payment of a site fee for sessions with professional photographers (persons being paid cash or bartered in exchange for their session).
Furthermore, you can now commemorate your subsequent life milestones in the picturesque farmland. They have a location for you for dinners and weddings.
Come check out the farm whenever you like to see what the current season is sprouting. There is a lot to discover in and around the farm, including fantastic on-site dining options and a tranquil community garden. To learn the most recent information about U-Picks and classes, be sure to visit their events page.
Recent Posts