15 Amazing Arizona Wineries – Yes! There are Vineyards in Arizona
Did you know there are vineyards in Arizona? I couldn't believe you could have Arizona wine and then I had a chance to visit these Arizona Wineries and I have to say – going wine tasting in Arizona is one of my favorite things to do!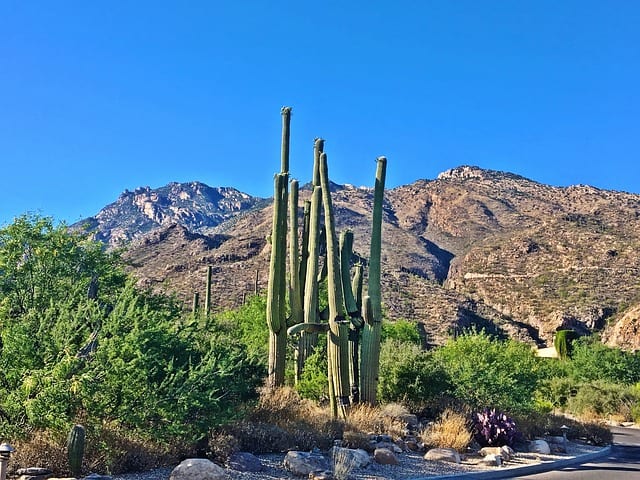 Arizona Wine Country can be found near Flagstaff and Sedona in the north and Tucson in the southeast. Wineries in Arizona produce different types of Cabarets and Chardonnays and even Merlots.
There are currently over 110 Arizona Wineries you can visit across the state but the most popular areas are the following:

Sonoita – Wineries in Southern Arizona – near Tucson, Arizona wineries
Wilcox – Wineries in Southern Arizona – east of Tucson
Verde Valley – Northern Arizona Wineries – Wineries in Sedona
I'll cover all of these areas so you can find the Best Wineries in Arizona. Here's a hint though, Sedona wine is some of the best and the vineyards in Sedona provide a great experience with wine tastings and tours of the vineyards.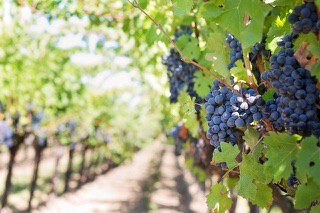 Wineries in Southern Arizona – Tucson Arizona wineries

Dos Cabezas Wineworks

Established in 1995 in Kansas Settlement, the winery was founded by Al Buhl and sat on over 80 acres of vineyard. By the mid 2000's the Bostock family had taken over the business and shifted to the winery to Sonoita, Arizona where it still remains today.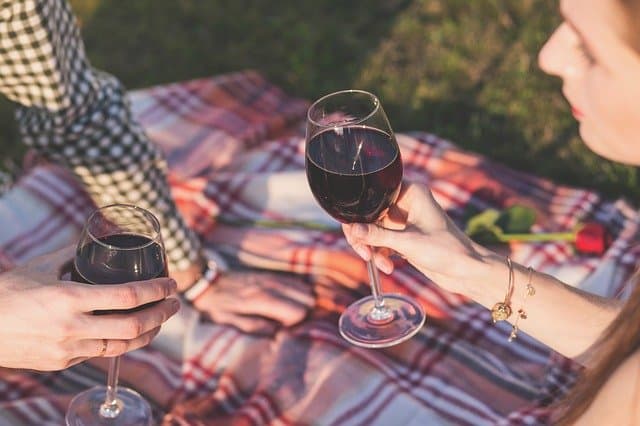 The winery has two vineyards, one in Sonoita and the other in the initial winery location of Kansas Settlement which work together to supply the winery with high-quality and distinctive fruit.

The wine at Dos Cabezas is reasonably priced with options to buy giftpacks with a variety of wine included. Dos Cabezas wine includes a variety of red, white and pink wines all with delicious and unique flavours.
Dos Cabezas has a wine club in which they make regular shipments of wine a few times a year to those who don't live near the winery but still want to enjoy the flavours of the wine.

Dos Cabezas Wineworks is located in the southern Arizona city, Sonoita 51 miles south of Tucson.
Callaghan Vineyards

Founded in 1990 by Kent Callaghan, the initial start of the business was a bit rocky when the planting of the first vineyard happened to coincide with a heat wave resulting in losing a few thousand vines!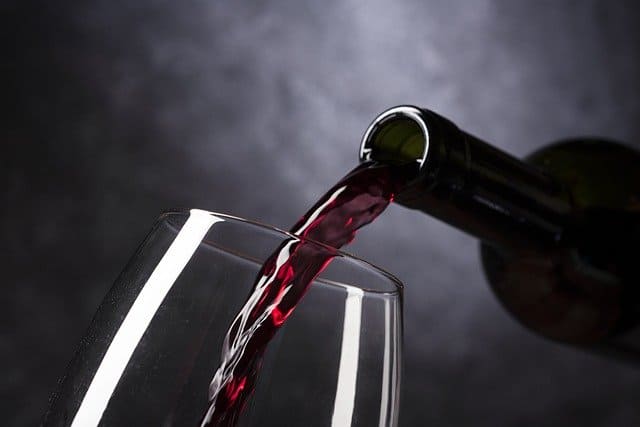 A re-planting followed, and the business grew successful, so much in fact, that Callaghan wine has been served in the White House an impressive four times. Their wine has also been talked about in many great publications, including the Wall Street Journal.

The wine at Callaghan Vineyards is reasonably priced and includes a variety of delicious flavors in the form of mostly red wines with a few white and pinks thrown in the mix. Callaghan Vineyards also offers online orders/shipments for those not in the area but still craving a bit of their yummy wine.

Callaghan Vineyards is also located in southern Arizona, Sonoita, 51 miles south of Tucson.
Arizona Hops and Vines

Arizona Hops and Vines was founded by two fearless sisters with big dreams. Together along with the help of a few friends and their children, they run this small family friendly winery.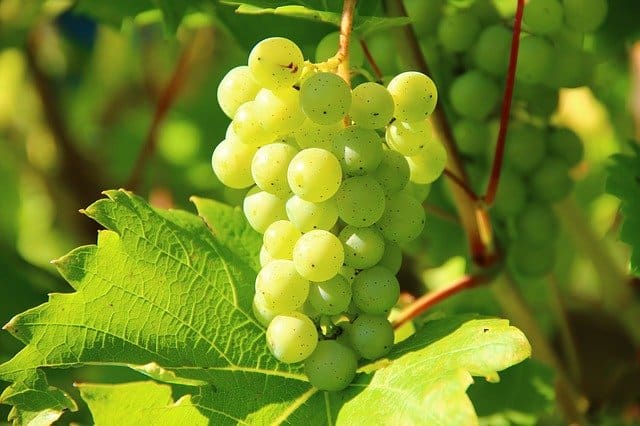 At Hops and Vines, the sisters work to make their business inclusive and fun for everyone. Families are welcome and there are play areas for children that their own children even help to run! And additionally, visitors are encouraged to even bring their pets. There's plenty of space for them to run around while their owners are enjoying a beverage or two.

The wine at Hops and Vines are reasonably priced with a large variety of wines all carefully designed and made over years to accommodate everyone's taste. The wine at Hops and Vines range from reds, whites and pinks. Every wine is carefully crafted and truly unique to most other wines in the area.

Arizona Hops and Vines is also located in southern Arizona, Sonoita, 51 miles south of Tucson.
Keeling Schaefer Vineyard

The Keeling Schaefer Vineyard was a long time coming, for owner and founder Rod Keeling. He became fond of wine in the late 1990s and decided he wanted to attempt at making wine at home.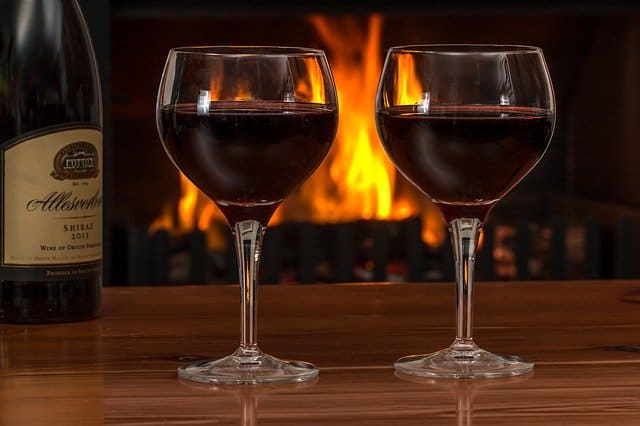 From there, he spotted a "for sale" sign on a ranch and jumped right in to founding his very own winery. After years of work and construction, the winery officially opened in the mid-2000s.

The wine at Keeling Shaefer is entirely made on the land of the winery. All the grapes are fully grown on site, the winery is also located on the vineyard – something that sets this vineyard apart from many others.
There wines are available at many restaurants and retail stores around Arizona and available at the popular Wilcox Tasting Room. The wine is mostly reasonably priced, with a few more premium options.

Keeling Shaefer is located in southern-east Arizona, in the town of Wilcox. It is approximately 84 miles east of Tucson.
Coronado Vineyards

Established in 2005 and nestled in between Mt Graham and the Dos Cabezas mountains, Coronado is the unique wine tasting. At over 4,000 ft in elevation, Coronado produces some of the finest wines in southern Arizona and hosts perfect conditions for their fruit to grow and flourish; resulting in unique and distinct flavor and quality.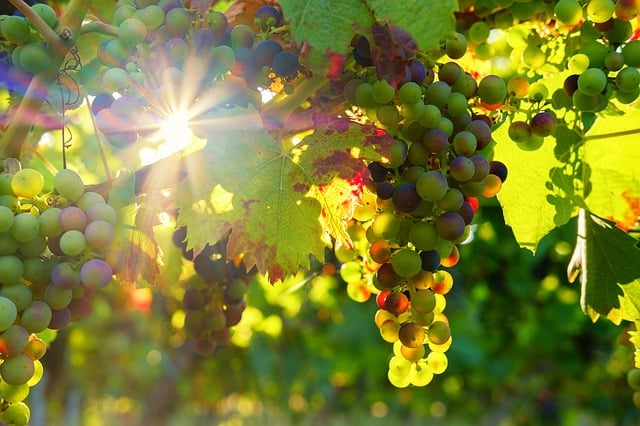 Coronado offers wine in an array of flavors and styles, from the more traditional crisp whites and delicious reds to the sweet and yummy dessert wines and up-scale sparkling wines.

Coronado Vineyards is located in the southern Arizona town of Wilcox, 84 miles east of Tucson.
Charron Vineyards

Founded in 1994, Charron Vineyards is one of the oldest vineyards in southern Arizona. The vineyard is located at 4,200 feet in elevation ensuring perfect growing conditions for their fruit with warm sunny days and cool nights.

The wine is not only available in their tasting rooms but also from a few establishments located both in Vail, Arizona and nearby Tucson. The wine is specially made to ensure each batch is as perfect as the previous and next.
The wine is also carefully cared for to ensure the unique taste to other Arizona wines. The vineyard is also open to private venue hirings such as birthdays, anniversaries and small weddings.
The beautiful landscapes of the vineyard also make it perfect for such events as well as a day visit to soak in the beautiful surroundings and enjoy some yummy wine.

Charron Vineyards is located in the southern Arizona town of Vail, just 27 miles southeast of Tucson, Arizona.
Zapara Vineyard

The idea for Zapara was established in 2009 by Rhona MacMillan and Mark Jorve. After a few years of planting vines and building their dream, the tasting room was officially open for business in 2012 and has been thriving since.
There are over 5,000 vines each and everyone getting as much attention and care as each other to ensure top quality wine is produced, enjoyed, and produced.

There is a great range of wines available at Zapara with online orders available and shipping to over 30 states. The wines are all reasonably priced and the winery even offers the "wine club" which offers special patrons discounted wine, invitations to special events, complimentary wine tasting, and first offers for newly released wines. Even better – membership is free.

Zapara is located just a 15-mile drive south of the southern-east Arizona town Wilcox 84 miles east of Tucson.
Northern Arizona Wineries – Wineries in Sedona, AZ Wineries

Page Springs Cellars

Page Springs believe in inclusivity and family. They create and produce a delicious array of wines that convey their beliefs surrounding family and living life to the greatest potential. They grow their grapes on the land of their winery and take great joy in ensuring each batch of wine is made with care, love and brings together people.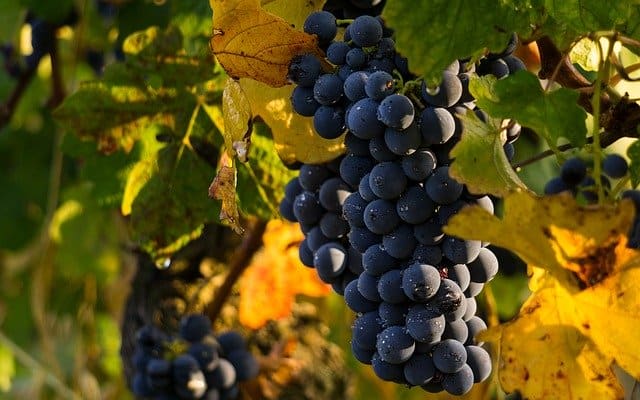 At Page Springs, it isn't just about the wine; it's about the full experience of visiting a winery. They offer many activities, from wine tasting and exploring the vineyards to participating in yoga classes and just simply breathing in and enjoying the beautiful Arizona landscapes and fresh air.

Page Springs is located in the central Arizona town of Cottonwood near Sedona; just 60 miles south of Flagstaff, Arizona.
Arizona Strongholds Vineyards

Arizona Strongholds Vineyards founded in 2007 originally had the goal to put their wine as well as other Arizona wineries on the national map. Over the years of their production, they did just that. Arizona Strongholds gained national recognition throughout the country by winning numerous wine competitions.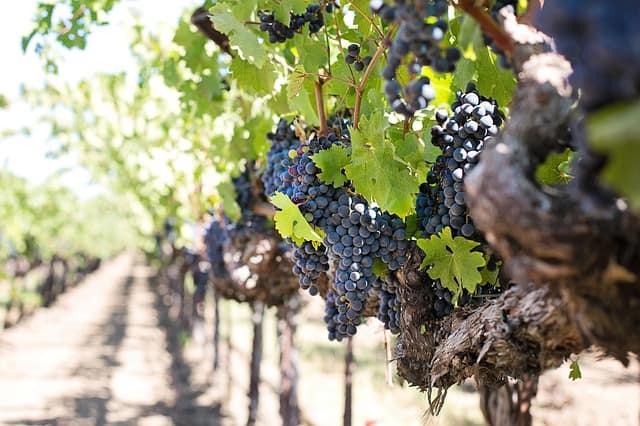 The wine made at Arizona Strongholds range from White blends, to Tuscan blend, Rhone blends, to more traditional styles of wine. The wines at Arizona Strongholds are made to be an expression of the landscapes of outback Arizona. Every blend is treated as an individual and each of the wines represents the southwest in a unique way to each other.

Arizona Strongholds is also located just south of the central Arizona town of Cottonwood near Sedona; 60 miles south of Flagstaff, Arizona.
Burning Tree Cellars Sedona Arizona Wineries

Burning Tree successfully makes their wines different and unique to other wineries – they do this by specializing in smaller batches and ensuring that their wines remain to only be available through their winery and tasting room.
They don't distribute their wines to chained supermarkets or local restaurants – rather ensuring that their special wines remain home at their vineyards.

Although they don't distribute their wines to be sold any place else, online orders are open for those who don't live locally but still want to enjoy their wines. Like many other wineries, Burning Tree has a wine club in which members get early access to new wines, invitations to special events, and many bottles of wine directly shipped to your home a few times a year.

Burning Tree is located in the central Arizona town of Cottonwood near Sedona; just 60 miles south of Flagstaff, Arizona. Cottonwood, AZ wineries
Caduceus Cellars

Caduceus Cellars was founded in 2004 by Grammy-award-winning musician Maynard James Keenan. Keenan also owns a vineyard nearby where the fruit itself is grown and the wine is brewed and made.
Keenan was so invested in this wine journey that the band he was part of at the time, Tool, had to schedule their tours and professional obligations around Caduceus wine-making schedule and timeline.

The wine itself is only available in certain areas of the country. Due to the current small production of the wine, there are no large distributions of their wine and only certain blends of their wines are made available for national distributions to only a small number of states.
There is also no chance of any international distribution due to the small productions of the wines. Although, there is a wine club membership available for people living in areas where the winery does distribute, in which people can receive four shipments a year of anywhere from 3-6 bottles of wine.
The wine also appears to be greatly popular in Arizona, as many people travel from all over to get a taste.

Caduceus is located in the Central Arizona town of Jerome near Sedona; 8 miles west of Cottonwood and 71 miles south of Flagstaff, Arizona.
Four Eight Wineworks

Four Eight Wineworks, located in central Arizona, was founded in 2013 by Caduceus founder, Maynard James Keenan. The tasting room is located in Jerome, Arizona, not far from Kennan's vineyard and wineries where all his wines are grown and brewed.

Four Eight, is Arizona's first and still remains to be the only wine-makers co-operative – in which vineyard owners deliver grapes to the co-operative which is then turned into a wine production. Due to Four Eight not actually being a winery themselves and not producing wine themselves, it makes the unique to other winemakers in the area.
Although, they are still very popular and still receive many visitors to their tasting room.

Four Eight Wineworks is also located in the central Arizona town of Jerome near Sedona; 8 miles west of Cottonwood and 71 miles south of Flagstaff, Arizona.
Passion Cellars

Passion Cellars, alongside their partner Salvatore Vineyards began out of the true love of Arizona wine and the passion to be a part of an ever growing and fabulous industry. The founder, Jason Domanico dedicated his wine business to his grandfather, Salvator Ligammari who just like his grandson was a lover of wine and a wine maker himself.

Under both the Passion and Salvator names, Jason Domanico has produced many of the best wines in the region and has won many awards for producing divine, balanced and complex wines.

Passion Cellars is also located in the central Arizona town of Jerome near Sedona; 8 miles west of Cottonwood and 71 miles south of Flagstaff, Arizona.
Granite Creek Vineyards

Granite Creek Vineyards, is a small family owned and operated vineyard, established in 1974. The vineyards itself is located in a high-elevation Arizona valley and is surrounded by beautiful landscapes including granite peaks lush fields.

The beautiful landscapes, tightknit community feeling, and delicious wine all make for a great location for many events, parties and weddings. Granite Creek is home to many special events like this throughout the year and is available for private hire for those wanting to soak in the Arizona sunshine, cool evenings, beautiful landscapes and delicious unique wines all day and all night with their friends and family.

Granite Creek is located in the central Arizona town of Chino Valley, 42 miles west of Cottonwood and 85 miles south west of Flagstaff, Arizona.
Oak Creek Vineyard

Oak Creek established in 2002 is known for their crisp white wines and velvet reds. Their tasting room also offers a menu of carefully selected tapas including some of the finest cheese and meats produced in the area.

Oak Creek, like some other Arizona wineries, don't offer their wine outside of the winery and tasting room. You won't find their wine being sold at local restaurants or chained super markets. Rather, you can only get your hands on their wines through visiting them personally or signing up to their wine club.

Oak Creek is located in the central Arizona town of Cornville, just 55 miles south of Flagstaff, Arizona.

Javelina Leap Vineyard

Javelina Leap Vineyard is a family owned business located in Corneville just outside Sedona.

Javelina Leap Vineyard & Winery processes approximately 40 to 60 tons of Arizona grown grapes equaling about 2500 to 3000 cases of fine Javelina Leap Arizona wine. When you visit Javelina Leap Vineyard & Winery you will be sampling Arizona wines at a fully functional vineyard and winery.

During harvest season you can watch them making the wine (August to October). You can visit either the Arizona Room Bistro or Secret Garden where they serve artisan cheese platters, deli meats, artisan pizza and Arizona wines by the glass or bottle.

Alcantara Vineyards

Alcantara Vineyards is a dream venture created by Barbara and husband Bob to provide their family and partners the opportunity to live the dream of growing a vineyard community and winery. The vineyard is located in Corneville outside of Sedona.

The tasting room is open daily from 11 a.m. to 5 p.m. We offer two different tastings that you can choose from either The Regular tasting fee is $10.00 per person (5 – 1 oz tastings of your choosing) Does NOT include take-home glass; Or the V.I.P. tasting fee is $15.00 per person (5 – 1 oz tastings of your choosing), and includes a crystal glass with an etched logo of Alcantara Vineyard.

Alcantara Vineyard is known for its crisp Sauvignon Blanc and their dry Riesling

Page Springs Vineyard & Cellars

At Page Springs Cellars, we create wines that express the high desert character of the Arizona landscape.

Page Springs Cellars is a winery but it's also a destination that encourages exploration. Visitors can pack a day full of experiences, from the obvious—tasting wine—to strolling the vineyards on a tour, opening up the heart and mind during a yoga session, creating a private event or savoring our house-made jam.
Conclusion – Arizona Wineries
So which Arizona Wineries do you want to visit?
With so many choices such as Sedona Arizona wineries, wineries near Sedona , Verde Valley wineries, and wineries near Tucson it can be hard to choose!
Sharing is Caring! Pin this article to save for later.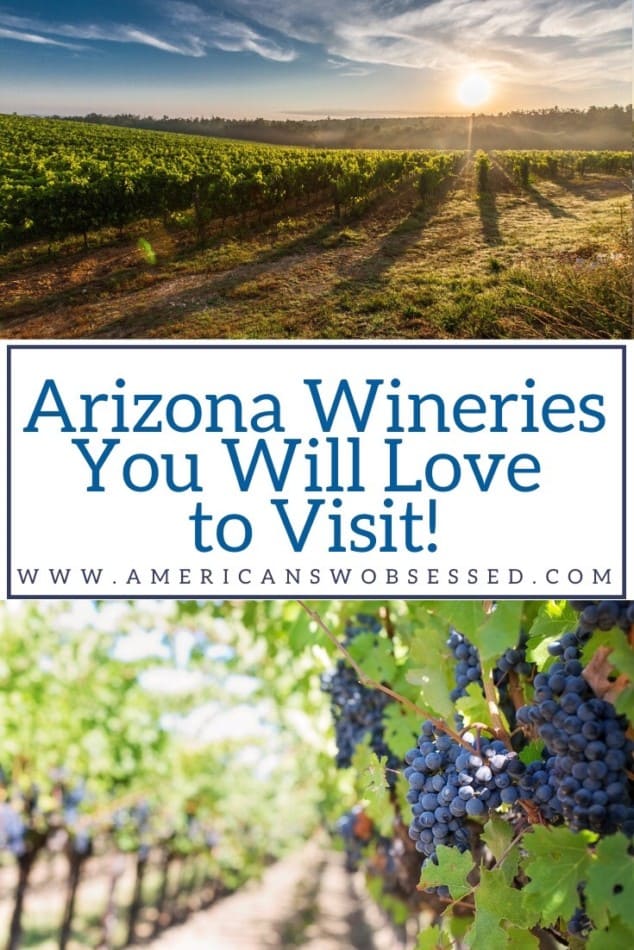 Continue Reading More on my Website:
Arizona National Park and National Monuments
The Best Arizona Hikes and Trails
Best Sedona Hikes and Easy Hikes in Sedona
Native American Ruins in Arizona
Recent Posts