The 15 Best Backpack Coolers – for hiking, camping, and outdoor activities
How to choose the best backpack cooler for you
If you are looking for the best back coolers you've come to the right place. I recommend buying one of the insulated backpack coolers for your adventures.

The Yeti Backpack Cooler (shown above) is the best cooler backpack but it is a bit pricey. I have included some more affordable options that are great backpack coolers.
Why do I need an insulated backpack coolers?
Have you ever been traveling and gone to take out your lunch or a drink from your bag and it was warm?
Long gone are the days when coolers were heavy rectangle boxes that were difficult to carry and heavy.
When taking a road trip, camping trip, trip to the beach, or going on a hike now you can easily take drinks or food keeping it cold. Or let's be honest – you want to have a few beers after a long hike to the lake with friends to cool off.
Now you can carry a backpack cooler with you where you go, with convenient carry straps, stylish designs, comfortable, and lightweight.
There are many different things to consider when deciding on which is the best cool bag rucksack for you.
Thank you for supporting this website written by an American. This post may contain affiliate links. This means I earn a small commission on these links at no extra cost to you.
When looking at backpack with cooler here are some of the things you should consider are:
Comfort
If you are looking for a backpack and cooler combo you need to ensure the soft cooler backpack is comfortable to carry. How far do you plan on carrying it? Are you hiking long distances and need to carry it easily? Some backpacks have thick straps with additional chest straps, waist straps, and back supports for comfort when carrying it long distances.
Pockets
Are you looking to carry additional items in your backpack coolers such as picnic utensils or other items? Many of the backpacks in this list have side pockets, front pockets, mesh pockets, and even additional space for luggage within the backpack.
Size
Backpack coolers vary dramatically in size from a small backpack, a large rectangular backpack that can hold 52 cans or a beach tote with an insulated removable pouch.
Backpack ice chest come in all shapes and sizes depending on how much you want to carry at once, from a four-person picnic to a small lunch or snack, you can find a backpack cooler suitable for you.
Maximum Weight
With some of the larger backpacks and considering the amount they hold, they can easily become heavy to carry. Some backpack coolers are made from solid durable materials which tend to be heavier, to begin with than a canvas insulated cooler.
Ice Retention – ensure it is an insulated backpack cooler
An insulated cooler backpack can hold ice for large periods. Some of the coolers can hold ice better than others and for longer than others. There are backpack coolers that can hold ice form over 48 hours and others which will last for 16hours. It all depends on how long you want your backpack to keep things cold.
Quality
With every product, you can find good quality products and poor quality products. All the products on this list are of high quality and are built to last.
Here are my top 15 best cooler backpacks for your next adventure – backpack cooler reviews
YETI Hopper Backflip 24 – the best hiking cooler backpack
The YETI Hopper Backflip 24 soft-sided cooler/backpack is a premium backpack cooler, produced by one of the industries leading manufacturers, well known for producing great high-quality coolers, cups, and an array of other cooler products.
The Hopper Backflip 24 is no different, big enough to hold 20 cans (with a 2:1 ratio of ice to can), and the compartment measures 12 5/8 x 6 1/2 x 15 inches.
The backpack is made out of high-density fabric, which is waterproof, mildew resistant, puncture-proof, the liner is made from FDA-approved material, and is protected from UV rays.
The Hopper Backflip 24 doesn't stop there, it has a closed-cell rubber foam to help keep the content cool, and offers a waterproof and leakproof zipper.
The backpack cooler is designed with comfortable straps and distributes weight evenly. The backpack cooler also has both a chest and waist strap making for a stable and secure journey, no matter how far you wander.
Check the current price on Amazon
---
Polar Bear Coolers Backpack Cooler – best cool bag rucksack
Yes! It is a backpack.
The Polar Bear cooler backpack is a Polar Bears backpack cooler, which can fit up to 18 (12oz) cans with 10 pounds of ice. The backpack measures 7" x 18" x 12" and is available in three colors, including black, camo, and orange.
Polar Bear states that the backpack can keep ice frozen for 24 hours in 100+ degree heat, with its high-density foam insulation.
From hiking, traveling, camping this backpack cooler can fit everything you need and keep it cold for over 24 hours.
The backpack has the standard Polar Bear features with an Anti-Microbial FDA double-coated nylon lining, making it long-lasting.
The outer shell has luggage standard nylon with double hemmed seams and anchor stitches. The zip is heavy-duty, rustproof, and weatherproof with patent-pending zipper design. The backpack also features a side zip pocket which is an embroidered pocket area, which can be personalized.
The Polar Bear cooler backpack has adjustable straps and a 2inch padded backrest and two side mesh pockets.
Check the current price on Amazon
---
ORCA Pod Cooler Backpack
ORCA is another great premium cooler company, producing several coolers in a variety of designs.
The ORCA Pod backpack can hold up to 24 (12oz) can with 15 pounds of ice, it can fit more can with less ice and has a capacity of 28.5 quarts.
This cooler backpack is ideal for long hikes or camping trips as it can keep the ice for days. The Pod has padded shoulder straps, a cross-chest adjustable t-strap, and can carry up to 59.5 pounds. The backpack has webbing sewn into the pod's outer walls, ideal for the storage of non-cold items.
Check the current price on Amazon
---
TOURIT 21L Leak-Proof Soft Sided Cooler Backpack – best cooler for hiking
The TOURIT 21L leak-proof cooler backpack is made of leak-proof durable fabric, with a size of 17.7" x 13.8" x 10" weighing 4.6 pounds. The cooler backpack can hold 21L around 36 cans along with ice. This cooler backpack is ideal for picnics, road trips, beach trips, hiking, cycling, and traveling.
The backpack is a soft cooler, which has an airtight zipper, is leak-proof, has high-density insulating material, and has a leak-proof liner.
The manufacturer states that it can keep food hot or cold for up to 3 days. The backpack has a waterproof outer layer and tough shell which holds up against knocks and hits. It also features shoulder straps, an adjustable chest strap, side strap, adjustable webbing for storage, and an upright side pocket.
A big plus for this backpack cooler is it comes with a lifetime warranty and is cheaper than its competitors.
Check the current price on Amazon
---
TOURIT Insulated Cooler Backpack
The TOURIT insulated cooler backpack looks like a regular backpack but splits into two compartments, a cooler compartment at the bottom and a storage place at the top. The backpack is lightweight and durable, leak-resistant, and is made of durable fabric. This backpack is ideal for traveling, picnics, cycling, hiking, beach trips, day trips, and many more activities.
This backpack cooler is made from a leak-resistant material and can keep products warm or cool for 16 hours. The top of the bag is ideal for storing dry items, with the overall dimension of the bag being 17.7x13x7.5 inches. The bag is available in two colors black and gray.
Check the current price on Amazon
---
AO Coolers Original Soft Cooler with High-Density Insulation
The AO Coolers Soft Cooler is a canvas soft cooler, with five layers to keep your content cold. The layers are made up of canvas, Polyethylene film, Polyethylene foam, spun Polyester Sheeting, and a TPU leak-proof liner.
The unique feature of this cooler is that it comes in multiple sizes including 12-can, 24-can, 36-can, and 46-can plus ice, along with multiple colors (black, blue, camo, charcoal, navy, red, and more). No matter what the size the manufacturer guarantees for it to hold ice for 24 hours in up to 120-degree heat.
This cooler is ideal for boating, fishing, parties, sports events, camping, traveling, and more depending on the size and requirements.
All the coolers feature shoulder straps, a side pocket, and some sizes even meet airline carry on requirements.
Check the current price on Amazon
---
TOURIT Carryall Soft Cooler Leak Proof Soft Waterproof Beach Tote

The TOURIT carryall soft cooler beach tote is a unique cooler, which is made up of a tote beach bag and an inside pocket cooler. These two bags can be used together or separate and the inside cooler completely detaches or fits perfectly inside the tote.
I know this is not a backpack but sometimes a tote can work just as well and I wanted to provide an alternative. Tourit is a great quality brand for cooler bags.
The tote beach bag is 18 1/8 x 10 1/4 x 14/8 inches and the inner cooler is 16 1/2 x 8 1/4 x 14 3/4 inches, and can hold 15 cans with a 2:1 ice ratio. The bag is available in beige and grey.
The insulated cooler compartment is made of three layers of insulation, which together make sure the ice is cool all day long. The outer bag is water-proof, the middle layer is made from high-density foam, has an airtight zipper, and is lined with a leak-proof material.
This bag is ideal for traveling, beach trips, road trips, at the supermarket, and as a regular bag. The bag also features a magnetic hook, versatile webbing, a zipped pocket, and is large enough to hold day items as well as the inside cooler.
Check the current price on Amazon
---
16L Large Insulated Bag
This 16L large insulated cooler bag is 17" x 6" x 13" and can fit a family picnic, or up to 25 cans. The bag is 100% leak-proof and can be filled with ice or water, or just cool items.
This is the last tote on the list and again I just wanted to provide it as another alternative as this bag can be used as a crossbody bag as well.
The insulated, waterproof, heat-welded seams and leak-proof liner make it ideal for any items. The material it is made from is easy to clean, is non-toxic, PVC free, eco-friendly, and meets all food safety standards. The bag comes with an adjustable and detachable shoulder strap, two side handle straps and can be used on the shoulder or to carry.
This cooler bag is ideal for picnics, traveling, road trips, as a shopping bag, camping, weekend trips, and more. The cooler bag comes in multiple colors including khaki, green, stripe, navy, dots, flowers, and leaves.
Check the current price on Amazon
---
Outrav Camping Backpack Cooler
The Outrav backpack cooler is 15"x13"x6" and is a rectangle backpack with back padding, padded straps, an insulated main area, two front pockets, an interior pocket, two mesh compartments, a mesh divider, pocket on strap, a top zip pocket, a bottle opener on the strap, and a top handle.
The backpack is made from leak-proof and waterproof materials, with high quality materials which a rip-free, won't scratch, or tear. The backpack is also lightweight and portable, perfect for picnics, traveling, road trips, camping, and other activities.
Check the current price on Amazon
---
Picnic Backpack Set for 4 persons

The picnic backpack cooler set is perfect for camping, picnics, parties, concerts, traveling, and more. The backpack design has everything included with one holder for two bottles, a holder for a blanket, and a front pocket.
The backpack comes with four sets of utensils, wine glasses, a blanket, a wine opener, salt and pepper shakers, cheese or butter knife, plates, and cotton napkins. All within a foil insulted bag measuring 15.75"x12.5"x5", with extra thick foam, a detachable leak-proof pouch to keep things hot or cold.
Check the current price on Amazon
---
Coleman C003 Soft Backpack Cooler
The Coleman C003 backpack cooler looks typically like a regular backpack measuring 14.7×1.7×19.3 inches and can fit up to 28 cans.
The backpack has a compartment with an antimicrobial liner, which resists mold and mildew, is leak-proof, and is BPA proof. The backpack also has the compartments to store other items.
The straps are padded for comfort, and adjustable, with waist straps. It is ideal for camping, traveling, road trips, and other adventures with space for everything you might need.
Check the current price on Amazon
---
Dakine Duel 26L Backpack with Insulated Cooler Pocket
The Dakine Duel 26L backpack might look like a regular backpack but it has a hidden insulated cooler pocket which is ideal for storing snacks or lunch.
This backpack is great for traveling as it has compartments for everything including a laptop compartment, straps for a jacket, a fleece-lined iPad sleeve, fleece-lined sunglass pocket, front organizer pocket, all within a 19x12x9 inch backpack.
This backpack is perfect for traveling as a carry-on, with space for everything and food products within the insulated pocket. It is also ideal for hiking, camping, day trip, city adventures, or anything that you want to use it to take snacks or meals with you. The bag comes in multiple colors including black, grey, dark navy, red, and many more colors.
Check the current price on Amazon
---
North Coyote Hiking Backpack Cooler
The North Coyote Hiking backpack cooler is perfect for hiking, backpacking, traveling, and many more activities.
The backpack has multiple compartments including a 17L insulated compartment perfect for storing food or drinks, a large 25L storage compartment, mesh bottle pockets, a side pocket, a top zip pocket for phones or cameras, a front pocket, and an interior zip pocket for valuables.
The backpack is 33"x20"x7.3" and is defined for maximum comfort and stability. The insured compartment has reinforced stitching, heat-sealed, leak-proof, and odor resistant, the cooler department keeps products fresh for hours.
Check the current price on Amazon
---
Piscifun Insulated Cooler Backpack – best backpack cooler under $50
The Piscifun insulated cooler backpack is great for traveling, hiking, camping, picnics, day trips, and more activities. The backpack is lightweight, durable and looks just like a regular backpack, available in multiple colors.
The backpack has a large insulated compartment that is leak-proof and flexible, keeping things cold for up to 18 hours. The four-layer back design enhances the overall strength and thermal insulation, with high-quality PEVA hot-pressed liner, which helps to keep products cool for 18 hours (with freeze packs).
The backpack comes with adjustable shoulder straps, a bottle opener, drawstring, two zip pockets, two side mesh pockets, and the main compartment for storage.
Check the current price on Amazon
---
MIER 100% Waterproof Insulated Backpacker Cooler
The MIER 100% waterproof insulated backpack cooler is made from top quality and abrasion-proof Tarpaulin, with fully welded seams, hook and loop closures, a room top to ensure a waterproof seal.
The backpack is zipperless, with zero chance of leaking, the interior of the bag is made with a thick premium thermal insulation, PEVA material lining, heat-welded seams and is easy to clean.
The backpack is available in 30L and 50L with a wide-mouth compartment which can fit up to 52 cans (50L) and 30 cans (30L), a front mesh pocket, two side pockets, a small zipper pocket, the side has a strap, bungee cords, daisy chains, and buckle closure.
There is also a knob on the front of the bag which allows air to get inside and out when rolling it at the top. This backpack is ideal for camping, hiking, picnics, kayaking, water sports, and many other activities. The 50L bag is 23.2×8.3×15 inches and the 30L bag is 18×8.3×12.8 inches.
The backpack can be used to store cold items or keep items dry in wet environments.
Check the current price on Amazon
---
Conclusion – best insulated backpack coolers
If its been awhile since you have been shopping for a cooler, make sure you get a completely waterproof one. There is nothing worse than walking along with a cooler on your back and then wondering why your leg is getting wet. You don't want your back pack cooler to leak on you.
Sharing is Caring! Pin this article to save for later.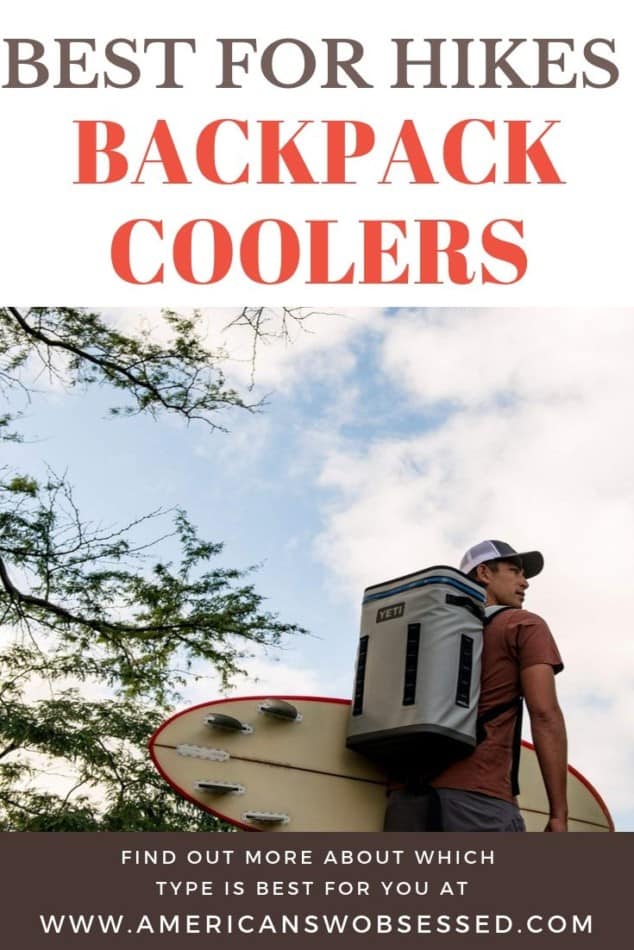 Continue Reading more on my website:
Recent Posts