The 31 Top Arizona Day Trips – You Might Not Have Thought of
The Grand Canyon State has some amazing sites to see. That's why I have put together this list of ideas for Arizona Day trips as a great way to explore more of Arizona.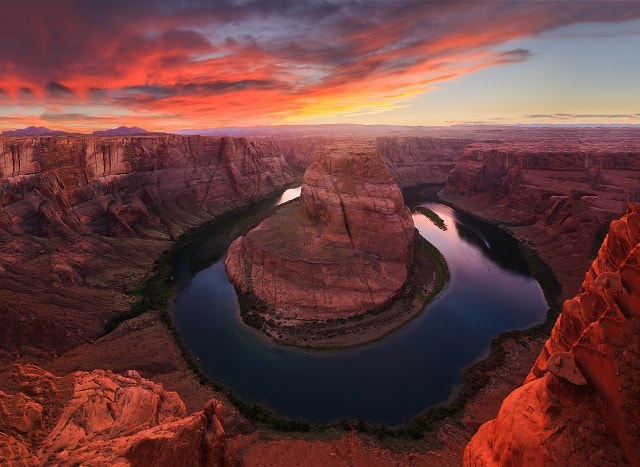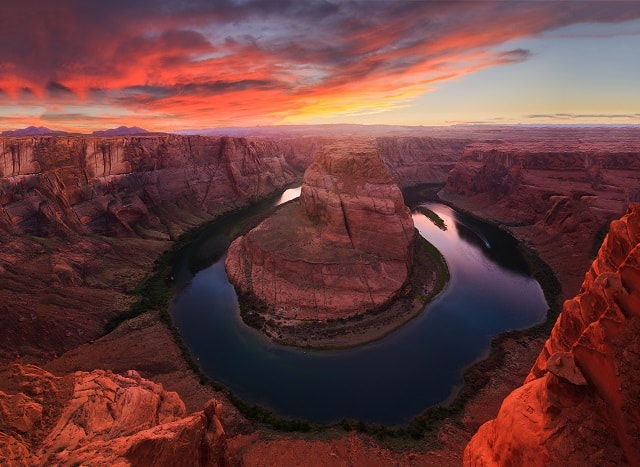 These Arizona day trips are the best day trips you can take from any major city in Arizona. I recommend going on an Arizona Road Trip if you have the time but these short trips are a great way to start.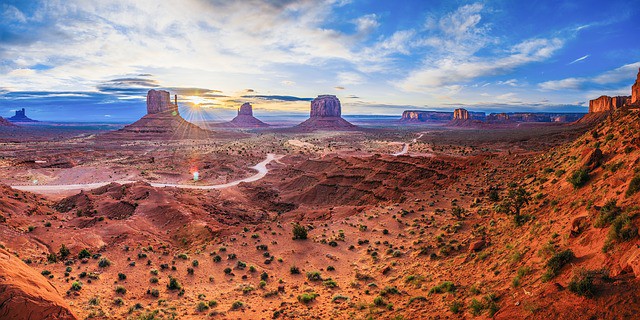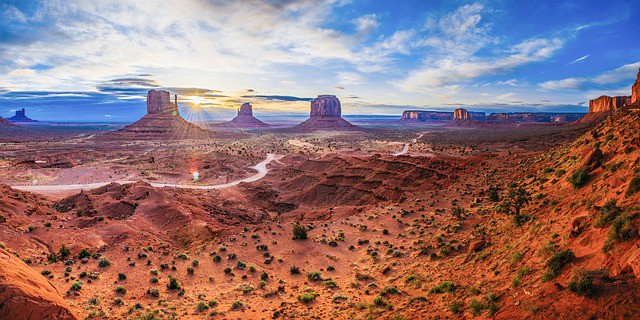 You can also use these ideas as weekend road trips from Phoenix. Whether you decide on a day trip or want to take one of these weekend trips from Phoenix there is plenty to choose from!
Arizona Day Trips you won't want to miss!
Grand Canyon is one of the best Arizona Day Trips
This huge canyon is one of the top national treasures and wonders of America. It has hiking, rafting, helicopter tours, camping and horseback trails.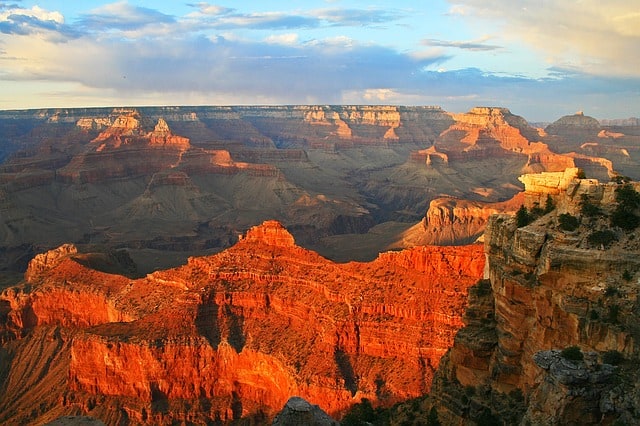 If you are just going to experience the beauty and wonder of the Grand Canyon this can be one of the best ideas for day trips from Phoenix.
The South Rim of the Canyon is open 24hrs and that is year round. It has multiple restaurants, places to get groceries (probably for those camping or in the lodging), you can rent a bike, there are several museums and visitors centers. They even have medical care and child care available.
The North Rim of the park is open from May 15th through October 15th of each year, the limited season is because the area is harder to get to and is a bit difficult to be traveled on. It also has restaurants, shopping and lodging available. If you want to visit this part of the park definitely be prepared prior to going.
You have to remember that being able to go to the Grand Canyon is a huge experience for people all over the world, so don't be surprised if a lot of people are visiting when you go.
The best times to visit the Grand Canyon for milder weather and less tourist congestion is between March to May and September to November.
The Grand Canyon is 3hrs and 24 minutes northeast of Phoenix
Driving Distance: 224 miles.
Cibecue Falls
Cibecue Falls has to be Arizona's best kept secret. This is an amazing Arizona waterfall and the hike on its own is fantastic but once you get to the waterfall you will see what I mean!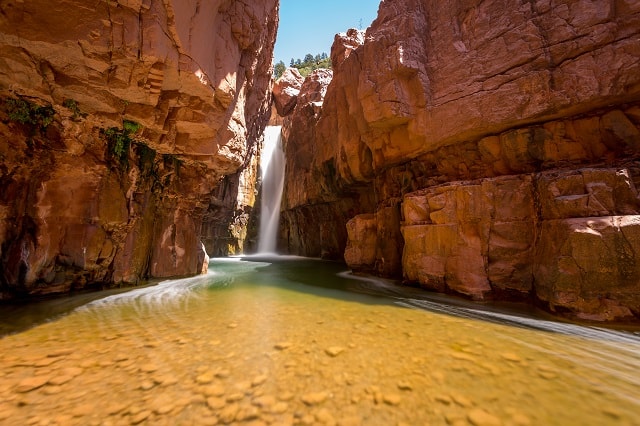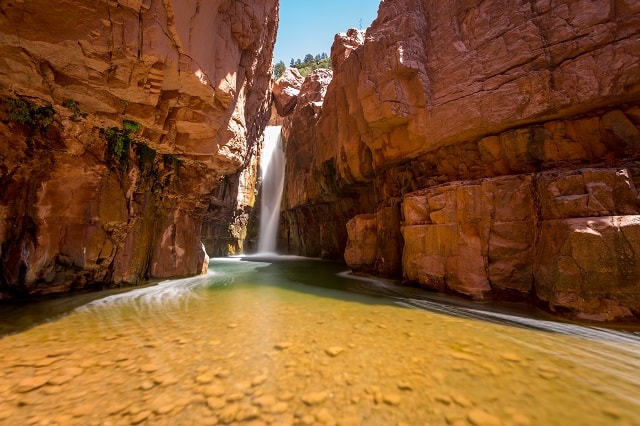 The hike to Cibecue Falls is 4 miles long and rated moderate in difficulty. You gain over 220 feet in elevation on this hike. You need to go to the Cibecue Creek Falls Trailhead in Gila County, Arizona.
Permits cost $30 and can be bought online. You will need to log in to purchase and this will also give you access to Apache Falls. There is a dirt road leading to the trailhead, which is found along the Salt River Canyon area.
Some say this waterfall in Arizona is a miniature Havasu Falls. The waterfall is over 40 feet tall and falls into a pool of emerald water and of course, there are the red rocks of the American Southwest surrounding the falls.
This is one of the best Arizona waterfalls that is not well known yet. Get there soon before the crowds!
Location: near Globe, Arizona in the Salt River Canyon
Length: The hike is 4 miles long
Antelope Canyon, Page Arizona
Antelope Canyon is the most popular slot canyon in Arizona. You can visit either Upper or Lower Antelope Canyon but make sure you purchase your tickets months in advance as they do sell out at this popular attraction.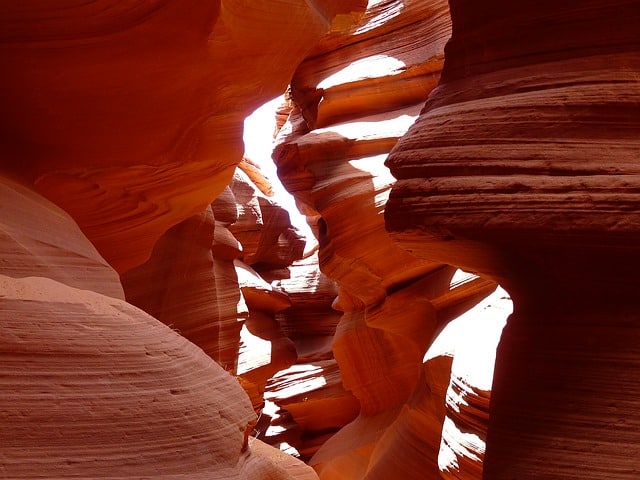 Upper Antelope Canyon is easier to access as there are no stairs. It is also less crowded but you do not get to see the light beams in the canyon.
Lower Antelope Canyon has the light beams but you need to climb up and down ladders to access the canyon.
Both are beautiful and there is a small price difference between the two. Access to the canyons is restricted to guided tours only.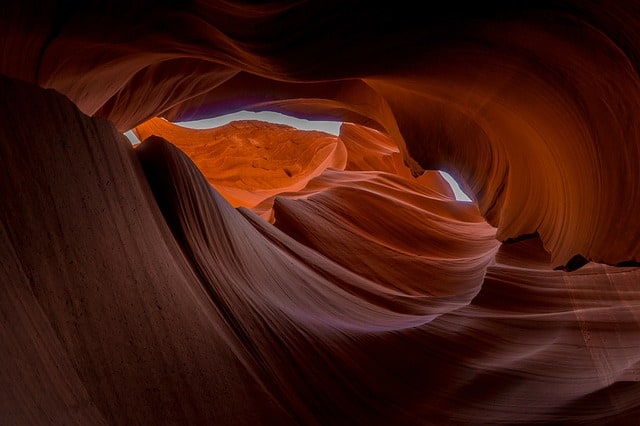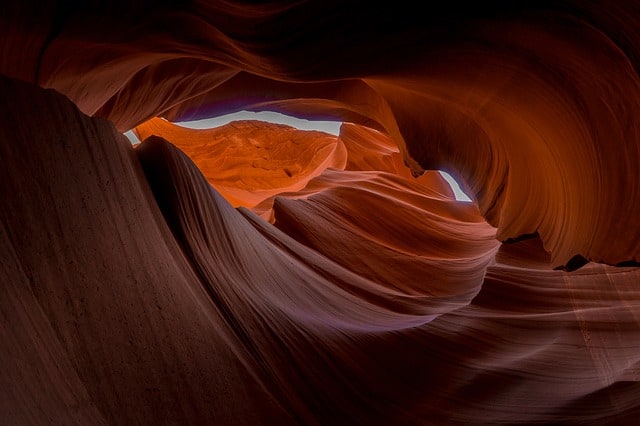 Location: Page, Arizona
Distance: 90-minute tours
Difficulty: Easy to Moderate
Tuscon is a short day trip from Phoenix
With Tuscon being so close to Phoenix it makes it a great day trip. The great thing about Tuscan is even though it's a modern city it's still a great throwback to the history of Arizona.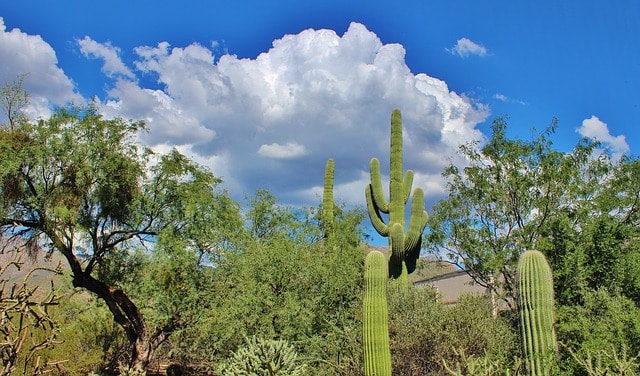 Tuscon is built within the Sonoran Desert and the landscape has many natural cacti, mountain ranges and hiking trails.
Tuscon has several national parks on the Eastside there is Under Canvas which can give people a glamping experience on 60,000 acres of ranch land.
There is Saguaro National Park on the Westside which gives you the chance to hike trails and see wildlife like coyotes, Gambel's quail, and desert tortoises.
Tuscon is also 60 miles from the U.S./Mexico border in Nogales, AZ. Tuscon has a bit of something for everyone. If you are looking for history there is the Historic Anza Trail, that the Spanish took to colonize California.
If you are looking for art, Tuscon has museums, performing arts and tons of local talented artists. If you want to have a bit of adult fun there is the Casino Del Sol Resort.
Check out my posts on the Top Things to do in Tucson and the Best Airbnbs in Tucson.
Tuscon is 1hr and 41 minutes southeast of Phoenix
Driving Distance: 113.2 miles.
Sabino Canyon – Tucson
The Sabino Canyon is located between the Santa Catalina Mountains and the Coronado National Forest, just north of Tucson. Beautiful routes, breathtaking vistas, and hiking and trekking options abound in the canyon.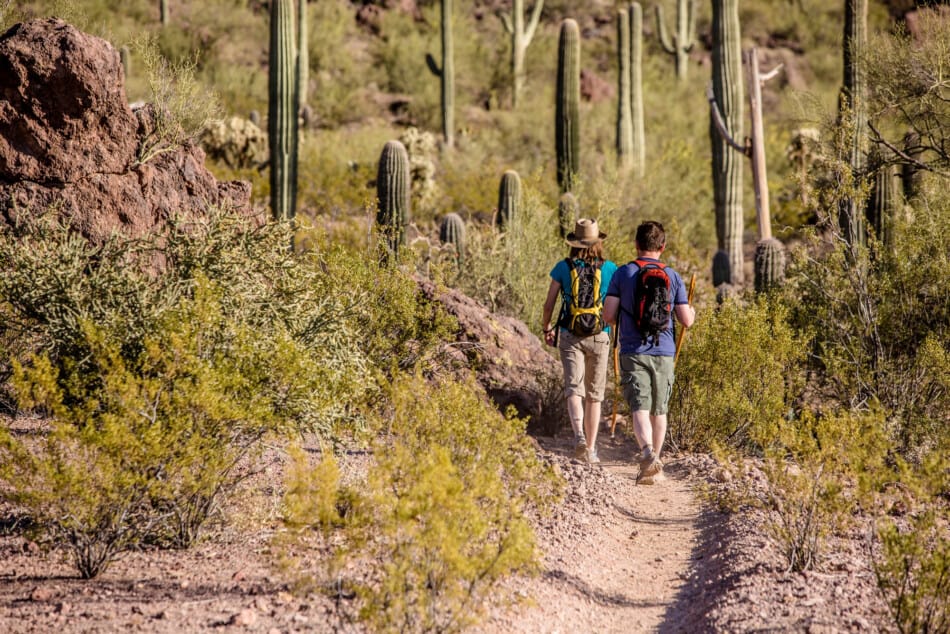 This is one of the most spectacular natural formations in the state. When you visit the Sabino Canyon, you will be astounded by its immense size and beauty. For anyone who enjoys nature, it is one of the best places to visit
Hiking in the Sabino Canyon allows you to fully immerse yourself in the Tucson environment, from the air to the flora. All of the vegetation, including the cactus, can be seen in amazing detail.
Surprisingly, given the canyon's location in the desert, there is also Sabino Creek nearby, which has waterfalls that may be admired and bridges that can be crossed.
There is a tram that runs across the canyon with nine stations for those who don't want to climb.
In addition to hiking and equestrian riding, the Sabino Canyon Tram stops at trailheads, tranquil picnic sites, and spectacular overlooks.
Saguaro National Park – Tucson
Saguaro National Park offers an easy opportunity to see and experience the Sonoran Desert, east and west of Tucson. The trademark saguaro cactus, which is the tallest plant in North America, may be seen here.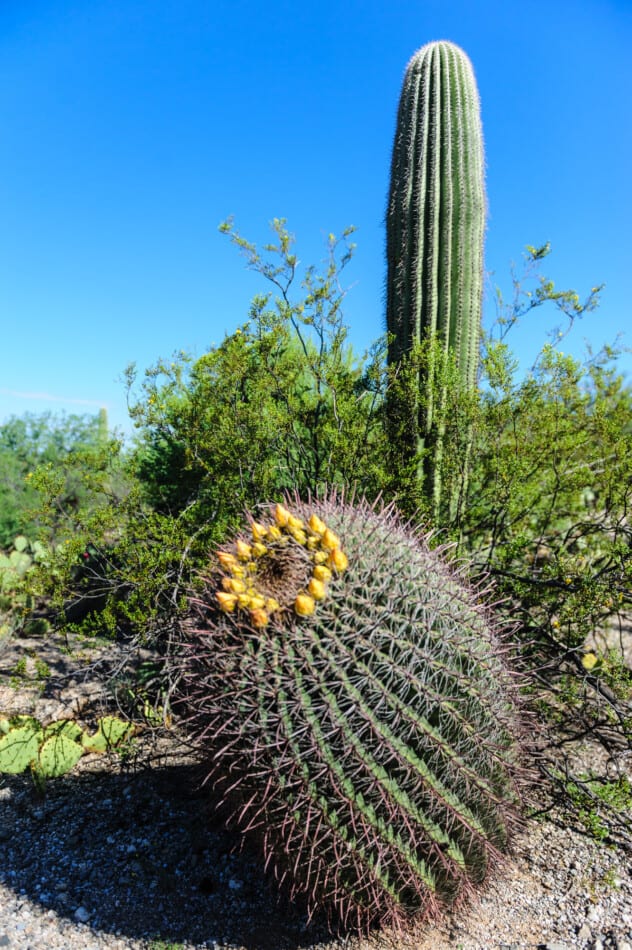 Hiking routes wind their way through the park, providing an excellent opportunity to see animals. Gila woodpeckers, cactus wrens, desert tortoises, jackrabbits, and Gila monsters are some of the creatures and reptiles that live in the desert (lizards).
The name "saguaro" was given to the park after the name of an indigenous cactus that grows there, and visitors can see these cacti up close on one of the park's many hikes.
Long and short hiking paths are designated and available for all levels of fitness and stamina, though park officials warn tourists not to undertake long hikes in the park's more isolated areas during the summer months when temperatures soar dramatically.
Saguaro East – Rincon Mountain District and Saguaro West – Tucson Mountain District are the two most popular portions of the park. Each region is unique in its own way. Saguaro East is a wonderful, paved, rolling, picturesque drive with small hikes that are easily accessible.
The picturesque drives are on gravel roads, while Saguaro West retains more of the rough scenery and includes longer and more magnificent treks. If you're looking for a place to camp, the Gilbert Ray Campground is a superb choice.
Your purchased entrance or park pass is valid in both areas, and the trip between them takes roughly an hour
Paria Canyon, Vermilion Cliffs National Monument
This area is known for its beauty, the Paria Canyon has towering walls streaked with different colors, sandstone arches, wooded terraces, and hanging gardens.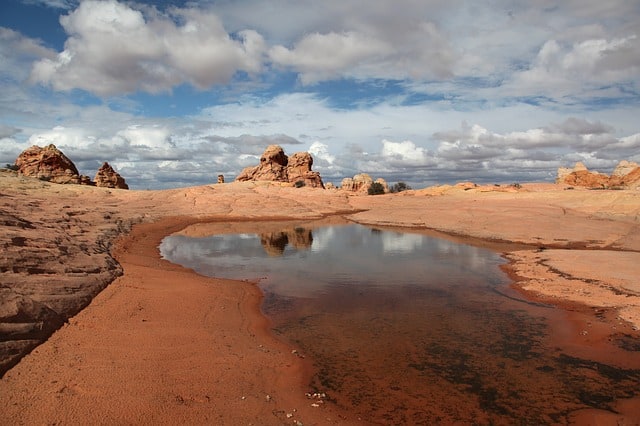 The 3,000-foot escarpment known as the Vermilion Cliffs dominates this area. While 'the Wave' is the prominent attraction in this area, Paria Canyon is worth the visit but it is a lot more desolate than other canyons.
Location: Page, Arizona
Distance: 10 miles
Hiking Difficulty: Difficult
Montezuma Castle
The Montezuma Castle is part of the national parks of America and has been since 1906. The structure is said to be over 800 years old and has 20 rooms that exist inside of it.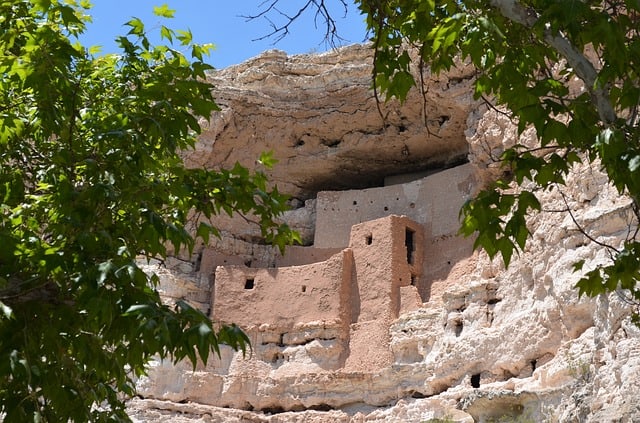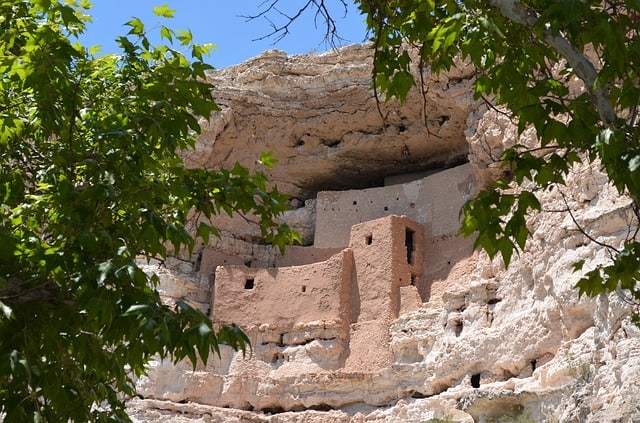 This national monument was once the home of the Sinagua tribe who lived in Arizona from around the year 500 to around 1425. They have many beautiful pueblo dwellings across the state of Arizona.
This is an experience that you could enjoy within an hour or so. There is a gift shop on site, trails to hike up to the castle and park staff to answer any questions that you may have.
Montezuma Castle could be the perfect place for a historic moment with the kids, a great set of selfies or nature pictures and definitely a peaceful place to just stop and be in awe.
You can read more about Native American Ruins in Arizona on my site.
Montezuma Castle is 1hr and 28 minutes northeast of Phoenix
Driving Distance: 94.4 miles.
Grand Falls
Grand Falls is 180 feet tall and located near Flagstaff. It is part of the Navajo Nation and to get to the waterfalls you must do some off roading.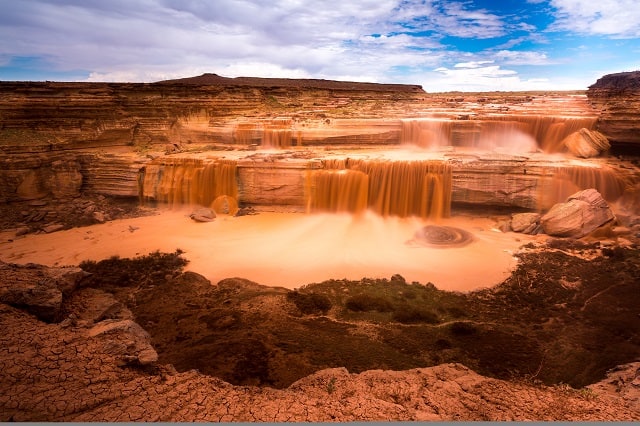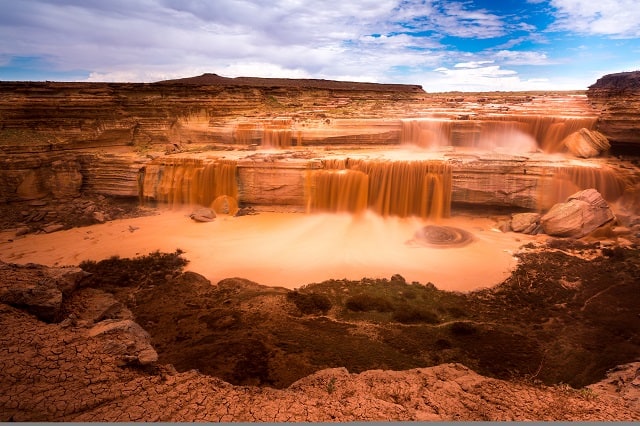 You will need to get a permit from the Navajo Nation before you visit. One interesting thing about this water fall is the color of the water – it looks like chocolate milk!
The muddy waters of Grand Falls makes it look like chocolate falling over the falls into the Colorado River below.
Location: near Flagstaff, Arizona
Length: The hike is 1 mile round trip
Lake Powell is one of the best weekend trips from Phoenix
Lake Powell is in both Arizona and Utah, it covers around 2,000 miles of land between the two states. This is a beautiful place for boat tours, camping, hiking, fishing, jet skiing and so much more.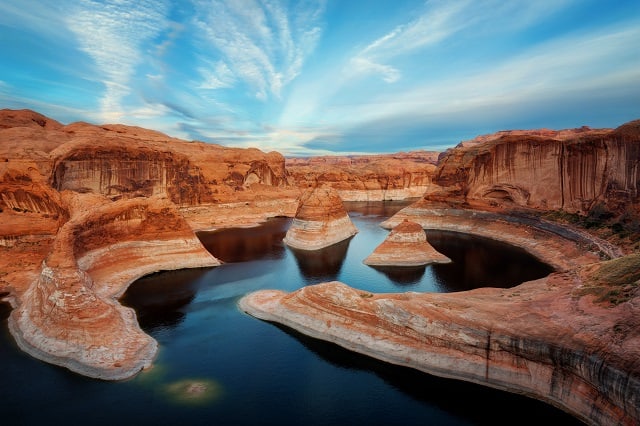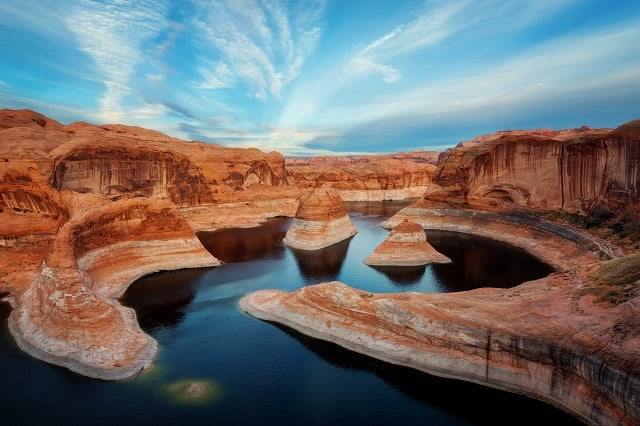 North Lake Powell is the portion that is in Utah and South Lake Powell is the part that is in Arizona. Either part of Lake Powell that you are on you will get to enjoy beautiful marinas, canyons, and bays.
You'll even find the Rainbow Bridge which is one of the world's largest natural bridges.
There are also plenty of places to shop, eat and of course swim. Lake Powell is a great place to enjoy a relaxing trip along the shore, to enjoy beautiful nature up close and personal and even get in some golfing at an 18-hole championship facility.
Lake Powell is 7hrs and 48 minutes northeast of Phoenix
Driving Distance: 344.1 miles
Antelope Canyon
You will find Antelope Canyon in Page, AZ and you need to know that this is an experience that you can not just do alone or with your friends. Antelope Canyon is only allowed to be visited when you are part of a guided tour with a professional guide.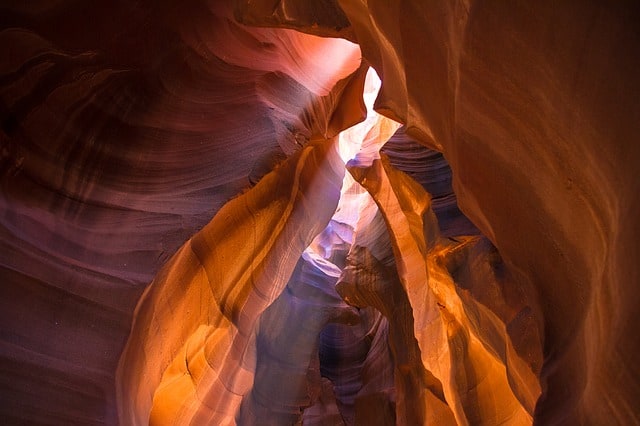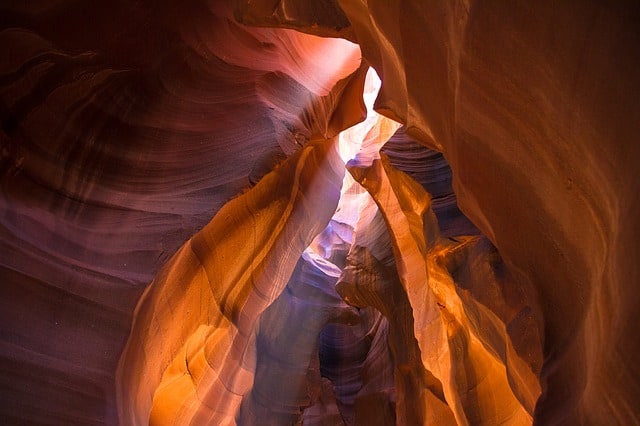 There is something that happens in this canyon that everyone wants to see which is the 'Beam of Light' which is a shaft of light that peaks through the canyon and they can be seen on the 11:30 tours which occur in April to September.
The beams of light are visible on clear, sunny days.
Be aware that if you are going to Antelope Canyon there are many tight spaces and you'll want to consult the Antelope Canyon website to find out what you can and can not bring for your tour. This experience can all be done within 2 hours but you definitely need a reservation prior to going.
Antelope Canyon is 4hrs and 21 minutes northeast of Phoenix
Driving Distance: 276.7 miles.
Horseshoe Bend
In Page, AZ not far from Antelope Canyon. It is a horseshoe shaped bend in the Colorado River that is surrounded by a mountain range.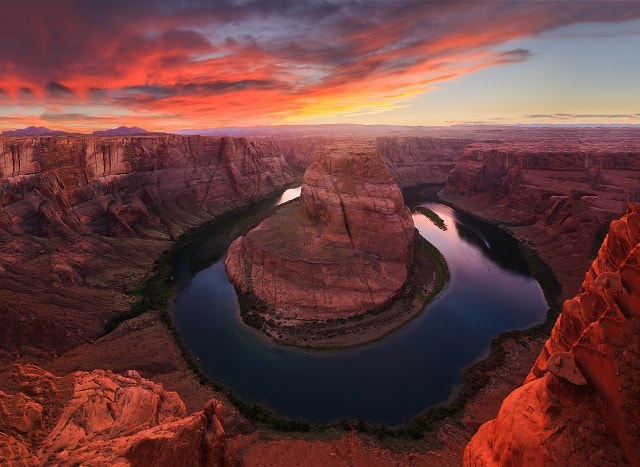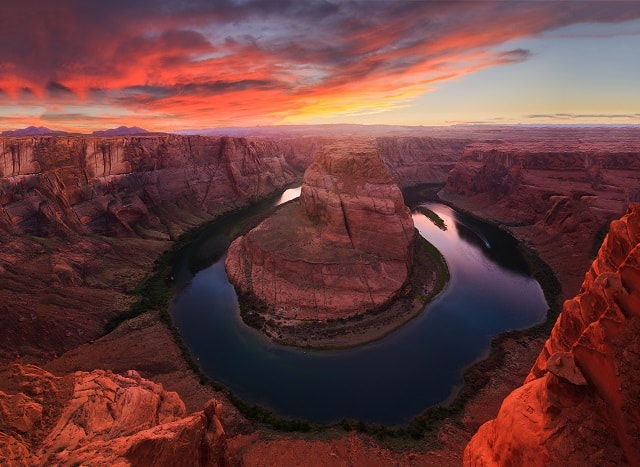 If you are visiting the Horseshoe Bend you don't need a guided tour but you will need hiking or very good walking shoes because it is at least a mile each way to and from the area. It is said the best time to view the bed is between 10am and noon.
If you want to experience the Horseshoe Bend from the river there are rafts and boat experiences that are possible along the Colorado River.
If you just want to have the from the top view of Horseshoe Bend then it may take you around a half an hour walk and whatever time you spend at the viewpoint. This is definitely a quick but beautiful experience.
You can check out my post on hiking Horseshoe Bend.
Horseshoe Bend is 4hrs and 15 minutes northeast of Phoenix
Driving Distance: 273.8 miles.
Sedona is one of the best day trips in Arizona
Sedona is known as a very spiritual place with four different spiritual vortexes. Sedona is also known for being very peaceful which makes one of the worthwhile day trips from Phoenix.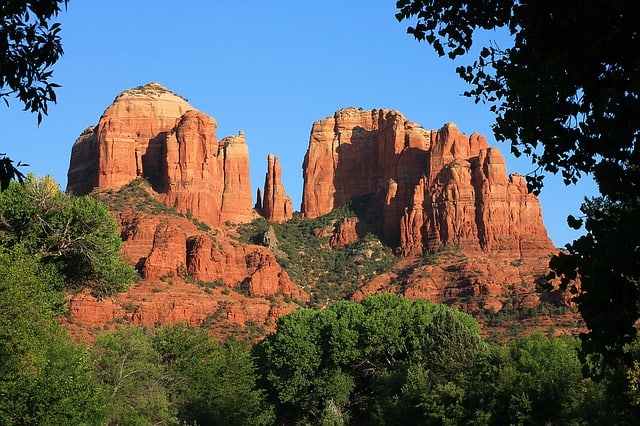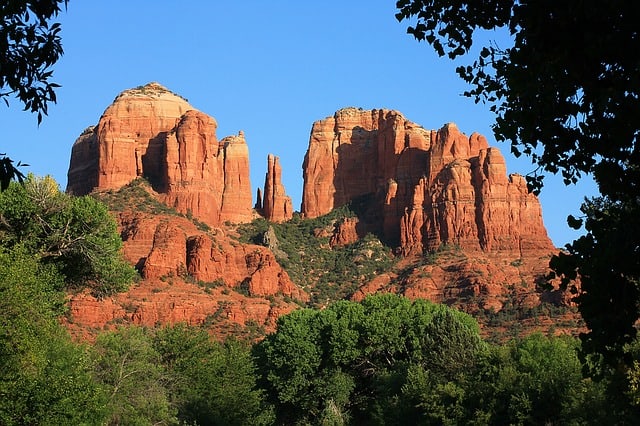 If you are looking for a great outdoor experience then the Red Rock State Park where you can hike or bike the 5 miles of trails.
If you want a spiritual experience there are spiritual tours, retreats, spas, wellness and healers in the Sedona area. There are also several different wineries to have another kind of relaxing experience.
Visit Sedona to have a spiritual, nature blessed, artistic and just different than the usual opportunity.
You can check out my post on the most jaw-dropping hikes in Sedona and I also have a post on easy hikes in Sedona.
Cathedral Rock is one of the best Sedona Hiking Trails for beautiful views
Located just 10 minutes outside of Sedona, this is THE hike to do in Sedona.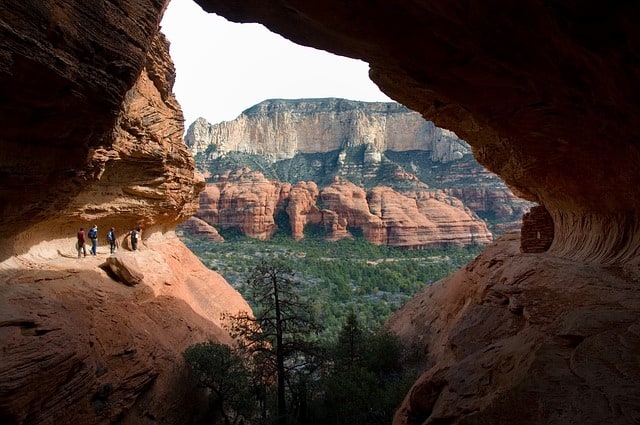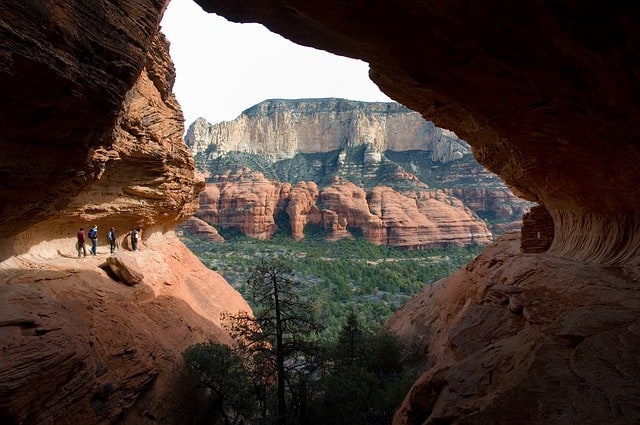 Cathedral Rock Trail is a short trail that is very popular in Sedona. It may be short, but it is quite steep. The views from the top are worth it though.
This hike starts off easy enough and the trail is around 1 mile long but towards the end you will gain around 5000 feet in elevation.
You can see views of Bell Rock, Courthouse Butte, and Mogollon Rim along the way.
Much of this hike is spent 'going in the right direction'. Follow the cairns (pile of rocks) along the way until you see the top. You need to be careful as you will be climbing up the rock and back down again.
PRO TIP: Make sure to put on sunscreen as there is no shade along the trail. Also, as this is a popular hike parking can be a problem. There are about 30 parking spaces there so if you want to make sure you get a spot, go early in the morning. This will obviously help with the sun and the heat too.
The phoenix to Sedona drive takes just under two hours and is basically a straight shot north up I-17
Sedona is 1hr and 57 minutes northeast of Phoenix
Driving Distance: 115.9 miles
Flagstaff
There is more to do in Flagstaff, Arizona then just visiting the Grand Canyon. Flagstaff also is known for the Walnut Canyon, Lowell Observatory, Sunset Crater, Museum of North Arizona, Arizona Snowbowl, Coconino National Forest and the Wupatki National Monument.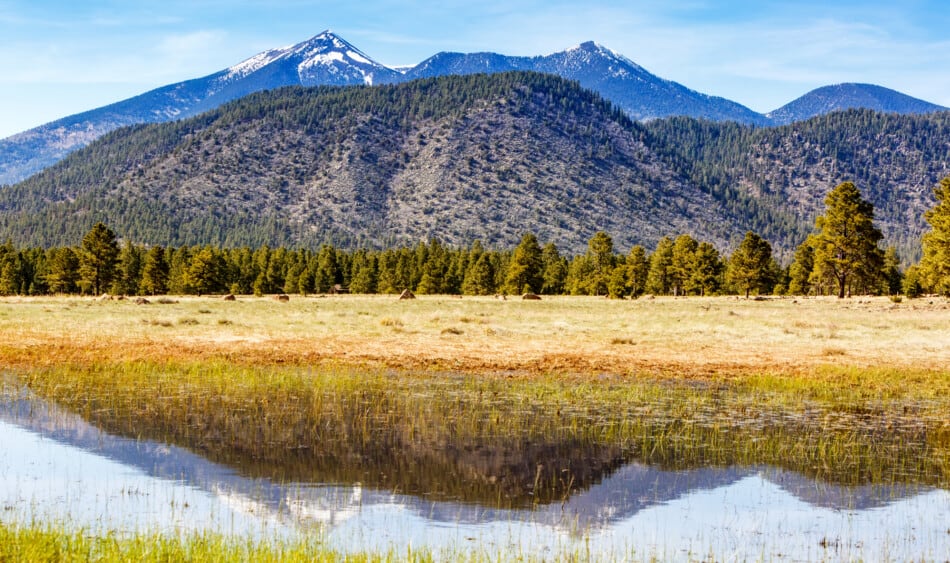 This is a city that is made up of mountain ranges, deserts and ponderosa pine forests.
People may come for the Canyon but discover things like the Alpine Peddler that gives you a cold beer as you and 14 other passengers peddle around the breweries, pubs and restaurants of Flagstaff. There is a walking Food Tour that allows you to learn about Flagstaff history as you taste the local and unique treats of the city.
No matter what brings you to Flagstaff there is a lot of camping, hiking, fishing, climbing, biking and sightseeing to do. There are also many fun places to shop and tons of great places to eat. Check out my guide to the Best Things to do in Flagstaff, Arizona.
Flagstaff is 2hrs and 15 minutes northeast of Phoenix
Driving Distance: 144.4 miles
Meteor Crater Arizona
Meteor Crater Arizona is the best preserved meteor impact site on Earth. It is located in Winslow, AZ and has complimentary big-rig and RV parking. It is open daily from 8am-5pm and prices range from $9 to $18.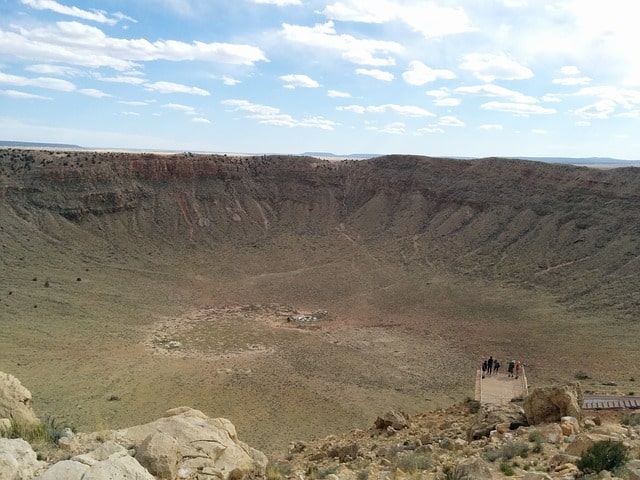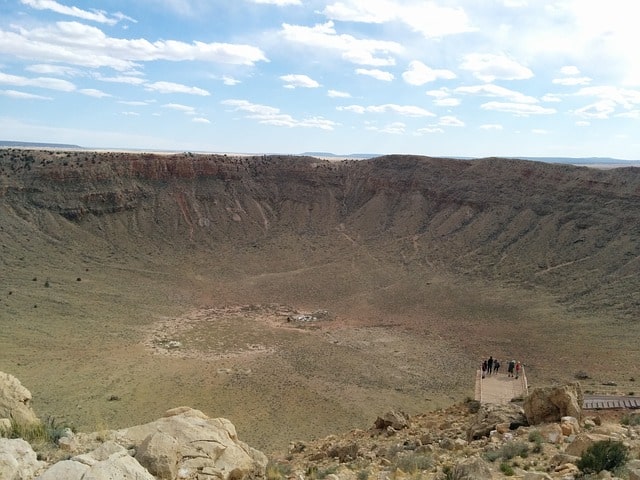 This place is cool for scientists, geologists, photographers, selfie lovers and creative people. No matter what walk of life you are involved in there is something that will interest you at this site. There is a discovery center that will help you to have a better understanding of asteroids and meteors. There is a movie that takes about the mystery behind the crater.
A 4D immersion ride is now available for fun for the entire family. There are guided tours along the rim of the crater to learn more about it and to get a nice workout. There is a souvenir and mineral shop for any goodies you may want to take home from your visit. And if you are hungry, there is the Blasted Bistro inside the Visitor's Center.
The Meteor Crater is 2hrs and 46 minutes northeast of Phoenix
Driving Distance: 186.2 miles
Prescott
Prescott is recognized as the "Christmas City" of Arizona. Check out my post on Magical Places in Arizona to Celebrate Christmas.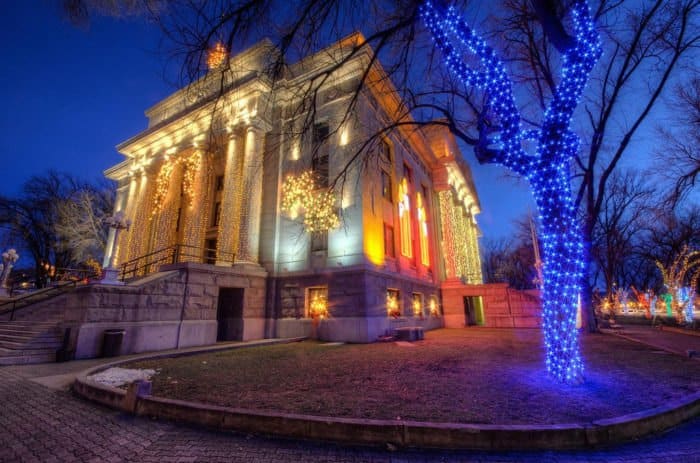 There is a Christmas procession and light show at the courthouse in this small town. At the Prescott Resort and Conference Center, you can see a large gingerbread village display and ride in a horse-drawn carriage through town.
The Frontier Christmas presentation at the Sharlot Hall Museum teaches visitors about historic Christmas traditions. A dance competition, live music, and delectable food are all part of the Christmas City Charity Ball.
Over 1 million holiday lights are wrapped around trees and lampposts in the city center square. During Wild Lights, the grounds at Heritage Park Zoo are decked up with even more lights.
Another stunning light show may be found at Fain Park's Valley of Lights drive-thru Christmas spectacular.
At Prescott Resort and Conference Center, you'll find the world's largest gingerbread village, which will delight your senses. Prescott also has many Christmas plays, weekend carriage excursions, holiday craft businesses, and other attractions.
Here you can learn about late-nineteenth-century Christmas customs and how inhabitants spent the season. Prescott is known as "Arizona's Christmas City" for a reason. Perhaps no city in Arizona does Christmas bigger.
Check out my post on the Best Airbnbs in Prescott
Pinetop, Arizona
The Pinetop-Lakeside Arizona area has so much to do and see. This list of the best things to do in Pinetop, Arizona has something for everyone on it. This area is also known for its hiking so I have included a lot of great hiking trails in Pinetop-Lakeside.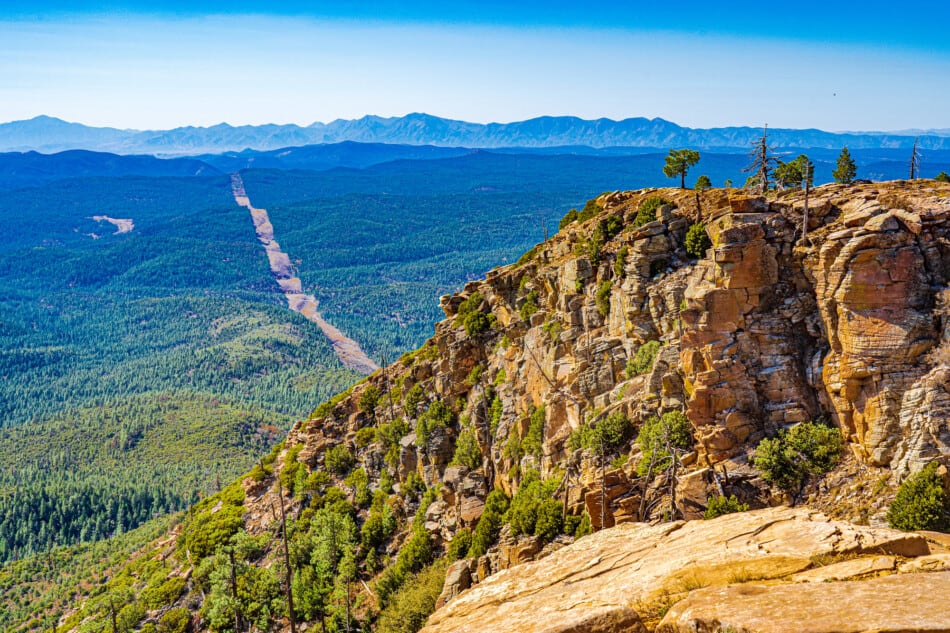 With a population of roughly 4,500 people, Pinetop-Lakeside is a tiny town in Navajo County, Arizona.
Most people prefer being outside, but they are aware that they may anticipate a lot of snow in the winter, with an average of 67 inches yearly – over twice the national average.
Check out my post on the Best Things to do in Pinetop, Arizona.
Lake Havasu, Arizona
There are so many fun activities in Lake Havasu you are sure to have a great time! It makes for a great weekend escape and so many activities are water based because of the lake.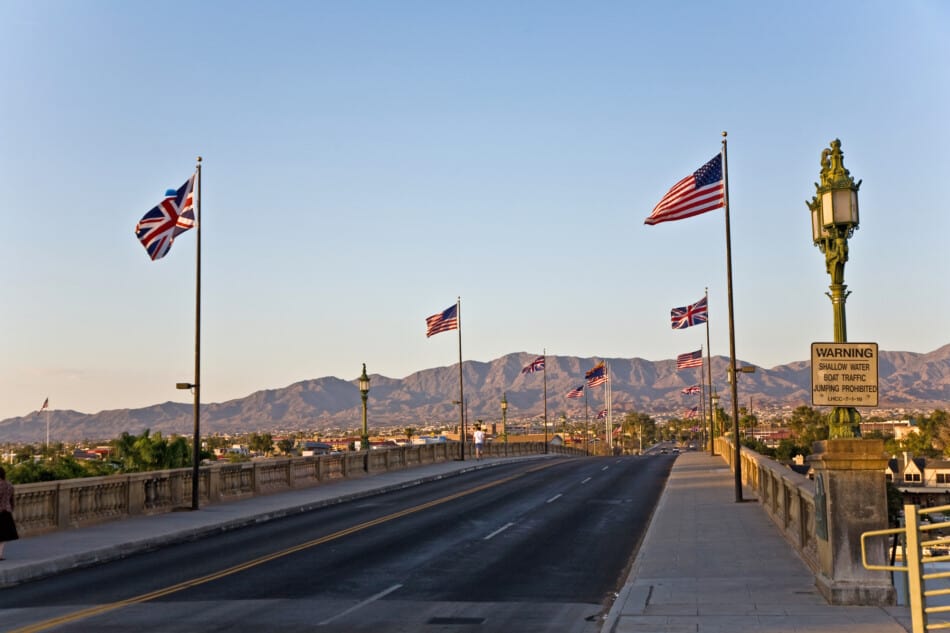 If you are wondering "Is Lake Havasu worth visiting?" the answer is yes! From the state parks to London Bridge and the lake itself you will find so many fun things to do in Lake Havasu.
If you are planning to spend the night in Lake Havasu or a weekend in Lake Havasu check out my guide to the Best Airbnbs in Lake Havasu. Check out my guide to the Best Things to do in Lake Havasu.
Bisbee, Arizona
Bisbee is a fun little town you've probably never heard of but there is plenty to see and do in Bisbee, Arizona.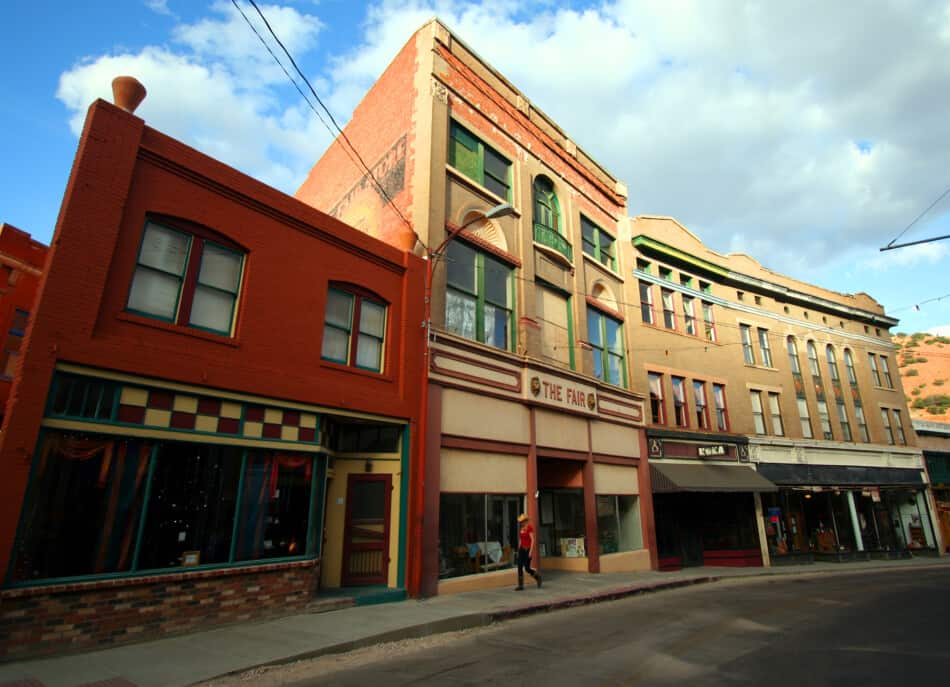 Bisbee is the gorgeous county seat of ancient Cochise County, located 90 miles south-east of Tucson and set among the Mule Mountains.
The town was created in 1880 and swiftly grew into a vibrant metropolitan center, thanks to a robust mining industry that benefited from the area's vast copper and precious metal reserves.
Check out my article to the Best Things to do in Bisbee, Arizona.
Yuma, Arizona
Yuma, Arizona is a cute little city that has a lot of cool things to do. Yuma, Arizona as it is a great place to visit.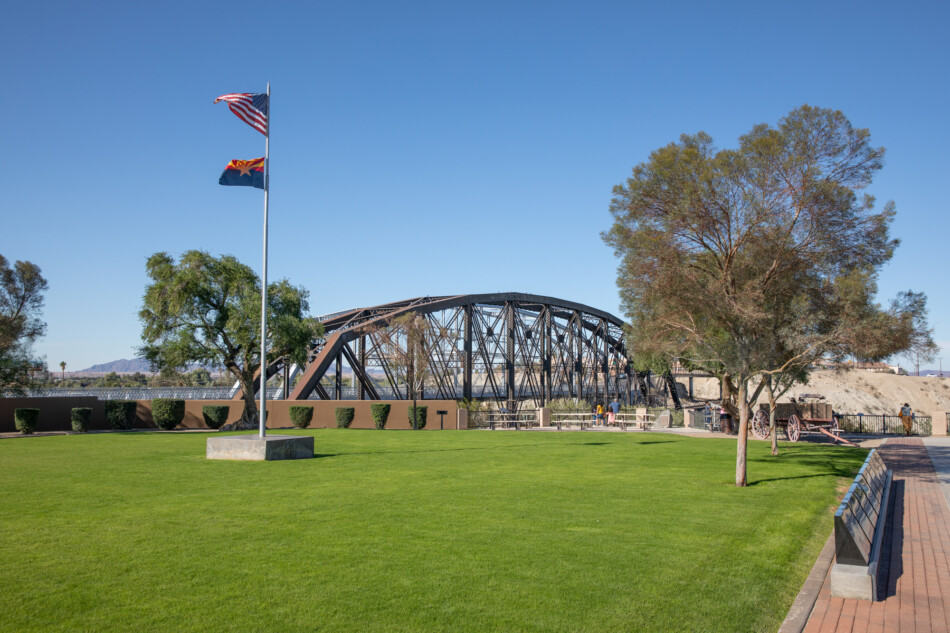 The Guinness World Records has named it the sunniest city on the planet! Use those bright days to go on outdoor experiences in Yuma's vast open spaces. Tubing, canoeing, and boating are all popular activities on the Colorado River and its lakes.
Then, have a look at the city's thriving arts and entertainment scene or go shopping at one of the city's unique stores. There is plenty of entertainment and gaming to keep you occupied during the day and night.
Take time to learn about how the native peoples came together at The Crossing, and don't miss Yuma's historical landmarks that are living stories.
Read my article on the Best Things to do in Yuma, Arizona.
JEROME, Arizona
Known as the mining hotspot in America, Jerome should be on anyone's bucket list when in Arizona. Located in the Black Hills of Yavapai County, Jerome is a charmingly quirky town that would be the perfect destination for sightseeing and taking a trip of the unusual.
Take a spooky trip with Jerome's Pandora's Box Ghost Adventure and get the ultimate ghost hunting experience.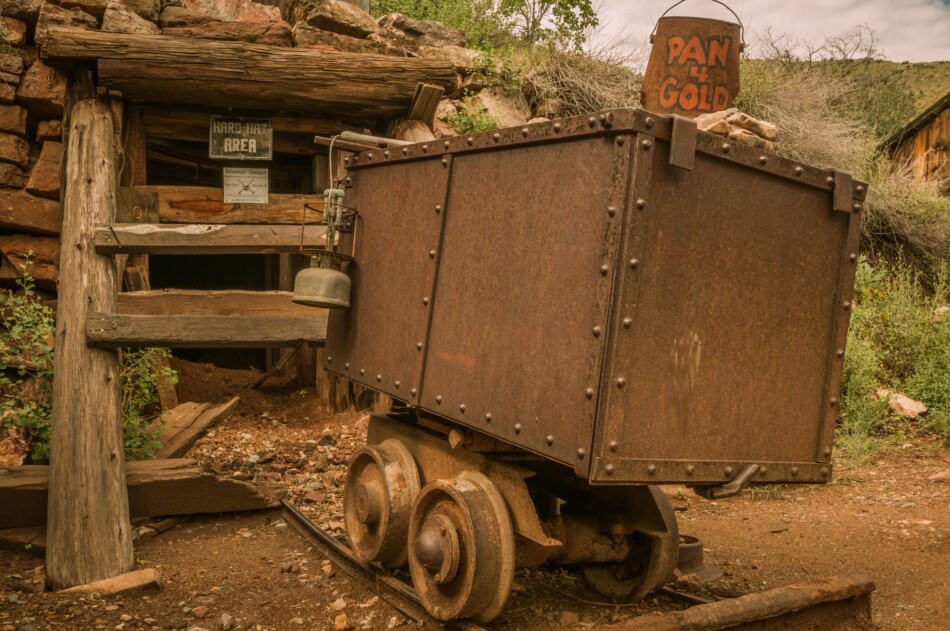 For a more historical route, Jerome History Walk is for you. This tour guides you through Jerome's famous landmarks and learn how Jerome went from a tent city to a successful mine town.
Visit the Douglas Mansion, where the mining history of the Arizona could be seen, turning this park into an ideal visitor center and museum. If wine tasting is your calling, Jerome's Caduceus Tasting Room gives you both wine tasting and old town touring.
To top off the trip, visit Jerome's Sliding Jail, located in the heart of the town. Jerome was once named as the "Wickedest Town in America" because of all the ruckus that happened in town when it was still a rowdy mining community. 
Check out my post on Spooky Ghost Towns in Arizona
TOMBSTONE, Arizona
Tombstone, Arizona is where modern meets the Old Historic West. This town is known for being the most authentic Wild West Town located in the United States.
Home to classic western architecture and western hospitality, come see why the town is nicknamed as "The Town Too Tough to Die"!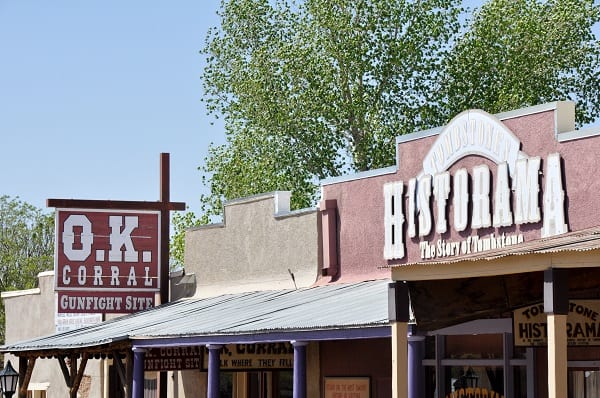 In the famous Allen Street of Tombstone, visitors take a step back in time with authentic saloons and western themes that are set in place and with actors dressed in western period costume walk through town and even break into staged classic gunfights.
Visit the Tombstone Courthouse, a State Historic Park, where a replica of the gallows, a device that was once used to hang criminals, is still in display. You can also find the World's Largest Rose tree in Tombstone at the Rose Tree Museum where you can enjoy it in full bloom during its peak season. 
Check out my post on the Best Tombstone Hotels or Things to do in Tombstone
Conclusion – Day trips in Arizona
I hope you have enjoyed these day trips in Arizona ideas. Taking a day trip from Phoenix to visit one of these amazing places is so worth it.
Let me know in the comments what your favorite Phoenix day trip is and if you recommend anywhere else to visit. Whichever you choose you are sure to enjoy your time in Arizona for sure.
Sharing is Caring! Pin this article to save for later.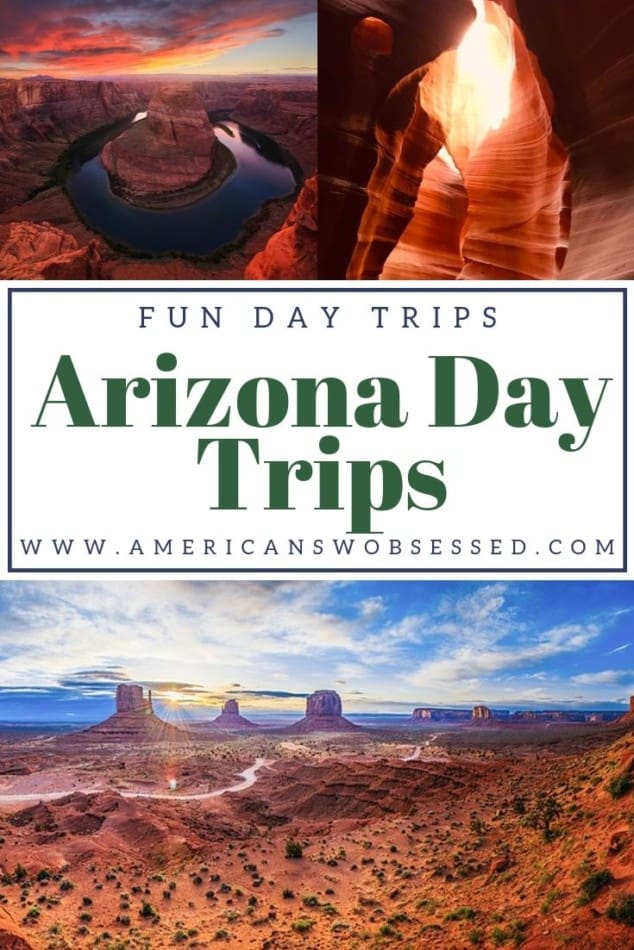 Continue Reading further about Arizona:
Recent Posts