National Park Games: Are you looking for the best National Park Games? There are so many cool national park themed games out there!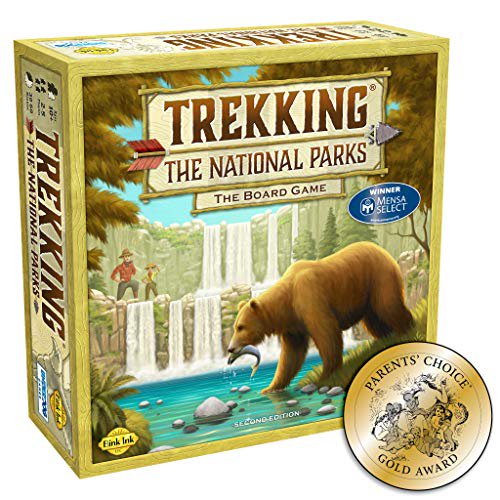 I have included all of my favorite games about national parks. It is a great way to learn more about the parks or relive your trip to the national parks. They also make for a great gift to give to families especially if they are missing traveling.
You can also check out my post on the best games for a road trip for more ideas. I hope you enjoy this list of National Park Board Games and you find the perfect national park game for you and your family to play.
Thank you for supporting this website written by an American. This post may contain affiliate links. This means I earn a small commission on these links at no extra cost to you.
25 Best National Park Games for Game Night
USAOPOLY JENGA National Parks | Classic Jenga Wooden Block Game with a National Parks Theme | Perfect Travel Game for Families | Celebrate US National Parks Service
This is a national park-themed version of the popular Jenga block-stacking game.
Players remove and re-stack wooden blocks, much like in the original game. The addition of an intriguing fact about America's national parks to each block adds to the pleasure of this edition.
This simple and enjoyable game comes with 54 hardwood national park building blocks, instructions, and a loading tray to aid in the tower's construction.
It's a fantastic game for celebrating national parks and learning more about them at the same time.
YAHTZEE National Parks Travel Edition | Classic Yahtzee Dice Game with a National Parks Theme | Perfect Travel Game for Families | Celebrate US National Parks Service
This isn't your typical set of dice! In this Yahtzee National Parks, you can roll monuments, trees, moose, and other special dice. Yahtzee is a classic dice game that is great for traveling because everything you need fits in the Yahtzee dice cup.
This Yahtzee edition featuring national parks is perfect for road vacations, national park excursions, and backpacking adventures.
Five dice with multi-colored national park symbols replace the standard die pips in the game. It also comes with a unique score pad and a travel-size national parks-themed dice cup for convenience.
Perfect to bring along on your next road trip for some on-the-go fun!
Jigsaw Puzzles 1000 Pieces for Adults – US National Parks Difficult 1000 Piece Puzzles Educational with Unique Hand-Painted Images by Artists
Consider this gorgeous 1,000-piece national parks jigsaw puzzle if you're interested in non-competitive national parks games. This is a fantastic present for any national park enthusiast who appreciates a good puzzle.
This puzzle captures the soul of America's national park system with exquisite watercolor drawings in each state. Since the pieces are constructed of recycled paper, this is an environmentally friendly puzzle.
Cleaning up is a breeze with a handy storage box, which also comes with original gift packing for a ready-to-give and affordable present.
American flat National Park Adventure Board Game for Family and Kids Ages 7 & Up, 2-6 Players with Artwork by Anderson Design Group
This is one of the numerous board games about national parks. This fascinating game, which was designed before New River Gorge became a national park, was created by national park enthusiasts. It allows you to visit 62 American national parks.
Move your animal-themed token across the board as quickly as you can to collect keeper cards in this national park game. Players will learn more about national parks, their species and flora, and their breathtaking vistas along the way. Cards feature amazing facts and other fun knowledge and depending on the ages of the participants, you can pick between two distinct playing styles.
The National Park Adventure Board Game is a brilliant addition to your game collection for both kids and adults!
USAopoly Trivial Pursuit: National Park 100th Anniversary | Celebrating the National Park Service Centennial | 600 Trivia Questions & Fun Facts | Perfect Trivial Pursuit Travel Game for Families
This is the game for you if you're looking for a national parks game that you can simply take with you on a camping or hiking trip in the parks! With Trivial Pursuit, you may answer trivia questions and learn fun information about national parks.
The Trivial Pursuit National Parks Travel Game consists of a package containing question cards as well as dice. It's very easy to take around with a carabiner that clips onto your backpack or belt.
There are 100 different cards in the game, each with 600 questions divided into six categories. Natural Wonders, Battlefields and Historic Sites, Cultural Heritage, Science and Nature, Wildlife, and Wild Card are among the categories. The person who collects six cards first wins!
It comes with a travel case and a carabiner, so you can take it on your next family adventure! Simple, quick, and convenient, it's also the ideal gift for hikers and campers.
Scrabble: National Parks | Official Scrabble Word Game with a National Parks Theme | Featuring Classic Scrabble Rules, Scrabble Board & Scrabble Tiles | Celebrate US National Parks Service
This Scrabble-themed edition of one of the world's most popular word games is excellent for enthusiasts of both Scrabble and national parks in the United States. You can score points by playing standard Scrabble words, just like in the traditional, original game of Scrabble.
You can, however, play national park words to earn more points in this game. To beat your opponents, use your knowledge of the national park's animal and plant world, as well as associated verbs.
Additionally, a set of bonus cards for national parks allows you to execute extra activities or compose special sentences, earning you bonus points. A humorous take on a timeless classic.
Trekking The National Parks: Trivia | National Parks Trivia Game for Adults and Kids | Giftable Trivia Game for Family Game Night
More than 600 knowledge questions on the United States' national parks are included in this entertaining, uplifting, and educational National Parks Family Trivia Game. Each card has a piece of humorous information about the National Park Service, as well as a question about it.
The fact that all of the solutions are numbers adds to the fun. As a result, any player can answer or "guess"—the one who "gets the closest without going over" wins. This ensures that everyone has a chance, even if there are national park experts present.
It's one of the best national park games to play while camping, picnicking, or even hiking, and it's a great way to learn about the park system in a fun way.
This is also an ideal gift or present for anyone who appreciates nature, the outdoors, and our stunning public lands.
MONOPOLY National Parks Edition Board Game | Themed National Park Game | Buy, Sell & Trade Iconic Parks Like Yellowstone & The Grand Canyon |Themed Game
Monopoly: National Parks is a game that celebrates the splendor of America's National Park system. Over 60 of America's most stunning and historic places are featured in the game.
From the breathtaking scenery of the Grand Canyon to the awe-inspiring wonders of Yellowstone, there's something for everyone.
The animals that will capture your heart, pick your curiosity and call the National Parks home are also depicted in the game. Monopoly: National Parks Edition allows you to travel to the heart of America without ever leaving your home.
PARKS Board Game: Family and Strategy game about National Parks
PARKS is a super-fun game that takes players on a journey through the four seasons, created in collaboration with the Fifty-Nine Parks Print series.
You can visit national parks, execute actions, and take photos while you explore different trails—your team comprises of two hikers.
Various resources, such as gear cards, canteen cards, and various tokens, assist you in navigating the trail and accumulating points. Although this game may appear difficult at first, it is a lot of fun once you get the feel of it.
You can play this game by yourself, but it's a lot more fun if you play with at least one other person. The complete game takes between 40 and 70 minutes, depending on the number of players. It's a great game to play before or after dinner since it is neither too lengthy nor too short.
Monopoly National Parks 2020 Edition | Featuring Over 60 National Parks from Across The United States | Iconic Locations Such as Yellowstone, Yosemite, Grand Canyon, and More | Licensed Monopoly Game
Monopoly features a magnificent national parks edition, which is one of the most popular and best-selling games in history.
Instead of streets, you buy and trade national parks as you circle the board in this variation of the original game.
This board game covers 22 of the best American national parks, from the stunning Grand Canyon to the wonders of Yellowstone and the hoodoos of Bryce Canyon. It also includes cards concerning national battlefields and national historic sites, as well as wildlife that lives in the parks.
You can choose from six national park-themed tokens instead of standard tokens: a tent, ranger hat, boat, hiking boot, American bison, and camera.
Gather the family and enjoy this popular game with a National Park twist!
MasterPieces Jr. Ranger Grand Canyon National Park Matching Game
MasterPieces' Grand Canyon National Park matching game is perfect for family game night.
This game offers 18 matching pairs of iconic park species and landmarks, such as a mountain lion, coyote, and bobcat, among others.
Test your memory and have a good time trying to find the pairs. You win if you collect the most matches by the end of the game.
Underdog Games Trekking the National Parks the Family Board Game (Second Edition)
Trekking the National Parks is a fun and competitive family board game that celebrates the United States' national parks.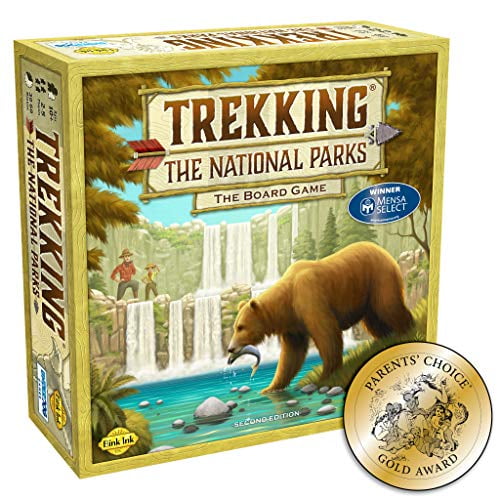 As you journey across the map and experience the marvels of each of these spectacular places, you compete for points by claiming park cards and collecting trail stones.
Trekking the National Parks is a strategy game with a light mood. You won't need any prior knowledge of national parks to begin playing, and the experience was created specifically to educate and inspire gamers to visit these incredible places!
The second edition of Trekking the National Parks includes a more accessible rulebook, simplified movement rules for a more streamlined play experience, new Major Park locations and wooden campsites that award special abilities to players, and a chance to stone majority bonus points, which now awards points to both first- and second-place players.
National Parks Top Trumps Playing Card Game
Top Trumps is a card game that allows you to bring your favorite things to life, whether they be fast cars, space, aquatic creatures, Star Wars, or Harry Potter.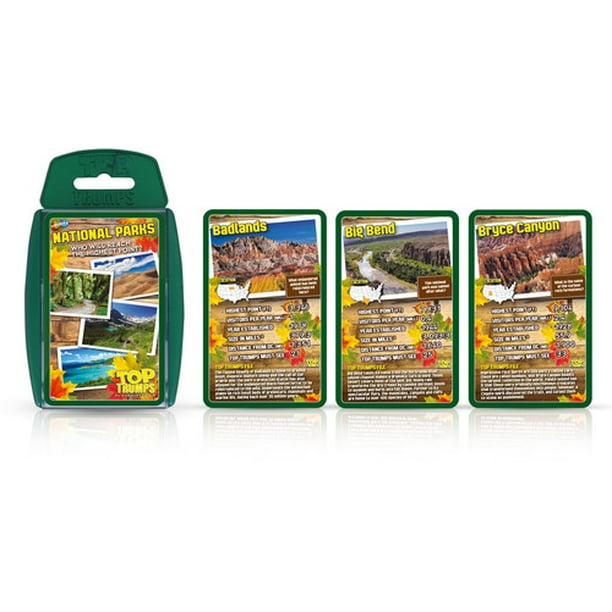 Each card has a set of numerical values on it, and the goal of the game is to compare these values to trump and win an opponent's card. There are no restrictions on gameplay thanks to the easy-to-carry plastic case!
This card game brings "war" into the twenty-first century with gorgeous illustrations and fascinating facts and figures on each card. Simply distribute the deck of 30 cards to each participant and turn the top card over. Whoever starts can choose a statistic from their card that they believe would help them beat the other players. The cards provide information such as height, weight, speed, and more.
Everyone else would call out the weight of their top cards, and whoever had the highest stat in that area won the round and received all of the cards. The game continues in this manner until someone collects all 30 cards and wins.
MasterPieces Licensed Checkers – National Parks Checkers
This National Parks Checkers Game is a classic checkers game with a Ranger Hat as the King!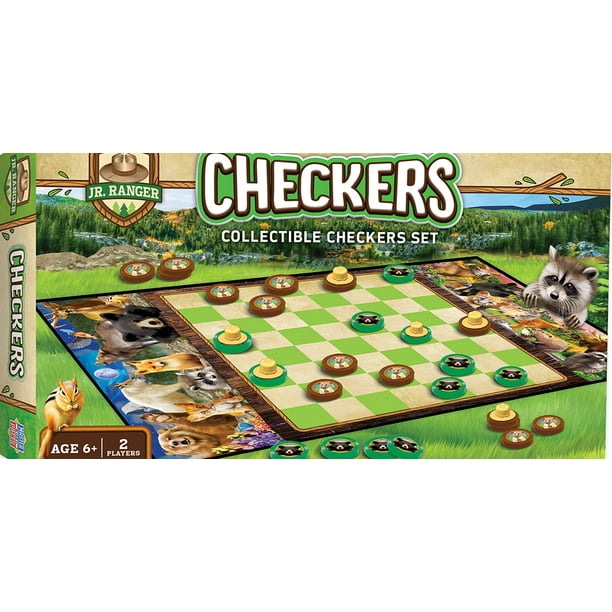 24 green and orange animal checkers pieces, 8 Ranger Hat king pieces, a 13″ by 21.375″ National Parks wildlife game board, 1 sticker sheet, and instructions are included with the National Parks checkers' game.
Top Trumps Bundle Card Game Bundle – the Great Outdoors (North American Wildlife, National Parks, Countries)
With the National Parks, North American Wildlife, and Countries of the World Top Trumps bundle, you can explore the vast outdoors.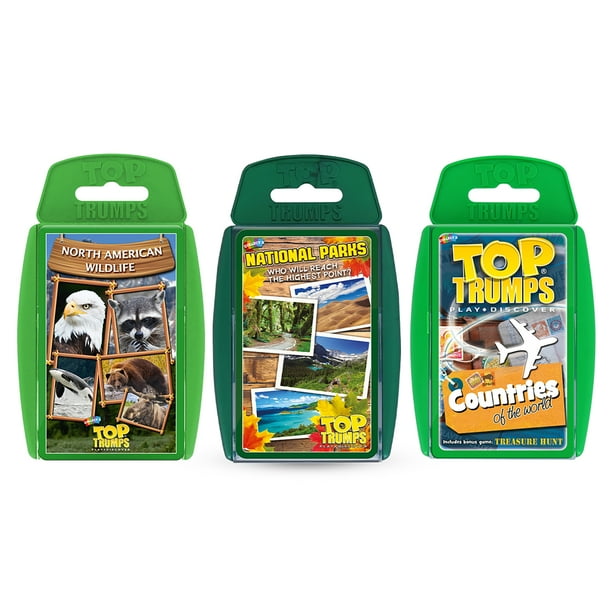 Compare the Grand Canyon, Yosemite, and Crater Lake's highest points, yearly visitors, and size to see which one is the most beautiful. Discover the lovely North American wildlife such as beavers, badgers, and even armadillos while exploring.
Now that you're a seasoned traveler, use the Nations of the World pack to visit fantastic countries like China and Argentina and compete for the title of Top Trump.
PicTwist: National Parks | Twist, Move, and Swap Tiles to Complete The Image | Family Puzzle Game Featuring National Park Locations Artwork | Based on Popular Globe Twister Game
In this puzzle game of speed and strategy, plan, position, and win! Images of America's greatest treasures are turned upside down, sideways, and out of sequence in PicTwist: National Park.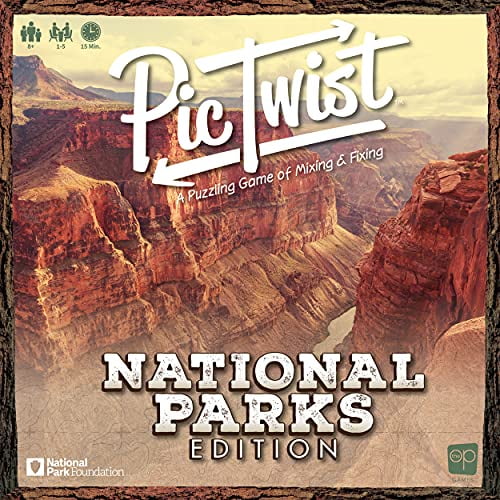 With Action Cards, you may put your planning skills to the test as you race against other players to reassemble the natural wonders.
To win, be the first to fix your park photo.
Recent Posts