15 Best Sedona Airbnbs with a Pool
Are you looking for the perfect Sedona Airbnb with pool? I have put together this list of the best Sedona Airbnbs with pools and some even with hot tubs.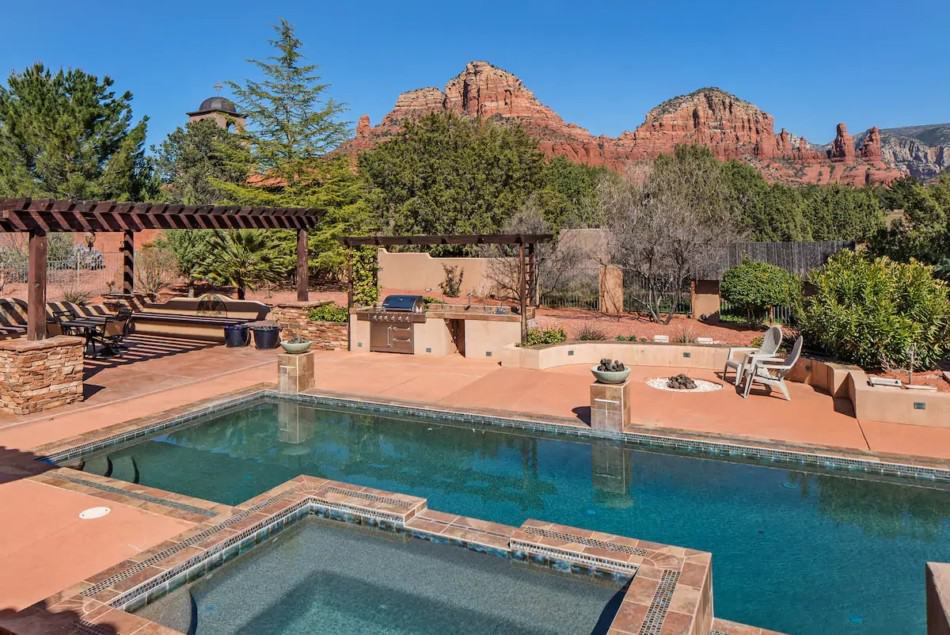 You will find all of these Airbnbs affordable options if you are staying in Sedona – especially if you price them out per person.
Picture this – visiting Sedona in the spring or fall when it is warmer than most places, chilling in the swimming pool or hot tub and admiring the beautiful red rocks that surround this area. Its picture perfect.
Thank you for supporting this website written by an American. This post may contain affiliate links. This means I earn a small commission on these links at no extra cost to you.
Check out my post on the Top Things to do in Sedona
High end Haven: Views, Luxury, Pool
Guests: 6
Bedroom: 3
This gorgeous and extremely spacious Airbnb in Sedona is one of the best homes that you can stay at. It almost has everything you need – three high-end bedrooms, in-ground pool, outdoor lounging area, and magnificent views of the stunning redrock that are too good to be true.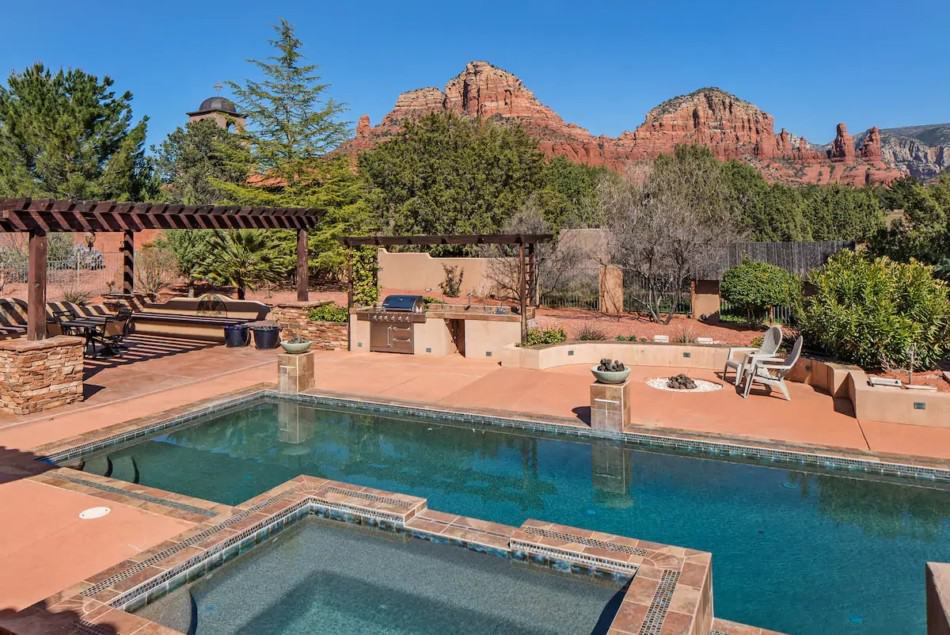 You have the entire access to all the indoor and outdoor space and you can bring along your family with you to enjoy this beautiful and luxurious home. 
If you are an outdoor person, you'll also love the fact that this airbnb is conveniently located near hiking and biking trails, as well as restaurants, galleries, shopping centers, and more.
Magical Sedona Home
Guests: 6
Bedroom: 3
If you wanna get the best views of the spectacular and enchanting Sedona, staying at this Magical Sedona Home is perfect for you. This Airbnb offers the best views of Sedona in the whole area from every room. And the patio with a fountain is the best spot to sit if you just want to chill and enjoy the views.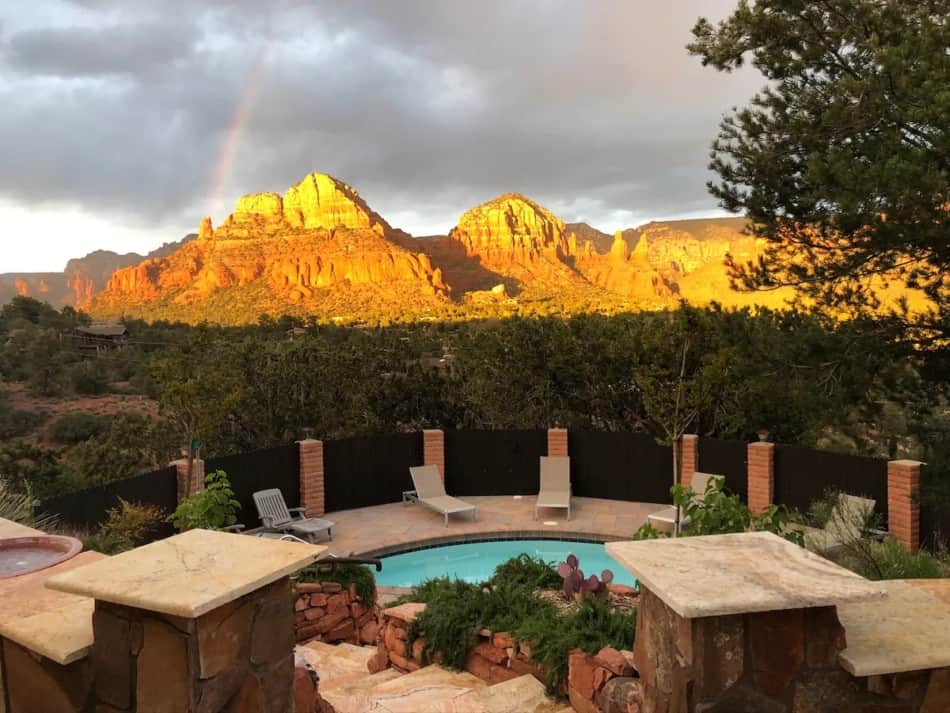 Aside from the patio, the house has also a pool area where you can soak all day while sipping your favorite drinks. And the location is very perfect – it's very close to restaurants, dining, art, culture, and trails in the area. Nothing can beat the perfection of this airbnb!
Big Hit Vortex Retreat
Guests: 6
Bedroom: 3
If you are coming from a hectic everyday life and you just want to relax in a calming environment, Big Hit Vortex has got you covered.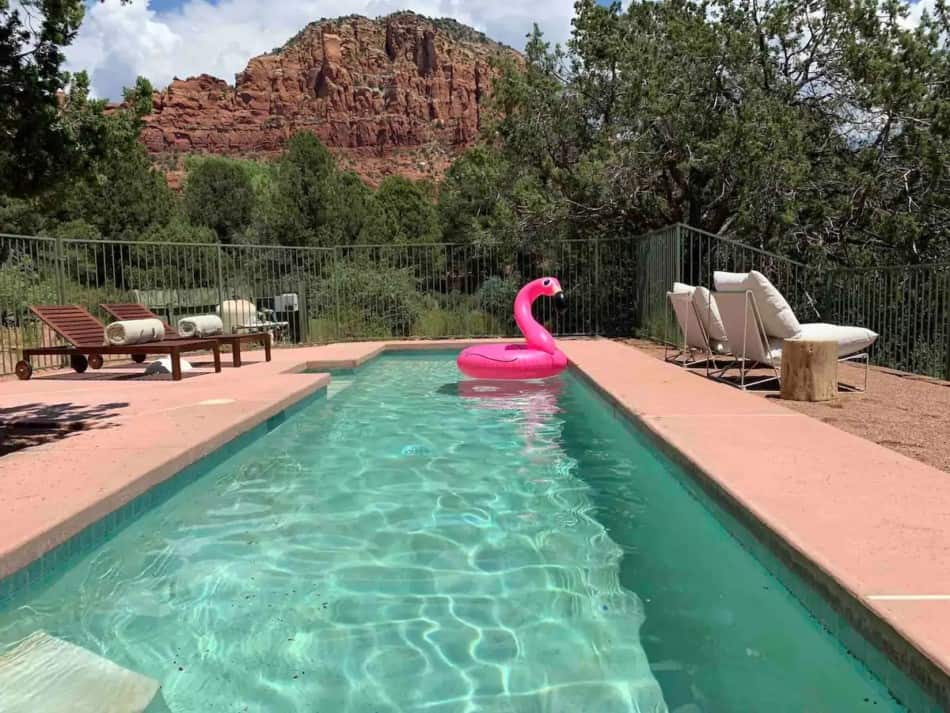 This one level special house allows you to have a true Sedona experience. It is set in a private and peaceful location with views of the famous red rock formations. 
The house has a total of 3 bedrooms with its own bathroom each, and the master suite has an oversized jetted tub to soak in. It also has a serene outdoor backyard where you can meditate, drink your coffee in the morning, or just enjoy the magnificent view of the red rocks.
Private Home with Pool and Spa
Guests: 10
Bedroom: 4
Big family gatherings would be so perfect to hold at this private home with a pool and spa in Sedona. This beautiful home is situated on 1.3 acres of property and very close to restaurants, art galleries, golfing, and hiking.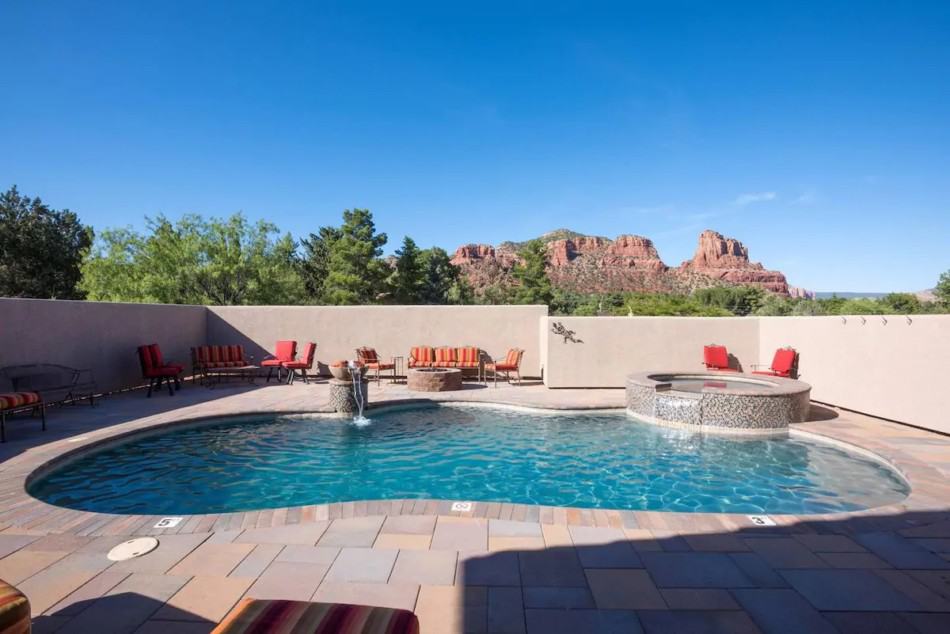 The house has an open concept floor plan that makes the living area feel more spacious. It also comes with a kitchen, TV, bathroom essentials, Pack 'n Play for kids, and a lot more.
And if you feel like you need more space, there is a separate but attached casita on the opposite side of the garage that can be rented separately or together. 
Sedona Sunset Retreat with Stunning Views
Guests: 6
Bedroom: 2
Located in the heart of West Sedona, The Sedona Sunset Retreat is your perfect brand new luxurious and well-appointed airbnb for your trip to Sedona.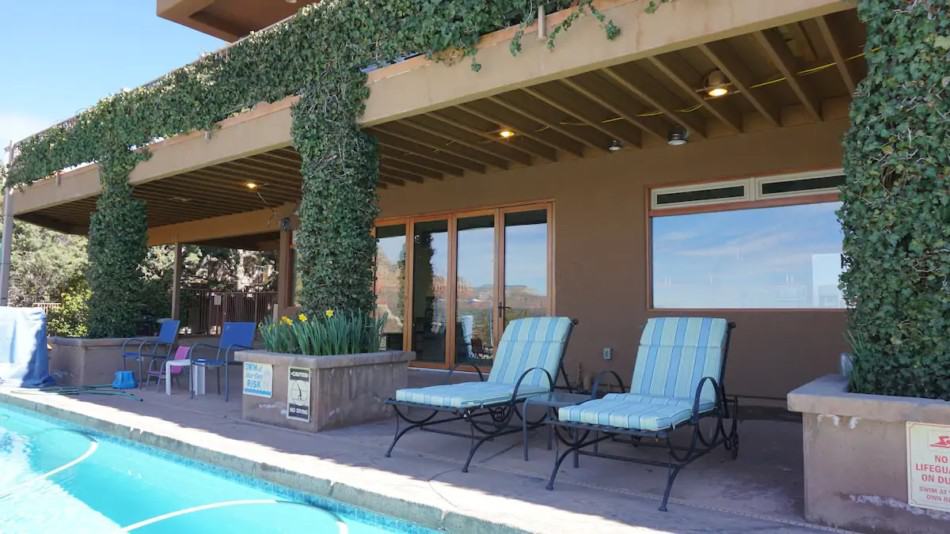 It offers complete amenities for an easy and comfortable stay and this place has been a favorite among travelers because it's very close to everything from the most common tourist activities to shopping, hiking, and more. 
Inside this beautiful home you'll find two comfortable bedrooms and each has its own bathroom, a large living area, and a well-equipped kitchen.
And to make your stay even more amazing, you are invited for a dinner at El Rincon Restaurant in Tlaquepaque, including an entree, with soft drinks included. You can also choose to join the hosts for a private picnic on Oak Creek. 
Tranquility Base Haven Hot Tub and Pool with View
Guests: 4
Bedroom: 1
This ranch-style home in Sedona is a stylish and comfortable airbnb that is set in a very quiet neighborhood. It has an open kitchen with a living room, a dining area that has an overlooking view of the surrounding mountains, and a fenced in backyard with a pool and hot tub.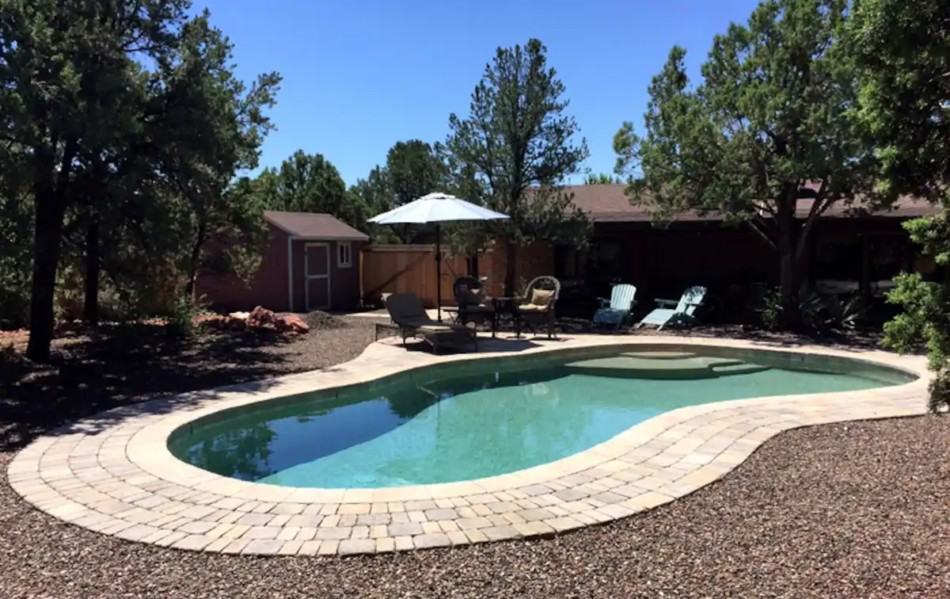 And since this is a very tranquil place, guests are highly encouraged to observe this. Nonetheless, you'll be delighted to stay here especially if you just want to take a break from your busy routine and enjoy nature.
Sedona's Best Studio
Guests: 2
Bedroom: 1
If you are looking for a cute space good for two people yet still giving you the best stay in Sedona, this fancy and spacious studio apartment is for you.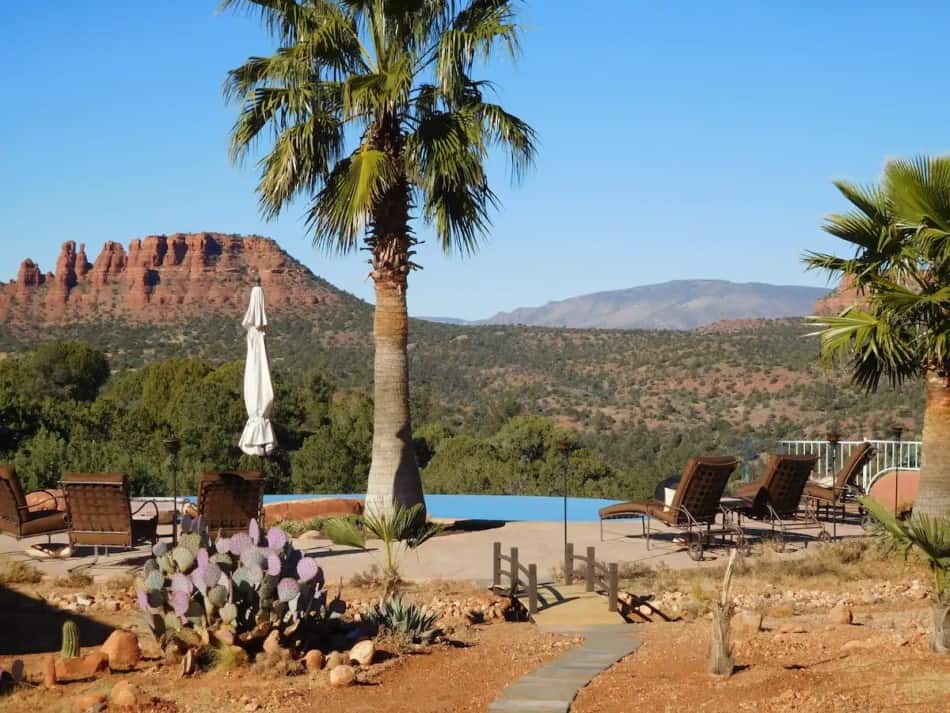 It is situated in a very private environment and just right at the edge of the Coconino National Forest and you can hike from the doorstep. 
This beautifully furnished studio has a king sized bed, separate kitchen with dining table, and jaw dropping views of the stunning red rock formations.
You can have a total access to the studio including the private outdoor patio with hot tub, fire-pit and gas grill. However, the pool is shared with other guests staying. But if there's none, you can have the pool to yourselves. 
New Family Retreat with Private Pool and Spa
Guests: 6
Bedroom: 3
Another fantastic and spacious Airbnb is this Family Retreat with a private pool and spa. It has a total space of 1,500 sq foot with three bedrooms perfect for a family getaway that is guaranteed to give you privacy and a lot of fun.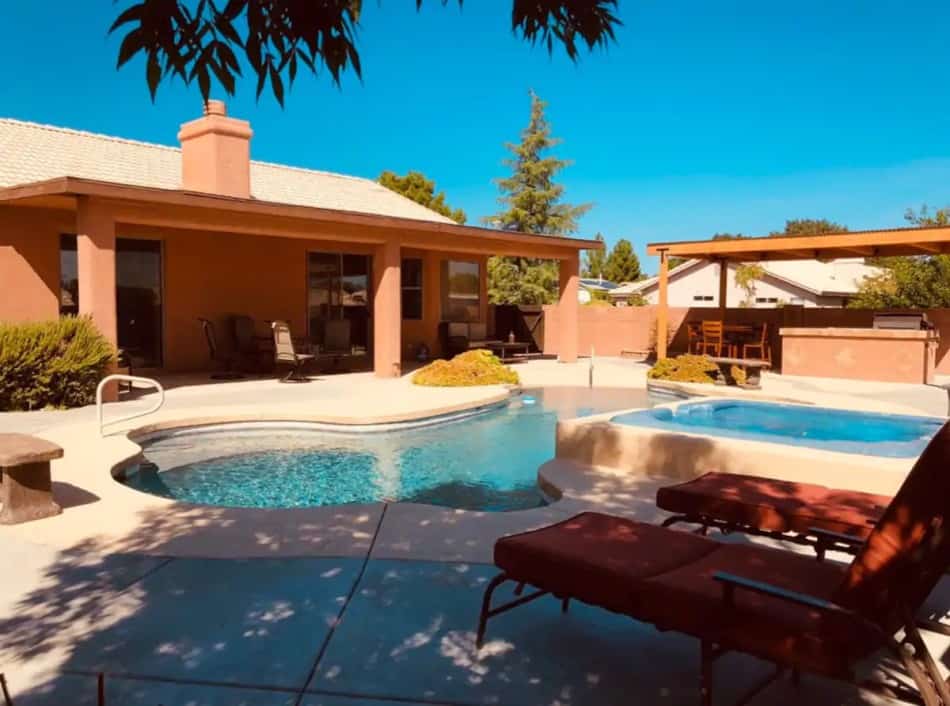 The entire house is open and spacious and furnished with a modern style. Everything is almost complete here including a large open concept kitchen, cosy stylish living room, big outdoor space that has several sitting areas, and a lot more. All you need to do is pack all your essentials and this airbnb will provide all the rest.
Casa Rosa
Guests: 4
Bedroom: 2
There is nothing more grand than this 1,600 sq feet townhouse in Sedona. This beautifully furnished home features an open floor plan with an expansive view of the red rock formations right on the deck with shaded seating area.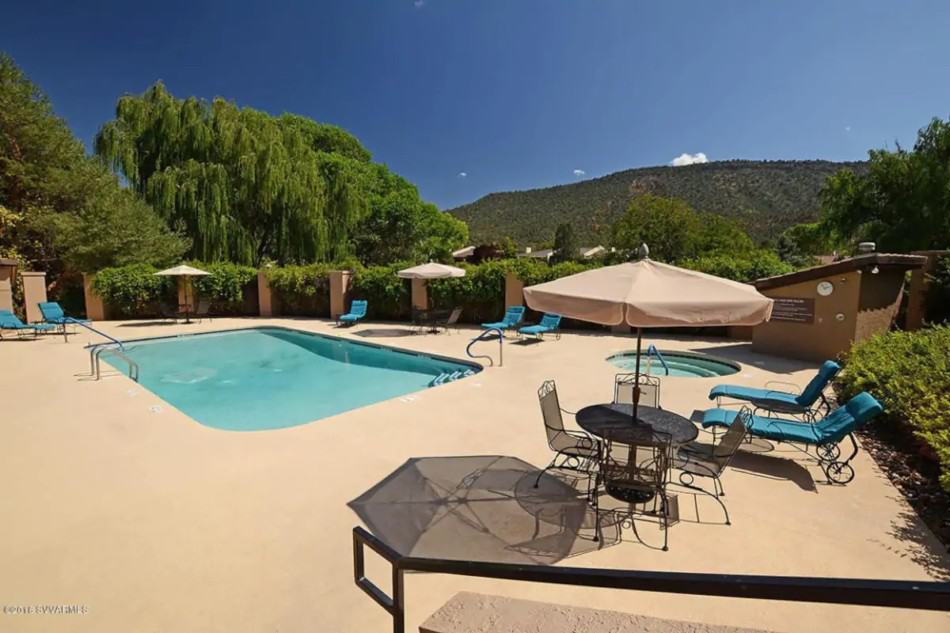 Among the key features of this home is a kitchen with plenty of essentials for cooking, a comfortable dining area, a family room with smart TV, a work station, plus a community heated pool and hot tub. Yes, this place is exceptional with lots of things that you need and can expect from a high-rated Airbnb.
Luxury Sedona Estate
Guests: 12
Bedroom: 4
If space is your primary consideration in booking an airbnb for your next trip to Sedona, look no further because this gorgeous Luxury Sedona Estate is perfect for you. Everything you need from a pool, gym, movie theater, home offices, to kitchen with state-of-the-art appliances, dining area, laundry room, and a lot more.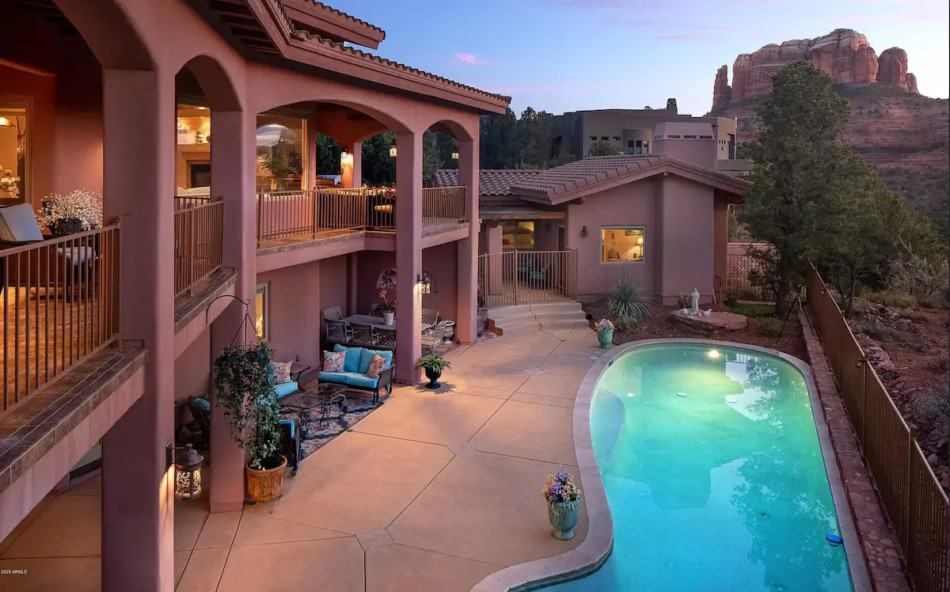 Every space in this vill has benen gorgeously redone with a modern southwest style an luxury linens, furniture, and artwork. But not only that, the entire villa can host around 12 guests plus an additional guest house in case the space wouldn't be enough for all of you. This is a great airbnb to host gatherings with family and friends.
Sedona Vista Private Pool and Spa
Guests: 12
Bedroom: 4
Another spacious airbnb that you can stay in Sedona is this Private Luxury Vista Home with a private pool and spa. You'd be delighted to know that this home is located on the hillside with great views of the red rocks.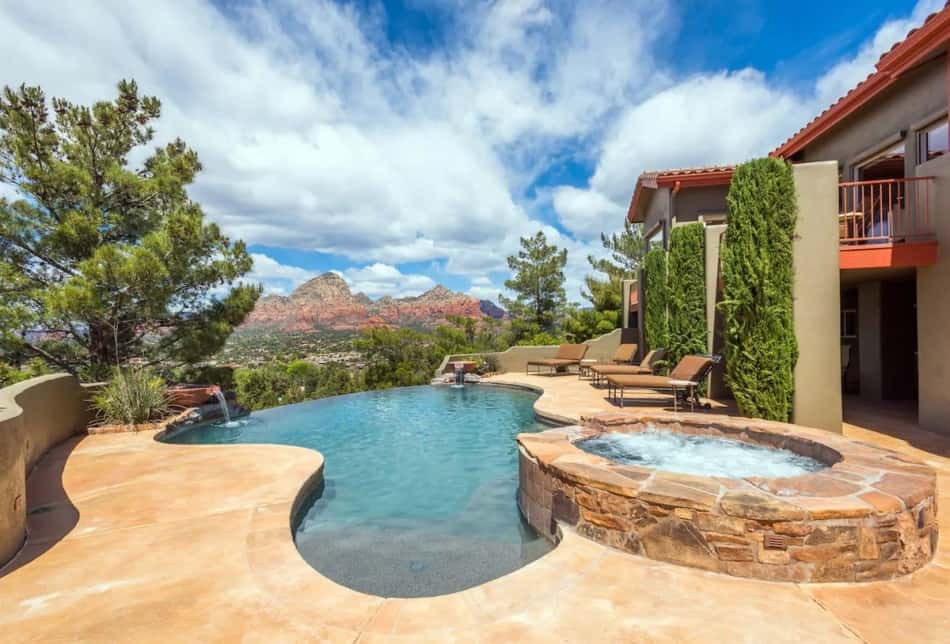 With its 4 bedroom space with 9 beds, it would be easy to fit around 12 people here. This house is complete with amenities such as a kitchen, TV, bathroom essentials, heating and cooling, and many more.
Sedona Summit
Guests: 4
Bedroom: 1
If you are looking for a small yet functional space with resort-like amenities in Sedona, you'll definitely love Sedona Summit. This guest house has only one bedroom yet the amenities are great.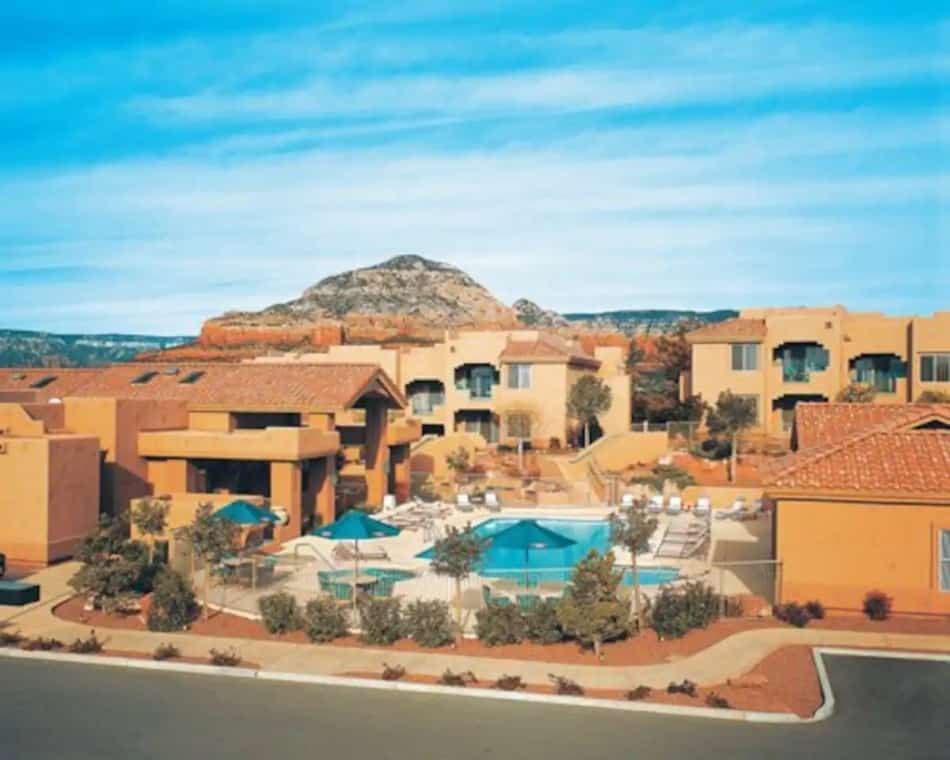 It has a small living and dining space, as well as a kitchen with appliances. But what you'll love even more about this place is its pool with views of the giant red rock formations which you can have access to anytime.
Southwest-Style Condo with Seasonal Pool
Guests: 6
Bedroom: 2
This desert beauty vacation rental is very promising for its comfortable accommodations, incredible location, and fun-filled activities. Some of its amenities include indoor living space, fully equipped kitchen, queen sized bed, covered patio with picnic tables, outdoor dining patio, and more.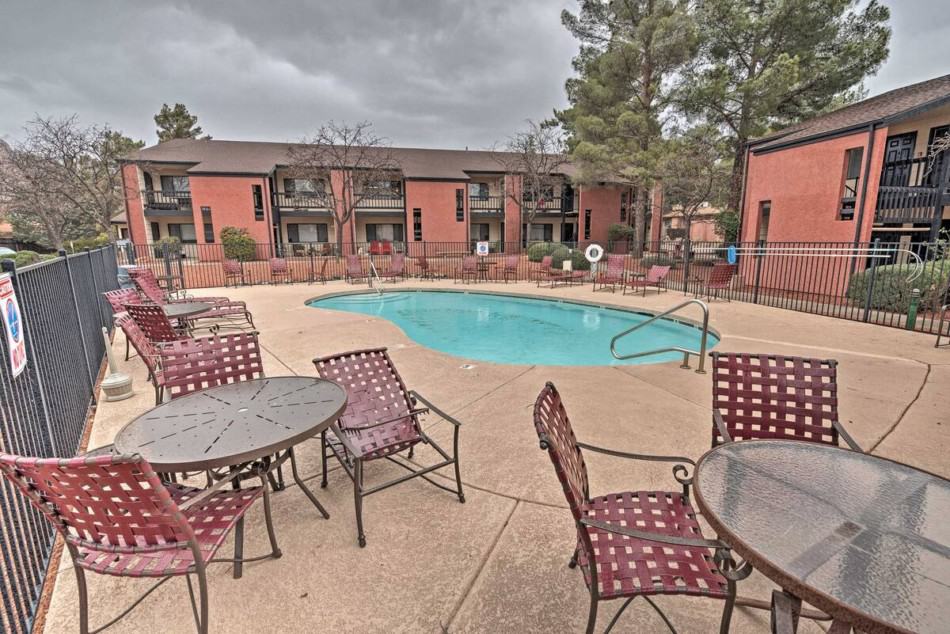 But what's even more amazing about this airbnb is that its location is very close to shops, eateries, and entertainment.
And not only that, but this is also perfect for adventure seekers because there are a lot of spots you can explore such as taking a guided nature walk at Red Rock State Park or perhaps hiking the stunning Airport Mesa. But if you prefer to stay close to the condominium, you can just splash in the pool with mountain views. 
Sedona Home on 1-Acre with Pool
Guests: 6
Bedroom: 2
Imagine sitting on a private 1-acre lot in a peaceful neighborhood in the Village of Oak Creek while sipping your favorite drink and enjoying the magnificent Sedona. Well good news, you can turn that imagination into reality at this family-friendly Sedona Home that boasts of its fantastic outdoor space and impressive interior.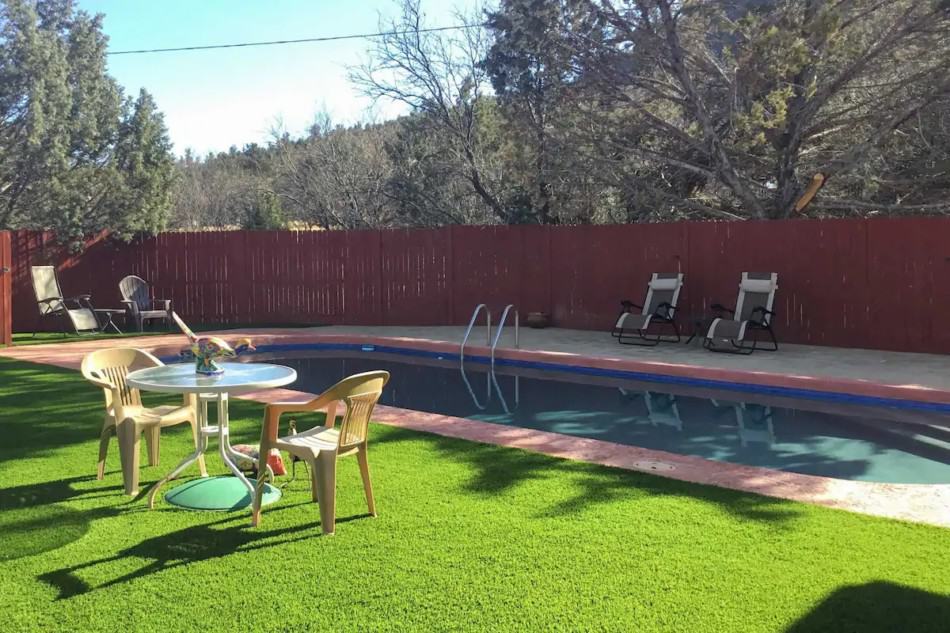 This home comes with an expansive flagstone patio, indoor living space, fully equipped kitchen, free wifi and lines, and many more. This is definitely a perfect place to unwind and spend fun-filled days under the Arizona sun.
Sedona Golf, Pool & Hot tub
Guests: 7
Bedroom: 2
You'll be impressed with the landscape and abundant outdoor attractions that this newly remodeled vacation townhouse can offer. This two-bedroom airbnb is located in the Canyon Mesa Country Club and it is just minutes away from golfing and hiking.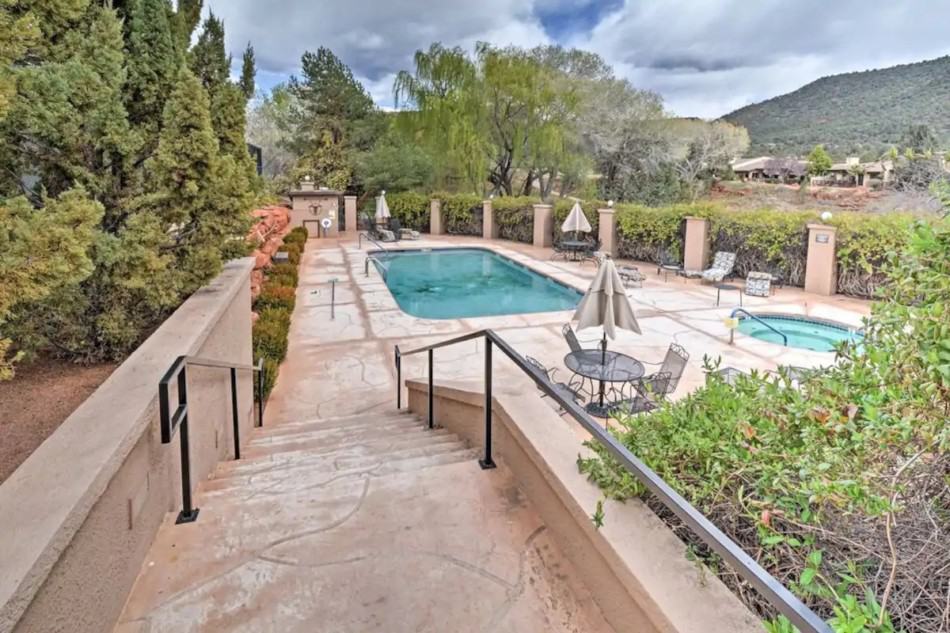 It features great amenities like a fully equipped kitchen, flat screen TV, deck, pool, hot tub, and more. And this place is also pet-friendly which means you can bring your dog at least one with a pet fee of $60.
Two-Bedroom Luxury Condo
Guests: 10
Bedroom: 2
This two-bedroom luxury condo is located in one of the finest resorts in all of Sedona – the Sedona Springs Resort. Here, you will experience desert Southwest where there are plenty of amenities to make your vacation a perfect one.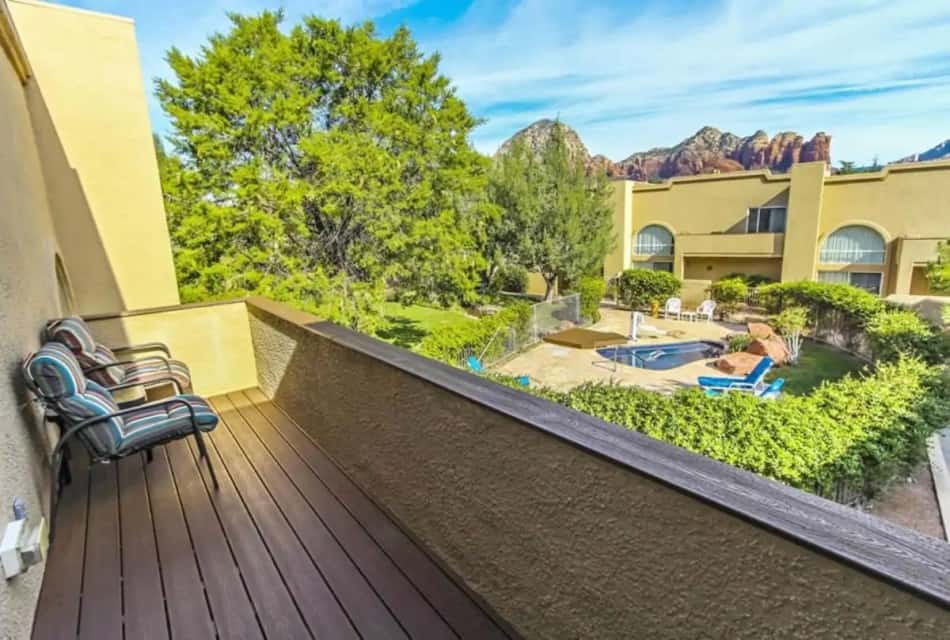 The condo unit features two bedrooms, a walk-in shower, a whirlpool jetted tub, a full kitchen, and a spacious living room. And aside from that, you can also make use of the common amenities provided in the condo such as the pool, hot tubs, clubhouse, fitness center, dry sauna, and more. You'll surely get your money's worth here.
Sharing is Caring! Pin this article to save for later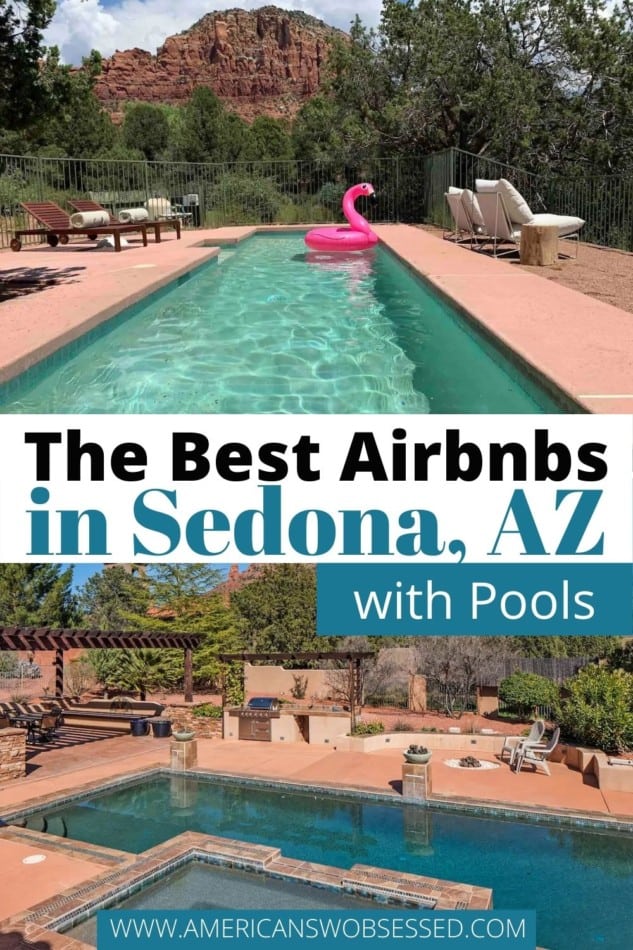 Recent Posts